5 examples of Black Friday social media marketing campaigns
Black Friday is by far the craziest shopping holiday in the world and we are all used to seeing long queues in front of shops and record-breaking visits to physical stores by over-enthusiastic consumers. However; since we now all know that shopping has changed amidst a global pandemic, brands are prioritizing and incentivizing online shopping rather than in-person.
Last year, November 30th, 2021 marked the biggest ever day for online shopping in US history with over $10 billion in sales! Sales were highest between 7 pm and 8 pm Pacific Time, at $12 million per minute, over 35% of purchases were made on smartphones, and curbside pick-up was up 30% over the previous year.
This year, Black Friday is on November 26th. Let's check out the below easy breezy tips to ace your Black Friday social media content and drive sales, alongside some examples from global brands.
Social Media News in a Nutshell
Get the latest social media news, insights, and marketing tips in your inbox once a week.
1. Use hashtags
Hashtags never get old. They are still one of the best ways to let people know about your products, services, and deals. Using popular hashtags, in this case, #BlackFriday and #CyberMonday will let your content encounter an even wider audience. As you can see below, there are over 17 million posts with #BlackFriday and about 2.8 million posts with #CyberMonday! Plus, if you have a specific theme for your Black Friday campaigns, own that name and create a hashtag of your own. In the below Walmart post, for example, you can see that they used the branded hashtag #DealsForDays due to the fact that their discounts ran not only for the weekend but for the whole month of November.
Worth checking 👉 How to use hashtags on Facebook and do they really work?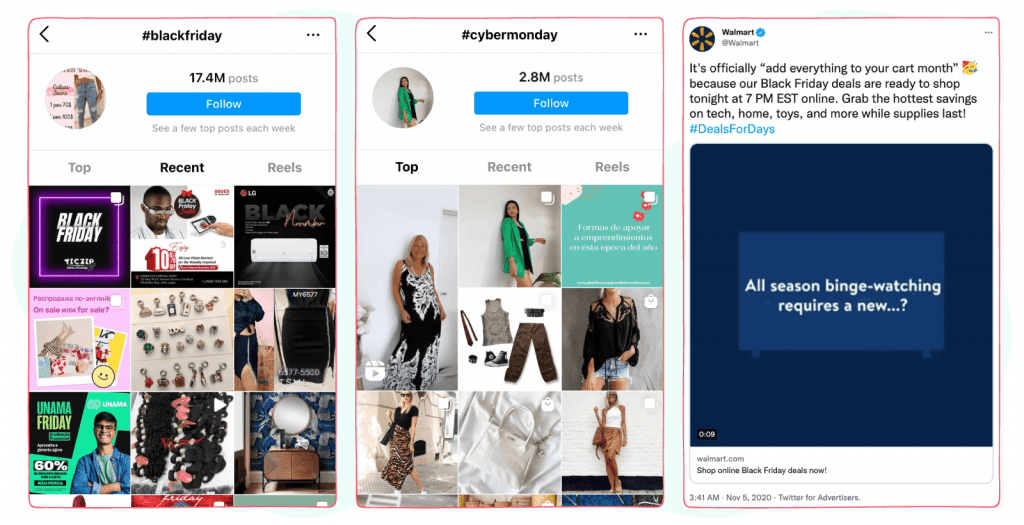 2. Add a freebie or offer free shipping
This holiday season is a great time to put an extra smile on your customers' faces. Use social media to let them know that you're giving away free items with Black Friday purchases. If you don't have anything in your depo to give away for free, try free shipping. Customers will love that, make sure you promote this campaign on your social media channels. Walker Sands' annual Future of Retail report states that 90% of their survey participants said free shipping was their #1 incentive and nearly 50% of their participants preferred brands that offered same-day shipping.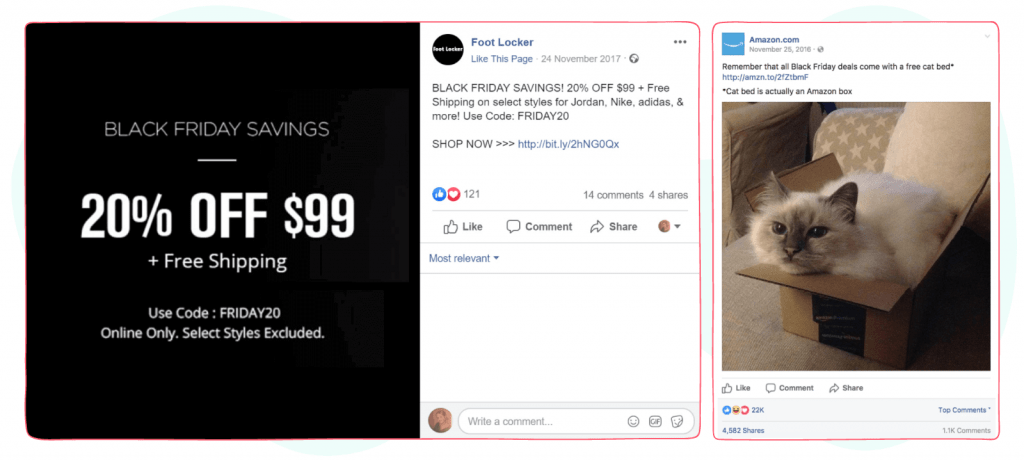 3. Create a sense of urgency
This marketing strategy is something you should do every once in a while throughout the year when you launch a new product, service, or new collection. Early access to discounts and sales makes shoppers feel exclusive. Creating a sense of urgency around your Black Friday deals lets your customers act fast while the deal is on. In the below Bath & Body Works example, the brand asks its customers to set their alarms and mark their calendars. Another example would be to put a countdown sticker on your Instagram Stories and have your followers join the countdown.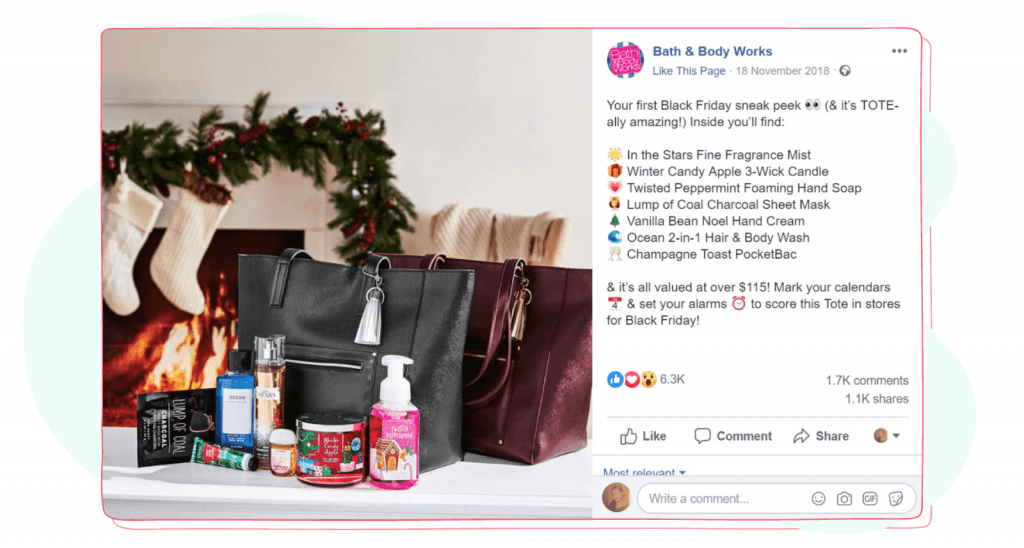 4. Create an early access email list
According to Shopify data; email is the highest converting channel for this holiday season with a 4.29% conversion rate. If you don't have an email list already, Black Friday could be the perfect time to collect your customers' and potential customers' data. In the below Steve Madden example, you may realize that the brand asks its followers to sign up to a specific email list for Black Friday. The added value for this type of content is a long-term relationship and engagement with those customers.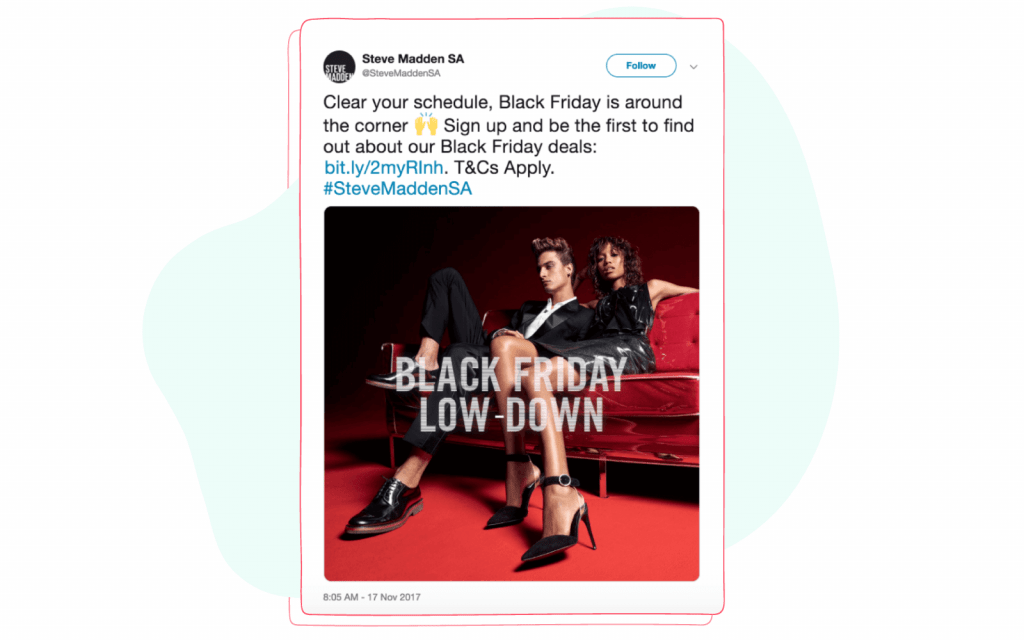 5. Give back
Did you know that the Tuesday following Black Friday and Cyber Monday is called Giving Tuesday?
In today's world, fortunately, 75% of consumers demand companies give back. Let it be feeding children in need, planting trees, or helping rescued animals; philanthropy does increase brand loyalty when practiced genuinely. Try to find a cause that goes along with your brand's mission so that your customer base can really understand what bothers you the most in the world we live in.
Use social media and email marketing to let your audience know what and to where you'll be donating your revenue. Transparency is super essential, especially in this case. Do not forget to share any certificate or transaction receipt obtained in your give-back campaign with your customers via digital platforms.