How to optimize and budget Instagram ads cost? A guide for marketers
Whether you are a seasoned or novice marketer, understanding Instagram ads for running a successful campaign will be at the top of your priorities. With over one billion active users every month from different geographies with diverse interests and behaviors, you may want to tap the full potential of targeted Instagram advertising to get your brand noticed.
Need more reasons? 90% of Instagram users follow at least one business and an average Instagram business account increases its followers by almost 1.7% every month! Now, if you would want to hit similar numbers, it is time to focus on your Instagram ads strategy including how to optimize and budget your Instagram ads costs.
So, let's get started!
Social Media News in a Nutshell
Get the latest social media news, insights, and marketing tips in your inbox once a week.
7 Types of Instagram ads with examples
Instagram supports a variety of ads to help you reach out to your customers in creative and impactful ways.
Image ads
Businesses can use one image in image ads to showcase their brand, service, or product to the target audience. These ad campaigns are most preferred when you can use a single image to communicate a strong message. You can use a high-quality image with illustration, graphics, or text to make the best possible use of the space.
Pro tip: Instagram recommends limiting the use of overlay text for best outcomes.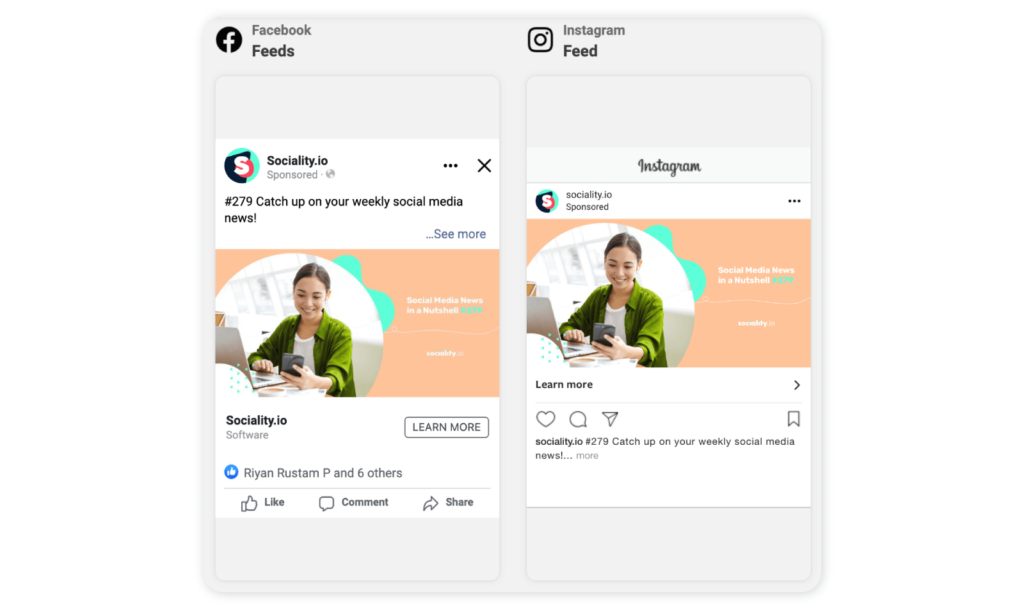 Stories ads
These ads can be video or image-based and appear in user stories. In fact, 50% of users agree that they become more interested in the brand after viewing their story! Many experts believe that engagement is better with Stories ads because they are full-screen and much more interactive or immersive than ads that appear in your feed.
Pro tip: Make sure your stories don't give a look and feel of an ad. You can creatively use filters, texts, interactive stickers, or GIFs to grab attention and add a call-to-action link at the bottom of the story to prompt an action from the users.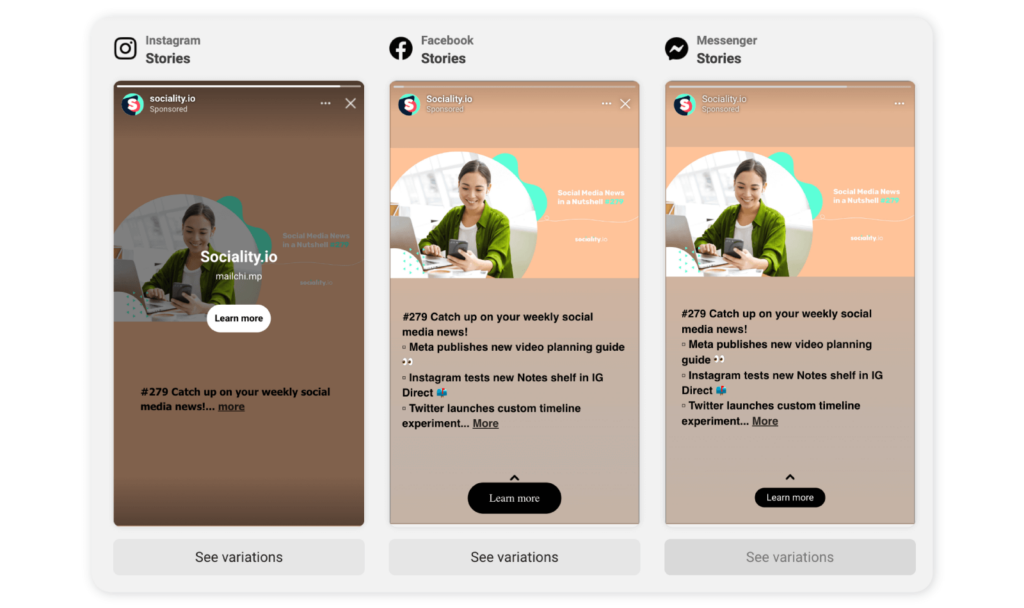 Video ads
They are similar to image ads and can be used to showcase a brand, service, or product in a more versatile way. The in-feed video ads can be up to 60 seconds long, and Story video ads can be up to 15 seconds long.
Pro tip: MP4 and MOV files are preferred formats with a maximum size of 4 GB.
Carousel ads
Carousel ads use a set of images or videos and can appear in the user's feed as well as Stories. You can use Carousel ads to share up to 10 videos or images to showcase different types of products or tell a story in multiple parts. You can add a different call-to-action for each image or video.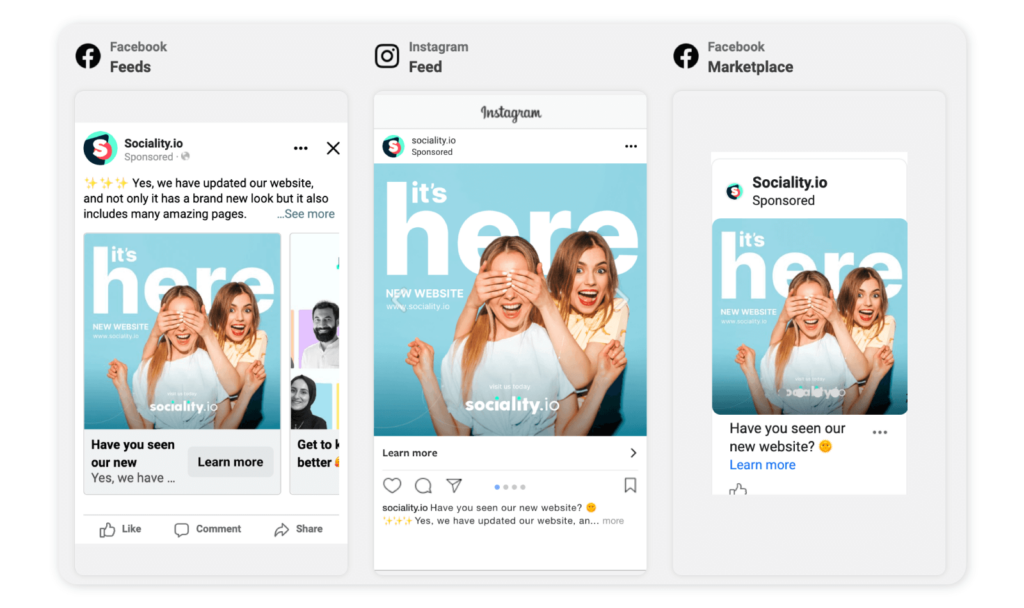 Collection ads
A combination of carousel ads and shopping ads, the collection ads are mostly used by e-commerce players and can be used by brands to showcase their diverse product catalogs, prompting users to make a purchase directly. When the user clicks on these ads, they are seamlessly taken to the Instant Experience storefront that offers a fast-loading post-click visual experience to users without leaving Instagram.
Explore ads
As the name suggests, these ads appear in the Explore tab, wherein users discover new content (both video and image), trends, accounts, etc., based on their interest in the Instagram accounts they may not be following. It is no surprise that marketers use these ads to increase reach, given that over 50% of users access Explore every month. These ads appear when the user clicks on an image or video in the tab.
Many marketers use already existing content or assets in Explore ads so that it appears alongside the relevant or trending content in the user's feed. 
Shopping ads
Did you know that 84% of users want to explore new products on Instagram? Instagram offers exciting Shopping features that allow users to view and purchase products without leaving Instagram using ads with product tags and checkout. These ads can appear in the feed or Explore and can be image, carousel, or video based.
For any marketer to use Shopping ads, you need to set up your storefront wherein users can where explore products and collections.
How much do Instagram ads cost?
Instagram ads can vary based on the industry, location, placement, demographics, etc. With that being said, an Instagram ad, on average can cost between USD 0.20 to USD 2.00 when using the cost-per-click (CPC) strategy. However, in some cases, it can be higher too. In the CPC model, you are charged when the user views the ad and clicks on the link to go to the destination page.
For brand awareness, marketers usually use an Instagram ad with Reach or Impressions as an objective, and in such cases, the cost can be around USD 6.70 per 1000 impressions.
Also, the cost can be between USD 0.01 and USD 0.05 per engagement for Instagram ads.
While publishing ads, Meta provides a graph that is an estimate intended to give you a better idea of how your budget affects the potential results for your ads. The numbers shown are based on the average performance of ads targeted to your selected audience but don't guarantee results.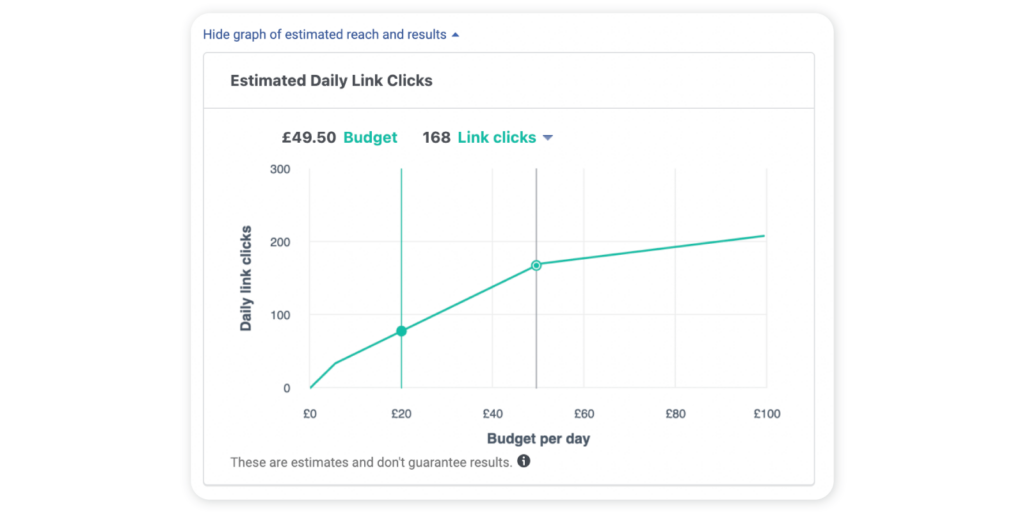 Facebook vs. Instagram ads costs
Facebook and Instagram ads are run using the same Ads Manager. However, since Instagram is comparatively newer and has a smaller data pool, the costs of Instagram ads may be comparatively higher than that of FB in some cases.
For instance, on Facebook, the cost for a CPC ad can be around USD 0.97 per click and USD 7.19 for 1000 impressions, but this can fluctuate often.
This should not deter marketers from Using Instagram ads because a smaller pool means more targeted ads to the relevant audience, which means higher conversions. For many brands, the visually-appealing social media platform is more cost-effective than Facebook and others.
What determines Instagram ads cost?
Before you optimize your budget for any ad campaign, you need to understand what factors determine Instagram ads cost. So, let us dive in.
Marketers set up the campaign with a campaign budget and submit a bid. So, budget is the total amount of money that you allocate for your entire campaign, which can be determined on a daily basis or the entire duration of the campaign. Bid, on the other hand, is the total amount of money that you want to spend on each user who fulfills the objective of the campaign which can include clicking on a link, downloading an ebook, enrolling for an event, etc.
These objectives are primarily based on increasing brand awareness, converting potential customers, or driving consideration (make a purchase).
During an auction, Instagram decides the winner based on which ad will create more value for the users, and this value is based on the following three factors.
Bid: It is the amount of money a marketer is willing to spend to show the ad to the target audience.
Estimated action rates (EAR): It is an estimate made by Instagram on how likely a user is to engage with a specific ad.
Ad Quality: It is based on how likely a user will be interested in the ad and this depends on ad copy, image, etc.
The winning ad after the auction is placed, and the advertisers are charged on a CPC basis until the budget is finished. You can view the performance of your campaign by using social media analytics tools such as Sociality.io to get the maximum ROI.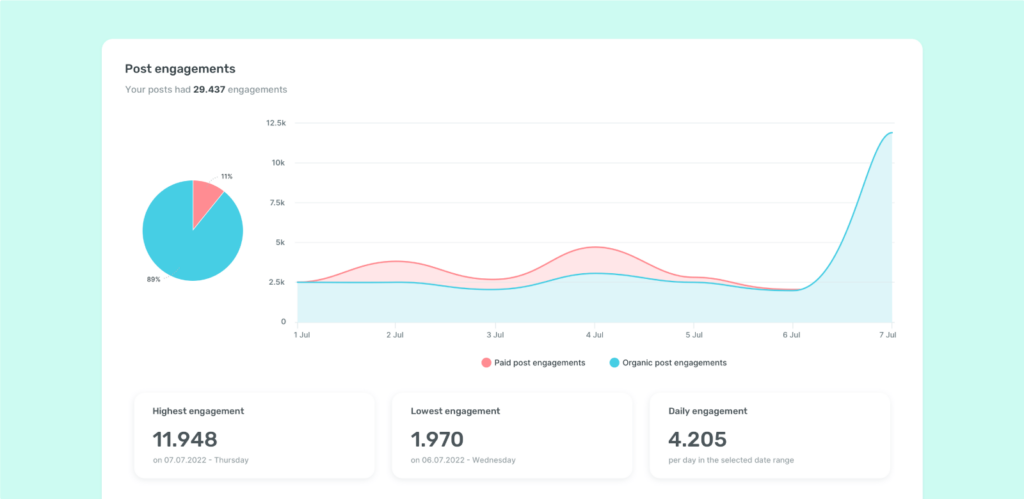 There can be other contributing factors too as discussed above including demographics, industry, seasonality, location, placement, timeframe, audience size, campaign objective, and many more!
How to optimize and budget Instagram ads cost
Here are some proven tips to help you optimize and budget your Instagram ads cost for a better return on your ad spend (ROAS)!
1. Create an Instagram audience funnel
Marketers use paid campaigns for revenue-generating activities. However, it might be difficult to convert your first-time visitor into a paying customer. When you try to achieve this goal with the not-so-appropriate target audience, you tend to decrease your ROAS.
That is why understanding the customer journey and where your target audience is placed with the help of a funnel can do wonders. This means you can talk about your brand or business to a growing number of users and guide them with relevant ad content from awareness to conversion, keeping your ROAS high.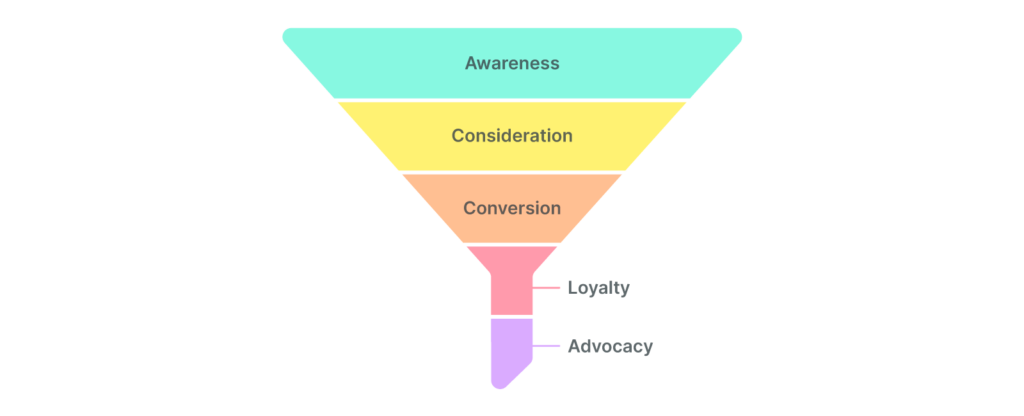 For instance, you can begin by identifying which post has been performing organically well, as such posts can be a good option for paid promotions or campaigns.
2. Retarget high-value audiences
After setting up your Instagram funnel, you can also focus on your remarketing audiences. These audiences can play a critical role because these are the audiences who have already engaged with your ads or posts, visited your website, etc. Since they already know your business, they can be a great option for targeted ads and can be easy to convert, increasing your ROAS. You can use the Ads Manager to create this custom subset.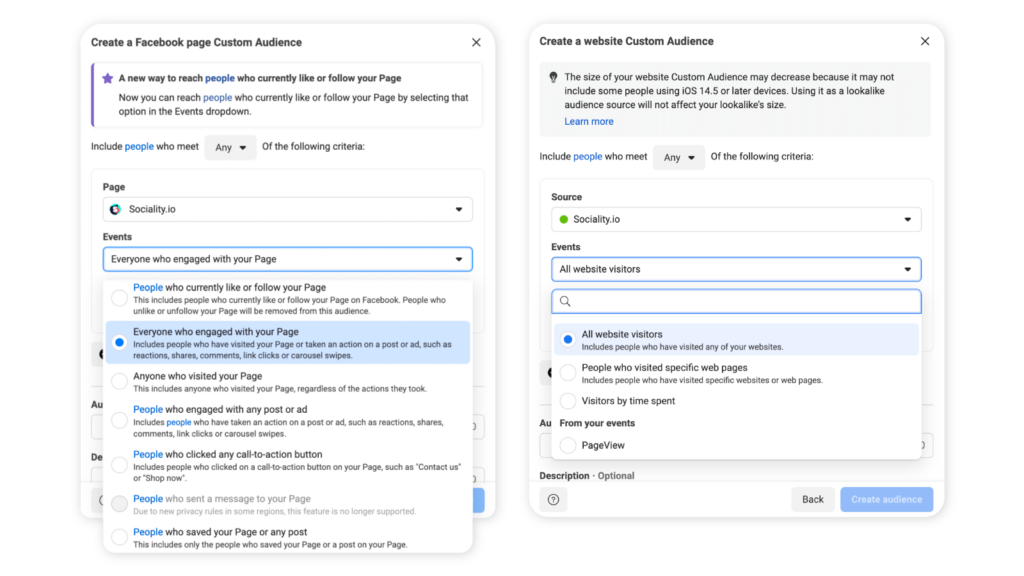 3. Use native lead gen forms
Native lead gen forms that are auto-filled with the user information make it easier for users to share their contact details. These users are ideally closer to being converted so that they can be part of your remarketing efforts, including email marketing campaigns. This will help you improve your return on ad spend.
4. Try new ad placements and type
In-feed ads are a norm, but you can explore newer avenues! Reels and stories are some of these formats. However, make sure your sponsored reel should gel with the organic content and does not stand out as an ad. This means you need a reel with a clear CTA and an authentic message.
You can also use specially designed full-screen creatives for your Story ads and link them with call-to-action or lead gen forms.
These newer ad placements can offer the potential to increase your return on ad spend.
5. Use A/B testing
A/B testing proves very useful for comparing multiple variations of your ad. You can compare creatives, placements, or target audiences to know which one is performing the best. However, the thumb rule is to keep only one variable different at the time of testing to make the right conclusion.
All you need to do is go to Ads Manager and click on the A/B test button, choose the ad sets, a variable you want to set, and then decide on the metric. Carefully analyze the results to know what works for you.
Final words
Marketers cannot ignore Instagram advertising, and understanding the ad costs and bidding strategy is the first major to knowing what you are doing. When planning your next ad campaign on this popular social media platform, make sure you know your objective and audience to plan a successful campaign. You can utilize the tips shared in this article and aim for a higher return on ad spend.