Facebook enables Business page owners to handle security risks with different roles and access levels. However, giving people restricted access can be both tricky and risky.
Up until June 2012, Facebook Page Administrators were given equal access, meaning that everyone had full access to all the functions. Such a system was prone to chaotic social media management. Fortunately, since June 2012, Facebook introduced page roles, which have been evolving ever since. The number of roles jumped back and forth, and currently there are 5 Facebook page roles.
Today, we are diving deep into the currently available Facebook Page Roles:
As a Facebook Page owner, it's crucial to maintain complete control of your Page and to limit who has access to what. Whether you are the owner of a small company page or a big large cooperation page, businesses benefit from having multiple people perform different duties.
Like every other department in a company, your social media department also needs to establish some guidelines in order to prevent any conflict that could happen in the long run.
You may want to have quarterly meetings to discuss your company's social media policies, roles, expectations, new features, address any concerns regarding your social content and future strategies.
Make sure all page role owners talk to users and fans online from the same voice that you all agreed on. Also, check this article about the social media crisis that you might have and how to avoid them.
Here's a very brief table for you to see all at once: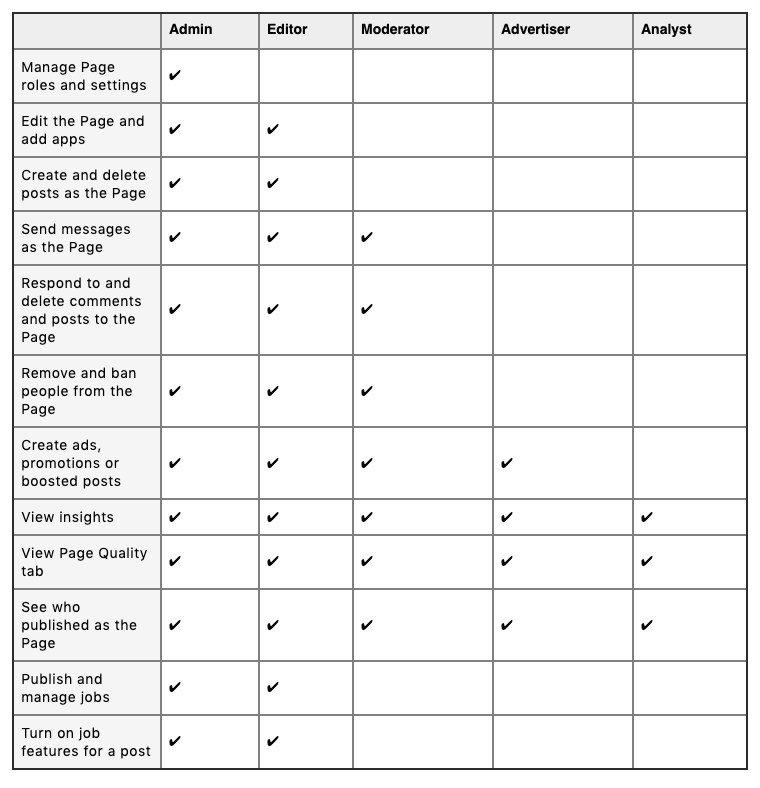 Facebook Page Roles
1. Admins
Admins have the highest level of authority and access. By default, whoever creates a page is given the role of Admin. The social media manager of the company, per se, can be added as an Admin. You can have as many admins as you'd like but try to keep it to a minimum.
To add an admin, go to "Edit Page", and then click "Admin roles." Scroll down and select "Add another admin." To make someone an admin of your Page, the person must have Liked the Page as well.
Admins can manage and assign all other Page roles and settings 
Edit the page and add apps, create and delete posts
Send messages from the Page's inbox 
Respond to and delete comments and posts to the Page 
Remove and ban people from the Page 
Create ads
View Page Insights
See who published what on the Page
Can publish and manage jobs
Turn on job features for a post
2. Editors
Facebook page roles are structured hierarchically. As the second top in the list, Editors can do everything Admins do except managing and assigning Page roles and settings. The social media specialist, per se, can be added as an Editor.
If you are the editor of a Page, you are able to perform the following:
Edit the Page
Add apps 
Create and delete posts as the Page 
You can go live from a mobile device
Send messages as the Page 
Respond to and delete comments and posts from the Page
Remove and ban people from the Page 
Create ads
View Page Insights
See who published what on the Page
Can publish and manage jobs
Turn on job features for a post
In a nutshell, editors are those who deal with the day-to-day activities of your Facebook Page.
3. Moderators
This role is best suited for someone who handles customer service for a business.
Moderators have the following access level:
Send messages as the Page
Respond to and delete comments and posts to the Page
Remove and ban people from the Page
Create ads, promotions, or boosted posts
View Page Insights
See who published as the page
However, they can't edit the page and add apps, can't create content and delete posts, or cannot go live as the Page from a mobile device. Moderators and the rest of the roles are not allowed to publish or manage jobs, nor to turn on job features for a post.
4. Advertisers
The name speaks for itself. Advertisers are limited to creating ads and promotions, boosting posts for the Page, viewing Page Insights accordingly, and seeing who published what. They are not allowed to do anything else.
Want to learn more about Facebook ads? Click here to know how to use Facebook Ads.
5. Analysts
Users in the Analyst role have the least access to all the options. Analysts are allowed to view Facebook Page Insights and to see who published as the page only. Someone in your social media or digital marketing department who does strategy and planning might be given this role on Facebook. 
As you may know, there are tools like Sociality.io that show you more in-depth analytics than Facebook's own Insight. Click here for a list of analytics tools that you can use.
How to give someone a role?
How to give someone a role, remove someone who has a role and change someone's role?
To find page roles, go to your Facebook Business page and find the Settings option. 
Click on the page roles option in the left menu. 
Here, you'll see a list of people who have access to your page. 
You can remove people from existing page roles or add a new one. 
When adding someone new, Facebook allows you to search for their name or add them via email. 
Then, your new member will receive a notification and an e-mail. 
You can also change the roles that each person has by clicking the edit button next to their name and then choosing the new appropriate role from the dropdown menu.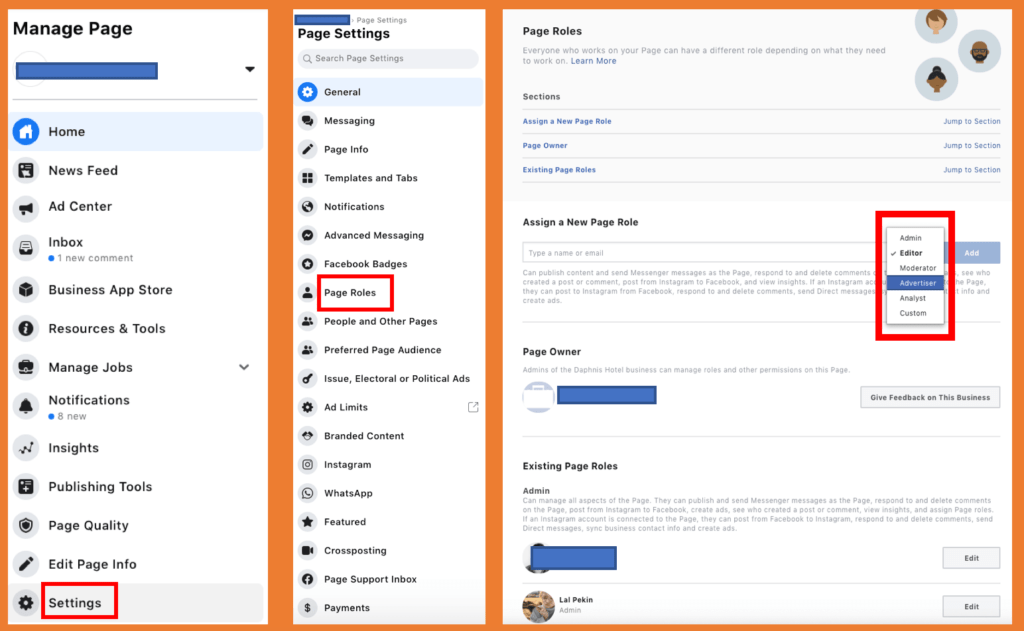 How to Customize Page Role?
Here you'll see the 'Custom' option on the drop-down page role menu on the right. Let's discover what it does:
Assign a new person and click Add. Go to Facebook Business, find Page Roles in this platform, and click on Add People. Once you add your new person's e-mail address and give access to your Facebook Business account; you can customize the tools your new person can and cannot use.

That's a wrap! I hope you enjoyed reading and learning!
Manage your Facebook Pages in one place
Schedule your posts, engage with your audience, and create export-ready Facebook page reports in one place.