How to stay competitive with 2021 Facebook algorithm changes
In 2021 Facebook algorithm changes were made to personalize newsfeed for every individual on its platform. As you know, the Facebook algorithm is a bunch of machine learning and ranking models that anticipate only what users might be interested to see. However, while users can enjoy the news that customarily reflects their interests, businesses face many challenges in creating and delivering content.
Each month Facebook shares 30 billion pieces of content for 2.7 billion people. Instead of allocating content in chronological order, the algorithm evaluates every post, scores it, and then orders it downward of interest for every single user. Fortunately, many techniques help businesses to manage content according to the target audience's interests.
🧁 Bonus article: Learn from top-performing Facebook pages on how to boost engagement
To understand what the Facebook landscape looks like in 2021, you can check the technical explanation here. Or, read the simplified version below:
Social Media News in a Nutshell
Get the latest social media news, insights, and marketing tips in your inbox once a week.
The Facebook algorithm built upon ranking signals
Indeed, Facebook's algorithm gathers various signals, including users' behavior data on likes, shares, comments, etc. But, over the last years, Facebook consistently highlights four main signals:
Recency: How old is the content? The latest content placed higher.
Popularity: How are people who have seen the post reacting to it? (Primarily users' friends.) The algorithm gathers engagement rates, likes, shares, impressions, reach, and comments.
Related article: Which is more important: Reach vs. Impressions
Content-type: What type of media is in the post? What media does the user interact with the most? (Link, photo, video, poll, text-based posts, stories, infographics, memes, live streams, audio.)
Relationship: Who from the user receives the post? (Person, business page, a news source or celebrity.)
How and how often the user interacts with the content author? (Messages, tags, engages with, follows, etc.)
These four main signals track users behavior and organically arrange the content appearance based on the following principles:
Facebook takes every post available in a user's network (also known as "inventory") and rates it according to predefined ranking signals such as post type, recency.
Then, based on past users' behavior, it discards posts that the user is unlikely to interact with. It also lowers the ranking of content users don't want to see (i.e., the content indicated out of user's interests, misinformation, clickbait.)
Next, it activates a neural network for the remaining posts to score them in a customized way that ranks them in order of value. For example: Kai is 15% likely to watch a math tutorial video, but 80% likely to post a reaction to a photo of his girlfriend)
As a final result, users receive organized media pieces that make them scroll through.
We have collected some statistics to help you understand the algorithm principles and apply them effectively.
The newest content sparks more engagement, so strike while it's fresh, and you'll get more chances to attract desirable attention.
According to Buffer's data by Kissmetrics, photos that provide text-based explanations seem to perform best, as they get 53% more likes, 104% more comments, and 84% more clicks than text posts. Consequently, Facebook fans prefer shorter posts which get 23% more interaction. Also, it turned out to be a thing on virtual emotions. On average, posts that include emotions get 33% more comments and share 33% more. It is also worth considering question posts that would consist of "should,' 'would,' 'which,' and 'who ." Why? Because question posts get 100% more comments and therefore bring high engagement.
Keep in mind that Facebook has been designed for friends and family purposes above anything else. That means that the algorithm values your communication with friends more than celebrities or business pages.
Now how do you get the most out of the Facebook algorithm changes?
1. Choose the best time to post on Facebook.
You need to know when your audience is online so that you might consider some generic insights.
Numerous studies have attempted to determine the best times to post on Facebook, and the results seem to be controversial. Although, in reality, there's no universal "best time," audience presence on Facebook seems to get denser at late night and earlier morning.
Many studies suggest the following peak times:
Best times: 9 a.m.–1 p.m.
Best days: Tuesday, Wednesday, Friday
Worst day: Saturday
Remember that hours between 5 p.m. and 7 a.m, see low traffic and consequently fewer engagement rates. Perhaps it depends on people's daily routine and this time is supposed to commute from work, dinner, etc.
Facebook Audience Insights is an excellent tool for gathering information about your audience's behavior. The tool provides you a generic demographic overview and audience insights, so, it will help you to post in your audience's time zone.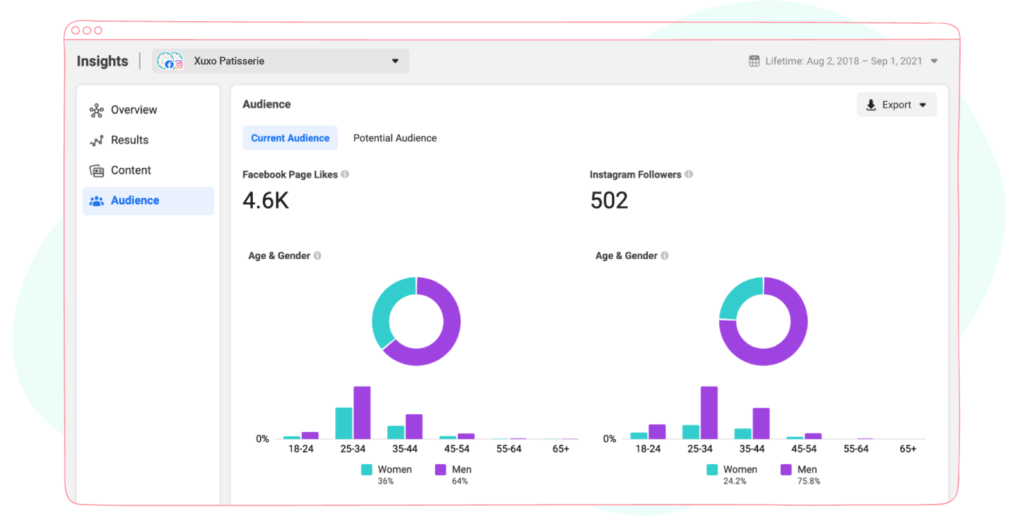 To make sure your content stands out, remember that your industry largely determines social media performance: Where is your audience based? When are they online? The primary approach for any business strategy should always lay on "The best data is your own."
A study by Gartner discovered that 76% of the top-performing marketing experts are basing their decisions on data.
It would help if you tracked followers: likes, comments, shares, video views, conversions, reach.
Tracking your top-performing content is crucial to understand what kind of content generates the desired "virality" and will help you to guide your content strategy. For example, inside the Sociality.io Report module, we can quickly filter posts based on the number of likes, comments, reach, engagement rates, views, and shares.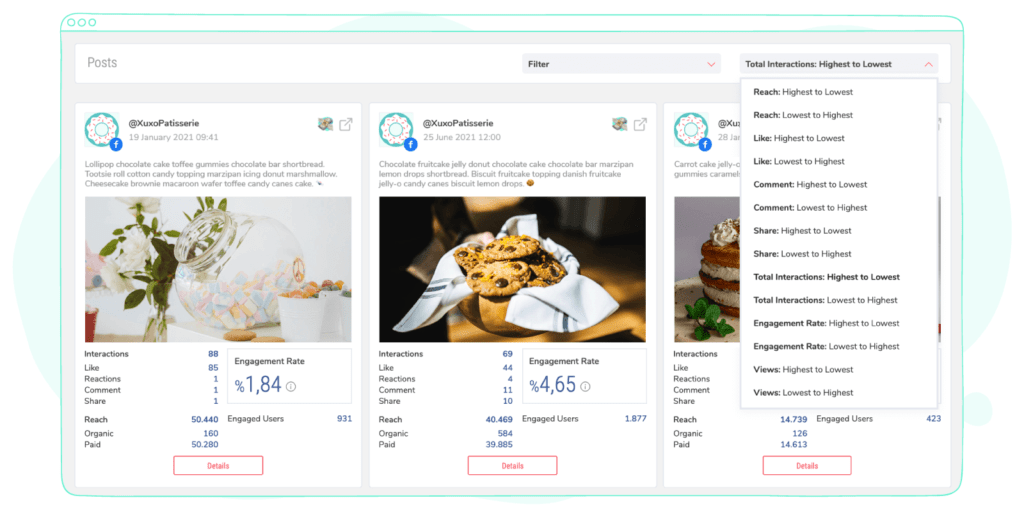 2. Engage with Facebook audience
Create a conversation.
In 2021 Facebook aims for an organic reach. You should be eager to drive conversations instead of fishing for engagement. Perhaps you want to take into account a roughly calculated scheme that some sources suggest, according to which Facebook weights content.
1 like = 1 point
1 comment = 6 points
1 share = 13 points
1 negative interaction (hide this post, unlike this page) = -100 points
Make sure that you reply to your audience, answer and ask them. It isn't just a matter of manners but a clue to what the Facebook algorithm prioritizes in 2021. The users are more likely to see posts from pages that they have interacted with previously.
It would be best if you also pursued your audience replying to each other. The algorithm appreciates content that presupposes discussion potentiality. If the conversation becomes highly sapid, the algorithm applies "action-bumping logic" to show the post back to the user. Following it, posts with the most valuable discussions get more spread as a second chance for users' attention.
Reply to all comments, mentions, and direct/private messages that might turn out to be a mess. Sometimes SMM specialists lack time and attention to reply. As a consequence it leads to a negative vibe on your business page, the algorithm turns against you and damages your post. To avoid that, you have to think about some AI developments featuring fast replies that would help you to fuel the Facebook algorithm and accelerate the post reach.
Organize predictable workflow using Unified Inbox
If you don't want to lose the user's attention or take hours for the moderation process, it's a good idea to get help from an all-in-one social media management platform Sociality.io.
Sociality.io engage module supports Facebook DM, Post Comments, Dark Post Comments, and other social media platforms (including Instagram, Ad, LinkedIn, Twitter, and Youtube.)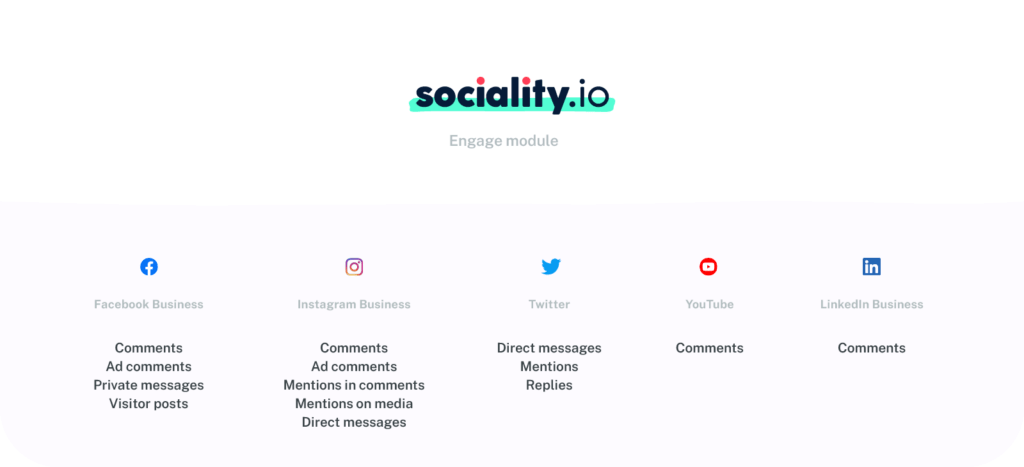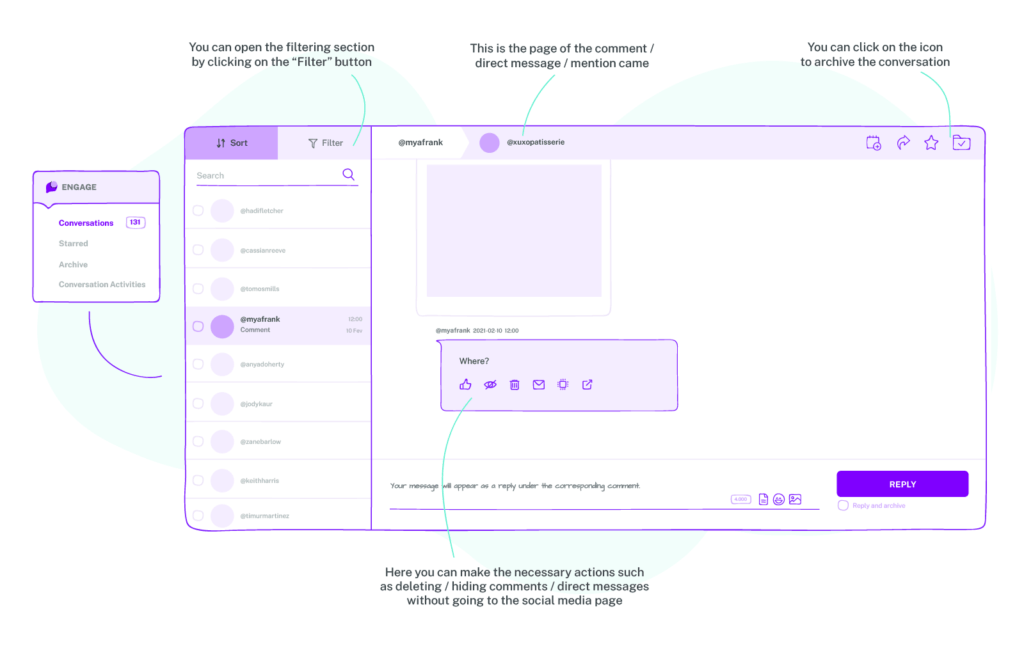 In 2021 it's clear that genuine content plays on the front line. But how can we figure out the quality of the content? The performance metrics are your best indicator.
But you shouldn't conduct an analysis only of your performance. You can actually access the metrics of your competitors and see how your target audience reacts to their content.
For instance, if you are promoting a restaurant, you can analyze your competitor's content and set similar filters by different types of metrics. One of the top Sociality.io modules aimed to extract competitors' metrics and even discover their promoted posts. The sought-for insights will help you plan your performance ahead of your competitors, or at least enable you to keep them up. The module lets you see what's working out for your competitors. It also provides you with missed information about your target audience that someone else is successfully using. The competitor analysis module can help indicate factors about your strategy that might need reconsideration.

4. Listening over monitoring
Digital engineers made Facebook algorithms way smarter in comparison to previous iterations. There are many debates about how Facebook has gone far in depriving people's privacy. But, if you understand the purposes behind listening, that would not scare you!
Facebook's listening algorithm isn't just stalking you, and official evidence of that does not exist. So, people shouldn't be creepy about what's called analysis.
Facebook monitors various types of data, that's true. However, monitoring works as a foundation for the listening part, which does an analysis by applying a sophisticated neural network. It discovers our feelings and emotions behind opinions that we express on the platform. And therefore offers users a personalized newsfeed.
In regards to your business, not all the information is essential. Working with general information about people's opinions on your page isn't enough to strengthen your business image. For that, you need to go deeper into the decoding process and find key elements about your audience. That doesn't mean you have to manually gather and analyze posts, comments, and conversations containing keywords and topics that are substantial for your business.

The Sociality.io listening module allows you to turn data into results. It presents the information you need in one centralized dashboard, sourced from your social media platforms and other web sources. In addition, you can filter your data according to source types, process (sentiment, category, attribution), and time frame. Additionally, the module listens not only to your current audience but detects industry-wide social media trends. By using it you get the idea of where the ever-changing industry is going, so you can implement the right strategies on time.
Related article: Top 10 social media listening tools

5. Publish
After we've learned various approaches and tactics for business social media strategy, let's observe some tips for publishing. Once again in 2021 Facebook is precise at promoting meaningful interactions, this means "quality over quantity". Hence, only organic engagement can bring you a reach. Below we present you some ways of publishing to beat the algorithm.
Focus on Video content
Videos have become a powerful engagement tool, as they are the easiest content format to become viral. Create meaningful videos, they spark conversations. Although, in 2021 experts suggest emphasizing long videos (1-3 minutes), remember that the first seconds (3-5) are crucial to retaining attention.
Videos are known as UGC's (User-generated-content), usually referred to as influencers or real customers. Because these videos are uploaded by your customers, they can win you organic reach due to a native feel.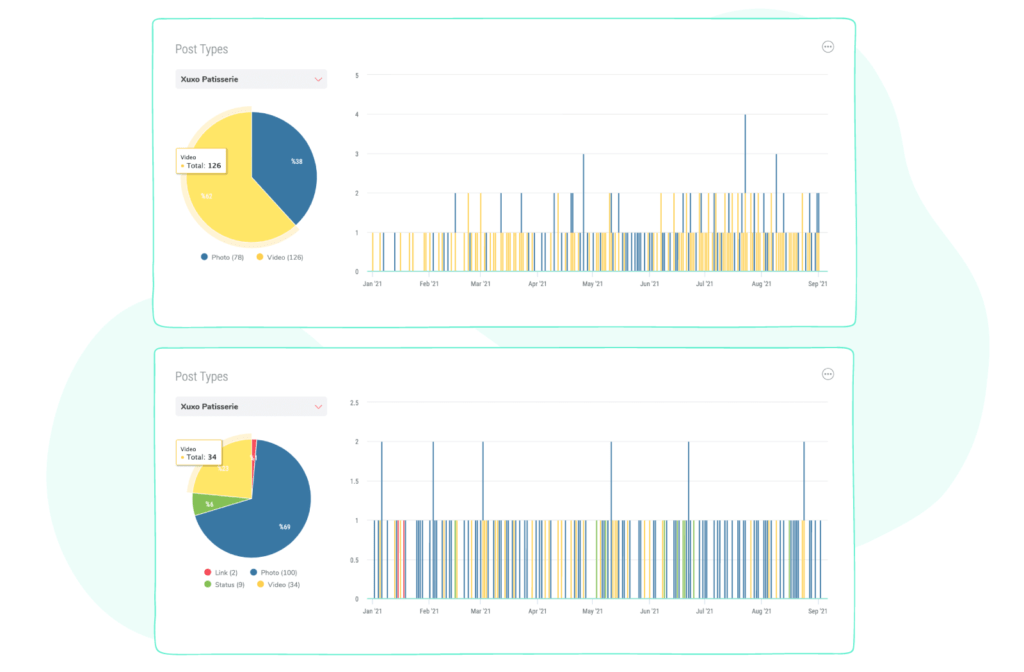 Create unique content
Relevant and unique content boosts the audience's loyalty. Try to create content with a special story that connects your brand with your audience on an emotional level. Use the tactics mentioned above to explore what personal feelings your audience has for your brand. Behind the scenes, photos of or with your clients and past conversations references, create vivid memories about your brand. All these marks out you are as unique in reverse.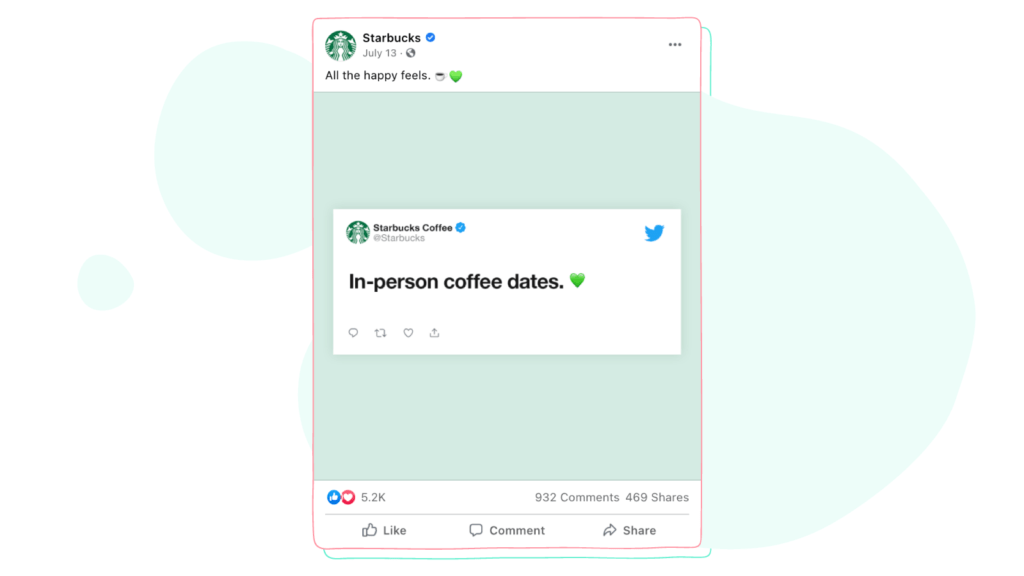 Employee advocacy
The algorithm boosts posts from person to person way more than from page to person. You can expand your business page by asking employees to share posts about your brand.
Facebook stories
In fact, people love stories. Facebook gets more than 500 million daily viewers. It is essential to know that stories aren't part of the Facebook newsfeed and algorithm rules. It means that by using stories, you literally avoid algorithms limitations and effectively get more engagement.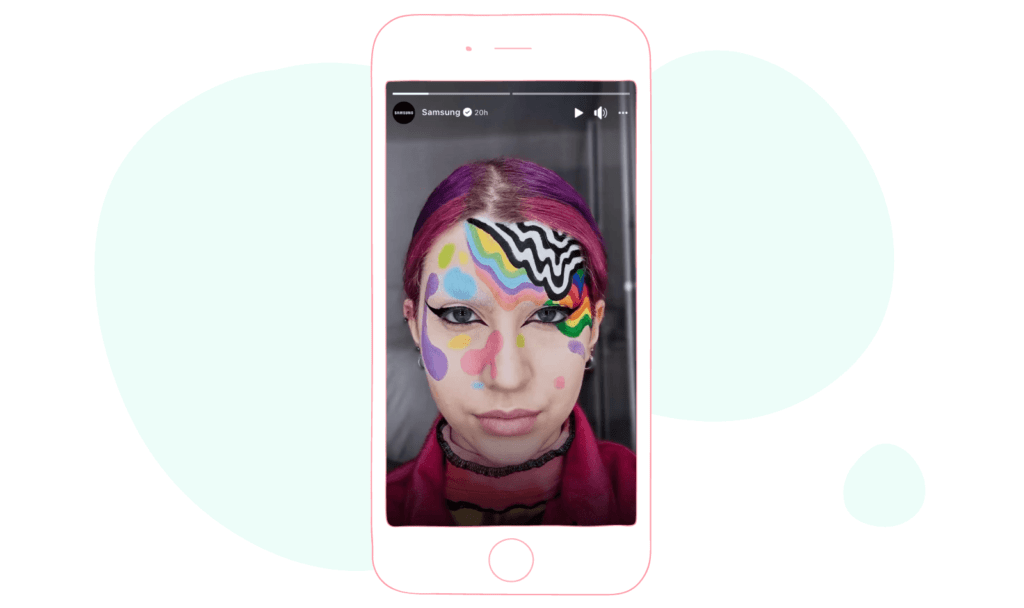 Conclusion
For the final thoughts, if you know your audience and your brand strategies include their interests, you have great opportunities to create meaningful content that will make an impact. Although mining data is hard, many smart tools and professional services help you perform successfully. Hopefully, this information and tips will help you create and schedule great content that will benefit your business.