How to stay competitive with 2022 Facebook algorithm changes
With over 2.934 billion monthly active users on Facebook as of July 2022, marketers wouldn't want to miss this lucrative social media platform to grow their business. But here's a catch—you need to unravel the Facebook algorithm to make sure your content is appearing in your target audience's feed and creating the impact and engagement you want.
So, let us dive deeper into the new Facebook algorithm and what it means for your marketing efforts. 
Social Media News in a Nutshell
Get the latest social media news, insights, and marketing tips in your inbox once a week.
What is the Facebook algorithm? 
Facebook keeps revising its algorithm that determines which posts appear in the Facebook feed of the users and also their order (higher in the feed). Primarily, it assesses or evaluates all posts to score them based on various factors, arranging the posts in descending order but not in chronological order in the feed—every time you open Facebook. It takes into account what users are interested in or more likely to engage with, what pages or people they followed, engaged or liked recently.
Facebook's personalized ranking
Whether a user is browsing Feed, using Search, watching a video, or exploring deals in a Marketplace, Meta ensures that the user sees the content which is most valuable to them and this content appearing in the user feed is often personalized.
For this, Feed Surveys and algorithms are utilized to predict what a user will most likely be interred in.  So, let us discover more about the new Facebook algorithm. 
How does new Facebook Feed algorithm work?
Facebook uses the algorithm to prioritize meaningful posts at the top of the user feed using these four steps (updated as of September 2022).
1. Inventory
It is the total number of posts that a user can see when they open Facebook. It includes all posts shared by people connected as friends, the Pages user follows, as well as the Communities they have joined. In between these posts, ads and recommended content that is relevant to the user based on their Facebook activity are displayed. 
2. Signals
The Facebook algorithm considers various factors or signals for each post, including:
Who posted the content?
How has the user previously interacted with that person/publisher?
What is the type of content—photo, video, or link?
What is the popularity of the post based on how many of the user's friends liked it or pages that reshared it?
3. Predictions
After the first two steps, the algorithm uses the signals to make personalized predictions on each post based on how relevant it is to the user. These predictions may be based on the following:
Is the content from the user's friends or family?
How likely will the user comment on it?
Will the content initiate or foster a meaningful interaction?
How likely can the user find the content on their own?
Does the content contain a quality indicator? For instance, original content including news is assigned a higher personalized relevance score, meaning it appears near the top of the Feed.
Response to surveys that assess where the post was "worth your time". Worthwhile posts are then shown higher up in the Feed.
4. Relevance
The final step involves calculating a relevance score for all posts in the inventory. This is done based on the signals and predictions. The posts with a higher score are more relevant to the user and thus appear at the top of the Feed, whereas posts with lower scores appear near the bottom.
What does it mean for publishers?
This means publishers should create content that is meaningful and informative for the user.
Meaningful: To determine how meaningful the story is to the user when ranking the Feed, Facebook considers personal and universal signals such as 
How close is the person or page posting the story? 
Will they talk to their friends or family about it?
How much time do they spend reading?
Which videos would they watch 
Overall engagement (likes, comments, or shares the post has)
Informative: This may vary depending on the target audience. That is it is important for publishers to identify content that their audience will find new, interesting, and informative. It can be news, a recipe, or current events. The options are unlimited!  
Accurate and authentic: Avoid misleading, sensational, and spammy content. Overall, 
Use clear headlines. Do not resort to headlines that exaggerate the article, withhold information about the content of the article, misleading the readers.
Do not deliberately try to manipulate Feed to get more distribution than they normally would.
Do not share false information that can harm the community.
Facebook has outlined guidelines for meaningful, informative content as well as authentic, accurate content for publishers. 
Notably, avoid posting:
Clickbait
Engagement bait
Watchbait
Links to low-quality videos or low-quality webpages/experiences
Most importantly, Facebook dissuades inauthentic sharing, i.e., artificially boosting views or engagement. For instance, Pages involved in hyper-sharing the same content repeatedly across similar pages or fake accounts. 
Facebook gives the option to the users to customize their Feed experience. 
Users can change their Feed preferences under the Settings tab. It includes options such as adding to Favorites or Unfollow.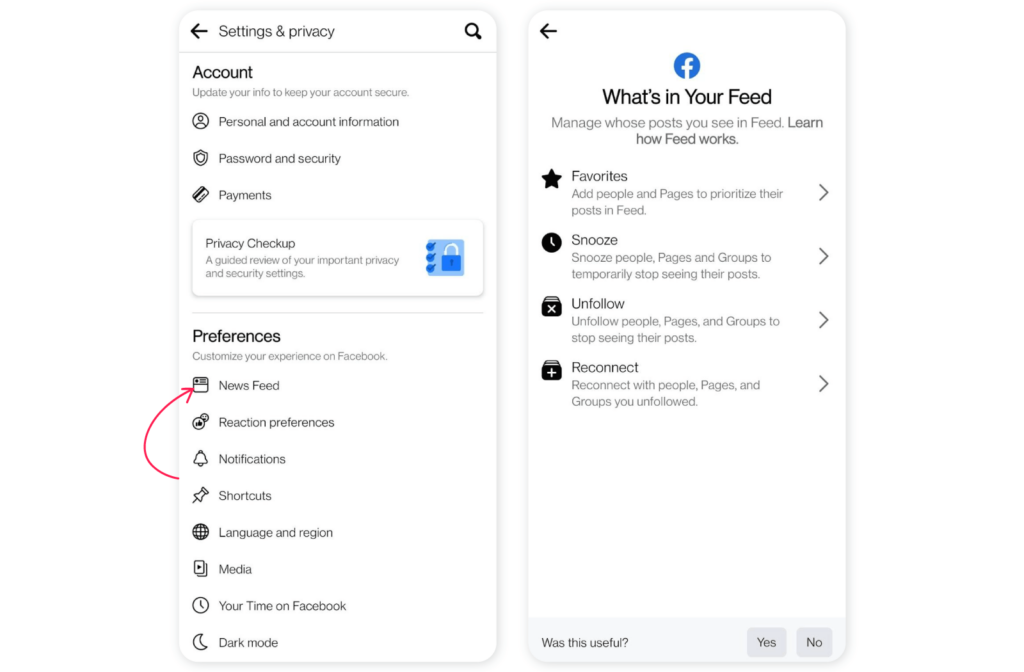 The other option is to use the in-feed settings based on an individual post.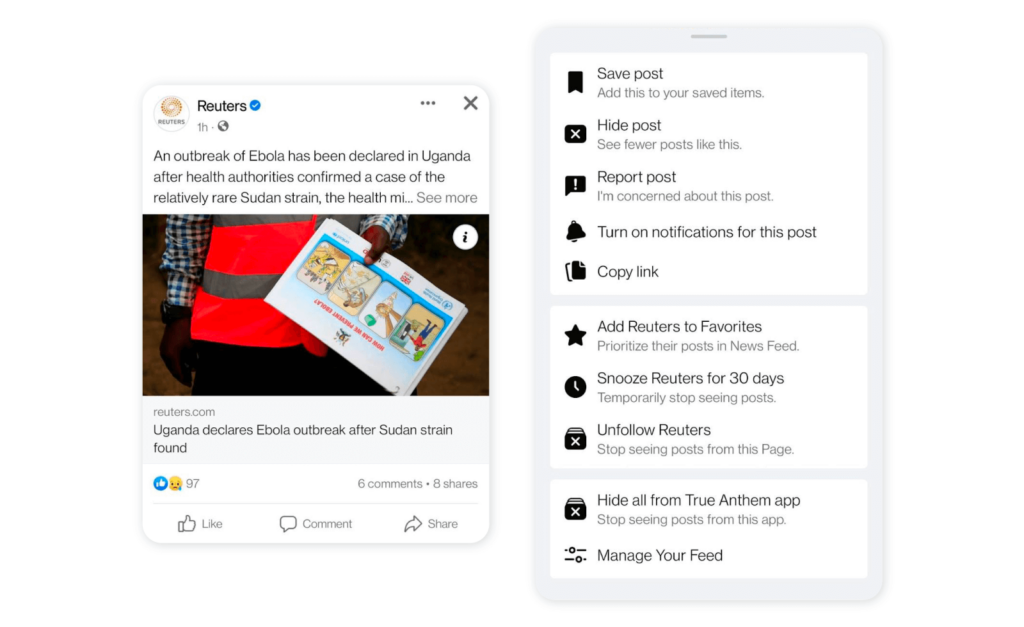 5 tips to circumvent Facebook algorithm
Here are some more tips to help you navigate through the new Facebook algorithm for maximum ROI.
1. Understand what is meaningful and informative for your audience:  We already discussed what meaningful and informative content means. As a marketer, your focus should be on understanding your target audience and observing their behavior and interest. You can review your detailed Facebook analytics report to know what your audience likes. 
One-stop social media management tools such as Sociality.io can give you critical insights to create content for maximum ROI. Detailed insights into your audiences and post interactions can help you understand their persona, behavior, likes, and preferences to ace your content strategy.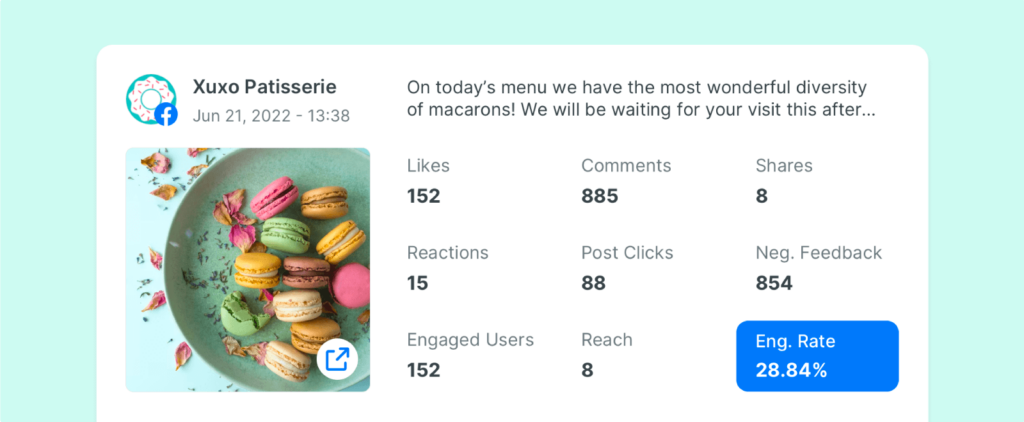 2. Improve engagement with your audience: We know that the Facebook algorithm considers how your audience has previously interacted with your post. This means you do not miss the opportunity to engage with your audiences. Be it replying to the post, liking their comment, or resolving their query.
For prompt responses, you can use tools such as Sociality.io to know what people are talking about your brand. Socaility.io can help you monitor direct and indirect mentions and assign conversation owners who can rightly respond to the comments and mentions. Moreover, with multilevel permission access to editors, viewers, admins, etc., to manage social conversations and much more!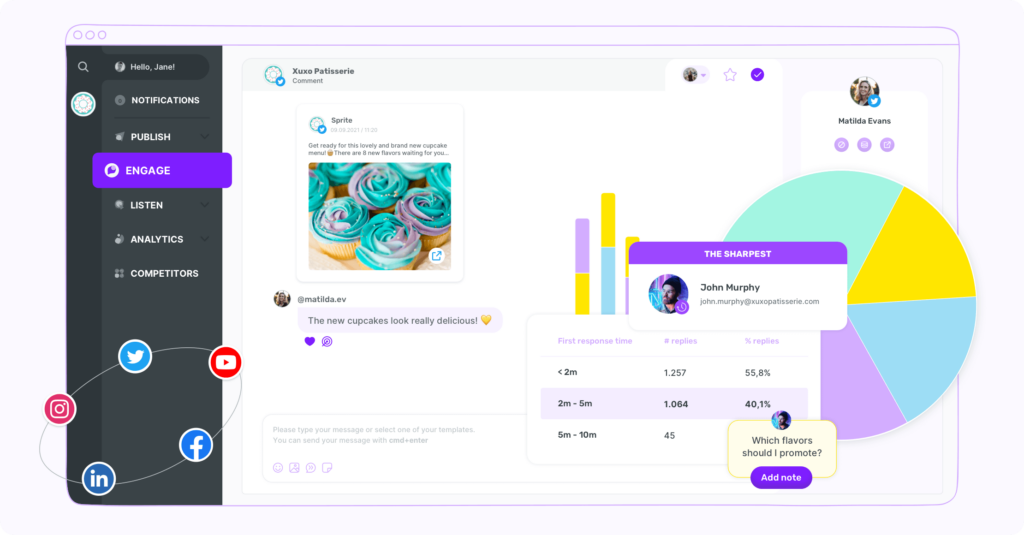 You can also analyze your competitors' data to identify what's working and what's not and also to benchmark your targets when planning to increase engagement.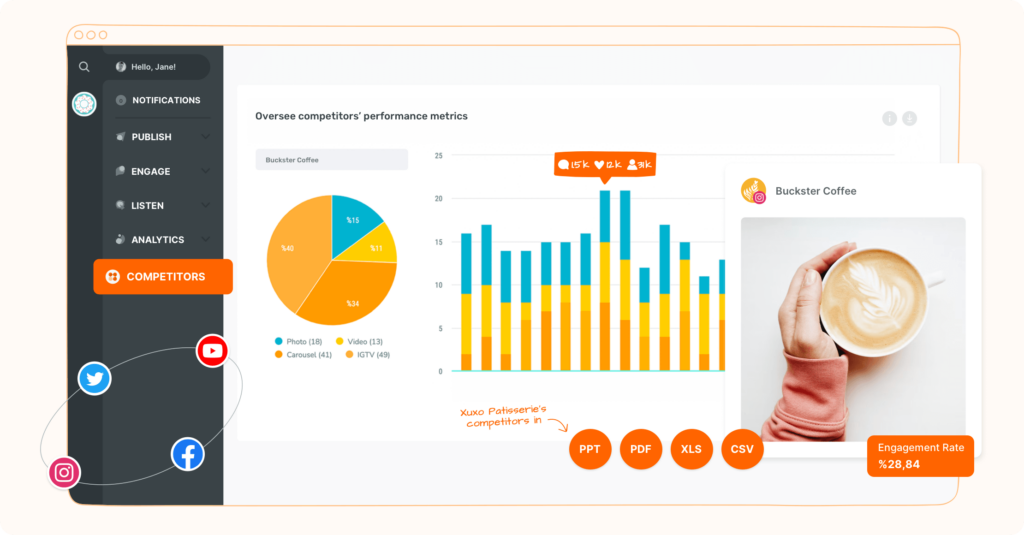 3. Encourage your audience to engage with each other: As discussed earlier, Facebook values content that your audience share with their friends or family. So get your audience engaged with each other! Again, you can use your detailed Sociality.io's Facebook analytics report to identify the type of content that creates a buzz within your audience.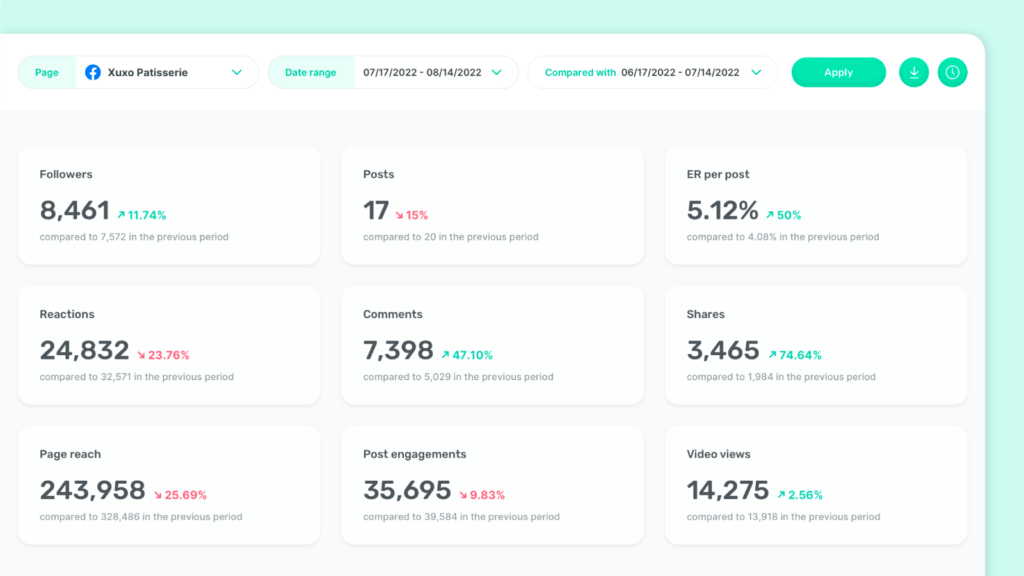 4. Dive into Facebook Reels: Facebook Reels undoubtedly is the fastest-growing content type on Facebook and Instagram. It can help your brand get discovered. The plus point is that the Reels can be added to Stories and can be seen under the Watch tab. 
5. Expand your reach: You can amplify your post's reach when credible advocates, influencers, or your own employees share your content. This increases not only your credibility but also your content authority. 
Final words 
As a marketer, you need to work with the Facebook algorithm, not against it, to get the best results out of your social media marketing strategy. With changing algorithms, as users become the priority, it is important to understand your target audience deeply and create meaningful, informative, accurate, and authentic content for them. 
Do not shy away from utilizing social media management tools such as Sociality.io for maximum benefit. These powerful one-stop solutions can give you the insights you need to drive your Facebook ROI without much hassle!