Why spend more time auditing your competitors' social media accounts when there are so many amazing tools that can do it for you in a couple of seconds? We've already covered social media competitor analysis tools so, in this article, we have gathered a list of helpful tools specifically for social media auditing. The below list of tools can help you better analyze your competition's social media accounts and improve your social media game.
In case you're still considering whether it's worth investing your resources into, here's a brief list of advantages that 3rd party auditing tools bring into your social media competitor analysis.
Why use 3rd party Social Media Auditing tools?
Time-Saver: Social media audit tools get you the information you need in significantly less time than it would take you to do it manually. Whether it's a single-page analysis or comparing different competitors' performance, such tools are equipped well to accomplish these tasks quickly.
Extra Information: When analyzing manually, calculating the engagement rate of a specific page becomes a hassle. And social media platforms don't let you see the engagement rate of a page that doesn't belong to you. Thankfully, auditing tools are here to save the day. And they do it very well!
Easy to Review: By using a tool, you don't need to set up an Excel or Google Sheet to gather the info. Reports generated by these tools also have visual representations of data which not only is present to look nice but makes the data much easier to process.
#1 Sociality.io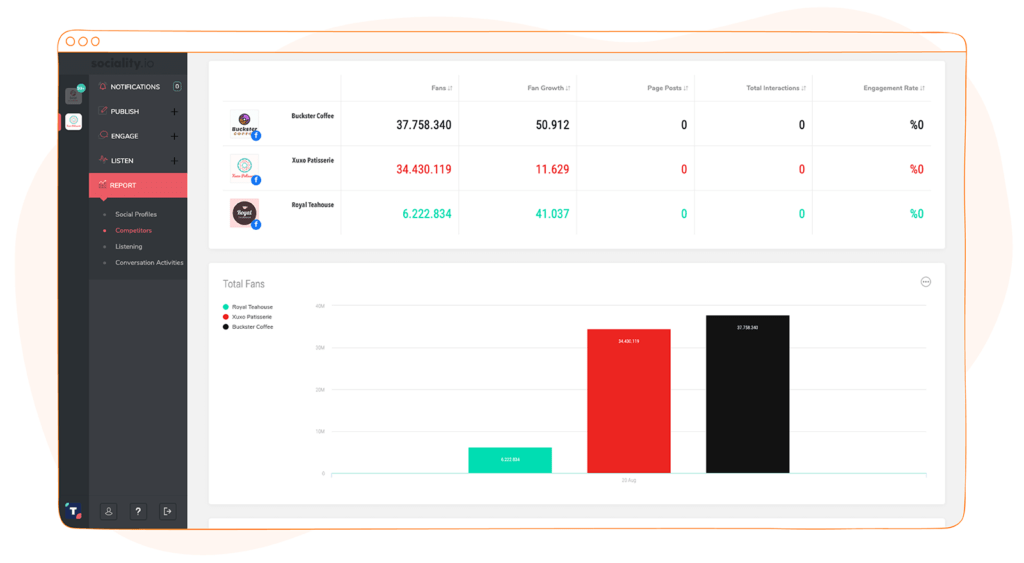 First up is Sociality.io and we know, we know, this is our tool but this isn't a shameless advertisement. We include our tool with the rest of these amazing tools because from day one we worked hard to make this tool meet the highest industry standards and needs. Most importantly, it feels great to have Sociality.io in such a great company. So make sure to check out the rest of the list as well.
Sociality.io is an all-in-one social media management tool that also comes with great competitor analysis tools. You can audit your competitors' Facebook, Twitter, YouTube, and Instagram Business pages. 
You can track everything with Sociality.io: engagement rate, follower growth, posts, interactions, comments, and many more. To see for yourself, download a free sample report below.
If you are interested in giving Sociality.io a try, don't hesitate, Start a free 14-day trial!
All competitors on one report
No more spending hours for competitor analysis, no more taking wrong decisions due to missed out information.
#2 Followerwonk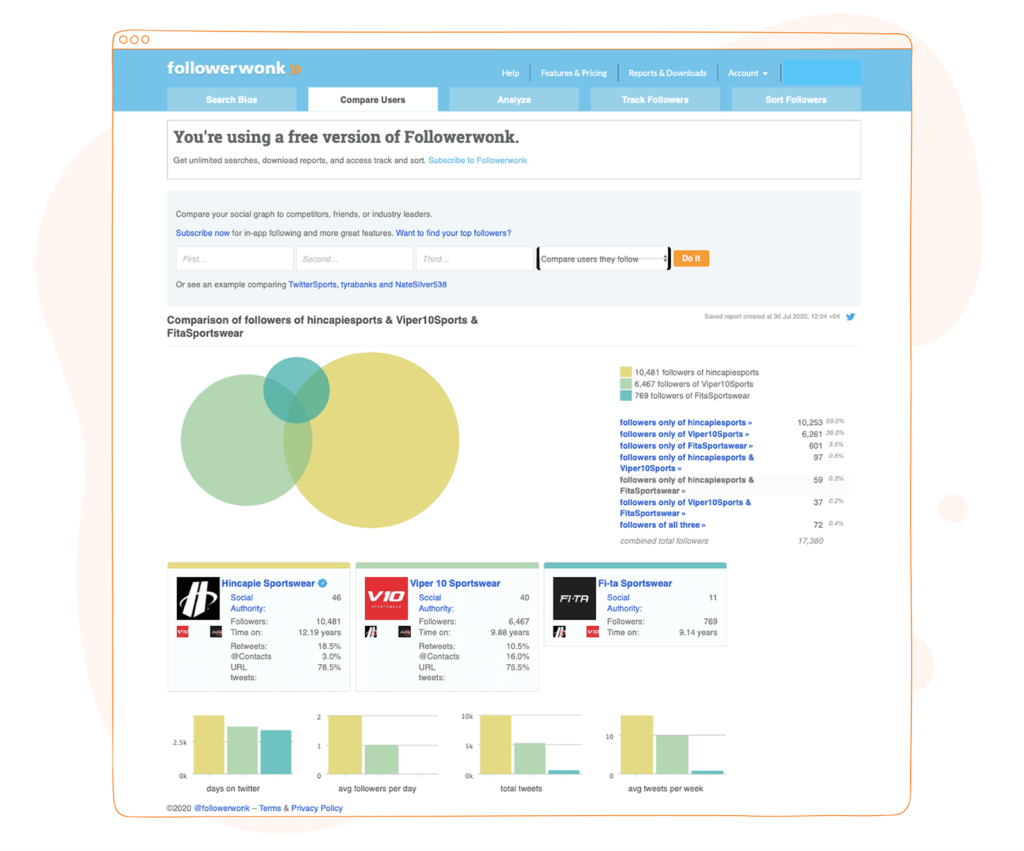 Followerwonk is a great tool to audit your competitors' Twitter pages. It specializes in the "bluebird" social media platform and provides great insights into the page and its following. And what's great is they offer a free version. All you need to do is log in with your Twitter account.
Followerwonk mainly focuses on follower analysis. Compare Users, Analyze, Track Followers, and Sort Followers tools let you dive deep into little details of your competitor's following. Everything from demographics to active hours on Twitter and so much more.
You can also use the tool to analyze popular hashtags used by your competitors and their followers on Twitter. Additionally, you can also analyze the accounts your competitors follow to see which influencers they follow and whether they follow their active fans or not.
Just keep in mind that Followerwonk's free plan lets you analyze an account for free as long as it has less than 35k followers. So for accounts with a larger following, you will need to purchase a subscription that starts at $29/month. Either way, we highly encourage you to give Followerwonk a try.
#3 Phlanx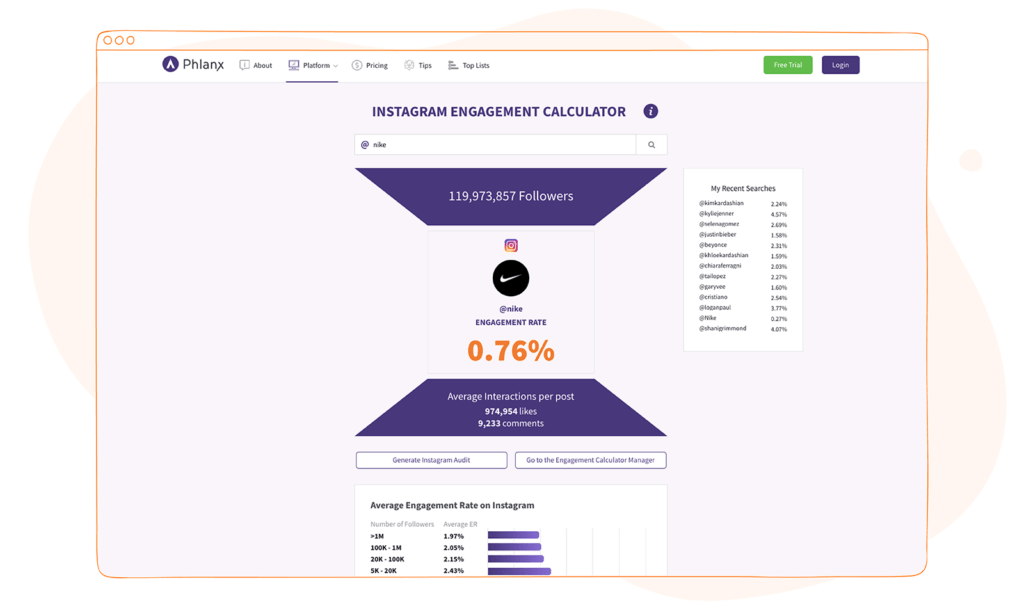 Phlanx is another social media management platform that has a great tool that lets you calculate the engagement rate for your competitor's Instagram pages for free. You can also use it to generate a full Instagram audit, but for that, you will need a subscription. As mentioned above, calculating the engagement rate manually is a daunting task and why do it yourself when you can do it for free with this amazing tool?
Phlanx's paid subscription currently starts at 35$/month if you get a monthly subscription. It gives unlimited access to Phlanx's tools for one account.
#4 Mention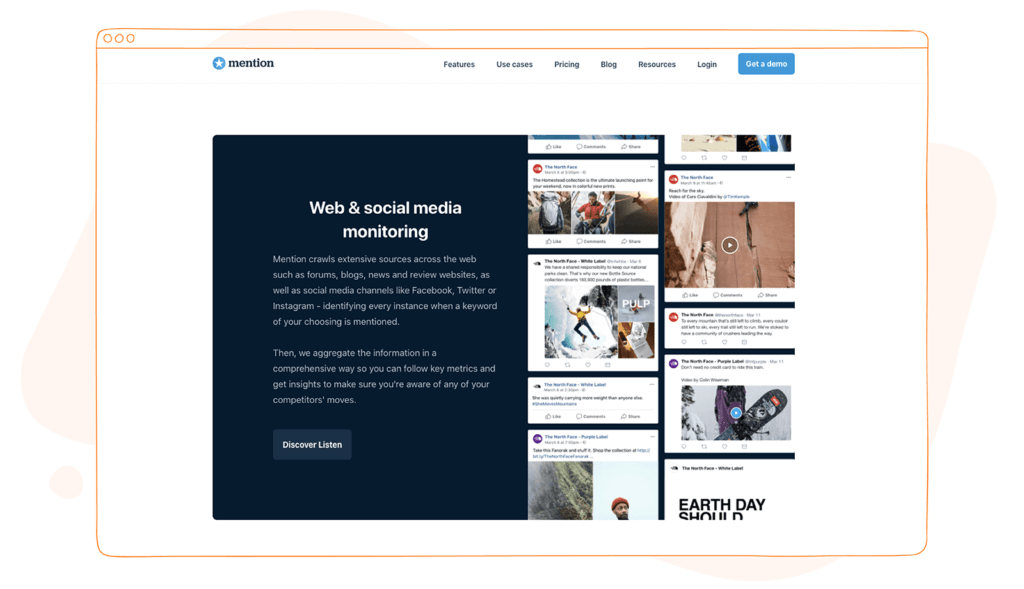 Mention is like a sophisticated Google Alerts. It lets you monitor conversations from various sources on the web, including social media platforms. Whether you want to keep a track of your brand name mentions or your competitors', this tool will be there for you.
This tool will help you audit your competitor's mentions on the web and social media platforms.
Mention too offers a free version and a 14-day trial for paid versions, which start at $29/month price point for a monthly subscription. Learn more about their competitor analysis features here.
#5 SimilarWeb
SimilarWeb is mostly known as a traffic and keyword analysis tool but there's a great use case for social media auditing that might not be obvious to everyone. The tool offers a feature where you can study both outgoing and ingoing referral social media traffic. This is a great way to understand which social media platform works best for your competitors. Analyze various competitors to see if there are any patterns. Is Twitter bringing the most traffic to similar companies? Or is it Facebook? If so, you've got yourself a pretty sweet insight thanks to SimilarWeb.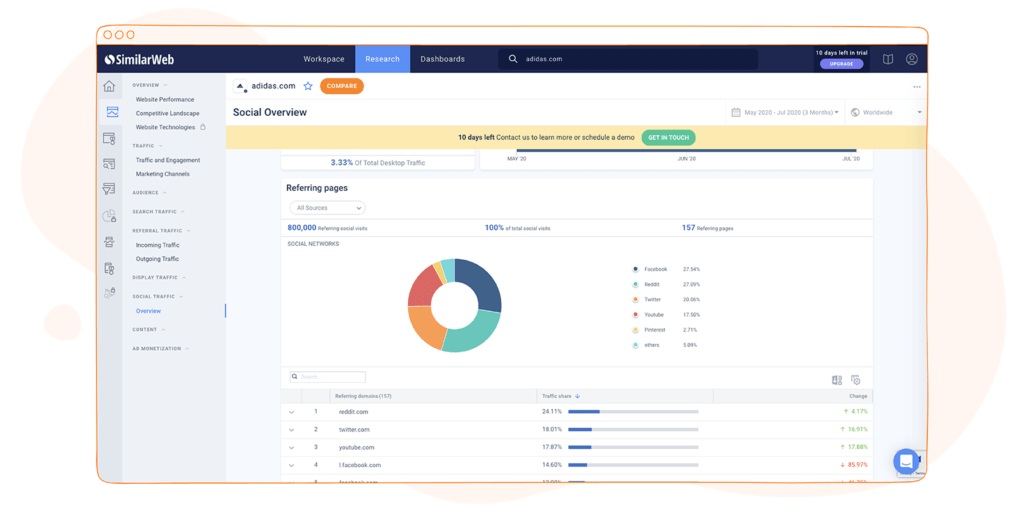 SimilarWeb offers a free package and an enterprise plan without limitations. SimilarWeb doesn't post pricing so you have to reach out to the consultants for rates.
#6 Ad Library by Facebook
Did you know that Facebook offers a free tool where you can look for ads that are running or have been running across the social network? Well, now you know! Ad Library is a fantastic free tool to study your competitors' ad copies on Facebook, and it's completely free and easy to use.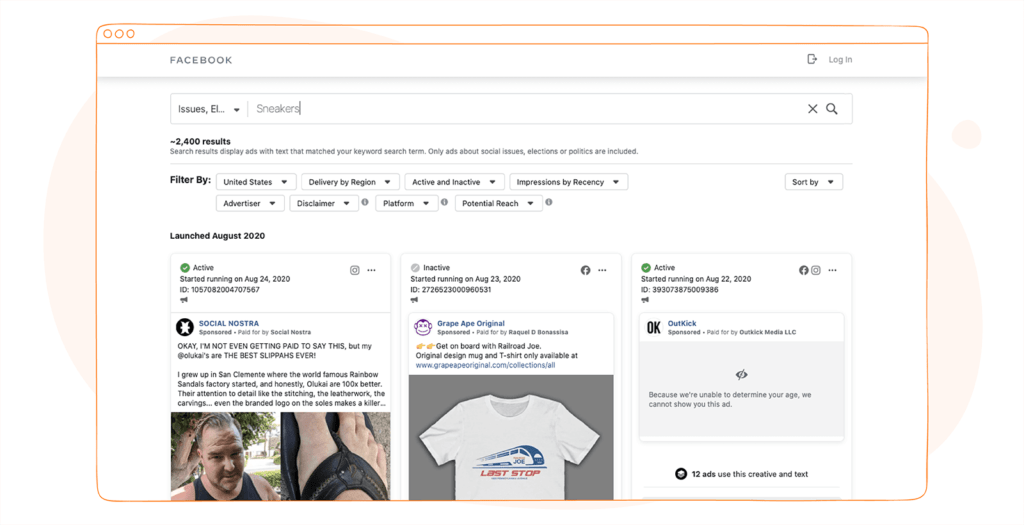 Use this tool to audit competitor copies and analyze what type of content they prefer to promote more. You might find amazing insights with this tool.
In conclusion,
Social media audit tools will help you advance your competitor analysis greatly. Even if you don't want to commit to a subscription yet, thankfully there are free tools that will give you a taste of how tools improve the process. We're confident that you wouldn't want to go back once you tried one of these tools mentioned above.
And before you go, a kind reminder. Whether you're new to our blog or are a valued follower, recently we published a series about social media competitor analysis and helpful guides on how to analyze your competitors on various social networks. Make sure to check out these articles that are linked below. Happy analyzing!