Top 6 social media competitor audit tools that are worth your time
Punching those social media numbers into spreadsheet blocks is a task most social media marketers do not fancy. If crunching numbers isn't exactly your biggest strength and you think social media audit is hard work, we agree. But can you conduct an efficient social media audit without sacrificing your sanity and losing sleep?
Yes, you can!
Why spend more time auditing your social media accounts when there are so many excellent tools that can do it for you in a couple of seconds? We've already covered social media analytics tools, so in this article, we have gathered a list of helpful solutions specifically for social media auditing alongside a checklist to guide you through this process.
Let's dive into what social media audit looks like, how to run one, and tools to help you create the most effective audit for your needs.
Social Media News in a Nutshell
Get the latest social media news, insights, and marketing tips in your inbox once a week.
What is a social media audit?
A social media audit is a process of collecting and analyzing social media data and metrics to discover valuable and actionable insights you can use to improve your social media strategy.
The goal of a social media audit is to evaluate your growth and identify gaps and new opportunities in your strategy.
In simpler terms, a social media audit helps you identify what's working and what's not and allows you to judge your social media performance if it's good enough.
Depending on your goals and priorities, the metrics you focus on might slightly differ from brand to brand, but at the end of your social media audit, you should be able to answer the following questions:
How many social media platforms are you on, and which is your most effective platform?
Who is your ideal audience on these platforms?
What type of content does your audience like to see?
How does each social media platform contribute to your overall business growth?
What's helping you grow your audience on these platforms, and which of your efforts is not moving the needle with your target audience?
What social media marketing opportunities are you neglecting?
Are there any new ideas you can add to your social media strategy?
Even your competitors are not left out. These social media audit tools also allow you to audit your competitor's social media performance. You can benchmark your social presence against the competition by analyzing your strengths and weaknesses.
Depending on the end goal, usually auditing competitors involves answering the following questions:
Who is their audience?
What types of content generate the highest engagement rates?
Is their posting consistent?
When are followers active?
What can we do to improve our presence?
Competitors' audit is an excellent planning resource and roadmap for future social media strategies. Usually, teams organize spreadsheets or simple documents with a list of content ideas that work and new market trends to implement.
But most importantly, it answers the question, "Is our social media performance good enough?"
How to run a social media audit?
While running a social media audit, you'd have to do a lot of data gathering, and you need somewhere to put down all this data. You can either start from scratch using a spreadsheet, or you can use our social media audit checklist to help save you time. Using our checklist provides you with a template that you can easily follow to get your audit done in less time.
We've broken down the steps one after the other, so you can easily replicate them over and over again.
1. Track down all your social media profiles
Start by finding all the social media profiles your company has ever created. This is very important, especially if you are doing a social media audit for the first time or are new to a company. There is every chance that they are social media accounts that have not been used in a very long while.
It's pretty easy to find every account your brand has ever created; google your company name, and it would bring out every social media account associated with that brand.
Or you could go on to each social media platform and search out all your accounts by typing your brand name in the search box.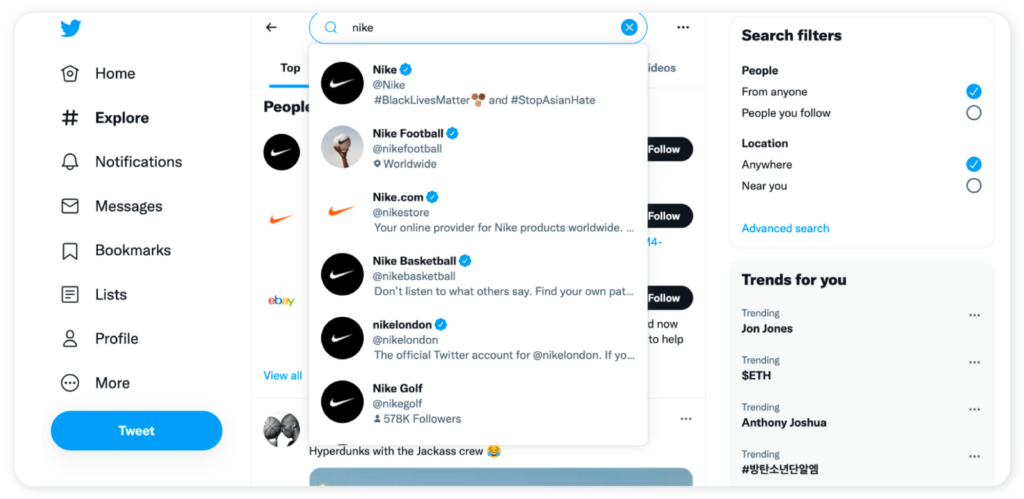 For each platform, record your username or handle with its URL) and the number of followers/ subscribers. Our social media checklist has tabs for every major social media network where you can fill in all these necessary account details for proper referencing.
2. Define the goals of your social media strategy
This ensures you don't go around collecting any and every data you see only to get lost in a sea of numbers. It informs your focus on each social media platform.
Out of all the social media accounts you've listed, are there any ones you want to focus on or pay less attention to?
The general advice is that you don't have to be on every social media platform, especially if you don't have a team that can handle that.
What are your specific and realistic goals for each platform? Are you looking to
Generate more sales/leads through the platform
Increase brand awareness
Increase engagements or interactions
Whatever your goals are, make them as specific and realistic as possible because these goals are what would inform what metrics to look out for during your analytics.
3. Ensure your branding is consistent across all platforms
Your customers should be able to look at your profiles across different social media accounts and find similarities. They should not be left unsure if the page belongs to your brand. It's part of what makes you stand out from your competition.
You don't want to be that business whose branding on Instagram differs entirely from that on Twitter.
Here's a quick guide to ensure your branding is consistent across all platforms
You should have the same username across all your profiles. If, for whatever reason, your username has already been taken on a platform(which would rarely happen), ensure the difference in the new username you chose is minimal.
Even if you have different accounts that serve different purposes, the usernames should still include your brand name.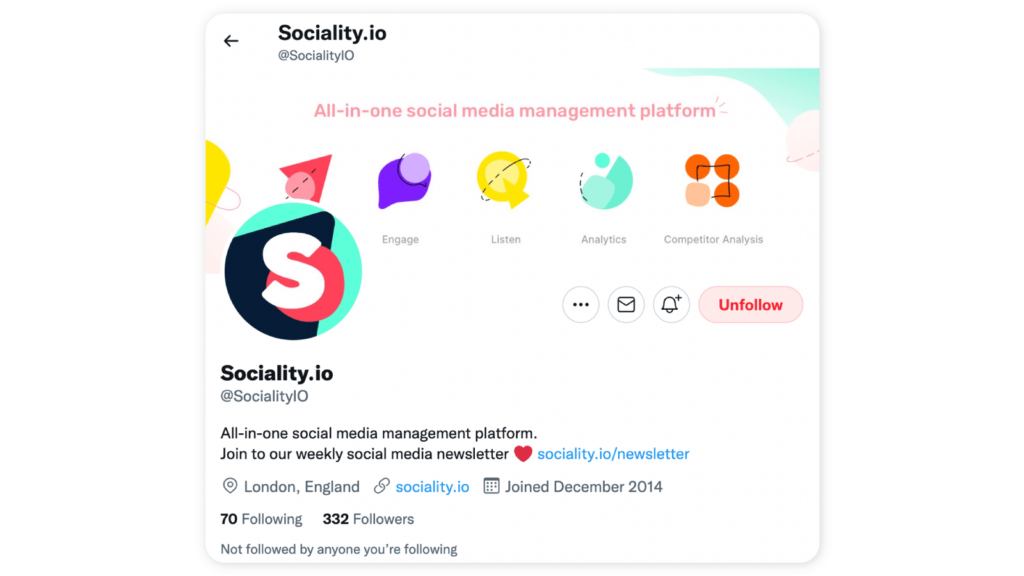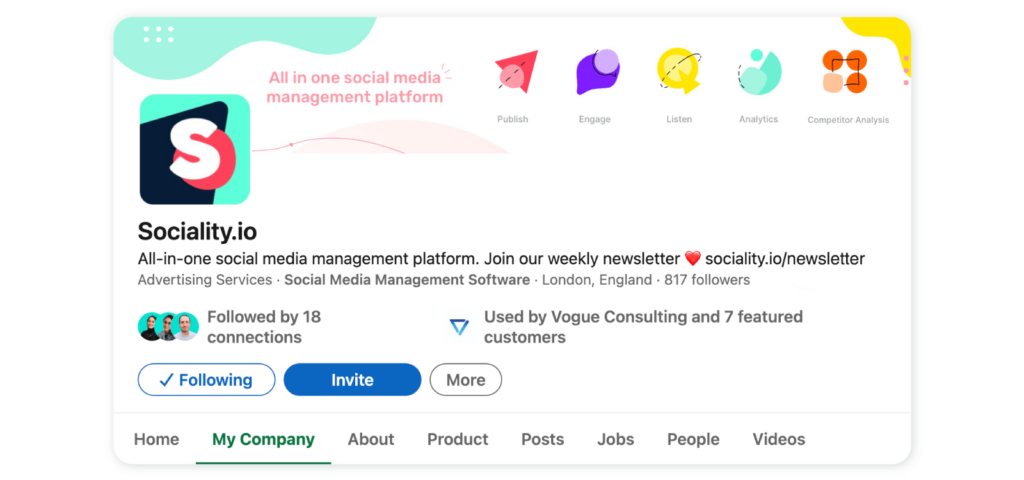 The profile and banner photos are the same on these two platforms. Make sure you also comply with the image size requirements of each platform.
Get your bio text right. You already have a limited number of characters to work with, so ensure it is accurate and describes your brand effectively without confusion. If you include your email and contact address in your bio, ensure it's the correct information.
Check for fake or imposter accounts on the platform and report them to the appropriate authorities before they damage your brand image. You can also apply for verification to show your audience that your account is the real one.
Pinned posts are the first set of content a visitor sees on your page. Make sure those pinned posts are relevant to your brand. Some brands also pin their best-performing content; make sure it's relevant.
Check the URL you link to in your bio. It should link to the correct website or landing page. If you have to change the link while running a campaign, don't forget to change it back when the campaign is over to the default link, especially on platforms like Instagram, where your bio is the only place you can add your links.
Bonus articles:
✨ How to align your Twitter bio with corporate branding (+Examples)
✨ Get inspired by 50+ Instagram bio ideas for your business profile
4. Now it's time for some analytics
By now, you should know which profiles you are auditing, and your goals should inform what metrics you are looking for during the analytics of each profile. Generally, we recommend keeping an eye on the following metrics:
Engagements and interactions
Social media reach
Shares
Link clicks
Referral traffic
Most social media platforms have native analytics tools to help you find all this data. If you are not familiar with these analytic tools, here are some guides to walk you through the process:
On the flip side, if you want to save time and have all of this data in one place, the Sociality.io analytics tool can do all these for you with just a few clicks.
5. Identify your top-performing content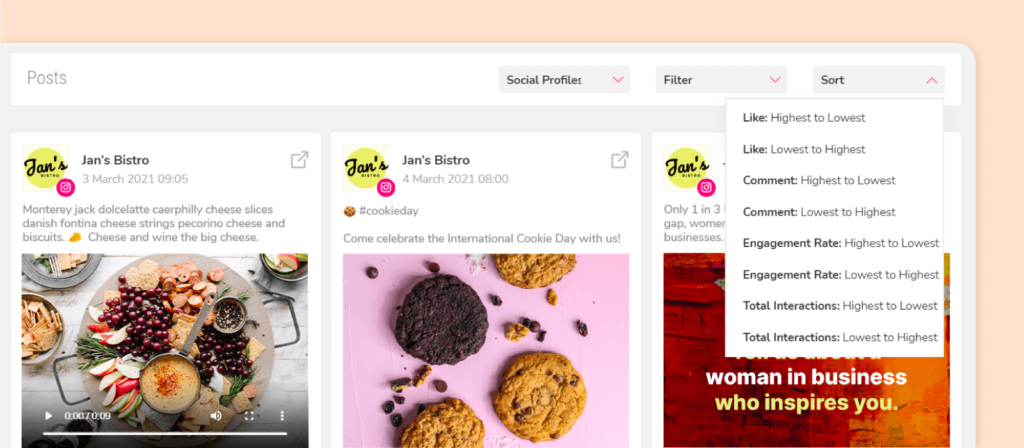 One of the aims of a social media audit is to get you to understand what type of content works for your audience, so you can prioritize producing that sort of content.
You can either do this manually by comparing the engagement numbers on your post or rely on an analytics tool to help you pick out your top content in minutes.
6. Use demographic data to understand your audience
Creating buyer personas is an important part of your content strategy, and most of the information you need to create buyer personas comes from understanding your audience. With this, you learn your audience's location, sex, age, and every other specific detail you need to know them better.
Understanding your audience would also inform how you communicate with them. If most of your audience is Gen Z, you should consider a less formal, visual, and humorous form of communication.
Inbuilt social media analytics can give you some of this information, or you can turn to Sociality.io audience insight to get a full breakdown report of your audience
7. Update your social media strategy
At this point, you should know what your goals for each social media platform are. Use this alongside your collected data to evaluate your social media performance.
The ultimate aim of a social media audit is to help you identify holes in your strategy and open your eyes to opportunities you'd have somewhat neglected. When you have all of this information at your fingertips, it's much easier to come up with better strategies to put in place.
Remember, you are not creating a new strategy from scratch; you are only just optimizing your previous strategy and filling it up with new, better ideas that would help you achieve your overall social media goals.
How to run a quick social media competitor audit?
Although running a 360-degree audit can be an option to serve broad needs, in general, if you have a specific goal in mind, that would simplify the efforts. Since instead of collecting all types of social data, you'll focus on a few essential metrics.
Do you want to improve your social ads performance or overall content strategy? Or do you need to identify benchmarks for engagement and interaction rates? Do you like to learn what hashtags perform the best?
After identifying what insight you aim to discover, it is time to collect metrics in an organized place. It can either be a spreadsheet, like the one provided in the link, or adapt an experiment planning template from Airtable.
For example, as a social media marketer, Let's say my objective is to identify competitors' top-performing content to understand what would work for our audience, too.
I need to organize a list of competitors' social media accounts I am planning to analyze. I can either focus on all social media networks or narrow it down to only Instagram, for example.
With the help of auditing tools, I can add competitors' accounts to the system and filter them out based on engagement rates.
Organize and prioritize the top 20 ideas into a spreadsheet and share them with my colleagues.
Note: some solutions will allow you to categorize Paid vs Organic engagement. For example, you can include only content that wasn't boosted or promoted.
In the spreadsheet you're going to create, we recommend adding an action column. This column will let your marketing team know what to focus on based on the analysis and go from there. All items can be further prioritized to understand the feasibility of repeating competitors' successes.
🎉Related article: How to track and analyze competitors' social media content strategy?
Why use 3rd party social media auditing tools?
Time-saver: Social media audit tools get you the information you need in significantly less time than it would take you to do it manually. Whether it's a single-page analysis or comparing different competitors' performance, such tools are equipped to accomplish these tasks quickly.
Extra information: When analyzing manually, calculating the engagement rate of a specific page becomes a hassle. And social media platforms don't let you see the engagement rate of a page that doesn't belong to you. Thankfully, auditing tools are here to save the day. And they do it very well!
Easy to review: Using a tool, you don't need to set up an Excel or Google Sheet to gather the info. Reports generated by these tools also have visual representations of data that look nice and make the data much easier to process.
Top paid and free social media audit tools
1. Sociality.io

First up is Sociality.io, and we know, we know, this is our tool, but this isn't a shameless advertisement. We include our tool with the rest of these fantastic tools because we worked hard to make this tool meet the highest industry standards and needs from day one. Most importantly, it feels great to have Sociality.io in such a great company.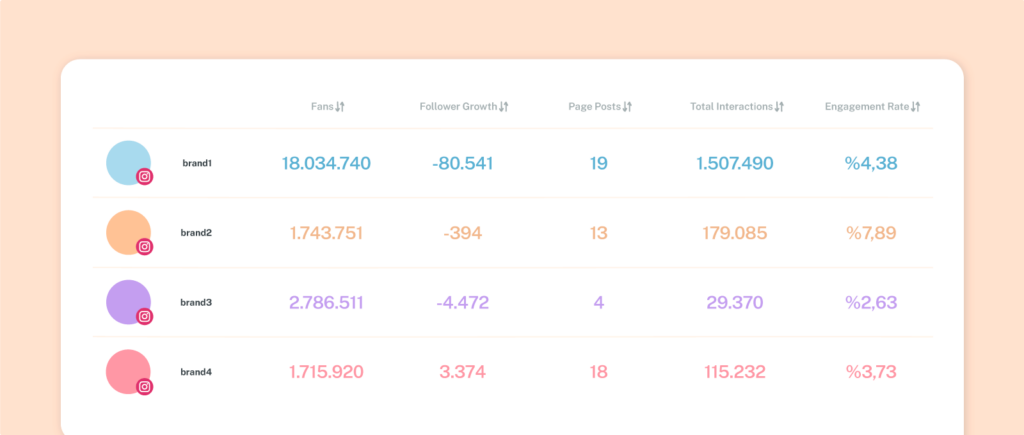 Sociality.io is an all-in-one social media management tool with great competitor analysis tools. You can audit your Facebook, Twitter, YouTube, TikTok, and Instagram Business pages.
Sociality.io unlimited reports are exportable in PPT and Excel formats and include the following metrics:
Total fans/followers/subscribers growth
Number of pages posts
Post types
Number of total interactions with separate graphs for each interaction type (number of reactions, likes, replies, etc.)
Engagement rates
Post days
Post hours
Detailed performance metrics of published and deleted content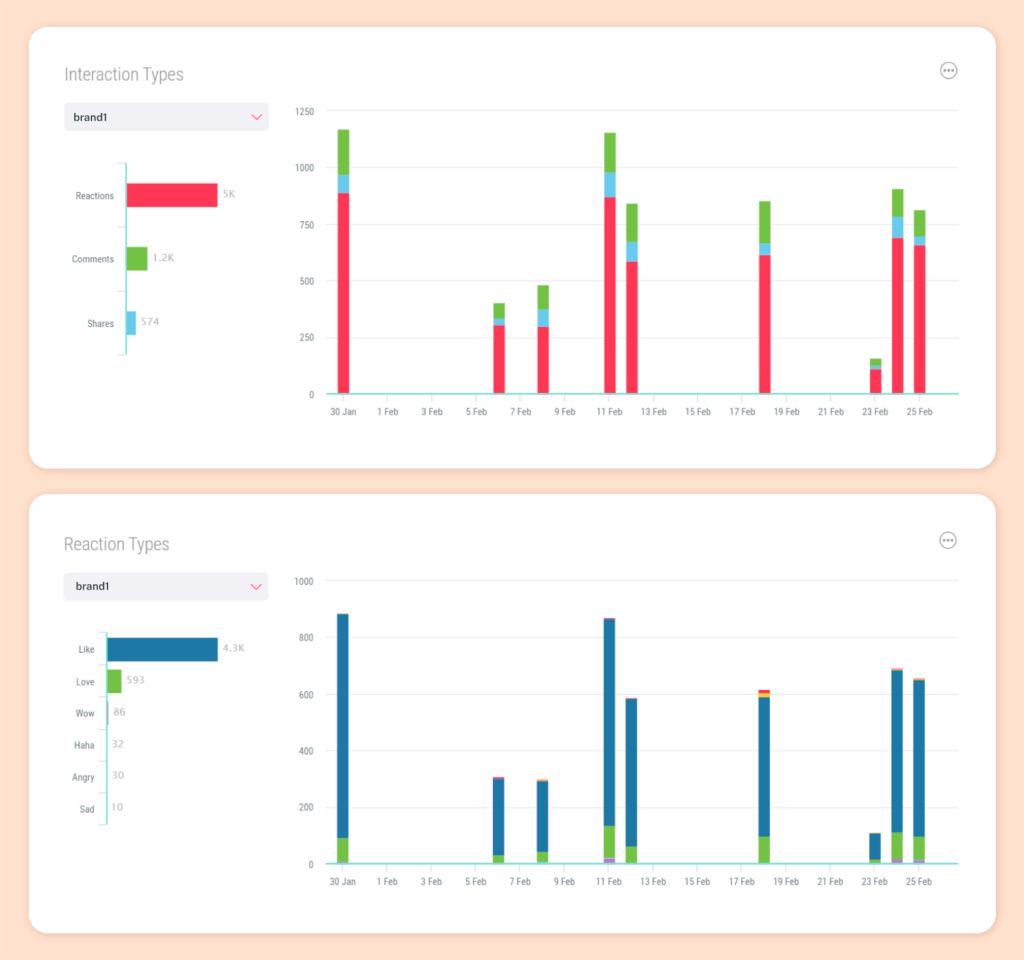 If you are interested in giving Sociality.io a try, don't hesitate to start a free 14-day trial! Pricing starts at $99/mo:https://sociality.io/pricing
2. Followerwonk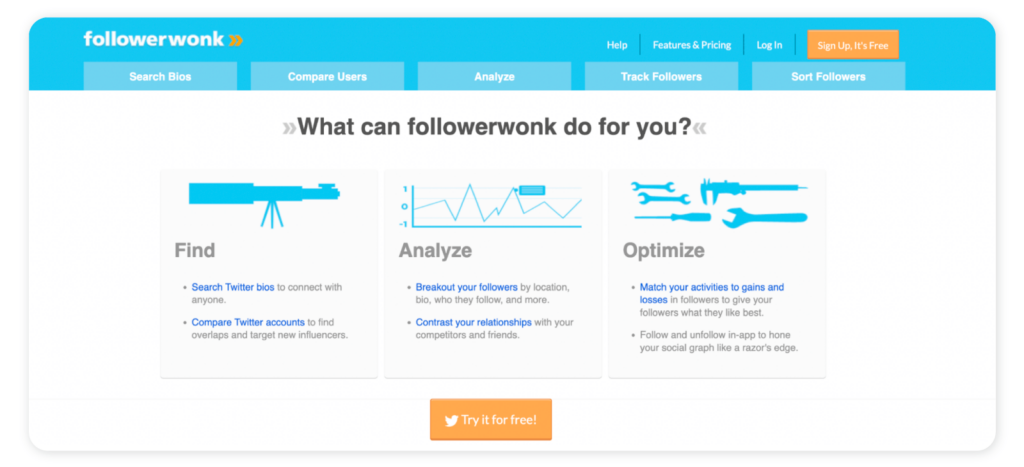 Followerwonk is a great tool to audit your competitors' Twitter pages. It specializes in the "bluebird" social media platform and provides great insights into the page and its following. And what's great is they offer a free version. All you need to do is log in with your Twitter account.
Followerwonk mainly focuses on follower analysis. Compare Users, Analyze, Track Followers, and Sort Followers tools let you dive deep into little details of your competitor's following. Everything from demographics to active hours on Twitter and so much more.
You can also use the tool to analyze popular hashtags used by your competitors and their followers on Twitter. Additionally, you can also analyze the accounts your competitors follow to see which influencers they follow and whether they follow their active fans or not.
Remember that Followerwonk's free plan lets you analyze an account for free as long as it has less than 35k followers. So for accounts with a larger following, you will need to purchase a subscription that starts at $29/month. Either way, we highly encourage you to give Followerwonk a try.
3. Phlanx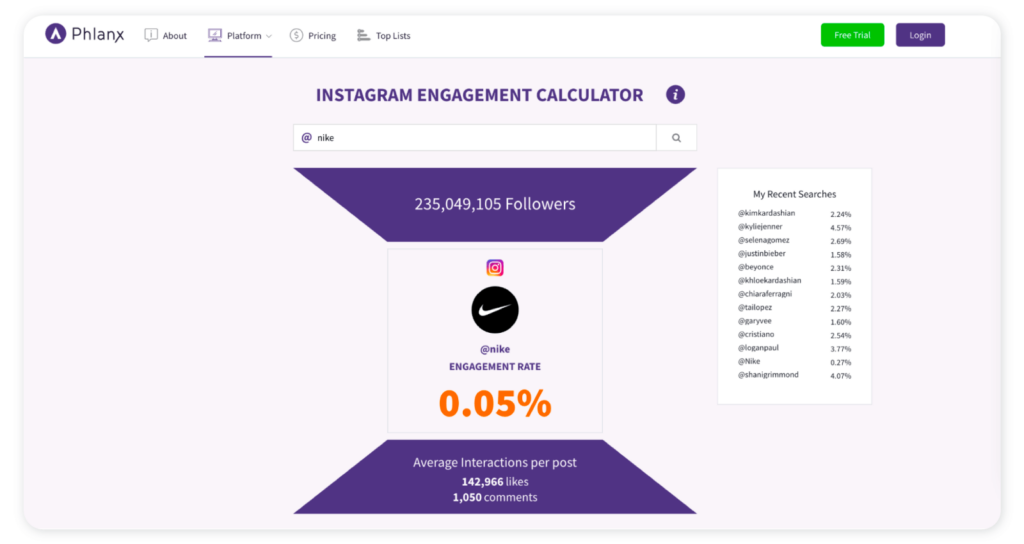 Phlanx is another social media management platform that has a great tool that lets you calculate the engagement rate for your Instagram, Twitter, Youtube, Facebook, and even Twitch pages for free. You can also use it to generate a full audit for your Instagram, Youtube, and TikTok pages, but for that, you will need a subscription. As mentioned above, manually calculating the engagement rate is a daunting task, and why do it yourself when you can do it for free with this amazing tool?
Phlanx's paid subscription currently starts at 35$/month if you get a monthly subscription. It gives unlimited access to Phlanx's tools for one account.
4. Mention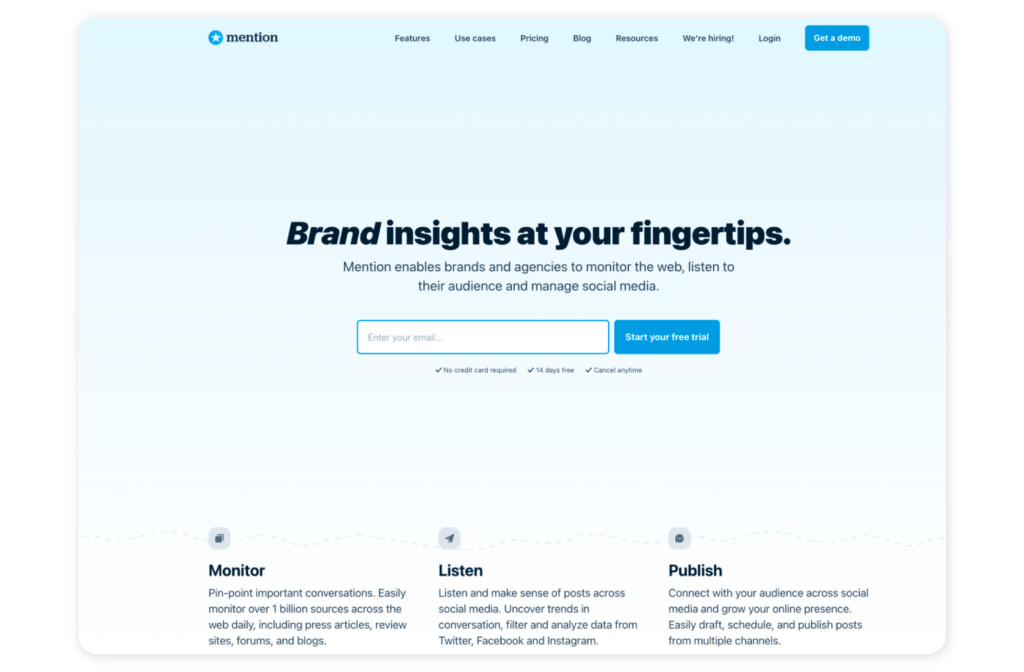 Mention is like a sophisticated Google Alert. It lets you monitor conversations from various sources on the web, including social media platforms. Whether you want to keep track of your brand name mentions or your competitors', this tool will be there for you.
This tool will help you audit your competitor's mentions on the web and social media platforms.
Mention also offers a free version and a 14-day trial for paid versions, which start at a $29/month price point for a monthly subscription. Learn more about their competitor analysis features here.
5. SimilarWeb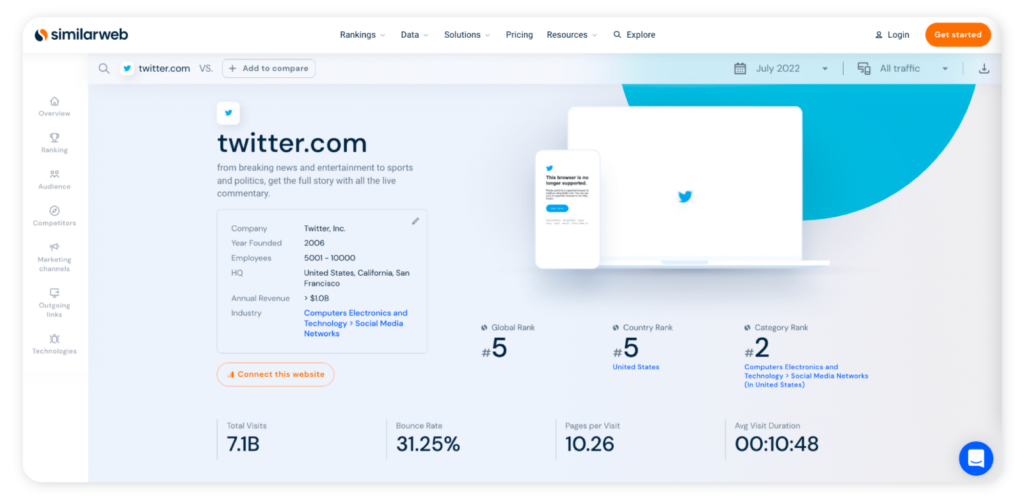 SimilarWeb is mainly known as a traffic and keyword analysis tool, but there's a great use case for social media auditing that might not be obvious to everyone. The tool offers a feature where you can study both inbound and outbound referral social media traffic. This is a great way to understand which social media platform works best for your competitors. Analyze various competitors to see if there are any patterns. Is Twitter bringing the most traffic to similar companies? Or is it Facebook? If so, you've got yourself a pretty sweet insight, thanks to SimilarWeb.
Social Media Competitor Audit Tools – SimilarWeb
SimilarWeb offers a free package and an enterprise plan without limitations. SimilarWeb doesn't post pricing, so you have to reach out to the consultants for rates.
6. Analisa.io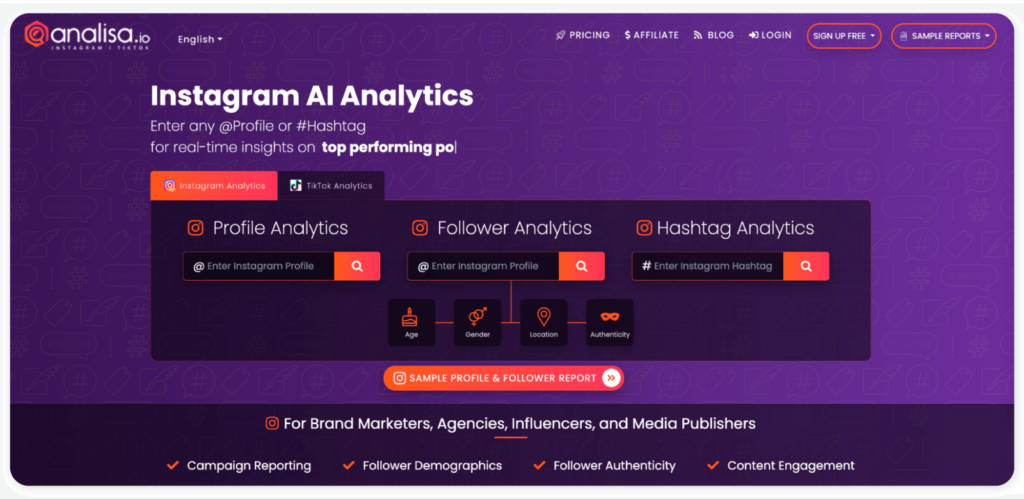 Analisa is an AI-powered Instagram and TikTok analytics tool that provides you with data on Instagram and TikTok profiles ranging from post engagement rates, number of comments or likes on a post, follower counts, and posting schedules of these profiles. It also provides hashtag reports which could be helpful while deciding what hashtags to use for your campaigns.
The platform has both a free and paid plan. The free plan gives you basic analytics for every Instagram and TikTok profile or hashtag you search for. The paid plans give you access to more advanced analytics like audience demographics, influencer mapping, follower authenticity, and content analysis—all of which you can export in PDF or CSV formats.
They operate a tiered price plan starting from $69/month for the premium plan, and $149/month for the plus plan, while the pro plan goes for $239/month.
7. Ad Library by Facebook
Did you know that Facebook offers a free tool where you can look for ads running or have been running across the social network? Well, now you know! Ad Library is a fantastic free tool to study your competitors' ad copies on Facebook, and it's completely free and easy to use.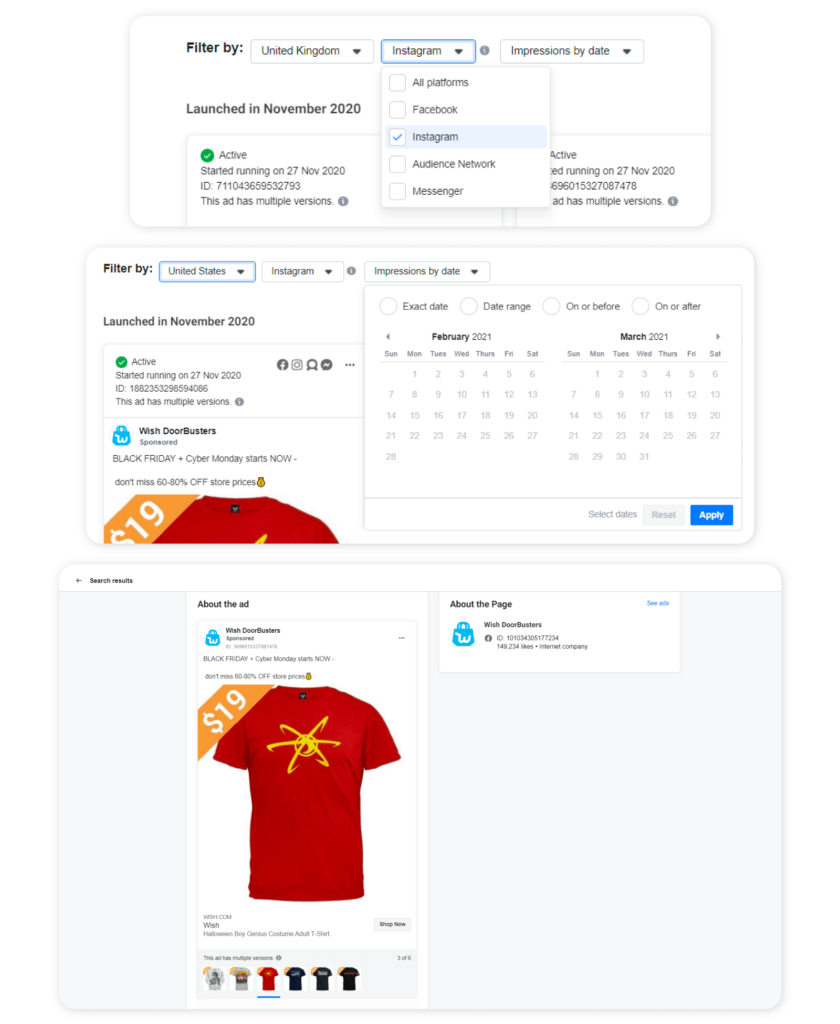 Use this tool for auditing competitor copies and analyzing what type of content they prefer to promote more. You might find unique insights with this tool.
Social media audit examples
1. Social media audit on ABC Co.
Markitors performed this audit. They evaluated the social media marketing performance of the company ABC Co using factors they considered most important, and in the end, they came up with an action plan to improve the brand's social marketing strategy.
You can go through the complete audit here.
2. Social media audit of Swamp Head Brewery
In this audit, the brand was looking to increase awareness of their company on social media through the increased following. The audit helped them come up with action plans to meet their objectives.
Here is a full version of the audit.
3. Social media audit for Jesuit Commons
This was a SWOT analysis for JesuitCommon's Twitter and Facebook pages. The audit evaluated the strengths, weaknesses, and opportunities for the brand on these social media sites. They rounded it up with some action plans going forward.
If you want to go deep into the audit, click this link.
Ready to run a social media audit?
Social media audit tools will help you advance your social media analysis significantly. Even if you don't want to commit to a subscription yet, thankfully, there are free tools that will give you a taste of how tools improve the process. We're confident that you wouldn't want to go back once you have tried one of the above-mentioned tools.
It's now left to you to decide how frequently you want to run your social media audits. You don't have to wait till the end of the year to run one. You can choose to do yours once every three months.
And before you go, a kind reminder; our social media audit checklist makes all of this process simpler and more coordinated for you. Use it to perform your next audit
Happy Analyzing!
✨ Make sure to check out these Bonus Articles: