Here is how Sociality.io team grew organic traffic by 330%
In the past couple of months, our Sociality.io marketing team skyrocketed & grew organic traffic. For two months we left aside other content marketing initiatives and campaigns and solely focused on optimizing and updating our 120+ blog posts. And here are our results:
Organic traffic grew by 330%.
Number of organic keywords grew by 125%.
Traffic value grew by 172%.
Number of conversions coming from our blog grew by 20%.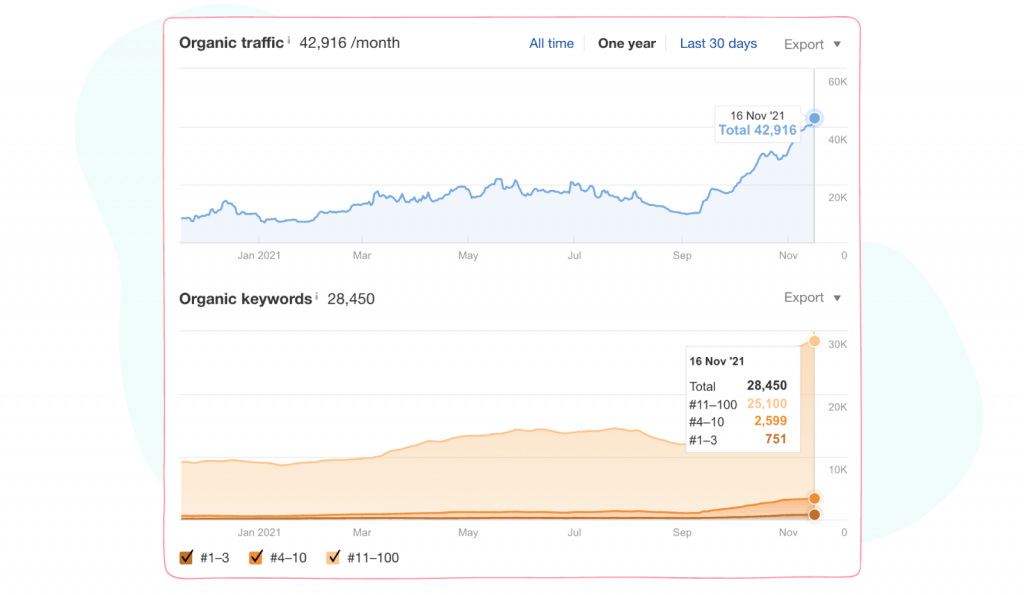 At Sociality.io we started content marketing initiatives almost 4 years ago and we published more than 120+ articles. The channel generates almost 70% of all conversions. Thus, we see a positive correlation between SEO metrics and business growth.
Our blog is important to us. And if you ever run an audit of our website and blog — you'll see a continuous improvement of every metric from organic traffic, number of organic keywords, traffic value, number of referring domains, etc.
However, in September 2021, we saw our first significant drop in content performance since 2018. Everything was falling as if we've violated Google's algorithm rules.
We urgently stopped producing new content and tried to test a few hypotheses to understand what went wrong.

It didn't take us long to understand that the majority of our articles explain time-sensitive content. We often publish how-to articles and step-by-step guides, and since Facebook and Instagram frequently change their platforms and update interfaces, our content got outdated. So, we've decided to update our content.
Social Media News in a Nutshell
Get the latest social media news, insights, and marketing tips in your inbox once a week.
The process of updating articles can be divided into several stages.
Identify the list of keywords and blog posts that lost the traffic.
Group the articles into categories and prioritize them based on urgency.
Organize everything into a spreadsheet (we used Airtable) and assign them to the right team member.
1. Identify the list of important keywords and blogs posts to update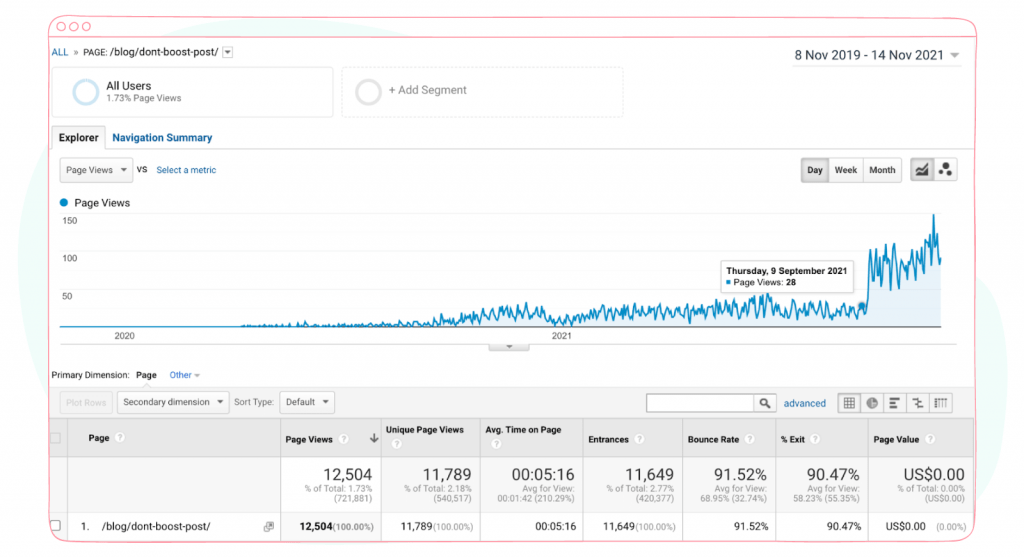 Updating every 120 blog posts is not only time-consuming but also involves substantial budgets. Depending on the team size, it would require to allocate almost every person and prioritize updating the old article over producing new ones. Thus, it is vital to identify the list of important keywords and find the respective blog post to update.
We've decided to update based on the following filters:
Articles that generate the highest conversion rate in the past year.
Articles that generate the highest traffic.
Articles that lost the highest number of organic keywords.
Articles that used to generate the highest number of traffic value.
The decision-making process of this stage is quite subjective. Below are some of the examples of why specific articles were chosen to be updated by our team.
Identify articles to update using Google Analytics
Go to Google Analytics "Pages Report", set the correct time frame, and filter out to show only blog posts. Get the top articles from the list.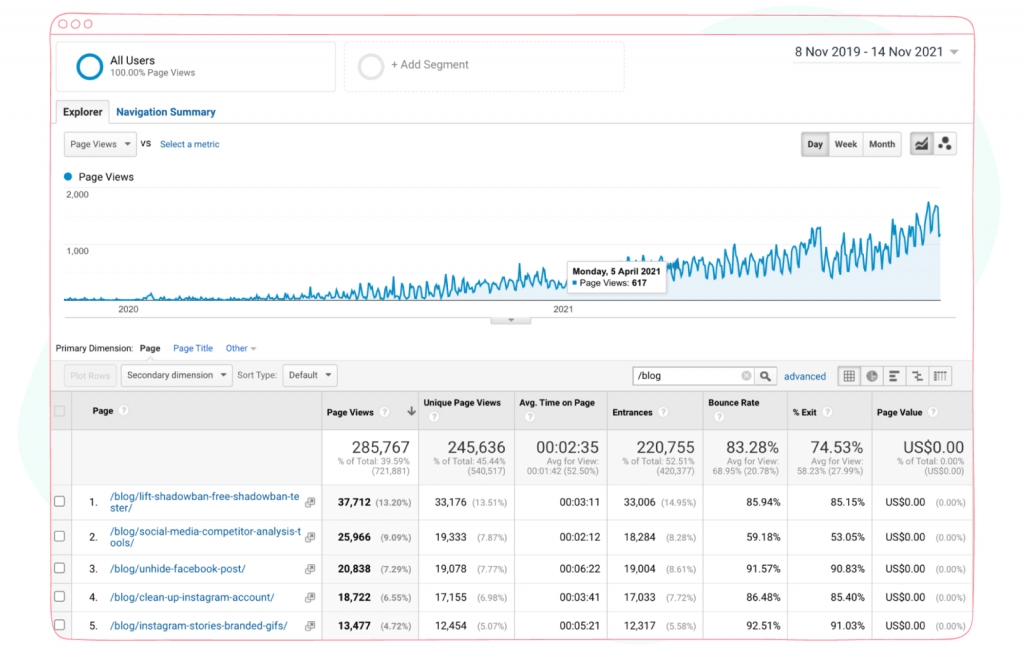 By clicking on each article, you'll need to evaluate and identify the articles, where the dynamic is "off". For example, here after March 2021, the article lost its traffic.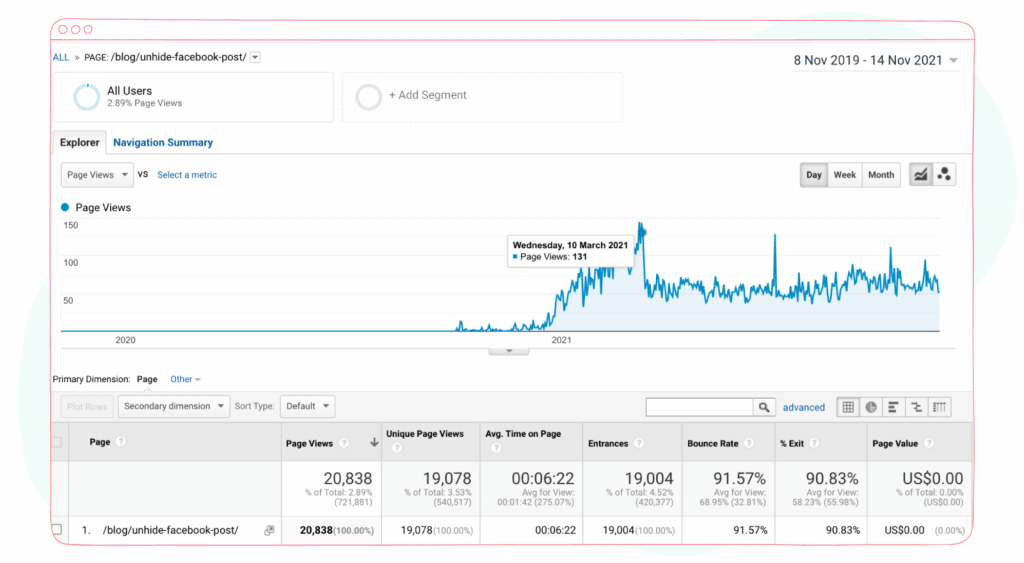 Or you'll notice articles with "stagnant" organic traffic.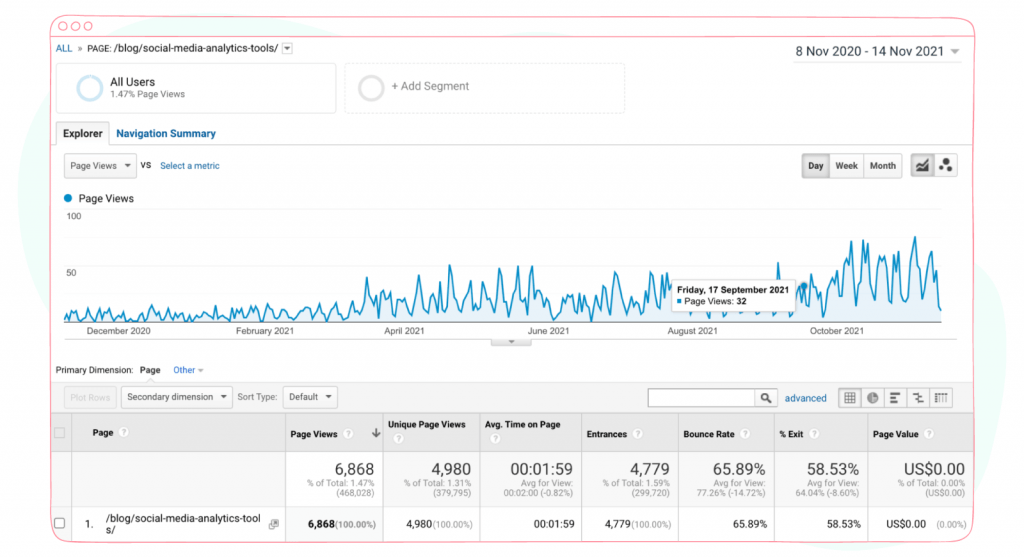 Identify articles to update using Ahrefs.
The below process will apply if you have an Ahrefs account.
Go to Ahrefs "Top Pages" tab and filter by clicking on traffic, value, and keywords. Depending on your team's capacity, identify from the top 3 to 10 articles to add to the list.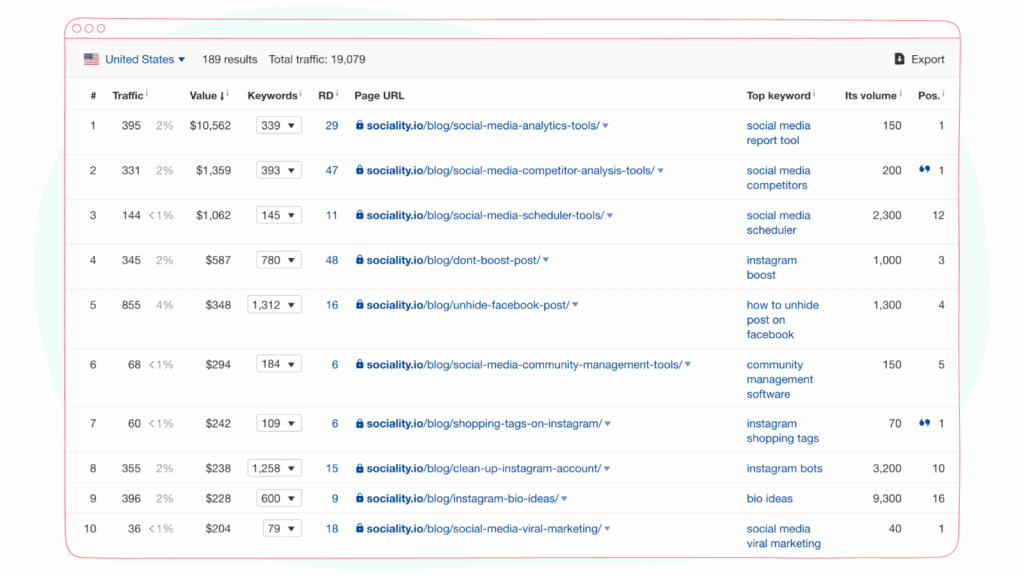 For example, the "social media scheduler" keyword fell into 22nd position, and thus we saw a significant downward trend from July 2021 to September 2021 in Google Analytics, too.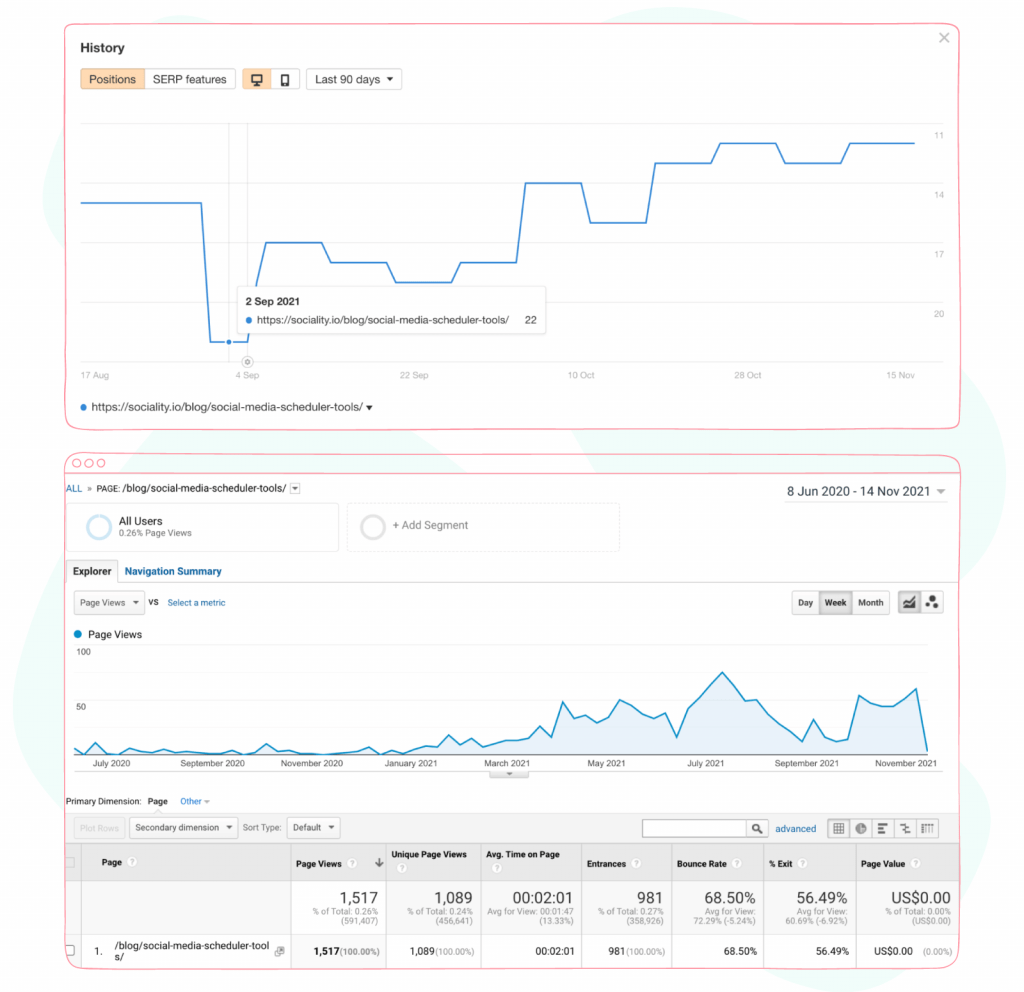 2. Group the articles into categories and prioritize them based on urgency
The ultimate two factors that determined our categories and prioritization were the number of conversions and traffic, where the weight allocation deviated towards conversion rate.
Articles with high conversion rates that might not even generate high traffic went straight to the top.
Then we've prioritized the list based on the traffic.
You can prepare a simple custom report inside Google analytics. Based on goal completion number, conversion rate, and page views you can sort all articles from your list and follow the order.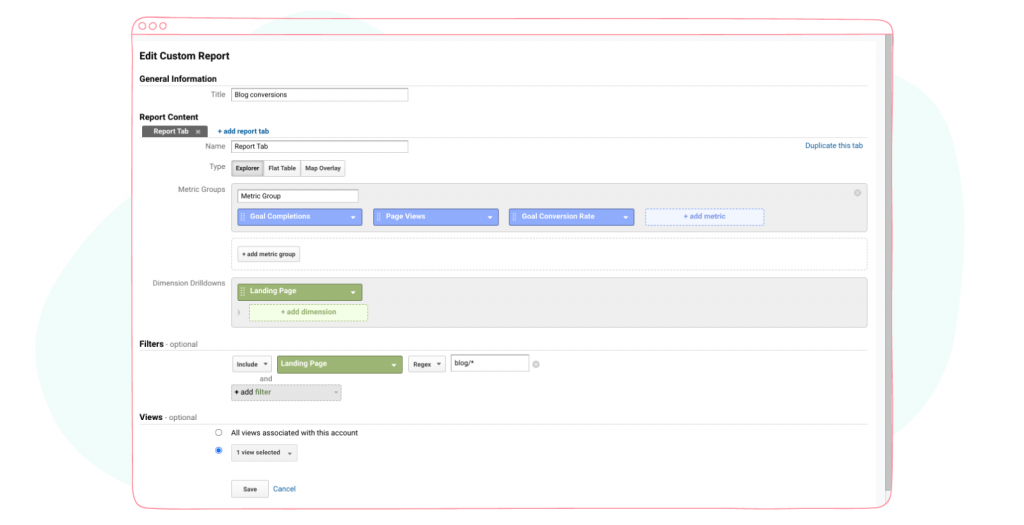 3. Organize everything into a spreadsheet (we used Airtable) and assign them to the right team member
Every content marketing team follows its own approach to managing content. We use Airtable to organize all our articles. We've assigned all articles a special label — "Update".
Our usual process is this: Not Published > In Progress > Review > Visuals > Pipeline > Scheduled > Published.
Our new process became: Update > In progress > Review > Updated, waiting for the visuals > Visuals > Pipeline > Published.
Note that to speed up the process we've decided to update articles in two iterations, where we first update the copy and only then we update the visuals.

How to update articles?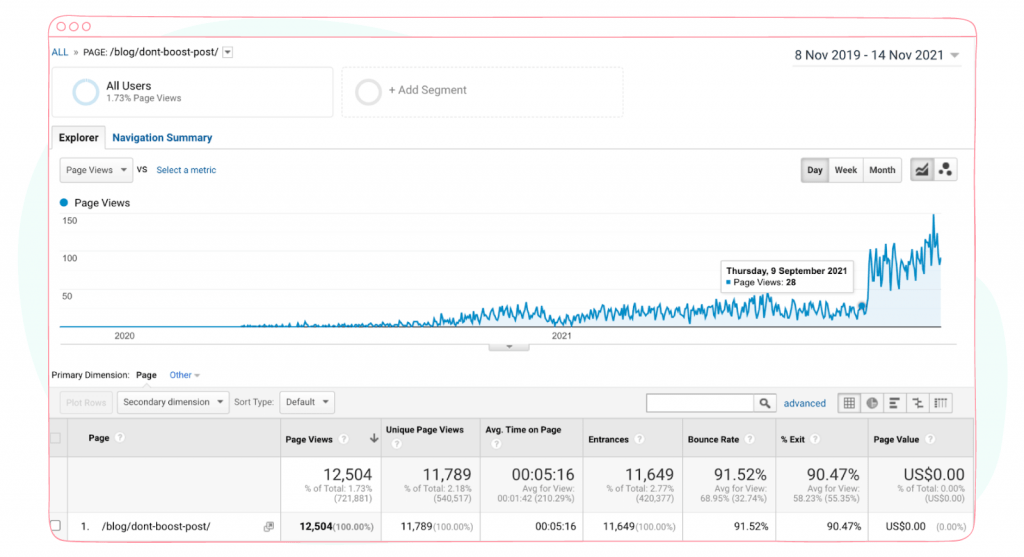 There are 3 approaches we used to update the articles.
The first one aimed to update only visuals. For example, some articles were published before our awesome graphics designers started working on our team, and we didn't have such strict rules on visuals.
The second one aimed to update outdated information. For example, some articles with how-to guides explaining how to promote IG posts or manage Instagram direct messages.
However, the hardest articles to update are the ones where it is hard to identify what should be done at the first glance. You can use your personal judgment and expertise to improve your blog posts. However, we highly recommend using real data and competitor analysis.
For example let's take this article: https://sociality.io/blog/social-media-competitor-analysis-tools/
Step 1: Open Ahrefs Site Explorer
Step 2: Go to Organic Keywords report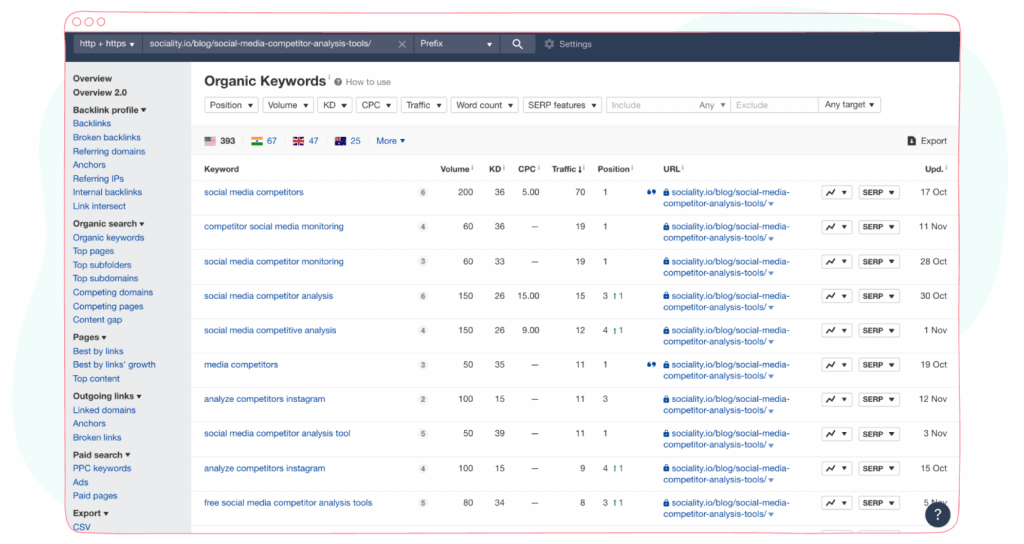 Step 3: Open top relevant and important keywords into a separate tab. For example, "social media competitors".
Step 4: Go to SERP overview. Although Sociality.io articles rank #1 for this targeted keyword, Hootsuite's article generates double the traffic and has 3 times more keywords.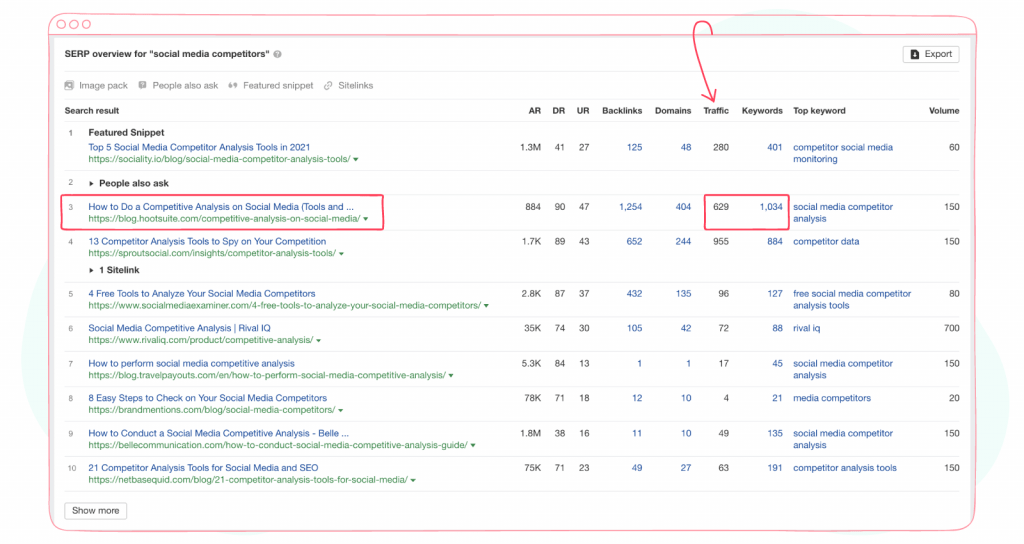 Step 5: Open competitors' articles keywords.
Step 6: Run the analysis of their keywords, and based on volume, keyword difficulty, and traffic, prepare a list of additional keywords that your article should include.
Step 7: Repeat this process for all the blog posts and their keywords.
Competitor keywords can help you better understand the search intent for which you didn't optimize your articles. It might show you that the blog post is missing something meaningful for the reader to learn about the topic.
After that, organize all keywords as notes inside each blog posts' cards. However, the expectation is never to use every keyword but to integrate them into an article organically.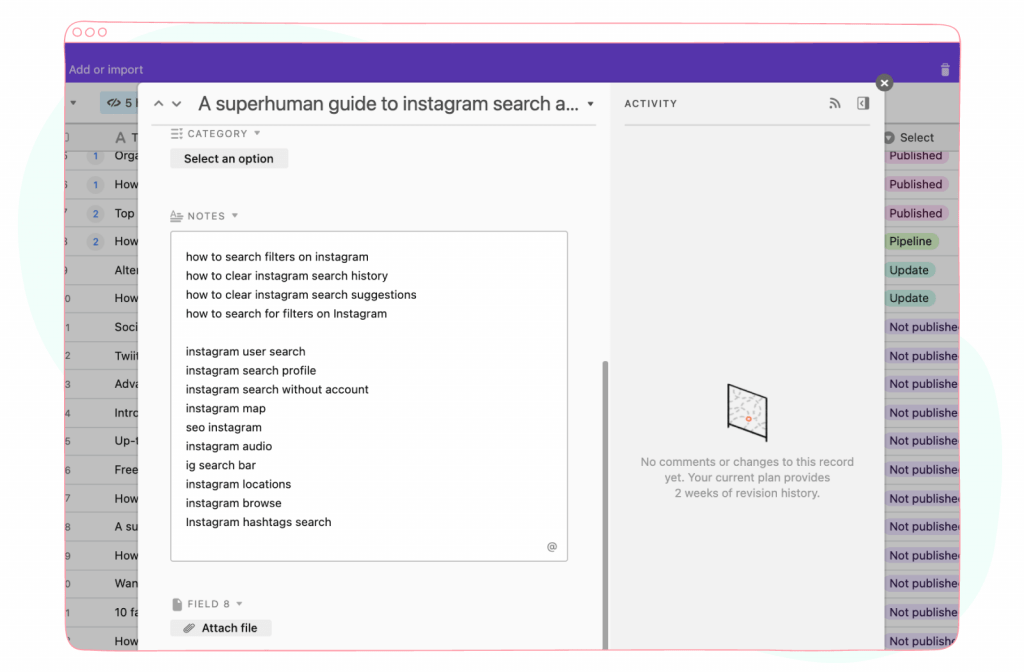 Everybody knows that updating articles and optimizing them to meet search intent better is a trustworthy strategy to boost SEO metrics. In this article, we wanted to share our experience and workflow with the rest of the community.
You may want to learn more what we have accomplished! Go check out ⤵️