An ultimate guide to Facebook audience insights. Beginners start here
The average modern person is exposed to so much content every day.
Couple that with our short attention span on the internet, and that just spells "hard work" for you as a marketer.
You have to stand out and pique their interest real quick. This is why you have to understand your audience. But the multitude of Facebook users leaves you with no option but to use a tool to get detailed information about your audience.
One such tool is Facebook Audience Insights, and this post will show you how to use this tool to pull intriguing data about your Facebook audience, even as a beginner.
Social Media News in a Nutshell
Get the latest social media news, insights, and marketing tips in your inbox once a week.
What is Facebook Audience Insight?
In Facebook's words, "Facebook Audience Insights gives you aggregated information about two groups of people – people connected to your Page and people on Facebook – so you can create content that resonates and easily find more people like the ones in your current audience."
✨ Related article: Social media trending content ideas – The ultimate list
It is a free native tool in Facebook's business suite insights that provides resourceful data about your audience across both Facebook and Instagram at the same time. It provides audience insights on page likes (for Facebook pages), page followers (for Instagram), gender, age, top cities, and interests of your current audience and potential audience.
The tool used to be hosted on the audience insight section of Ads manager before Facebook shut it down on July 1, 2021, and created a similar tool on Facebook's business suite.
This transition has made the new audience insight tool a little less effective than it used to be, but don't worry; we'd show you how to go about using the tool still.
Why use Facebook Audience Insights?
With Facebook, the audience pool is so large, and while that is supposed to work to your advantage as a marketer (more people to target), it can easily work against you in that you spend a whole lot of time, effort, and resources targeting the wrong set of audience.
You can avoid this by paying attention to the data Facebook gives you about your audience using this tool. Rather than throw precious marketing dollars at campaigns that are solely rooted in assumptions, it's better to take a deep dive into your audience insights, gain knowledge about them, and use it to boost your ad and marketing campaign results.
But even on rare occasions, when you can predict your audience's behavior based on experience, you still need data and figures to convince the right people in your company that you are making the right moves. You can always source data from the audience insight tool and use it to back up your claim.
A data-backed audience approach to marketing would lead you to prospects who are more likely to convert to customers.
How to find Facebook Audience Insight?
First, you need to end to ensure you are logged into your Facebook business account.
Open your Facebook Business Manager. On the left side, locate "Insights".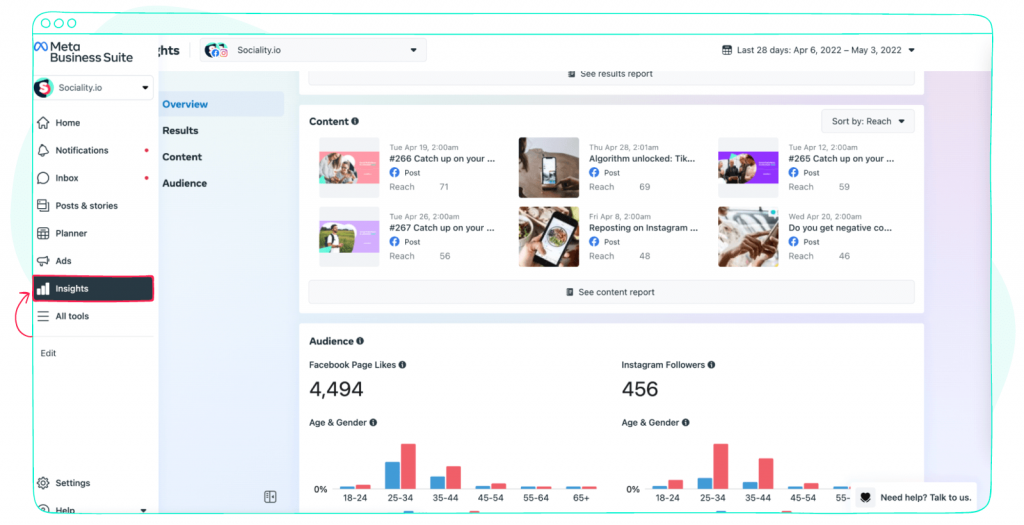 From the menu, find "Audience". Click on it, and a similar screen to this should show up.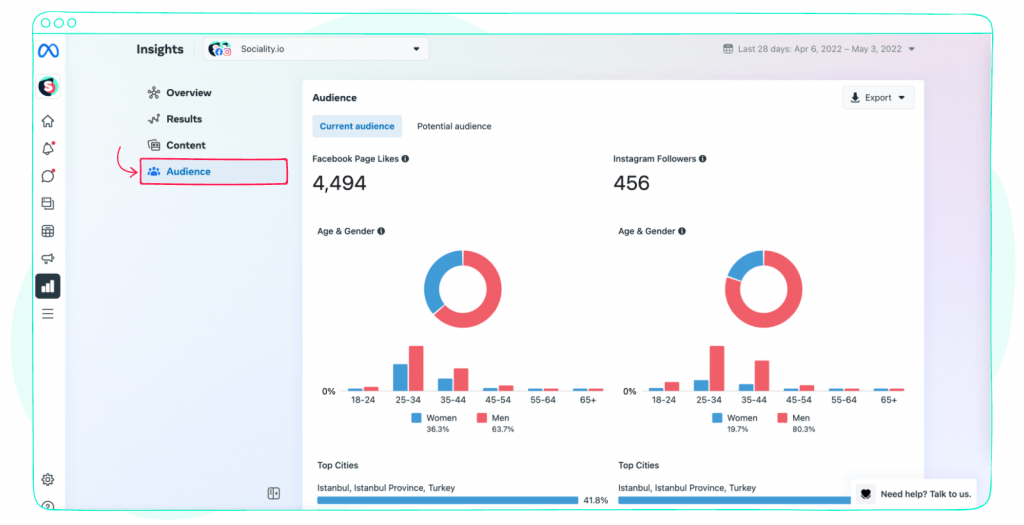 That's it! Now that you are in let's show you how to use this tool to get the desired information about your audience.
How to use Facebook audience insight
The tool provides you with data about both your current audience and your potential audience on two separate tabs next to each other.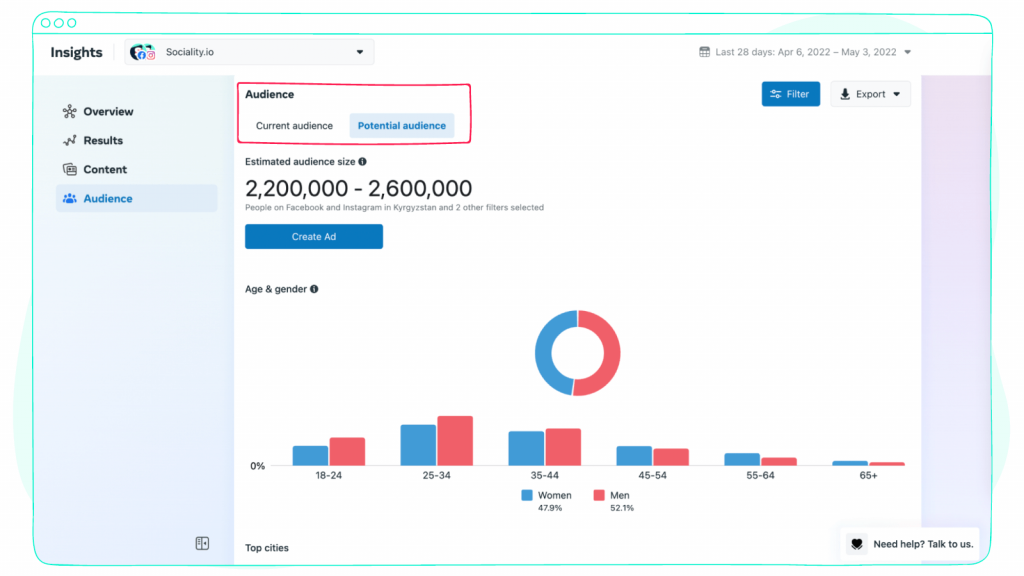 Current Audience
This tab gives you a data breakdown of the current audience of your page with age and gender segments. Facebook requires that you have at least 100 likes or followers to display the demographic details of the audience of your page, or else the demographic data of your audience won't come up.
Potential audience
It shows you details of the potential audience that is likely to be interested in your product or service. The tab immediately displays the estimated audience size on the platform(whether Instagram or Facebook).
You can go into more specific audience targeting using the filter option. This option allows you to filter the audience based on location, age, gender, and interests.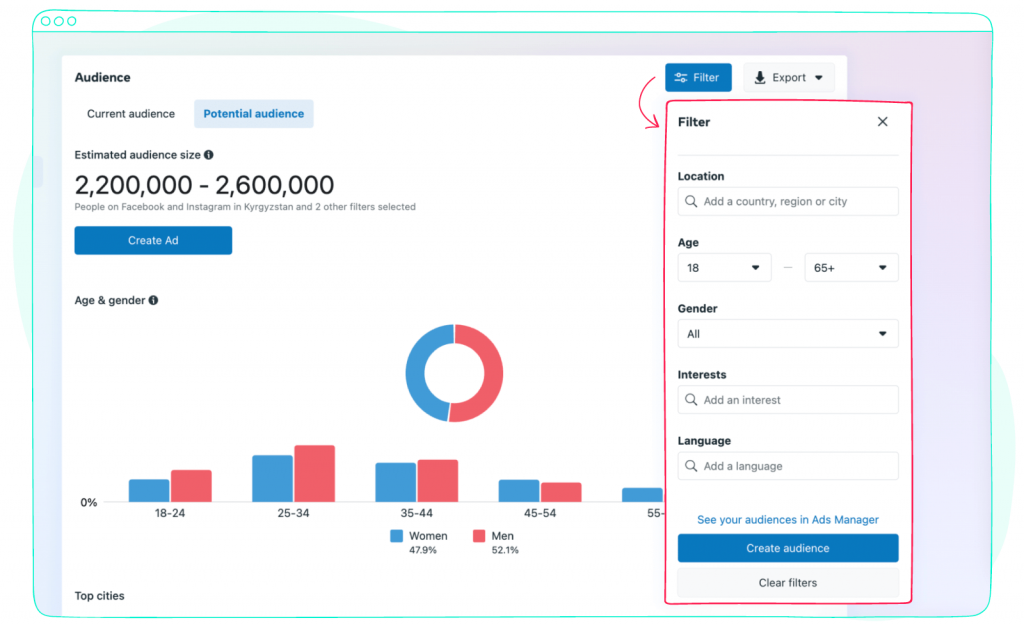 Under "Estimated Audience Size", you would see a description of the filters that have been added by default. Which are:
The platform you are checking ( whether Facebook or Instagram).
Your default geographical location.
and then two other preselected filters; the default/preset age and gender.
Some limitations of the new Facebook Insights tool
The old version offered a more detailed audience breakdown such as work status, education level, relationship status, and platform activity. All of which made for interesting data points to better understand your target audience.
The top page's segment largely remains the same even when you filter out different audience interests. Rather than showing you pages highly relevant to your selected audience's interest. It just shows popular pages on Facebook.
An alternative to Facebook audience insight: Sociality.io
With the limitations in the functionality of the "new" Facebook audience insight tool, there are other tools you can use to give you detailed information about your target audience. One of which is Sociality.io.
Sociality.io is a social media management platform that allows you to manage and keep track of all your social media accounts in one place. Some of the key audience insights you can track on Facebook using this tool include:
Audience Growth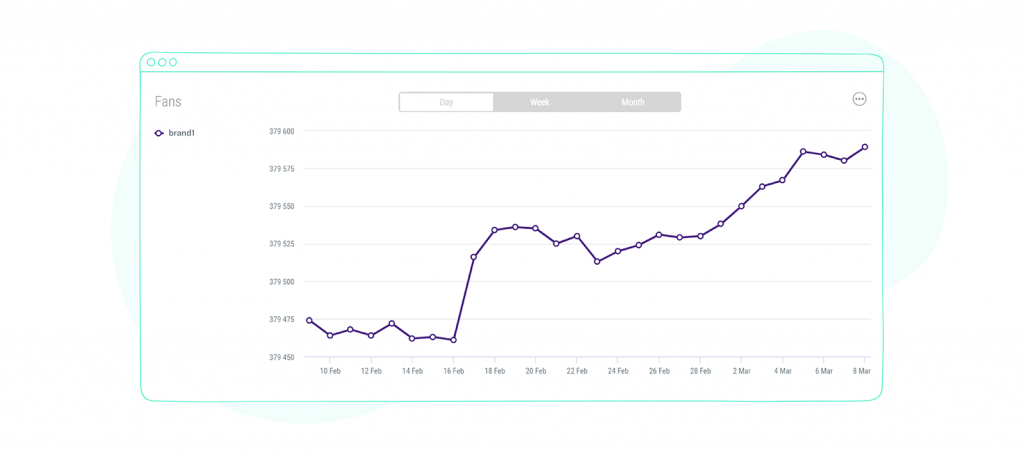 It is important to keep an eye on how your audience grows overtime because that can point you to recurring patterns that show what you are doing right so that you can double down on it for more growth
Engagements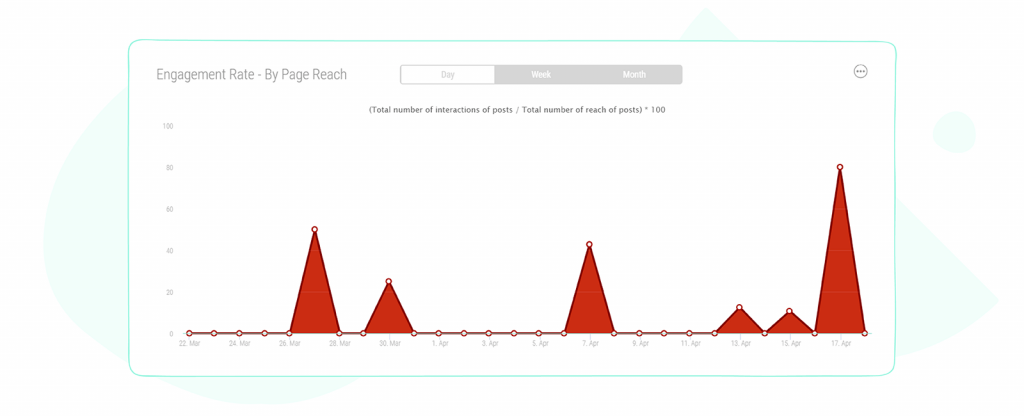 Once you know what triggers engagements from your audience consistently. You can then try to replicate such types of posts or content to attract even more of your audience outside.
You can also get a detailed analytical brief on each of your posts that allows you to know exactly what sort of engagement the post triggered. It also helps you know if a certain type of post triggers certain types of responses more frequently than others so that you can optimize for those sorts of engagements.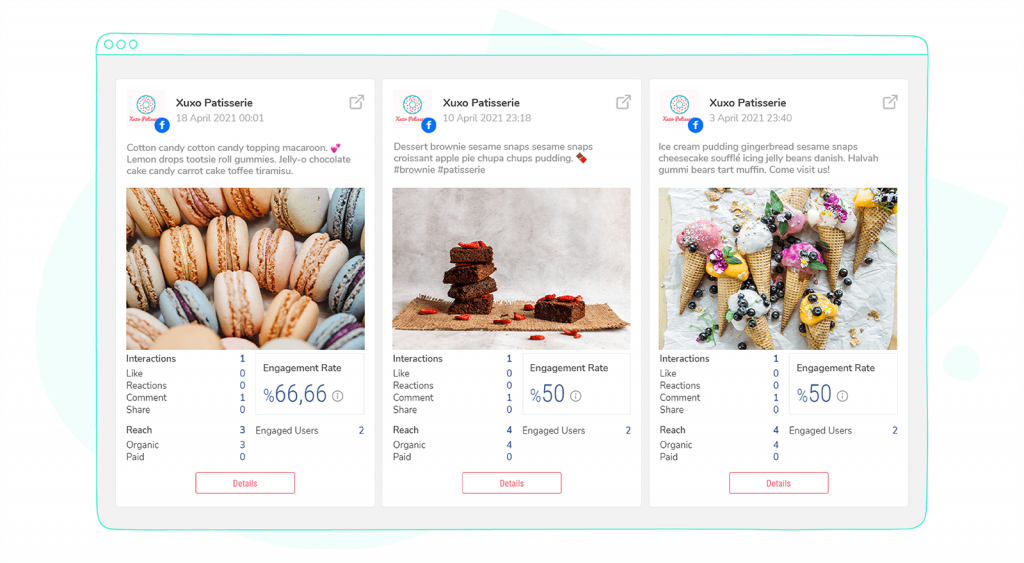 🎉 Related Article: Learn from top-performing Facebook pages on how to boost engagement
Daily Mentions
As a brand, you always want to be aware of when people are talking about you and what exactly people are saying about you. With Sociality.io, you don't even have to do so manually.
This tool gives you a report of your daily mentions, allowing you to notice when there is a usual surge in mentions about your brand on Facebook and where it is coming from.
Detailed Insights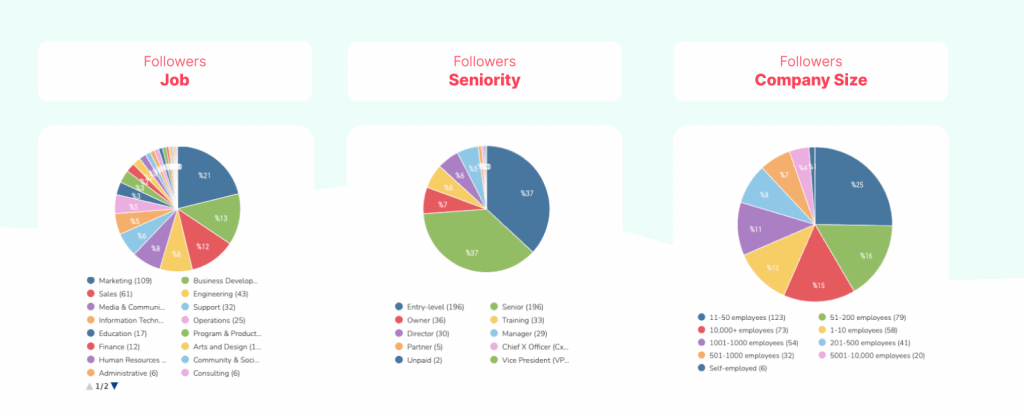 Unlike the new Facebook audience insights, this tool gives you more detailed information about your audience's lifestyle and work life. You can always use details like this to build ultra-specific buyer personas. The more specific you are about your audience, the better your chances of connecting with them.
Detailed Reports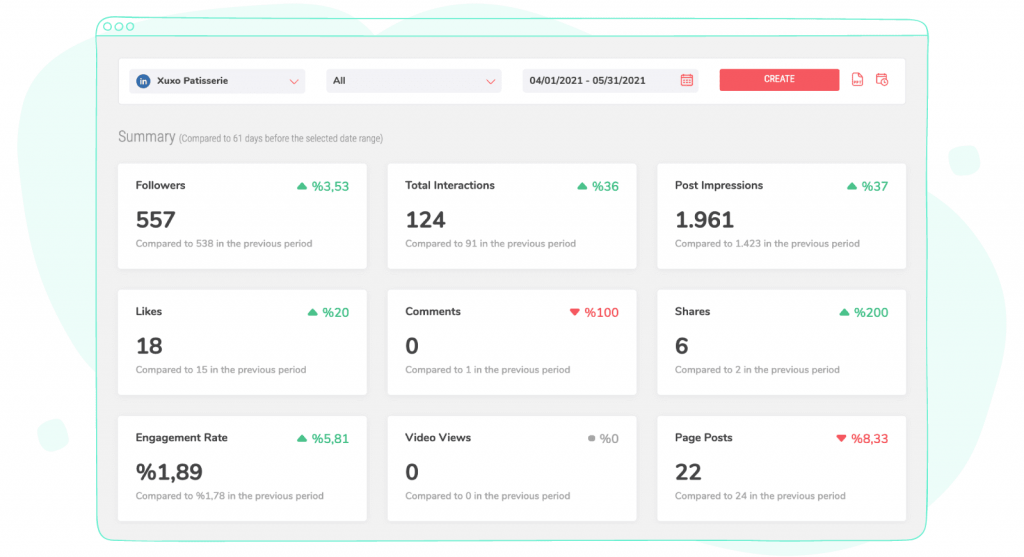 You can create customized, detailed reports of your business accounts showing you all the important data and information you need to measure your progress all in one place.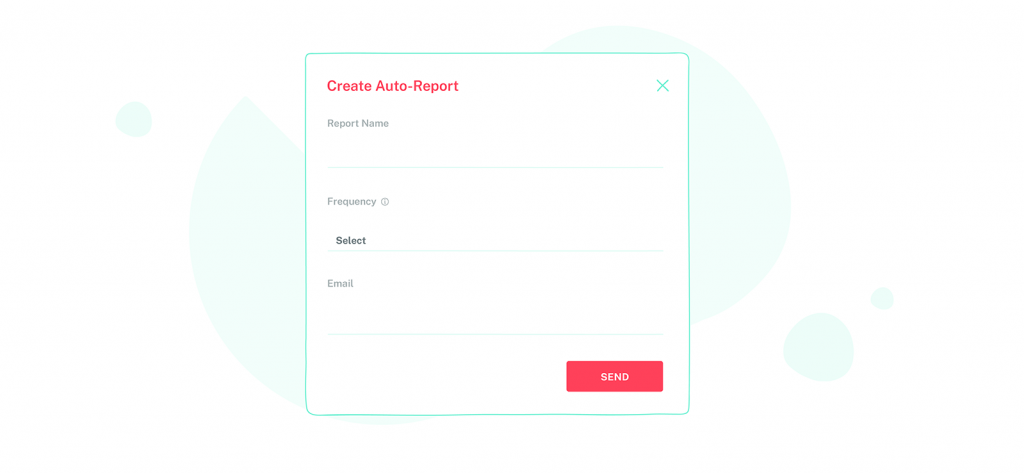 The tool also allows you to export these reports in various formats and send them to the right people in your company.
In conclusion
With audience insight tools like that of Facebook and Sociality.io. It's a win-win for everybody. Your social media marketing campaigns are more profitable because you now understand your target audience better, and your audience gets to see what interests them and is relevant to them, leading to a better user experience on Facebook.
Remember that your audience is also evolving, and someone who didn't match your ideal buyer persona can fit right in months later, probably because of a change in lifestyle or work status. Regularly be on your toes when it comes to audience insights so you don't miss out on your potential audience.