The 8 best aesthetic Instagram highlight ideas to try
Your Instagram account won't look completely polished without a stylish frontline of highlight covers. The highlight bar navigates your brand's media storage and is key to its overall aesthetic composition. Most importantly, covers have to resonate with your company's brand identity.
We have investigated the best highlight-cover examples of different styles and have found the ones that have inspired us the most. Moreover, in this article, you'll find helpful resources that will help you achieve similar results.
✨ Before you start, discover 50+ Instagram bio ideas for your business profile
Social Media News in a Nutshell
Get the latest social media news, insights, and marketing tips in your inbox once a week.
Aesthetic Instagram highlight cover examples
| | | |
| --- | --- | --- |
| Brand Name | Description | Link |
| @amazing.architecture | Black and white | https://www.instagram.com/amazing.architecture/ |
| @delightfulll | Black and white | https://www.instagram.com/delightfulll/ |
| @blossom | Cute | https://www.instagram.com/blossom/ |
| @theritzlondon | Vintage | https://www.instagram.com/theritzlondon/ |
| @benefitcosmeticsuk | Vintage | https://www.instagram.com/benefitcosmaeticsuk/ |
| @pierrehermeofficial | Real photos | https://www.instagram.com/pierrehermeofficial/ |
| @cern | Real photos | https://www.instagram.com/cern/ |
| @bespokewinecollection | Minimalism | https://www.instagram.com/bespokewinecollection/ |
| @details_in_vogue | Conceptualism | https://www.instagram.com/details_in_vogue/ |
| @nyxcosmetics | Conceptualism | https://www.instagram.com/nyxcosmetics/ |
| @thejungalow | Nature | https://www.instagram.com/thejungalow/ |
| @greenpeopleuk | Nature | https://www.instagram.com/greenpeopleuk/ |
| @design_interior_homes/ | Color | https://www.instagram.com/design_interior_homes/ |
| @etro | Color | https://www.instagram.com/etro/ |
| @theofficialselfridges | Color | https://www.instagram.com/theofficialselfridges/ |
Instagram highlight cover size (2022 update)
Highlight cover size is not available. However, the recommended aspect ratio is 1:1.55, and Instagram will automatically resize your image to 420 pixels by 654 pixels.
How to make highlights on Instagram
From your profile, click "+ New"
Select "Stories" to add from your achieve
Choose "Highlight Cover"
Press "Done"
After you've organized all the highlights, you can edit the covers.
Click on highlights and navigate to the three dots icons at the bottom right corner
Select "Edit Highlights"
Click on "Edit Cover"
Click on the image icon and choose a new one
Click "Done"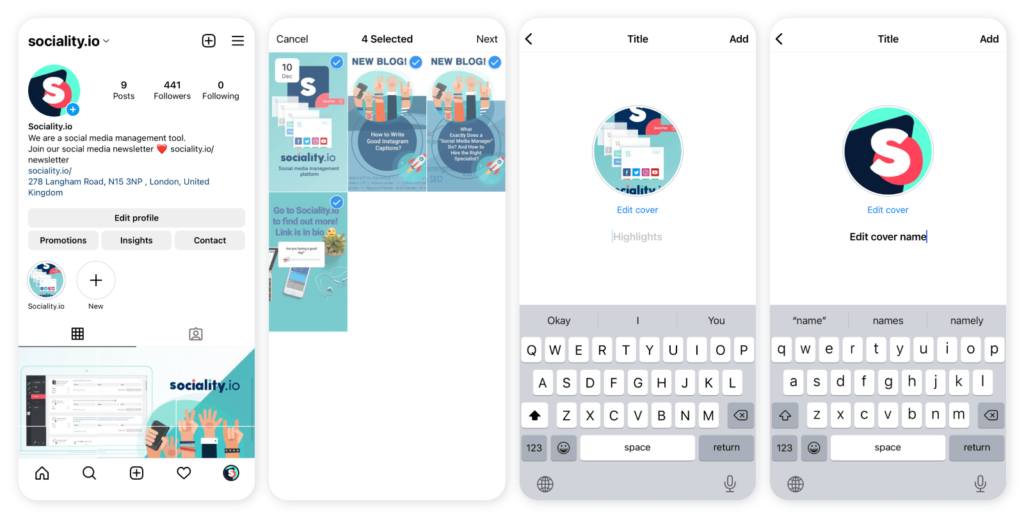 1. Black-and-white highlight covers
Black and white is an established and everlasting classic that presupposes something that should be taken seriously. Take off the color palette and let your business speak of its quality, power, and credibility. Indeed, nothing provides a sense of chic and presents more solidity than a black-and-white combination. Whether you are a start-up or a medium-sized business, going black and white is an unmistakable decision.
Similar to the examples of @delightfulll and @amazing.architecture below, you can translate confidence through classy logos and highlight icons. You can also temporarily add color to one of the icons for special variations for holidays or campaigns.

Resource tip: Unless you have your own high-quality black and white images, just use Desygner. The platform has one of the most extensive professional photo stock collections, with more than 150 million pieces and customizable templates.
2. Cute covers
If you are keen on details, choose text with visual effects. An image integrated into text or a letter gives a pleasing feel, and it is an excellent option for brands that operate in creative industries.
@blossom demonstrates a beautiful text flower effect in its logo and handwriting-style font in a neon color. Through its highlight covers and logo, the brand states that you can expect high-quality and aesthetically oriented content.

Resource tip: QuotesCover focuses on text-based images and provides everything you need to create Instagram-ready graphics for your account. Their in-house designers produce creative fonts specifically for social media usage. There are also several templates for creating highlight covers of the ideal format in the "Social Media Story" section.
3. Vintage
A vintage logo can reflect a company's longevity and highlight its solid roots. To obtain a retro effect and call back past aesthetics, you need to incorporate muted color palettes and cartoon textures. It will perfectly suit the business that operates in a niche market and periodically throws back its unique story.
People in social media love the nostalgic vibe, so, as in the brilliant examples of TheRitzLondon and BenefitCosmeticsUK, you can transmit vintage elegance through the face of your brand. It instantly brings up the best of past decades' spirits and evokes warm feelings from a social media audience. Additionally, you can successfully implement a nostalgia-based campaign and create a specific audience that is loyal to your account with such visual assets.

You might also want to follow 1stdibs example, a shop specializing in vintage furniture that has adapted vintage under current trends. It has adjusted vintage style by saving key symbols and typical vintage compositions but added modern brightness and digital quality detailing.

Resource tip: We recommend the Snappa app for stylizing your highlight covers in a vintage fashion. It offers great old-fashioned templates along with a variety of visual pieces.
4. Real photos
One of the simplest yet most effective ideas is to use your own footage for highlight covers. Turning real photos into symbolic assets can reflect a company's uniqueness and success.
You don't need to be a scientific organization to follow the Cern example, which showcases iconic and authentic moments of the company on the highlight covers. Such a move explicitly says that a company is confident and successful in what it does.

You can also use photos of your most outstanding products as covers. Maison Pierre Herme shows an excellent example by utilizing high-quality pictures of its cakes and pastries on a white background. Thus, the patisserie allures its fans to explore more by using such a good preview.

Resource tip: We recommend creating this kind of highlight cover in PicMonkey, which allows convenient drag-and-drop features. It also offers many special effects in case you need to edit real photos.
5. Colors
As an alternative to images and icons, you can focus on colors, which is also a great decision to attract the attention of your fans or visitors. Many choose to use colors for highlight covers because they look professional yet pleasant and stylish.
For example, you can apply your signature color to all the highlights, as Selfriges does. This will make people remember you better due to the human nature of the association.

A more creative approach to colors is to embed some ornaments onto a mono-color as a sublayer. In Etro's brilliant example, you can see their famous prints applied flat colors in a slightly obvious way that provides a completely chic look.

Design Interior Homes demonstrates other examples of a color-focused approach but with some sophistication. Note that their colorful highlights also match their logos. If you work in a creative industry like interior design or fashion, it is worth implementing this idea.

Resource tip: Unsplash will equip you with tons of creative mono-color images. And Over will offer you more than 500 fonts and 67,000 ready-to-use graphics. This app has been designed especially for Instagram needs, so it will suggest the right resolution for highlight covers.
6. Nature-inspired highlight covers
If your business operates in the eco/green market— it's a big deal, and you should indicate this in the visuals that represent you. It is important to let your visitors know your brand's philosophy, especially if you incorporate sustainability principles into your business. Thus, people can quickly identify that your brand is green-oriented and start exploring your content. In this case, it is not necessary to design something sophisticated and detailed; you can follow the example of Greenpeopleuk and create some simple and sweet pictures for covers in pastel tones.

Otherwise, if you insist on creative sophistication, Junglow is a perfect example of this.

Logos and highlight icons must match to be consistent and bear symbolic value. You can't make a plant-based logo or highlight icon without making them cute. So, your account's look will impress its visitors with a friendly vibe and under the aegis of a crucial mission.
You can get a nice set of plant-based icons for your highlights here.
7. Conceptualism
We suggest opting for a saturated palette for those who want their highlight covers to stand out on Instagram. Combining many colors, styles, and textures will earn you either an awesome or an eccentric/weird look. So, if you decide to go this way, be careful with your artistic vision. And yet, let us inspire you with the example of NYX below that managed to mix the unmixable.

Or, if you would like to go with a more artistic approach to contemporary conceptualism, look at @details_in_vogue's approach.

Resource tip: We suggest you use Adobe Spark for such a challenging occasion, as it provides thousands of conceptual templates and creative assets. You will be able to design your highlight cover with the entire Adobe Stock royalty-free photo collection and any Adobe fonts of your favor.
8. Minimalism

Less is more. The most trendy logo and highlight cover ideas refer to minimalism. If you decide to create highlight covers in a minimalistic style, remember that their design shouldn't include complicated lines, and their look should have a catchy effect. Thin and clean lines, short color pallets, geometric or smooth shapes, and deceptively simple designs are all cues for your audience's imagination and inspiration.
For example, Bespoke Wine Collection presents its frontline icons in the same color, using thin lines that give an elegant effect. Most importantly, they maintain the symbolic value of their industry.
Resource tip: As with Bespoke Wine Collection's highlight covers and many more, you can create them using PlaceIt. The platform provides thousands of professionally predesigned templates that can be adjusted to your taste and needs.
To highlight the above.
We hope that this article helped identify your go-to style. We believe that these resources will enable you to beautify your profile with custom Instagram highlight covers and icons.
Remember, nothing will make you look more adorable to your Instagram audience than personally designed style and visuals. So, start crafting your own story covers that will join top aesthetic accounts on the platform.