8 Instagram highlight cover ideas to make your profile shine
We all know that Instagram is an uber-powerful marketing tool. That's why it's so crucial that your business' Instagram account stands out. One of the best ways to create this refined aesthetic is through the creation of custom Instagram highlights and highlight covers.
Not only does the highlight bar navigate your brand's media storage, but it is key to its overall Instagram composition. As a result, you'll want to do everything in your power to make sure yours are as attractive and representative of your brand as possible.
Wondering how to create the most eye-catching Instagram highlights for your own business? You've come to the right place.
Here, we explore the most important things you need to know about Instagram highlights and highlight covers, and offer some inspiration to guide your creative process.
Social Media News in a Nutshell
Get the latest social media news, insights, and marketing tips in your inbox once a week.
What are Instagram highlights?
Instagram highlights are Stories that are pinned to the top of a user's profile underneath the profile picture and biography. Users can label these highlights with different names, categorizing their Stories as they see fit. 
Although Stories are typically only visible for 24 hours, the highlights function offers users the opportunity to extend their visibility. This is fantastic for showcasing important content or details about your business on an ongoing basis, such as business hours, key services, or client testimonials.
When creating Instagram highlight covers, you'll need to ensure you format them correctly for optimal results; this includes using high-resolution imagery and creating covers in the right size. You can find a comprehensive list of social media image sizes here.
How to make a highlight on Instagram
From your profile, click "+ New".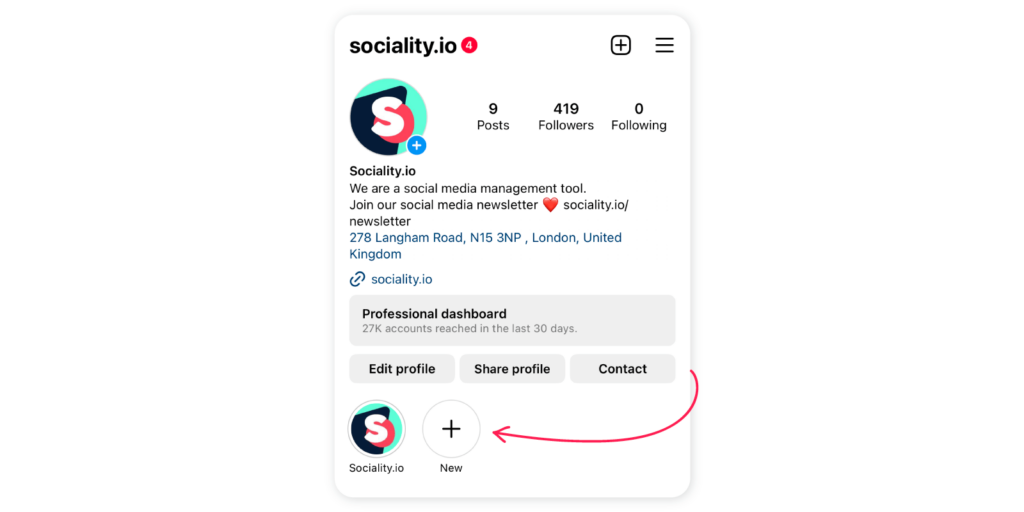 Select the stories you want to add from your archive.
Type in the name of the highlight category you are creating (up to 15 characters).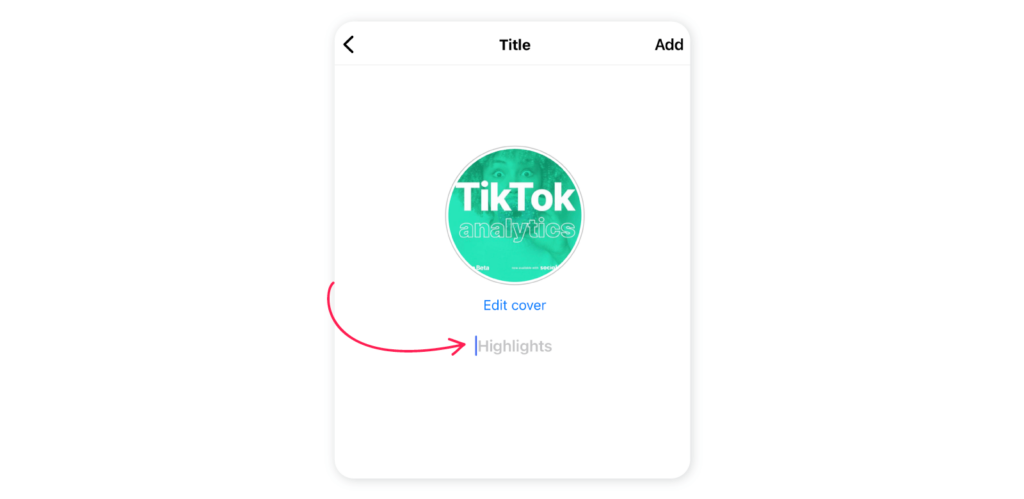 To change the Instagram highlight cover, click "Edit Cover".
Upload a cover image from your camera roll by clicking the image icon. Remember: you have to use high-resolution imagery here for the cover to be clear and polished.
When you're happy with the cover, click "Done" in the top-right corner.
Press "Add" to finalize the highlight and add it to your profile.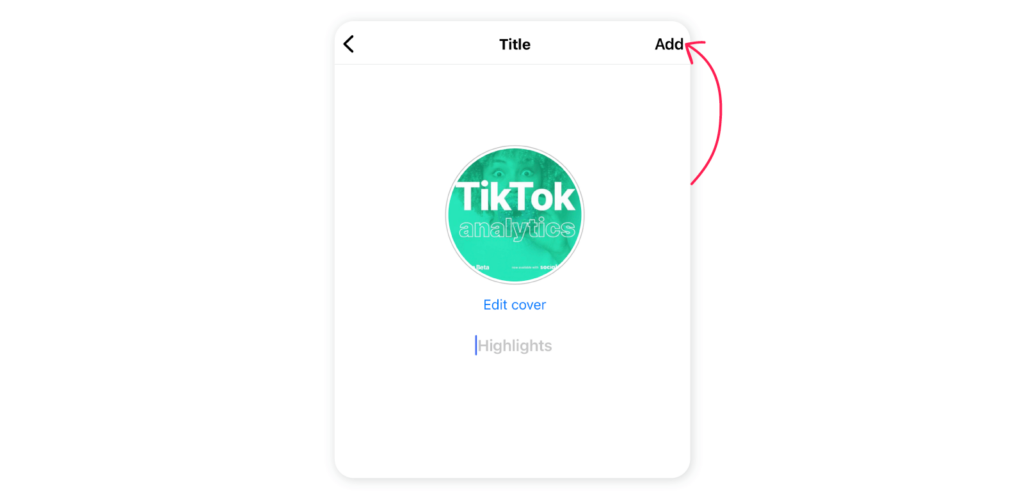 3 reasons to use Instagram highlight covers
While there are countless great reasons to use highlight covers for Instagram, let's take a look at our top three.
1. First impressions
Instagram highlight covers are located at the top of your profile. That means they are one of the first things a user will see when they visit your page. In essence, Insta highlight covers are a core part of your brand's first impression on Instagram.
As the adage goes, you never get a second chance to make a first impression.
This is why it's crucial to ensure it's as positive as possible. The best way to do this is by featuring eye-catching imagery and logical categories that align with users' needs.
2. Brand cohesion
Your Instagram highlight icons are an extension of your brand, which is why they should align with its colors, fonts, style, and tone.
Featuring elements of your brand on its Instagram page is an essential step in strengthening your brand identity. With a strong brand identity, users will be able to recognize your brand in an instant – and without you needing to say a word.
Perhaps even more importantly, these elements can help communicate what your brand represents and what it stands for. Does your brand center around timelessness and sophistication? A black-and-white color scheme and a clean, classic font in your Instagram highlight covers can help convey those values. 
The same principle applies to the tone of voice you use; your Instagram account should just look like your brand, but it should sound like your brand, too. Your Instagram highlight covers present a unique opportunity for you to leverage this, which is why you need to be strategic about the language, punctuation, and symbols you use.
For example, if your brand voice is informal and your business appeals to a Gen-Z audience, you may want to use emojis and all lowercase spelling.
3. An optimized user experience
Categorizing your Stories with the help of Instagram highlights makes it easier for users to sift through your content, particularly if they're looking for something specific.
For instance, if a prospective customer is curious to hear what your existing clients have to say about your business, they'll be instantly drawn to an Instagram highlight cover titled "Testimonials".
8 best Instagram highlight cover ideas and examples
1. Black and white Instagram highlight covers
A black-and-white aesthetic is perfect for brands that identify as classic, chic, timeless, and sophisticated. Stripping back your color palette allows your business to speak for its quality, power, and credibility.
Whether you're a start-up or a medium-sized business, going black and white is a foolproof decision.
Crate & Barrel Canada is a fantastic example of a brand leveraging simplicity in its Instagram highlight covers. Given that the brand's logo is black and white, it's only sensible that it carried this color scheme over to its Instagram account. The result is a profile that oozes elegance and timeless refinement. 

2. Aesthetic Instagram highlight covers
Some brands love adding a customized, eye-catching flair to their Instagram profiles. For these organizations, we present aesthetic Instagram highlight covers.
Aesthetic IG highlight icons come in all varieties. An image integrated into text or a letter gives a pleasing feel while grabbing the attention of the user Plus; personalized icons are perfect for businesses that want to show off their creative side. 
Sephora took this idea and ran with it in their Instagram highlight covers. The categories are dedicated to different products sold by the retailer, while the icons feature a complementary color palette and bold animated symbols of the items, such as lipstick for the makeup category and a comb for the hair care category.

3. Pink Instagram highlight covers
Pink Instagram highlight covers are best suited for companies whose brand colors include shades of pink. As we mentioned previously, incorporating your brand colors into your Instagram highlight covers is an excellent way to convey a cohesive brand image on social media. Pink can also be used to evoke a variety of emotions in branding, such as creativity, youthfulness, femininity, sentimentality, or romance.
Below are two excellent examples of these practices. Go-To is a skincare brand targeted predominantly at young women. With both youthfulness and femininity at the forefront of this brand, it's no wonder pink is heavily featured in its branding.
Similarly, She's on the Money is an educational business that offers free financial advice to women across the globe. Founder Victoria Devine wrote a book of the same name and now hosts a podcast on which she discusses all things money, business, and finance through an easy-to-understand, female-centric lens. Again, femininity is built into the brand through the pronoun in its name as well as its colors, which include light shades of pink.

4. Photography Instagram highlight covers
One of the simplest yet most effective ideas is to use your own photography for highlight covers. Turning real photos into symbolic assets can reflect a company's unique success.
An exceptional case study is the prolific women's magazine Cosmopolitan. In its IG highlight icons, the brand has featured real photographs of some of its most recent cover stars and major pop culture events (such as the Met Gala) covered by the magazine.
Not only are the photos visually pleasing but they help tell a story about what Cosmopolitan cares about and the subject matter it covers; as a result, users can tell at a glance if the brand's content is something that aligns with their interests.

5. Brown Instagram highlight covers
Much like with black and white or pink Instagram highlight covers, brown Instagram highlight icons can also be effective for businesses that have brown at the center of their brand identities.
Brown can be great for conveying feelings of coziness, warmth, and earthiness or it can even be a great callback to certain brand names, such as the Cleveland Browns.
Given the fact that brown is built into the name of the brand, it's only logical that the color itself should make an appearance on the brand's Instagram page. The color – along with the white stripes and hints of orange – also appears on the team's jerseys, making these IG highlight icons a masterclass in brand cohesion.

6. Multicolored & text overlay Instagram highlight covers
Again, this approach is very simple but effective. The use of bright, bold colors is fantastic for catching the attention of the user while the text overlay emphasizes the content they can expect to find in that highlight.
Take the Postmates' IG highlight icons as a fantastic case study. In these highlight covers, the brand showcases different series and trends it does on its Instagram account. For instance, The Receipts focuses on a series in which the company shares how much various celebrities spent on Postmates and what they bought most frequently. 

7. Conceptual Instagram highlight covers
If you want your highlight covers to stand out, going down the conceptual route can be an excellent tactic. In this context, conceptualism means combining many colors, styles, and textures.
With this in mind, it's important to tread carefully: when done right, conceptualism can earn you an awesome look or, when executed poorly, an off-putting aesthetic. We recommend being careful and thoughtful with your artistic vision.
Canva is an awesome example to follow. As you can see, the brand incorporates various colors, design styles, and shapes to bring you a conceptual feel. 

8. Numbered Instagram highlight covers
This style of Instagram highlight covers can be incredibly useful in highlighting types of products or services that are organized by number.
Consider Ashton Whitmoyer-Ober, who is an Enneagram consultant. The Enneagram system categorizes people into nine different personality types and describes how people view the world and manage their emotions. According to the Enneagram system, the nine types of personalities are:
The Perfectionist/The Reformer
The Helper
The Achiever
The Individualist
The Investigator
The Loyalist
The Enthusiast
The Challenger
The Peacemaker
Given that this is her area of expertise, Whitmoyer-Ober has dedicated many of her Instagram highlight reels to these nine types of personalities. In the featured stories, she offers insights into the different traits these people possess, their likes and dislikes, and how to get along with people who fall into this category.
This approach is easy to understand and navigate and speaks to a core element of Whitmoyer-Ober's business structure. 
Conclusion
With the help of this guide, you should now feel confident and inspired when it comes to creating custom Instagram highlight covers and icons. Given how saturated the platform is, standing out on Instagram is crucial to the success of your business. Something as simple as personalized IG highlight icons can help you distinguish yourself from your competitors and cement your position as a one-of-a-kind brand.