Top seven tools to automate bulk schedule TikTok posts in 2023
Content is the cornerstone of your TikTok marketing strategy. But it can be hard to manually keep up with posting times, especially if you manage multiple accounts.
Are you looking for the best TikTok scheduling tools to help you streamline your social media content creation efforts?
You've landed on the right post.
In 2023, TikTok launched its API for social media management solutions. While previously they allowed third-party solutions to only access analytics data, now it is possible not only to schedule content but also to monitor comments and other types of engagement.
Below, you'll find 7 TikTok scheduling tools that'll help keep your audience engaged with your content. Plus, why you should schedule your content in the first place.
So without further ado, let's get started.
Social Media News in a Nutshell
Get the latest social media news, insights, and marketing tips in your inbox once a week.
TikTok schedule solutions
It is important to note that the previous API allowed third-party social media management tools to schedule TikTok content only manually. In comparison to direct scheduling, those solutions send notifications via mobile apps to remind you to publish pre-crafted content inside the TikTok application itself.
The updated API allows direct publishing. However, not many tools support it. Here is a table:
| | | |
| --- | --- | --- |
| TikTok schedule solution | Manual scheduling | Direct scheduling |
| Loomly | ✅ | |
| Crowdfire | ✅ | |
| SocialPilot | ✅ | |
| Plannable | ✅ | |
| Later | | ✅ |
| Buffer | ✅ | |
| Brandwatch | | ✅ |
| Sprout Social | | ✅ |
| Hootsuite | | ✅ |
| Sprinklr | | ✅ |
| Khoros | | ✅ |
| Dush Hudson | | ✅ |
Why should you use the TikTok scheduler tool?
Below are three advantages of scheduling your TikTok content in advance.
Win back time for other projects
If you work on a fast-paced team, you'd quickly realize that manually posting content to TikTok isn't the most efficient use of your time. You can't keep one eye on the clock, waiting for posting time to roll around when you have a million other things to do.
But if you create a TikTok posting schedule, you win back time that can be reinvested in other projects and activities.
That was exactly how Zeynep Serra Avan, Content Editor at AnnounceKit, felt after using Sociality.io with her team. She said:
"… switching to Sociality.io not only reduced our workload, it also allowed us to work on other projects a lot more."
Scheduling your content sets you up for more posts engagement
On any social media platform, consistency is key to growth. This is the same for TikTok.
Keep to a regular posting schedule, and your audience will know when to expect your posts. Plus, if you post often, the TikTok algorithm will recognize your content and make you a regular on your audience's feed. This ensures you stay top of mind.
But we know how hard it can be to keep up with posting times.
Life happens. Something urgent comes up, and in most cases, you can't do a thing about it.
By planning your content in a tool like Sociality.io, you ensure you don't miss out on audience interaction because a post failed to go out.
✨ Bonus: Top 21 social media scheduler tools in 2023
Take advantage of best time to post
Your audience won't be on TikTok all day. Look at yourself. You're someone's audience and you're not on TikTok right now.
What does this tell you?
It means it's important to optimize your posting times for when your audience are most likely to be active on the TikTok platform.
It makes sense to do so: higher TikTok engagement equals more visibility on the platform for your brand.
But like I mentioned earlier, keeping up with these posting times can be difficult. So once you uncover your best posting times – Sociality.io gives you this data as part of your TikTok analytics report, a TikTok content planner will ensure you never miss an opportunity to get in front of your audience when they are on the platform.
✨ Bonus: What is the best time to post on TikTok?
Top 12 TikTok scheduling tools to plan your post
Loomly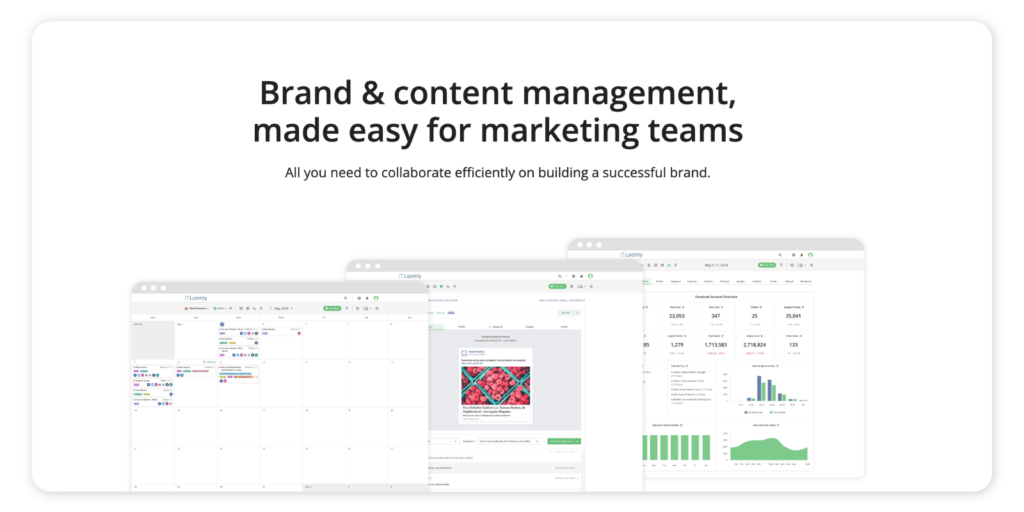 Loomly is a social media management and scheduling tool that provides you with a single dashboard to manage your organic posts and ads.
One perk of Loomly as a TikTok scheduler is it helps you keep your content calendar full by suggesting new post ideas based on trending topics or date-related events. The scheduling tool integrates with other social media platforms other than TikTok.
Loomly is best suited for freelancers and influencers.
If you belong to those categories, you have four pricing plan options with Loomly.
Base plan: $26 per month
Standard plan: $59 per month
Advanced plan: $129 per month
Premium plan: $269 per month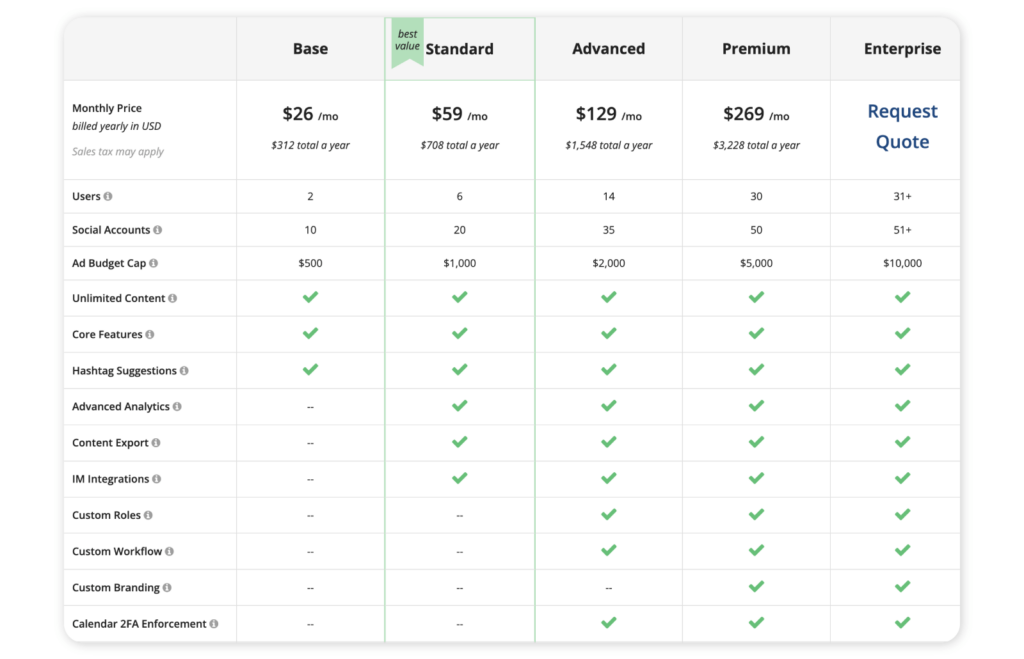 Crowdfire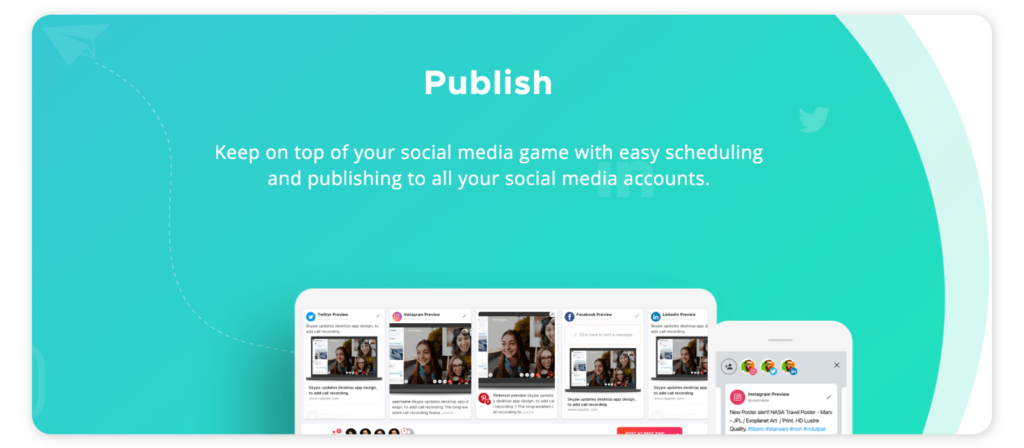 Crowdfire is another easy to use tool that assists you in planning your and publishing your social media content. It has an nice little feature that lets you choose between the using the platform's automatic best time to post recommendations or using your own custom time.
One thing about Crowdfire though, you need to download the mobile app before you can start using it.
Crowdfire has a free plan that lets you connect three social media accounts. For increased functionalities, the platform offers the following paid plans.
Plus plan: $9.99 per month
Premium plan: $49.99 per month
VIP plan: $99.99 per month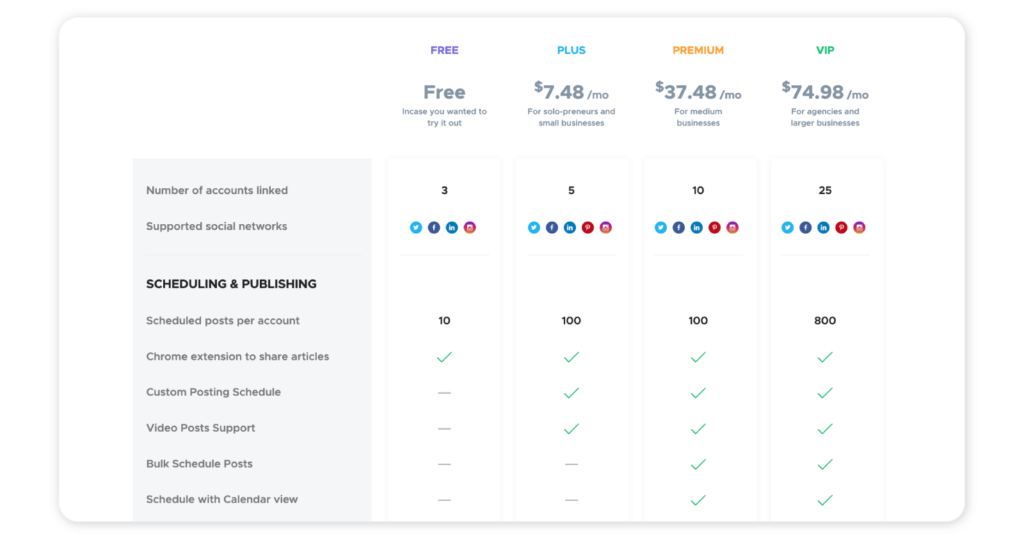 SocialPilot

SocialPilot is a comprehensive social media management tool with features built for small businesses, agencies, and enterprise.
The platform also supports TikTok scheduling. With its scheduling feature, you can create post queues and recycle your content across multiple social media platforms.
To get started, SocialPilot offers four pricing plans.
Professional plan: $30 per month
Small Team plan: $50 per month
Studio plan: $100 per month
Agency plan: $125 per month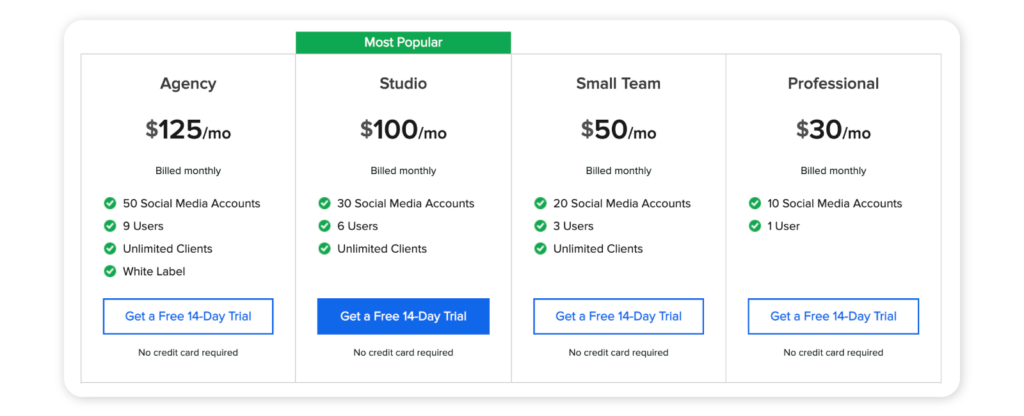 Planable

Planable is another social media tool to plan, collaborate and schedule your content on multiple social media platforms.
Its sleek drag-and-draw calendar view scheduler cuts down the time it takes you to plan your content. And getting updates and approvals are straightforward with its easy collaboration features.
Planable has a free plan that lets you schedule 50 posts to test the platform. If you want more features, you can upgrade to one of its paid plans.
Basic plan: $13 per user
Pro plan: $26 per user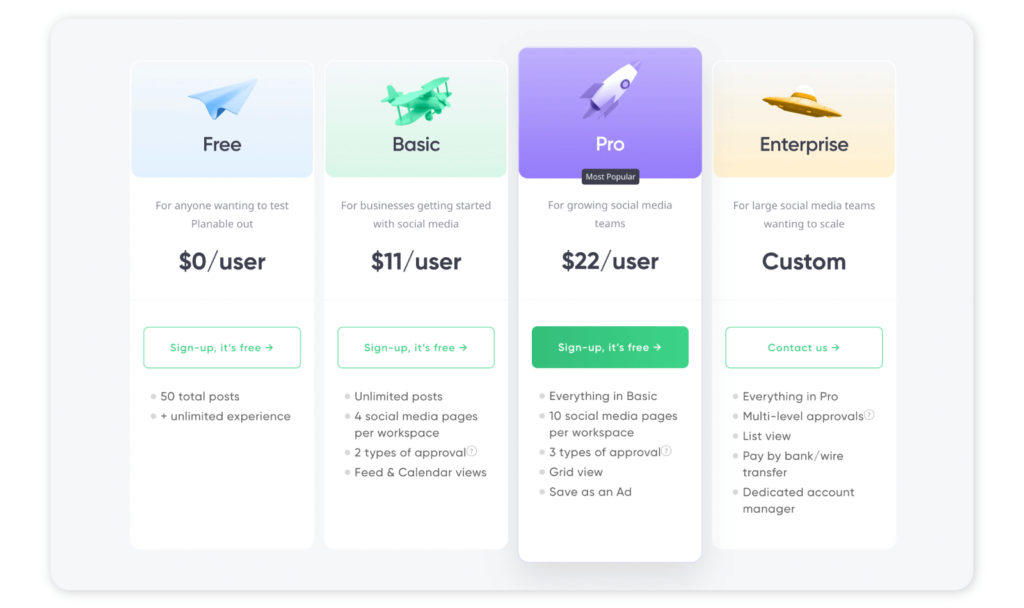 Later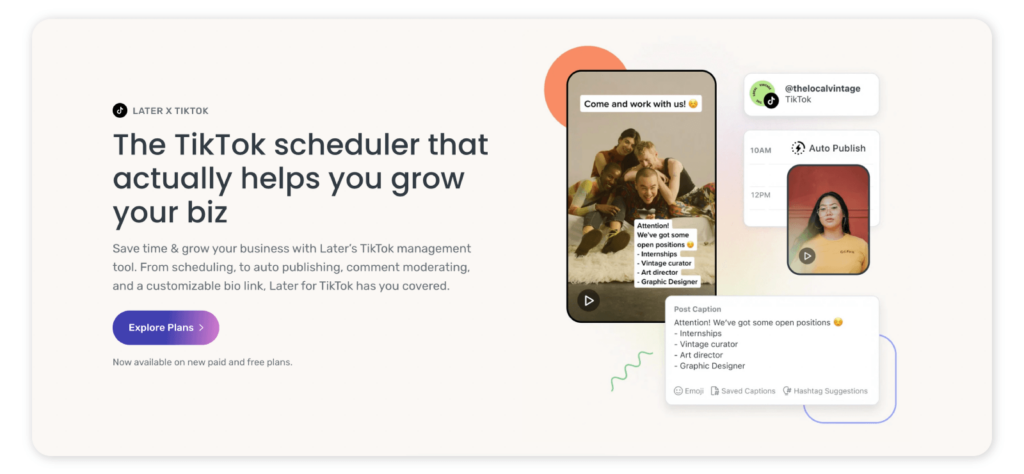 Later is a popular social media tool for content scheduling. It supports TikTok as well as other social media channels.
But Later isn't just about TikTok scheduling. It also allows you to moderate TikTok comments and add a customizable bio link to each posts so you can drive traffic to your website.
There are three pricing plans.
Starter plan: $18 per month
Growth plan: $40 per month
Advanced plan: $80 per month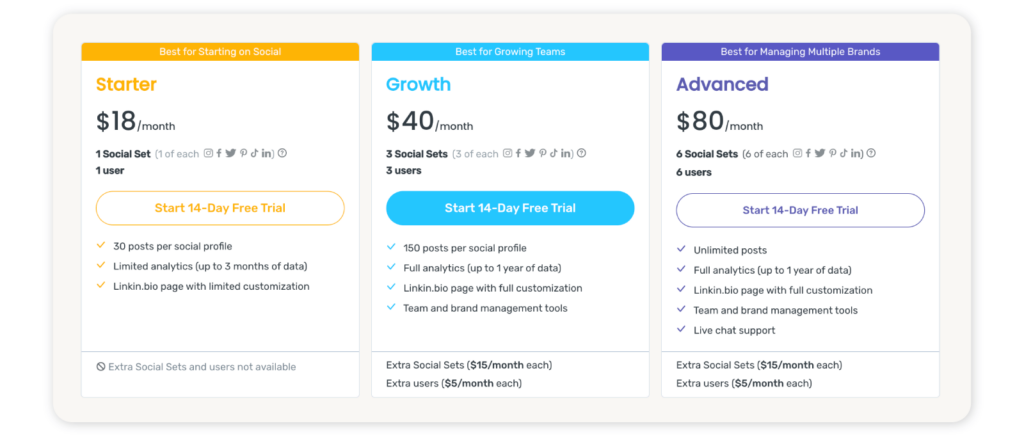 Buffer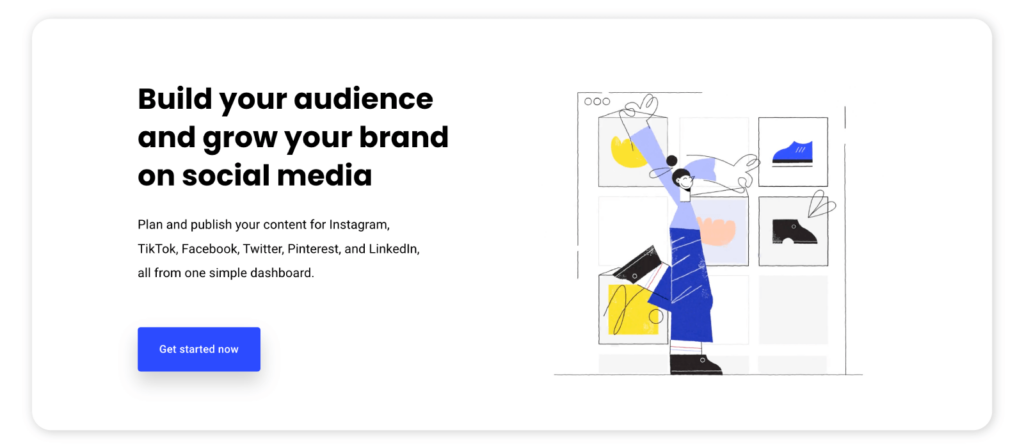 Buffer is another platform that provides you with tools to plan and publish your TikTok content.
From a single dashboard, you can create social media content for TikTok, set reminders in your calendars, and get a mobile notification when it's time to share.
Buffer offers five plans. There's a free plan which lets you use basic publishing tools. It's paid plans include:
Essentials plan: $6 per month per channel
Team plan: $12 per month per channel
Agency plan: $120 per month per channel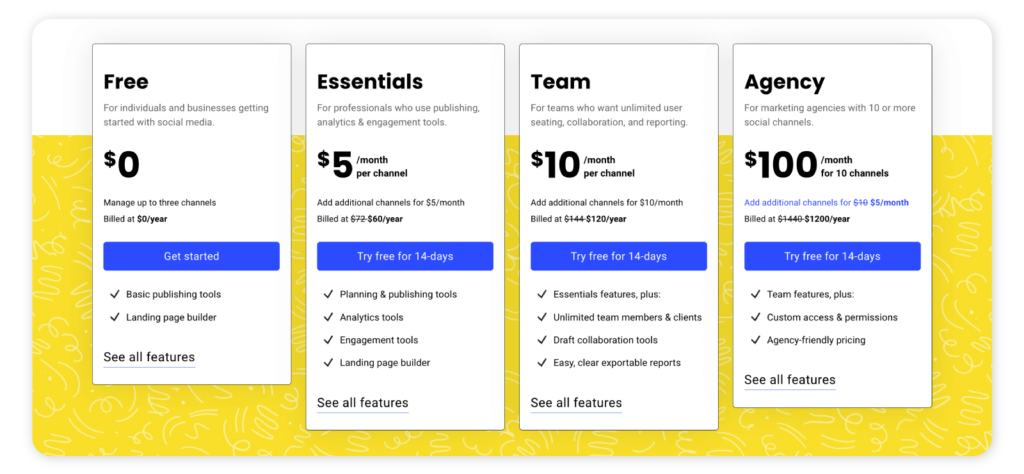 When choosing a TikTok scheduling tool, it's best to go for one that also lets you manage all other social media accounts from a single dashboard.
It's for this reason that 2000 marketers trust Sociality.io. If you want all the tools you need to manage all your social media accounts, get started with a free trial. No credit card required.
Brandwatch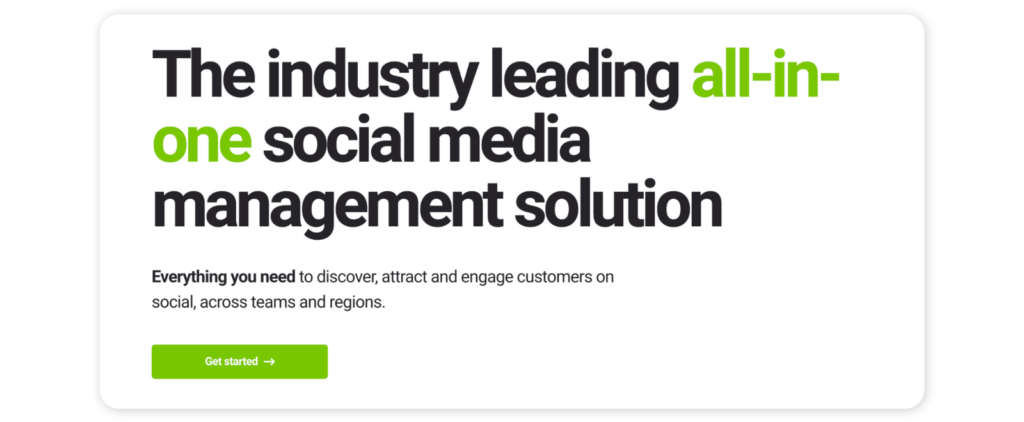 Originally a brand monitoring tool, Brandwatch expanded its suite of products to help social media teams manage their presence online. As a social media management tool, it supports TikTok scheduling.
With Brandwatch, marketers can collaborate, schedule, preview, and publish content to TikTok (and other social media platforms).
You can get started with Brandwatch for $108 per month. But this only gives you access to its scheduling, engagement, and analytics tool. To get access to more features, you'll have to book a meeting with a sales rep and get a pricing plan.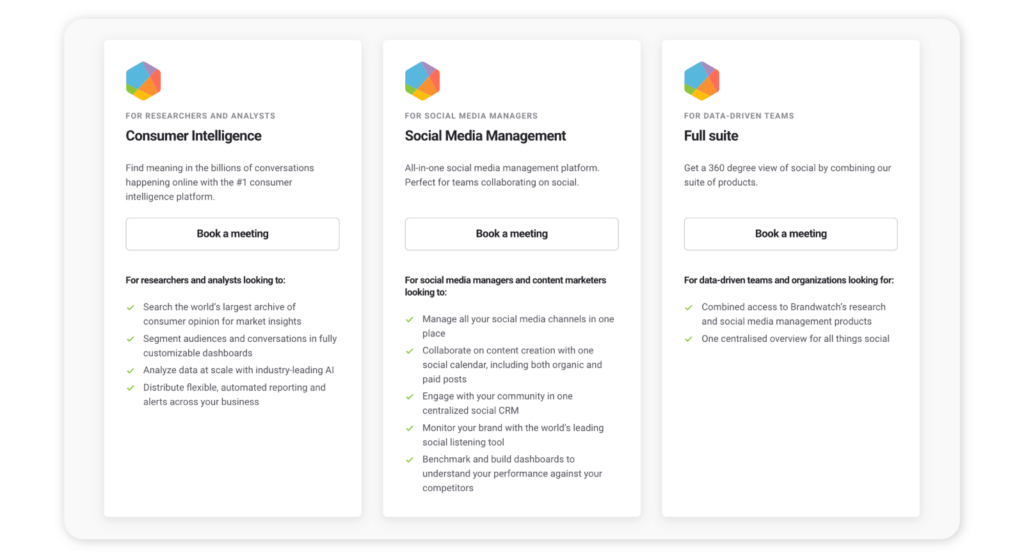 Sprout Social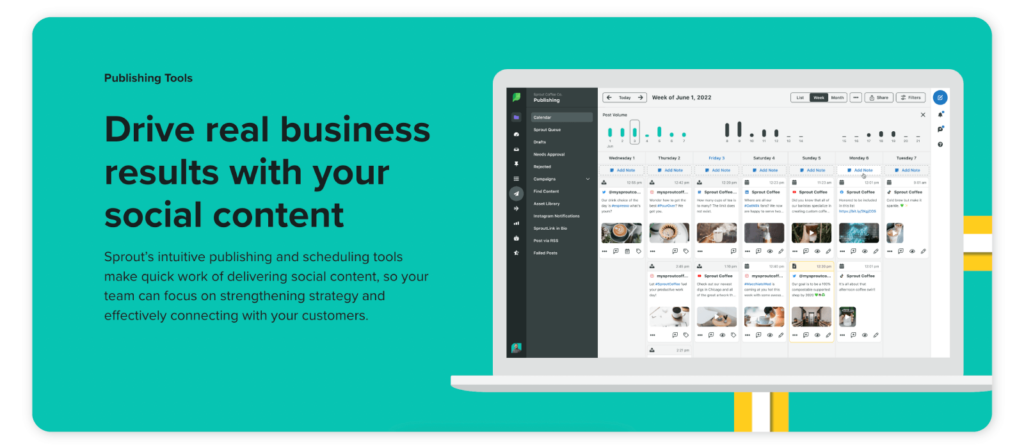 Sprout Social is known as a leading platform in the social media management space. So, it's no surprise that it offers tools to help marketers publish content to TikTok.
Using Sprout Social, social media managers can import social posts, add them to queues, and utilize the platform's optimization algorithm to automatically schedule content at times proven to generate the most engagement.
Sprout Social offers three pricing plans:
Essentials Plan: $99 per user per month
Professional Plan: $169 per user per month
Advanced Plan: $279 per user per month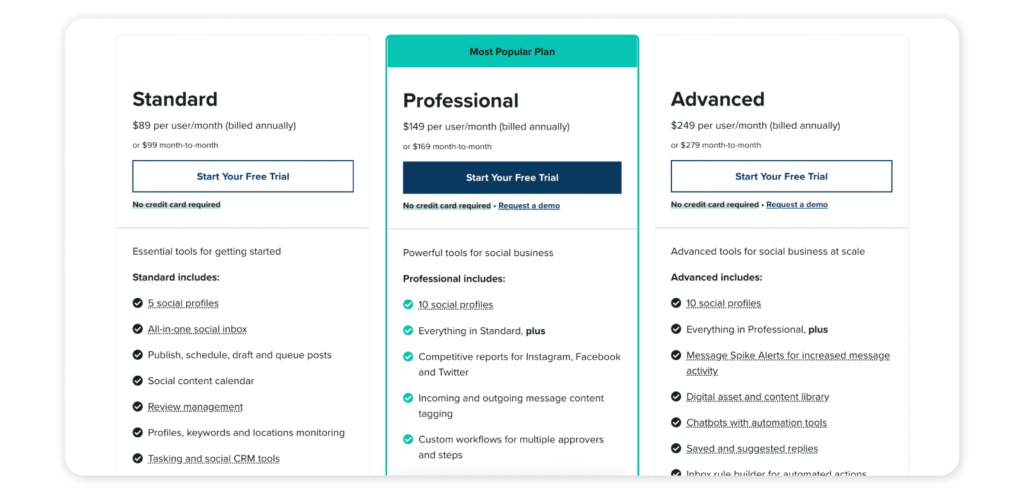 Hootsuite

Hootsuite is another leading social media management solution that offers TikTok scheduling features.
From a single dashboard, you can create, preview, schedule and publish your content. Hootsuite also lets you schedule multiple posts at once using its Bulk Composer tool.
Hootsuite offers two pricing categories: price for enterprise and price for everyone. Enterprise category has four pricing plans:
Professional Plan: $49 per month
Team Plan: $129 per month
Business Plan: $179 per month
Enterprise Plan
And the Price for Everyone has two pricing plans:
Professional Plan: $49 per month
Team Plan: $129 per month
Prices for each plans are billed annually.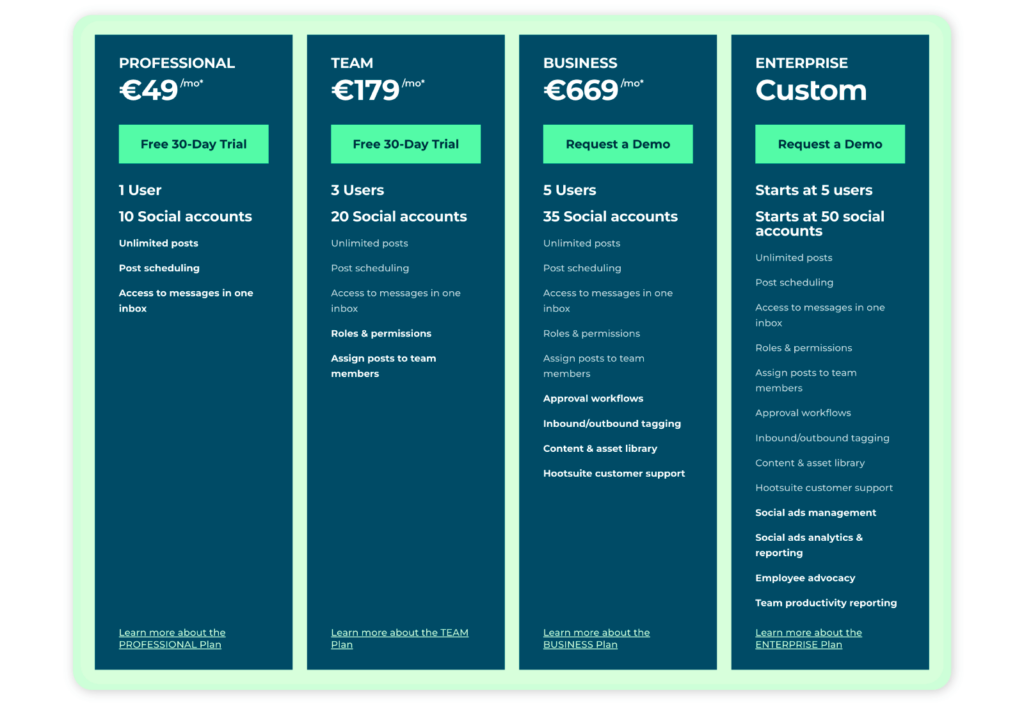 Splinkr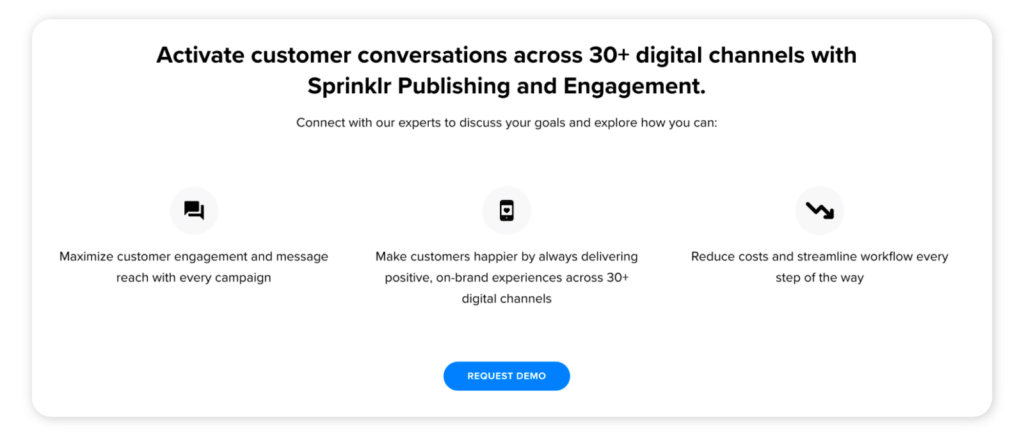 Splinkr is a customer experience management platform that gives you a holistic view of what you customers say about you across 30+ channels.
It also offers social media scheduling and publishing features that support TikTok. Splinkr's pricing isn't available on its website. You'll have to receive a customized proposal from its sales team to know how much it's cost you.
Khoros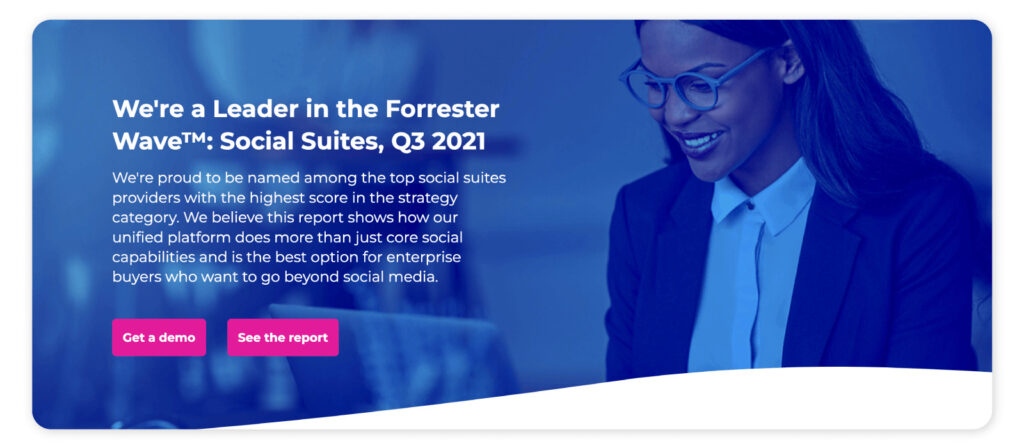 Khoros is an enterprise customer engagement platform that also offers social media content management tools.
With Khoros, you can collaborate, schedule, and manage your TikTok content with a single configurable dashboard. L'horoscope doesn't have its pricing stated in its website. So you have to reach out to its sales team to get a customized proposal.
Dash Hudson

Dash Hudson is another enterprise-grade social media marketing solution. With focus on enterprise companies, Dash Hudson scheduling and publishing tool helps simplify publishing workflows and find the best time to schedule content on TikTok (and other platforms).
Like other enterprise solutions on this list, Dash Hudson doesn't list its pricing on its website. Instead, you'll have to contact its sales team to get started.