How to change the background color of Instagram Stories?
Instagram stories are by far the most popular feature of Instagram. Starting from how to change the background color of Instagram Stories; today we will dig into the hacks and tactics we all can use to boost up our creativity when preparing Stories.
Social Media News in a Nutshell
Get the latest social media news, insights, and marketing tips in your inbox once a week.
Changing the Instagram Stories background color – the regular method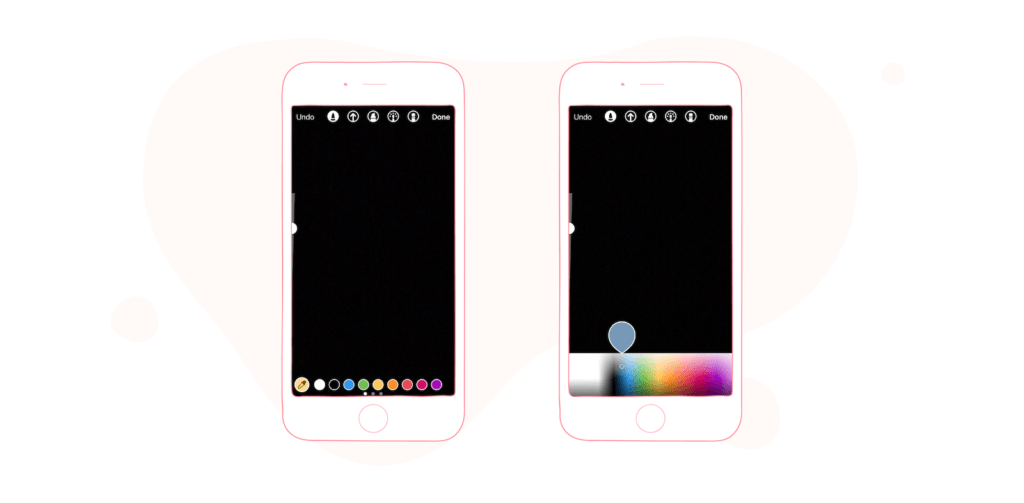 Open Instagram Stories
Use your camera to take a photo or a video or choose an existing photo from your camera roll
Select the brush icon in the upper right-hand corner of the screen
Choose a color from the color wheel
Tap the screen and wait
The selected color will be applied to your Instagram Story within a few seconds
You have a brand color that doesn't exist within Instagram's default color wheel but you'd like to use it as your Instagram Story background color. What do you do?
Fortunately, you'll see a huge color palette if you tap and long-hold any of the default color options. Once you see it, just swipe across the slider and pick your custom color.
Changing the Instagram Stories background color – creative methods
1. The eraser tool
The best way to be a little playful, a little secretive.
The eraser tool helps us reveal portions of an image behind a coloured background.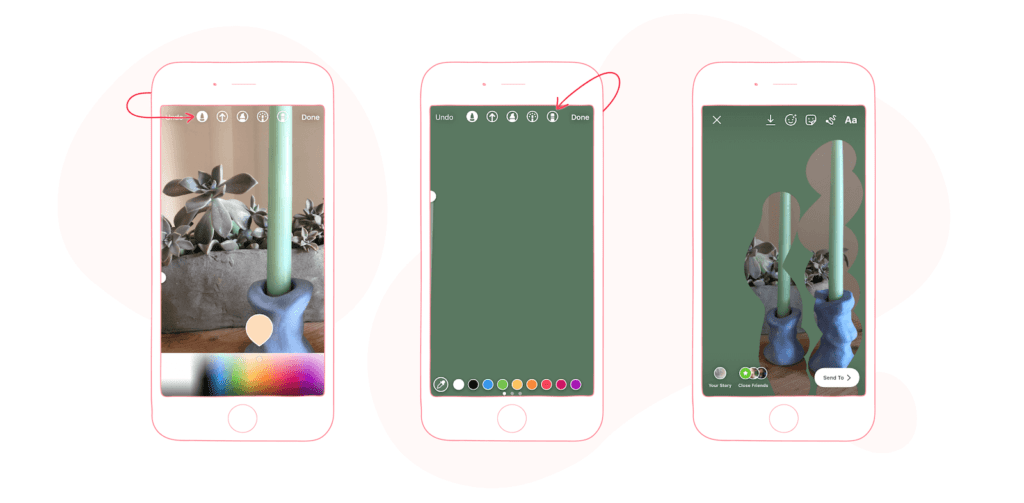 Start a new Story with an image you want to share. Use the pen tool to create a solid background color as described earlier. Reactivate the pen feature and select the eraser tool. Now draw anything on your screen, voila!
2. Turn live photos into boomerangs!
Live Photos can definitely turn into amazing Boomerangs on Instagram Stories.
Keep in mind that in order for this hack to work; live photos need to be taken within the last 24 hours. Here's how;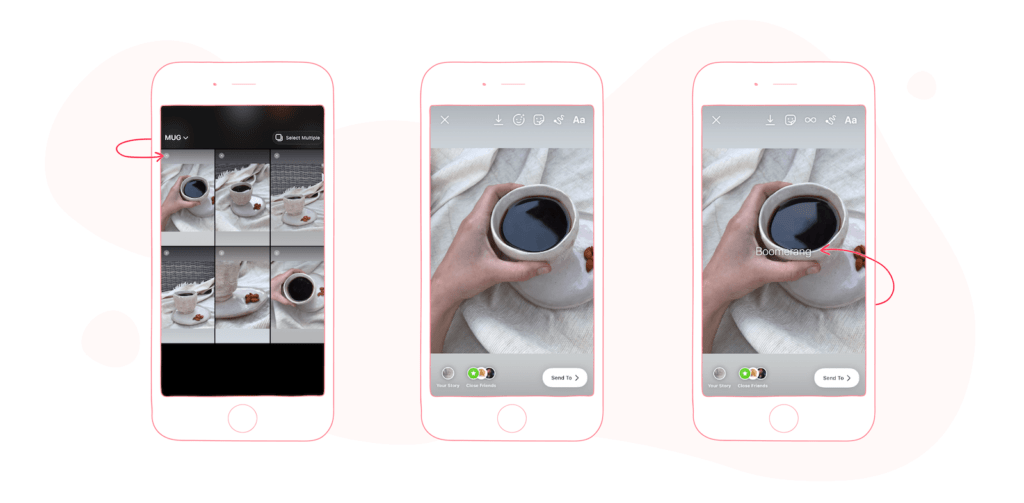 Open Instagram Stories, swipe up, and pick a live photo from your camera roll.
Once selected, press firmly on the screen for a few seconds
The word Boomerang will appear briefly on the screen
That's it! You've turned your live photo into a Boomerang!
3. Make collages on your Instagram Stories – with a quick hack!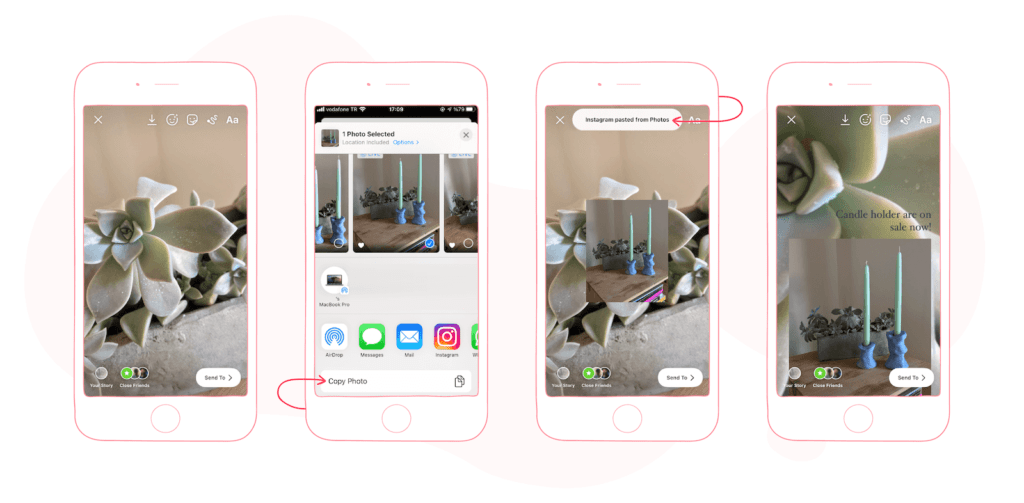 Take a photo or use an existing photo from the drop-down gallery, you can change the background color or enhance your photo with filters, etc
Go to your phone's Photos application
Click on a photo and choose Copy Photo
Go back to your Instagram Story and paste, sometimes Instagram pastes automatically
Repeat this process as many times as you want to add more and more photos!
4. Make a collage on Instagram Story – using the layout mode
Another way to make a collage on Stories is to use Instagram's own feature; the Layout mode.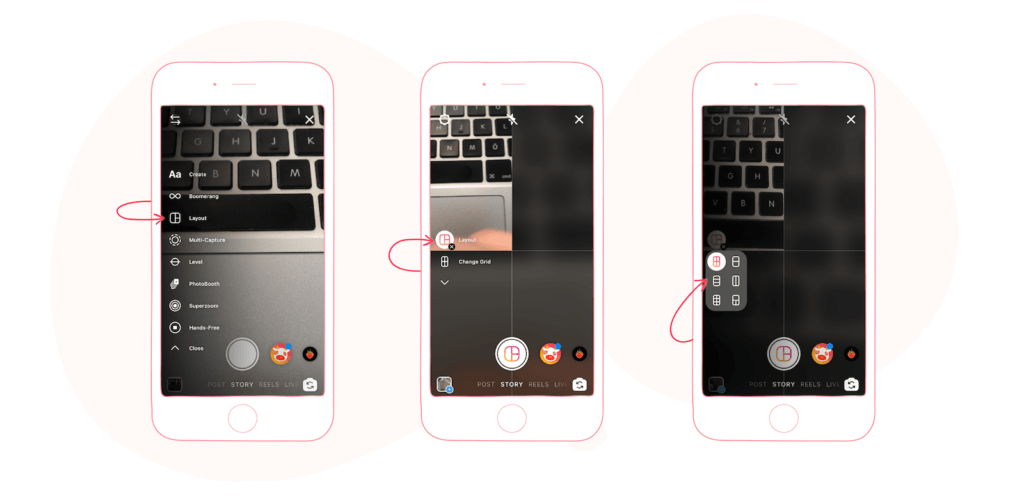 Go to Stories
Swipe left to see the available options for your phone
Pick Layout and explore the different grids
Take photos or upload the old ones from your Camera Roll.
When creating your collage; you can get even more creative by having your Story viewers pick one of the photos in your collages and/or by asking questions about the photos, or by making a quiz. Always think about what to add in order to make your collage more engaging with your Story viewers.
Since we're talking about being creative and using colors, why not figuring out how to change the color of our direct messages on Instagram?
Now that FB and IG have become one, just like Messenger, you can choose different themes for your private chats. Follow the steps below;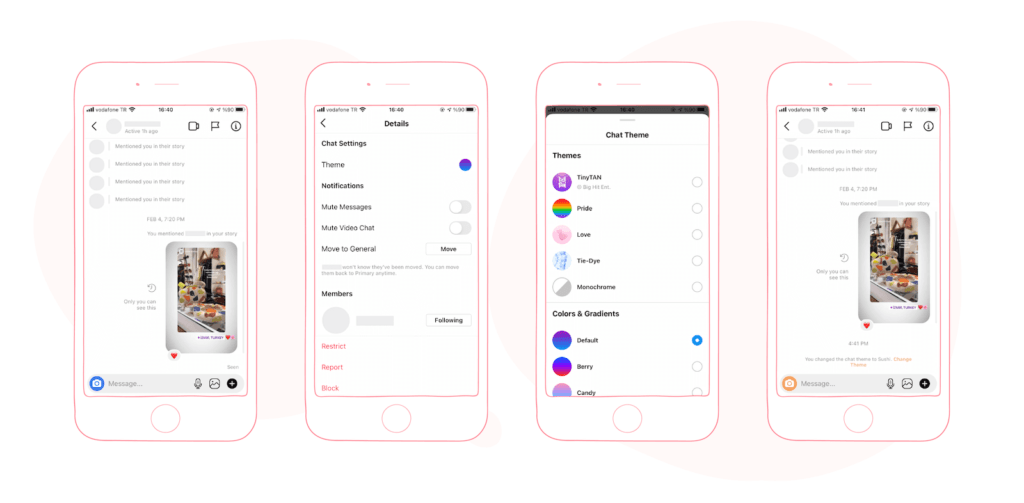 Open your app and go to your direct messages
Choose a chat to which you want to add a new theme
Select the "i" icon in the upper right corner
Under Chat Settings, click on the circle next to Theme
From the pop-up window, select a color, theme, or gradient that reflect you
The theme will be applied automatically, and you'll see a notification underneath your last message in the conversation.
Last but not least; don't forget to schedule your Instagram content in advance for the best results! Read this article to understand the importance of scheduling content on Instagram in advance.
Related article: How to repost an Instagram Story?
It's an ever-changing world and there are always updates, new features, hacks, trends, and insights that can be important to know for our social media marketing success. If you still haven't signed up for our weekly newsletters, make sure to do so because we aim to give the most important social media industry news for you to get updated and create your marketing strategies in line with the current goings-on.