How to create & upload branded GIFs to Instagram Stories?
Everybody loves GIFs, they make social media user experience fun and enjoyable. GIFs are your brand's unconventional communication channel that not only builds a bond with the Instagram audience but also drives brand recognition and engagement rates. Not many marketers know it, but creating your own branded GIFs is easy and free. In this article, we share 3 steps on creating and uploading your branded GIF stickers to the GIFs section of Instagram Stories, plus more.
Social Media News in a Nutshell
Get the latest social media news, insights, and marketing tips in your inbox once a week.
What are branded Instagram GIFs?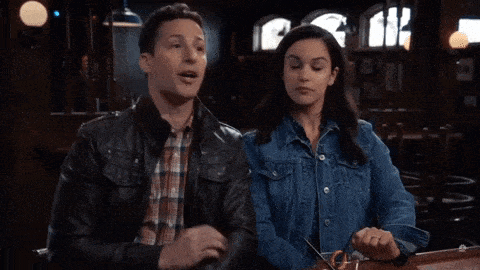 Every social media user knows how popular GIFs are today. GIFs are cool and they are fun to use. But what are Instagram GIFs?
In its common definition GIF (Graphic Interchange Format) is a type of animated or static digital image that loops continuously. Instagram GIF stickers have a transparent background and can be easily used over your pictures or videos on Instagram Stories.
Instagram GIFs are awesome for native advertising and interacting with the audience.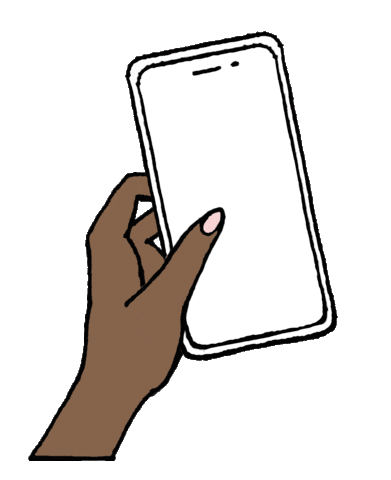 Why do people love using Instagram GIFs?
People love using GIFs. Why? GIFs are entertaining and easy to use. They can offer you more than just a simple sticker. GIFs are a perfect way to impress your emotions.
It's much easier to communicate with each other using GIFs, than just flat words. Sometimes you just need to share feelings that are unexplainable with words, and GIF is worth a thousand words.
Instagram, Giphy and GIFs
A well-used branded GIF can give your Instagram Stories a personal touch and make them more impressive. Brands, big and small, are getting in on creating their own GIF collections, entertaining people with GIFs. GIFs can help brands strengthen their content's engagement and improve brand awareness.
Here are some examples of Pepsi's cute GIF stickers, users would definitely use it while chilling in the backyard with some friends.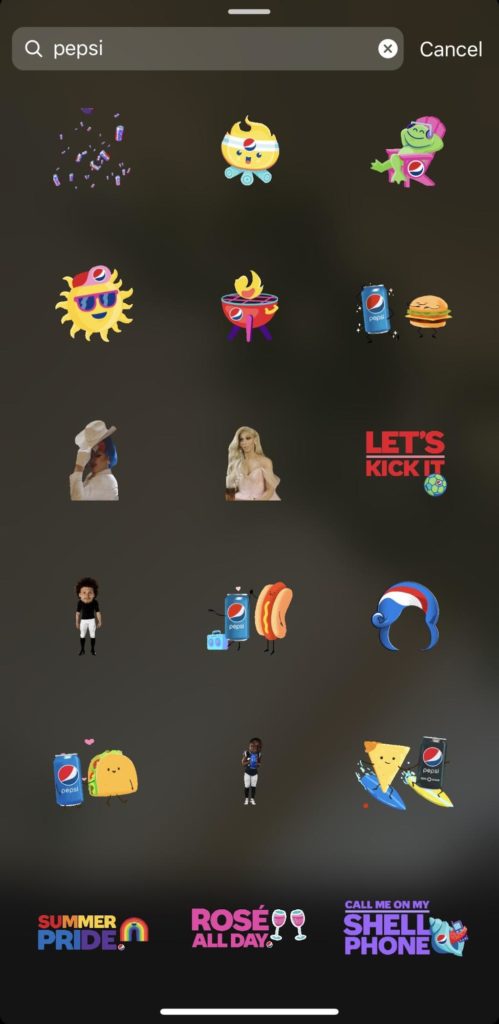 Some brands create seasonal GIFs to entertain followers throughout all seasons. Here are sweaters and holiday season GIF stickers from Starbucks.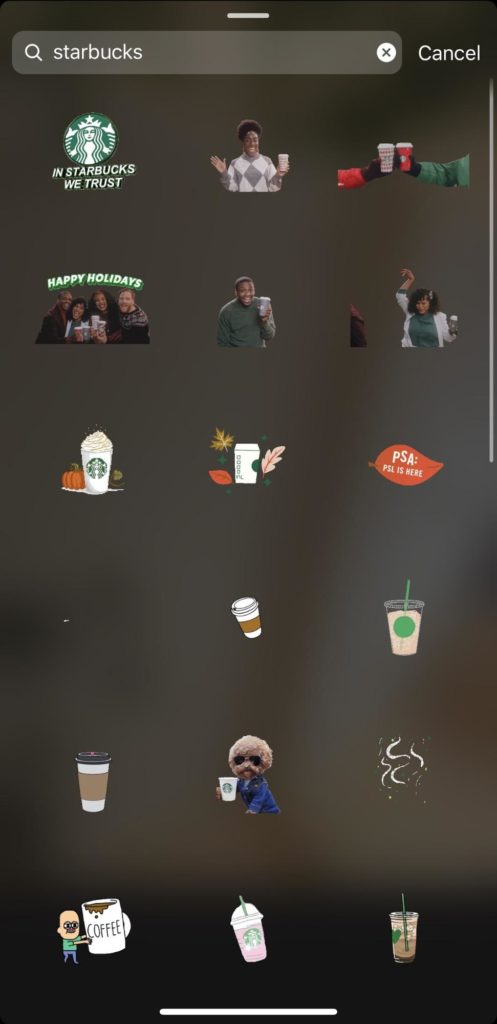 ---
Before we get into steps of creating branded GIFs, there are few things to know about Instagram GIFs. A few years ago Instagram teamed up with Giphy.com to make a pool of stickers to be used in Stories. So if you want your branded GIF stickers to be available in the Instagram Stories GIF search section, you need to get acquainted with Giphy.
Related article: How to change the background color of Instagram Stories?
How to create your branded GIFs in 3 steps?
Creating your branded GIFs allows you to strengthen your brand identity and increase user-generated content. GIF stickers can make it for free. Follow the steps below to create your branded GIF stickers.
Creating your Giphy account and getting verified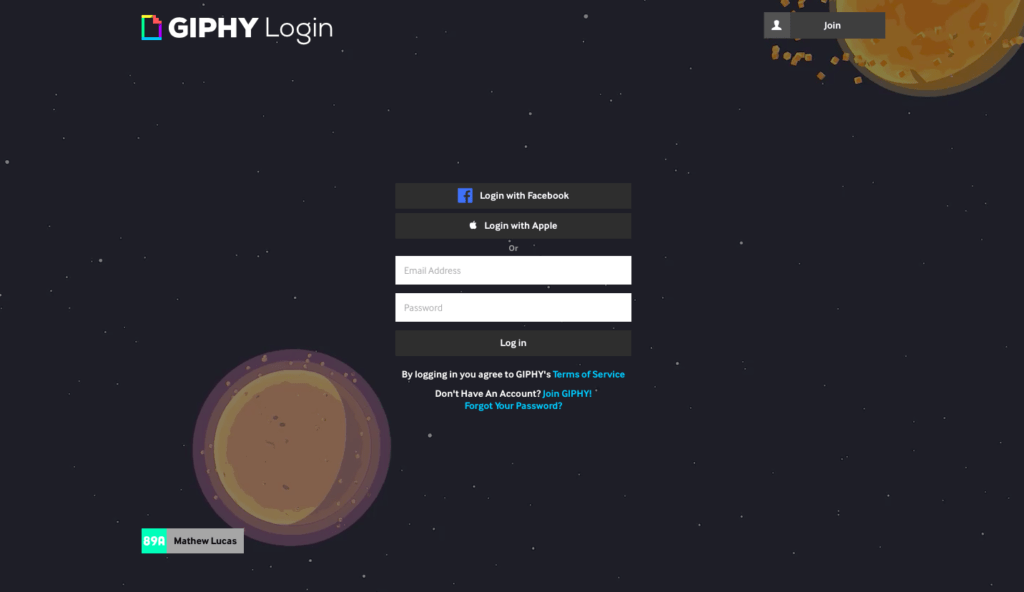 Firstly, you need to sign up for a Giphy account. In order to upload your very own branded GIF stickers to the GIFs section of Instagram Stories, you need to make your Giphy account approved. Only content from approved accounts on Giphy can become available in Instagram Stories. You can find more information and guidelines regarding the application process here.
Your verified brand account on Giphy comes with an analytic dashboard with the basic stats on your GIFs. It may be helpful for your social media team to measure how your GIFs are being viewed and uploaded by your audience, and make your Instagram Stories strategy.
Uploading your GIFs
Once your application is approved and the account is verified, you can start uploading your GIFs. You need to upload your GIFs as stickers. There are some requirements for sticker approval, for example at least one component of the sticker must be animated and at least 20% of your file must be transparent.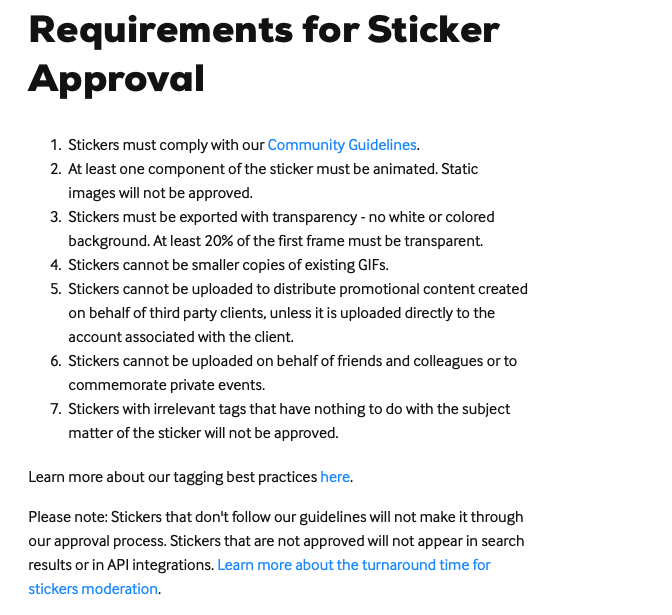 When you are done with uploading your GIFs, you want your GIFs to be available and searchable, so everyone can use them. To do so, you need to use tags (or keywords). You should describe your GIFs with at least 5 tags. Make sure your tags are relevant, otherwise Giphy may not approve your GIF stickers. You can use your brand name for tags and some other details associated with your GIF's name, action, color, etc.
Adding your stickers to Instagram Story
When your GIFs are uploaded and approved, it's time to test them out. Open the Stickers button in your Instagram Stories and hit the GIF search icon. You can find your GIF stickers by using the tags you used while uploading your GIFs.
Don't forget to introduce your Instagram GIFs to your followers. You can highlight some stories to show your audience how to find and use your GIFs.
✨ Related article: How to repost an Instagram Story
Tips on creating GIFs
Free online GIF tools
There are some free online tools you can use to create your own GIFs. You don't have to be a great motion designer to create a GIF. All you need is some creativity and the knowledge of your audience.
| | |
| --- | --- |
| Giphy GIF Maker | Giphy has its own tool to create GIFs. All you need to do is to upload your video or enter the video link. |
| Gifs | Online platform that allows you to create a GIF from your video files and also allows you to convey any link into a GIF. |
| Easil | Online design platform that has GIF maker tools with a wide range of instruments. |
How to make branded GIFs eye-catching?
To make your Instagram Stories stand out you need to make your GIFs catchy. Here are some tips to do so:
Add emotions: People love sharing their emotions using GIFs. The connection with your audience is more meaningful if it's based on real emotions.
Add branded graphic: GIFs are a great branding tool, so allow your audience to spread the "visual" word about you.
Stay up to date: Social media is constantly evolving. Make sure to stay up to date on the latest trends.
Bonus: How to Use Instagram Stories For Getting More Customers For Your Business?