12 best resources to download royalty free background music for video
These days, people are ten times more likely to interact with a video than text. Visual media has become the fastest-growing social media format that attracts large audiences.
As social media marketers, we realize the value of video clips. The background music is a crucial component in any video, simply because it increases the emotional impact.
Thus, we have bookmarked the best music resources for those who regularly fuel their social media channels with video clips of all types. The sources offer various search functions, free or low-cost licensing options, and music of all genres. Unless you are able to compose your own music, work through these special sources below that might assemble your personal music library for any video occasion.
Social Media News in a Nutshell
Get the latest social media news, insights, and marketing tips in your inbox once a week.
Creative commons (CC) licence types
Creative Commons (CC) has several types of public licenses that enable authors to grant copyright permission to their music and allow people to distribute their creative works freely. The core idea of Creative Commons is to ensure that licensees credit the licensor.
Hence, a CC protects people who use or redistribute an author's work from copyright infringement as long as they comply with the terms of the license under which the author is offering the work.
The five most popular types of creative commons licenses are outlined below:
Attribution means the user must credit the author.
CC0: Unrestricted. Completely free from restrictions or conditions; allows to use, modify, share, and commercialize.
CC BY: Attribution. The license allows unrestricted material usage as long as users credit the author.
CC BY-SA: Attribution-Share-Alike. Derivative new creations may only be redistributed under identical terms and carry the same license.
CC-BY-ND: Attribution-No-Derivatives. Remixed or adapted forms of works are not allowed.
CC BY-NC: Attribution-Non-Commercial. Commercial purposes are not allowed.

Best CC music sources
The platform was created by composer Jason Shaw, who offers his own music in various genres. The utterly free music he provides just for credit is perfectly suitable for videos that require unobtrusive background waves. Opt this source if you need to showcase business products with high-quality background music.
The nicest feature of the platform is that you'll be able to set filters for diverse moods to ensure that the results are maximum close to your visual concept.
Type of license: CC BY and Royalty-free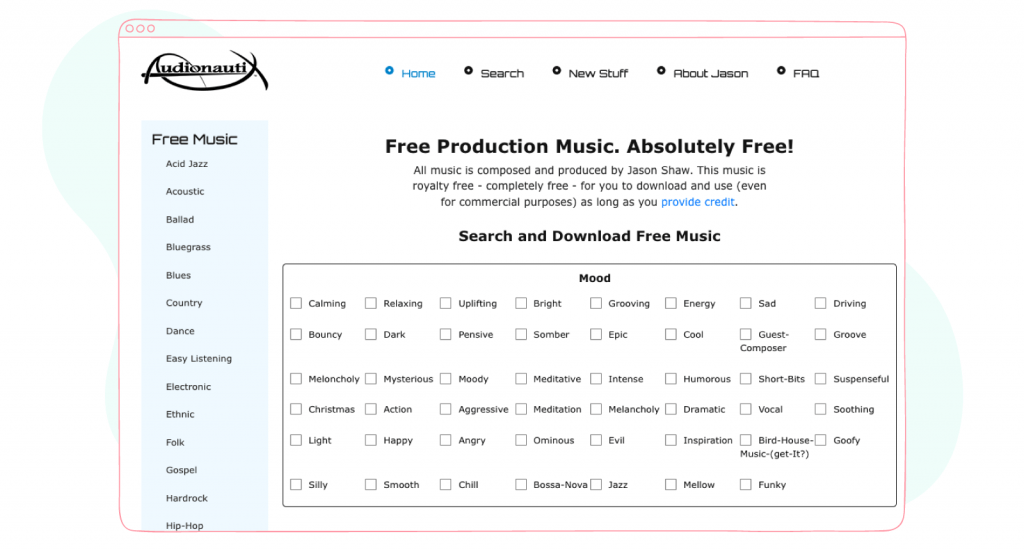 2. Soundcloud
SoundCloud is one of the most famous musician platforms, where most artists protect their work under a Creative Commons license. SoundCloud has influenced the music industry and raised many successful artists like Billie Eilish, Post Malone, XXXTentacion, etc.
In case you need background music for a special video project that sounds more like a real track, you'll definitely find awesome options on SoundCloud.
Type of license: All CC types
ccTrax is another music portal dedicated to Creative Commons with a fairly distinguished place in the family. Its music library mainly focuses on electronic, dub, techno, ambient, and rock genres. The source would be very helpful for those who need dynamic background music for an intense video clip or commercial.
Its website offers a nice layout and easy navigation, but most importantly, you can browse music of the exact CC license type you need. In contrast, most CC sources require you to open each song you're interested into access license information.
Type of license: All CC types

Jamendo Music is another great source of background music for videos. It also belongs to a CC community and provides all-genres songs but mainly focuses on single artists. One of the most admirable features of Jamendo is that it offers diverse music, and besides genres, you can narrow down your search by choosing countries. For instance, you create a social video highlighting Polish culture; in Jamendo, you can pick Poland and discover plenty of polish contemporary and traditional music.
Type of license: All CC types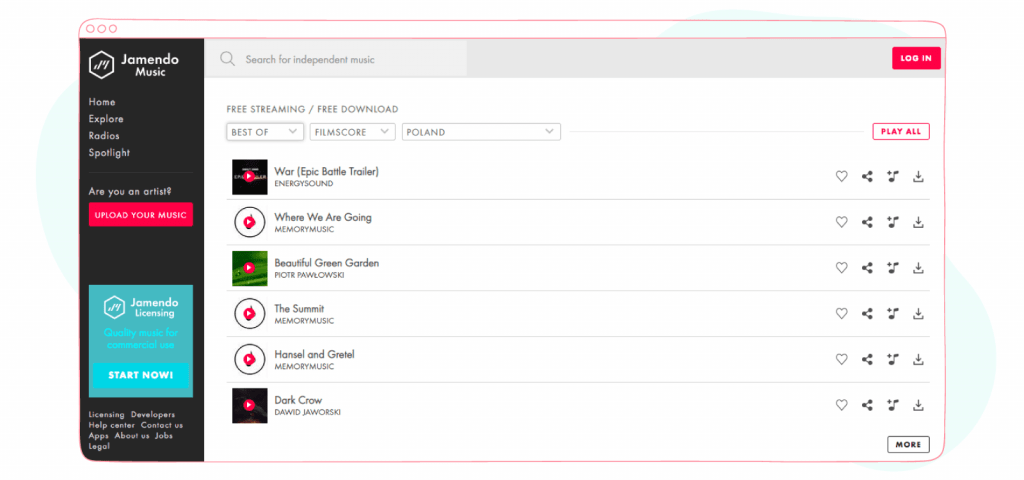 ccMixter was born as a Creative Commons collaboration project that allowed musicians to promote their derivative works. ccMixter hosts 45,000 artists who share original acapella vocals, musicians offer their samples, and DJs mix them together into fascinating songs.
For video purposes, you should explore dig.ccMixter, a subdomain that contains great pieces for fantastic background music. You'll find plenty of music by different genres, from Christmas to classics and heavy-metal. Additionally, its original instrumental music section has exclusive music created by real musical instruments of all types.
If you need orchestra music, acoustic sound, or jazz compositions, ccMixter would be your source for authentic background music for your video.
Type of license: CC BY and CC BY-NC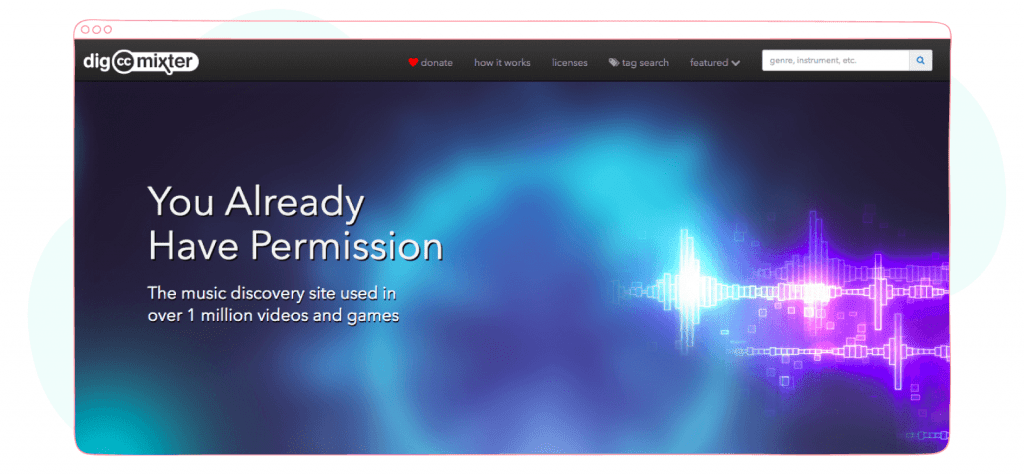 Royalty free license
The term "Royalty-Free" is confusing, and it means "Free of Royalties," not cost-free. In a nutshell, it refers to a type of license that allows people to pay for music only once and use it as long as they wish, without the need to pay fees (royalties) for each use.
For example, you pay a single price and secure the right to use the copyrighted music for video whether you have 50 viewers or 50,000 and whether you use the music for a week or 10 years. Most platforms that distribute music of Royalty-Free license ask you to pay for a subscription. Usually, the prices for subscriptions are low and affordable.
Epidemic Sound is a beloved music platform by many social media content creators and professional videographers. It hosts world-class composers and artists who contribute with their high-quality music to one of the most extensive libraries on the Internet. Many reviews state that you won't spend much time picking the right tune due to the amount of excellent music on each page.
The platform covers nearly any genre you can think of, and its curated albums are put together by humans who accurately classify music for each type of use.
Type of license: Royalty-free
Pricing: License starts at $0.99, and Subscriptions start at $12/month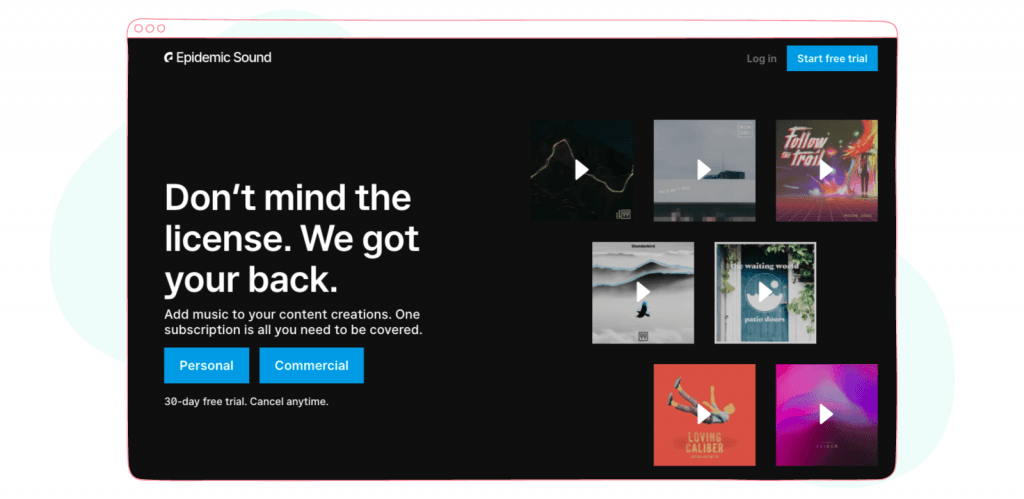 Pond5 is also one of the largest royalty-free music libraries in the world. And it reasonably considers itself more than just a music source for video creators. Along with its music content diversity, it provides After Effects video templates and SFX. It is a go-to source that saves time and energy for those who need to simplify the video-making process and reach exclusive and inspiring results.
Type of license: Royalty-free
Pricing: License starts at 5$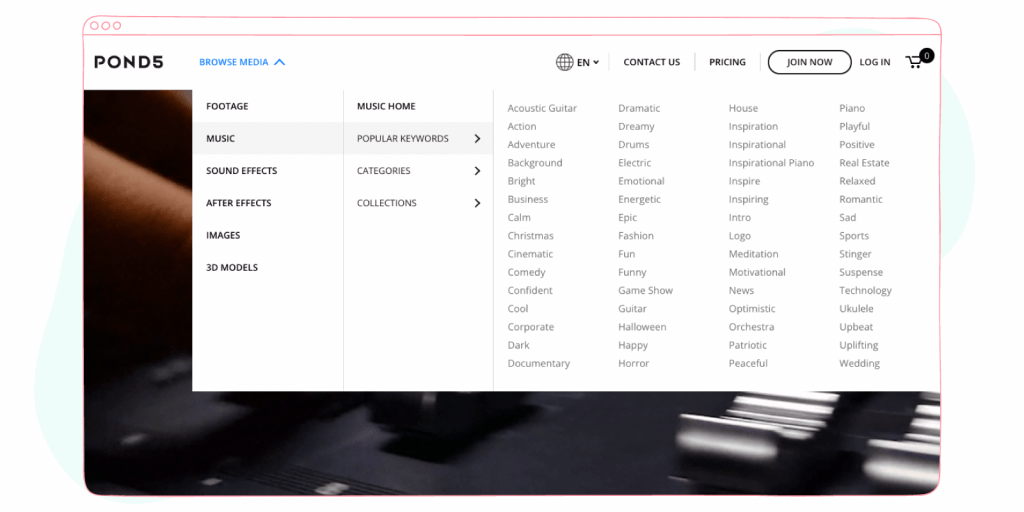 Incompetech is considered one of the best royalty-free music sources. The platform was created by American composer Kevin MacLeod, who has composed thousands of sound effects and songs for free use. He provides works perfectly suitable for chill background music for videos. Additionally and you can search based on genre, duration, mood, feel, popularity, and more.
By applying attribution, users can download and use his music completely for free. In case you don't want to provide credits in your creative works, there's an option for that at little cost.
Type of license: Royalty-free
Pricing: Free (if you give attribution) and starting at $20 per piece (without attribution)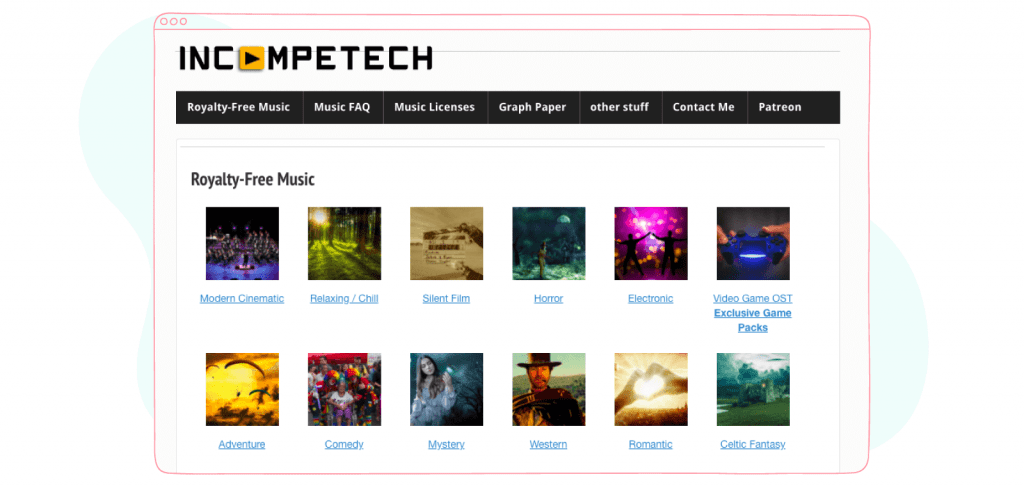 Public Domain license
Public domain refers to music that is not protected by copyright and therefore belongs to everyone. In other words, it can be used without the permission of the original author/artist and completely for free.
Indeed, the public domain music content can be used for whatever purposes; you can redistribute, remix, adapt, and display it in public places or social media networks.
It is also important to know that within many other pieces of music, any creative works enter the public domain fifty to seventy-five years after the death of its author. That means that you are free to use old music because no exclusive intellectual property rights apply to it anymore.
However, high-quality music in public domain platforms remains an exceedingly rare practice. Thus, we have scoured the Internet for the best public domain sources and found ones that are definitely worth your try.
Musopen is a non-profit company and a gem source for orchestral and classical music pieces. It offers a vast majority of free music that can beautifully fit any video as a background melody.
The idea of the site is to provide musical charity and enable people to download free music from such renowned historical figures as Franz Schubert, Johann Sebastian Bach, Ludwig van Beethoven, Wolfgang Amadeus Mozart, and many others. You can search music by instruments, mood, length, authors, and period of time.
Type of license: Public Domain and all CC types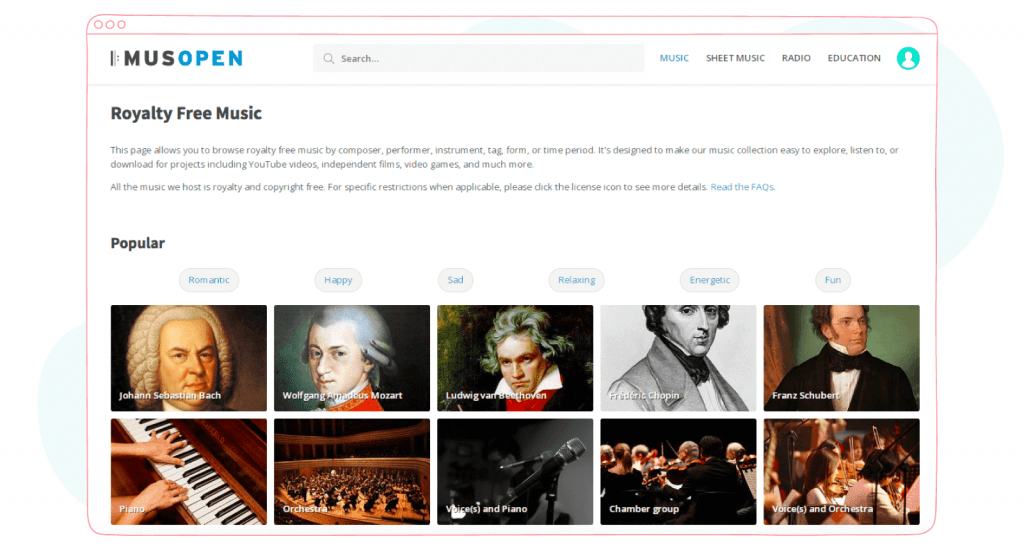 2. Youtube Audio Library
This source earns a choice of video makers who run YouTube channels and who can conveniently get music straight from the familiar platform. The YouTube Audio Library offers filter settings to search specifically for free music clips by genre, instrument, mood, duration, and license type. Additionally, it has a vast selection of free sound effects to make your videos ultimately creative and professional. In terms of license it disposes of all types, so always check what a particular track allows you.
Type of license: Royalty Free, Public Domain, and CC BY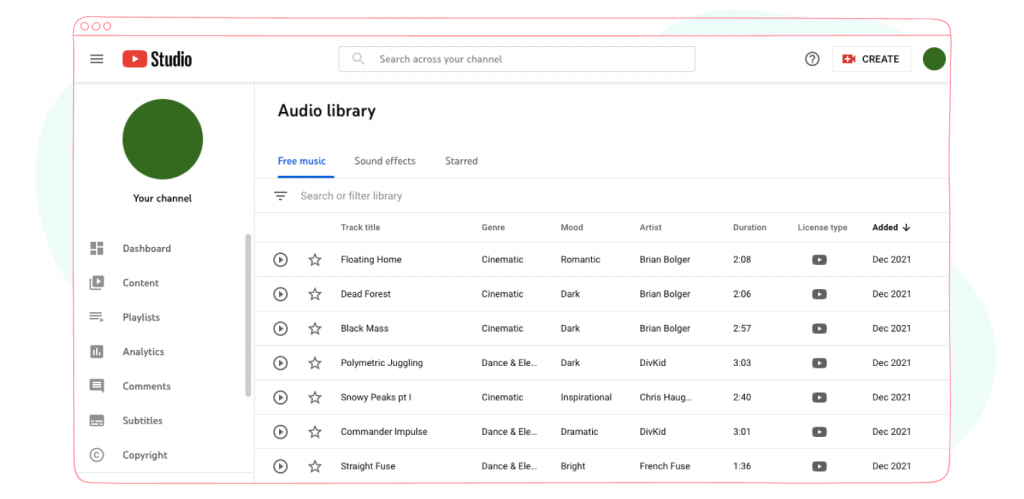 An exceptional place in the public domain list goes to the Open Music Archive. This site aims to digitize out-of-copyright old music recordings and provide files for free public use. The platform makes specific music available for you, such as 1920s jazz, blues, weird, country, and interesting remixes. The authentic musical archive might be very helpful for your most artful video projects.
Type of license: Public Domain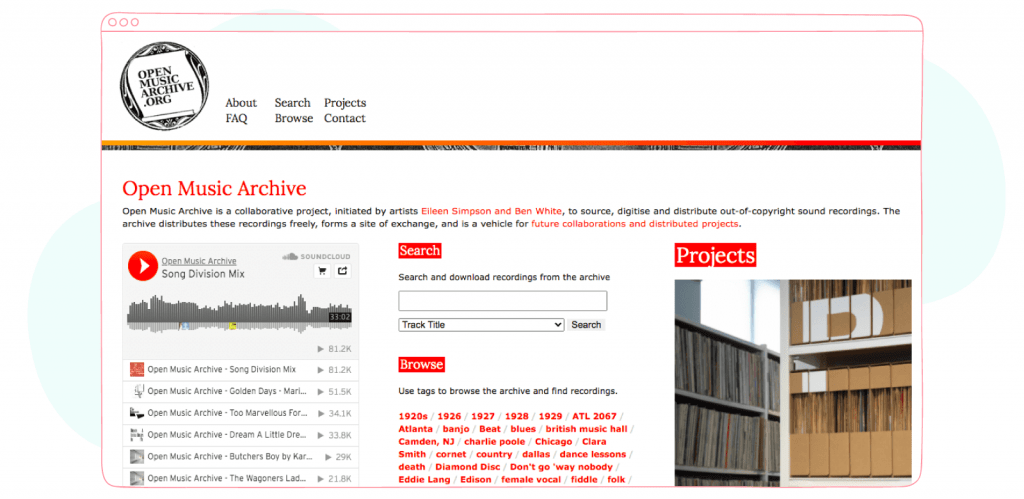 The International Music Score Library Project (IMSLP) is another public domain music source with its own unique feature; it provides music in a dozen different languages. Imagine you have a video project requiring a background song performed in the Japanese language. You'll find a huge selection for that case on the site.
Type of license: Public Domain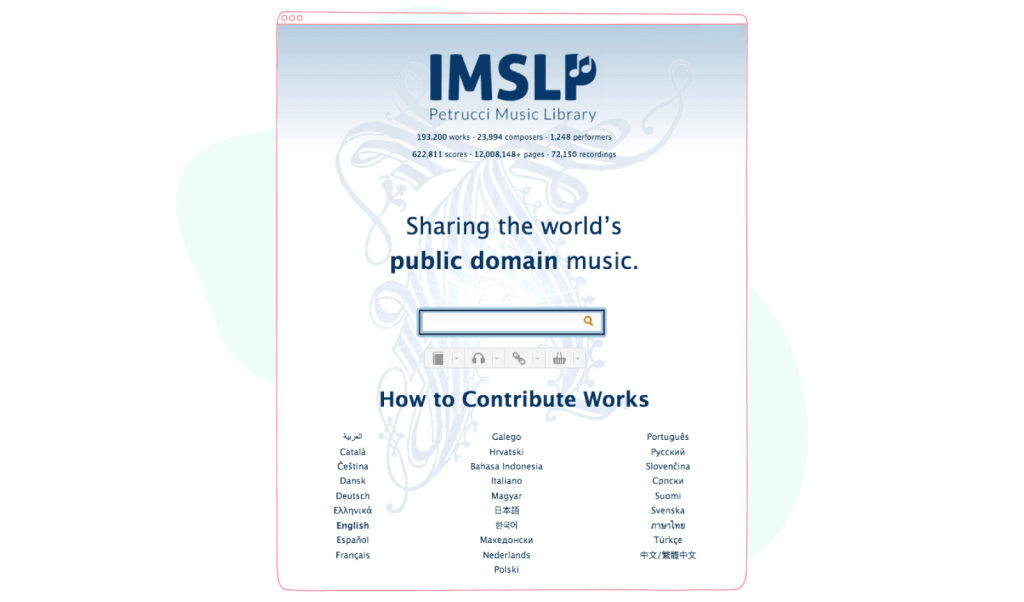 Last notes
Good music delves in free and legal places too, and we have fully equipped your musical arsenal for creating many fascinating and different videos. Music is an essential aspect of any multimedia content, so keep this list with you and let your creative ambitions encourage you to accept challenges in terms of video production.