Beyond Beta September 2021 at Sociality.io
Hi there, accompany us on our historical trip back to 1947.
On September 9, 1947, the world's first computer bug was recorded. However, this was no ordinary 'software bug'. It was a real-life moth at the computer's hardware.
Well, bugs are still a part of our lives. One of our developers describes it as "When it comes out, it starts to give little adrenalin. When the solution time gets longer, it starts to alienate you from life, it reduces the joy of living, and it makes you say that I will find another job. But when it is solved, this is an event feels like I saved the world"
Let's take a look at what we did in September except save the world.

New member alert
We know that there is always an excuse to share the good news with loved ones, such as you, our lovely customers. As the Sociality.io team, we are really excited to introduce our new teammate Ebru to you. She is a part of our growing marketing team as a "Digital Marketing Specialist" from now on. Let's get to know Ebru better.
She is a big fan of sitcoms, especially Brooklyn 9-9, admires the city of Bruges, and loves to prepare colorful files with lots of emojis. To be honest, it is a bit weird that she is also responsible for that writing and now introducing herself from a 3rd personal point of view.
Havas Creative Group and their Sociality.io experience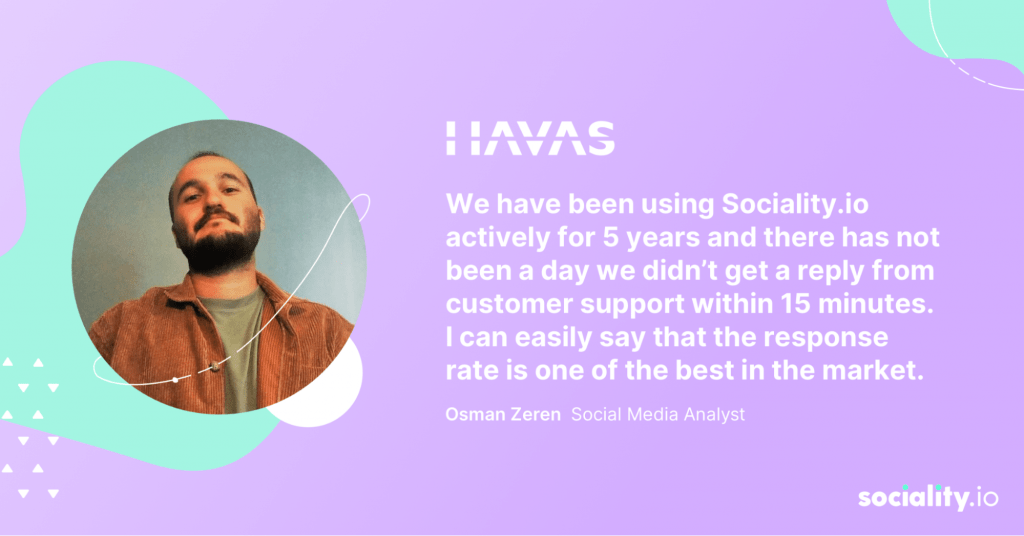 Havas Creative Group is one of the amazing customers. The agency is providing 360-degree marketing services to the world's best brands with over 100 employees and more than 30 brands. We are happy to help them to improve their digital strategies and become their digital solution partner. We have more! Take a glance at the interview with dear Osman Zeren, Social Media Analyst of Havas Creative Group.
Updating the page report postcards
Sociality.io proudly presents the good news. We know metrics are the heart of social media and tracking them is essential. So, we wanted to make that process better. How? By updating our page report postcards. Get ready to meet with our new look of page report postcards. We hear you are wondering, when…Our team is planning to update them at the end of October. It's gonna be legen…wait for it…dary. Legendary.
Excel export option for reports is on the way
Yup, you heard right! Our development team is working hard to make your Sociality.io experience better and easier than ever. Since we are also aware of the importance and need of Excel for reviewing your reports, we decided to integrate the Excel export option for the social media reports that you get from Sociality.io. Our developer team is planning to release that improvement at the end of October, so stay tuned to experience first.

As always, routine but essential…General system improvements are done to better your experience.
You can reset your passwords in a better way now because we have fixed the password reset screen styling.
Adjustments have been made for page addition and access key update problems in browsers using Opera and ad blocker.
Yes, we had a minor issue with exporting reports, but that's all gone now. We fixed a short-term issue with report exports.
Enjoy your social media management on mobile now. Improvements were made in the areas of password update, engage conversation, and notifications in the mobile application.
Anything else? Reach us out, we are here all the time:

[email protected]
Social Media News in a Nutshell
Get the latest social media news, insights, and marketing tips in your inbox once a week.