19 essential app marketing strategies for 2023
So, you have built a mobile app that holds incredible potential. You want that app to appear in the top search results in the app stores and gain loyal customers.
According to a report by Statista, approximately 90 thousand mobile apps were released through the Google Play Store in May 2023 alone. So, what all can you do to face the competition and make your mobile app stand out? This is where you need a well-defined app marketing strategy that can guarantee success.
We have compiled a list of mobile app marketing strategies and tactics just for you. So, let's get started.
Social Media News in a Nutshell
Get the latest social media news, insights, and marketing tips in your inbox once a week.
What is app marketing, and why is it important?
App marketing involves promoting a mobile application to reach a wider range of audience and increase downloads. This can be achieved through various channels and platforms such as social media, email campaigns, influencer marketing, online advertisements, etc. The primary objectives here are to increase the visibility of the app, drive user acquisition and engagement, and increase revenue generation.
Why marketing an app is important
It can be a daunting process to decide how and where you want to market your app. Especially, with a plethora of mobile apps utilizing different marketing strategies with varying degrees of success.
Moreover, the competition is getting fiercer—according to a report, about 7 out of 10 (68%) companies with a mobile app have a long-term, fully documented app marketing strategy. This showcases that developing an app is not the only challenge but also getting it to the top charts.
Overall, app marketing helps you differentiate yourself from competitors, increases brand awareness, improves discoverability, and also supports monetization methods such as subscriptions and in-app purchases.
Mobile app: User journey
Before we delve into app marketing tactics and strategies, let us briefly look at the different stages of an app user journey.
App discovery (awareness): In this initial step, your potential users should be able to discover your app. This involves increasing the app's visibility through online advertisements, PR, referral marketing campaigns, app store optimization, and other methods.
App download (user acquisition): In this stage, the user decides to download your app and creates an account in it. If your app isn't well adopted or doesn't appear to be attractive, then users may not download it. Here, knowing what potential users are looking for can help you personalize messaging and campaigns to increase user acquisition.
App onboarding (exploration): After the registration process, users start exploring the app, more like a quick walkthrough. This stage is crucial because the users decide if they uninstall the app or become long-term users.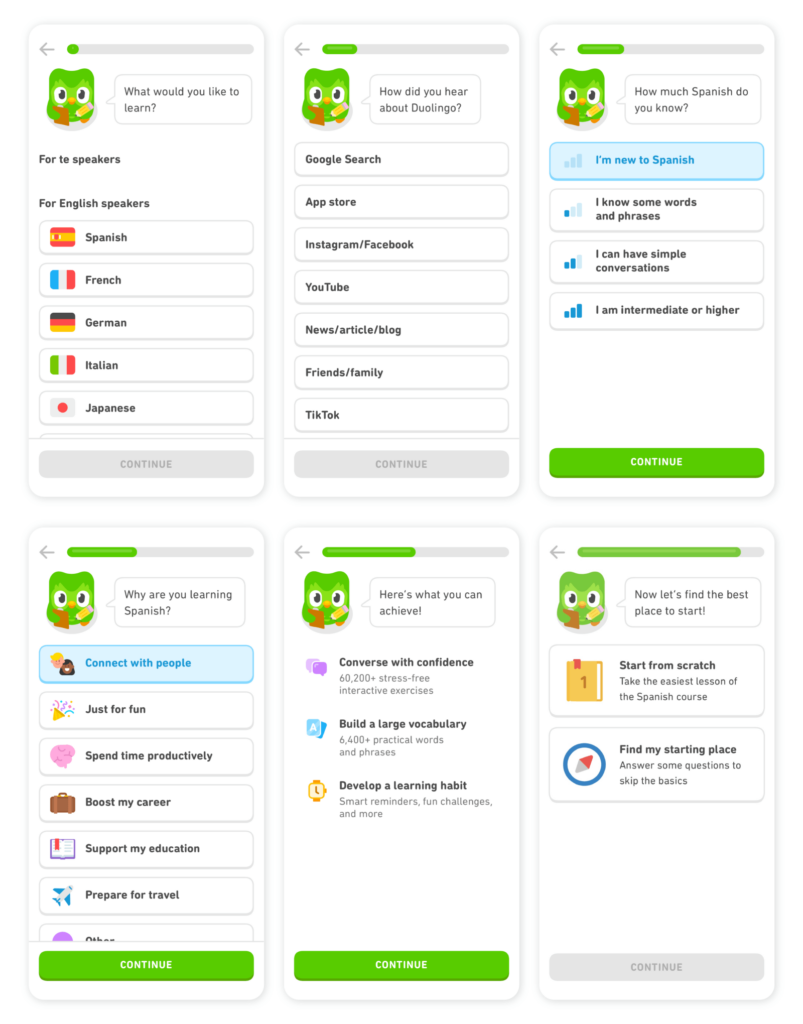 App usage (reuse and purchases): At this stage, your app should fulfill the needs of the users and provide the value to get them to return to the app. Poor performance, excessive usage of storage, etc. can disappoint your users. The next steps are using strategies to monetize your app and creating a community of loyal users.
19 app marketing strategies for 2023
Here are some actionable tactics and learnings that you can explore to accelerate your mobile app dominance in 2023.
Pre-launch
For the pre-launch phase, you should focus on the following.
1. Build user personas
A user persona is defining your ideal customer and should be a key part of your app marketing plan. It is knowing who will use your app and how and where to find them. Here are some identifiers you can collect data on.
Name, age, location, and educational background
Their work, earnings, preferable method to make payment for purchases, etc.
Their interests and hobbies
Divining/motivational factors
Social media platforms they use and on which gadgets, etc.
2. Do competitor analysis/research
A thorough competitor analysis can give you insights into the sources of funding for their apps, business model, target user profile, top app features, revenue generated, overall marketing strategy, etc. Here's how you can do it.
Identify your top five competitors and do a comparative analysis with respect to price, monetization strategy, ratings, pros and cons of app features, user feedback, etc.
Determine how often the competitors update their apps in the app stores.
Monitor them on social media to know more about their social media presence and strategy.
Identify how you are different from your competitors that you can leverage in your app marketing campaigns.
3. Prepare preview assets based on store requirements
You would need icons, banners, promotional videos, screenshots, etc. of your app to meet the store requirements.
Google Play Store
Icon: Dimensions: 512px x 512px; 32-bit PNG; 1024KB; sRGB color space; full square; no shadow
Screenshots: A minimum of two screenshots; JPEG/ 24-bit PNG; minimum dimension: 320px; maximum dimension: 3840px. For recommended apps, do check the screenshot guidelines.
Preview video: YouTube video's URL without monetization
TV banner: JPEG/24-bit PNG; dimensions: 1280px x 720px
360-degree stereoscopic image: JPEG/24-bit PNG; dimensions: 4096px x 4096px; stereo 360; maximum file size: 15MB
Short description: 80 characters
Apple App Store
Icon: You can check detailed guidelines here.
Screenshots: You can check detailed guidelines here.
Text: App name: Up to 30 characters; subtitle: up to 30 characters; promotional text: up to 170 characters
App previews: Up to 30 seconds long
4. Create a landing page
You would need a strong landing page that is attractive, user-friendly, informative, and includes a call-to-action. A landing page can help you collect user information before and after the app launch and also redirect traffic from the web to your mobile app. On this page, make sure to describe your app and its value and purpose. You can also add videos, FAQs, app store buttons, a feature list, reviews, etc. to improve its quality.
Here are examples of landing pages from Spendee and Hourly.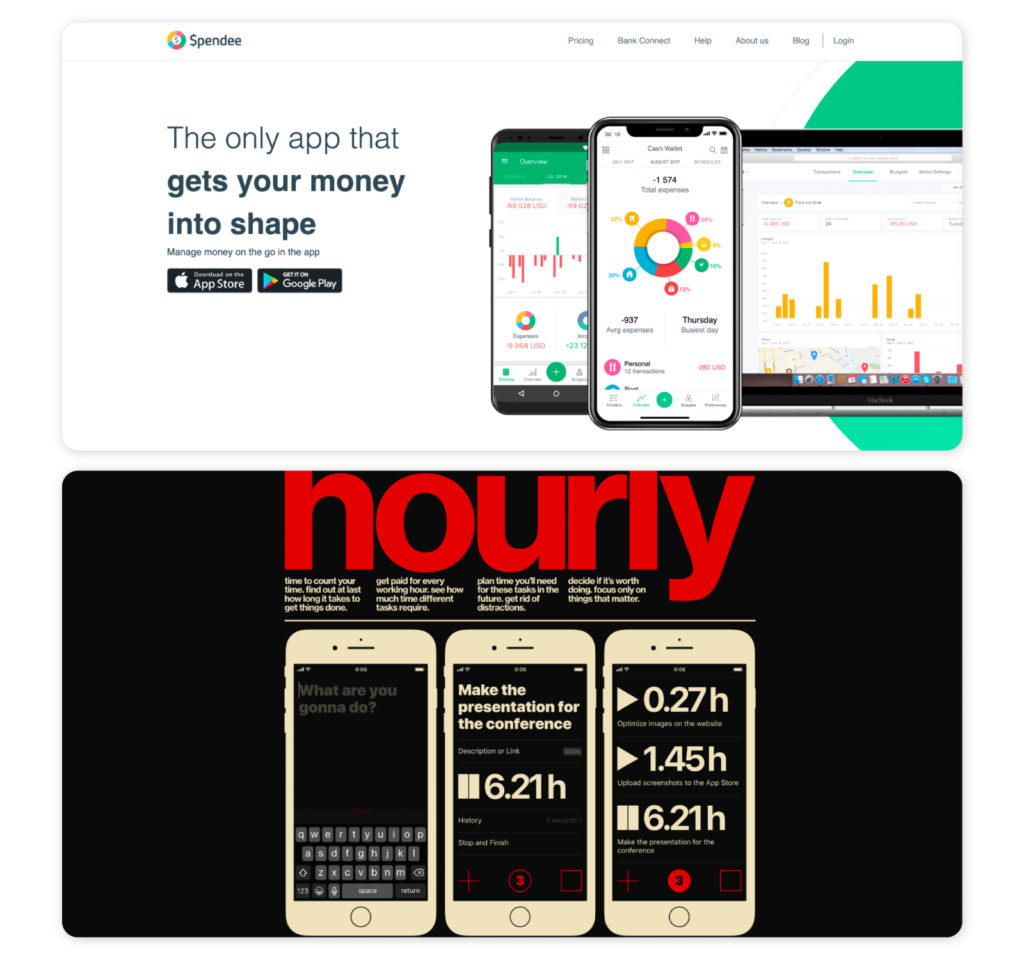 5. Have a content marketing plan in place
Effective content marketing is part of a long-term app marketing strategy. This requires creating engaging, informative, and shareable content that is aimed at attracting new users or leads. Apart from that, content marketing can help improve visibility, audience engagement, market share, traffic, customer loyalty, as well as upselling and cross-selling.
You can also track the performance of your content on different platforms and channels to make the required changes.
✨ Bonus article: Best tools for content marketing
Post-launch
A successful post-launch strategy should include the following.
6. Look into app store optimization (ASO)
As you optimize your webpage for Google search ranking, you have to work on optimizing your app for the app stores. It involves keyword selection, meta tags, preview assets such as icons, screenshots, and promotional text, etc., You can consider using ASO tools to achieve desired results on Google Play and App stores.
7. Collect app reviews and ratings
Reviews and ratings can help potential users make a decision about downloading your app. Encourage your current users to review your app. You can also consider getting it reviewed by professional app-reviewing websites for credibility. It is also advised that you respond to reviews both negative and positive to show that you are listening and committed to making improvements.
8. Consider paid marketing
You can explore different paid user acquisition strategies. For instance, Facebook targeted ads and Google ads. Some other networks for promoting your mobile app include Unity ads, Vungle, and Chartboost. App directories are also an option to list your mobile app on those platforms for downloads. The rates may vary depending on the number of installs.
9. Make a press kit and plan a press release
Have a press kit in place so that bloggers and journalists can access detailed, verified fact sheets about your app, company logos, app icons, and other branded images for publishing. Also, doing a press release with appropriate targeting can help generate much-needed awareness and visibility.

10. Don't underestimate referral marketing (viral loops)
Through referral marketing, you can encourage existing users to refer or recommend your app to their contacts. In fact, viral loops are great tools to increase the number of users of your app. A good app design can help you utilize viral loops. You can use incentives, invitation-only features, referrals, and shared experiences to get your loop started.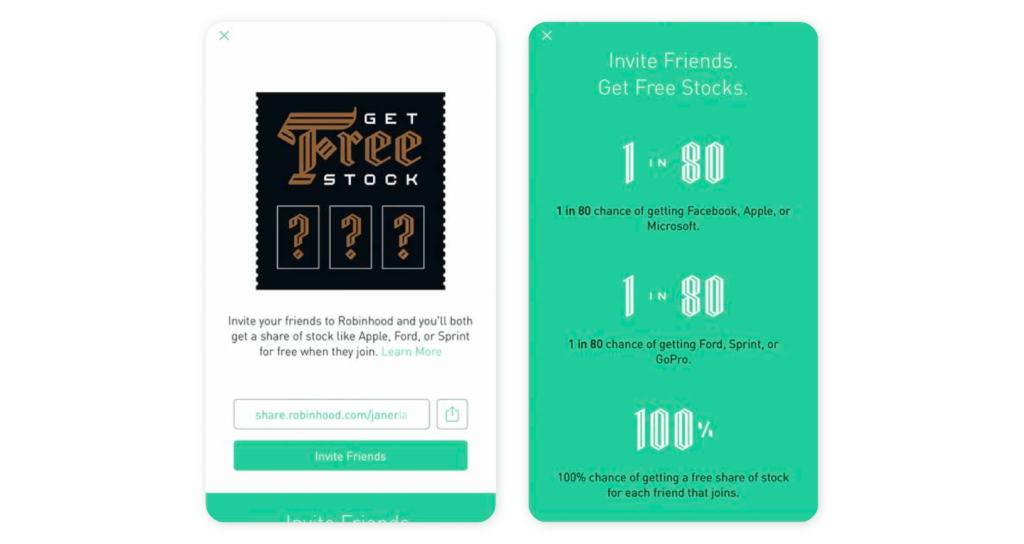 11. Capitalize on social media and influencer marketing
You need to have a presence on social media as it will not only give your app multi-channel reach but also help collect valuable information on your users. You can run social media campaigns and create highly-shareable content to increase virality.
Additionally, influencers and opinion leaders can spread the word about the value and purpose of your app. You can look for influencers who have an organic or natural connection with your brand to make the partnership authentic and credible.
12. Partner to cross-promote
In cross-promotion, other brands allow you to advertise on their app, and in return, they advertise on yours. This can help you leverage a wider audience but make sure that the partner app complements your app. For instance, McDonald's and Uber Eats partnered for a campaign.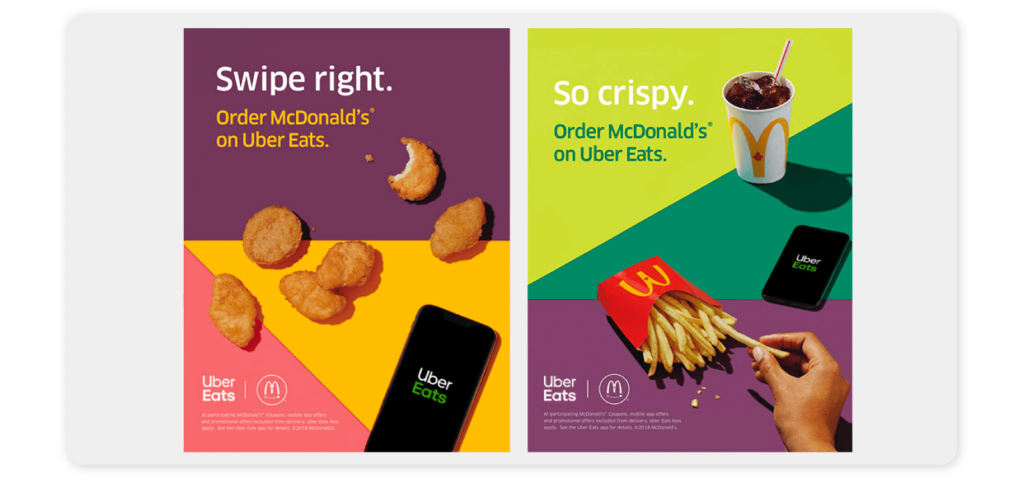 For retention and engagement
You can explore the following tactics for improving retention and engagement.
13. Focus on your onboarding flow
During onboarding, the user is introduced to your app, so make sure it is properly built. The first initial interactions with your app will be the game changer. The idea is to make it personalized to grab the user's attention. You can also improve your onboarding process based on the feedback you receive or connect users with their friends who are already using the app.
14. Use deep linking
This technology allows users to navigate through apps to specific sections. For instance, a promo offer is launched and people receive the message through an SMS or other messenger. When users access the link in the message, it takes them directly to the app section where they can utilize this promo offer and make a purchase.
15. Use push notifications and in-app messaging
Push notifications can help you deliver useful information to your users and keep them engaged. For instance, sale or offer alerts, new feature updates, reminders, etc. Not only this is a simple communication medium but also offers a high response rate.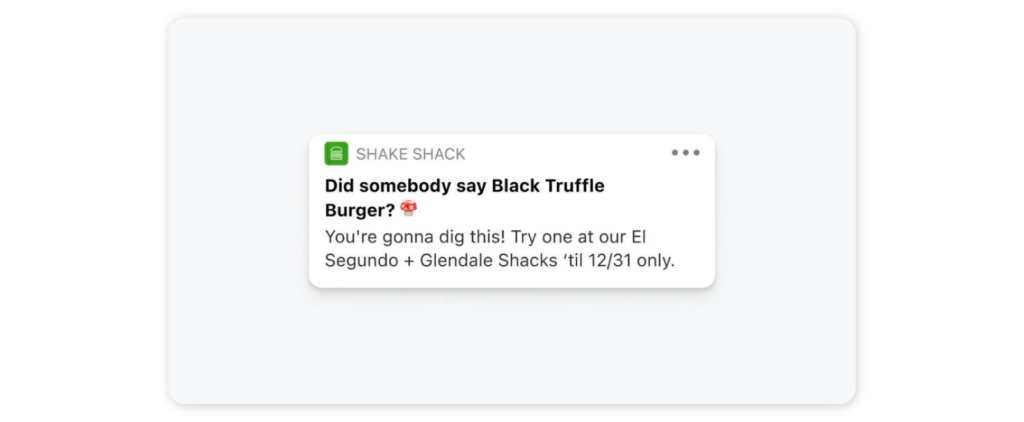 16. Build a community
In-app communities offer an integrated platform that enables users to communicate and share experiences with each other. This gives a feeling of belonging and also sets you apart from your competitors by building a loyal base.
17. Consider gamification
The extent of gamification will depend on the type of app you have but it is also an effective way to increase user engagement and retention. No doubt, today's users want more and active involvement within your app may be the key you need.
18. Utilize social connections
Social connections involve integrating social media into your app so that users can invite and connect with their friends who are using the app.
19. Offer free trials, giveaways, contests, etc.
What can be better for users than helping them save some money? You can launch offer codes, contests, and giveaways to engage and entice your users. You can be creative and generous and plan campaigns in a way to generate excitement among your users.
Final Words
Marketing is crucial for your mobile app's success. Different marketing tactics work effectively based on different stages of the customer or user journey. Make sure to cover your bases with proper persona, and competitor research and regularly monitor your key performance indicators. Explore the marketing strategies discussed above to create a winning streak for your app!