National Dog Day: When is it and how to celebrate
Who doesn't love furry four-legged friends? Undoubtedly, a dog is a man's best friend—69 million households in the USA alone have a dog as a pet. Their unconditional love, vivacious energy, and playful personality have won the hearts of many. So, why not celebrate all kinds of dogs on a special day!
National Dog Day (NDD) offers the opportunity to not only connect with your target audience but also share your love for dogs. Here's your complete guide on National Dog day, its history, and how you can leverage it in your social media strategy.
Social Media News in a Nutshell
Get the latest social media news, insights, and marketing tips in your inbox once a week.
What is National Dog Day?
National Dog Day celebrates all dogs, mixed or pure breed. This day brings attention to the dogs that need to be rescued and adopted to find their forever happy home.
Sociality.io's team has compiled a complete calendar of social media holidays in 2023 to help you proactively plan your marketing activities.
When is National Dog Day?
National Dog Day, as well as International Dog Day, are celebrated on the 26th of August every year. In fact, this day was adopted into New York State Legislation in the year 2013. 
The entire month of August is celebrated as National Dog Month to honor, love, and celebrate our favorite pets!
History of National Dog Day
National Dog day was founded in 2004 by animal rescue advocate, pet and family lifestyle expert, and dog trainer, Colleen Paige.
The date 26th of August holds significance because, on this day, Colleen's family adopted the first dog named Sheltie from a local animal shelter when she was just 10 years old.
Colleen has also founded other philanthropic days of importance, including National Puppy Day, National Mutt Day, National Cat Day, and National Wildlife Day, to raise awareness and encourage the adoption of animals across the globe. 
Since its inception, National Dog Day has gained popularity for its mission. Many organizations are associated with it as a rescue partner, including Seattle Humane, Joey's Paw, Dogs Forever, Helen Woodward Animal Center, The Humane Society of United States, and many more. 
The mission behind National Dog Day
National Dog Day stands against any kind of ban on the breeds. It discourages buying dogs from pet stores that source dogs from puppy mills, backyard breeders, newspapers, or internet ads. Instead, it encourages considering adoption as the first option. 
The mission of this special day is to recognize the number of dogs that need to be rescued every year. It also acknowledges family dogs and dogs that are selflessly saving lives, keeping people safe, and bringing comfort to families and individuals.
Dogs especially risk their lives every day for a number of services that humans are not able to. 
 Personal protection
Law enforcement 
Helping disabled
Detecting bombs and explosives
Detecting drugs 
Rescuing injured from the wreckage or debris
Detecting cancer, seizures, etc. 
In fact, for many dogs adopted on August 26th, National Dog Day is celebrated as their birthday.
National Dog Day activities
For animal and pet lovers, this day is as popular and exciting as Super Bowl. The day marks many activities and events across the globe.
K9 parties
National TV show segments
Animal shelter events
Network news stories
Contests
Online videos/promotions
Adoption drives
Donation drives
Volunteer activities
People who do not have a pet are also encouraged to donate $5 to their local shelters or rescues on this day.
How to promote National Dog Day on social media
A social media campaign is targeted at improving your brand presence and engagement with the target audience. When trying to promote National Dog Day on social media, keep in mind whom you want to target and what action you want them to take. 
Since pets are families, this day is a perfect opportunity to build a loyal relationship with your customer on a more humane level.
Here are some ways you can do it.
Giveaways
You can organize giveaways on social media platforms such as Instagram and Facebook for pet parents. The giveaways can be based on the following.
Tagging names of other friends who have dogs 
Answering a quiz/question
Liking, sharing, or commenting on a post
Make sure you choose a giveaway that is useful and relevant to the people, such as toys, food, treats, spa or grooming sessions, and accessories. 
Your business can also enter into a partnership with pet brands to offer exclusive giveaways to customers. Plus, you can also explore the opportunity of tapping into their customer base. 
You can also use hashtags such as #nationaldogday, #internationaldogday, #doglover, or #dogsofinstagram to get more eyeballs.

Contests
You can organize photo and video contests to encourage pet parents to share photos of their dogs. This will help increase engagement and build relationships with them.  
You can also ask the participants to use a custom hashtag and even tag your brand to improve your visibility on social media platforms. You can choose a winner through a lucky draw, an independent jury, or through an audience vote.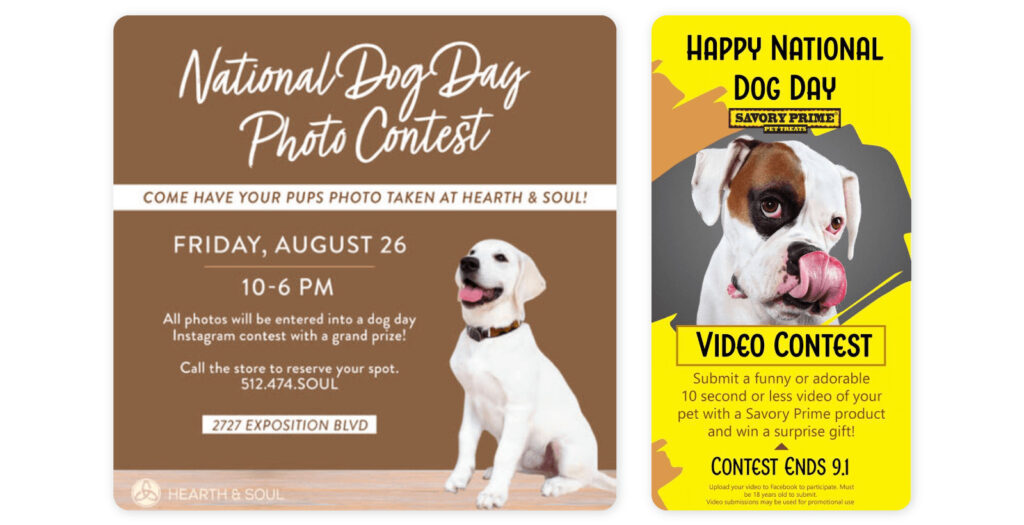 Pet-friendly office spaces
You can also encourage your employees to get their pet dogs to the office. You can use this opportunity to organize a small event or do some photoshoots to share the humane part of your company on social media.
Other Dog days to celebrate
Other dog days include
National Puppy Day: This day is celebrated on March 23rd every year since 2006 to celebrate the love for puppies. This day is aimed at helping save orphaned puppies and educating people about the dangers of puppy mills. 
National Mutt Day: This day is also known as mixed breed dog day and is celebrated on July 31st and December 2nd since 2005. It is aimed at celebrating, embracing, and saving mixed-breed dogs. National Mutt Day is observed twice a year to raise awareness on the state of mixed breed dogs in shelters because around 80% of the dogs in shelters are mixed breeds. 
Final Words
National Dog Day is observed in the USA and across the globe to celebrate the love, magic, and happiness the dogs bring to our lives. Utilize this special day to build a lasting connection with your customers and showcase respect for our furry friends.
Also, to make sure you do not miss other special holidays in 2023, do get a copy of our social media holiday calendar and be up-to-date with your marketing campaigns!