Everything you need to know about YouTube Cards
Welcome to YouTube Marketing #101! You can do so much on this platform, and today we will learn about YouTube Cards and YouTube End Screens.
As a viewer, YouTube Cards might or might not be interesting for you, but as a content owner, you will want to get your hands into Cards and End Screens if you'd like to generate actionable results from your content. Think of them as a Swipe Up link on your Instagram account or a menu on your website's home screen. By adding cards and end screen options into your YouTube video, you also make your videos more interactive.
Social Media News in a Nutshell
Get the latest social media news, insights, and marketing tips in your inbox once a week.
Types of YouTube Cards
You can add up to 5 cards to your YouTube video, and below are the types of YouTube Cards you can use. Always use related content, don't bore the viewer, and avoid spam-like content.
1. Video Cards
Use this card to link another public YouTube video that your viewers might be interested in watching.
2. Playlist Cards
Use this card to link to another public YouTube playlist that your viewers might be interested in watching.
3. Channel Cards
Use this card to link to a channel that you'd like to call out to your viewers.
4. Link Cards
There are 3 different Link Card types, but your account needs to be a part of the YouTube Partner Program in order to use them.
Associated Website Cards redirect viewers to your associated website. A crowdfunding card links your viewers to your creative projects on one of the approved crowdfunding URLs. Or you may promote licensed merchandise from your video through Merchandise Cards. Keep in mind your URL is on the list of approved retailer URLs.
Related article: Step By Step Guide: The Ultimate Guideline to Growth Your Subscribers On YouTube (Without Buying Subscribers)
How to add YouTube Cards into your video?
Go to your YouTube Studio account, click on Content, and pick your preferred video to put YouTube Cards.

At the right-down corner, you'll see Cards and End Screen buttons. Click on Cards.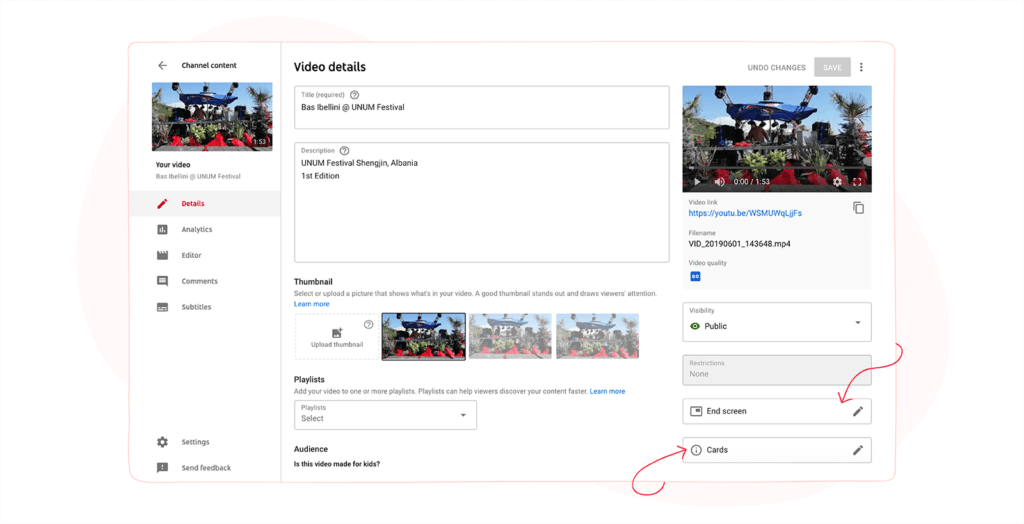 When you click on the + CARD button, you'll realize you can add your card as a video, playlist, channel, and as a link. Links only work if you are part of the YouTube Partner Program, by the way.
You'll be asked to fill in some information to create the card. For example, if you choose the Channel objective, you'll need to enter the channel username or URL, a custom message, and teaser text. Here you'll be able to create new YouTube cards to add to your video in any seconds you'd like. Just drag the sequence bar at the bottom.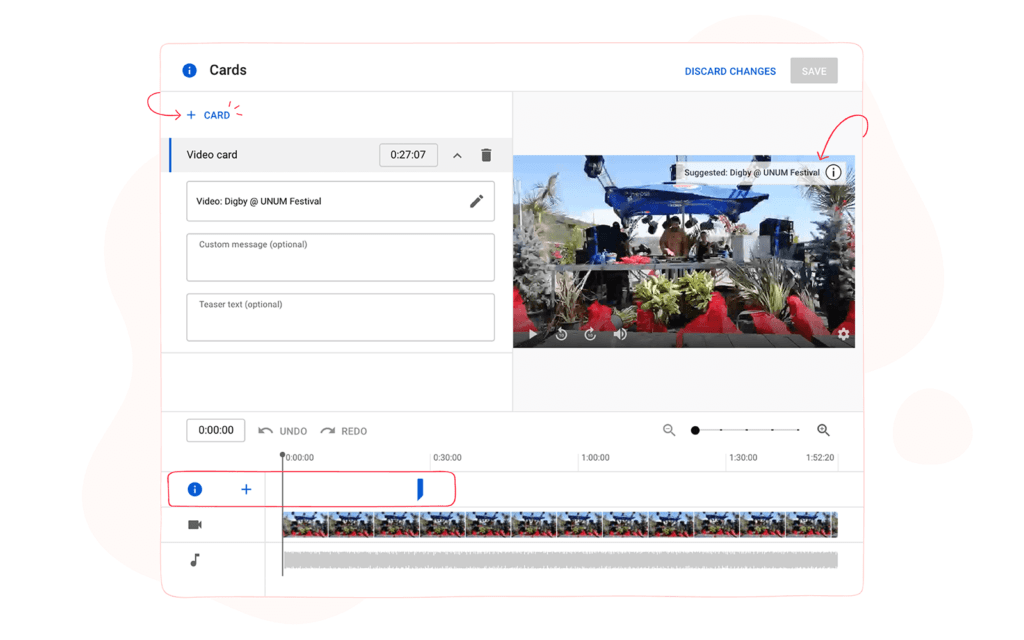 Up to a total of 5 cards can be added to one video. However, keep in mind that multiple cards cannot reference the same video.
What about End Screens?
End screens can be added to the last 5–20 seconds of a video. That said, your video has to be at least 25 seconds long to host an end screen. Just like Cards, you can have up to 5 end screens per video.
Elements are the pieces of content that you add to your end screen. It is located on the upper left corner, where you'd see + CARD if you were adding a card. You can add up to four elements in your end screen for videos.
Elements can be in the form of videos, playlists, subscriptions, channels, and links. If you'd like to, let's say, want people to subscribe to you, you'd use the Subscribe element within your End Screen.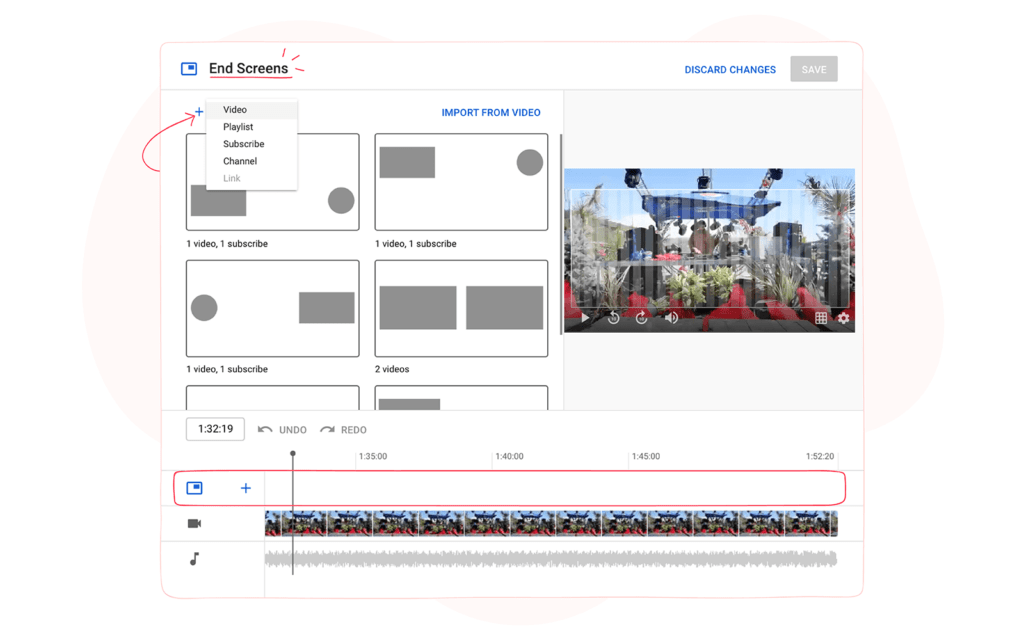 Final thoughts
It gets harder and harder to capture your audience's attention, and tools like Cards and End Screens are great ways to interact with them, keeping them interested in your video or your content and, perhaps, making them want to know more; who knows. YouTube Cards and End Screens are strong tools for digital marketers.  You can check the performances of both your end screens and cards on the Engagement tab of YouTube Analytics.
Want to know more details? Check YouTube Creator Academy!