How to create a successful communication strategy in 2023?
Communication is at the core of everything we do. Whether it's talking to a close friend, writing an email to a colleague, or replying to a direct message from a customer, communication can make or break any interaction. That's why it's so crucial to ensure that we're not only communicating but communicating effectively.
Fortunately, in business settings, effective communication doesn't have to be complicated. On the contrary, it can be quite straightforward – as long as you have the right formula.
What is this "formula" in question? A communication strategy.
In this guide, we cover the basics of communication strategies to help you better understand and use them. By exploring our guide to create a successful communication strategy in 2023, you'll be able to create and disseminate impactful messages that resonate with your audience.
Social Media News in a Nutshell
Get the latest social media news, insights, and marketing tips in your inbox once a week.
What is a communication strategy?
Put simply, a communication strategy is a business' plan for communicating with its target audience(s), often serving as a fundamental component of its marketing activities.
A communication strategy – sometimes also known as a communication plan or a communications approach – outlines the brand's purpose, tasks, and objectives of its messaging.
Communication strategies can focus on internal communications, external communications, or both; the differences between these types of communications will be explored in the following section.
Internal vs. external communication strategy
An internal communication strategy is a communication approach for ideas and information exchange within the organization. In this type of communication strategy, the messaging is typically targeted at employees across different departments and units.
On the other hand, an external communication strategy is a communications approach in which the information flows outside of the organization to external audiences. Such audiences could include customers, partners, stakeholders, and/or members of the general public.
5 reasons to have a clear communication strategy
While there are countless great reasons to have a well-crafted communication strategy, let's take a look at our top five.
1. Increase efficiency
A communications approach is integral in boosting your team's overall efficiency in several ways.
Firstly, a carefully crafted communication strategy will feature clear objectives, allowing collaborators to get on the same page about desired outcomes. This clarity helps ensure that all efforts are directed to achieving these shared goals and saves time that would otherwise be wasted on misaligned communication.
A communication strategy also fosters informed decision-making, which can save time and create a more streamlined workflow. These plans are designed to deliver the right information to the right people from the outset of a project or initiative; as a result, teams won't waste time seeking out additional details due to a lack of information.
2. Maintain a consistent brand image
Well-defined communication strategies allow for consistent branding and messaging with key external stakeholders, such as customers, investors, and/or the media. Consistency in branding and tone of voice is crucial for reinforcing the brand's position in the market, maintaining its positive reputation, and fostering trust.
3. Employee engagement and alignment
Effective communication plays a key role in ensuring that employees are engaged in the organization and aligned with its overall mission. If executed properly, a communications approach can help employees better understand the company's vision, objectives, strategies, and initiatives. In turn, they can identify and implement practices that align with these.
Additionally, such transparent and clear communication can help foster a sense of empowerment among employees. Armed with these important organizational insights, staff will be more capable of making informed, independent decisions that contribute to the company's success.
4. Build effective teams
Effective communication is crucial for collaboration. A clear communications approach helps build stronger and more effective teams by promoting transparent communication among all members of a given team. It also creates a framework in which collaborators can provide updates and feedback to one another and engage in constructive discussions. By encouraging and empowering staff to communicate openly, you can avoid duplication of efforts, minimize misunderstandings, and create a unified team.
5. Support innovation and growth
To grow your business, you need strong communication. A communication plan supports innovation and growth by encouraging idea generation, knowledge sharing, and engagement.
As mentioned previously, a pillar of a great communication strategy is promoting open communication among key players. With open communication comes the development of new and unique ideas as well as the sharing of individual experiences and insights. In essence, by empowering team members to communicate transparently and regularly, you're driving innovation for the company at large.
6 steps to create a successful communication strategy
Need to craft your own communication strategy? Below, we walk you through the process step-by-step, making communications planning a breeze.
Step 1: Conduct a communication audit
Communication strategies are best started by assessing the communication channels your business currently has and uses. Take a look at communications across various media and formats, including web copy, social media content, newsletters, press releases, brochures, banners, flyers – the list goes on.
While it may be difficult to conduct a completely comprehensive audit, aim to compile your most recent communications (e.g. the last three to six months).
This process will provide you with a holistic overview of your brand's existing practices and resources you can leverage for your communication strategy. It will also enable you to identify any gaps or inconsistencies in your communications; you can then ensure that you address these in your communication strategies moving forward.
Step 2: Establish SMART goals
SMART goals are Specific, Measurable, Achievable, Relevant, and Time-Bound – hence the acronym SMART. This is an excellent goal-setting tactic to use when crafting communications strategies because it's clear, concise, and helps set your ideas into motion.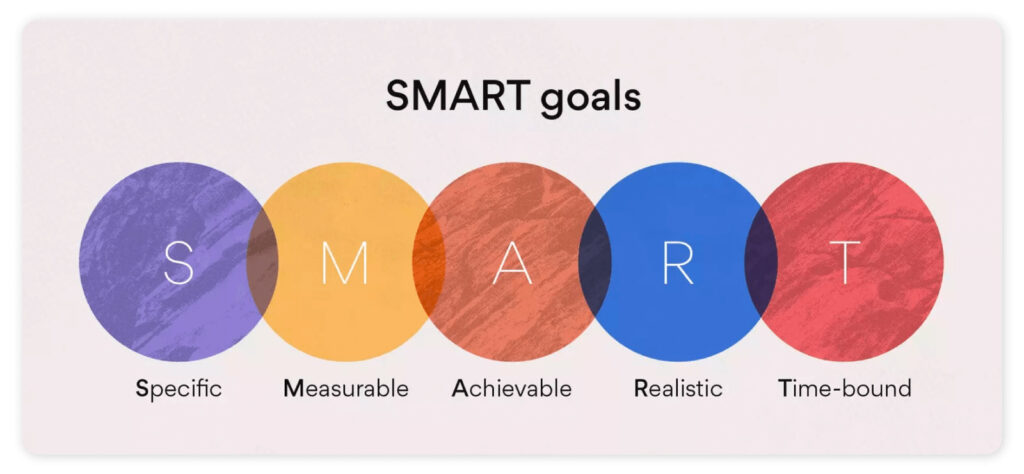 Because the goals are specific, you can identify the steps and resources required to bring them to life. Additionally, the time-sensitivity factor eliminates any guesswork surrounding timelines and holds you accountable to reach the project's milestones by their designated dates. When drafting SMART goals, it's also worth including the broader purpose or benefit of this goal for the company at large.
A SMART goal statement could look something like this: Our goal is to increase ABC Learning's organic web traffic by 30% by 30 June 2024. The digital marketing team will work in conjunction with the web team to achieve this goal through an SEO audit of the company's website. By identifying SEO gaps and integrating stronger keywords and phrases across the site, it is our hope that the brand will convert many of these online visitors and expand its customer base.
Step 3: Identify your audience(s)
Next, you'll need to establish the target audience for your messaging. As mentioned previously, your audience could be internal (e.g. employees, teams, or departments) or external (e.g. the general public, stakeholders, or customers).
You'll then need to identify any sub-categories within these large groups/demographics. To refine your audience even further, ask yourself the following questions:
Are you addressing your entire company? Is this messaging only relevant to certain teams or departments? If so, which ones?
Are you addressing all your customers or only specific segments? If you are only targeting certain customers, how can you segment them (e.g. by buyer persona, by the stage of the customer journey, by demographic)?
Step 4: Refine your messaging
Based on your audience(s) and their needs and interests, outline and write your plan. You'll want to ensure your plan is as comprehensive as possible, including elements such as your purpose/objectives, the roles and responsibilities of those involved, relevant timelines, and the key messages you will be disseminating.
Step 5: Choose communication channels
Once you've refined your audience(s) and developed your plan, you'll need to establish how you'll execute it. In other words, you must decide which channels you'll use to get your message out.
To make a strategic decision, use the findings from your communication audit to identify what channels you can leverage. You'll then want to cross-reference this with your audience behaviors and preferences, including the channels they use the most frequently. Using these insights, you can then select the channels most appropriate for that demographic.
We also recommend taking the following points into consideration when choosing your channels:
Is your message formal or informal?
Is your message urgent or time-sensitive?
Are your disseminating information that is confidential or highly sensitive?
Are you sending a message to an individual or a group of people?
Step 6: Allocate duties and responsibilities to the implicated parties
In this section, you'll need to decide who will be involved in the execution of your communications plan and who will be responsible for which tasks. In establishing the roles and responsibilities of those involved, it's also worth forming a chain of command. Distinguish who is the communication lead – the person who will oversee the plan from a supervisorial level and field questions and concerns – and who are the communication team members.
Step 7: Track your plan's performance
Once you have executed your communications approach, don't forget to measure its performance and draw insights from this data. You'll need to assess what worked well and what didn't as well as what could be improved or adjusted in your next communication strategy.
Depending on the channels you've chosen, there are tools you can use to optimize this process. For example, if you've disseminated your messages via social media, Sociality.io's Analytics module can help you track relevant performance metrics with ease. Here you can monitor the social media posts you published as part of your communications campaign, view key performance indicators (e.g. post engagements, engagement rates, etc.), and generate reports in just minutes.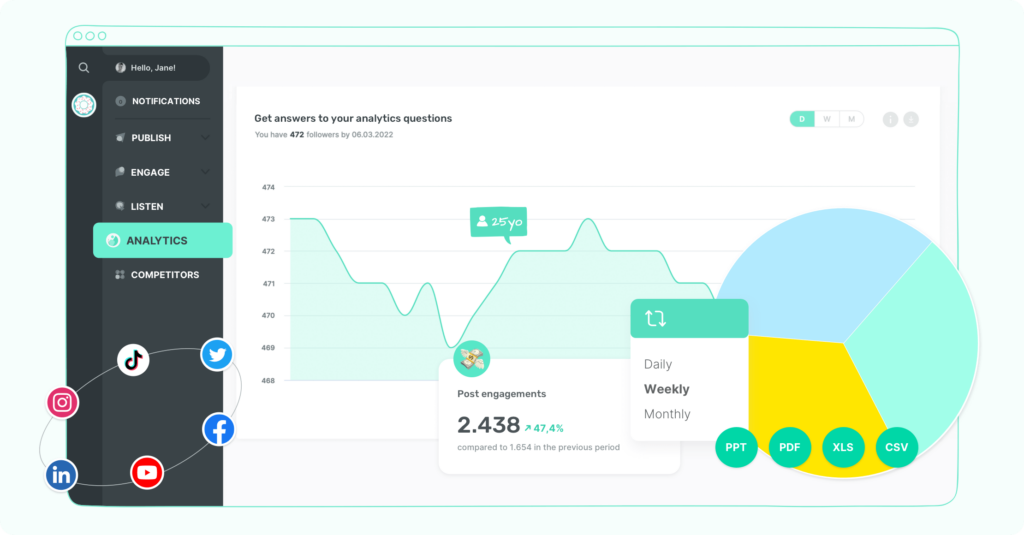 Communication plan template
Ready to bring your very own communication strategy to life? With the help of our communications plan template below, it's never been easier.
Business or department name and details
Insert your business name
Date
Insert date
Type of Communication Strategy
Insert type of communication strategy (e.g. marketing, crisis communication, etc.)
Communication Objectives
Insert your communications objectives, also known as your SMART goals:
[Objective 1][Objective 2] [Objective 3]
Target Audience(s)
Insert your target audience(s) here, including a brief description of their demographic details, behaviors, preferred communication channels, etc.
Key Message(s)
Insert the key takeaway message(s) you want your audience(s) to retain upon consuming your communication:
[Message 1][Message 2][Message 3]
Communication Channels
List the communication channels you plan to use to disseminate your messaging effectively:
[Channel 1][Channel 2][Channel 3]
Due Date
Insert due date(s) for project milestones
Involved Parties
List the parties involved to execute the plan and their respective responsibilities
Additional Strategies/Tactics
Describe the specific strategies and tactics you'll use to enact the plan and ensure its success. If this section isn't relevant, you can omit it.
Notes
Insert any additional details or notes relevant to the plan and/or its execution. If this section isn't relevant, you can omit it.
Communication strategy example
By now, you should have a better idea of what a communications plan looks like. To enhance your understanding even further, let's take a look at an example of a communication strategy for *Collab Coworking, a provider of coworking spaces across the United States.
Business or department name and details
Collab Coworking
Date
31 May 2023
Type of Communication Strategy
Internal communications strategy
Communication Objectives
Objective 1: Increase employee awareness of Collab Coworking's core values by 10% to encourage staff alignment with these values.
Target Audience(s)
Collab Coworking employees of all departments and levels.
Key Message(s)
Message 1: As our name suggests, collaboration is one of Collab Coworking's core values and it is at the center of everything we do. We know that, in a collaborative environment, people get the support they need to not only survive but thrive in the workplace.
Message 2: Innovation is the second core value at Collab Coworking. We know that our ever-changing workforce calls for out-of-the-box and forward-thinking solutions.
Message 3: Social responsibility is Collab Coworking's third core value. We uphold our social responsibility by ensuring our coworking spaces are as eco-friendly as possible, featuring furniture made from recycled materials.
Communication Channels
Electronic direct mail (EDM).
A three-step campaign consisting of three individual EDMs, each of which will focus on one of the company's core values:CollaborationInnovation, andSocial responsibility.
Due Date
30 September 2023
Involved Parties
Strategic communications team. Director of Strategic Communications, Jane Doe: Project lead. Point of contact for major queries and/or concerns pertaining to the project.Communications officer, Nick Ray: Responsible for tracking the progress on deliverables, reviewing copy, building the EDMs, and disseminating them upon completion.Copywriter, Lola Smith: Responsible for writing the EDM copy informing employees of the company values.
*The company, employee names, and communication strategy are fictitious.
Conclusion
No matter your industry, size, and objective, effective communication can do wonders for your business. When crafting your communication strategy, following the steps outlined in this guide can not only facilitate the process but optimize your results.
Above all else, remember that strong communication isn't a simple feat nor is it a one-size-fits-all endeavor. It may take a few tries to find the right communications approach for your business. However, trust us when we say that the prize of smooth communication is well worth it.