Updated guide 2021: How to delete a Facebook group?
Some things are easy to start and so hard to finish. A huge number of people come to Facebook to create groups or business pages. And if creating a group is highly encouraged by social media by simplifying the process. The opposite comes with deleting the page.
Since you are googling how to delete a Facebook group, you probably didn't find the "Delete Group" button. Spoiler: it is not hidden. It simply doesn't exist.
Don't worry. Just because there is no single button to click on doesn't mean that deleting a Facebook group is impossible.
It is crazy how fast Facebook changes its interface and how slow it takes them to update support materials. So below, you will find an updated guide on how to delete a Facebook group.
Social Media News in a Nutshell
Get the latest social media news, insights, and marketing tips in your inbox once a week.
Delete a group on Facebook option 1: Delete members
If you open ANY articles on the same topic, including the official one from Facebook itself, they all explain the process the following way:
Go to "Members"
Click on three dots icon
Select "Remove from Group"
I was so confused! I didn't see the "remove from the group" option. I've checked everything in the settings, I've checked all the new articles — nothing!
Well, they've just renamed the button!
So, here is an updated version of the outdated guide.
Only the group's creator can delete a group unless the creator has left. In that case, any admin can delete the group. You can find more about page roles here.
First, go to the "Members" section.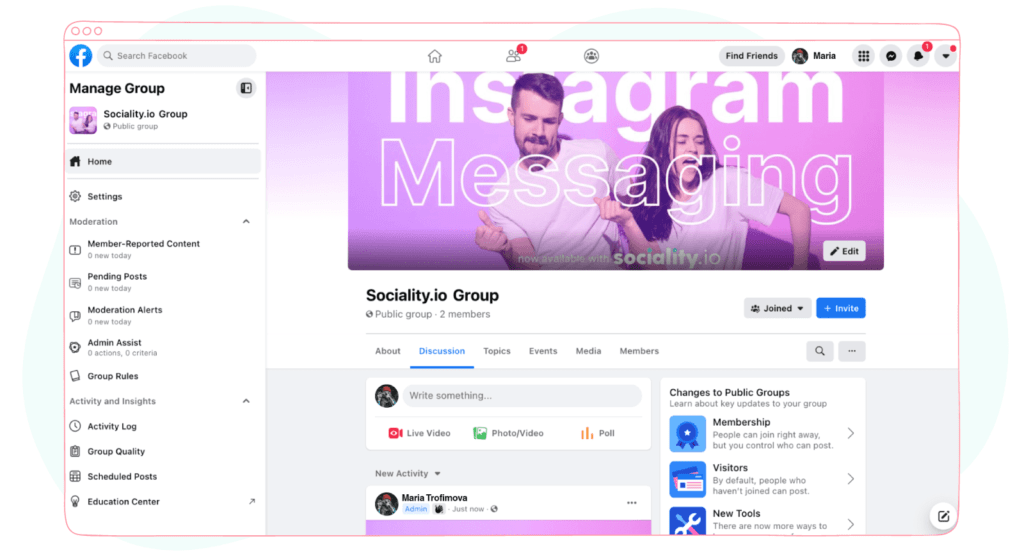 The next step is going to be upsetting and annoying. You should prepare yourself for long and monotonous work, the volume of which directly depends on the number of members in your group. If the group has less than 100 members, consider yourself lucky. Deleting a couple of thousand people will take days because each participant needs to be manually removed.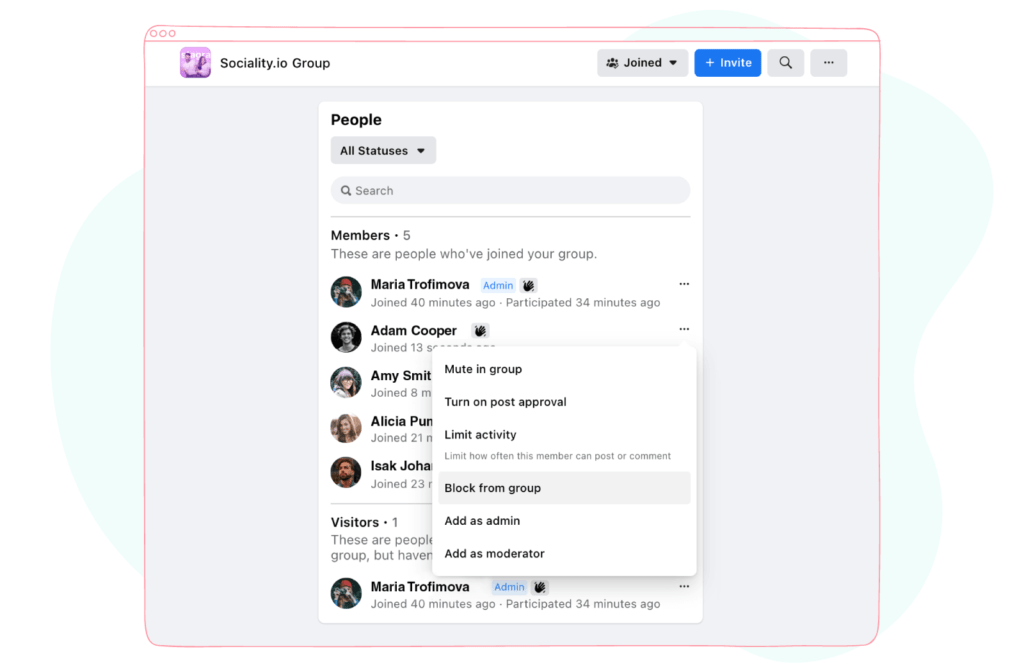 So, next to each name, you will see an icon in the form of 3 dots, which you need to click on and select "Block from the group".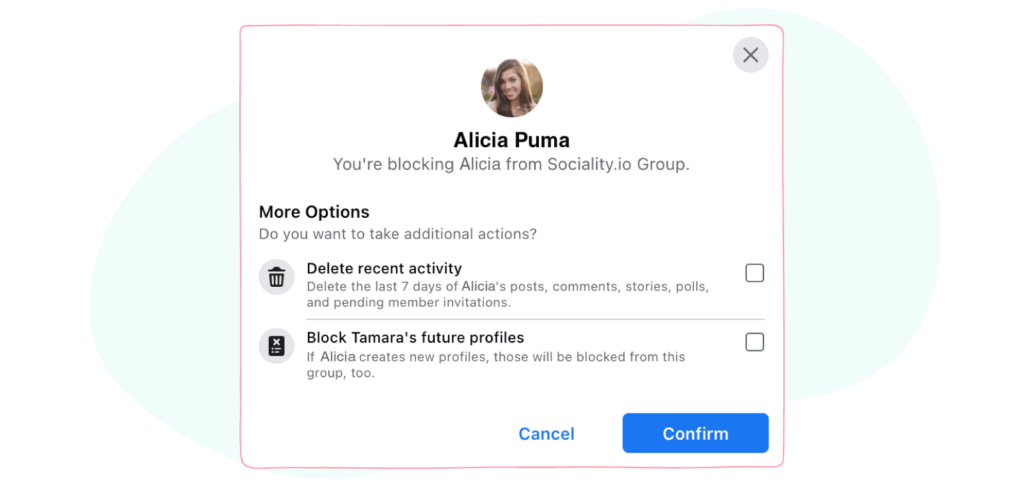 After that, the system will ask you to confirm your intentions and block recent and future activities. Click "Confirm," and you're done. The member is deleted, aka blocked. So, now you only need to do it until the very last member.
Blocked members will disappear from member lists. However, you can find them under "Blocked" members.
The captain is last to leave a sinking ship.
To complete the process of deleting a group, you as an administrator must leave it. This must be done like a captain of the ship that is sinking – the last.
In the end, the "Delete Group" button that you have been looking for will appear. After that, it is enough to confirm your intentions, and "voila" – you are removed from the group and can no longer do anything about it. If several more administrators manage a group beside you, they must be deleted before you delete yourself. Otherwise, you will have to ask them to complete the entire process.
As soon as you click on the "Leave and Delete" button, it will forever disappear from the history of Facebook.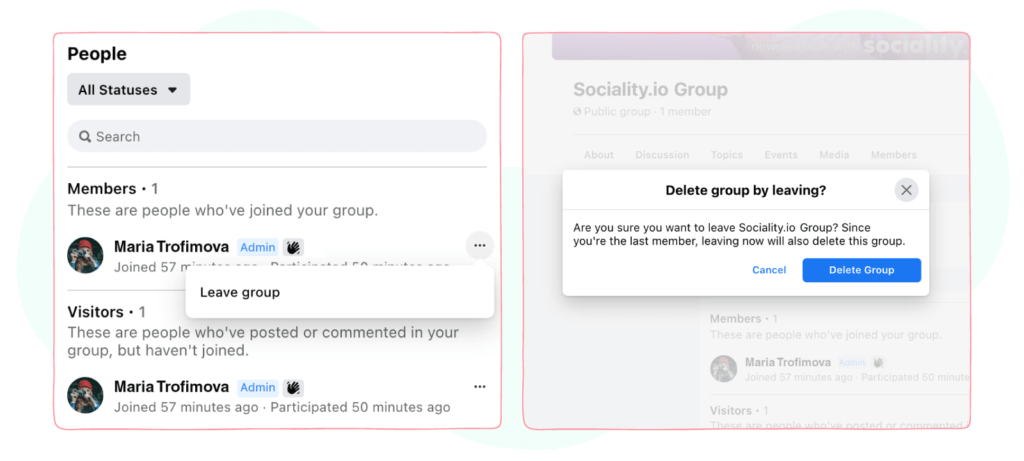 Delete a group on Facebook option 2: Archive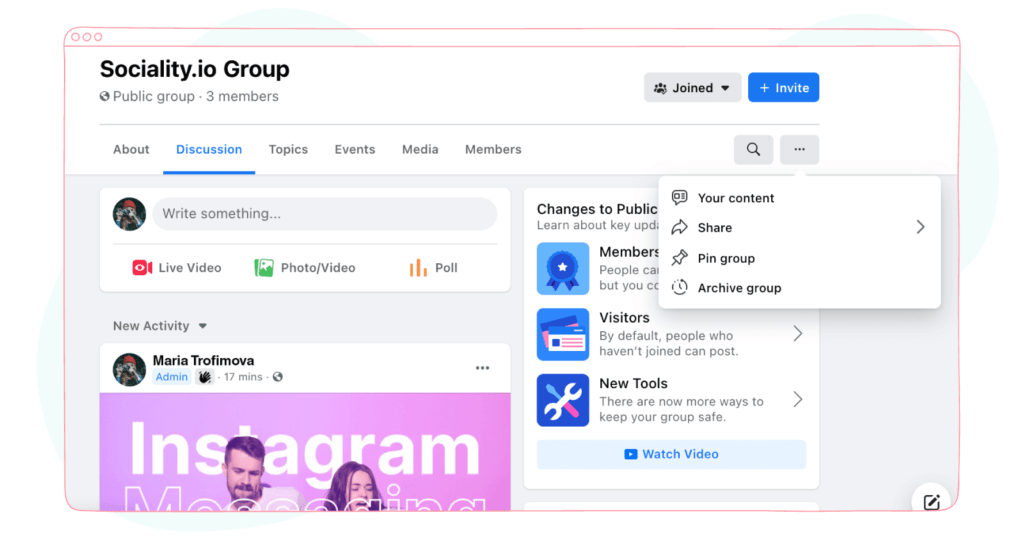 Before you go back and delete your profile, take a look at another feature that is similar to deleting a group but is less time-consuming, reversible, and keeps peoples' memories.
Archived groups are technically inactive and don't appear in the search results for the general public except for group members. Remained members still will maintain access to all photos, publications, and threads to view. Also, no new members can be invited or join the group.
Admins can still block and delete people and threads, but the group descriptions cannot be changed.
The beauty of archiving groups is their reversibility. Once you change your mind, you can unarchive the group and bring it back to life.
After all, a Facebook group with a large following is a true asset for your business. You can continue benefiting in the future after even the longest break.
| | | |
| --- | --- | --- |
| | If a group is archived… | If a group is deleted… |
| Will the group appear in search? | Yes | No |
| Is this action reversible? | Yes | No |
| Can any group admin perform this action? | Yes | No. Only the group's creator (who is also an admin) can delete the group. If the creator admin is no longer a group member, any admin of the group can delete it. |
| Can new members join the group? | No, but admins can approve members who requested to join before the pause. | No |
| Can admins or group members post, comment, or add photos and videos? | No, but admins can manage posts written before the pause. | No |
| Can admins remove posts, comments, photos, and videos? | Yes | No |
| Can admins remove and block people from the group? | Yes | No |
| Can admins edit group details, including description or photo? | No, except they can change the group cover photo. | No |
| Can group members or admins access their information? | Yes | No |
Side note
Please don't delete groups without notifying their members. Some people share true friendships and memories in comments and publications. Maybe you could offer somebody else to become an Admin and leave the group without deleting it. Or at least notify its members about your actions.
Related article: How to use Facebook Ads for beginners
Take outs from this How-to article:
Don't search for the "Delete group" button. It doesn't exist.
To delete a Facebook group, you must delete all the members and admins first.
The only creator of the group can delete the group. (Only if the creator has left the group an admin is given this access)
Don't delete a Facebook group without notifying people about it. Please respect people's friendships and the memories they have in the group.
Try to assign a new admin and leave the responsibility to a person willing to continue managing it.
Archiving a group is reversible, easy, and keeps people's memories in place. Consider it as an option.