National Donut Day: When is it and how to celebrate
Homer Simpson is not the only connoisseur of donuts; this tasty treat has admirers worldwide! But did you know that the round, sweet dessert, donut, or doughnut has its own national day? Celebrated every year, National Donut Day is deep-rooted in American history. As businesses and people celebrate this day with free donuts, donut contests, or exclusive donut toppings, why should you be left out! 
Know why and when National Donut Day is celebrated, how you can make the most of this day, and much more! 
Social Media News in a Nutshell
Get the latest social media news, insights, and marketing tips in your inbox once a week.
What is National Donut Day, and when to celebrate it?
National Donut Day not only celebrates the decadent flavor of the donut but also marks a historical occurrence that has its roots in World War I. It is celebrated across the United States and a few other countries on the first Friday of June every year. This year, it will fall on June 2, 2023.
What National Days are in June
Apart from National Donut Day, there are other 15 special days including Father's Day, World Environment Day, etc. that hold significance and can become part of your social media holiday campaigns!
Our team has compiled a complete calendar of social media holidays in 2023 to help you proactively plan your marketing activities.
History of National Donut Day
The first National Donut Day was celebrated in Chicago in 1938. However, its history dates back to World War I.
In 1917, the Salvation Army's female volunteers were sent to France to help on the front lines. During this time, these volunteers baked sweet treats, and the soldiers would savor these donuts. Since then, "Donut Lassies" became immortalized in history. Donut Lassies popularized donuts in the United States after American soldiers (doughboys) arrived from the war in Europe. 
It was during the Great Depression in 1938 in Chicago when the Salvation Army organized the first Donut Day event to help raise funds.
National Donut Day Made Possible by The Salvation Army
The Salvation Army still continues to follow this tradition and serves vulnerable Americans on the frontlines through social services.
You can also access the original recipe used by Donut Lassies here! 
However, there is more to this day. There is another lesser-known National Donut Day that is speculated to be associated with the birthday of the United States Marine Corps, which falls on November 10. The origins of the story are related to the events in the Vietnam war wherein the American prisoner of war, Orson Swindle, at the Son Tay Camp, told the Vietnamese about National Donut Day, on which everyone eats sweet sticky buns donuts. Surprisingly, on November 10, all American prisoners were served donuts to celebrate the day.
Importance of National Donut Day
The historical importance of this day in the United States cannot be denied. Interestingly, to highlight the love of donuts among the American population, the delivery app, Postmates carried out a survey with nationalToday.com. 
Over 96% of those surveyed said they either love or like the donuts, and about 56% have taken donuts to their offices. Also, 28% of the respondents preferred glazed, followed by 17% who voted for Boston cream. In fact, Boston, MA is the city with the highest number of donut shops per capita!
Since this day is celebrated once a year, bakery shops, donut shops, and even other businesses organize different activities, giveaways, contests, etc., to make the most out of this day commercially.  
How to celebrate National Donut Day
National Donut Day can be made as fun as you want it to be! You can plan your marketing and social activities and also promote them among your audience to showcase how you intend to celebrate this day.
In fact, social media influencers, food bloggers, food critics, and food magazines have popularized this day among the masses. You can explore the use of various hashtags such as #nationalonutday, #donutday, #donutlover, and #freedonuts to engage your audience on this special day and also to let them know about the celebrations.
Here are some ideas you can try.
1. Giveaways 
Who doesn't like free donuts? You can host giveaways on National Donut Day to encourage people to come to your shop or bakery. If they like, the chances are they will come back for more. These giveaways are a way to get attention and promote your business. You can also use this opportunity to introduce them to your other offerings.
Here are some examples you can get inspiration from.
2. Social media contests
Social media platforms offer a great opportunity to engage with your target audience. Apart from promoting giveaways, you can also run contests inspired by #nationaldonutday. You can also create your own unique hashtag for this day to promote your marketing activities.
You can do a quiz on fun facts, ask your users to tag their friends with whom they want to celebrate donut day, or introduce a mystery flavor with a picture and ask your audience to guess it. The winners can win free donuts or gift cards from your brand.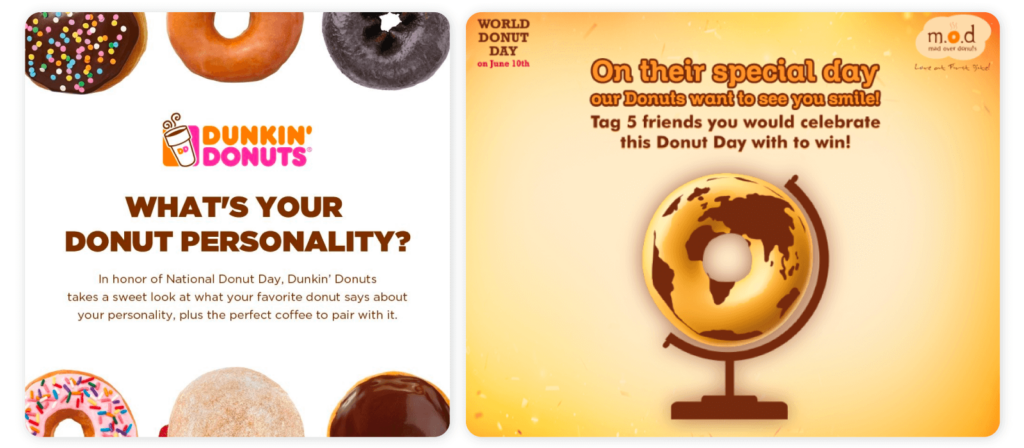 3. Exclusive flavors
Launching limited-period or exclusive flavors can also be a great way to attract new customers to your business.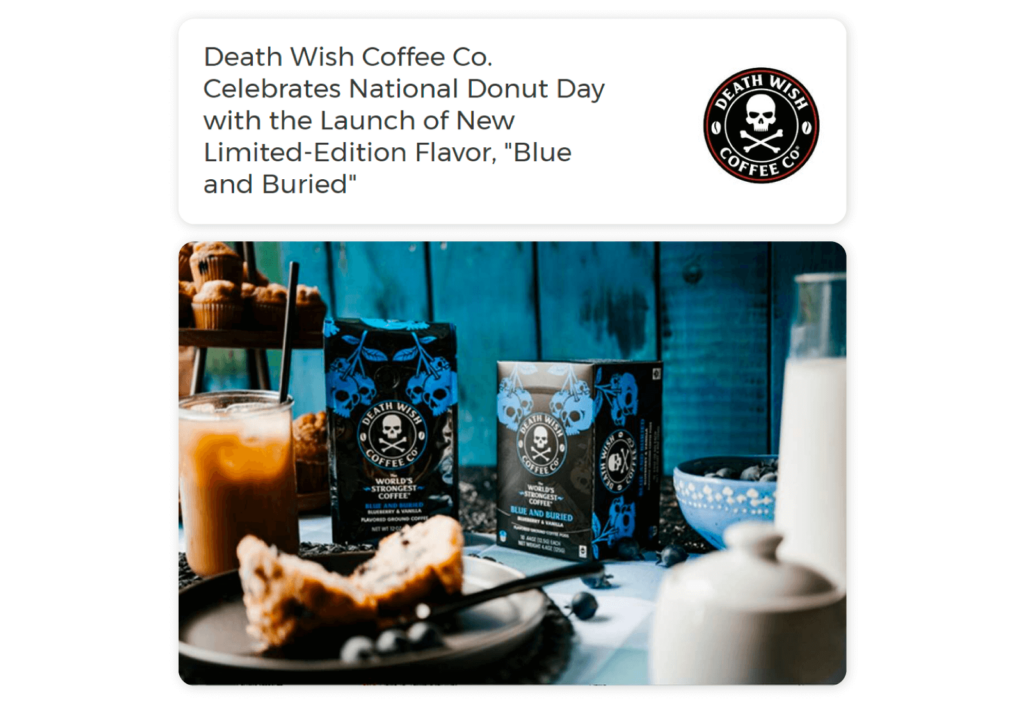 4. Merchandise 
Many businesses also launch merchandise to stand out in their marketing efforts. For instance, DunkinDonuts launched an exclusive clothing line and tote bags to mark National Donut Day. 
Final Words
National Donut Day is celebrated every year, and donut lovers look forward to this day for freebies, giveaways, and special offers. So, make sure you have the right marketing strategy in place to make the most of this sweet and historical day!
Also, to make sure you do not miss other special holidays in 2023, do get a copy of our social media holiday calendar and be up-to-date with your marketing campaigns!