Custom emoji maker: Tips to create, best practices, and tool suggestions
You heard it here first: words are so last century. Ok, maybe the art of language isn't dead just yet, but it's hard to argue with the rise in popularity of emojis. 🚀 Used to express ideas, emotions, complex concepts, and our individuality, a good emoji can paint a thousand words. And while standard emojis do the trick, sometimes you just need to say it with your own custom emoji. 
This guide covers everything your business needs to know about creating custom emojis, including what custom emojis are, 5 of the best emoji makers, tips for creating custom emojis, and best practices when using custom emojis in your social media marketing strategy.
Social Media News in a Nutshell
Get the latest social media news, insights, and marketing tips in your inbox once a week.
Emojis in social media marketing
More than just a cute add-on to your social media post or message, emojis have transformed how we communicate online. In fact, 92% of online consumers use emojis.  From TikTok to Slack, emojis are being used to grab attention, create a unique user experience, and convey complex concepts in just one character. In this section, we explore how emojis are utilized across the most popular social media platforms on the planet.
🎨 Creative self-expression
Emojis allow users to express their individuality and create connections online. Take the incredibly popular Discord emojis. Discord allows users to create custom, animated emojis that are perfect for sharing in-jokes and fostering a strong sense of community on the platform.
💡 Express ideas in as few characters as possible
With platforms such as TikTok and Twitter setting strict character limits, the new generation of social media users must be creative when posting. TikTok emojis are excellent visual cues that enable users to convey their message in as few words as possible. Moreover, they drive user engagement and increase the chances of videos going viral.
🕤 Save precious time
Emojis are no longer just for the likes of Instagram and Snapchat. Nowadays, they are an essential part of workplace communication platforms like Slack. Slack emojis streamline communication and collaboration, lightening the tone and leaving less room for miscommunication. 
We've all been there. You send an important message in a rush and then realize it sounds a little abrupt when you reread it. Luckily, a well-placed Slack emoji shows the tone of your message and fosters a sense of camaraderie in your team 🙌🎉.
💼 Up your branding efforts
Snapchat emojis add to the storytelling, allowing businesses to incorporate branding into their content. Between Bitmojis and augmented reality (AR) emojis, brands have plenty of ways to leverage emojis to build deep connections with their audience.
What is custom emoji, and why use a custom emoji maker?
A custom emoji is a small icon that has been specifically created or customized. While standard emojis are universally available across social media platforms (and instantly recognized), custom emojis are unique. This makes them an excellent way for organizations to represent their brand, events, or messages.
As the popularity of emojis continues to soar, more companies are using custom emoji makers to create their own characters. An emoji creator is a tool or app that enables you to design and customize your own emoji characters by adding facial features, hairstyles, clothing and accessories, expressions, symbols, and other details to create a one-of-a-kind effect.
Once you make your own emoji, you can share it on social media and messaging apps, showcasing your individuality and expressing yourself authentically. If you plan to use your custom emoji across multiple channels, you must ensure the emoji maker you choose is compatible with those platforms. You can share and save your custom emoji in various formats, like PNG and GIF.
Next up: The best custom emoji makers and how to make emojis.
5 best tools to create custom emojis
At this stage, you're probably wondering how to make an emoji for yourself. The good news is that it's pretty simple to make custom emojis these days. All you need is an emoji generator. To help you, we've rounded up five of the best custom emoji makers on the market.
1. Emoji Maker Online
Emoji maker.com is an online tool that allows you to make custom emojis and easily emoji copy and paste them across different platforms. 
Price
Free
Features
Emoji text function to add custom text to any emoji
Extensive library of emoji shapes and backgrounds
Customization feature to match a user's face to an emoji
Options to save custom emojis in a range of formats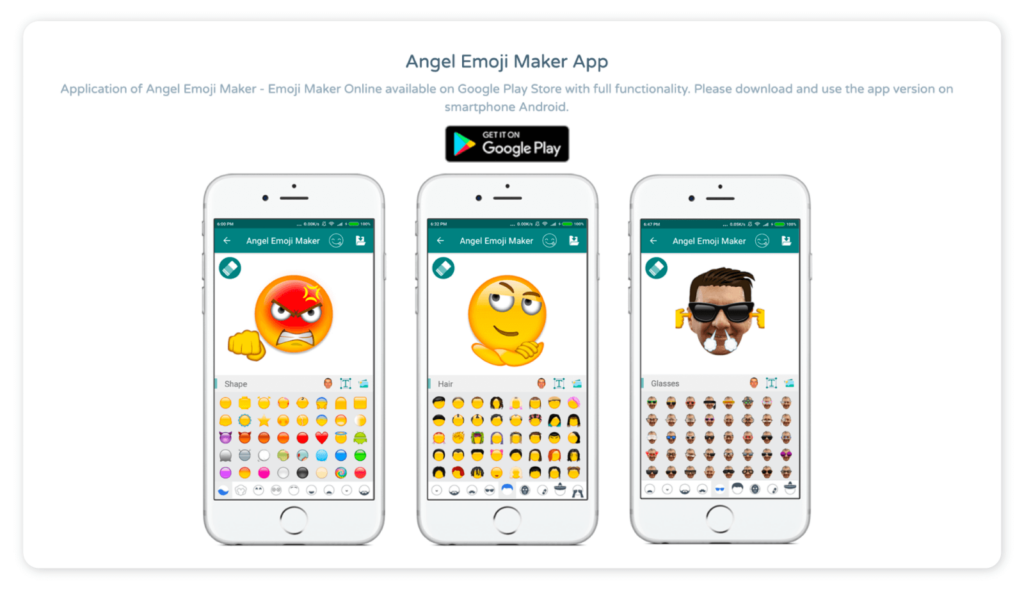 2. Disney Emoji Maker
If you are feeling like a Disney villain (or princess), why not create your custom emojis with the Disney Emoji Maker? This fun online tool makes creating and exporting Disney-themed custom emojis easy.
Price
Free
Feature
Simple to use
Variety of Disney-themed customization features
Easy to create and export custom emojis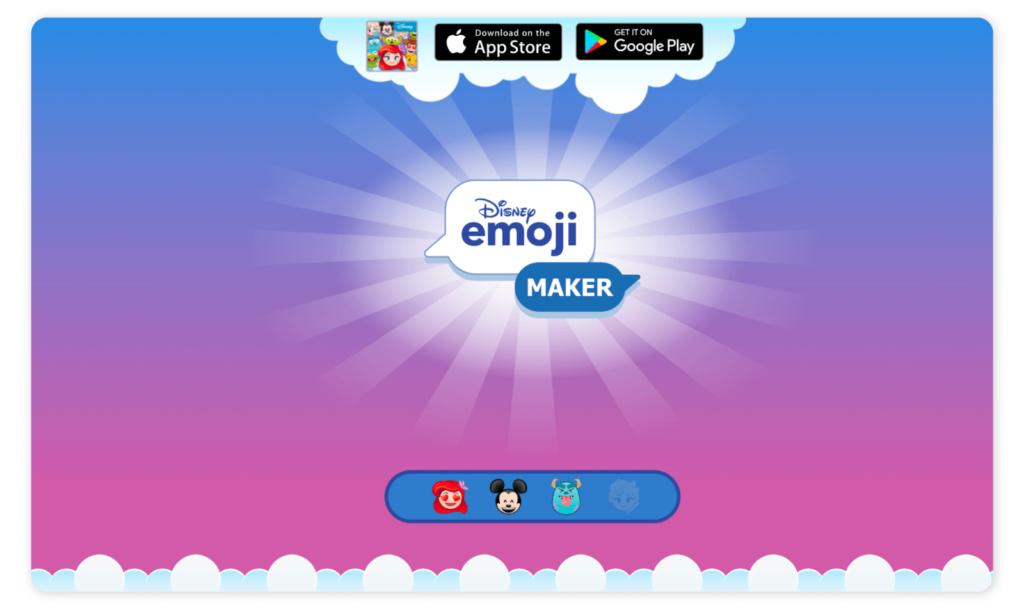 3. piZap Emoji Maker
This all-in-one online editor has a comprehensive library of custom emoji features. All you have to do is create an account, and you're ready to build your own unique emojis.
Price
Free or to unlock the advanced features, users can upgrade to piZap PRO for $5.99 per month or $35.88 per year.
Features
Features to create custom emojis, memes, and edit images
6 million+ stock images
Exclusive filters
Over 365 font options available
4. Zmoji
This free iPhone tool is excellent for creating and sharing custom emojis with your audiences. What's more, users can create their own avatars using the app.
Price:
Free, or users can tap into extra features by signing up for Zmoji Premium for $99.9 per year.
Features:
Animated avatar function to create life-like user avatars
User-friendly app
A wide range of expressive emoji and avatar features for a personalized experience
5. Elite Emoji Maker
Elite Emoji is an Android app for creating high-quality custom emojis. Android users can create emojis, add messages, and share with a single touch.
Price
Free
Features
Extensive emoji library with over 2000 options to choose from
Single touch sharing across leading social media platforms 
Rich variety of default messages that can be added to emojis 
Personalized emoji suggestions based on users' personality traits and behaviors
Tips to create custom emojis that pop
From transparent emojis to animated ones, the sky's the limit. Follow these tips to create custom emojis that pop.
Tips for creating custom emojis
Define your purpose and make sure your design aligns with it.
Keep emojis simple – their meaning should be instantly recognizable and accessible.
Make emojis expressive by playing with facial features.
Experiment with brand colors to convey your message and the right sentiments.
Play around with transparent emojis to create floating elements within your emojis for a sleek look.
Standardize size, style, and themes for a cohesive emoji set.
Test your emojis out to make sure they resonate with target audiences and that they work well on different platforms.
Get creative and think outside the box. 🤯
How to use custom emojis in social media marketing
Successfully weaving custom emojis into your social media marketing campaign is both an art and a science. It takes a little more planning and consideration than just popping an emoji in your latest caption. Custom emojis need to be thoughtfully created, serve a purpose, and act to enhance your message.
Follow these guidelines to artfully use custom emojis in social media marketing.
1. Know your brand (and audience)
The key to custom emoji success is having a clear idea of your brand identity and your target audience. What's your brand's personality, values, and communication style? This will guide you as you select the right custom emojis to represent your voice.
Next, analyze your audience to gain deep insight into their age, gender, values, preferences, and behaviors. That way, you can select custom emojis that resonate with them and that they're more likely to use.
Finally, it's imperative (seriously) that you deepen your emoji knowledge to avoid any miscommunications. Your social teams should familiarize themselves with Emojipedia and search for any emoji to find out its meaning. The last thing your brand needs is the use of the wrong emoji.
Take Hillary Clinton's slightly tone-deaf tweet in 2015 asking users to state in three emojis how student loan debt makes them feel. Unfortunately for Hillary, users didn't take this well, feeling that she trivialized an important issue. This a good example of why knowing your audience matters.
2. Make custom emojis relevant and impactful
Custom emojis should align with your brand identity, making users immediately think of your products or services. To achieve this, they should be instantly recognizable and use colors, symbols, and expressions that make sense with your brand.
Taco Bell knew this and was ready and waiting with a full campaign when Apple updated the emoji library for iOS 9. And its patience paid off. It jumped on the opportunity with a bunch of GIFs and images, encouraging users to tweet them a 🌮 + any other emoji to receive a personalized GIF from the Taco Emoji engine.
3. Be consistent
Custom emojis should be consistent in terms of styles, colors, and tone. Maintaining a consistent aesthetic creates a cohesive emoji set that reinforces your brand identity.
In 2015, Coca-Cola became the first brand to get a custom emoji on Twitter. In a rather genius collab, the iconic Coke bottle emojis appeared when Twitter users tweeted the hashtag #ShareACoke. This move was totally on brand for Coca-Cola, helping the innovative beverage company set a new precedent for custom emojis and hashflag campaigns.
4. Strategically use custom emojis in your social posts
Integrating custom emojis and GIFs in your social media posts is a great way to gain brand exposure and enhance the shareability of your content. They make for excellent visual cues when launching a new product.
The UK cider company Strongbow is a great example. Following the launch of its new Strongbow Ultra Dark Fruit drink, the drinks brand pulled out all the stops. Using the goat emoji (greatest of all time – get it?), the brand created custom GIFs and a hashtag to spread awareness. Users could add the purple goat GIFs to their Instagram stories to post about the new drink.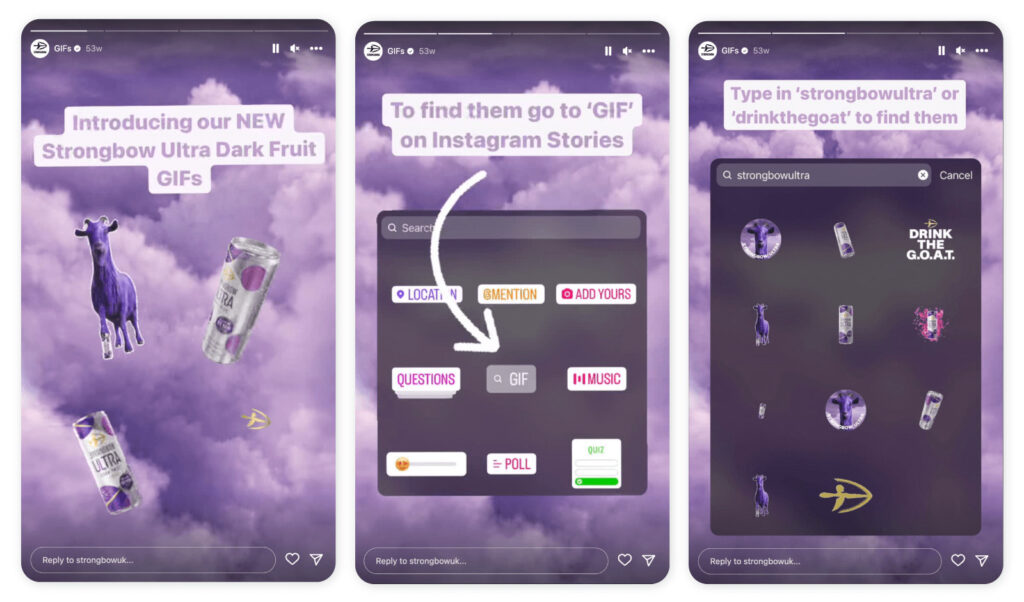 5. Actively encourage users to engage with your custom emojis
For custom emojis to really be worth their weight in gold, you need to encourage your audience to engage with them. This could mean sharing them in their posts or commenting on your content. There are several ways to achieve this, such as running contests encouraging users to get creative with your custom emojis. Not only do you end up with some excellent, branded UGC, but you foster a sense of community.
No organization has done this as successfully as WWF. The non-profit organization created a set of custom emojis depicting endangered animals and used them as part of a funding campaign. Netizens agreed to donate 11 cents each time one of the emojis was shared, actively contributing to conserving the endangered animal depicted through the emoji.
The trick for success is properly educating your audience on how to use your custom emojis. Do you want them to share it or comment on your post? Giving clear instructions will ensure engagement is high and users can participate.
6. Try using emojis in ads, promos, and sponsored content
Custom emojis are everywhere these days. From billboards to ads to sponsored content, they make content more shareable and grab users' attention. So, try using custom emojis in your ads for a fresh take.
Oreo decided to give it a whirl in 2021, collaborating with Bobble AI. The tech startup was the brainchild behind the popular BigMoji idea, which are basically large and vibrant custom emojis. The unlikely pair teamed up to create an emoji marketing campaign called "Recipic" that allowed Bobble Keyboard users to share custom stickers and BigMojis across social media. The campaign generated over 2.6 million unique shares and 335 million brand imprints 😍.

7. Track your emoji game
The best way to measure the impact of your custom emojis is by tracking and analyzing data from your social media marketing campaigns. By monitoring metrics like engagement rates, click-through rates, reach, and sentiment, you can gauge how well your custom emojis resonate with your audience. Then, you can use this data to refine your strategy.
The most effective way to monitor this data is with a social media management tool like Sociality.io. The Listen module makes it easy to visualize and analyze how audiences are responding to your custom emojis so that you can make data-driven decisions about the future of your campaigns.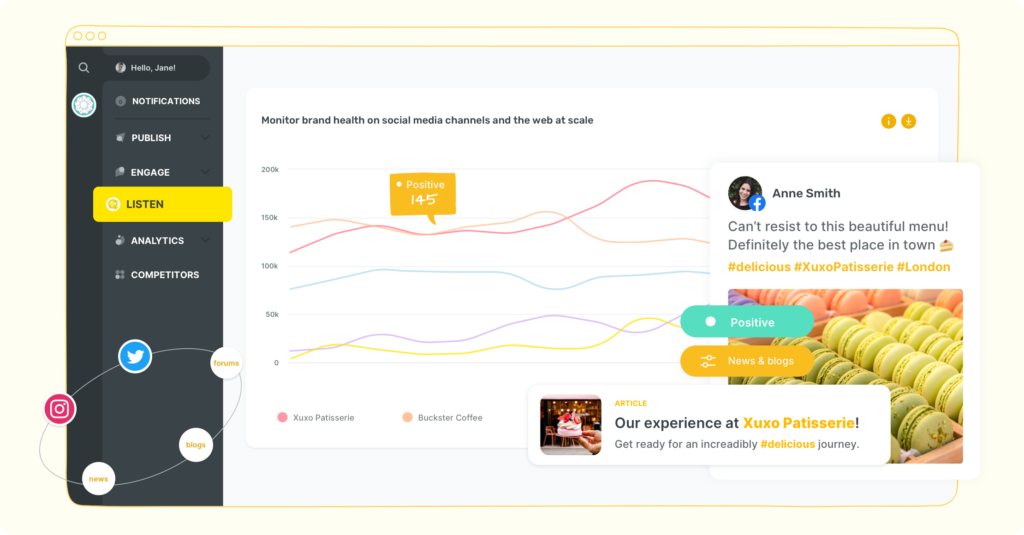 🌸 Bonus read: Emoji shortcuts 
Best examples of custom emojis in social media
Here are some innovative examples of how to successfully use custom emojis in social media.
1. Activism
Custom emojis are an excellent way to raise awareness for social issues and campaigns. The UN's #HeForShe campaign advocating for gender equality is a great example. When famous actress and UN ambassador Emma Watson took to Twitter to announce that the IWD logo appears when Twitter users type the hashtag, the campaign took off. After crashing the UN Women's website, the campaign went on to generate 115% more social media mentions.
2. Humor
Some may think that billboards are no longer an effective advertising approach. However, the marketing team for the hit movie Deadpool disagreed. Twentieth Century Fox knew its audience well and went for a hilariously terrible billboard campaign to promote it. The billboard donned a skull emoji, a poop emoji, and a block L, confusing and delighting its audience. It was just the right amount of unhinged to appeal to the Deadpool fanbase and get them talking. Genius (we think).
3. Drive sales
Pizza giant Domino's proved that emojis can be used right in the sales funnel to drive revenue with its 'Easy Order' campaign. Still considered one of the best emoji marketing campaigns in history, Dominos made it possible for customers to order a pizza simply by sending a pizza emoji.
Of course, users had to first set up a Domino's account, add their favorite order, and link it to their Twitter. But once the setup was complete, they could get their favorite Za delivered to their doors by just tweeting a pizza emoji.
4. Create a vibe
McDonald's has worked hard to create a vibe of being a happy place. From Happy Meals to the "I'm Lovin' It" slogan, the fast-food chain has crafted a joyful feeling around the brand. That's why its emoji artwork ad campaign worked so well.
The artwork creates a simple narrative using emojis and embodies the cheerful, fun mood of McDonald's. Simple and effective, it perfectly depicts the good times vibe the brand was going for.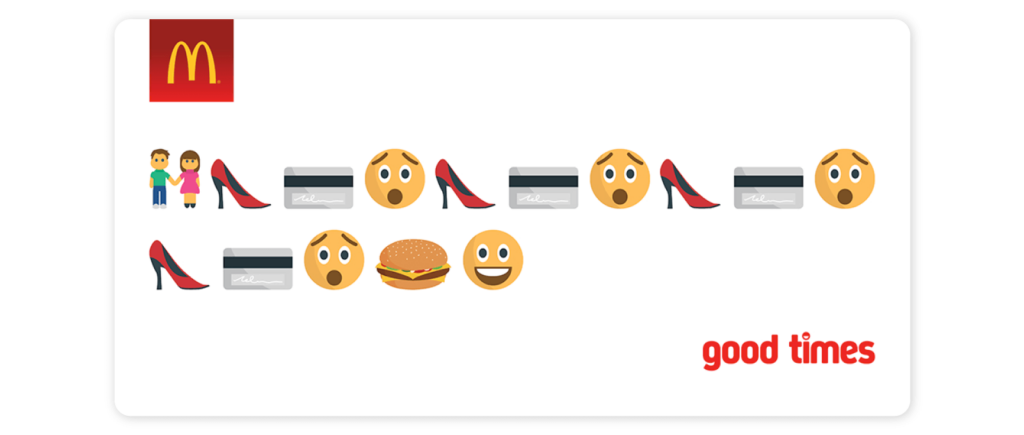 Of course, leaving all that white space opens the door for some good old-fashioned vandalism, as seen in the image below. A British graffiti artist took creative license and added their own emoji to McDonald's artwork.
5. Jump on a popular event
Every brand manager knows that finding ways to jump on big events is a fantastic exposure opportunity. And what event is bigger in the States than the 4th of July? US beer company Budweiser showed us how it's done when it tweeted an American flag using firework emojis for the stars, the US flag for the red stripes, and a beer emoji for the white stripes.
Tapping into the American people's patriotism (and fondness for beer), the 4th of July tweet went viral and was retweeted over 120 000 times. This single tweet managed to convey a powerful message and artfully associate Bud Light with July 4th.
Conclusion
Custom emojis are a powerful tool for businesses looking to connect with audiences, express their creativity, and get their message across in an engaging way. That said, it's best to follow the best practices laid out in this guide to ensure your emoji game is a success. As we've seen from past emoji disasters (we're looking at you, Hillary Clinton), you need to know your audience, brand, and emojis. When leveraged correctly, custom emojis made using an emoji maker can drive engagement and leave your users with a smile.
The best way to keep track of your emoji performance is by using a social media listening tool like Sociality.io. On top of offering deep insights into your social performance, it comes with tools and features to streamline your social media tasks. Try a free trial today.