Instagram filters 101: What it is, how to create, best practices, and more 
The possibilities of Instagram filters are endless – particularly for businesses. In recent years, Instagram filters – also known as augmented reality (AR) filters – have boomed in popularity, with many marketers leveraging this trend to raise awareness of their brands.
According to Gloam.io, Instagram is not only one of the largest platforms for AR filters but one of the most effective. Reportedly, research shows that people who use AR filters on Instagram use them on average for 75 seconds – which is four times longer than mobile video.
Hoping to make the most of AR filters to optimize your brand's Instagram presence? Wondering how to create and use AR filters effectively? Looking for inspiration in creating your own custom Instagram filter?
You've come to the right place.
In this article, we'll explore what benefits can be derived from using Instagram AR filters and how to create Instagram AR filters yourself.
Social Media News in a Nutshell
Get the latest social media news, insights, and marketing tips in your inbox once a week.
What is an Instagram AR Filter?
Instagram filters/AR filters blend real-life elements with virtual elements to create a more captivating image or video. In essence, the software behind the AR filter superimposes a computer-generated image or video effect over the real elements shown on your camera (in most cases, your face).
Instagram AR filters first appeared in 2017. Initially, only Instagram's creative team was engaged in the creation of AR filters. Nowadays, Meta is using a different strategy – one that allows all users to upload their AR filters to Facebook and Instagram.
Every time someone uses a customized filter, the account name of its creator is indicated at the top. That means, if a filter goes viral, that account can attract new followers – ideal if you're hoping to expand your brand's social reach.
According to the Spark AR studio – which we'll discuss more later in this guide – 600 million people were using AR filters every month as of July 2022. As such, Instagram filters are an effective tool for reaching your audience and boosting engagement. This is particularly true because Instagram AR filters are getting more and more dynamic, meaning they can be adapted to various industries and interests.
Consider Nordstrom's recent filters, aptly named Nordy Smile and Nordy Glasses. The brand created these filters to promote and build excitement around its anniversary sale. The signature icon for the sale, featured in its catalog, was a winking, yellow smiley face, making it the perfect inclusion for the brand's AR filters.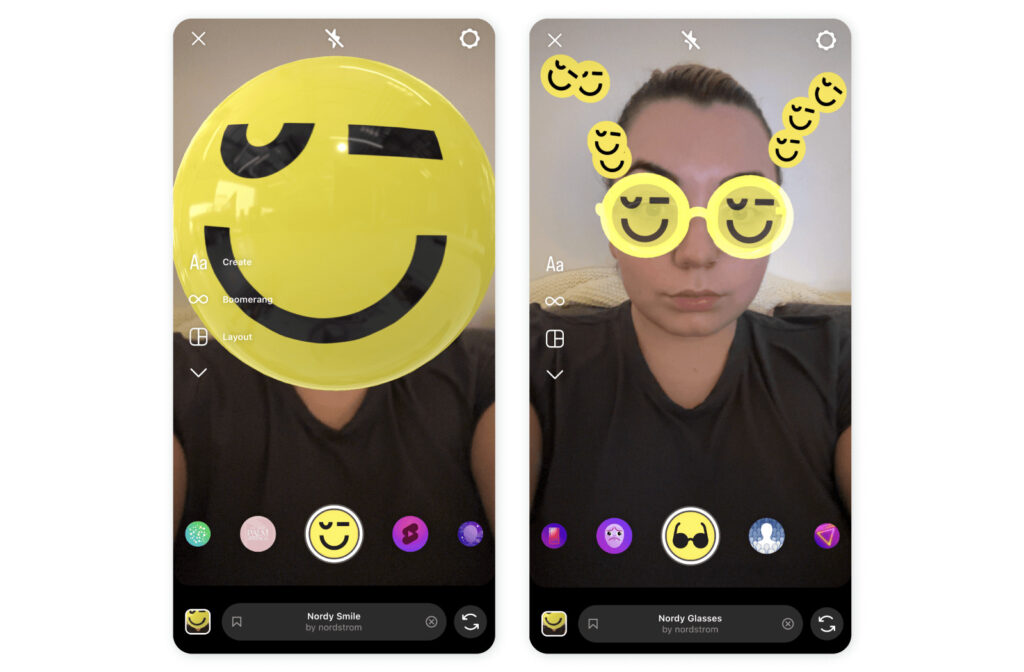 Why create AR filters for Instagram Stories?
There are several amazing rewards you can reap as a result of using AR filters, a few of which we outline below.
Expand your brand reach
Oftentimes, businesses will integrate certain elements of their brand into an AR filter, such as their logo.
When people use your branded AR filter, they essentially become brand ambassadors for your organization, spreading the word about your business and what it stands for.
As a result, you'll raise brand awareness and broaden your brand reach significantly, potentially even accessing accounts you wouldn't have otherwise.
Give your Instagram presence a creative flair
Creating your own AR filter is the perfect opportunity to show off your brand's creative side. This can act as an excellent complement to your brand identity and/or tone of voice, particularly if your business operates in a creative industry or features a playful tone.
KFC Israel took it upon itself to showcase its fun side
Immersive storytelling creates more memorable experiences
AR plays a key role in marketing as they tap significantly into immersion, which does wonders for memorability. 
When you're immersed in a particular narrative or experience, you're more engaged and therefore more likely to recall it later on.
For example, an AR filter that completely alters the state of your face and features fun music is more likely to stand out in your memory than a standard filter that blurs imperfections on your skin.
AR is the way of the future
AR is booming, with more and more businesses adopting and investing in it. According to G2, the AR market is projected to hit a value of $50 billion by 2024 and the number of AR device users is set to reach 1.4 billion by the end of 2023. 
As a result, it's crucial to stay in the know if you hope to maintain relevance in today's digital age – and creating your own AR Instagram filter is an excellent way to do that.
How to make an AR filter with Spark AR Studios
By now, you're likely wondering how to make an Instagram filter. Below, we provide a step-by-step guide for creating an AR filter with Spark AR Studio, Meta's designated platform for creating an Instagram AR filter.
While there are several tutorials available via the platform, here's what you'll need to know to make your own Instagram filter.
Step #1: Install Spark AR Studio
Spark AR Studio is the platform where the process of creating an Instagram AR filter takes place, available to Mac and Windows users alike. 
You can download Spark AR Studio to your device by heading to the Meta Spark Hub dashboard and clicking on Get Meta Spark Studio. Follow the download instructions as prompted.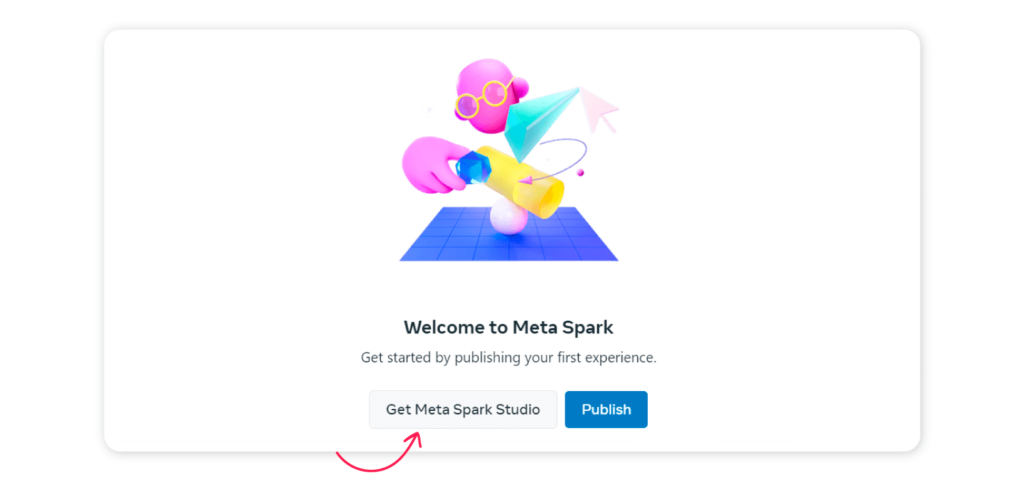 Step #2: Familiarize yourself with the platform
Next, you'll want to familiarize yourself with Spark AR Studio to get accustomed to its features and functions. Be sure to complete the platform's welcome tutorial and explore the range of other tutorials available via Meta Spark Learn. Here, you'll find instructional videos on everything from creating your first AR effect to testing effects to mastering audio features.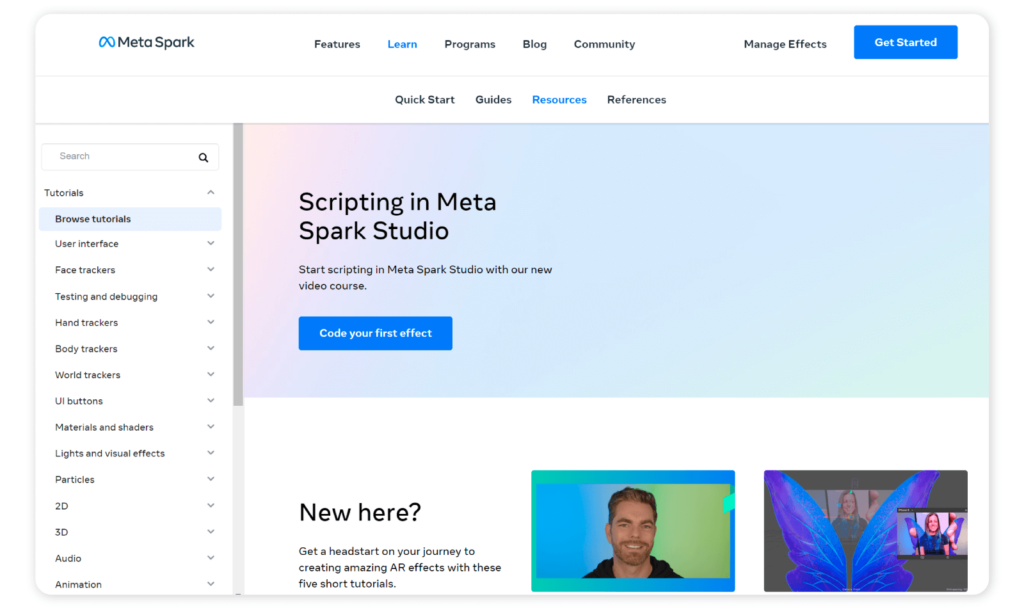 Step #3: Add an object
Next, select the type of AR filter you want to create. For the sake of this example, we'll be focusing on a 3D object (which will allow us to place a 3D object in a real-world setting, blending the real with the virtual). However, in Spark AR Studio, you can opt for 2D objects, hand trackers, body trackers, and so much more.
To begin, click on the project of your choosing. From there, you'll be redirected to a canvas, also known as the Viewport. Here, your object placeholder will be preloaded.
In the Viewport, you must add an object. To do this, you have two main options:
Import one
Access Spark AR Studio's library of objects and select one from there.
Step #4: Add effects
Once you've added your object, it's time to add effects. These will shape how your object responds to user movement and interaction, particularly when positioned at various angles in the real world.
Broadly speaking, there are two main categories of Meta Spark Studio effects:
World effects: These effects add virtual objects to real-world environments, typically using the back-facing camera.
People effects: These effects respond to an individual's movement and/or features, such as face, hand, and body trackers.
There are various sub-categories under these two, including selfies, games, events, and more.
Step #5: Test effects
Once you've added your effect of choice, you'll want to test it to ensure it works okay. You can do so by sending the test file to either Facebook or Instagram; in this case, you'll want to send it to Instagram. You can then see how the filter works on the platform(s).
Step #6: Publish effect
Once you're happy with how your filter is looking, simply click on the blue Publish button. Your AR filter will then be sent to Meta for review to ensure it abides by Spark's policies and guidelines. Once your filter is approved, it will be live and ready for use. 
3 best practices for Instagram AR filters
There are several best practices you'll want to follow when using AR filters. Here, we've rounded up our top three pointers you can't skip.
Prioritize longevity
The best Instagram filters are those that can be used repeatedly and all year round. While creating a filter around a particular event – such as the FIFA World Cup or the Super Bowl – can be great for leveraging the hype around them, they likely won't be used once the event has passed.
With that in mind, try your best to ensure your Instagram filter's contents are flexible and can be used across several contexts and seasons. This will help to ensure that both the interest in and usability of your AR filter are sustained long-term.
Have a clear and simple purpose
Think critically about what you want to achieve with the AR filter and what you want your followers to get out of it.
For example, some brands want customers to have a better idea of how their products might look on them as a means of driving sales. As a result, they might create an AR filter that allows users to virtually "try on" certain items, such as sunglasses or makeup products.
The Lip Kit filter by Kylie Cosmetics is a perfect example. The filter allows users to virtually try on various lip shades to see which one suits them best. It even offers variations in how much editing is done to other areas of your face, namely the addition of lashes, eyeliner, and a lighter eye color.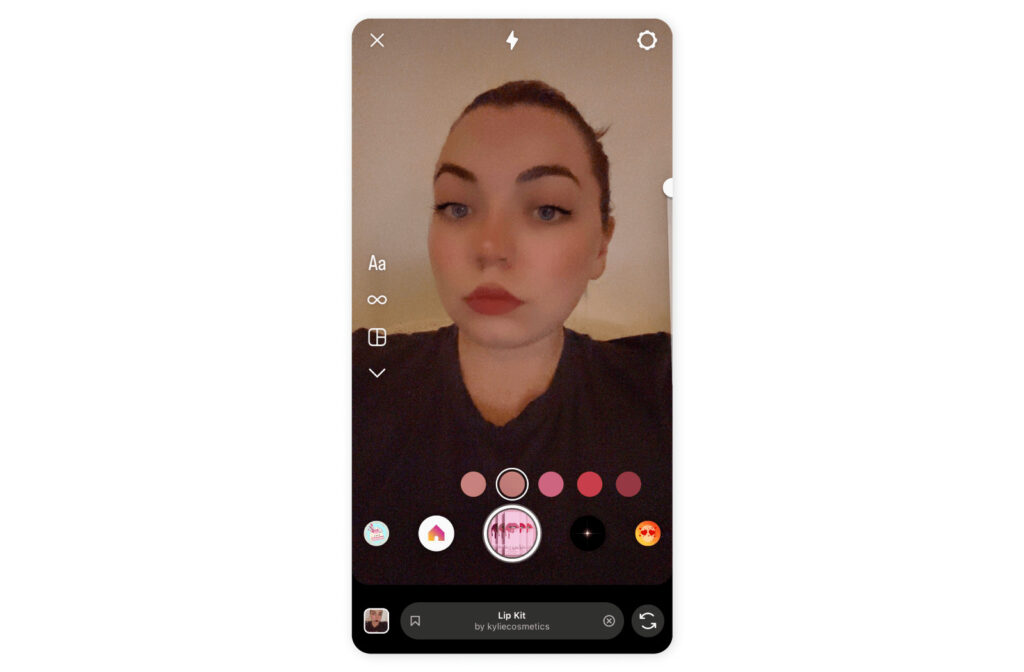 Avoid the edges of the screen
When creating an AR filter, it's critical to ensure optimal user interface (UI) and user experience (UX). If you add elements to the edges of the screen, they could be obstructed or cause glitches for the user, thereby tainting the efficacy of your filter. As a result, it's vital to avoid including any elements near the edge of the screen.
How to search filters on Instagram
In some cases, it may not be necessary to create your own AR filter. Instead, you might be able to find an Instagram filter that already suits your brand's needs. Of course, to find them, you'll need to know how to search for them.
To search for filters on Instagram, follow these simple steps:
Swipe to the right on your newsfeed
At the bottom of your screen, you'll see a range of Instagram filters available.
Swipe through the selection until you see the magnifying glass icon labeled Browse effects.

Click on the magnifying glass to conduct an IG search and explore the comprehensive library of Instagram filters. You can also search keywords by tapping on the magnifying glass or by category by tapping on the categories that appear.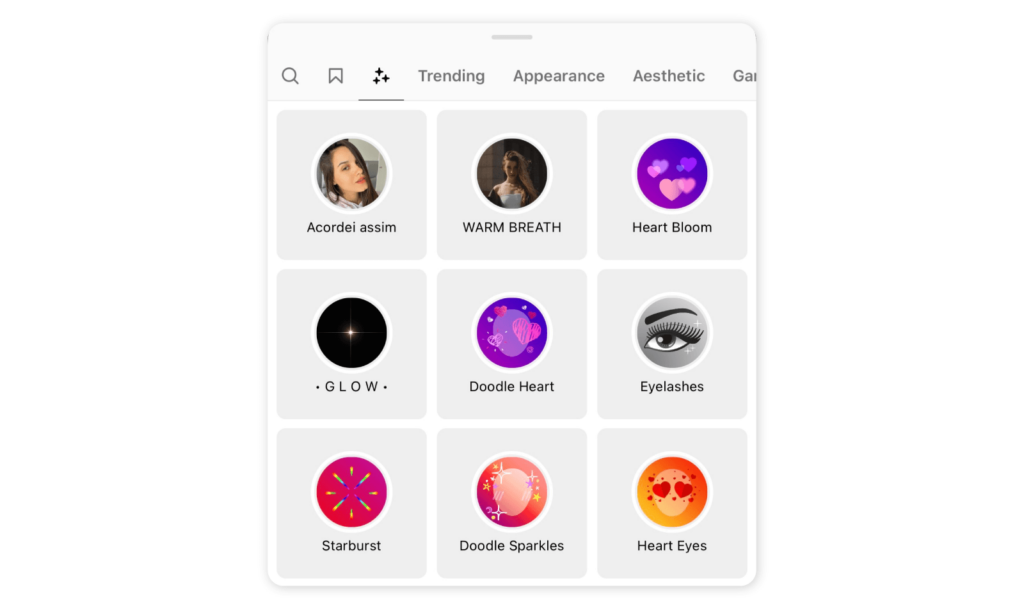 Once you've found the filter you want to use – which may be your brand's Instagram filter in this context – click on it.
You can then share your Instagram filter with your followers by using it on your Stories.
Conclusion
Innovative and interactive, Instagram filters are a powerful addition to any business' marketing initiatives. With the help of this guide, you'll be able to create AR filters that not only foster engagement but help your brand maintain a distinct presence in today's saturated social media landscape. 
Related article: How to create & upload branded GIFs to Instagram Stories?