Instagram audio download guide for 2023 (4 Methods)
Let's imagine you're scrolling through Instagram, and you happen upon audio that you want to use in your next Reel. What do you do? Our jam-packed guide on Instagram audio download has the answers.
Keep reading to discover:
Different ways to save or download Instagram Reels audio clips
Hacks for downloading or saving your favorite audio for later
Answers to the most common questions about downloading Instagram Reels audio clips
First up: Does Instagram support audio downloads?
Social Media News in a Nutshell
Get the latest social media news, insights, and marketing tips in your inbox once a week.
Can you download audio clips from Instagram Reels?
Yes, you can download audio clips from Instagram Reels. However, it's not as simple as clicking a download button.
Since Instagram doesn't currently support downloading audio directly from a Reel, you'll need to use external tools to save your favorite clips. Luckily, this is a pretty simple process that lets you save the audio on your Instagram for later or download it to your device.
And when we say device, you can download IG audio on mobile and desktop.
Next, we break down how to download IG audio.
4 Methods for downloading audio from Instagram
The good news is that there are four different ways to download an audio clip from Instagram Reels so that you can take your pick.
We've created step-by-step instructions for each method so you can save your fave audio hassle-free.
1. Utilize a third-party Reels audio download tool
The first way to download Reels audio files for free is to use a third-party website. An Instagram audio downloader lets you get your favorite sounds on your personal devices.
Here are some apps for Instagram Reel audio download:
While each tool may look slightly different, the steps to download Instagram audio are pretty much the same. Simply follow the instructions below.
Select the Reel audio you want to download
Tap "Share" on the right-hand side of the screen (the icon looks like a paper airplane)
Select "Copy link" at the bottom of the popup screen (If using a desktop, simply open the Reel and copy the URL into the browser)
Paste the link into the Instagram audio downloader
Click "Download" to extract the audio file from the Insta Reel
The file will now be downloaded to your device (check your downloads file)
Some tools (like Reels saver) download the audio as an M4A file, while others offer the option to download Instagram audios as an MP3. As such, it's best to choose the tool that provides the best file format for your needs.

2. Try a video-to-MP3 converter
The second method is to find a downloader video to MP3. These converter tools allow you to convert a downloaded IG video into an audio file.
Several free tools can do the job, like FreeConvert and OnlineConverter. Alternatively, you can find apps for iPhone or Android that will download Reels and convert them to MP3 on your smartphone.
Follow the steps below to use a video-to-MP3 converter.
Select the IG Reel you want to download
Tap "Share" (the airplane icon) on the right
Select "Add to story"
Click the three dots and select "Save" to download the video to your device
Send or airdrop the video to your desktop
Open the converter tool
Drag your video into the "Choose Files" area
Select "Convert file"
Once the file has been converted, tap "Download"
The MP3 audio file will now be saved onto your desktop and ready to use!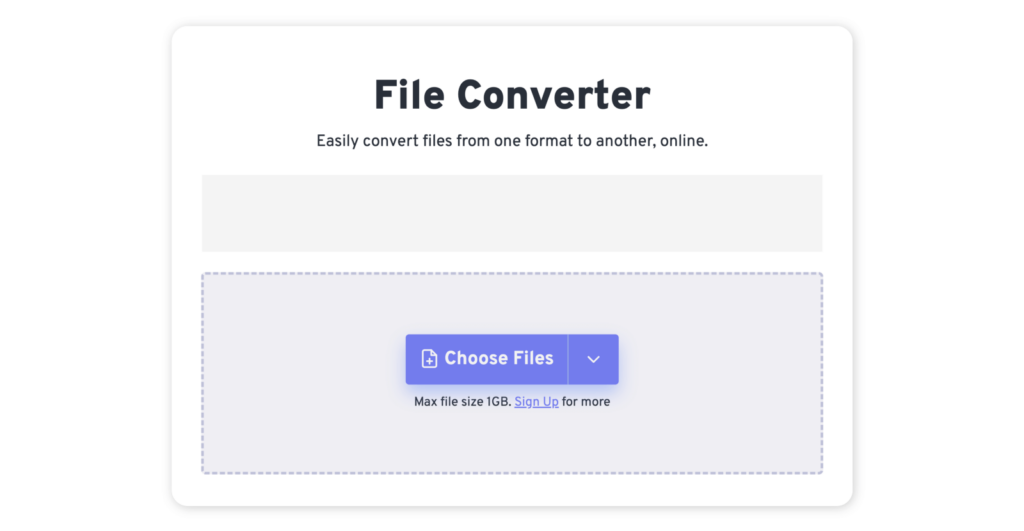 3. Change the file extension
This third method is perfect if you use an Android or a desktop. It involves changing the file extension at the end of the file from a video to an audio extension. This essentially converts the format of the file from video to audio.
Don't worry if this seems a little too techy for your computer literacy skills; it's actually much easier than it sounds.
Just follow the steps below from your Android.
Download the IG Reel you want to extract audio from by tapping it to add to your story and saving it
Head to the "Files" folder on your smartphone
Press and hold on the video to select it and bring up additional settings
Tap "More" (the icon with three dots)
Select "Rename" from the popup menu
Remove the MP4 extension and replace it with MP3
The audio file will be saved to your Android device
Using a desktop? Follow the step-by-step guide below to save audio files from Instagram to MP3.
Download the IG Reel onto your desktop
Open "Finder" or "File Manager" to locate the video

Right-click on the audio file
Select "Rename" 

Remove the MP4 or MOV file extension and replace it with MP3.

This will convert it into an audio file
The MP3 audio file will be saved on your desktop

4. Use the VlogNow video editor
The fourth and final option is to use the VlogNow or VN Video Editor app on your cell phone. This handy tool allows you to instantly add audio from an IG Reel to your video content.
You'll first need to download the app for iPhone or Android and then follow the step-by-step instructions below.
Download your Reel of choice using one of the methods above
Record your video for your new Reel
Open the VN Video Editor app
Select the + icon in the bottom-right corner of the screen
Tap "New project" to open your camera roll and select your video
Hit "Tap to add music" under the timeline editor
Select "Music" (under the "Insert" popup)
Tap the "My Music" tab
Select "Extract from Video"
Choose the IG Reel you want to download sound from
Add it to an album and open the album
Tap "Use" (next to the imported file)
Save your new video!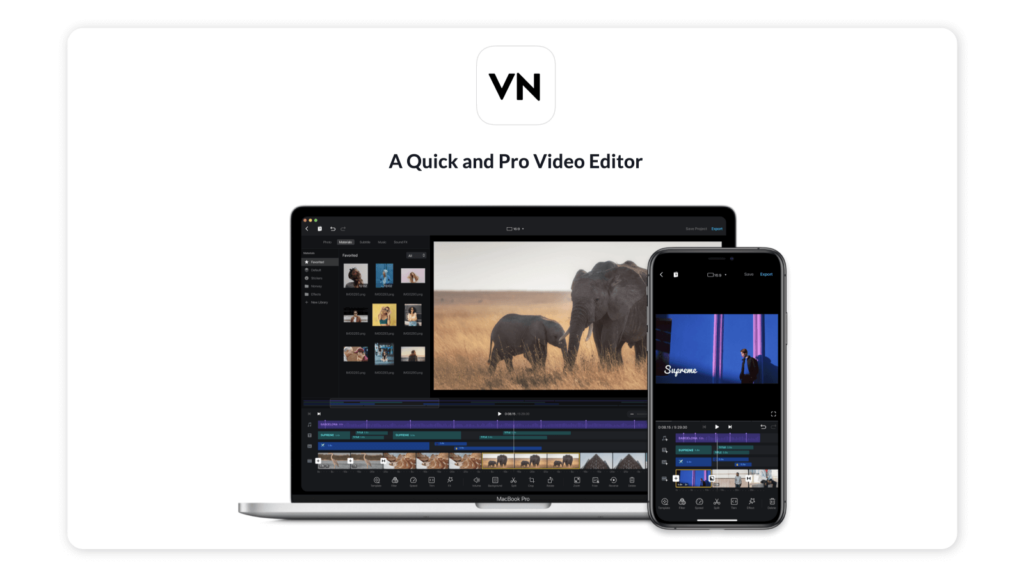 How to save Instagram Reels audio to use later
If you plan to reuse audio you like on Instagram, you may not need to download it at all. The other alternative is to save the IG Reels audio within the app and apply it to your latest Reel from there. Not only is it much quicker, but it saves precious storage space on your devices too.
Follow the steps below to save Insta Reels audio clips for later.
Step #1:
Find the audio you want to reuse in your next video. We chose this hilarious jungle sounds clip that Asics recently used.
Step #2:
Tap the audio name (found under the username of the poster or at the bottom of the screen)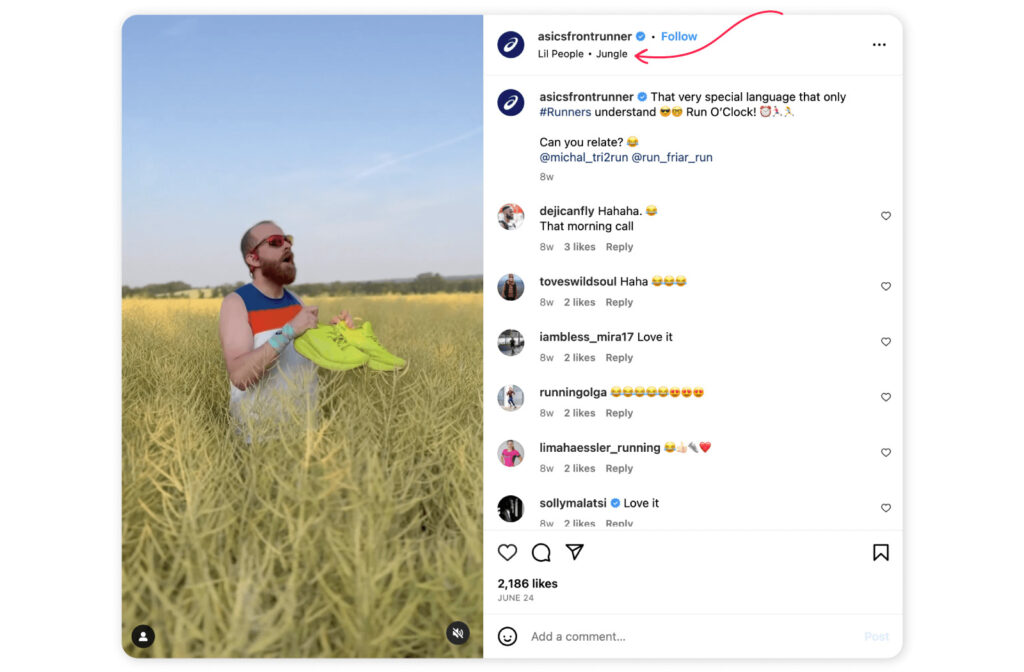 Then, select "Save icon" in the top right corner (the icon looks like a bookmark). You'll know you successfully saved the audio when the bookmark icon turns black.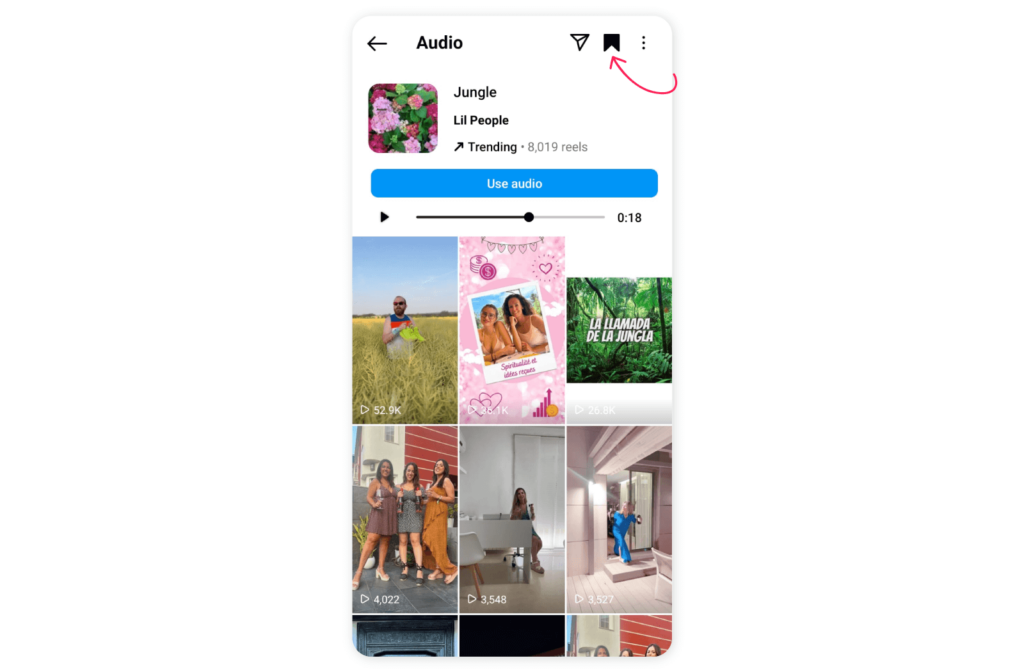 If you have your video ready to record (or post), you can also simply tap the "Use audio" button. But, saving it for later means you can easily find it if you want to use it again.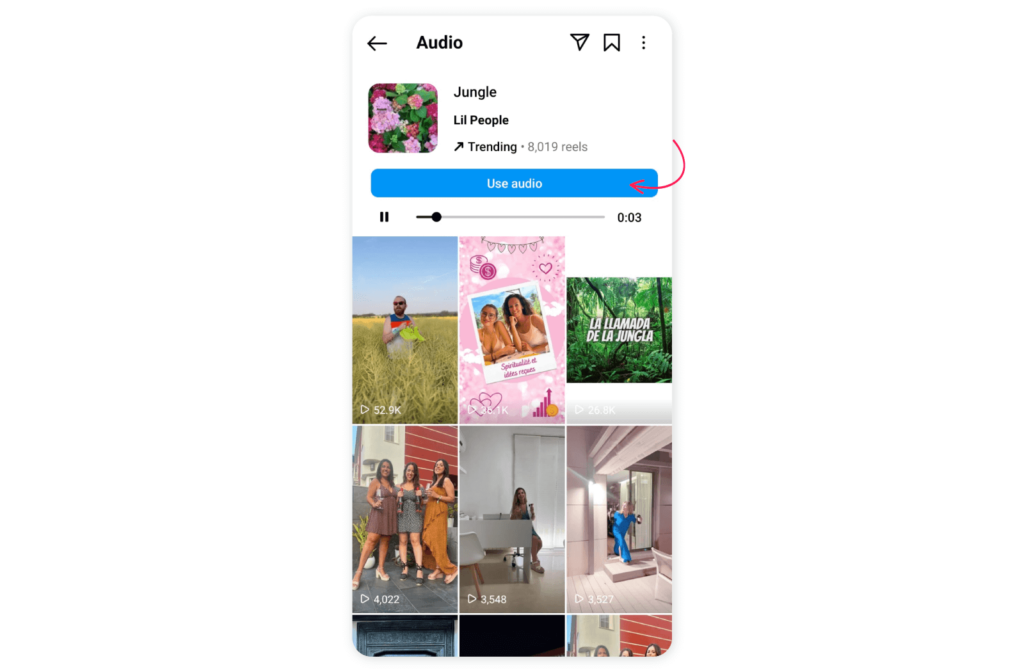 Step #3:
Head to your Saved folder on Instagram by tapping your profile picture and selecting the hamburger menu (three parallel lines in the right-hand corner)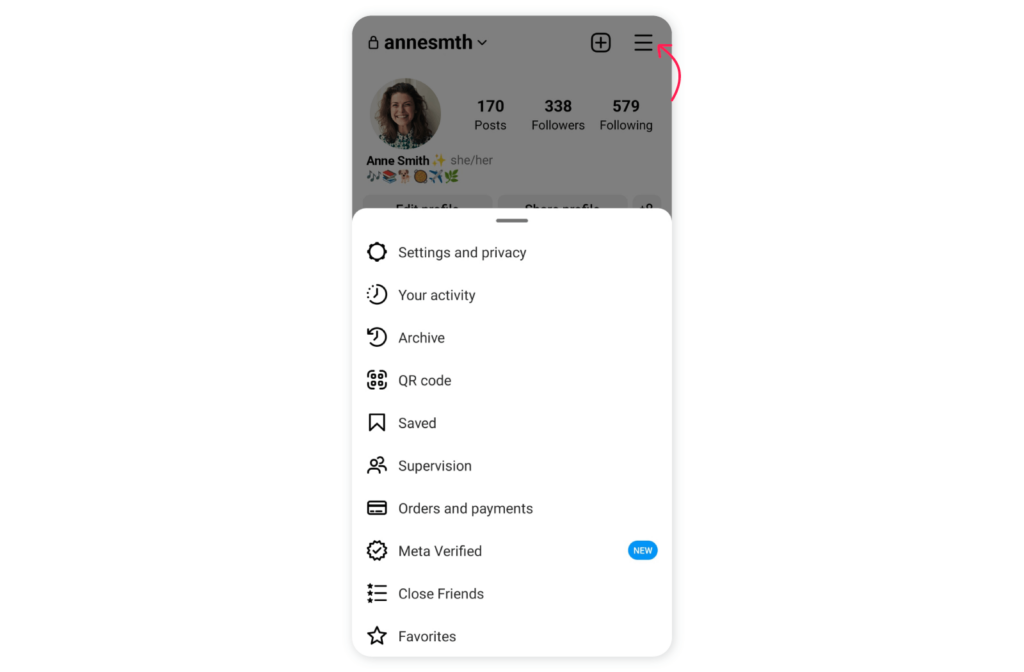 Next, tap Saved to access your collection of saved posts, reels, and audio.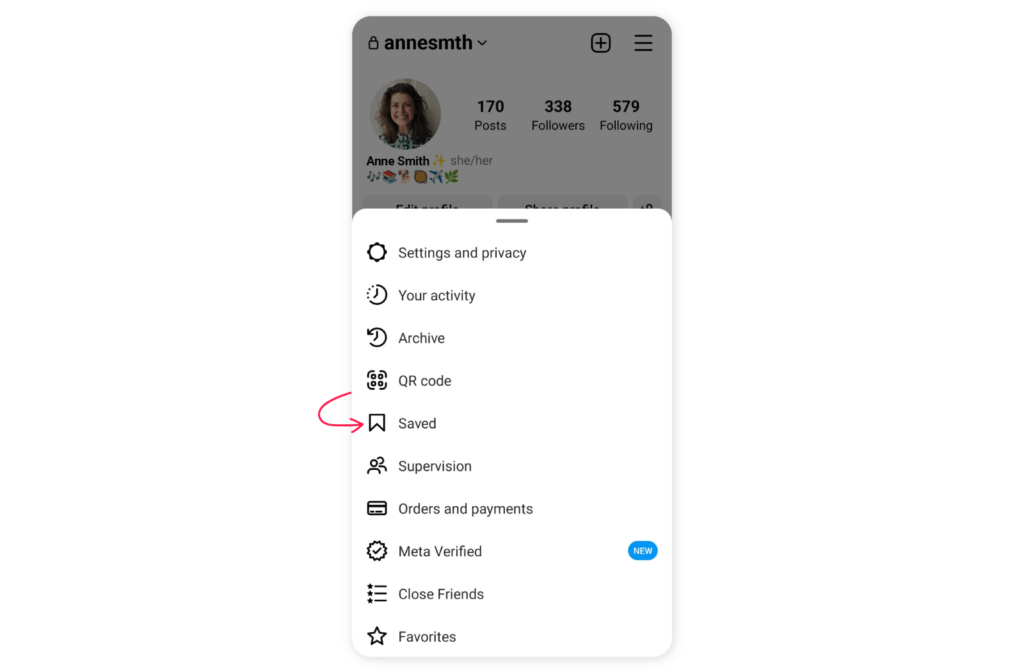 You'll find a folder named "All Posts" and a separate tab labeled "Audio".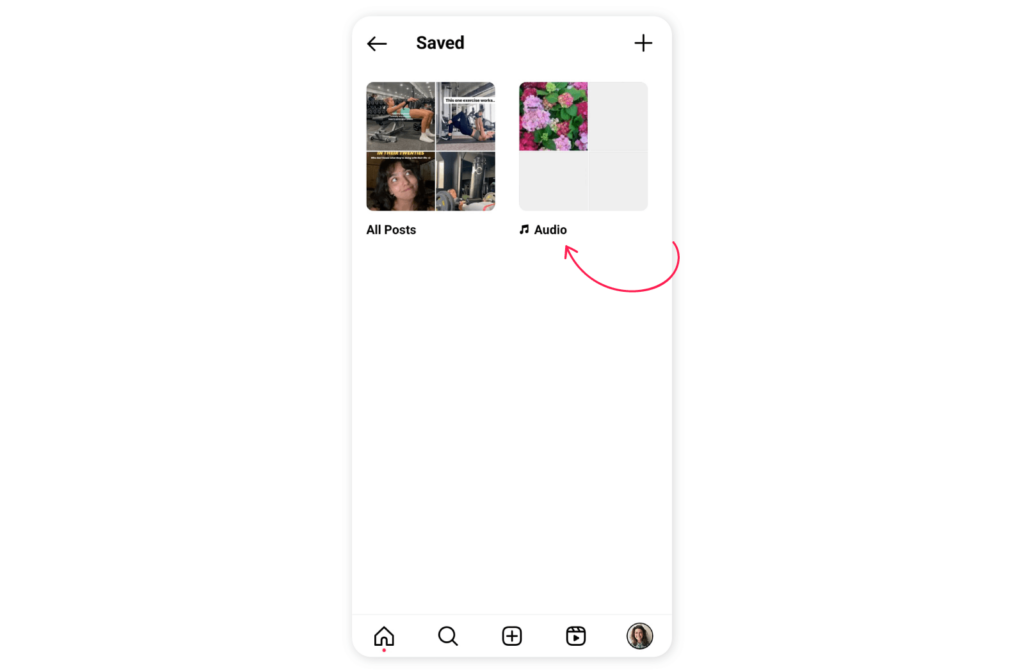 Step #4
Click the audio tab to see all your saved clips and tap on a file to open it up.
Then, when you're ready to create your video, simply tap "Use audio."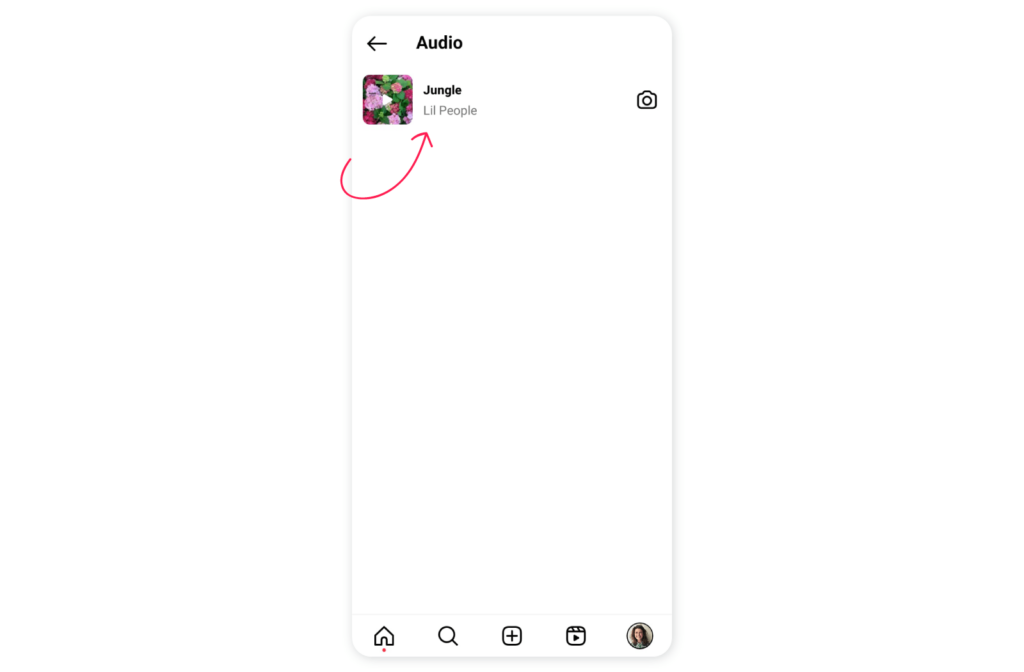 This method is a handy hack when you're coming up with ideas for your Insta Reels strategy and want inspiration. Essentially, you can create a mood board of audio files you want to use for future content.
FAQs
We answer all your burning questions about Instagram audio downloads in 2023.
1. Can you download audio from Instagram Reels?
Yes, it's possible to download or save audio clips from IG reels. However, the Instagram app doesn't currently support this. As such, users will need to use a third-party downloader to save the audio to their devices.
2. Is it legal to download audio from Instagram?
In some cases, downloading audio from IG Reels could infringe on copyright laws. Instagram's terms of use restrict users from downloading or using content without the original creator's permission. Plus, some audio clips may be protected by copyright laws.
That said, since Instagram allows users to share or save content, saving and sharing audio via the platform is totally fine.
If you're not sure whether you can download a certain audio clip, it's best to ask the content creator for permission before downloading and using their content.
3. Is it possible to download audio from a private Instagram account?
No, audio downloaders will only work for clips posted on public Instagram profiles. This means you can't download sounds from a private profile on the app.
Key takeaways
Using trending audio files from popular IG Reels is a surefire way for brands to go viral and grow their presence on the platform. With these four methods, your business can leverage audio to create entertaining and high-converting content for Instagram and beyond.
Once you've made your new Reels, don't forget to measure the impact of your Insta Reels strategy using a social media management tool.
Streamline your social team's workload with Sociality.io. With a range of modules, you can schedule and publish posts directly to Instagram, track engagement, monitor performance, and maintain a consistent brand identity across your socials. Grab a free trial today!