National Boyfriend Day: When is it and how to celebrate
Want to show love and appreciation for a special person in life? What's a better way than celebrating a day dedicated to them—National Boyfriend Day! Celebrated across the globe in the month of October, National BF Day can also be an opportunity for businesses to ramp up their social media pages and increase engagement.
Know more about boyfriend's day and how to celebrate it. 
Social Media News in a Nutshell
Get the latest social media news, insights, and marketing tips in your inbox once a week.
What is National Boyfriend Day?
National Boyfriend Day is celebrated in October every year. This day lets you take notice of the person who holds a special place in your heart and showcase how much your boyfriend means to you.
When is National Boyfriend Day?
National Boyfriend Day is celebrated on October 3.
You may also celebrate the love for your girlfriend on National Girlfriend Day which falls on August 1 every year.
History of National Boyfriend Day
Although there is no official information on how this day was initiated, it all started with the internet in 2014. Some internet users created this phenomenon around that time. The initial reference to Boyfriend Day dates back to October 4, 2014, and it was by March 2016, that the day gained popularity with 46,000+ tweets.
5 Ways to celebrate National Boyfriend Day
Looking for ideas to make National BF Day special for him. There are a number of ways to make this day memorable. Here are some ways to get you started.
1. Plan a special date
Move beyond your normal dates and plan a special date so that you both can enjoy and cherish it. You can treat him with a splendid dinner, recreate your first moments (first movie, first vacation, first drive, etc.), take him to a concert or performance, or plan a nature hike. The options are unlimited when it comes to creating life-long memories.
2. Cook for him or cook together 
If you both are eating out too many times, then maybe it's time to don an apron. You can try your hand at cooking and plan a nice candle-lit dinner or even cook a romantic meal together. You can pick your favorite dish or even attend a cooking class together.
3. Get a gift 
Now, this may sound a bit obvious but you cannot go wrong with buying him a thing that he loves. You can also customize your gift to give a more personal touch.
4. Write him a letter 
A letter is like a time capsule. So, pick up your pen and write a heartfelt letter on this special day that he can go back to and remember your love for him. Show your love and appreciation by sharing your honest feelings and thoughts.
5. Plan a shared experience 
You can also go for shared experiences such as a couple's massage. With such relaxing activities, you both can let go of everyday stress.
Social media post ideas for businesses on boyfriend's day
You can also utilize National Boyfriend Day as a unique opportunity to connect with your audience through social media platforms.
Here's what you can do with your social media posts.
1. Launch limited-period offers or discounts 
You can run special discounts or offers for boyfriends through social media posts. This way you can not only get your existing customers interested but also attract new ones.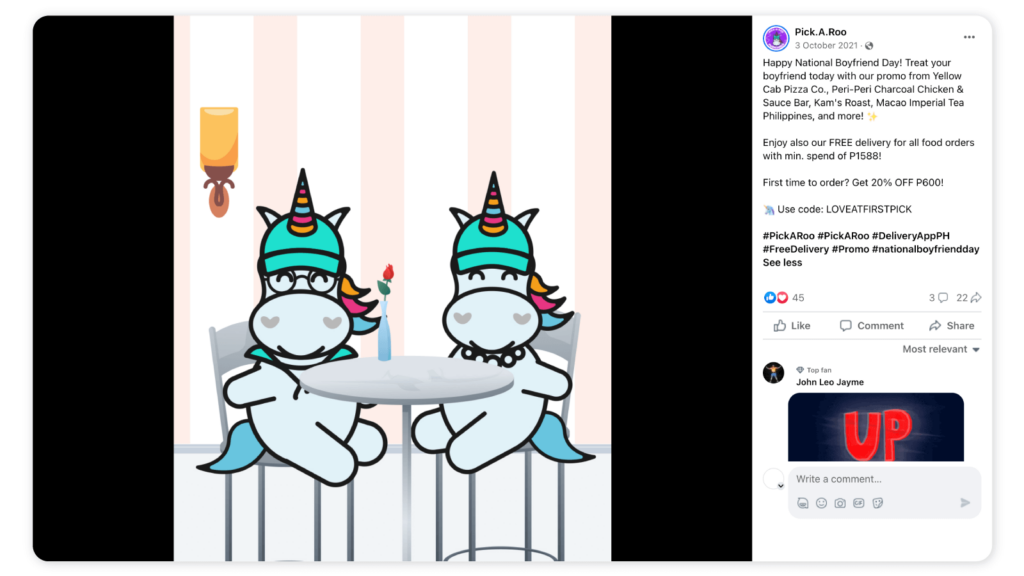 2. Use #NationalBoyfriendDay for your campaigns
You can start campaigns with day-specific hashtags to increase visibility. You can also encourage your followers to use branded or non-branded hashtags (#HappyNationalBoyfriendDay) when posting about their boyfriends. You can also plan giveaways or lucky draws for followers who post using your hashtag. 
3. Organize a photo contest 
You can also organize a photo contest to increase engagement on this day. You can ask them to share appreciation photos or couple photos, and give away your product or a reward to the winners. In this campaign, you can make use of branded hashtags.
4. Share photos of your products with customers 
If you are into the segment that caters to men or boyfriends, then you can use this day to flaunt your products being used by your customers. Make sure to tag your customers as user-generated content can give a more humane face to your brand.
Get on top of your social media holidays with Sociality.io
Our team has compiled a complete calendar of social media holidays in 2023 to help you proactively plan your social media marketing activities.  
Additionally, you can easily manage your social media tasks such as social listening, publishing, analytics, competitor analysis, and much more easily with the one-stop social media management tool Sociality.io. Do check out our modules to ace your marketing strategy!