Photo dump meaning: Inside the trend dominating Instagram
Anyone who has been on social media in 2023 has likely seen one trend popping up on their feeds time and time again: the photo dump. Photo dumps have risen to prominence over the last couple of years, particularly on Instagram – and they seem to be here to stay. These haphazard photo collections have been gracing the feeds of individuals and businesses alike, making it a key trend for all social media marketers to monitor.
In this guide, we outline the most important details about photo dumps, including the photo dump meaning (in other words, what they are) and how they became so popular. We also offer some insights as to why you should use them for your own brand and how you can integrate them seamlessly into your feed.
Social Media News in a Nutshell
Get the latest social media news, insights, and marketing tips in your inbox once a week.
Photo dump meaning: What is a photo dump?
A photo dump meaning is effectively a carousel post of various images that often incorporate a form of storytelling (i.e. the images depict a particular event, period, or theme).
However, photo dumps typically differ from standard carousel posts in that the images are far less curated and staged. Instead, they are often candid and seemingly unrelated, giving them a more genuine feel.
Below, you can see an example of a photo dump in action. Microsoft hopped on the photo dump trend by sharing images of its numerous "Black Panther: Wakanda Forever" screenings held in 2022. The photos in the carousel are candid and varied, some showing the smiling faces of children while others display Microsoft's on-screen messaging to the audience.
At first glance, a user may not necessarily associate these images with the Microsoft brand, but the company cleverly aligns one of its key brand values with that of the film in its caption: inspiring a new generation of dreamers and innovators.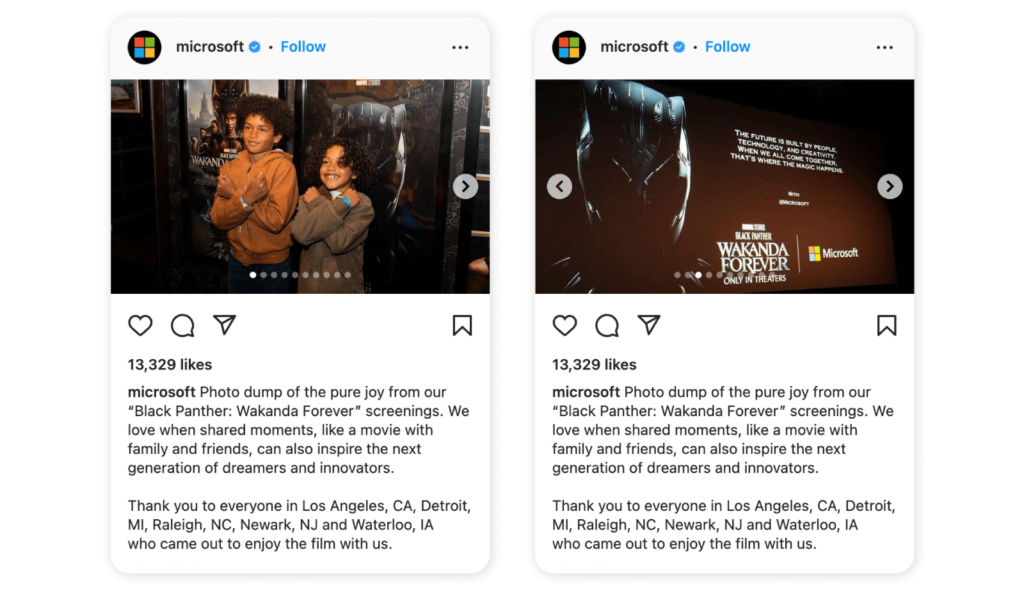 👉 Keep up with Trends – All-in-one dashboard to keep up with multiple mediums with ease.
Why are photo dumps so popular on Instagram?
As of 2023, photo dumps are undeniably popular, with the hashtag having been used across more than 2.5 million posts on Instagram.
The trend started its rise to prominence during the COVID-19 global pandemic and its subsequent lockdowns, during which people were craving real-life connections more than ever. Because photo dumps are typically more informal and unedited, they are incredibly valuable in fostering this sense of relatability. This kind of down-to-earth content is particularly important when targeting younger generations, namely Generation Z, who crave authenticity in their social media usage far more than previous generations.
Emma Chamberlain is an excellent case study in this sense of relatability. Although Emma is an individual, she has built an impressive personal brand in her role as an influencer. Known for being down-to-earth, funny, and often vulnerable, Emma's brand aligns perfectly with the photo dump trend – which is why it's no surprise she's used it many times.
Emma is particularly adept at the photo dump trend as she not only uses it to maintain her authenticity but to cross-promote her other brands as well. For example, in the photo dump post below, you'll notice that she has included an image of a logoed coffee mug from her brand Chamberlain Coffee.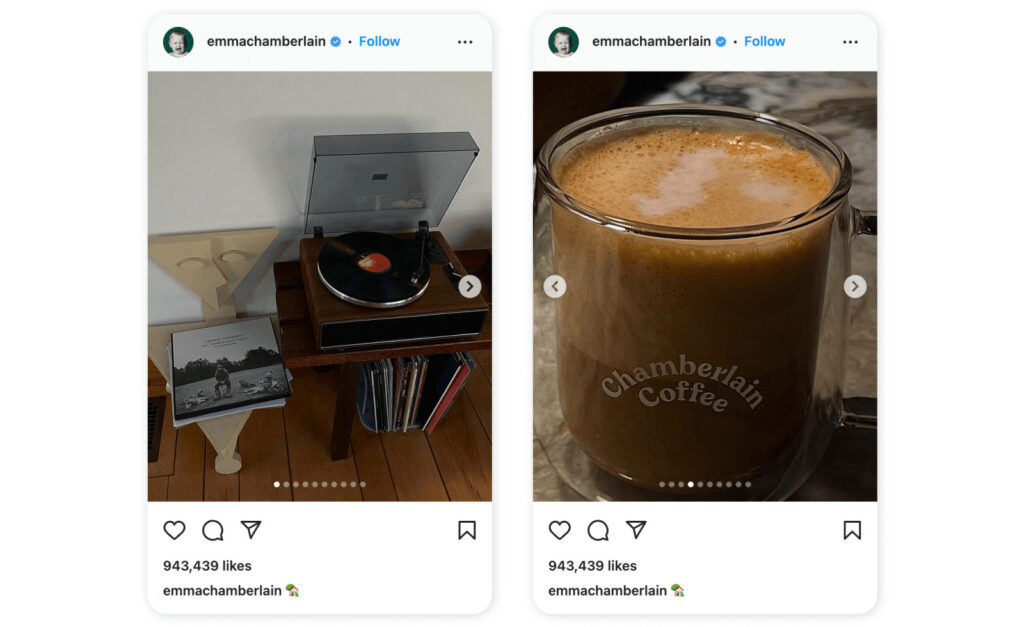 It's also important to note that photo dumps are effective because they incite a sense of nostalgia. As an example, think back to the early days of Facebook, at which time it was the norm for posts to be raw, unfiltered, and unedited. It was common practice to take your digital camera on a night out or a trip and upload every single photo you took during that time – good and bad. Oftentimes, we would then compile these images into a photo album for our friends and loved ones to sift through. The photo dump trend is extremely reminiscent of these practices.
As a result, photo dumps are a fantastic tool for tapping into the power of nostalgia marketing. Capitalizing on the yearning for the "good old days" has become prevalent across the social media landscape – and once again, it became even more noticeable during the pandemic. Appealing to an audience's sense of nostalgia is an excellent way to revive old products, tell your brand's story, and/or create associations of familiarity and comfort with your brand.
Why should you use photo dumps for your brand?
Now that you have a solid understanding of why photo dumps are so popular let's take a look at the marketing-specific rewards you'll reap when you use them yourself.
As we've mentioned, photo dumps are a powerful tool for conveying a sense of relatability and authenticity to your customer base. In turn, they can foster high levels of brand trust and loyalty. By creating relatable content, you'll not only humanize your brand but communicate to customers that you understand their needs, wants, and struggles. More than anything, people want to feel understood – and photo dumps can be a clever tool for conveying that sense of understanding to your audience.
Additionally, photo dumps are fantastic for boosting engagement in various forms (i.e., likes, comments, shares). This is because each image in a photo dump carousel can appear on your followers' home feeds multiple times. The more your content pops up on your followers' feeds, the more opportunities it presents to interact with your content by liking it, commenting on it, or sharing it.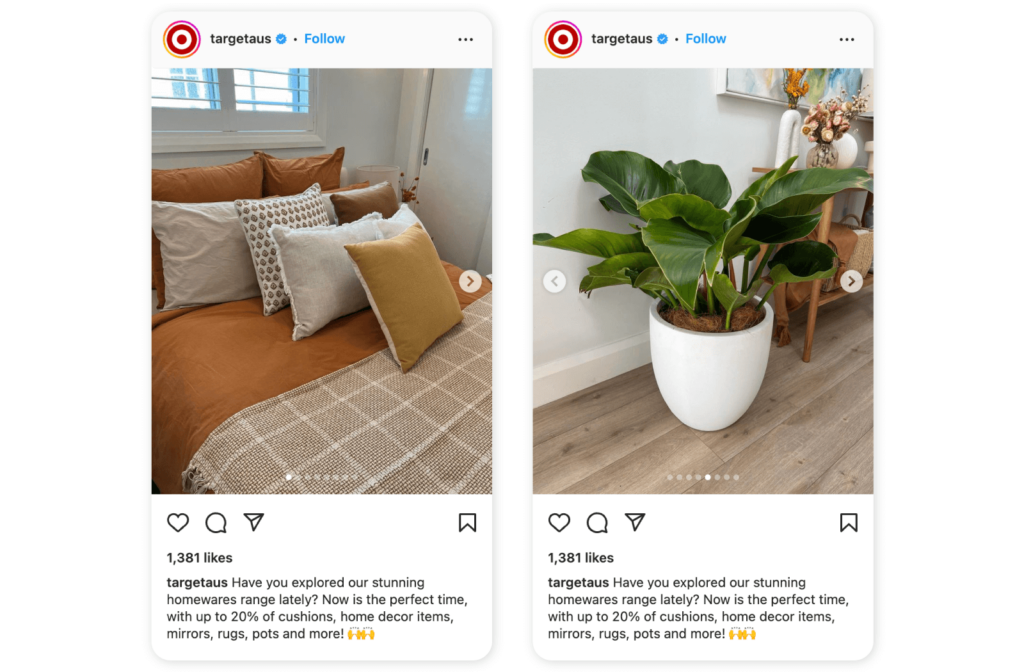 How to hop on the photo dump trend: A step-by-step guide
Below, we outline the most important steps to follow when integrating the photo dump trend into your brand feed.
Step 1: Define your goals
As a starting point, you'll need to decide what your objective is for the photo dump. What are you hoping to capture (i.e. an event, a time period, a sentiment, an annual observance)? Taking this into consideration will help you choose the right content to go in your photo dump.
As an example, Apple recently shared a photo dump in honor of Black History Month. The images depict "Black Bliss", a new campaign showing the beauty of everyday life and the power of joy as a form of resistance.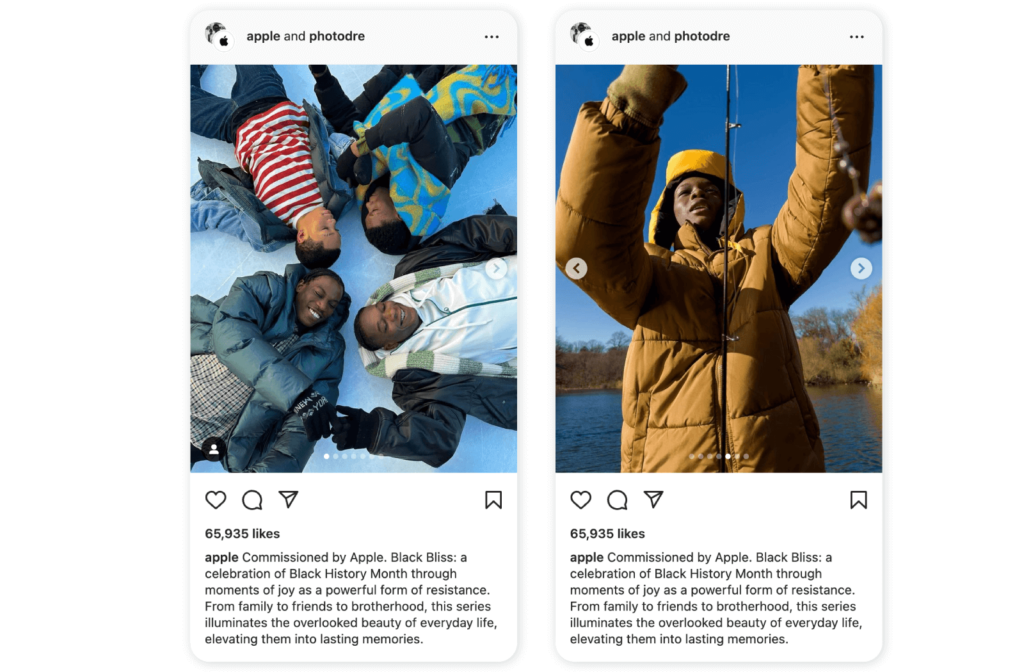 Additionally, don't forget to think about what you are hoping to achieve from a marketing standpoint. Are you striving to gain more followers? Are you looking to boost your engagement rate? Define these goals early so you know exactly what to measure in your analytics later on.
Step 2: Select your media
Next, you'll need to choose the images and/or videos you'd like to include in your photo dump. Although photo dumps may seem haphazard and random, your media should be chosen strategically in line with your objective(s).
As a general rule, it's good practice to use a mix of media where possible (i.e. a combination of photos, videos, GIFs, and any other media you can think of). This will create a diverse carousel that's sure to not only grab the attention of your followers but keep it.
💚 Bonus article: Up-to-date social media image sizes in 2023 + Free Cheat Sheet
Step 3: Curate your media
Once you've selected your media, you'll need to decide how you want to organize it in your post. Specifically, you'll need to choose the order you want the images and videos to appear in.
Typically, it's a great idea to choose a video or GIF as the first piece of media in your post as these are visually dynamic and inherently eye-catching. The first piece of media in your carousel is often your first impression with your followers – and the importance of making a good first impression can't be understated.
By using Sociality.io's Publish module to curate your content, you'll be able to experiment with multiple order variations. Use the drag-and-drop feature to see which images and videos look best in certain positions, and leverage the content preview function to ensure the photo dump will fit seamlessly into your feed.
Step 4: Craft a caption & post
Without question, one of the most important components of a photo dump post is the caption. When crafting your caption, it's important to remember the story you're trying to tell in your post. We recommend something relevant but short and punchy to stay on-trend.
✨ Bonus article: How to write good Instagram captions?
Once you're happy with your post, you can either publish it right away or schedule it to go live during your followers' active times. Scheduling your posts ahead of time is simple and seamless with the help of Sociality.io's Publish module, which also allows you to plan your content over days, weeks, or months using the various calendar views. These social media calendars are also accessible via the Sociality.io mobile app, making it easy to oversee your social presence on the go.
Conclusion
Although it gained widespread recognition in the lockdowns of 2020, the photo dump trend has proven that it's here to stay. Individuals, celebrities, and even some of the world's biggest companies have hopped on the photo dump bandwagon – and if you've stuck with us through the entirety of this explainer, you'll probably be next. By following these simple tips and best practices, you'll have no trouble making the photo dump work for your brand.
Now we have covered what photo dump meaning and how to hop on the photo dump trend. Once you've posted your photo dump via the Sociality.io Publish module, don't forget to track its performance via the Analytics module. With the capacity to generate detailed reports in a matter of minutes, you can spend less time digging for data on your existing photo dumps and more time creating new ones.