What is side marketing by the way?
Side project marketing is a free product or service which is mainly generated to bring awareness and build trust for your initial product by providing a solution for a problem of your potential customers.
"I don't care how much money you have, free stuff is always a good thing." — Queen Latifah
This is the good news; free stuff which is beneficial for your audiences would bring back your money spent on advertisements as a new traffic channel.
Although it needs your extra focus and time for a new project other than your main business, side-products have been proved to be a marketing success. When you have a look at side products of those companies which are nothing but success records; Buffer's side-product Pablo, unsplash.com by Crew and Marketing Grader by Hubspot and many others, it is obvious that side-product-marketing is the new black in business life against your competitors.
In his popular article about side-project-marketing facts, Ali Mese quotes the golden rule of online marketing from Brian Clark to understand how side projects should link to our core business;
Give Something Valuable Away in Order to Sell Something Related.
Ali Mese defines side-product-marketing as a value that is related to the core business that we build on the side without losing our main focus and he highlights the most important point;
Some of those people who like what we create on the side end up willing to learn more about us, so they check out what our core business is about.
Why did we decide to launch a side project marketing?
As Sociality.io team, we are developing — All in one social media management software for more than 3 years and we want to increase our global awareness. Last year, we tried a number of new channels for this purpose and besides these, launching a side marketing project was one of our goals on our marketing roadmap.
At first, we had some ideas but actually we didn't want to waste our time on a side project that probably nobody would be interested in. Also, it would have side effects such as not focusing our energy on the core product. While we were discussing the advantages and disadvantages of launching a side-project, we realized that we have already been collecting our competitors' pricing and features monthly into an excel sheet for the marketing research of our product.
It was a light-bulb moment for us. How about opening this data to users' disposal and so not wasting our time on a side-project? On the other hand, it was risky for our position as it would enable open access to information about all the social media tools on the market by comparing our product with the others. Thus, customers would prefer another tool by using the data that we provide for them as a side-project on our web site.
But we would like to take all the risks because transparency has always been our core assets in the company. In addition, we knew that any start-up should have enough courage to trust its product if they want to be in the game. The side-project — SMTC was born like this.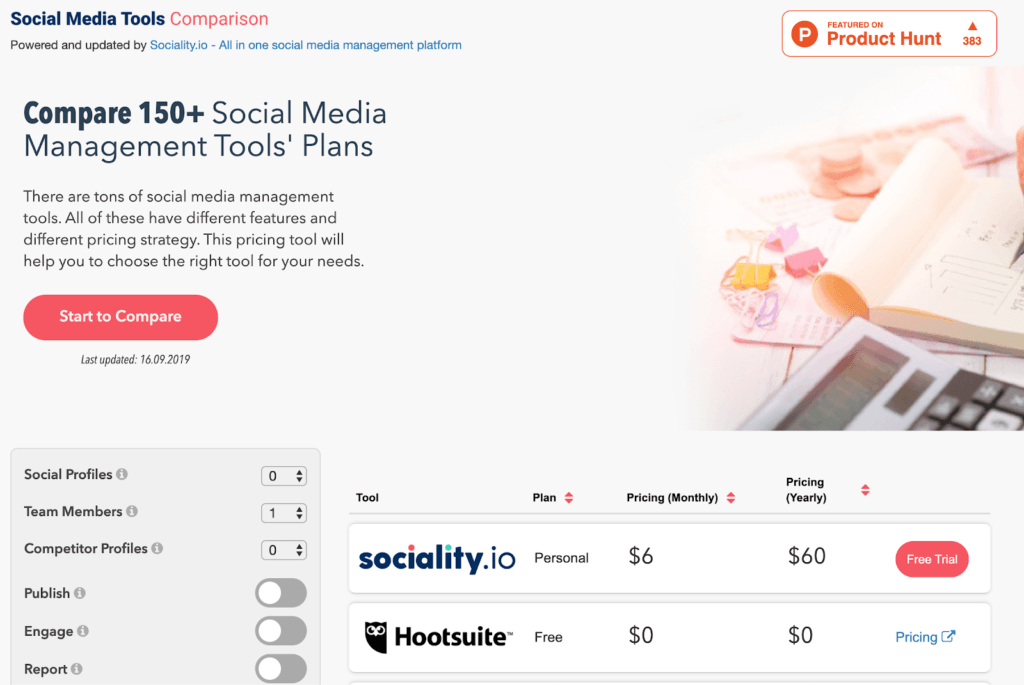 So what happened after launching our side project
Finished day #5 on PH and increase brand awareness
We finished the day number 5 at Product Hunt and were upvoted more than 300. So we could see that the side project hugely helps to increase the brand awareness of Sociality.io. After launching at Product Hunt, our side project was mentioned by some of the best influencers in our market, social media blogs and newsletters.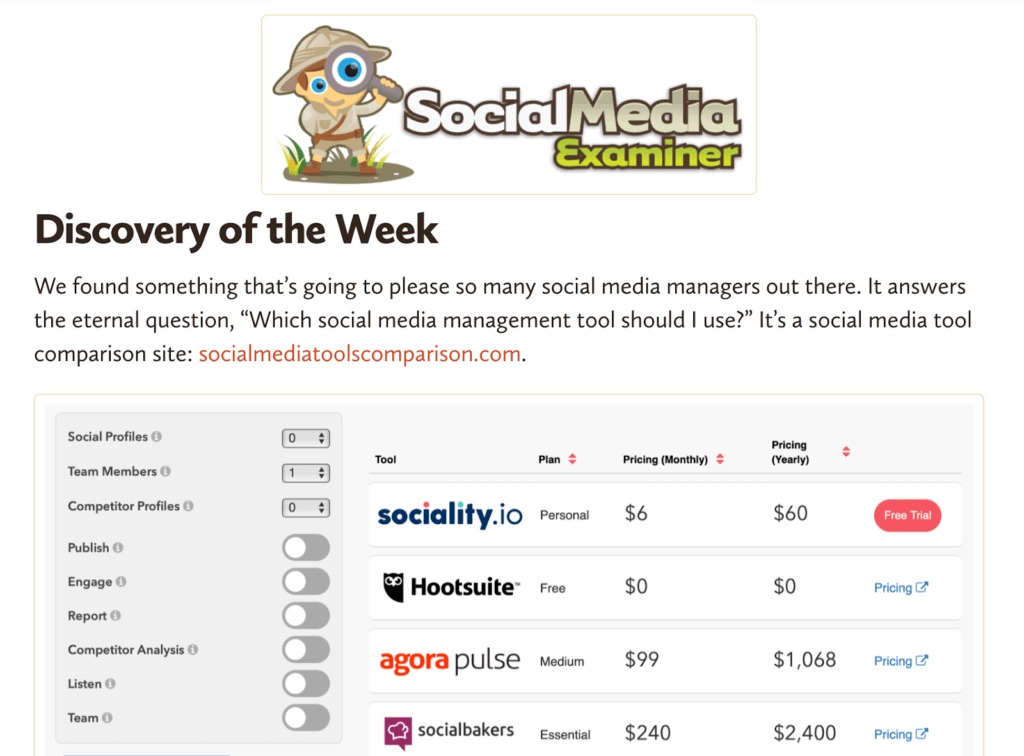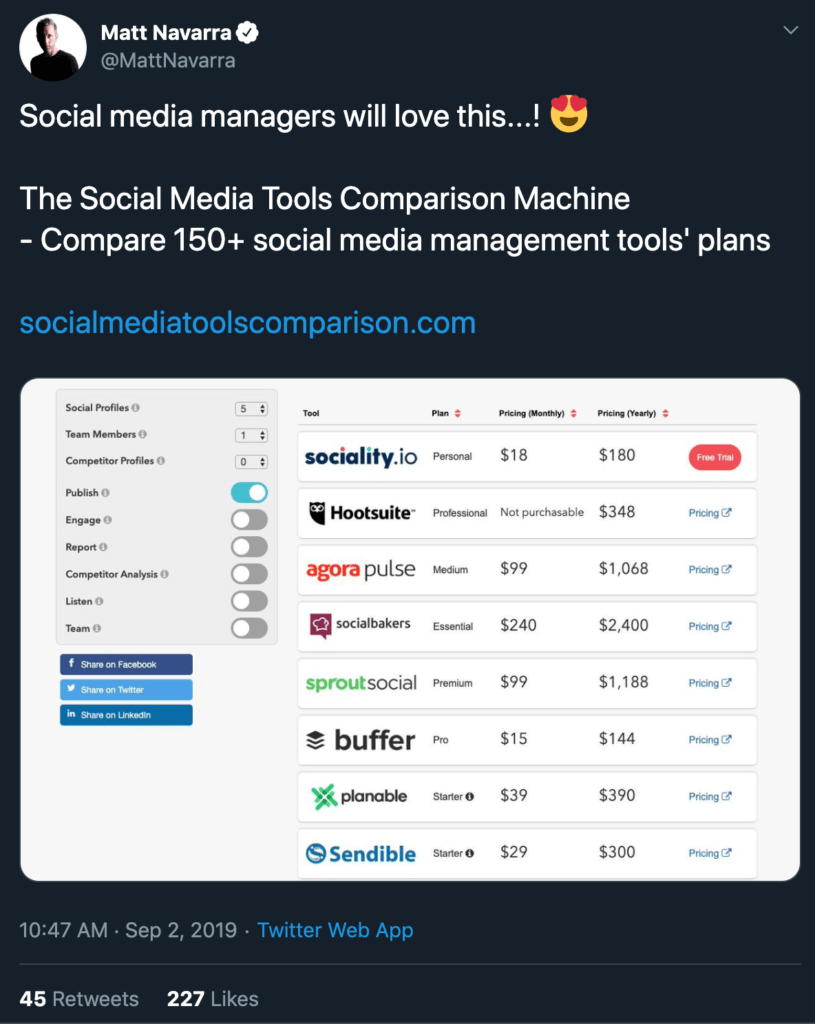 Visited by more than 6.000+ Users in the first month
In the first month, our side project was visited by more than 6.000 users and got traffic from all around the globe.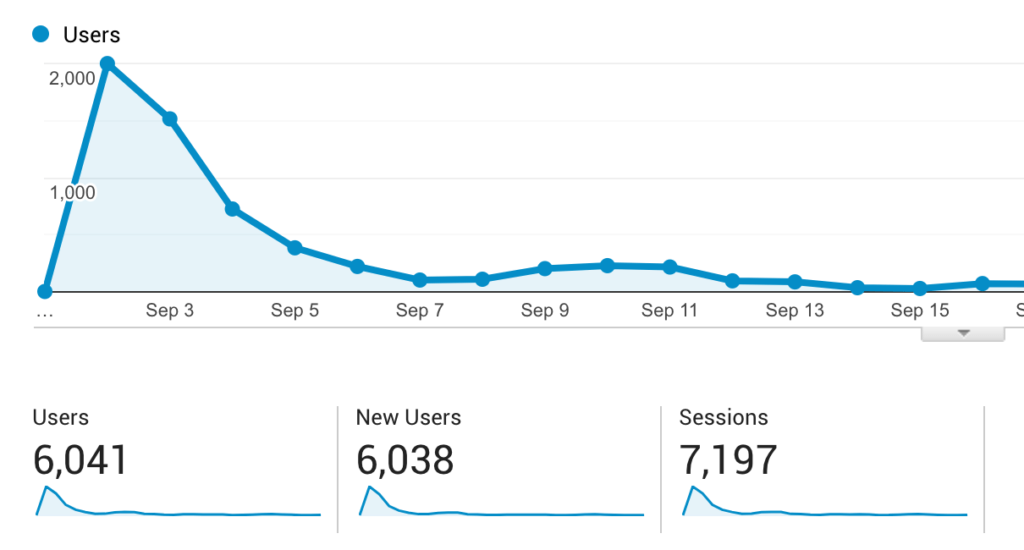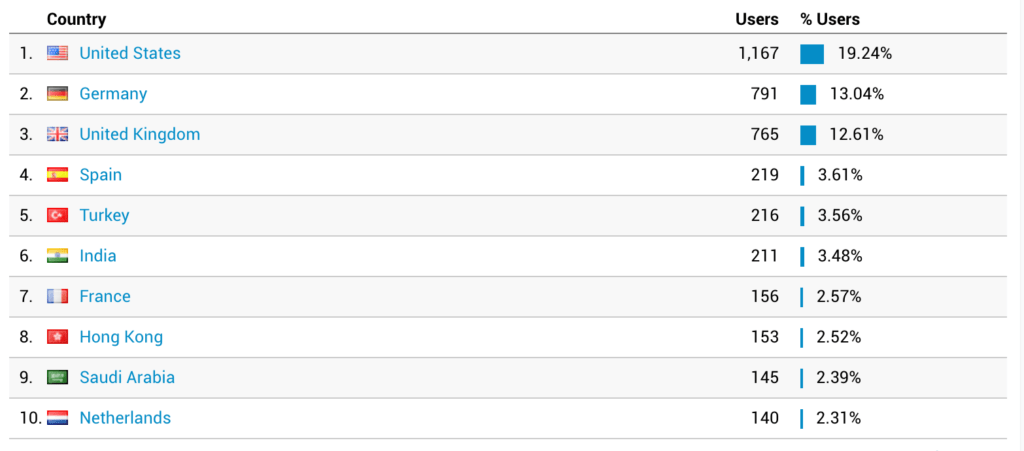 Creating our own lead generation channel
400 of the users visited our main product- Sociality.io and 21 of them registered to our main product. They are the best-fitted customer persona that we are looking for. The bounce rate of these users was low and the conversion rate was double the average.
We are also getting steady new leads from the side project.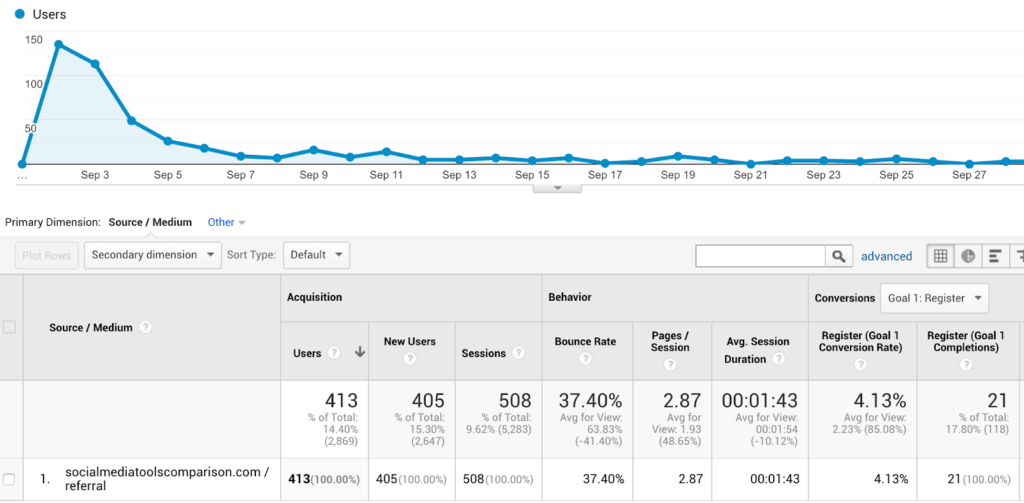 These numbers were good enough for a company of our size. We focused on improving social media management for teams and launching our first side marketing campaign was a real surprise and of course a success for us. The brand awareness and the quality of the traffic that we got from the side project wasn't something that we could buy out.
Opening the Launch Kit Template for Side Project Marketing
So we decided to open the recipe that we used in launching the side marketing campaign. We prepared a Trello Board so you can easily copy and start using it.
Trello Board: Side Project PH Launch Kit
We also inserted the real materials that we used in our campaign so it's easy to understand the main concept and prepare your own campaign around your own needs.
Here are the details of the campaign.
Before Launch
Prepare the launch materials
Prepare the text & visual materials for Product Hunt page and test them at https://previewhunt.com
You need to prepare the name, tag line, link, thumbnail, images, video (if any) and a charming animated GIF 😊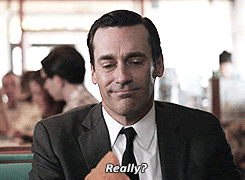 Find a reputable hunter
Find a reputable hunter who can launch your product.
You can contact Chris Messina who invented the Hashtag (https://chrismessina.me/). He prepared a very smooth process for hunting products.
You can fill this form for launching on Product Hunt: https://airtable.com/shrrBYXMoNIzAXex6
Prepare the first comment
Prepare the first comment you will use on your Product Hunt launch page.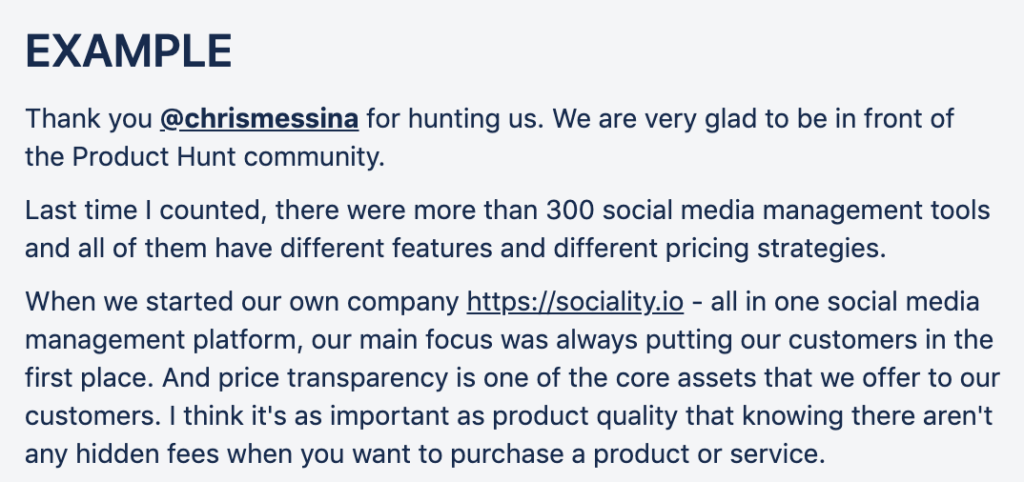 Check out launching on Product Hunt articles
Check out articles launching at Product Hunt. You can find good tips and actionable advice:
Publish a post in your blog
Prepare and publish a blog post about the product that you're launching with a charming title.
You can check out our blog post we published before launching our side marketing campaign: https://sociality.io/blog/compare-150-social-media-management-tools-plans/
Launch Day
Add the Product Hunt +1 button
Add the PH +1 button to your website.

Send messages to your connections
Send personal messages/emails to the product users, friends, colleagues, and the professional connections and ask help from them for spreading the launch at social media and their closed groups as well. Encourage them to actively be in the conversation at Product Hunt page.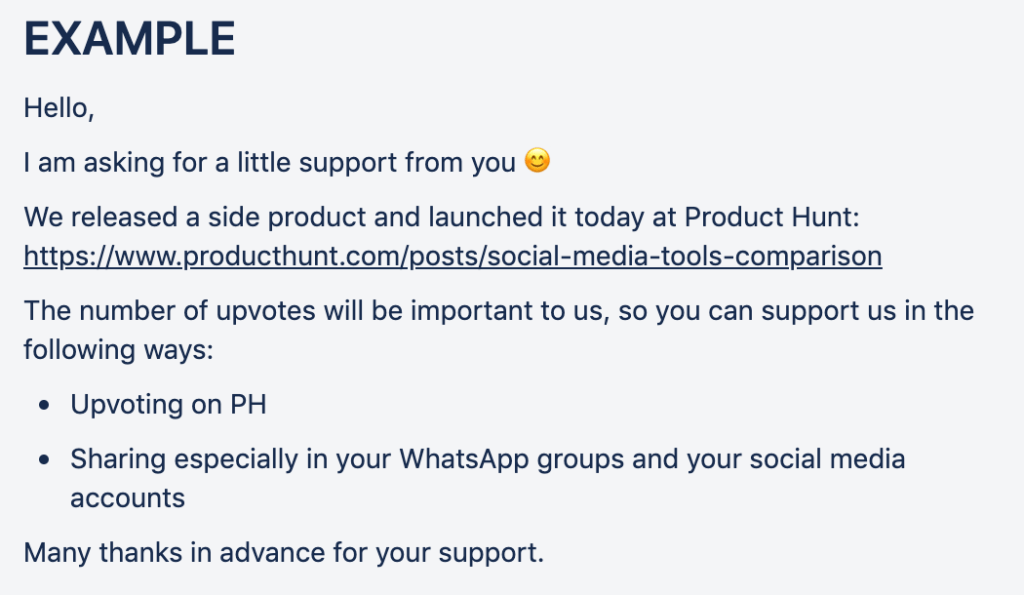 Publish social media posts
Publish social media posts through your company's social networks and also your personal accounts.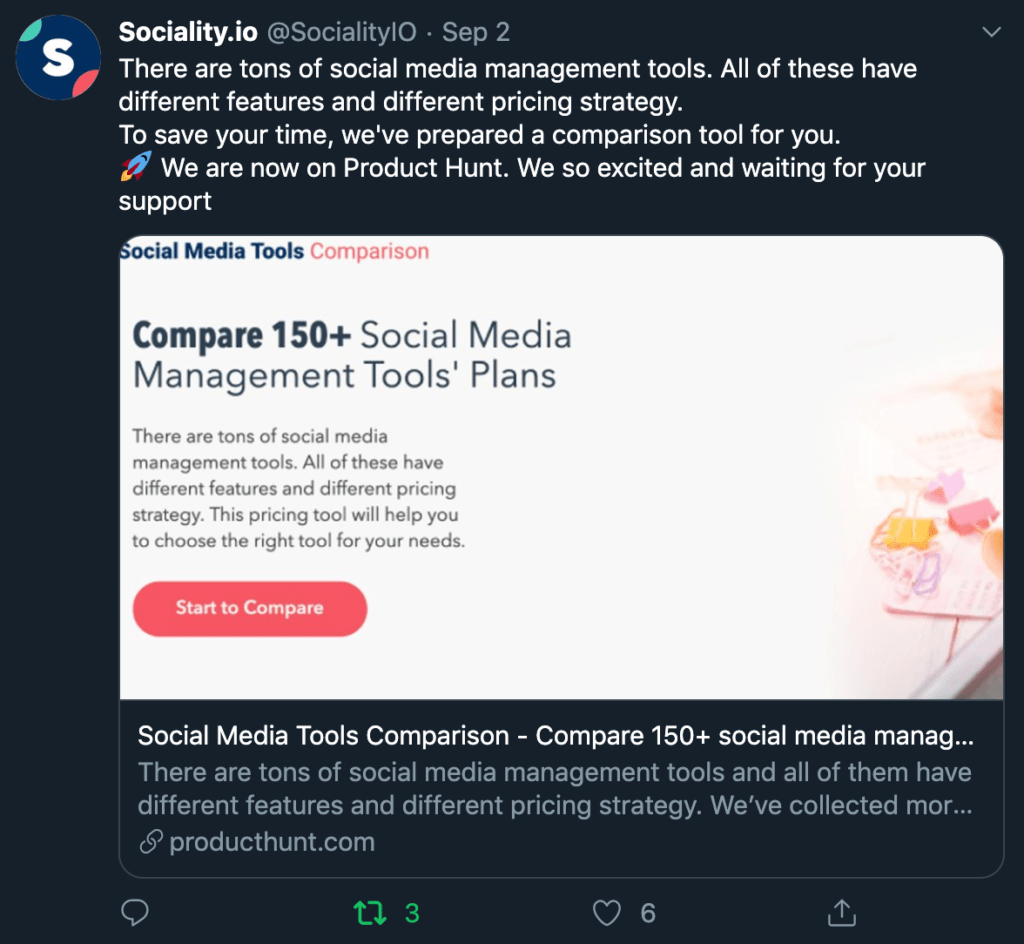 Publish on the groups
Publish posts on Facebook, Slack and LinkedIn groups that you are actively participating in the conversations and ask for help for the Product Hunt launch.
Publish articles in the other blogs
Publish the same post that you have already written on Medium, Indie Hackers and some other related mediums.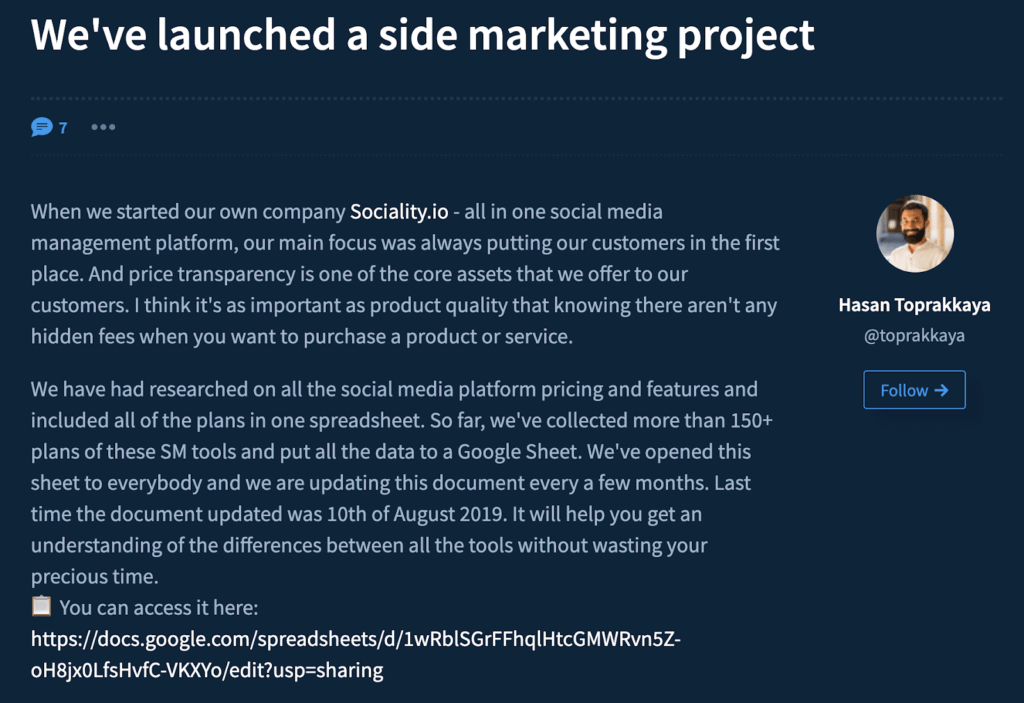 Answer all the comments on Product Hunt
Answer all the comments on PH not only the positive ones. And note all the feedback that you think you can build or implement in the future. In the following weeks, you should come back to PH and answer these comments. It's very important to show people that you are caring for them. It is a long-term investment. Don't waste it.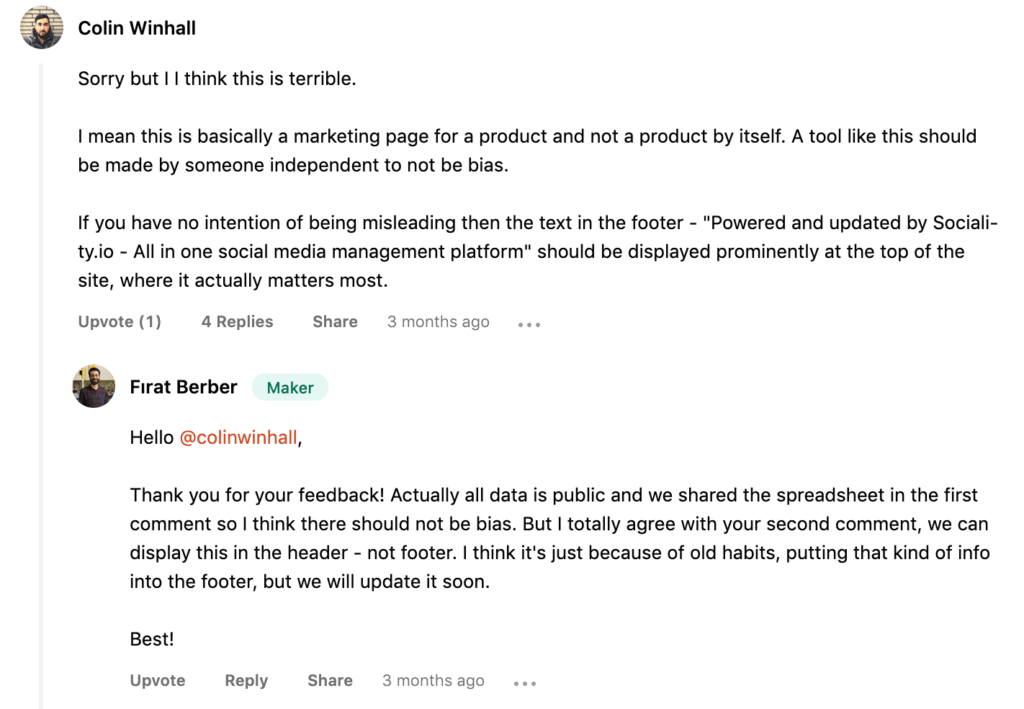 Monitor social media
Monitor social media during the launch and the following days. Be responsive to comments, tweets, and DMs. Reply to all of them as soon as possible and share the best ones in your company's & personal social media networks.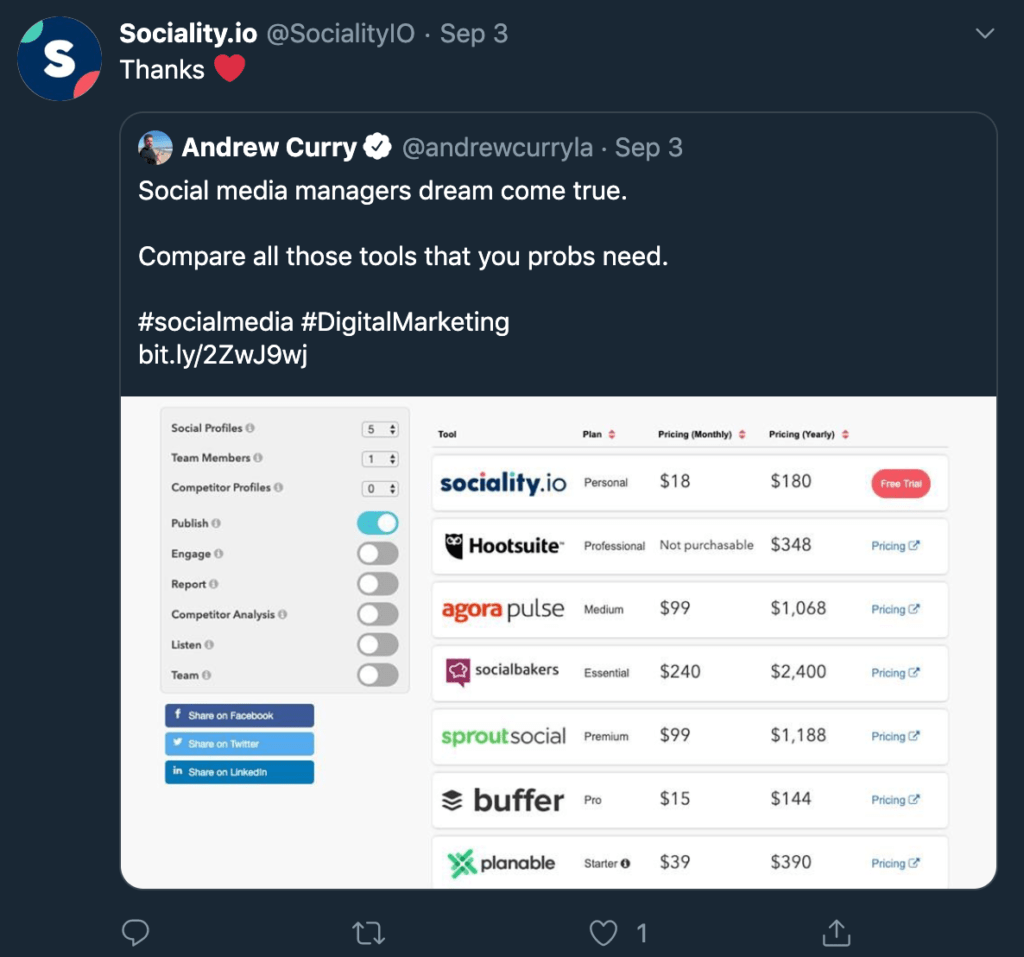 After the Launch
Share your thanks message
A day after, share your thanks message through your personal & company's social media networks to people for supporting you through the launch.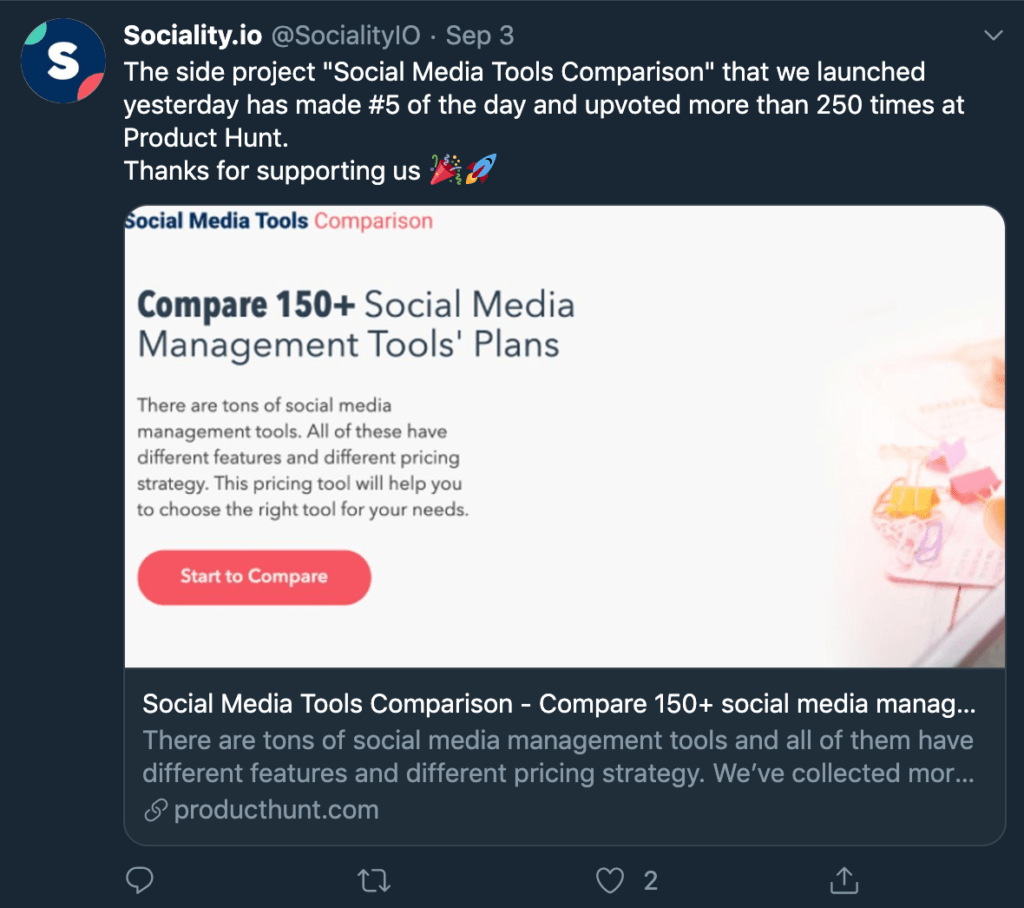 Get press coverage
Select at least 20 startup media outlets and send personalized emails as possible to each of them.
You can check out this page for the press list that is friendly for startups: https://promotehour.com/startup-media-outlets/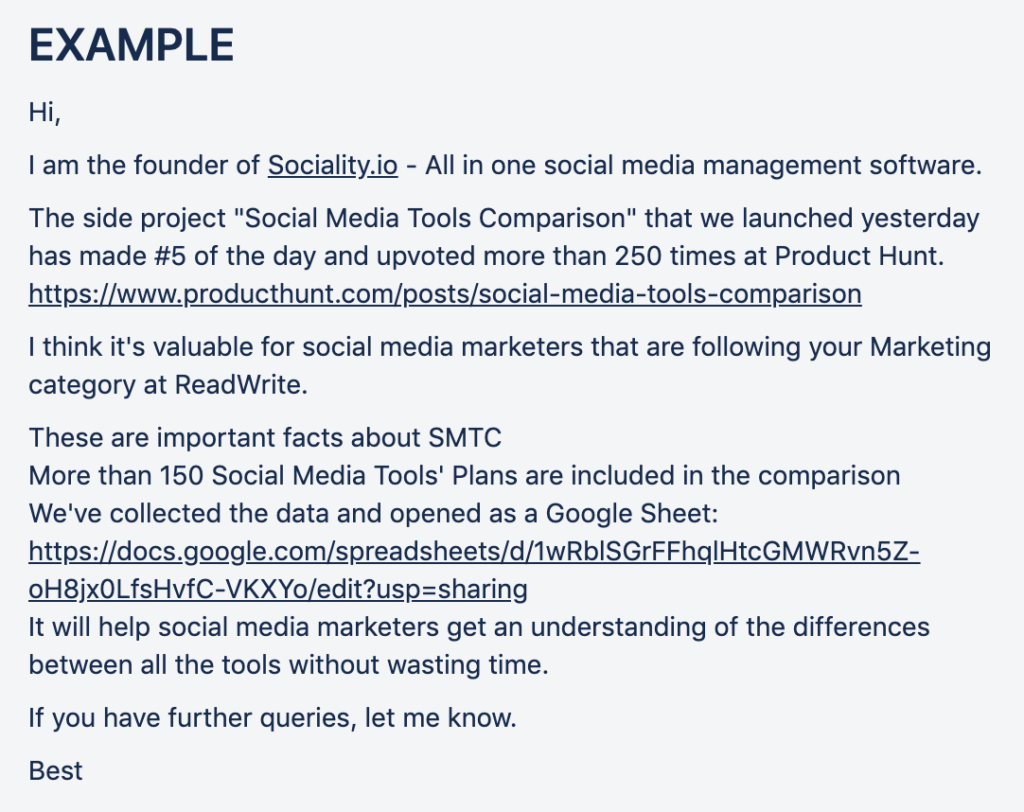 Submit to directories
After a week, submit your product to the other list websites that you can leverage from.
You can check out this page for the list of 100+ directories that you can submit your product: https://www.promotehour.com/startup-directories/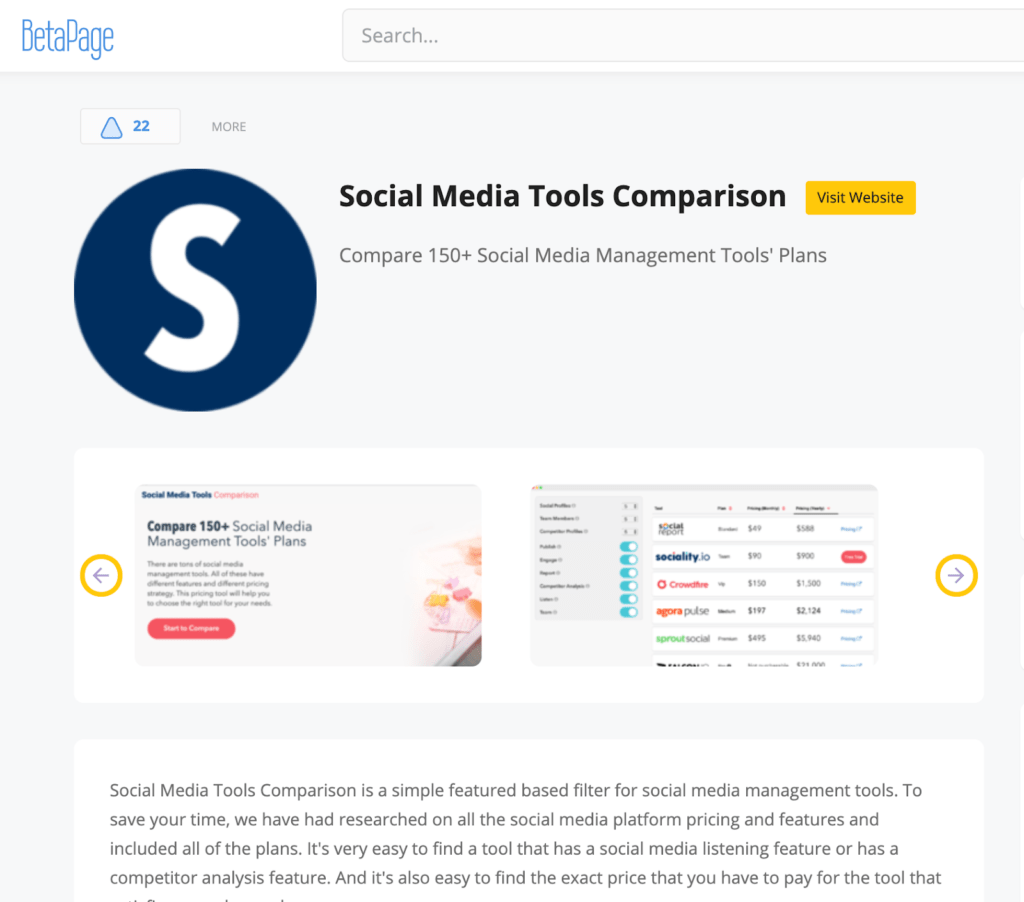 Write a post for the Product Hunt Launch 😊
Giving back to the community about the lessons you learned during the launch is always helpful.
One more thing
Publish your launch kit at PH and start from the "Before Launch" list again. Just kidding 😄Please stop here and focus on the product that you're developing.