"TBT" meaning? The power of Throwback Thursday on social media
We all know how human beings love to dive into nostalgia. Understanding your target audiences' behavior helps to develop the correct social media content strategy. In this article, we'll discuss what "TBT" means, nostalgia-based marketing, and its advantages. We'll also provide some excellent ideas for you to successfully run one of the best social media campaigns.
Social Media News in a Nutshell
Get the latest social media news, insights, and marketing tips in your inbox once a week.
What is TBT?
Abbreviation "TBT" stands for Throwback Thursday. It is a social media phenomenon that assumes people share old pictures of themselves or things on Thursdays to reminisce about the past. Any piece of media content is able to call back to the bygone event or moment and therefore activate people's feelings. Businesses are using the trend to significantly impact the emotional connection between a brand and its audience. Which consequently helps them to reach all the potential customers.
The history behind Throwback Thursday
Let's approach the trend in this article and look back to how it originated. The first usage of "TBT" and how it came to existence is not unknown, but according to TIME, it started with a sneakers blog called Nice Kicks. In 2006 they have been posting (on Thursdays) photos of old basketball footwear. The series was titled "Throwback Thursday."
Then, a guy named Bobbysanders22 brought the term on Instagram and its popularity began to rise.
He used the term to hashtag a photo of Hot Wheels toy cars (February 2011).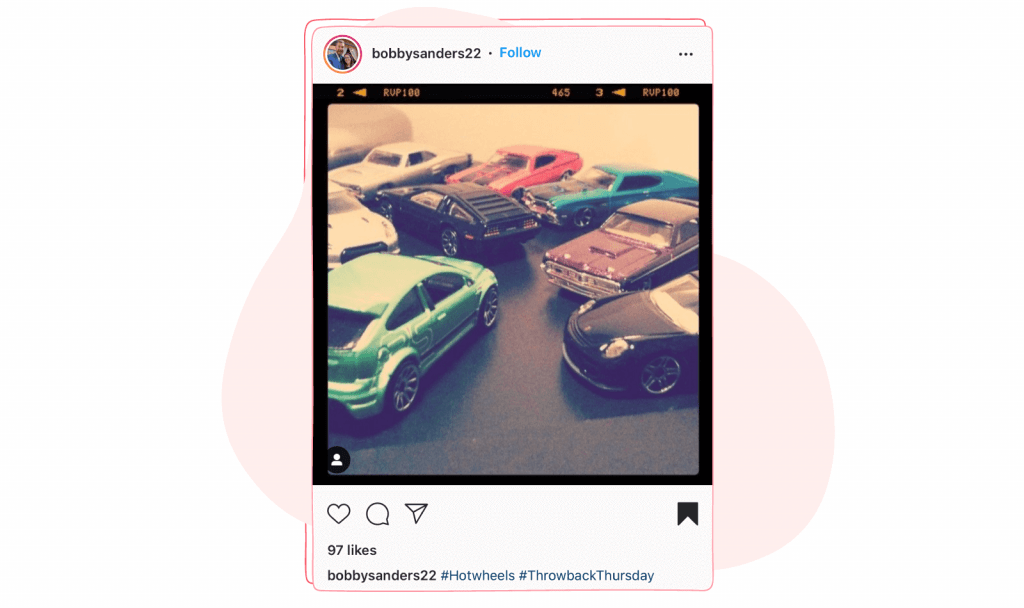 Although the trend was born outside of social media, it gained popularity only once major app Instagram began to force it. In fact, the slogan "TBT" has been used over 500 million times on Instagram.
Reasons to consider using TBT
First and foremost, the hashtag is proven by time. The TBT is consistently trending. Everyone is familiar with it on other social media platforms too.
It can bring you the most crucial assets for social media operations, such as engagement, new audience, and brand awareness. Nostalgia-based marketing can be especially effective with current algorithms on Instagram and Facebook.
Increase engagement
Old footage sparks conversations. Social media specialists incentivize people to elicit nostalgia because it instantly evokes feelings. In consequence, it prepares them to discuss their feelings in comments.
Audience growth
Indeed vintage photos bring so much inspiration. Any reference to memory appeals to the interests of various groups with different backgrounds. Following that, people get inspired to share the content further. Many users tend to follow hashtags, and "TBT" is one of the most favorable. Thereby, when you use the hashtag, it introduces your brand to an entirely new audience.
Brand awareness
TBT allows you to establish a strong business' image by briefing people on where it came from. Throwbacks have storytelling elements, so you can tell a lot about your brands by sharing old photos and videos with descriptions. The tactic presents your business with a well-grounded position. In response, people perceive you as more solid and trustworthy because you give them the foundation to perceive you so.
TBT rules
Throwback Thursday content, as the name suggests, should be shared on Thursdays only. It is a key element of the tactic, so we encourage you to post a picture or video on the relevant week-day.
Oldness
The content has to be old. If your business's birthday dates back to the non-internet era, you can create an excellent campaign covering the brand history and the overall journey. But, if you launched a business just recently or merely don't have old photos, you can still utilize a retrospective approach. For example, you can rebuild some past scenes that used to happen in your industry by using graphic design.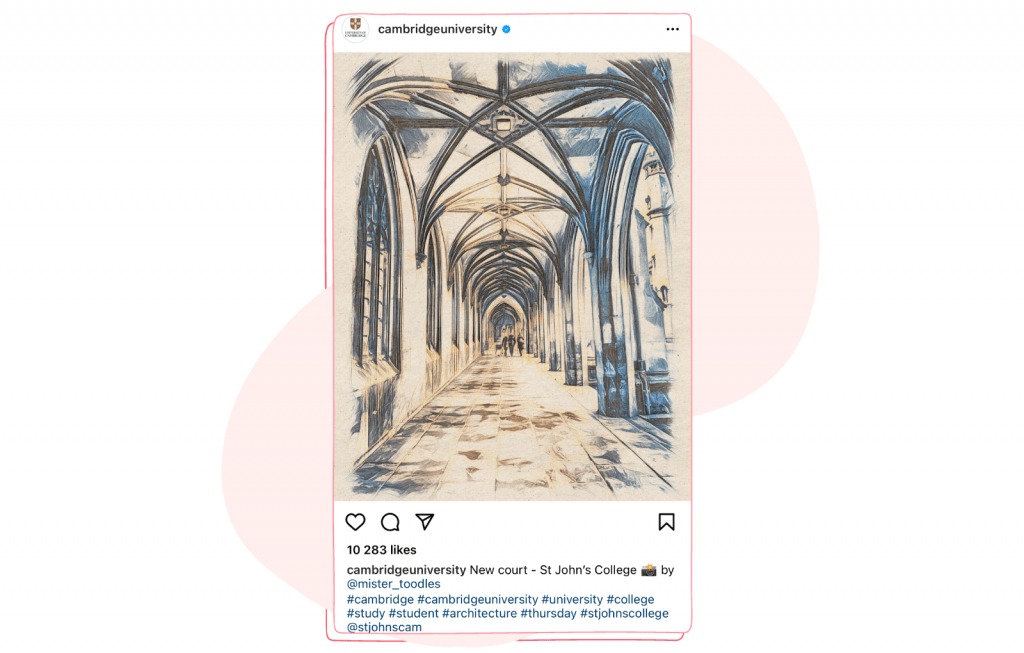 Formats
You can decide on a format that would convey the message to drive engagement. You can choose any format; it can be photos, videos, text, or audio. In fact, any content format can bring a vivid memory.
Frequency
The "TBT" obviously has to appear once a week. And the campaign duration really depends on how much vintage footage you've got or can recreate. You can run a miny campaign or create a series that will last for months.
Hashtags
Remember to put hashtags #TBT, #ThrowbackThursday to ensure your content pop up in the tags section. 
Worth checking 👉 How to use hashtags on Facebook and do they really work?
Related Article: Debunking 6 Instagram hashtags myths social media marketers follow
The central idea of the tactic
Implementing the tactic into your social media strategy aim to build trust among the audience for your new ideas. It makes customers natively associate your company with something they love and have fond memories of. Think properly about the subsequence of the story narration. Keep some mystery and tease your fans with little portions of facts.
TBT checklist
First, come up with key things that represent your business story. To create a post that others want to share, make sure your content fit the criteria outlined below:
Past: Ideally your content should be so old that it's obvious. Aim for an aged content (at least a few years). However, you can stylize visuals as old-fashioned.
Relevance: Make sure your audience can relate their memories with your business.
Curiosity: Include some interesting facts about the past circumstances your industry faced and how you overcame them.
Excitement: Highlight points that have a reference to other nostalgic feelings. It raises a discussion potentiality.
TBT alternatives
There is no strict necessity to stick with Thursdays to run nostalgia-based campaigns. You can expect similar results by choosing "TBT" alternatives. If you want to go a bit niche, consider the following variants:
#MondayMemories
#TakeMeBackTuesday
#WaybackWednesday
#FlashbackFriday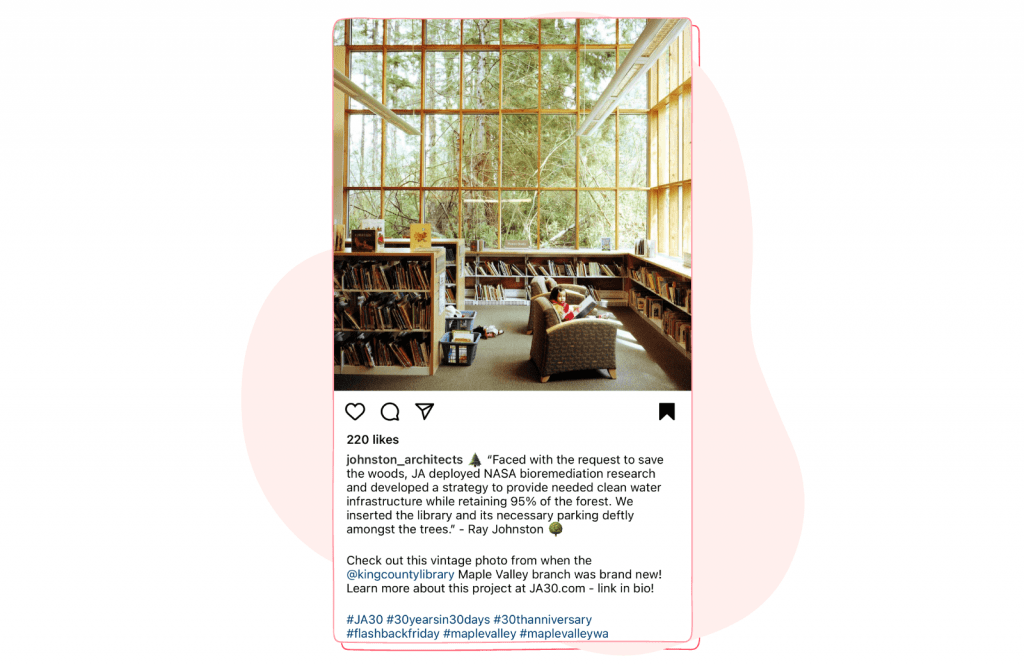 In addition, hashtag #Latergram or #OnThisDay don't attach to a specific week-day. So you can choose your special day to highlight important points in their past.
The #Latergram usually applies to moments that happened just recently.
#OnThisDay is for anniversary occasions.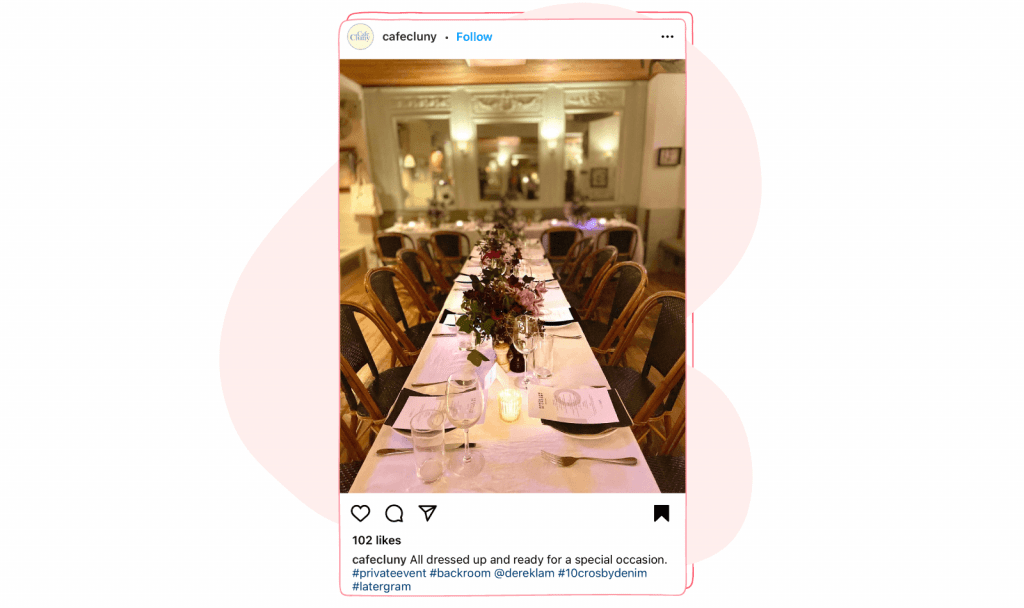 TBT best ideas and examples
Ok, after we've learned the rules and reason to create a TBT campaign, let's explore some of the best TBT ideas with examples that we found on social media.
The staff and customers
The founder, employees, and customers form the basis of any business. While employees appear to be your best advocacy, the customers' experience speaks about your business's trustworthiness. Why not share pictures or videos of them? Post some old shots of the real people who once have committed for your business' prosperity.
Follow Disney's example below; many people meet legendary lyricists, who made their favorite characters sing. What a reason to express sweet feelings and thank Disney for their fun childhood in comments.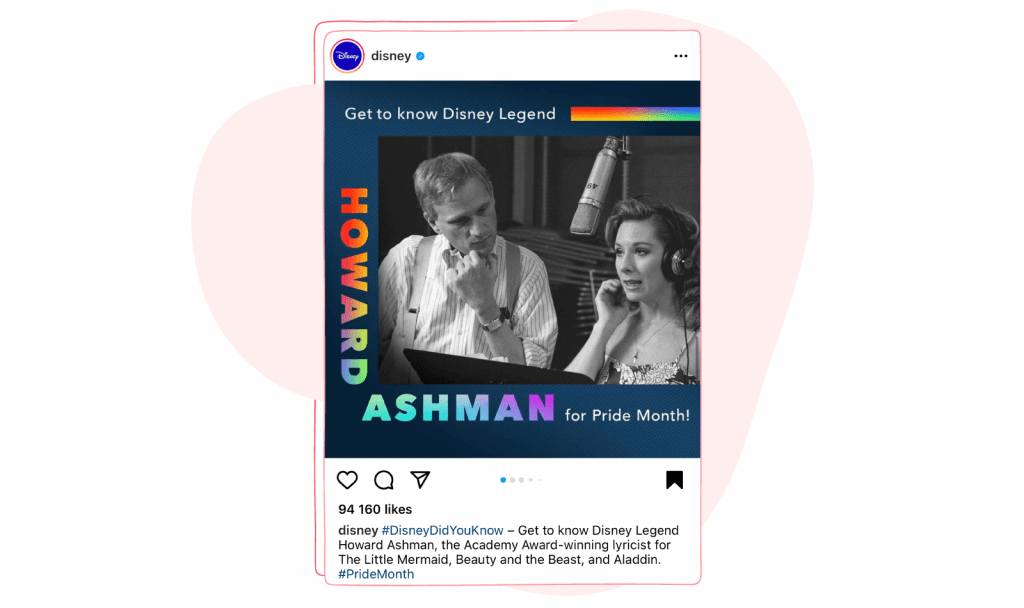 It would be good if you have an old photo of your team together like in Google post. It will show that your business has ethical principles and it appreciates every person that used to be involved.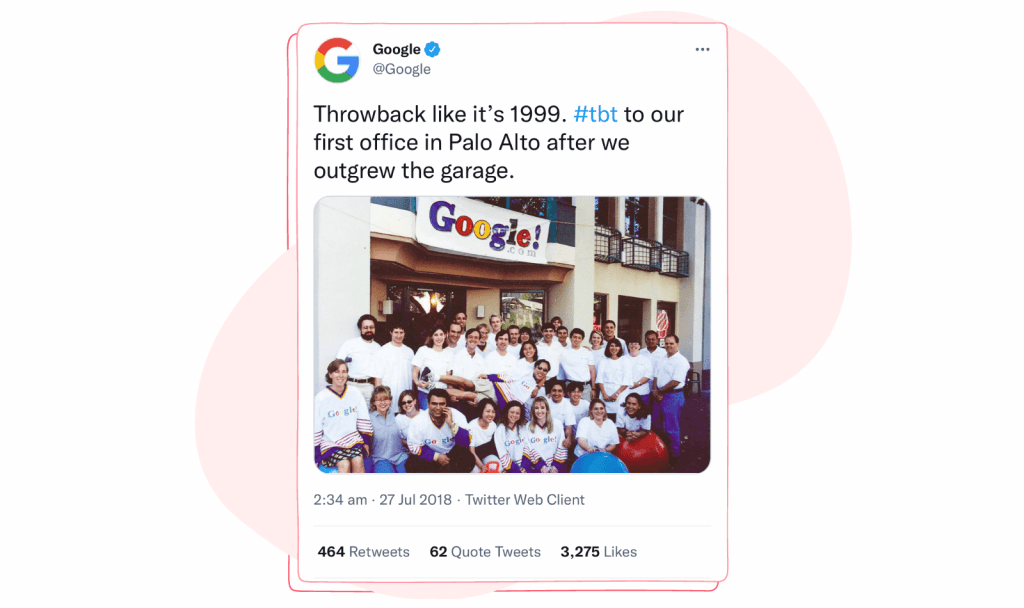 And don't forget about yourself if you are the founder! Provide your fans with some behind-the-scenes glimpse and a cool story. Or pay tribute to the person who started the business like the Chanel brand always does.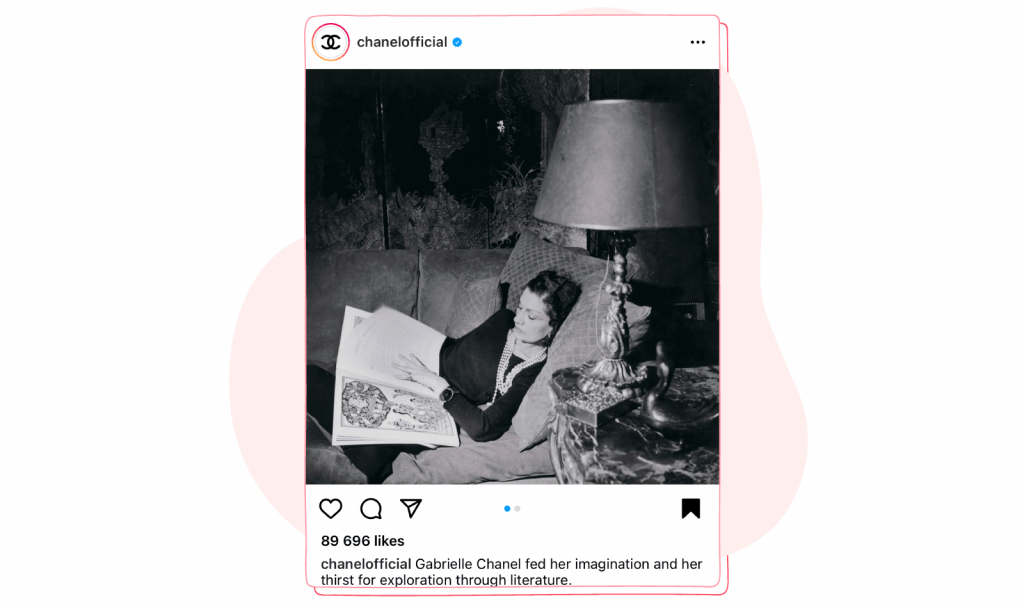 Events
Give your audience a glance at yesteryear events. If you run events great, you surely have a portfolio. Some followers would fancy seeing what they've missed and others what they saw a long time ago. Such content might find extra attention and inspire your audience to participate in current events at your venue.
Chanel house constantly reminds us about its old collections and what impact the brand had on the fashion industry. It makes people feel the strength of the brand, trust, and follows their new trends.
If you specialize in something else, you can take your audience to the past events around your business like insiders. Discovery channels have always been sharing with us information about the most valuable events in the world. In addition, they help us to remember big things. Discovery's attitude of taking care of people's knowledge makes its followers loyal to the source.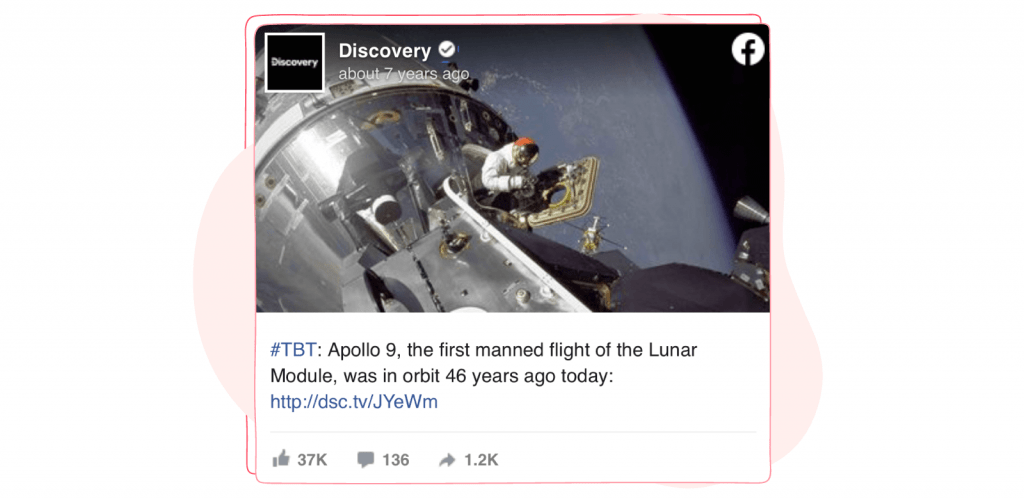 Locations
Reveal how your first location used to look. Give a chance for your fans to walk memory lane and find old construction, city, town, region, or country. History visuals say more about things in comparison to words. The Hotel National demonstrates a perfect example; the old photo makes its audience rank it as a city monument and add historical value. Thus, they put the hotel on the list of must-visit places if they come to Moscow.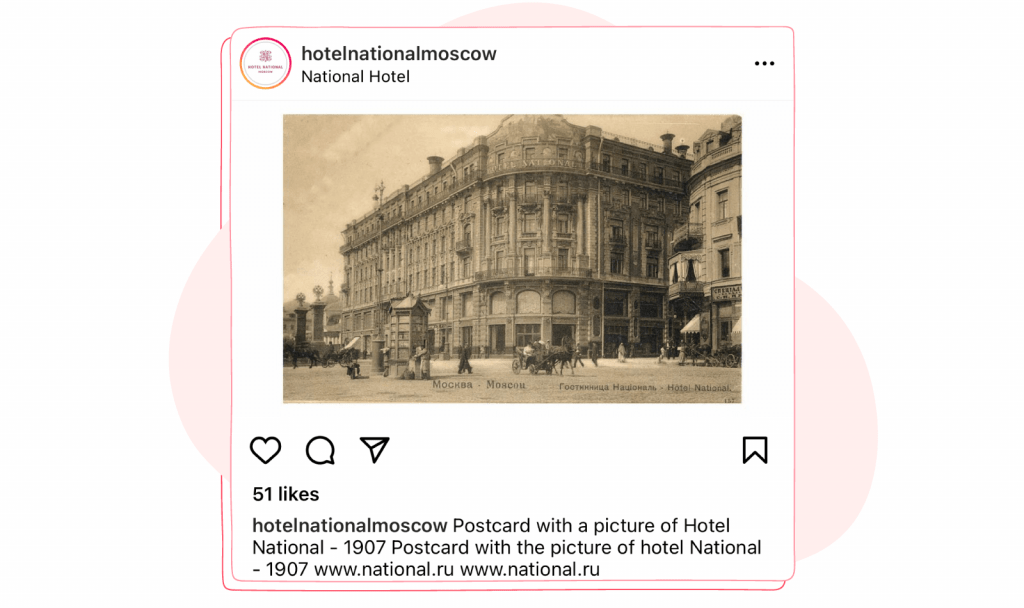 Or, if you never had a physical location and your business operates fully online, you can still utilize #TBT. Like Google, you can remind people how websites used to look when technology allowed us only primitive designs and graphics.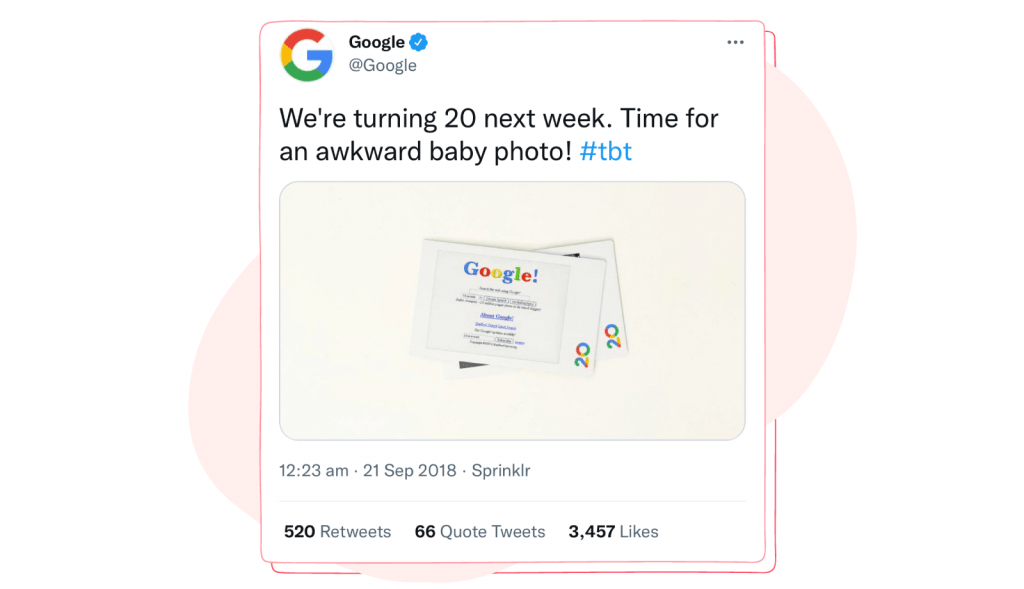 Milestones and achievements
#TBT is a perfect opportunity to celebrate business achievements with your audience. Archive material shows the progress of your business and says that you have worked hard to achieve the results. You can mention the exciting experiences and interesting cases that happened in your business. Tell about the biggest turning-points that have determined your business performance.
Let people know how you started and what milestones are behind your brand. As you can see below, NYT Magazine shows that from the beginning they always have been aspiring to operate in the most modern way.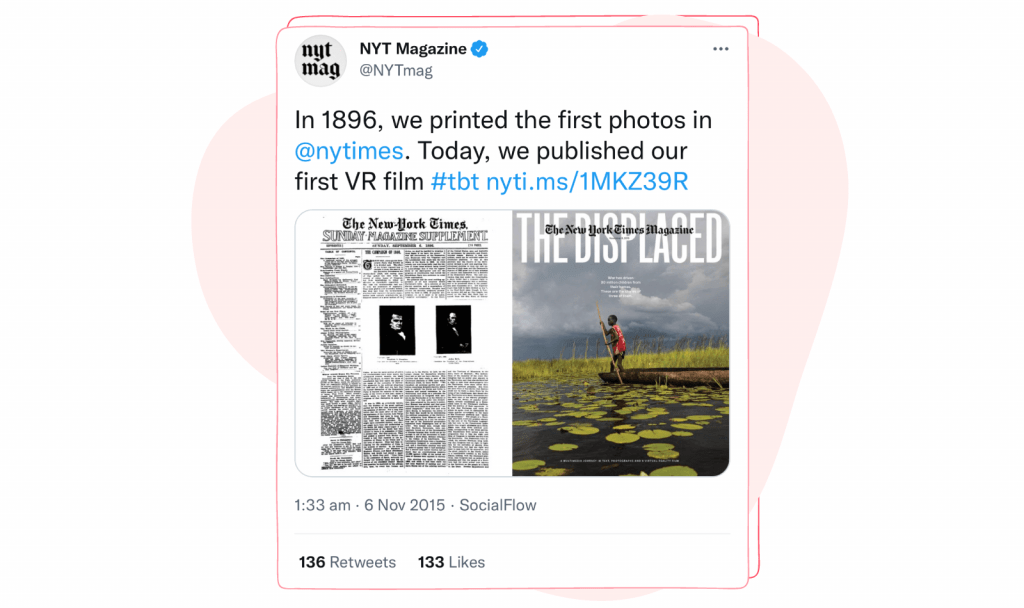 Reintroduction
Consider a renaissance campaign if your brand is old enough to have a list of retired products or services. Maybe your customers were genuinely missing those things. If you are assuming some risks, make a post asking for opinions. By enquiring thoughts from followers about such a perspective, you can at least increase the engagement rate (ER).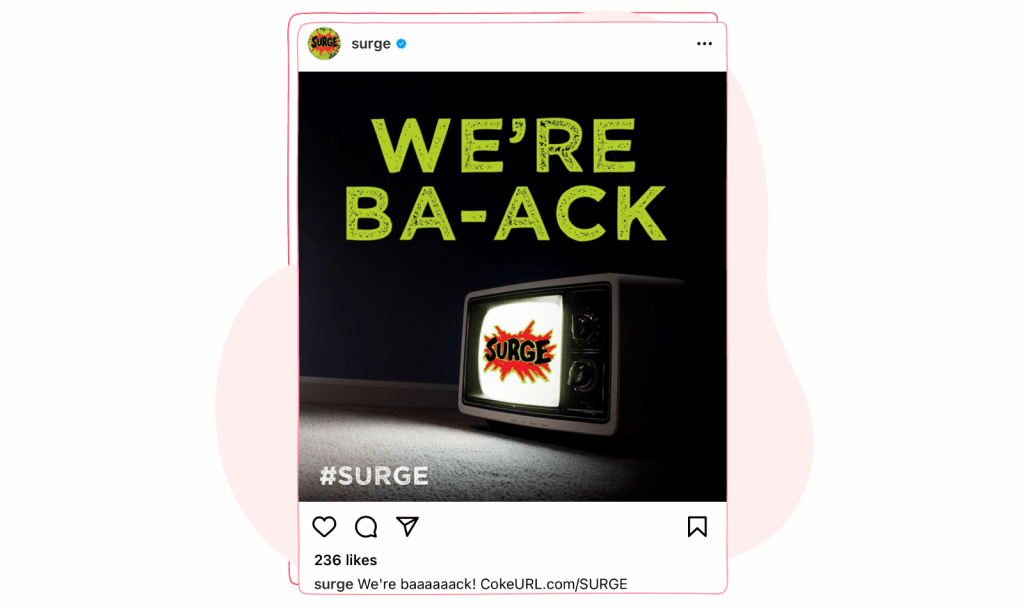 Advertise TBT
Advertise TBT; nostalgia triggers everyone! You can even turn the post into a vintage ad. The old-fashioned pictures become noticeably outdated as the years go on, and therefore appear eye-catching for viewers. Try to incorporate past elements that people used to see the ad on TV, in the newspaper, or in town. Often, viewers would wish to absorb the atmosphere more and open the ad. Who knows how far their nostalgia will go? They might keep the symbol of the past by subscribing to your page or even buying the advertised product.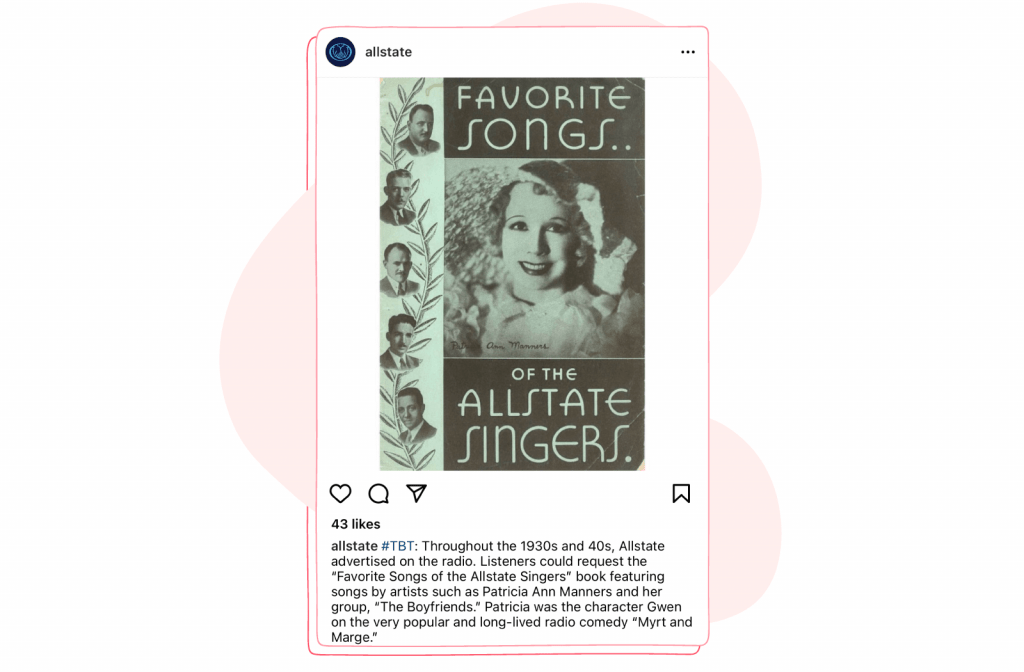 Additional suggestions
​​Appeal to multiple generations. It might be worth focusing on the 90s. It has a huge segment due to millennials who grew up during the 90s and people who left youth in that decade. Mentioned generations are also very active in social media now. However, z-generation and older adults also should be considered. You should choose the focus group according to which your product or service relates the most.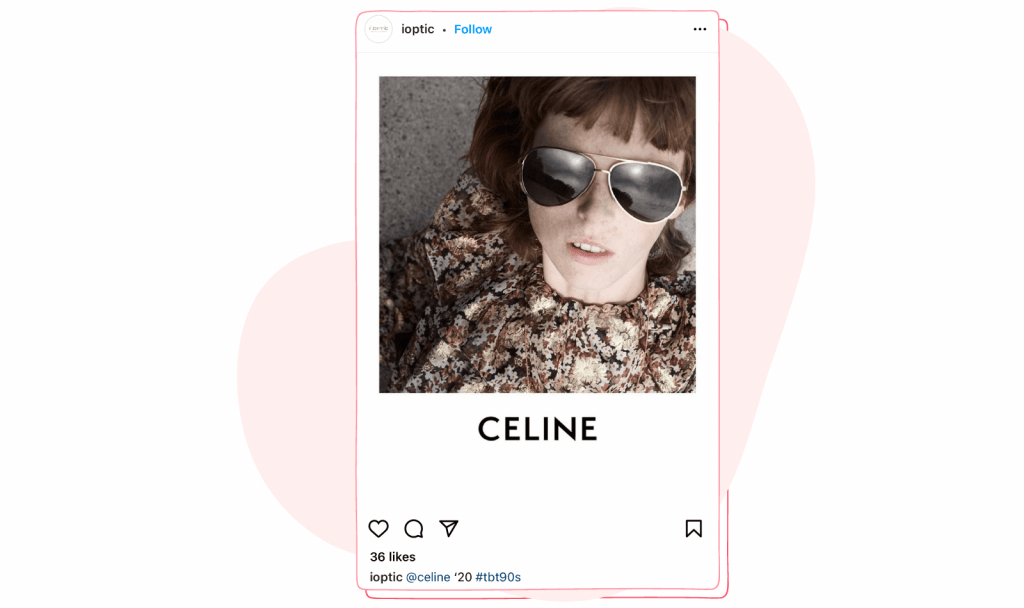 Look beyond visual and text content, think about rebirthdays. For instance, show your past logos and explain what inspired you to rebrand. Share some analytical thoughts and ask for social opinions to understand where to go further with your brand image.
What to avoid…
If you are a founder don't overplay with a personal story. It's a common mistake. So, remember, it's about your brand and the community it creates.
Don't revive politically incorrect vintage. Some archives are charmingly outdated, but others are outdated because they are no longer socially acceptable.
Aim to refer to the universal experience that was positive, like old Hollywood glamour. Don't bring a bad memory to life like "Where were you during 911?".
Final words
Throwback Thursday content is used primarily on Instagram, but you'll also find it on Facebook, Twitter, and even Pinterest and YouTube. Providing authentic vintage aesthetics to people might give you a lot of benefits for a successful social media performance. But the main one allows you to nurture consistent attention from your current followers and hook a new audience.