What is Discord? The ultimate guide for businesses 
Whether you're a Discord sage or a total newbie, we're here to show you how to use Discord for business.
Social media buffs assemble; there's a new(ish) kid on the block.
If you're asking yourself, "What is Discord?" or, more importantly, "Why should I care?". Then, my friend, you have come to the right place.
It may be decentralized and ad-free, but Discord is a weapon worth adding to your social media arsenal, especially if your business is looking for a flexible way to engage with your audience.
So, if you haven't added Discord to your brand's social media strategy yet, we're here to tell you why it's high time you did.
Our guide breaks down all your burning questions about Discord, including:
What is Discord?
How does Discord work?
Who used Discord?
How to use Discord for business
How to get started on Discord
Social Media News in a Nutshell
Get the latest social media news, insights, and marketing tips in your inbox once a week.
What is the Discord app?
Discord is a communication platform used to host real-time text, video, and voice chat, as well as file sharing. It's a centralized and accessible platform for businesses to communicate with customers, teams, and partners.
Discord differs from other social media platforms in a number of ways.
Decentralized: Rather than being centered around a central community, Discord is divided into smaller communities (servers). These servers can be either public or private. For instance, your business can create a large, public community of customers and brand advocates or a small, private server for team members.
No ads: Instead of selling ads like the vast majority of social media sites, Discord makes a profit by selling user and server upgrades.
A social media platform without ad selling, you say? You may be wondering how that can help your business.
It can. We promise.
Discord has an intuitive interface and rich customization features, making it an extremely useful platform for businesses across any sector or niche. It also integrates with a host of corporate tools, including GitHub and Trello, to improve workflows.
Discord essentially streamlines communication, enhancing efficiency in your teams and improving customer experience.
More on the benefits later. For now, let's take a trip down memory lane.
From gamers to big brands: A brief history of Discord
Let's rewind back to 2015 when Discord was first launched. Originally the darling of the gaming community, it was only during the COVID-19 pandemic that Discord started making waves in the business world.
As the platform began to attract a broader audience, it embraced the pivot, changing its tagline from "Chat for Gamers" to "Chat for Communities and Friends."
And so, Discord became a real contender for businesses looking to diversify their social media game.
Beyond gaming: Who uses Discord now?
As Discord strays further from its gaming roots, its user base has skyrocketed. In 2022, Discord racked up 150 million monthly active users (compared to just under three million in 2016).
Interestingly, 70% of users say they now use Discord for more than gaming, and it has gained a new cult following amongst teens.
While it still doesn't have the clout that the likes of TikTok or Instagram boast, it's fast becoming the social media platform of choice amongst younger Gen Z.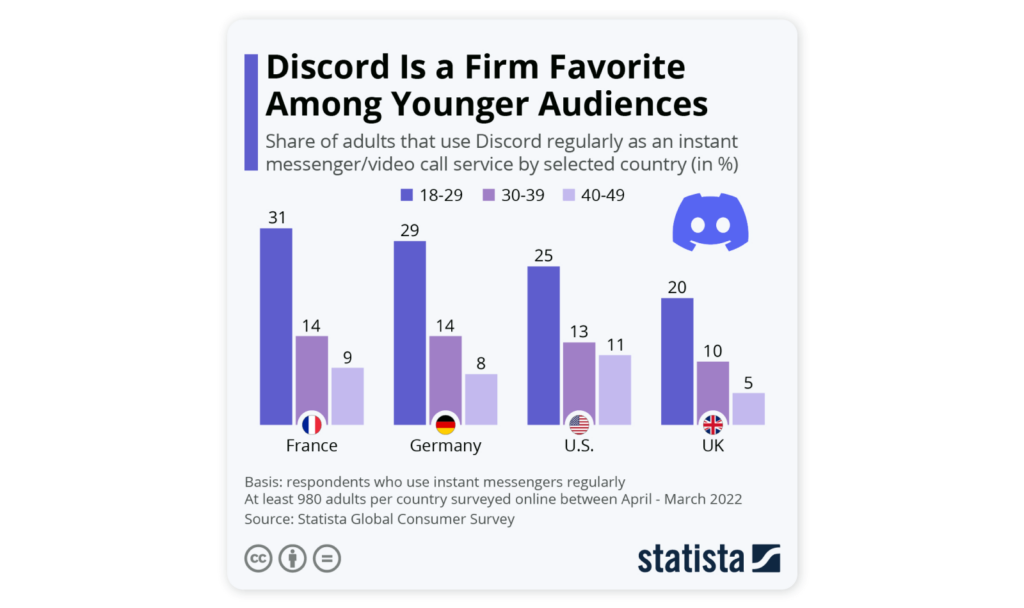 Up next, we deep dive into how to use Discord for business.
How to use Discord for your business
Have we mentioned that Discord is both ad-free and decentralized? Don't let that put you off, though. There are plenty of ways to use Discord for business.
We've rounded up a few actionable ways to use Discord to amp up your brand's social media marketing game.
1. Community building
Thanks to its real-time interaction between users, Discord is an excellent platform for building a community of followers or customers.
This gives your brand a real opportunity to create a space that adds value for your customers. All you need to do is come up with channel ideas that will benefit (and delight) your audience.
San Diego-based fast-food brand Jack in the Box gave us a masterclass on how to build community on Discord with its Comic-Con afterparty.
As a result of the COVID-19 pandemic, in 2021, Comic-Con was forced to hold a virtual event for the second year running.
Needless to say, this left brands scrambling for ways to engage with audiences in new ways. And led to Jack in the Box creating a new "Jack's Late Night Discord" server.
This was the message it shared with its followers:
Watch👇 this space👇 on Sunday! On 7/25 @ 6pm PST I'm throwing a late night after party with giveaways, live drawings, and a performance by @TheAquabats! I'm giving away Funkos during the whole weekend, too. Join now! https://t.co/XktOYayxYl pic.twitter.com/SPRJnZJBPQ

Jack in the Box (@JackBox) July 24, 2021
The server racked up over seven and a half thousand users across the weekend and twenty-seven thousand messages.
Jack in the Box also hosted a virtual concert, keeping up the super-hero theme with the band The Aquabats. There were also interactive channels dedicated to cult Comic-Con classics like the DC universes and Funko Pop figures.
The result? Jack in the Box was able to connect with its community in an authentic and personalized way, raising brand awareness, customer loyalty, and spirits during a tough time.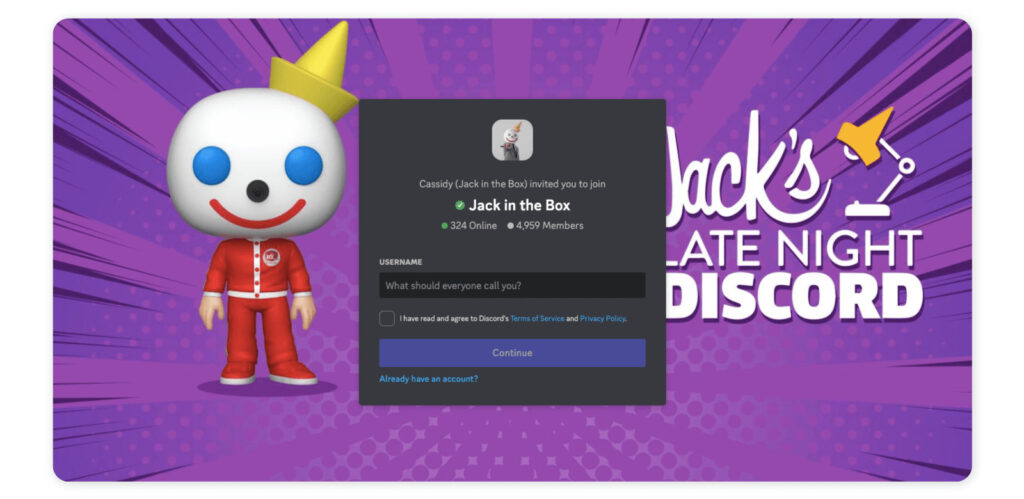 Of course, it takes more than just attracting users to your Discord server. You'll also need to keep them engaged.
Luckily, Discord is well-primed to help you do this. Businesses can create separate channels for brand events, activities, and discussions, to connect with audiences on a deeper level.
2. Getting to know your audience
Businesses that get verified or have community status on Discord earn access to Server Insights.
The coveted Server Insights tab opens up a whole slew of stats for your brand to leverage to get to know your community on a deeper level. For instance, you can mine the following data:
Growth and Activation: Tells you where new members are coming from, and their retention stats
Engagement: Indicates what members are doing, how many users are communicating, and which channels are garnering the most use
Audience: Shows where members are from and how long they have been in your server
Announcement Channels: Offers analytics for your brand's Announcement Channels (if you have enabled them)
Welcome Screen: Reveals analytics for your Welcome Screen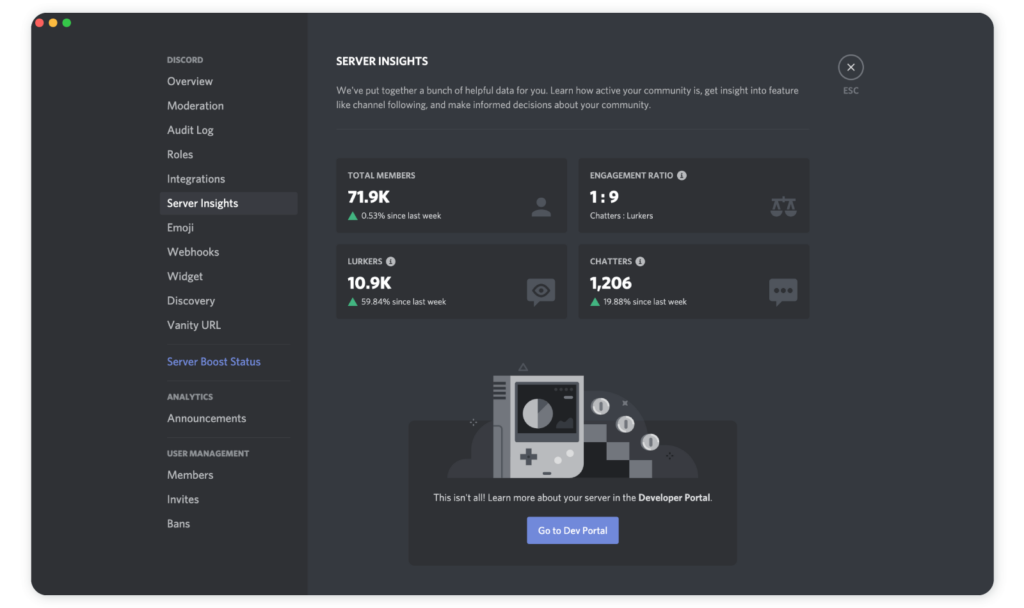 3. Incentivize and reward your customers
Does your brand sell its content online? If so, Discord is a great way to give back to the fans by rewarding them with access to a branded server in return for subscribing to your content on Patreon or other platforms.
You can do this by setting up a private server for your subscribers. That way, fans get to reap the benefits of ultra-exclusive access to your Discord server and can connect with other fans there.
It's a great way to keep subscribers engaged and incentivize them to keep their subscriptions active.
Then, within that channel, you can build your own community rewards program using quizzes, exclusive AMAs, role systems, and gated chats. A reward within a reward, if you will.
Take Gucci.
As part of an NFT strategy, luxury-fashion giant Gucci created a concept store centered around its own Discord server. The brand used Twitter to invite its followers to join the server, offering the first twenty thousand members some extra perks. These included special roles and access to exclusive NFT channels.
Over twenty-eight thousand of Twitter's finest flocked to the Gucci Vault server in the first two days, rendering it a huge success. So huge, in fact, that Gucci's parent company created a new role solely to manage its Discord server.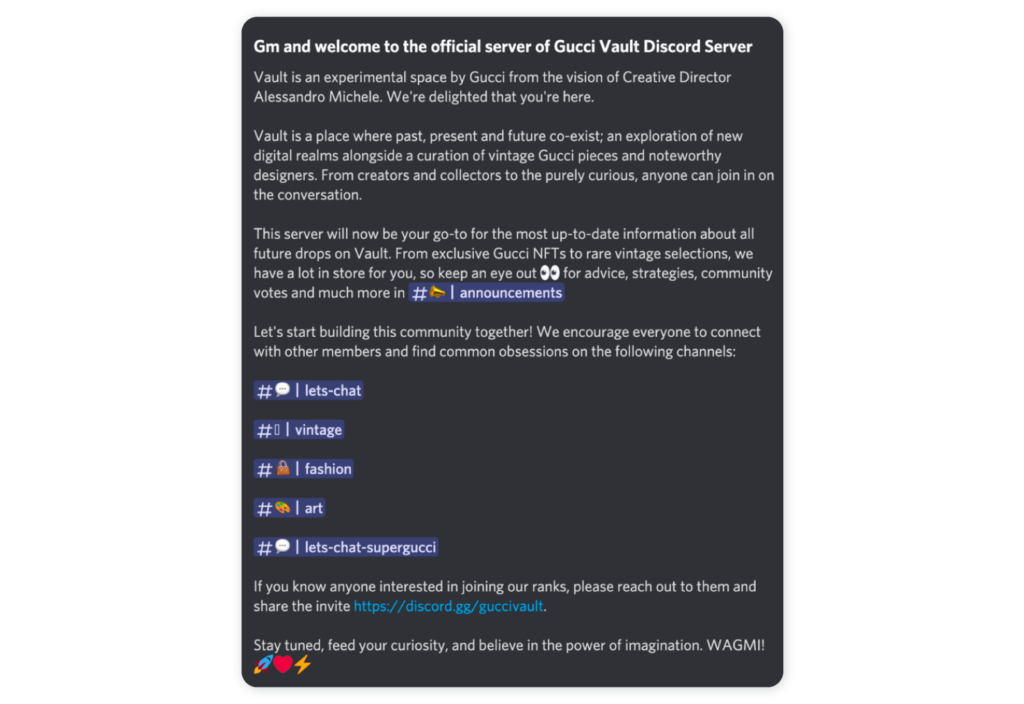 4. Create customized user experiences
What Discord lacks in targeted ads, it makes up for with roles. Discord's roles tap into a whole new way to offer your audiences a personalized experience.
All you have to do is learn how to manage them.
For the uninitiated, Discord roles are a set of user permissions that make it possible to segment audiences and customize the experience of a community on your server.
Here are a few creative ways to capitalize on user roles:
User identity: Add a bit of joy to your Discord server by customizing the colors of their usernames or assigning custom icons. This isn't just aesthetically pleasing, it also helps you quickly identify groups or roles. Double whammy! Users can also share their pronouns and location with the community for a more personalized experience.

Notifications: By assigning custom roles, you can control what alerts users receive. For instance, you can choose just to notify moderators of some updates. All you have to do is type @role in the chat bar to communicate with a specific set of users.
Permissions: Roles make it easy to control what users can do on your server. This is a great way to create exclusive role-based channels for certain roles. For example, you can grant paying subscribers VIP access to channels as a reward for their loyalty.
Assigning Discord user roles is pretty straightforward. Simply follow these steps:

1. Go to server settings
2. Tap "Roles"
3. Select "Add Role"
4. Customize your role names, permissions, and other settings
5. Hold Discord Events
The beauty of Discord is its ability to get a community together, making it a top tool for live virtual events. The Scheduled Events tab makes it easy for users to sign up if they want to attend an event and sends them a reminder before it starts.
This is exactly why it's become a popular events platform for some big brands.
Chipotle broke the mold by becoming the first-ever brand to host a career fair on a Discord server.
Following the great resignation, businesses across the globe have been struggling to find staff. Chipotle was one of them. This prompted it to build a Discord server to host recruitment content and information sessions with Chipotle staff.
It was an unmissable chance to give potential job seekers the lowdown on the benefits and career development opportunities it offers.
And it was a success. In just one week, Chipotle received almost 24,000 new applications (a 77% increase from the week before).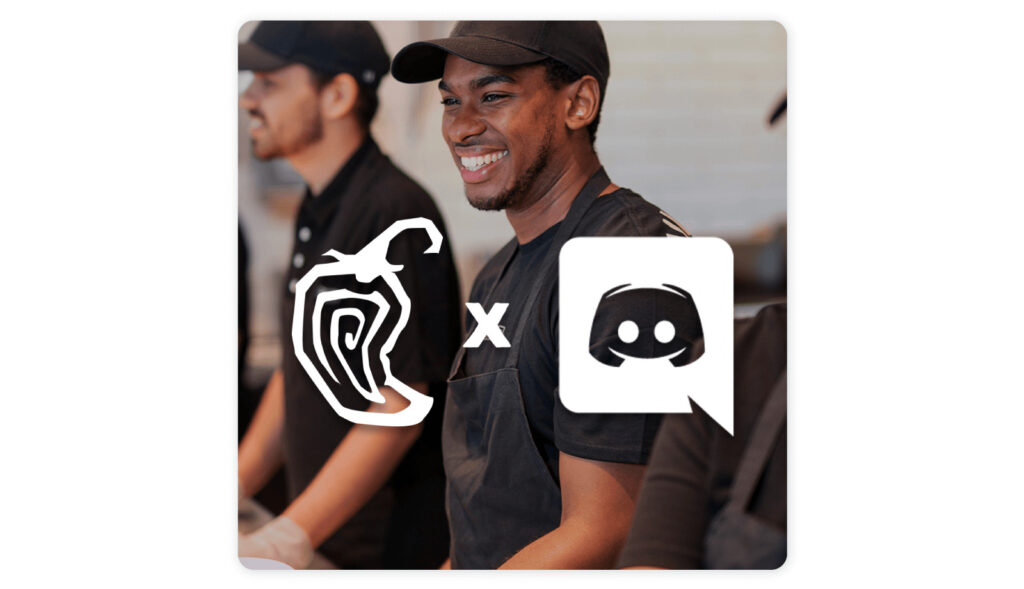 This is just the tip of the iceberg. Discord offers businesses a bounty of opportunities to host real-time events.
Here are some other ideas to get your creative juices flowing:
Product reveals: Livestream your latest product launch or demo to give your audience the inside scoop
Workshops and master classes: Customer education is worth its weight in gold. Hosting workshops or classes is a great way to deliver it.
BTS: Let fans peep behind the curtain by live streaming behind the scenes footage of your brand doing what it does best
Contests and giveaways: Who doesn't love a giveaway? Get your audiences buzzing with a live-stream product giveaway or raffle. They'll love it.
News announcements: Got some exciting news cooking? Spill the tea by hosting an exclusive live-streaming event with your audience.
Social events: All work and no play makes your business a teeny bit dull. So why not host an event just for fun? You could try a monthly trivia night, get ready with me, book club, or any other social event that fits your brand and audience.
If you usually host your events on another platform, Discord is still a great place to promote them.
How does Discord work?
You're almost ready to dip your toes in the warm Discord waters. But first, you'll probably need to know how Discord works.
Here's a beginner's guide to getting started on Discord.
1. Sign up
First up, you'll need to create a Discord account for your brand. You'll be asked to enter your basic information, including your business email address, username, and password.
2. Download the Discord app
Next, you'll need to download the app from your app store of choice. While you can use Discord in your browser, the app comes with a richer range of features.
3. Join a Discord server
Once you're set-up, you'll now want to join an existing Discord server. There are two ways to do this:
Select "Explore Public Servers" on the left of the screen to browse public servers. You can use the communities search bar or filter by theme.
If you have an invite link, tap "Add a Server" on the left of the screen, select "Join a Server" and add your link.
4. Create your own Discord server
Joining other servers is great for snooping around and seeing how other brands are using Discord. But, at some point, you'll want to create your own server.
Follow the steps below to build a server for your business:
Tap "Add a Server"
Select a template or build your own server from scratch
Give your server a name and icon
Click "Create"
Et voila! Your server is up and running.
Before we move on, here's a brief explanation of how your newly-created server will work.

Discord servers are divided into channels (some are text-only, and others support audio and video chat). These channels can then be organized into categories to make it easier to manage and maintain your server. For instance, any changes you make to your category settings will affect all channels within it.

Discord server templates come with pre-made channels and categories for you to customize. You can choose to delete or duplicate these or create brand-new ones.
5. Moderate your server
Your brand's Discord server will require heavy moderation to avoid bullying, scams, or inappropriate behavior. Granted, you may not need to worry about this right away, but as your server gains traction, it will become a priority.
The best way to moderate your server is by assigning moderators either in human or bot form.
There are pros and cons for both.
Humans are much superior at interpreting comments and behaviors on the server. But, they are unable to monitor your server round the clock, leaving room for bad user behavior.
On the other hand, bot moderators are slightly less adept at interpreting certain situations, but they offer 24-hour moderation without human effort.
In an ideal world, your business would use Discord bots like MEE6 or ProBot for the day-to-day moderating of the server and assign a human as a moderator to oversee it.
Discord has a comprehensive guide on how to moderate your server that's worth a read.
6. Verify your server
As a business, the next step is to verify your Discord server. This is an important (but relatively simple) step. All you have to do is browse Discord's verification requirements to ensure you meet all the criteria.
To achieve Discord verification, you must:
Be the owner of the server and an official representative of the business or brand
Authenticate your brand's other social media accounts on your profile to assist Discord in verifying your application
Use an official business email address.
Discord will also look at the following information to assess whether your server is in the public interest:
Authentic: Does your server represent a registered business, brand, or public figure? Have you used an official email address?
Original: Is your server the unique presence of the business or figure it represents? Discord only verifies one server per company, with some exceptions for locations or languages.
Recognizable: Is your brand well-known? Have you linked your other social media accounts to verify your following?
If you meet Discord's verification requirements, you simply have to complete a quick form, and you're done.
And what are the benefits of getting verified on Discord, you ask? There are two that really stand out:
Server Discovery: This means your brand's server is available on the Discover page, putting you in front of new audiences
Server Insights: As we saw earlier, this gives your business access to highly actionable data on your users
This Discord guide has more detailed info on verifying your server.
We'll be honest; Discord is hugely customizable, meaning we can't cover everything you need to know. So, we've condensed it to the fundamentals. Check out Discord's user guide for a deeper dive into the technical nitty gritty.
FAQs
Short on time but big on questions? We've put together answers to the most common questions about Discord.
Is Discord free?
Yes and no. Most of Discord's features are free, such as joining and creating servers. That said, some services have an additional fee.
For instance, users can pay to upgrade their accounts to one of the more advanced versions; Nitro Classic or Discord Nitro (the fully-loaded version).
With Nitro, upgrades are linked to users' accounts rather than their servers. But it does come with some nifty features that will enhance your server, including better resolution during live streams and a wider variety of backgrounds for video calls.
If you want to unlock more server features, you will need to spend Server Boosts. Businesses with large boost levels enjoy extra server perks, such as more customization and richer audio quality.
Your Nitro subscription will get you two free Boosts, but if you want more, you'll have to spend them or get other users on your server to.
How do Discord ads work?
Discord is an ad-free platform, meaning there's no option for businesses to advertise. So, brands looking to use Discord as part of their marketing strategy will need to create a server for their community of customers.
How to get started on Discord?
If you're considering using Discord for social media, the first step is to join the app and create a server. Next, invite your team or customers to join your Discord server.
From there, you can build channels and customize the server to align with your brand's goals, needs, and style. This may include implementing guidelines on how to use the server to keep things professional and efficient.
What is a server template?
A server template gives users a usable server model to follow. It has a basic structure and defines the server's roles, permissions, default settings, and channels.
You can choose to use one of Discord's pre-built templates, a fully custom one, or to create your own.
Now you've earned your Discord social media chops, let's wrap up with a quick recap.
Key takeaways
Discord is an exciting and still relatively untapped social media platform that can garner big results for your business. Since shedding its reputation as a gamers-only site, an increasing number of brands are doing big things on the platform. From hosting virtual events to building community and galvanizing your connection with your audience, the sky is the limit with Discord.
While it may not yield the power to target specific audiences like some other platforms, it more than makes it for it in other ways.
Looking to streamline your social media management workflows? Take the legwork out of managing your brand's social media with Sociality.io. It allows you to easily schedule, publish, and track your social media posts all from one easy-to-use platform. So your business can keep its finger on the pulse and its social media game on point. Give it a try today.