10 Facebook networking tips for mastering the art of building connections
Facebook is nothing if not resilient. Like a phoenix rising from the social media ashes, every time we count Facebook out as a marketing tool, it surprises us. Despite social media platforms like TikTok and Instagram capturing the attention of young millennials and Gen Z'ers, businesses would be silly to write off the networking power of Facebook. With 2.9 billion active users every month, platform diversification, and stellar ad opportunities, it remains a powerful tool for your business. If you're not leveraging its full potential, our guide on Facebook networking tips is for you.
We explore everything your business needs to know about Facebook networking, including:
Social Media News in a Nutshell
Get the latest social media news, insights, and marketing tips in your inbox once a week.
Facebook networking tips – Basics
Squeezing the most out of Facebook and its networking potential takes planning and a winning strategy. Starting with the basics and working our way to more advanced concepts, we've rounded up the essential Facebook networking tips you need to know in 2023.
Tip 1: Create a compelling business page
The first step toward Meta domination is to design an engaging, sleek, and branded Facebook business page. The page should clearly state all relevant details about your business, including:
A concise description of the business
An overview of your products and services
Updated contact details
High-quality, branded visuals
The leading shoe brand Zappos.com is a great example. It uses its Facebook Page to offer continuously exceptional customer service to its 2.3 million followers.
You'll notice its cover photo is bright, on-brand, and high-quality. It not only grabs users' attention, but it tells them exactly who Zappo is and what it does.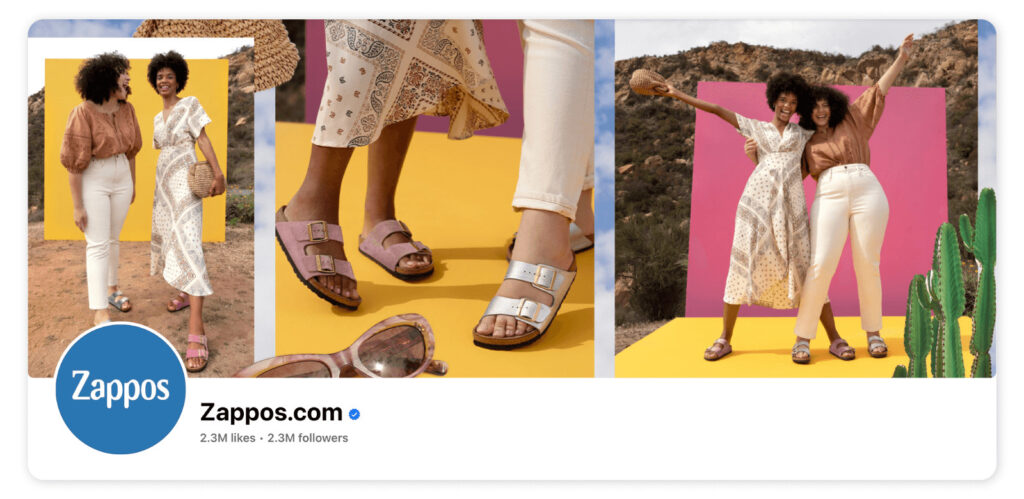 Zappo uses the space on its Facebook Info section wisely, clearly stating where it's based, how to get in touch, and its opening hours (24/7 support, of course).
The "About" page tells users how to use the page, encourages them to engage, and clearly states its policy on disrespectful or offensive behavior.
Finally, Zappo uses its Facebook page to connect with its followers. The brand is known for responding to comments and sparking comment-thread discussions.
Tip 2: Develop a consistent posting schedule
There's a reason everyone throws around the saying "consistency is key"; it's because it is. Developing a consistent Facebook posting schedule will ensure your audience stays engaged and up-to-date on the latest news and announcements.
A couple of high-quality posts a week should be enough to keep your audience's attention. We recommend finding the sweet spot between promotional and non-promotional content. That could mean weaving informative articles, funny posts to drive conversation, and industry news in with your product updates, promotions, and other ads.
The language learning app Duolingo is a master at consistent social media posting. The AI-powered language tool cleverly uses its mascot, Duo the Owl, to create consistent visual imagery and branding across all of its social media posts.
On Facebook, Duolingo posts six to eight times a month, sharing a mixture of promotional and funny content, links to blog posts, and other relevant news.
Duolingo's posts garner an impressive amount of user engagement, keeping the brand at the forefront of its followers' minds. After all, who wants to lose their 30-day streak?
Tip 3: Engage, engage, engage
If your brand's goal is to build meaningful connections with your audience, then engagement should be your top priority. Use all the colors in the crayon box and find creative ways to connect with users on your Facebook page.
Your first port of call is to respond to comments, private messages, and reviews on the platform. The more you interact with your users, the better you'll get to know them.
Remember, your audience wants to feel like your business is genuinely interested in their opinions, feedback, and experiences. So, encourage questions, ask questions that elicit responses from your followers, and address their concerns in a timely and professional manner.
Let's say your business receives a negative review. You'll want to respond to this review, thanking them for their feedback and offering solutions or showcasing how you plan to improve their experience next time.
Microsoft is a prime example of how Facebook can be used to drive a customer-centric marketing approach. Rather than focusing on technical product features, Microsoft shares high-value content on how to use its products to improve your life.
Bright, branded visuals grab users' attention, while informative how-to guides help them achieve their goals. To keep things fresh and entertaining, Microsoft mixes it up by adding some entertaining content into the mix. That way, its Facebook followers have fresh new content every day, and there's something for everyone.

Tip 4: Leverage video content
Posts and photos are great at a pinch, but video content is the best way to engage your audience. Whether you choose to upload native videos, use Facebook Live, or play around on Stories, there are plenty of ways to leverage videos on Facebook.
Unleash your creativity and find innovative ways to incorporate videos into your content roadmap. Start with the basics, like tutorials and product demos. Then, move on to bigger projects, such as interviews, LIVE Q&AS, and behind-the-scenes footage. The sky really is the limit.
The iconic cosmetics brand Benefit can teach us all a thing or two about mastering Facebook Live. It hosts a weekly Facebook Live series called Tipsy Tricks, where the Benefit team enjoys a cheeky glass of wine as they share their fave beauty tips.
Users love this live video content, and it gives the Benefit team a chance to reply to viewers' comments in real time.
Plus, it's a fantastic way to showcase new products, promote sales, and humanize the brand. The result is a loyal fanbase that tunes in every week.
We're also huge fans of National Geographic's "Safari Live" series, which broadcasts the assignments of its scientists and photographers Live on Facebook.
Users can join to watch a leopard eat its prey live on safari in Africa or watch a cactus bloom before their eyes. All the while, the Nat Geo team is available to answer live questions.
Compelling video content, check ✔.
Direct communication with followers, check ✔.
Insanely high user engagement, check ✔.
We have to admit, it's a pretty flawless strategy to build connections on Facebook and beyond.
Tip 5: Invest in Facebook Ads
We probably don't need to tell you that ads are a pretty important part of any networking strategy. Not only do they expose your brand to new audiences, but they generate interest in your products and services.
Facebook ads work especially well for this because you can target specific demographics, user preferences, and behaviors to connect with your target audience.
According to data from Statista, Facebook generated $115 billion in ad revenue in 2021. And this is expected to hit $203 billion by 2026. In fact, Facebook is responsible for almost 10% of global ad revenue.
Experimentation is your friend here, so play around with different ad formats to maximize engagement and conversions. A mix of video ads, lead generation ads, and carousels is usually a winning combination.
When it comes to marketing, Coca-Cola rarely puts a foot wrong. As you can see in the ad below, sometimes simple is the most effective. In this ad for a new flavor (Coca-Cola Cherry Sugar-Free), the brand uses color blocking to draw focus to the product. The large "New" badge (or "Nieuw" in Dutch), clearly demonstrates what the ad's about.
In this case, Coca-Cola's focus is to highlight its new product launch, and this simple Facebook ad certainly delivers.
5 Facebook Networking tips – Advanced
We've covered the basics for professional networking on Facebook, now let's delve into some more advanced tips and tricks. By the end of this section, you'll be a master in building new connections on Facebook and reinforcing existing ones.
Tip 1: Join Facebook groups
Facebook Groups are an excellent foray into networking on the platform. Start by joining groups that are relevant to your industry, product, or niche.
Next, engage in meaningful conversations and participate actively in the groups. This could mean sharing insights, offering advice, or having thoughtful discussions on industry-specific topics.
This is a great way to position yourself as an authority in your field while growing your networking and creating opportunities for partnerships.
Alternatively, create your own group and start the conversation. Be warned, though. This will entail more work. That said, the benefits for your brand reputation could be huge.
We love the Canva Design Circle. This private Facebook group is a design school that teaches members how to use the many features of the product. Group members receive up-to-date product updates, tips, and a space to discuss design-related topics. In doing so, Canva has created a close-knit community of engaged and loyal users.
How to grow a Facebook group
Here are some tips on how to grow a Facebook group:
Set a clear purpose for your Facebook group and identify your target audience. This will help you attract the right people.
Optimize the group settings to make it easy to find and navigate. For instance, incorporate keywords in the group name and description and ensure that it clearly highlights the benefits of joining the community.
Use Facebook features like membership questions and post approvals to ensure the group remains engaging and respectful for all.
Promote your group to your existing network by sharing the group link on your website, socials, and newsletters.
Add value by posting informative content that is relevant to the users. You could also host discussions, organize events for group members, and facilitate knowledge sharing to maximize the value of the group and build a sense of community.
Get endorsements from influencers in your niche by inviting them to join your group or participate in group discussions and events.
Collaborate with similar groups to establish cross-promotional partnerships and grow your audience.
Introduce a referral program to encourage current members to invite their friends to join. Offering rewards like exclusive content or member privileges can further incentivize members to spread the word.
Share testimonials and success stories from current group members to build credibility and highlight the benefits of joining the community.
Be consistent in your communication and maintain a regular presence on Facebook.
Tip 2: Collaborate with Influencers
Collaborating with industry experts or popular influencers within your niche can unlock a world of new opportunities for your business. Not only can you tap into their audience to expand your brand's reach, but you can gain trust and credibility among their followers.
Of course, choosing the right influencers is crucial. They should align with your brand identity, goals, and values. From promoting giveaways to cross-promotions to joint content creation, there are lots of ways to create a mutually beneficial collab.
Still not convinced? A recent study revealed that combining influencer ads with traditional branding ads on Facebook generates, on average, a 40% higher click-through rate.
We can't think of a more artful influencer collaboration than this Lady Gaga and Dom Pérignon 2023 collaboration. The stunning black and white video campaign celebrates the art of performance while promoting Dom Pérignon. There's no doubt about it, Lady Gaga is one of the most influential figures in pop culture, making this a collab for the ages.
Tip 3: Use Facebook Pixel
If you haven't installed Facebook Pixel on your website yet, consider this your sign to do so. Facebook Pixel is a tool that allows you to monitor user behavior and create custom audience segments and lookalike audiences.
Using this data, your business can run targeted remarketing campaigns to reach out to people who have previously shown interest in your products or services. For instance, you can reconnect with people who added items to their shopping cart but never hit the pay button or who downloaded lead magnets from your site.
Remarketing means offering these warm leads personalized incentives to come back into the fold, driving conversion rates.
Tip 4: Run contests and giveaways
Contests and giveaways are two surefire ways to get people to engage with your page. By hosting competitions on your page, you encourage users to comment, share, and tag people. In the process, you boost your brand's visibility, grow your audience, and create a fun and exciting experience for existing and new followers.
Here are some ways to run a contest giveaway on Facebook:
Partner with an influencer to promote the giveaway or contest
Host a product giveaway to celebrate a milestone like a first anniversary or reaching a million followers
Jump on trending events like back to school or the Superbowl to gain traction for your giveaway (just make sure there's some kind of loose connection between your brand and the event)
Plan a joint giveaway with an industry partner
Ask your followers to help you suggest a name for a new product, caption a photo, or share user-generated content and reward the best submissions
We love this simple giveaway from the Wachusett Brewing Company in Massachusetts. The brewing company knows what its audience likes: dogs in cute shirts. So naturally, it hosted a giveaway for users to win a Wachusett Brewing Company dog shirt.
The instructions to enter the giveaway were straightforward and clearly explained. All users had to do was post a picture of their dog in the comments and tag two fellow dog lovers. Alternatively, users could share the post on their Insta story and tag two friends.
This is a highly effective tactic because it gives the brand exposure to new audiences and garners a lot of engagement. I mean, who isn't going to scroll the comments looking at all the cute pics of doggos?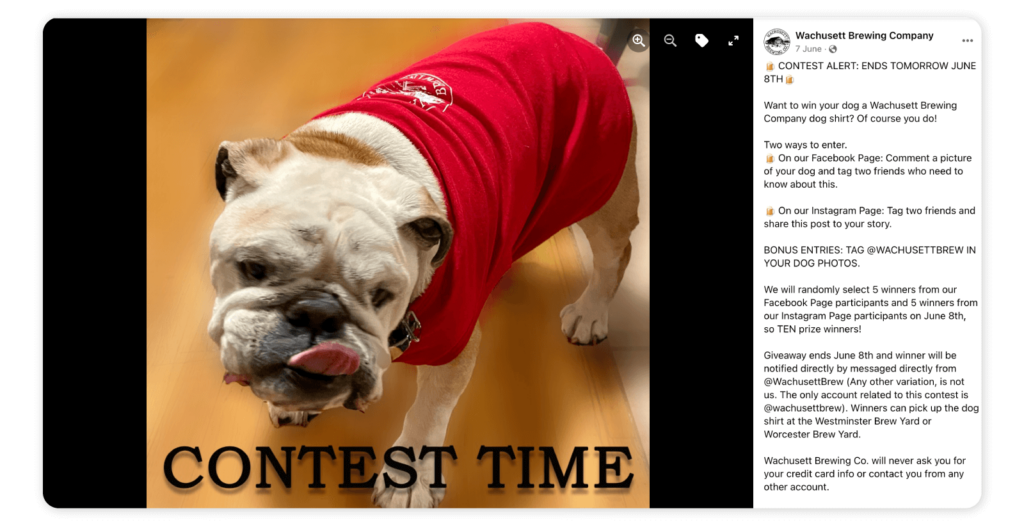 5. Measure performance
Time and resources are limited in most companies, which means you need to pay attention to how impactful your Facebook networking efforts are. After all, at some point, you'll probably need to justify why you're spending time and resources on your strategy. Or, you'll want concrete data to brag to stakeholders about the success of your efforts.
Either way, monitoring your performance is a must. You can do this by using tools such as Facebook analytics and Facebook audience insights. These tools have features to track key metrics like click-through rates, conversions, engagement, and reach.
Once you've gathered this data, you can use it to refine your strategy, make data-driven decisions, and course correct when needed.
In addition to Facebook's in-built tools, investing in a social media management tool will give you access to a goldmine of data and insights. Tools like Sociality.io allow you to streamline social media management tasks, collaborate across teams, pull detailed analytics, and track user engagement.
For example, our social listening module allows you to listen in on brand-relevant conversations so you can gauge how people really feel about your brand. Then, you can use this data to tweak your approach, improve brand health, and optimize your networking efforts.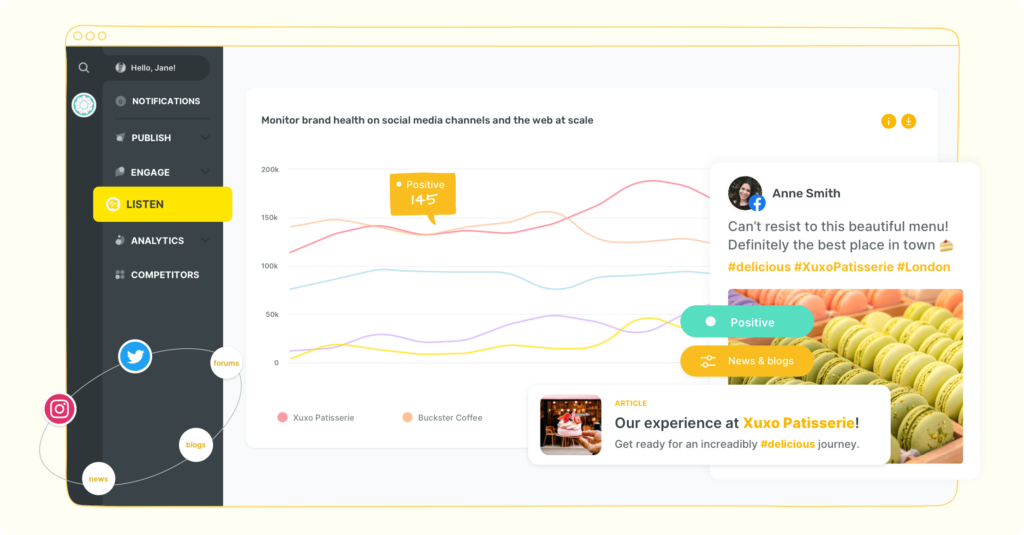 Struggling with analytics? Check out our detailed guide on Facebook Business Manager
Why use Facebook for professional networking?
The untapped potential of Facebook for connection building is enormous. With a large user base and cross-promotional opportunities at your fingertips, there are plenty of reasons why businesses should use Facebook for professional networking. Here's a closer look.
Large and diverse user base: Facebook gives your business access to over 2.8 billion monthly active users. As such, it opens doors for your brand to connect with new and untapped audiences, such as professionals, potential customers, and industry influencers.
Cost-effective: Let's face it, traditional networking events can be pricey. Between travel expenses and registration fees, networking can fast become a costly endeavor. Switching your networking efforts to Facebook can reduce costs while still giving you access to professionals and customers all across the globe.
Cross-promotional opportunities: Facebook networking also creates exciting new opportunities for collaborations, joint ventures, and shared campaigns. And all of these help your business tap into new audiences and expand its reach.
Industry insights: Networking on Facebook enables your business to stay ahead of the curve when it comes to industry news and insights. Your business can gain valuable knowledge, engage in conversations with thought leaders, and access industry-specific content to position yourself as an authority in your sector.
Enhanced digital presence: Engaging actively on Facebook through regularly posting high-value content, participating in industry groups, and interacting with your audience can boost online visibility and attract new followers.
The best ways to network on Facebook
So, now we know why Facebook networking works. Let's discuss some of the best ways to network.
Join and participate in industry-specific Facebook groups to expand your network.
Optimize your business or professional page and regularly share informative content related to your field or brand
Reach out to targeted professionals in your industry by sending personalized messages on Facebook Messenger (avoid spam and focus on engaging in meaningful conversations and relationship building)
Attend virtual networking events like webinars and conferences, making an effort to participate and connect with other attendees
Comment on posts or articles from other brands or professionals in your network. Engage in thoughtful discussions, share valuable resources and insights, and be genuinely helpful to the people in your network (customers or professionals).
Use Facebook's targeted advertising features to connect with professionals, influencers, and potential customers. Your ads should promote your product or services and cater to the needs of your target audience.
Benefits of Facebook networking
We've seen why your business should be Facebook networking, but what about the actual benefits? In this section, we break down the tangible rewards your business can expect to reap from a stellar Facebook networking strategy.
Increased referrals and recommendations
Upping your Facebook networking skills can lead to an influx of referrals and recommendations from happy customers, clients, or peers. And we all know the power of word-of-mouth marketing for brand reputation.
Broader talent pool
Whether it's new clients, staff, or industry partnerships, Facebook networking can give you access to a wider and more diverse audience.
Diverse perspectives
One of the biggest advantages of networking is that it exposes you to new people, ideas, approaches, and perspectives. As such, it can inspire creativity and give you a fresh perspective on old problems. In addition, it gives greater insight into how your target audience thinks.
Instant communication
Good news travels fast. And it travels even faster when you have a large and engaged network. Thanks to Facebook's instant communication tools, your business can share real-time updates and announcements and reach a wide audience quickly. From product launches to live events, it's a great (free) way to spread the word.
Build connections
What is networking on Facebook all about, if not relationship building? By forging meaningful connections with your chosen audience, your business can create a network of trusted and engaged supporters.
Next steps
We hope this guide on Facebook networking gives you some food for thought. With a diverse user base and rich cross-promotion opportunities, Facebook is a veritable feast for businesses looking to build meaningful connections.
Whether your goal is to reach new audiences, hire new team members, or establish your brand as an authority in your niche, Facebook networking can get you there. By following the tips and strategies laid out in this guide, you can reach your goals and grow your network.
Interested in discovering how Sociality.io can help you reach your networking goals? Grab your free trial today!