5 tips for choosing the best Instagram profile picture for your brand
Your Instagram profile picture is like a billboard–you are trying to catch your audience's attention and make a statement.
It's one of the first things Instagram users see when they land your brand's profile. So it is crucial that the picture you choose creates a good first impression of your brand–Princeton researchers found out that it takes 1/10 of a second for someone to make a lasting judgment about another person after looking at a photo. 
So, are you ready to make your Instagram profile picture stand out?
In this post, you will find 5 tips for choosing the best profile photos for Instagram–plus extra advice on how to change and download your profile picture.
Social Media News in a Nutshell
Get the latest social media news, insights, and marketing tips in your inbox once a week.
5 tips for choosing your Instagram profile picture
Here are five tips for making a good first impression with your Instagram profile picture:
1. Choose a personal photo or a brand logo
Usually, choosing what photo to use as your brand's profile picture comes down to a toss-up between a logo and a personal photo.
But this dilemma has an easy solution.
A personal picture is best suited for service-based businesses that are heavily dependent on personal relationships.
So if you are an influencer, creator, or even a life coach, you might want to use a personal picture. You are the focal point of your brand, so your customers want to know who you are–they will try to deduce your personality type–before doing any business with you.
Now, when it comes to using personal photos, you can choose a headshot as a profile picture, like Sophie May, a UK-based photographer.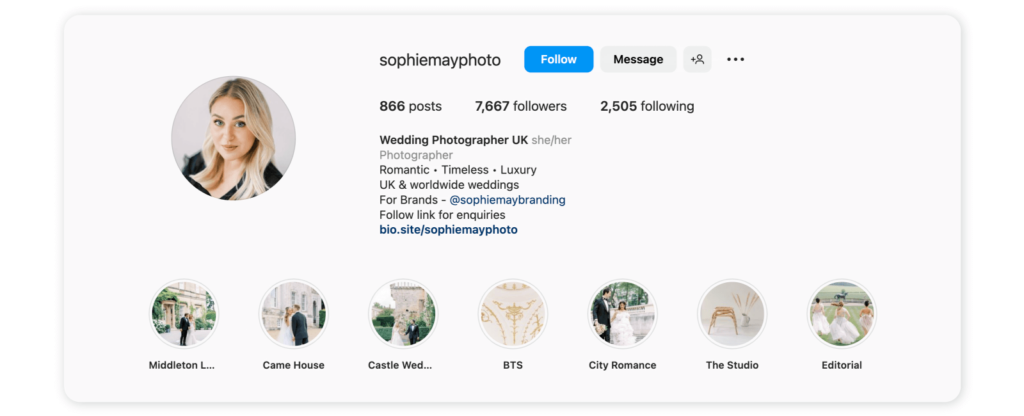 Or, if that is not your style, you can opt for a more casual lifestyle photo like Bonnie Bakhtiari, a brand designer, and strategist.

On the other hand, if you are a product-based business, you want your audience to quickly get introduced to your brand. In this case, a logo is more appropriate. One example of this in practice is Spendesk.

2. Use your brand colors
Using consistent colors across your marketing channels is a brand differentiation strategy. Research confirms it—a consistent color palette for your brand logo, promotional materials, and digital content can improve your brand's recognition by up to 80%.
It is easier for an Instagram user that has already been exposed to your brand's content on other platforms to recognize you on Instagram.
But what if that user does not know about your brand?
No problem. Adding colors to your Instagram profile picture is a way to stand out from the crowd.
3. Crop your picture to the right size
Instagram's profile picture is a tiny image. You do not have a lot of room to work with, so the photo you choose has to follow certain specifications to be visible.
Here are things you need to know about choosing the right-sized image.
Instagram profile photos are displayed at 110×110 pixels. But they are stored at 320×320 pixels, so you should upload an image that is at least that big.

Always use a high-resolution image.

Instagram profile photos are displayed in a circle frame, so make sure that the elements you want to focus on are centered.

If your brand's name is very long, you can consider using an abbreviation or a recognizable logo to improve the picture's visibility.

4. Shoot your picture with good lighting
Your image's lighting can transform the message your audience receives. This is important to remember if you plan to use a personal picture as your profile photo.
A photo taken in a poorly-lighted room is not eye-catching, nor is it appealing. Instead, it sends a message to your audience that you do not care about quality.
When shooting a picture for your Instagram profile, choose a location that is well-lit so your image comes out clear and without shadows.
If you can, make use of natural lighting. This is the light that comes directly from the sun–no cord or batteries.
But if that isn't possible, no problem. You can also use artificial lighting, such as ring lights, to provide balanced lighting for your photo shoot, as many other creators do.
5. Use a long-lasting image
Switching your profile photo frequently can confuse your followers. This happens because they already identify your brand with a picture.
So it is better to stick to a long-lasting image and maybe only tweak it slightly for special occasions like holidays.
In the long run, this saves you time.
3 Instagram profile picture ideas you can use
Here are three Instagram profile picture ideas you can use.
1. Your business logo
This is an easy option for product-based businesses. Using your logo is a way to stand out from competitors since your logo is distinctive (hopefully). It also makes you instantly recognizable to audiences who are actively seeking you out.

2. Your headshot
For service-based business or personal profiles, using a headshot is the most popular profile picture choice.
When using a headshot, ensure that you are not too far away from the frame. Crop your image from the shoulders up so that you stay in focus.

3. Your team
An uncommon Instagram profile picture idea is one that features your team members. It is a great way to build trust in your customers as well as make your team members feel included.
How to change your profile picture on Instagram
Here's how to change your Instagram profile picture with one that makes you stand out from the crowd.
Go to your Instagram profile and tap the "Edit Profile" button.

Next, tap "Edit picture or avatar".

You'll be prompted to choose whether you want to choose your image from your library or from Facebook or if you want to take a new picture on the spot.

Once you have chosen a photo, crop it with the circle overlay and tap done to add it to your profile.
How to view your profile picture on Instagram
As of this moment, there is no way to view your full profile picture on Instagram. You are left with the small circular photo at the top of your profile.
This is why it is important to use a high-resolution image whose main elements are centered.
The same rule applies when you want to view another person's profile picture. You can only see the small circular photo after you navigate to the person's profile.
What is the ideal Instagram profile picture size?
Social media image sizes seem to change constantly.
The most recent dimensions for your Instagram profile picture are 320×320 pixels. Your picture will, however, be shown in 110×110 pixels.
Related: What is the right Instagram Story size?
How to download your Instagram profile picture
Instagram does not allow you to download your profile picture directly from its platform. The only available way to do this is by using third-party apps.