How to merge two Facebook pages?
Over 180 million businesses use Facebook to expand their social media presence. Facebook has become a powerful social media tool to represent your brand and build a community. You create and manage your brand's business page to stay in touch with your brand fans and potential customers. At some point, you can find yourself with more than one business page. No panic! In this situation, all you have to do is to merge multiple Facebook pages, combining check-ins and people who like the pages.
Social Media News in a Nutshell
Get the latest social media news, insights, and marketing tips in your inbox once a week.
What happens when you merge 2 Facebook business pages?
Facebook will allow you to choose to keep both Facebook pages or remove one.
Most importantly your page followers count will remain. All the fans and check-ins from the merged page will be transferred to the new main page.
The duplicate page and published content will be permanently deleted.
The new main page will remain unchanged (except for adding fans and check-ins from the duplicate page).
While searching for your Facebook page, your customers can come across multiple unmanaged pages or duplicates of your brand. When a brand has more than one Facebook page, it can be confusing for the audience. It leads to a decrease in potential customers' interest and the effectiveness of the social page in general. To avoid this, Facebook suggests simply merging two (or more) duplicate pages.
There are a lot of situations with duplicates that require a Facebook merge. Here are the most common cases when you need to merge two Facebook pages:
You lost your admin rights to your Facebook page > Created a new page > Got the admin rights back. So you ended up with two Facebook pages.
You set up the wrong name for your Facebook page > Created a new page with the correct name. So you ended up with two Facebook pages again.
Some Facebook users tried to check-in to your brand's place (but your page isn't listed as local), they accidentally created a new place page.
How long does it take to merge Facebook pages?
Not everything is as easy as it might seem at first sight. You have to meet several conditions to be able to merge Facebook pages. It's recommended to start preparing to merge Facebook pages at least one week in advance. It's never too early if you want everything to go smoothly.
Facebook only allows you to merge pages that you are the admin of. If a page does not belong to you, then, if possible, you must first become its administrator.
Merging is only available for pages that represent the same object and have similar names. Change the name of the pages to the same name as the others if possible.
Download the page you want to merge if there is any information you want to save from it.
There can be situations with duplicate pages that don't belong to you. Your brand's fans may have created these pages, or these pages can be fake. If it bothers you, you can apply to remove such pages. Remember, merging is only possible if you have administrative rights on these pages.
What to do before you merge two Facebook pages
To make sure everything goes smoothly, make sure to do the prep work. There can be some issues you better resolve before starting the merging process. Here they are.
Check the "About" section.
Make sure your pages to be merged have similar names. The information on pages should be similar to make sure Facebook approves the merge request. Pay attention to the descriptions and contact details. If pages have physical locations, set the same address for both pages.
Claim your pages
Look for "Places" pages created for your brand. Make a list and note down the number of likes and check-ins each of these pages has. Then you must claim these pages one by one.
Inform your audience
If your duplicate pages have a growing audience, inform users about the merging process. It makes it easier if they liked your old page and will try to search for your page by your old name. If you have large audiences on duplicate pages, consider running a Facebook ad.
Merge your pages
Merge these pages after successfully claiming Facebook page ownership.
How to merge two Facebook pages?
So, if you need to merge pages on Facebook, have done all the prep work, then you should follow these simple steps:
Step 1
Login to your Facebook account
Step 2
Go to https://www.facebook.com/pages/merge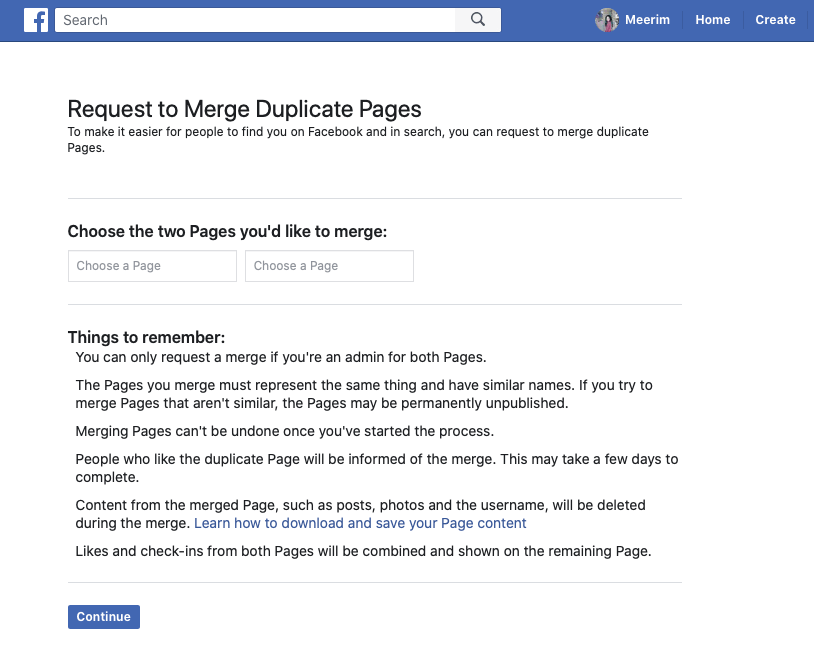 Step 3
Select the two pages you want to merge and click "Continue."

Step 4
Select the page you want to keep and press the "Keep Page" button.
Remember, the selected page will remain and have combined likes and check-ins from both merged pages. Everything else from the other page will be permanently deleted.
Step 5
Confirm your merge request by pressing the "Request Merge" button.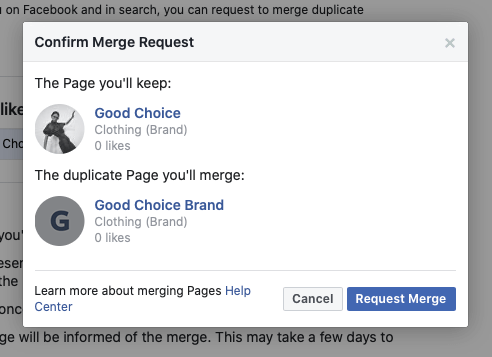 Step 6
End up with one Facebook page.

Now it's time to refresh your one and only Facebook page. Set new cover and profile images, update your "About" section in a very detailed way. Update page roles if needed. And also, set your page to local in order to allow users' check-ins. If possible, get your page verified.
Today Facebook has billions of active users, which makes Facebook quite an important platform for businesses. Facebook business pages can help your brand to provide unique information about your services and products. Save your time and efforts by getting rid of duplicates. Luckily Facebook offers us such an option. Merging duplicate pages cuts down on confusion among users and helps you to keep your audience in one place.
Related article: How to unhide a post on Facebook? Here are all the answers