Direct Message (DM) explained: Details and best practices for social DM
Writing emails or calling the hotline number to enquire about products or services seem to be passe. With DMs or direct messages taking the limelight as the preferred method of communication between a business and customers, it is right to say that social platforms are changing the face of customer relationship management. In fact, according to a survey by Intercom, about 60% of the respondents across all generations wished that businesses would use DMs or text messages to communicate with them.
So, let us get started on DMs and the best practices to keep your customers happy.
Social Media News in a Nutshell
Get the latest social media news, insights, and marketing tips in your inbox once a week.
What is a Direct Message?
A direct message or DM is a type of private communication between social media users. That means the messages exchanged are out of the public eye and are only visible to the sender and the recipient. A majority of businesses with an online presence often use DMs to address concerns, resolve disputes, and answer queries related to products, orders, and much more.
Here's how using DMs can benefit your brand.
Increase your networking and access to useful contacts by connecting with different brands, influencers, or brand ambassadors.
Enhance customer experience by enabling customers to get in touch with you directly to help them effectively and quickly with their queries. You may also consider using chatbots for the same.
Improve customer engagement by giving them a more personalized and private way to communicate that is beyond emails and phone calls.
Develop meaningful and lasting relationships by sending custom messages and information to your valued customers.
What does DM stand for?
As discussed above, DM means direct messages. Different social platforms such as Instagram, Facebook, and Twitter allow users to use direct messages with some variability. For instance,
Twitter requires users to "follow" and allows DMs to be sent to up to 50 users.
Instagram DM can be sent to up to 15 users and allows sharing of different content types including photos, videos, audio, sticker, GIFs, etc.
Facebook allows DMs only after the users "like" the Page they want to send the DM to.
Many brands are already using DMs to their benefit. For instance, whenever negative feedback is received, although businesses respond publicly with a message, they do follow up through DMs to support the customers and also showcase brand values.
Often customers resort to social media to raise corners over order delays or issues. In such cases, many brands apologize for the inconvenience with a message and take the conversation to DMs to provide more accurate details about the order and resolve the dispute.
Direct Message details for social media platforms
Social media platforms are crucial in not only attracting potential customers but also building and maintaining a reputation. This is where managing customer relationships effectively plays a key role. Having a robust DM strategy and toolkit in place can help.
Here's how you can use social DM on different digital channels to support your brand.
Instagram DM
If you are wondering how to DM on Instagram, here's to get you started. You can send DMs using the app on your phone or computer (Mac or PC).
How to direct message on Instagram using the app
Log in and open the Instagram app on your phone.
To view messages in the app
The messenger icon will appear on the top. In case, you see a paper airplance icon, it means that you haven't connected your Instagram and Facebook messenger. Click on or .
Once the DM window is open, you can see both read and unread messages.
Tap on unread direct messages to respond in the message bar.
If any non-follower sends you a message, it will appear as a request in your message inbox. To accept or decline the message, tap on
or
.
Tap on Requests and then on the message.
Select Delete or Accept.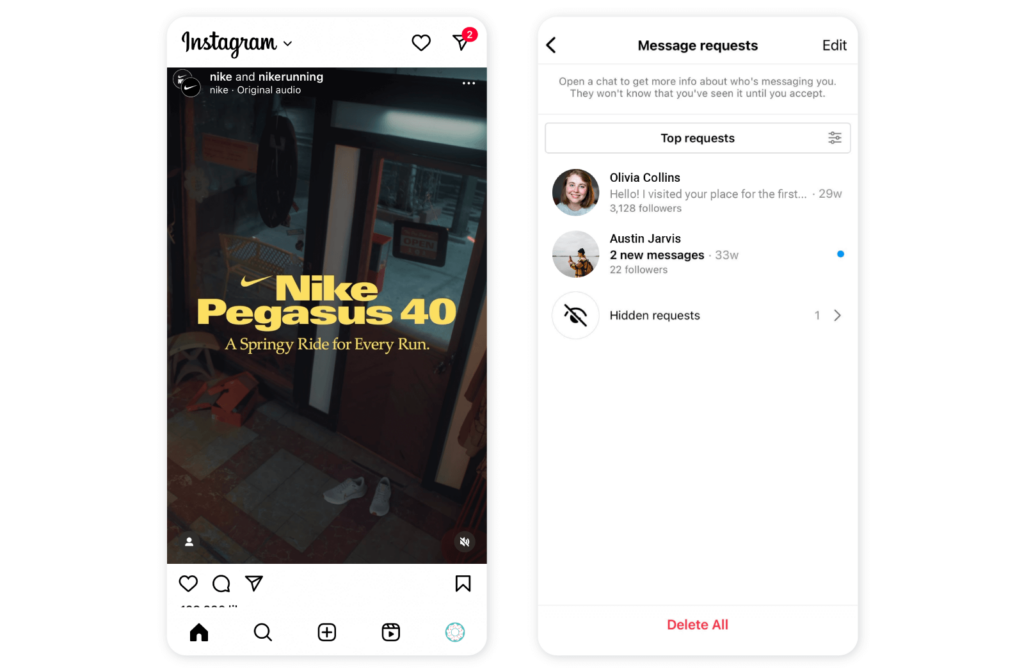 To send messages in the app
If you want to send a post from your feed as a message, it will only be visible to people who can see it. For instance, if you send a post from a private account, only followers will be able to view it.
Tap on or .
Tap on .
Select the people that you want to send the message to and then tap on Next.
Type your message and tap on Send. You can also select a video or photo from your library using this icon.
Also, if you want to send a message to someone you follow, then go to their profile and Tap on Message. You can send disappearing photos and videos or share a profile as a DM from the Instagram app.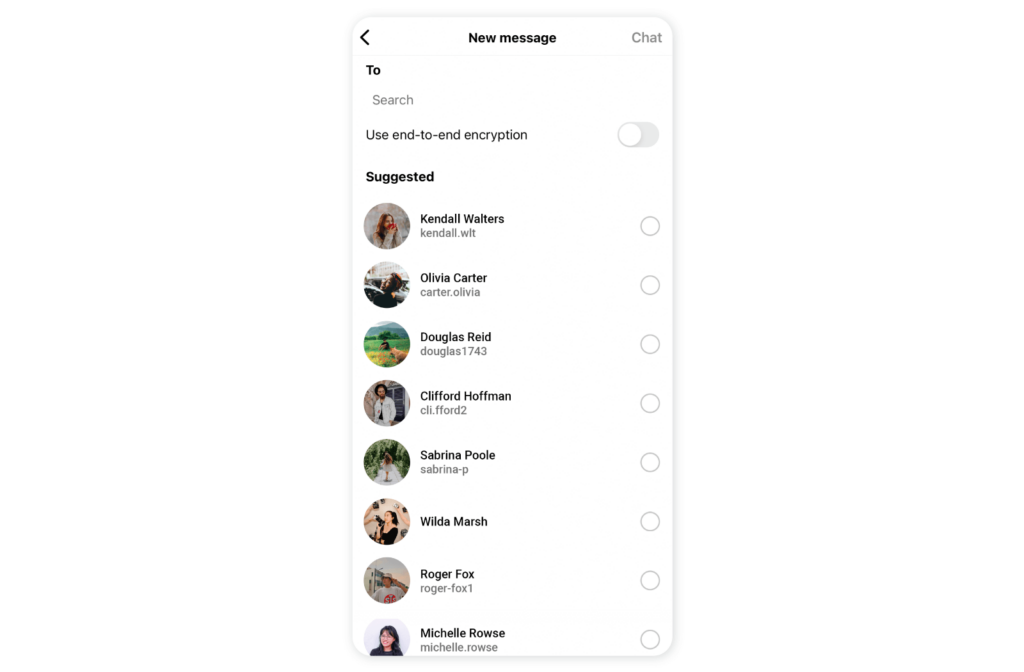 To unsend a message
Select the conversation and go to the message that you want to unsend.
Tap next to the message.
Tap on Unsend to confirm.
How to direct message on Instagram on mac
The process is almost similar to the app.
Open www.instagram.com in the browser and log in with your username and password.
Click on Messages ( or ).
View both read and unread messages and respond to the messages.
To type a message, click on . Enter the message and select the people you want to send the message to. Click on Send Message and it's done.
This way of responding to messages may appear cumbersome if you handle high-volume message requests or queries. However, one-stop social media management tools such as Sociality.io can help automate your Instagram message management. Know how!
How to direct message on Instagram on pc
The method of checking Instagram direct messages on your PC is the same as that of the mac. In fact, you don't need to use any specific browser to access your Instagram DMs.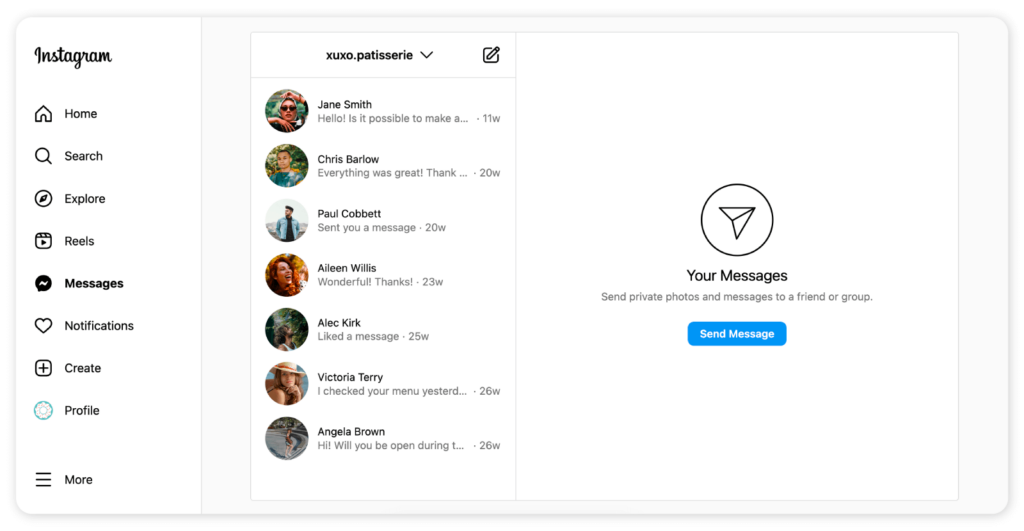 You can also download or export Instagram messages on PC or Mac.
Facebook DM
Here's how to direct message on Facebook using a desktop.
Go to your Feed and click on in.
You can view both read and unread messages along with message requests.
Then, click on to type a new message.
Type the name of the Friends you want to send the message to in To bar and select.
Press Enter or click on to send the message.
Also, you can go to the person's profile or Page and click on Message to send them a message directly. If you are unable to view the option to message a Page, it means that the Page has turned off this feature.
If you want to direct message on Facebook using the app, then
Go to your Feed and tap on .
Select the people to who you want to send the message and type the message in the box.
Tap on to send the message.
To send a new message, you can also go to any profile and tap on
.
If you send messages to people who are not your friends, then these messages may appear in the message requests.
TikTok DM
TikTok DM allows you to share TikTok videos and send and receive messages from suggested friends, people you may know, and mutual followed friends. To view your direct messages on TikTok,
Open the app and go to Inbox.
Tap on a name from the Messages list to access the chat.
To send DM on TikTok using the app,
Go to the video or the content (hashtag, sound, effect, etc.) that you want to share. You can also go to the Search bar to look for the content that you want to share.
Tap on Share. In case you want to share a video, you can press and hold on to the video you want to share.
Then, tap on the profile photo of the users you want to share with.
You may also enter a message of you want and then tap on Send.
Twitter DM
Here's how to direct message on Twitter using the mobile app.
Tap on the envelope icon to view your messages.
Then, go to the message icon to write a new message.
Enter the name or username of the people you want to send the message to and then type your message. At a time, you can send to up to 50 people.
You can also DM a photo, video, or GIF by tapping on theicon. Then, tap on the photo icon to access your gallery or record and take a picture. To add a GIF from your media library, tap on icon.
Send your message by tapping on iOS or Send on Android.
To DM on Twitter using desktop or computer, follow these steps.
Click on Messages to access your DM history.
Click on the New Message icon and enter a name or username. As in the app, you can send messages to up to 50 people.
Click on Next and enter your message in the box. You can also include a video, photo or GIF along with the text message.
Press Enter key or click on Send button and you are done.
Any messages you receive from people you do not follow will appear in the Request in the Message tab.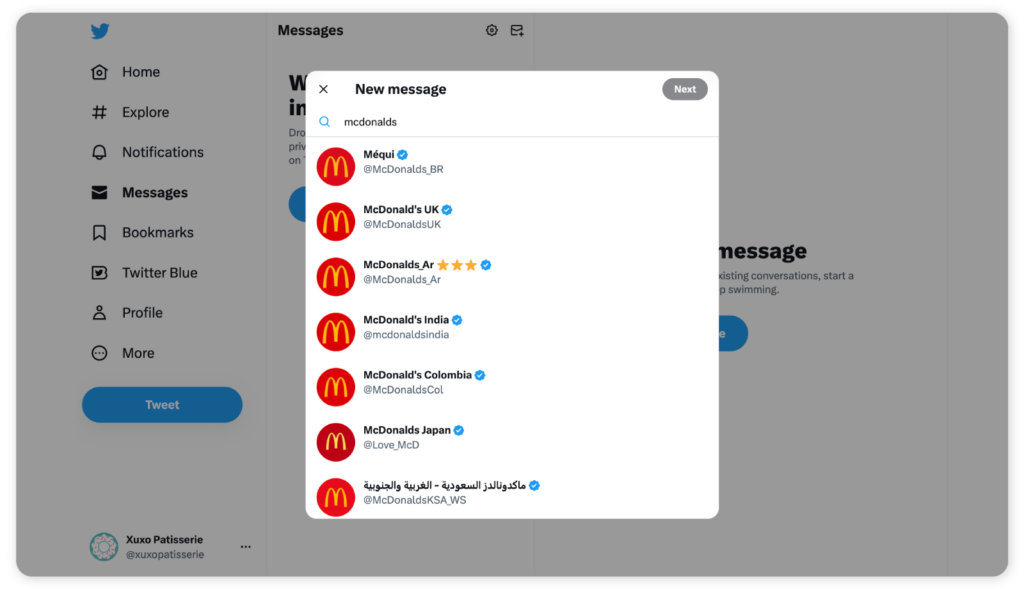 Best practices for better DMs
Customer experience can make or break it for many businesses, and with DMs gaining much popularity as a means of communication, it is time to DM the right way. Here are some useful tips and best practices you can try.
Avoid DMs for marketing purposes or advertising as it may not work well with your followers. With that being said, you can use DMs smartly for sending special promotions only to select customers. Many experts suggest that customers should have the option to opt-in for marketing messages.
Respond to DMs as quickly as possible as they are primarily used for enhancing real-time communication. Having a prompt and private response help improve a brand's relationship with its customers.
Be ready with stock responses to the most common questions your customers ask. This will help you give professional, on-time responses.
Use personalized messages to the DMs so they do not sound all robotic. You can use the customer's name while addressing their concerns or queries.
Handle your direct messages more efficiently. You may have to moderate DMs on all your social platforms, so make sure you use the right tools. You can consider using Sociality.io's Engage module to have better conversations with your customers.
What can Sociality's Engage module do for you
The Engage module makes it easier for you to manage and respond to your DMs through a single dashboard for all social channels. Let's dive deeper.
Improve your engagement assignment process
Even if you are a big team, you can improve the response time. The advanced filters help you remove clutter and allocate conversations to the right person. Your team can access the assigned conversations assigned or overview the entire workflow.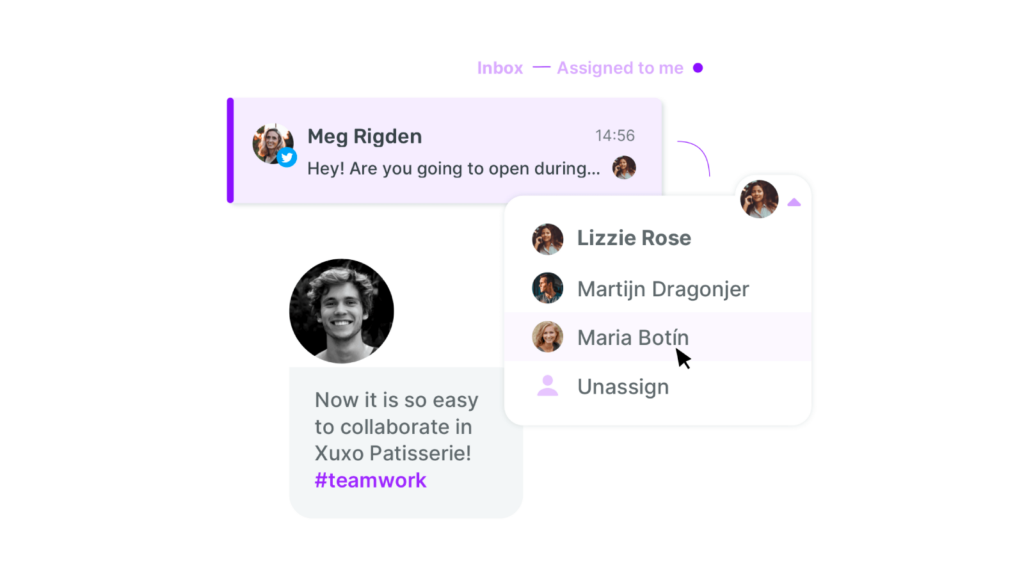 Access activity logs
This module works like a CRM tool for your social inbox, enabling you to view conversation logs, assignment time, first reply time, and closing time.
Measure team performance
Comprehensive reports can give you insight into your team's performance, supporting faster decision-making. You can view actionable metrics and graphs such as the busiest time for conversations, the number of replies, sent, etc.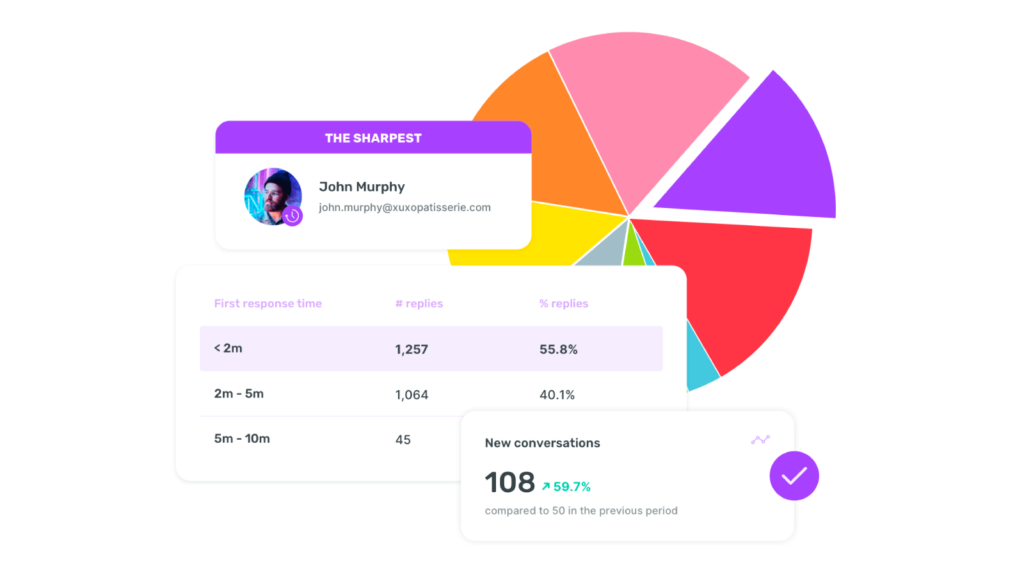 Share internal notes
Internal notes simplify the conversation and coordination between the team members. Since they are part of the social inbox, your team can quickly share notes or queries anytime, anywhere!
To know what more you can do with Engage module, read here.
Final Words
Direct messages can be a powerful tool in improving your brand's image when used the right way. Ensure you know your way around different social media platforms and how their direct messaging work to respond quickly and effectively. However, high-volume messages can make it difficult to maintain speed and quality. Do not hesitate to explore the right social media management tools such as Sociality.io that equip you to manage your social inbox like a pro!