How to download Instagram Reels: 4 Must-know hacks
Whether you want to share them with your friends or save them for later, we walk you through how to download Instagram reels on any device.
Instagram Reels burst onto the scene in 2020, giving users the dopamine dump they'd been craving. And since they debuted, they have quickly become one of Instagram's best-loved content types. Trust us, if your brand wants high engagement rates, Reels are the way to go.
Since the Instagram algorithm puts a high stock value on video content, businesses and creators that go all-in on video content are more likely to reach wider audiences.
With the platform itself encouraging brands to say it with a reel, you may find yourself wanting to download Instagram Reels for some creative inspiration (or to watch again later). And while the app doesn't currently have the option to download them within the platform, there are still plenty of ways to get around this.
We break down 4 ways to download Instagram Reels to your device.
Social Media News in a Nutshell
Get the latest social media news, insights, and marketing tips in your inbox once a week.
Can you download Instagram Reels?
The simple answer to this question is yes. As we mentioned above, there's no in-built tool for downloading Reels on Instagram, but there are a few workarounds.
The real question is whether you want to download content from your own Reels or someone else's feed. Both are possible, but one is certainly a little trickier.
Let's say you want to download a reel from your account to your phone. That's a pretty easy one (you'll find the steps below).
Where things get a little more complicated is if you want to download content from another user's account. Never fear, though; we've done the hard work for you. Keep reading to find out how you can save other users' Instagram Reels to your smartphone.
How to download Instagram Reels: 4 Easy Ways
First things first, you need to decide what reels you want to download and where you want to save them to. This will allow you to choose which of the series of steps below to follow.
Here are 4 methods to download reels on Instagram.
How to save Instagram Reels
We'll start with the easiest way to download IG reels. You can do this right within the Instagram app–no other tools or tricks are needed.
If you just want to save a Reel for later (and you don't plan to share it across a different platform), then you may not need to download it at all.
Instagram has its own version of bookmarking, allowing you to save all your favorite content in a folder. That way, you keep your phone storage nice and light while still having access to the reels you love.
The content is added to your Saved collection for you to scroll through when you feel like it.
Here's how to save Instagram Reels:
Find the Reel you want to save
Click the three dots in the bottom right of the screen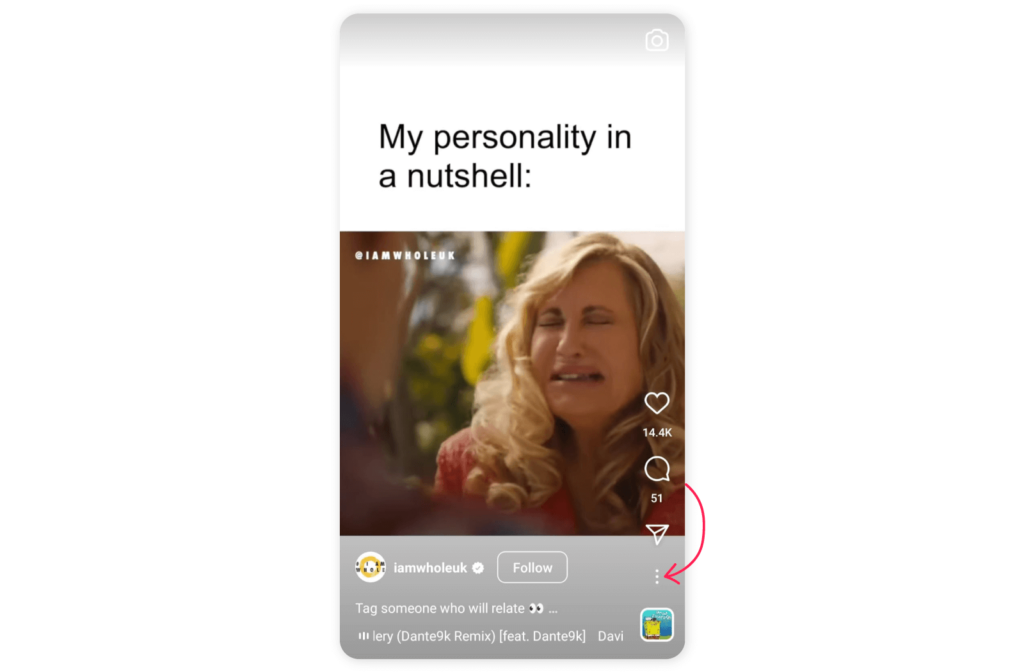 Hit Save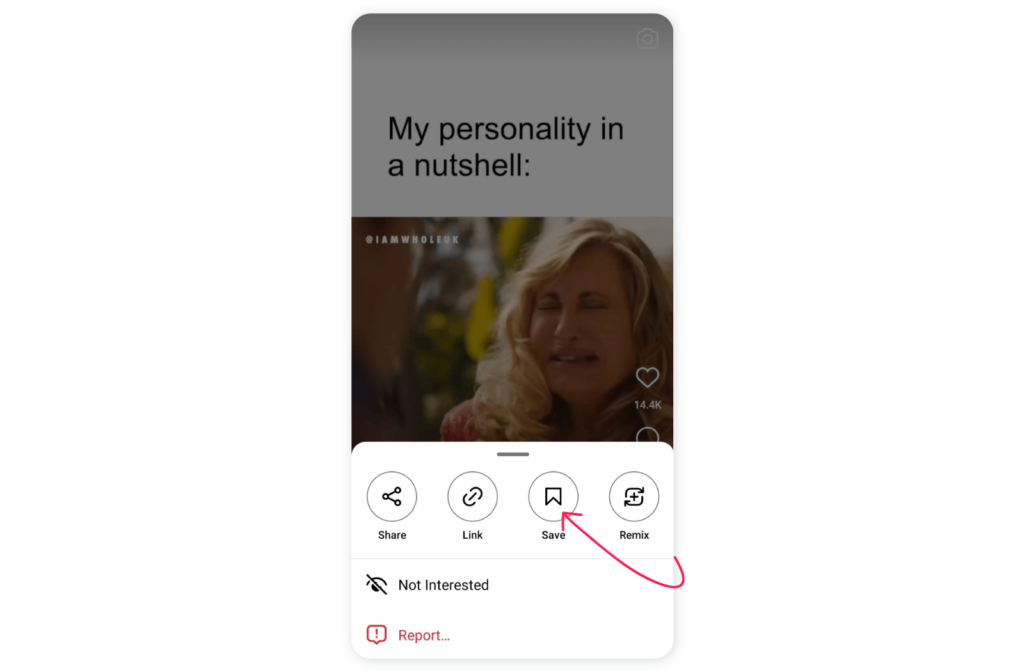 Saved will pop up in the middle of your screen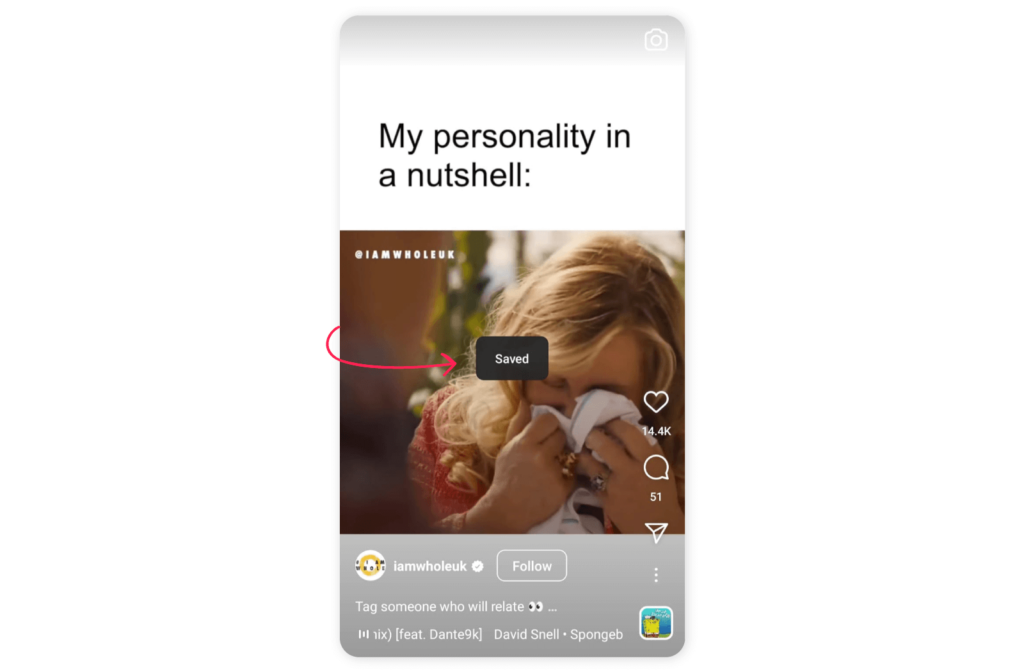 Here's how to see the content you've saved:
Go to your Profile
Tap the Hamburger in the top right corner
Click Saved
Select the Reels tab at the top of the screen
Start scrolling your Reels content
1. How to download your Instagram Reels
Now, here's a new scenario. You've posted a Reel, and it's so good you want to share it on your brand's other social media accounts.
Can you do it? Yes, you can!
Here's how to download your own (already published) Insta Reels.
Open the app and go to the Reels tab
Find the Reel you want to save
Tap the reel to see the video in full-screen mode
Click the three dots in the bottom right
Select Save to Camera Roll
Head to your phone's gallery to see the video
That wasn't so hard, was it? There's even a way to remove the watermark if you want to repurpose the Reel on another platform.
But what happens if you have an iPhone?
2. Instagram reels video download on iPhone
Ok, it's time for a different scenario.
This time, you want to download another Instagram user's Reel on your iPhone.
Is it possible? Absolutely.
Can you do it directly in the app? Nope.
Don't give up, though.
Here are a few creative ways to download other peoples' Reels content on your iPhone.
Option 1: Record your screen
One of the easiest ways to get your hands on an IG Reel you like is to record your screen. That way, you can save it to your iPhone to watch for later or share.
Here's how to record your screen on an iPhone.
Head to Settings
Hit Control Center
Add Screen Recording to Included Controls (this makes it easy to access in the future)
Open the Instagram app and find the Reel you want to record
Swipe down from the top of your screen to bring up Control Center
Press Record
Head to your camera roll to watch the recording
This is a quick and easy way to record Reels. The screen recorder records audio, and you can simply trim and polish your video in the camera roll.
Option 2: Use an Instagram downloader tool
Another nifty way to grab the Reel content you want from other users' profiles is to use a third-party app for iOS or an online Instagram downloader tool.
A third-party app, such as InSaver, allows you to quickly and easily save Instagram Reels to your smartphone.
Alternatively, online downloader tools allow you to get Insta content (including Reels) on your iPhone without having to download a third-party app. Tools such as IG Downloader will automatically save your Reels of choice on your iPhone in the Downloads folder.
3. How to download Instagram Reels on Android
Don't worry. We haven't forgotten about you Android users. Similarly to iPhone users, you have two easy ways to download Reels to your Android device.
Option 1: Record your screen
Again, who says you need to actually download your favorite Reels to watch them later? Recording your screen is a quick and simple workaround. Plus, you most likely already have a screen recording tool on your Android.
Here's how to record your screen and capture that Reel you can't stop rewatching.
Swipe down from the top of your screen
Hit the Screen Recording button
Open the Instagram app
Head to the Reel you want to record, your phone is already recording
Go to your phone's Photos app
Click Library and then Movies to find your saved recording
Trim the video so it only captures the Reel
Enjoy!
Option 2: Use an Instagram downloader tool
Sure, recording your screen is quick and easy. But do you know what's even easier? Using a third-party downloader tool or app.
It may take a little longer the first time you use it (downloading the app/Chrome extension etc.). But after the initial setup, it will save you a whole lot of trimming time.
Some good options for Android include Barosave (Chrome extension), Reels Video Downloader for Instagram, and ETM Video Downloader for Instagram.
These tools are pretty straightforward to use. All you have to do is:
Copy the link of the Reel you want to download
Head over to the app and paste it
Select Download
Your Reel will appear in your Photos app
The beauty of third-party Instagram downloader apps is that you can download different types of content, including Stories.
4. Instagram Reels download on desktop
We realize that not everyone wants to download Reels to their smartphone. Whether you want to edit the Reel with proper video editing software, embed it in a deck, or just watch it on a bigger screen, there are plenty of reasons why you may want to download Reels to your desktop.
The best way to do this is to record your screen using a third-party screen-recording app, such as Camtasia or Loom. Available for both Mac and Windows, these apps have free pricing plans and pro plans if you want access to a wider range of advanced features.
If you're a Mac user, you can also use the in-built Quickplayer software to record the Reel and make some basic edits.
The Bottom Line
Instagram Reels have become the content type du jour for almost all big brands and creators on the app. Not only do they garner high engagement rates, but they're favored by the Instagram algorithm, meaning your content is likely to get pushed out to a wider audience.
All of this spells success for brands looking to boost brand awareness, grow their Instagram following, and drive sales on the platform. 
Because of this, more users than ever want an easy way to download Instagram Reels to their devices. From making edits to creating an inspirational mood board to posting on other social media channels, grabbing content from the app is now hugely popular.
While it's not currently possible to do this directly in the app (unless you just want to save Reels for later), there are plenty of hacks to make it work. There's now an influx of third-party apps and online Instagram downloaders to help you save the content you want to your device of choice. Alternatively, you can go the simple route and record your screen.
On top of these time-saving tools, there's one other piece of software that will make managing your social media accounts a whole lot easier– a social media management tool.
Sociality.io lightens your social media team's workload, automating the scheduling, management, and monitoring of your social media performance across all your platforms. This frees up valuable time to conjure up your next viral Instagram Reel.