How to schedule Instagram Reels? Free + paid tools
Since the launch of Instagram Reels in 2020, they have gained huge popularity among digital marketers, content creators, and audiences. Reels offer a new way to create and share immersive and entertaining short videos with filters, text options, music, etc. In fact, Instagram analytics have proven that Reels do improve discoverability and engagement.
Also, when an Instagram user spends an average of 30 minutes per day on Reels, you have to publish them at the right time. However, it can be cumbersome to record, edit and publish a video every day, and this is where scheduling IG Reels can save you much time.
So, let us discuss how you can schedule Instagram Reels without much hassle!
Social Media News in a Nutshell
Get the latest social media news, insights, and marketing tips in your inbox once a week.
Why do you need to schedule IG Reels?
Time-saving is the ultimate benefit of scheduling IG Reels, but there are more reasons why you should plan and schedule Reels.
More time to focus on content strategy
Planning and scheduling will help you to take out more time for not only editing and improving video quality but also working on your content strategy to create more thought-out and relatable videos. This, in turn, can help improve engagement, awareness, and your Instagram followers count. 
Consistent look and quality of videos
When it comes to social media, cohesive look and feel matter, leaving a memorable impression on your audience's mind. The same goes for Reels too. When planning Reels, think about the branding, colors, filters, text overlays, or CTAs you want to use. While aiming for consistency, don't make your Reels too similar—keep experimenting with different types of videos to keep them interesting for your audience!
Video marketing strategy
Reels give you the freedom to be creative and improve your video marketing strategy. With the newly increased length of Reels, you can play around with different video types such as how-to, behind-the-scenes, testimonials, product marketing, challenges, snippets from day-to-day life, and much more!
Collaboration
When multiple teams or team members are involved, planning ahead can always help to get inputs at the right time for effective implementation. You can brainstorm with your team and discuss what and when you want to publish beforehand without inundating your team with work in one go or overwhelming your audiences with a barrage of Reels.
How to schedule Reels on Instagram
There are various free and paid tools available to help you plan and schedule IG reels. Some social media management tools even offer an auto-publishing feature, so you can bulk-schedule Reels ahead of time. So, let us dive in!
Free tools to schedule Instagram Reels
You can use Creator Studio to create, optimize, schedule, and publish Reels on both Facebook and Instagram. Here's how to do it.
Log in and go to Create Post under the Instagram tab.
Depending on the length of your video, select IG Video or Instagram Feed.
This may appear confusing to many, but as per the latest update, all non-Story videos will be considered Reels on Instagram.
The next step is to optimize Reels; you can reframe or crop horizontal videos (a 9:16 aspect ratio is the recommended size for a Reel)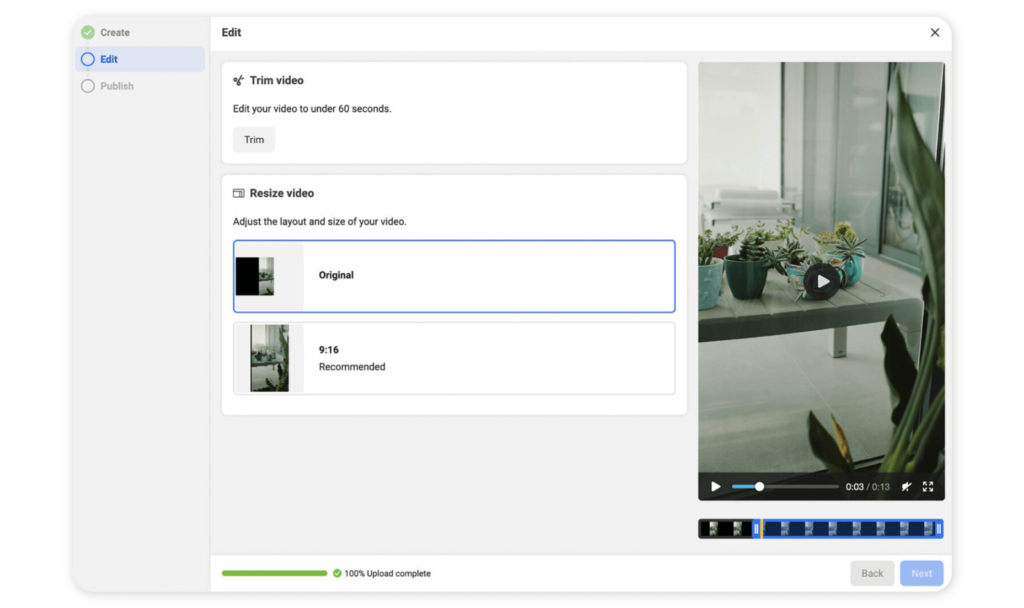 Add a caption to the Reel.
Schedule, publish or save as a draft.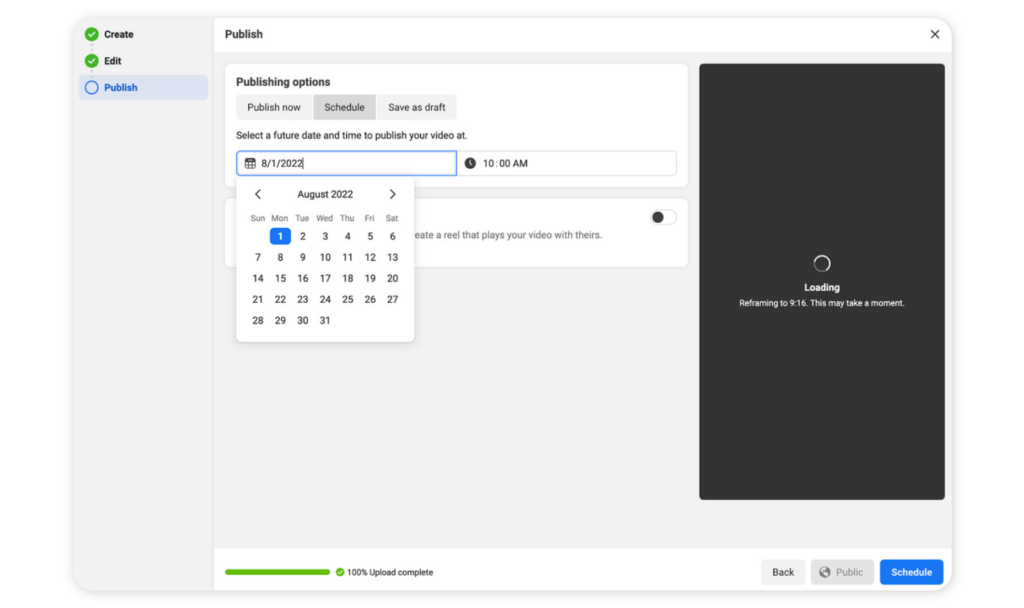 Pricing: Free (but you can use Creator Studio to schedule IG Reels only if your Instagram account is connected to a Facebook Business Page)
Pro Tip: If you are managing multiple social media accounts, you can use specialized social media tools such as Sociality.io that not only work as an Instagram Reel scheduler but also manage content on other social media accounts, including Facebook, Twitter, YouTube, LinkedIn, and TikTok.
Mtericool enables users to plan and schedule social media content, analyze data and that of competitors, and manage online paid campaigns. Its planner feature provides a planning dashboard that allows users to schedule and publish social media content, including Instagram Reels.
You can upload the Reel to the scheduler, add a caption, choose the cover, and save the Reel. Mtericool then automatically publishes the Reel.
Rating: 4.3/5 (as on Capterra.com)
Pricing: Offers both free and paid plans starting at $12/month
Buffer is a social media management tool specially designed for small businesses. It offers various tools for planning and publishing content, analyzing social media performance, improving engagement with audiences, and more. Plus, it also provides features to build a custom landing page in no time with in-built templates.
Buffer allows you to draft, schedule, and auto-publish up to 10 Reels ahead of time on the web app.
Rating: 4.5/5 (as on Capterra.com)
Pricing: Offers both free and paid plans starting at $5/month
Sociality.io is a one-stop social media management platform with five core functionalities, including Publish for scheduling social content, Engage for engagement and building relationships with audiences, Listen for tracking brand mentions and brand monitoring, Analytics for analyzing both paid and organic performance and Competitor Analysis for overseeing and benchmarking competitors' performance.
Especially for Instagram, it enables you to schedule different content formats on Instagram, including Reels.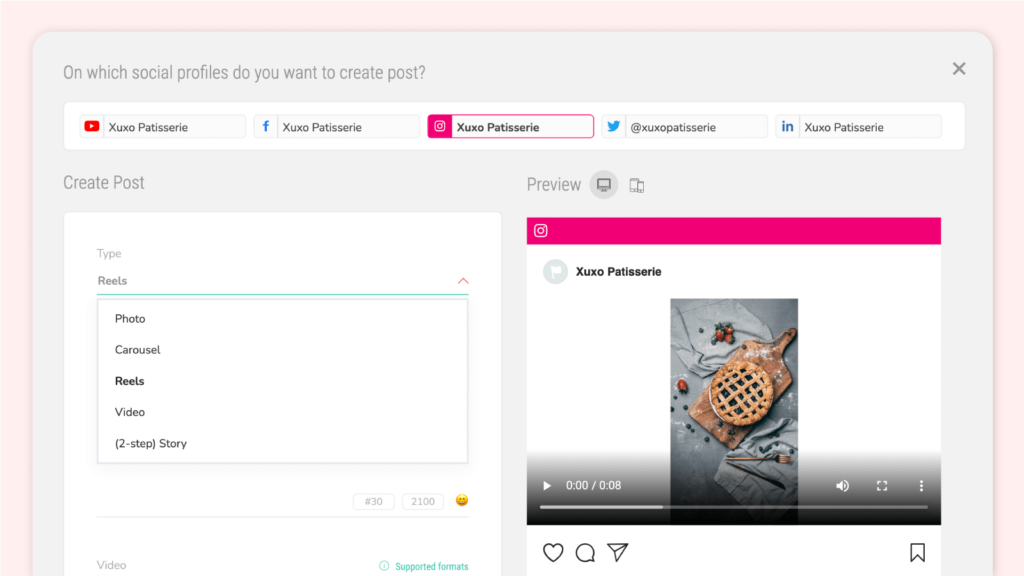 After uploading the Reel, you can choose your thumbnail or cover photo and schedule the Reel on your preferred date and time. That's it! Sociality.io will auto-publish your scheduled Reels without any hassle.
Rating: 4.6/5 (as on Capterra.com)
Pricing: Starting at $99/month with a 14-day free trial period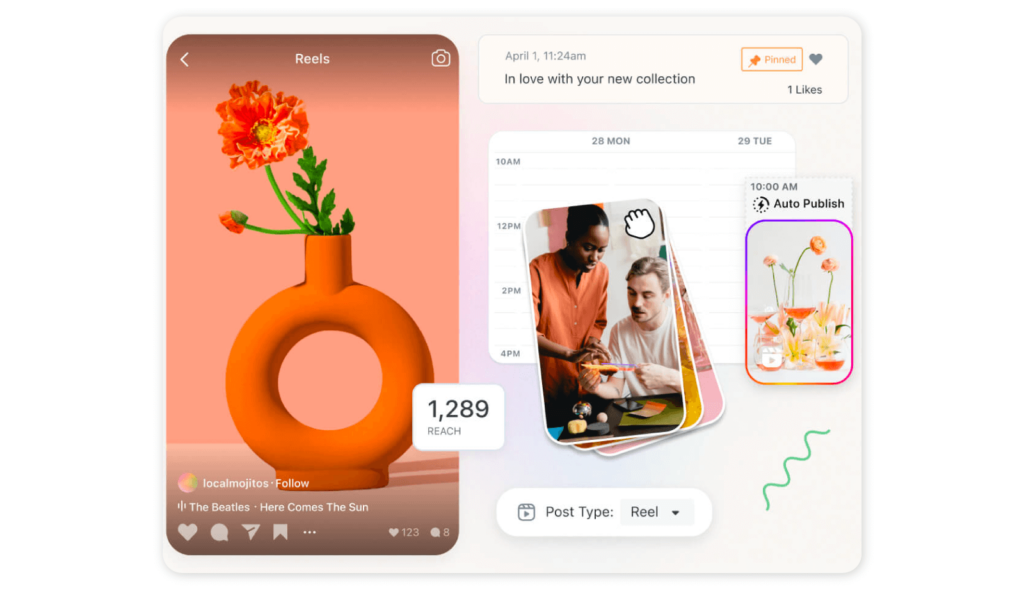 Later is a social media management tool that helps you to plan, schedule, publish, and analyze social content. It also offers the link in the bio tool for Instagram and TikTok profiles. It recently launched its Instagram Reel scheduling feature that lets you bulk-schedule Instagram Reels and auto-publish them on the specified date and time.
All you need to do is upload the Reel to the Media Library, add a caption, edit the cover, and schedule. You can also access Instagram Reels analytics to know how your video strategy is performing.
Rating: 4.5/5 (as on Capterra.com)
Pricing: Starting at $18/month
Hootsuite is also a social media marketing and management tool that enables you to plan and publish content, engage with audiences, measure your social performance, and monitor trends and competitors.
It also allows you to schedule and publish Instagram Reels. You can upload your recorded Reel from the device, add a caption, enable or disable comments, preview the Reel, and schedule it as per your preferred date and time. Moreover, it also provides recommended days and times to post the content.
Rating: 4.4/5 (as on Capterra.com)
Pricing: Starting at $49/month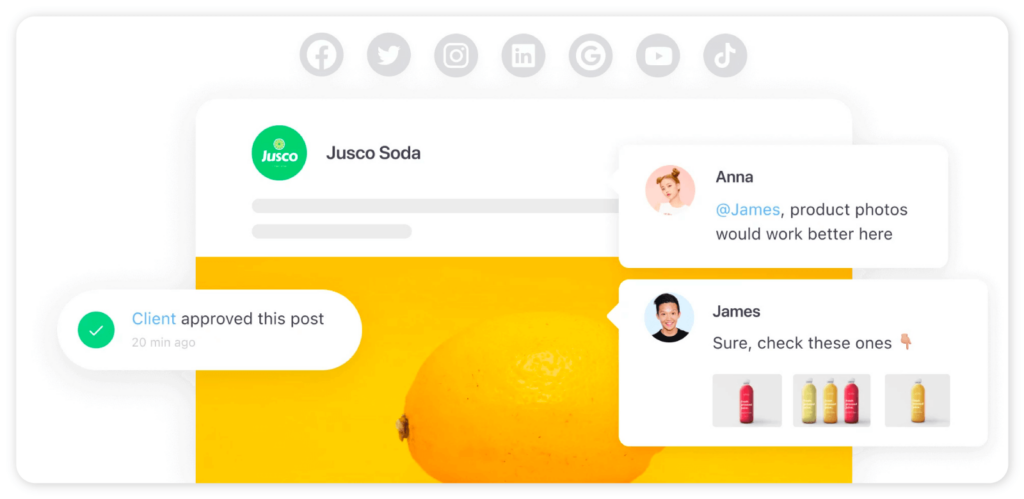 Planable is a social media scheduling tool that enables you to plan, review or approve, and schedule social media content across different platforms. The team can collaborate using the social media calendar, which is available in the feed, grid, list, and calendar view.
This scheduler works well for content on Facebook, TikTok, YouTube, LinkedIn, and Instagram, including Reels.
It enables you to upload the Reel to the Media Library, choose the thumbnail, or trim the video and add a caption. You can then schedule it on a select date and time, and the Reel will be published automatically.
Rating: 4.5/5 (as on Capterra.com)
Pricing: Offers both free and paid plans starting at $11/month
Tailwind is a social media and email marketing platform that is equipped with tools for Pinterest and Instagram marketing. You can not only plan and create social media posts and email campaigns but also schedule social content and follow-up emails using a single calendar. It also offers unique features, including SmartSchedule and HashtagFinder for Instagram.
With its Instagram Scheduler, you can schedule and auto-post Reels. The users can upload the Reel and schedule it for a select date and time.
Rating: 4.2/5 (as on Capterra.com)
Pricing: Starting at 2.99/month
Plann is an all-platform auto-scheduler for Instagram, Pinterest, Facebook, TikTok, and LinkedIn that offers features to design, strategize, and plan your social content calendar. It offers solutions for Instagram auto posting, TikTok and Reels scheduling, image editing, content planning, analytics, strategy creation, and much more.
Plann allows you to upload your Reel and the cover image. You can then schedule it for the preferred date and time, and Plann will auto-post the Reel.
Pricing: Starting at $11/month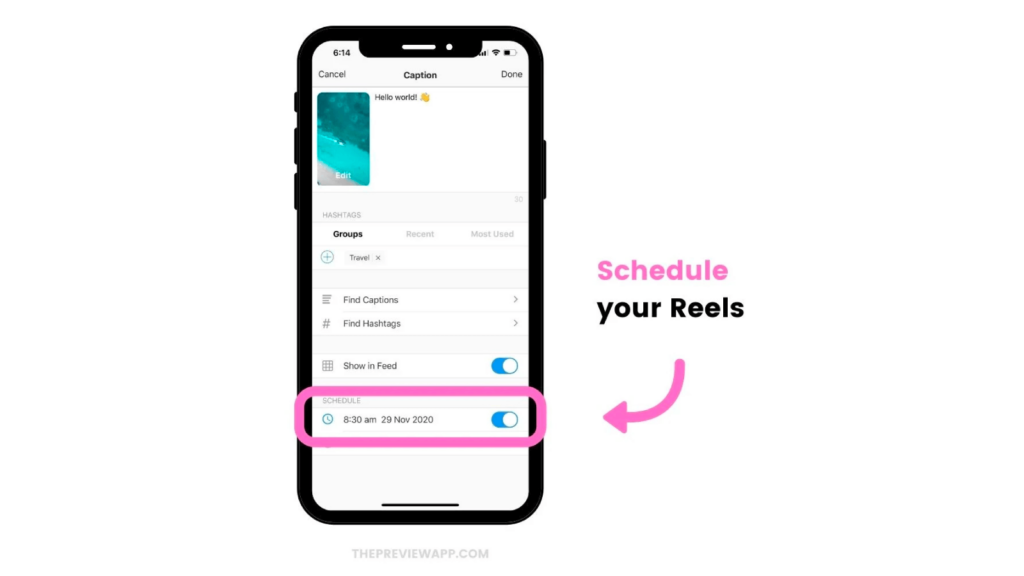 The Preview app is an Instagram-specific planner that enables you to plan your posts, Reels, and Stories. You can easily upload your Real on the Preview app, change the order of your videos using drag and drop, add a caption, schedule, and finally, auto-post. You can also change the thumbnail or cover image of the Reel.
You can choose the option to "show in Feed" to make your Reel appear in your IG Feed.
Rating: 4.5/5 (as on Capterra.com)
Pricing: Offers both free and paid plans starting at $6.67/month
Final Words
Instagram Reels is one of the fastest-growing content forms on Instagram. That is why marketers and content creators need to make the most of it to improve their engagement and discoverability. Digital marketing solutions, including both free and paid Instagram Reel schedulers, have proved effective in taking away the headache of scheduling and auto-publishing IG Reels, helping save time and improving video content strategy. You can always utilize the power of Instagram Analytics to know if your Instagram Reels are performing well!