Get noticed on Instagram: The ultimate guide for creating killer Instagram Collab post
Why show up in one place when you can be in two? That's the promise of Instagram Collab posts.
This Instagram feature lets two users share the same post to their separate audiences, thereby increasing the visibility each user gets.
Have you tried Instagram Collab posts yet?
In this article, we'll dive into what they are all about, their benefits, and how you can use them to achieve your social media strategy goals.
Social Media News in a Nutshell
Get the latest social media news, insights, and marketing tips in your inbox once a week.
What is an Instagram collab post?
An Instagram collab post is a feature that allows two Instagram users to share the same post to their timelines. These posts do not just appear on two different profiles, they also share the same engagement numbers – likes, comments, and shares.
This feature is an organic way to get your content seen by more people and build genuine relationships with other Instagram creators and brands along the way.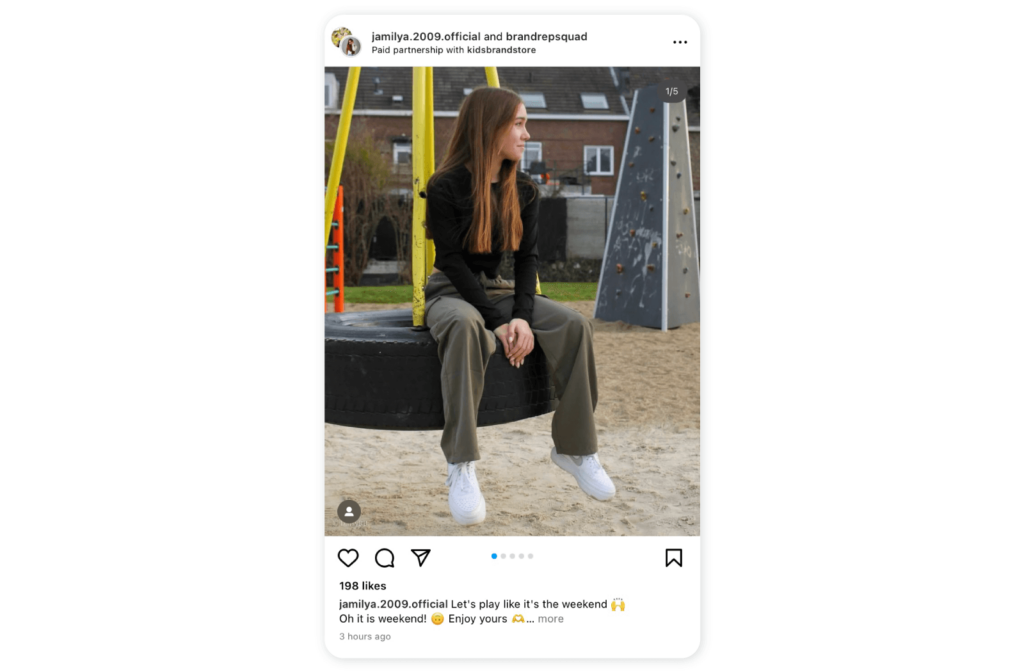 For now, Instagram Collab posts have a few limitations.
For instance, you can only use them in your feed and Reels section. Also, you are only allowed to collaborate with one Instagram brand or creator per post.
But even with these, Instagram collab posts still possess benefits that you can't ignore.
Benefits of using the Instagram Collab feature
There are 4 main benefits of using an Instagram collab post.
Increased reach

Improved engagement

Builds credibility

Cost-effective marketing
Increased reach
The more people you can reach on Instagram, the greater your chances of winning over new fans.
An Instagram Collab post lets you get in front of another brand's (engaged) audience and improve your discoverability on the platform.
You can get in front of people who previously knew nothing about your products or service and show them why they should follow you. Like Australian self-care brand, The Esse Edit, partnering with digital creator, Aniqa: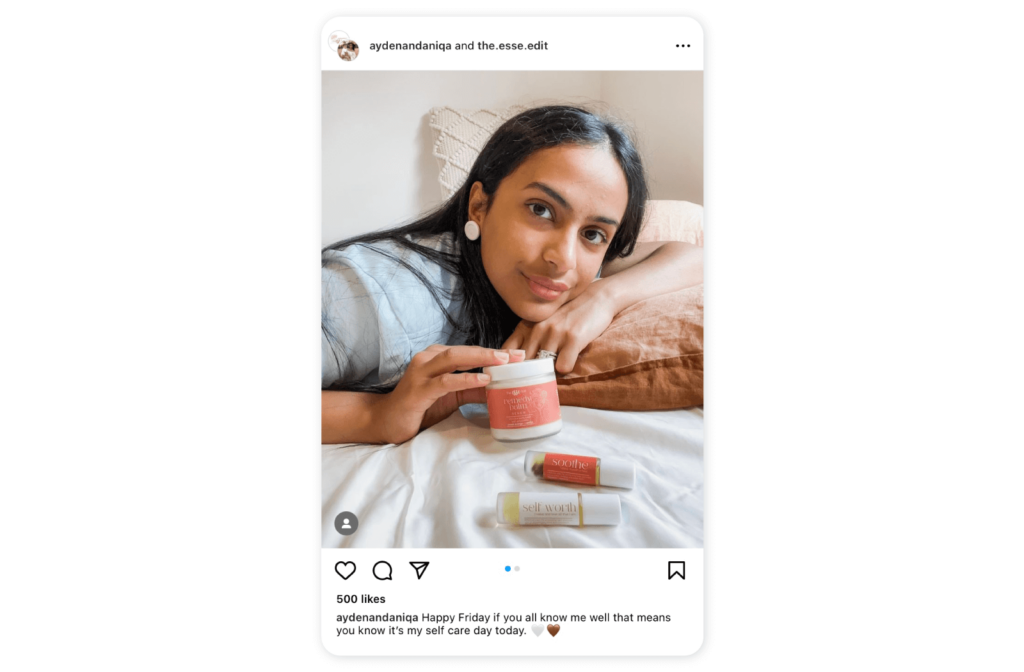 Improved engagement
Two heads are better than one, right?
Or at least, for Instagram engagement purposes, two accounts are better than one. Sharing your post to another person's engaged audience increases your chances of pulling more likes, comments, shares.
All of these are important as a high engagement rate signals to Instagram's algorithm that people love your content and you deserve to be rewarded with more visibility.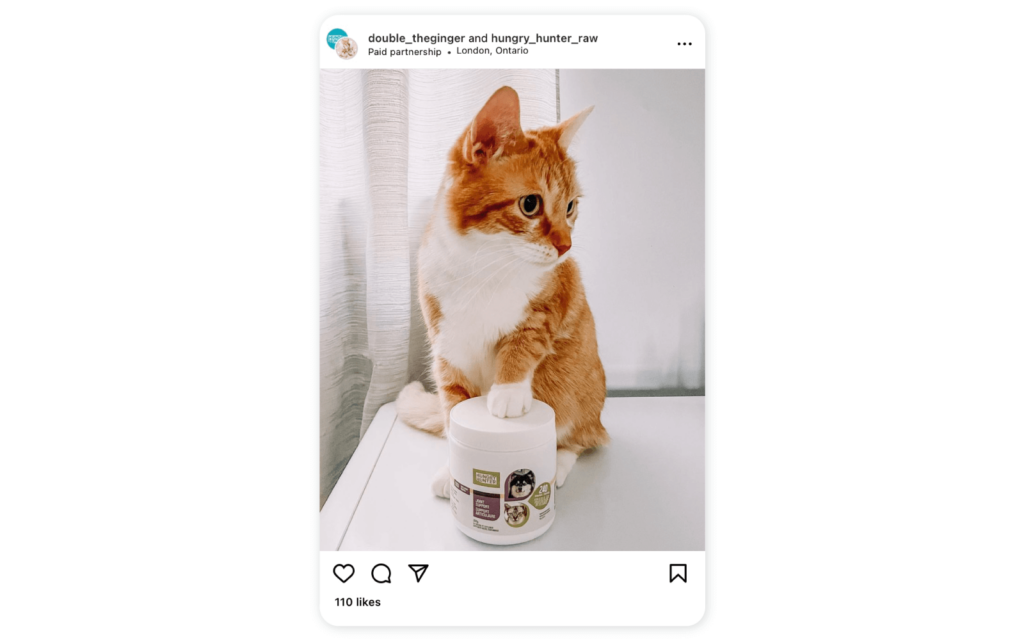 It builds your credibility
Associating your brand with another reputable brand or creator on Instagram is one of the most powerful forms of social proof on social media.
It's like you're telling your audience, and your collaborator's audience, that:
"Hey, we're cool to roll with these guys. You should trust us."
If your brand isn't a household name yet, find and reach out to brands with engaged audiences. The fact that these people already trust the influencers will cause them to look at your brand in a favorable light.
Think of it as a digital bandwagon.
It is cost-effective marketing
The cost of creating Collab posts is usually shared between the two brands collaborating. So you could spend less resources than you normally do but still reach more people.
Plus, your deal gets even better if your collaborator has a lot of engaged followers. More followers=more eyeballs.
How do you create a Collab post on Instagram?
It's easy to get started with creating a Collab post on Instagram. Here's how to do it.
 Create your Instagram post or reel the way you normally would.

Tap the Tag people menu on your screen.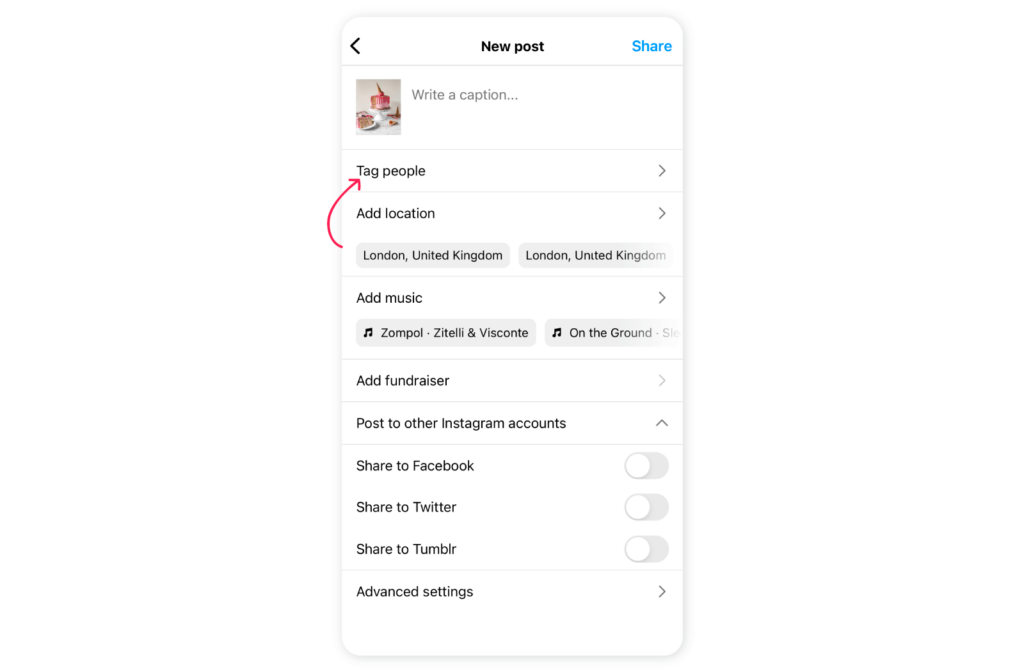 You'll see an option to Invite Collaborator. Tap it.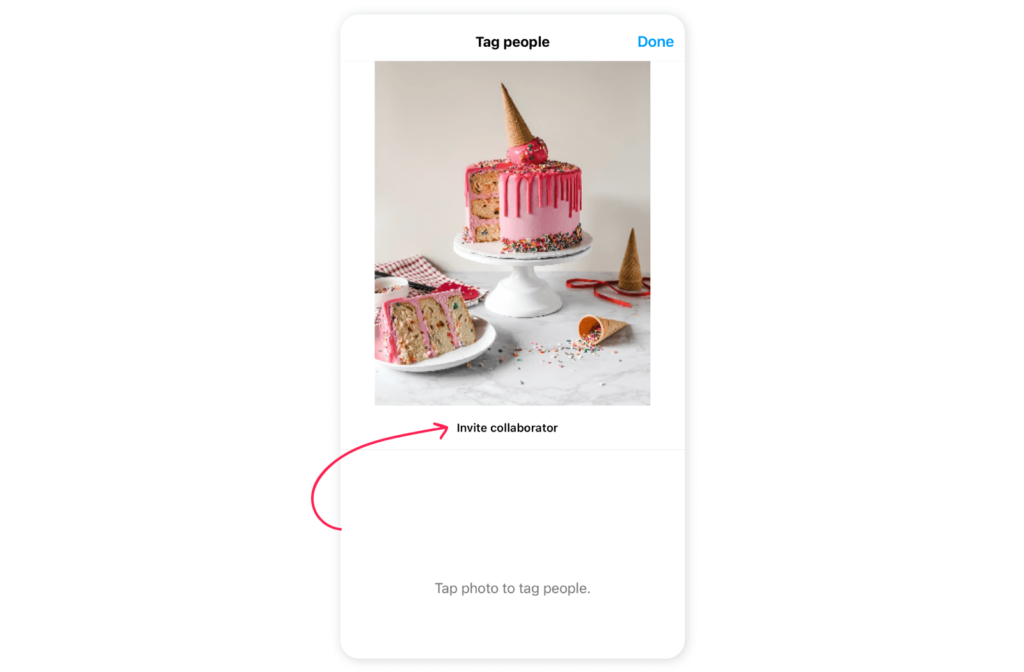 Search for the person or brand you want to collaborate with. If they accept, the post will also be shared with their followers.
Can you make a Collab post on Instagram after posting?
You cannot add a collaborator to your Instagram post after posting. If you forget to add a collaborator before you publish your post, you'll have to delete the said post and republish it. This time, with your collaborator added.
How to accept a collaboration on Instagram
If someone invites you to collaborate on a post, you'll receive an invite on your notifications page.
Tap on the Review button and a popup will show with an option to accept or decline the invitation. Choose Accept and you'll be added as a collaborator to your partner's post.
3 ways to leverage Instagram collab posts
1. Work with an influencer
Influencer marketing is big on Instagram–72% of marketers used Instagram for influencer campaigns in 2022. You can increase your engagement and boost your visibility by partnering with influencers of different sizes.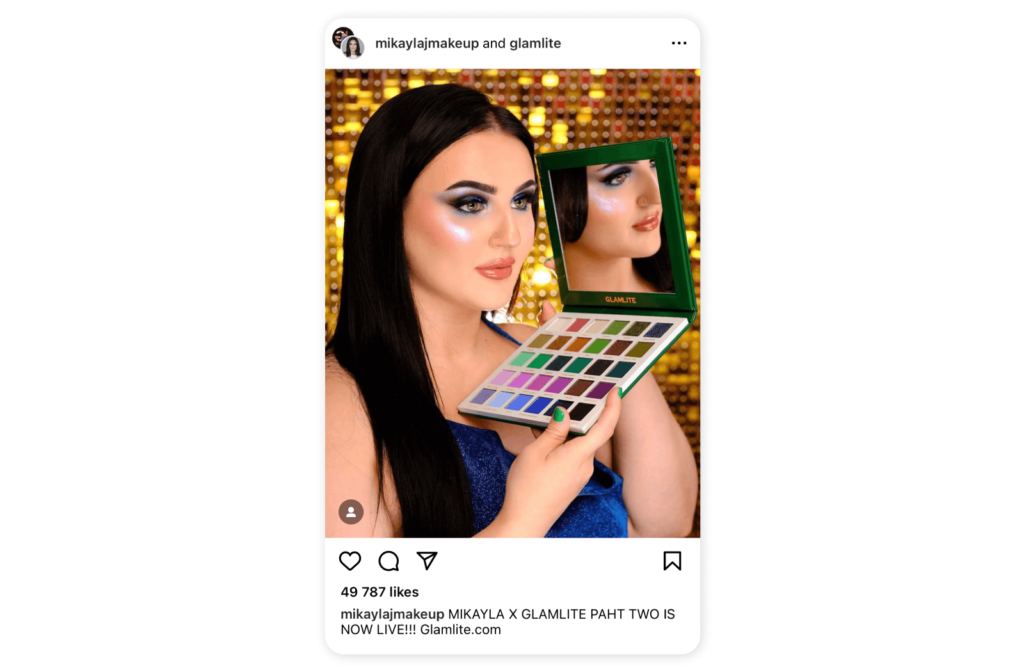 If you're collaborating with influencers, do not just focus on their follow count; it usually doesn't tell the full story of their compatibility.
Also ask questions about their:
Engagement rate: this tells you what percentage of the influencer's follower count actually interacts with their content. A high engagement rate could mean that more people will see and engage with your Collab post.

Audience demographics: Make sure to ask about the details of your influencer's followers. The closer it aligns with your ideal followers, the better your chances of launching a successful Collab post. Ask the influencer to show you their post insights so you can understand who views and engages with their content.

Content style: Also confirm that your influencer's style is not different from the way your brand is positioned.
2. Leverage user-generated content
User-generated content could be a sign that your customers are in love with your brand. And if that's the case, that's definitely something you want other people to know about.
User-generated content increases trust among your audience. It doesn't only show that your brand's product or service is used by real people, it also shows how these people use it.
If you want to credit your followers, as a way to encourage them to do more, Instagram Collab is the way to go.
Reach out to your followers via the dms and request to be added as a collaborator on their post.
3. Collaborate with other brands for a giveaway
You can also join forces with a complementary brand on instagram to increase your reach and engagement. 
One way to do this is through giveaways. Giveaways are already a magnet for engagement so you and your partner will have a greater reach than going down than this route alone.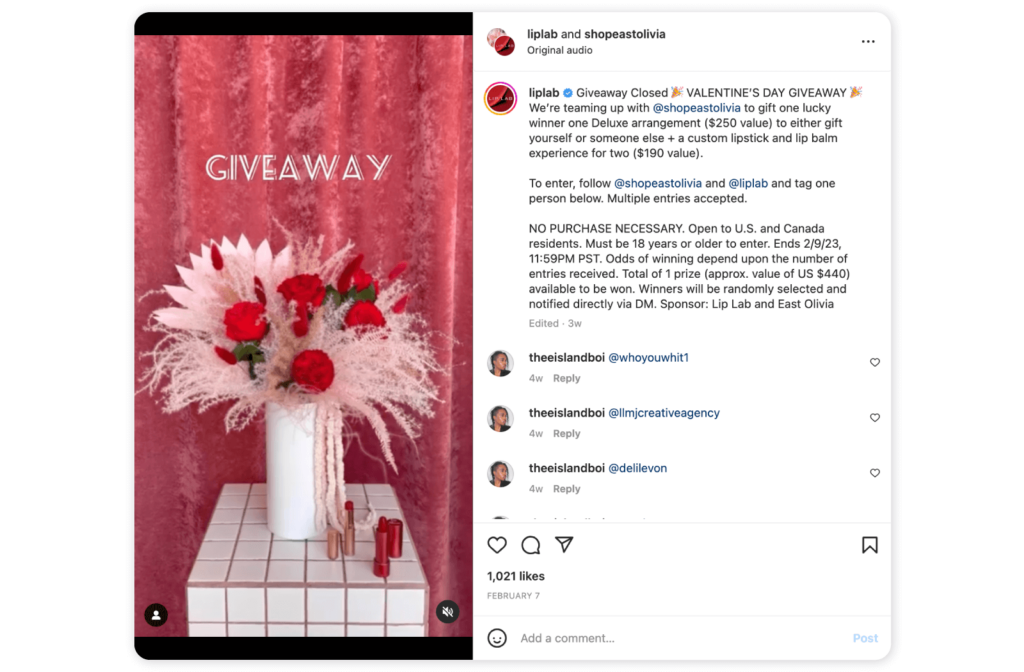 FAQs
How does a collab work on Instagram?
An Instagram Collab allows you and one other Instagram user to share the same post to your separate audiences. This post will have the same engagement numbers. Instagram Collabs help you increase your reach with spending money on ads.
You can either have a personal, creator, or business account but Instagram didn't specify which account type works for Collab posts. So it is safe to assume that all of them would work.
How many followers do you need to collab on Instagram?
You do not need to have a specific number of followers before you can use the Collab post feature on Instagram.
Can you have more than one collaborators?
As of this moment, you're only allowed to add one person or brand as a collaborator on your Instagram post.
Can you tag a collaborator on an Instagram story or live stream?
No, you can't add a collaborator on your Instagram Story or Live Stream. You can only use collaborators on your Instagram posts and Reels.