2023 Instagram algorithm explained: Ways to hack the algorithm
Hoping to get more eyes on your Instagram content this year? The key to your success lies in understanding one very important element of the app: its algorithm. Powerful and transformative, the Instagram algorithm can be tricky to understand – and even more difficult to master.
Thankfully, it's far from impossible, especially with the help of this go-to guide which answers your most salient questions about the Instagram algorithm: what it is, how it works, and most importantly, how to hack it in 2023.
Social Media News in a Nutshell
Get the latest social media news, insights, and marketing tips in your inbox once a week.
What is the Instagram algorithm?
Every social media platform abides by its own algorithm – and Instagram is no exception. In essence, the Instagram algorithm is the set of rules that dictates how the platform ranks content and monitors user behavior to serve users content that aligns with their interests.
Although it is typically referred to as a single algorithm, Instagram actually uses an array of algorithms and processes to personalize content in this way for individual users.
In this guide, we'll explore the algorithms used by the app's various functions and sections, including Instagram Reels, Instagram Stories, and the Instagram Feed.
How does the Instagram algorithm work?
Over the years, we've seen numerous Instagram changes, many of which have related directly to the app's algorithm(s). Therefore, the app has functioned slightly differently at different points in time.
Additionally, as we mentioned previously, the algorithms vary across app functions. However, they all share the same goal of delivering content that users will find the most engaging as a means of keeping them on the app longer.
Most recently, in 2022, Instagram re-introduced the capacity to view content in chronological order as well as having your feed curated to view content from your favorite accounts.
🔥 Bonus articles:
Instagram Reels algorithm
Because the algorithm wants users to stay on Instagram for as long as possible, it's going to boost Reels that appeal to (and will therefore entice interaction from) the most users possible.
As a result, it's important to prioritize the content of your Reels above all else. Ensure that your content is unique, engaging, entertaining, and/or inspiring.
Your next priority should be quality. You'll need to ensure that your video is not low-resolution, blurry, or recycled from another platform, as the algorithm will de-prioritize content of this nature (which, in the worst-case scenario, could eventually lead to a shadowban).
Instagram Story algorithm
The Instagram Story algorithm operates slightly differently, prioritizing content from accounts you interact with the most. In other words, your behavior on the app has more of an effect on the Stories you see than the specific content of the Story itself.
Recency is also a key factor in this algorithm, as the most recent posts on Instagram Stories will appear first. As a result, it's essential to post Instagram Stories at the right time (i.e. when your followers are most active on the app).
Instagram algorithm for Feed
According to Instagram, the Feed algorithm uses several factors to curate and prioritize content for each user, which can be classified into the following categories (in order of importance):
What – The content and details of the post itself also influence the level to which the post/Reel/Story is prioritized by the algorithm. Details taken into consideration could include the date and time it was posted, its duration (for videos), and the location listed on the post (if any).
Who – The identity of the poster plays a role in how much the algorithm boosts the content. Depending on who the poster is, the algorithm can predict how likely you are to enjoy and interact with their content.
Your activity – Instagram will assess your previous activity – such as how many posts you've liked – to determine what you'll be most interested in.
Your interaction history – Your past engagement behaviors on Instagram – such as accounts you've interacted with numerous times – will influence the content and creators that the algorithm recommends to you.
Instagram Explore Page algorithm
The Instagram Explore page is designed to help you discover new content and accounts that you may like. The algorithm customizes the content that appears for each user. This means that everyone's Explore Pages are different.
This algorithm is influenced largely by your activity history, showing you content from accounts you frequently interact with as well as related posts. Once the algorithm has curated content that it thinks you'll enjoy, it will rank these posts by how likely you are to be interested in them.
This section of the app is very different from Feed and Stories because it will predominantly show you posts from accounts that you do not follow.
10 tips to "beat" Instagram algorithm
Now that you have a better understanding of the Instagram algorithm in all its variations, it's important to learn how to "beat" it. That is, how to ensure your content is ranking highly in the algorithm and being seen by the most users possible.
To get you started, let's take a look at 10 easy-to-implement strategies.
1. Post at the right time
When it comes to beating the Instagram algorithm, timing is everything. It's essential to post your content on the right days and at the right times; in other words, the times at which your target demographic is most active on the platform. By scheduling your posts around the times at which your followers are online, you'll leverage the recency component of the Instagram algorithm, with your post being one of the first things users see.
The best time to post on social media will vary between platforms, audiences, and industries. You can use either the Instagram app itself or a social media management tool like Sociality.io to see when your audience is most frequently online.
To view this data on Instagram, simply go to your profile in the app and click on Insights, which should be located under the Edit Profile button. From here, select Audience. Here you'll see details about your audience members including gender, age, location, and most active days and times.
On Sociality.io, simply head to the Analytics module. At the top, select your Instagram account, set the date range that you'd like to analyze, and click Apply. Once the data has been generated, scroll down until you find User activities. This is where you'll find insights on the days and times your followers are online. With this information, you can ensure you're scheduling your posts during the periods with the most online users.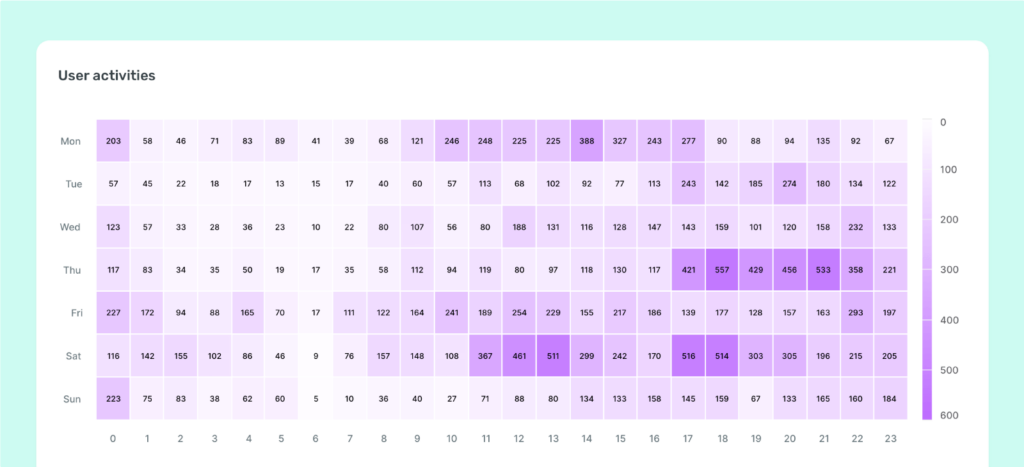 2. Use the right formatting for posts
The quality of the media you post on Instagram is factored into the algorithm. That means you must follow best practices to ensure your content is seen.
A key component of this is ensuring that you're using the right file sizes for various types of posts, including Stories and images.
Not only is correct sizing and formatting vital for beating the Instagram algorithm, but it's crucial to ensuring that none of your content is cut off. Regardless of your image or video dimensions, Instagram will crop it to fit the supported ratio; as a result, if your content isn't the right size, some of it could be lost.
3. Publish consistently
It's important to publish content regularly to stay relevant to your users and get boosted by the Instagram algorithm. Posting on a consistent schedule conveys a sense of reliability to your followers and gives them something to look forward to. In turn, they'll be far likelier to engage with your content when they see it, which encourages the Instagram algorithm to boost your content in their feeds.
It's especially important to regularly post Instagram Reels given that the algorithm is heavily promoting this form of content in 2023. We'll explore this more in the following section "Tap into Reels".
4. Create better captions
Comments and likes play an integral role in the Instagram algorithm – and writing effective captions is an excellent way to incite these forms of engagement.
As a starting point, review the best strategies for writing good Instagram captions, particularly ones that are engaging and prompt interaction from the user. Some examples include but are not limited to:
Asking questions
Using emojis as hints
Telling followers what to do
Organizing a contest or giveaway
Skincare brand Summer Fridays did an excellent job of employing the "asking questions" approach to captions. In the post below, you can see that the brand posted a clean and aesthetic photograph of some of its most everyday products, with the caption asking followers to share their current skincare favorites.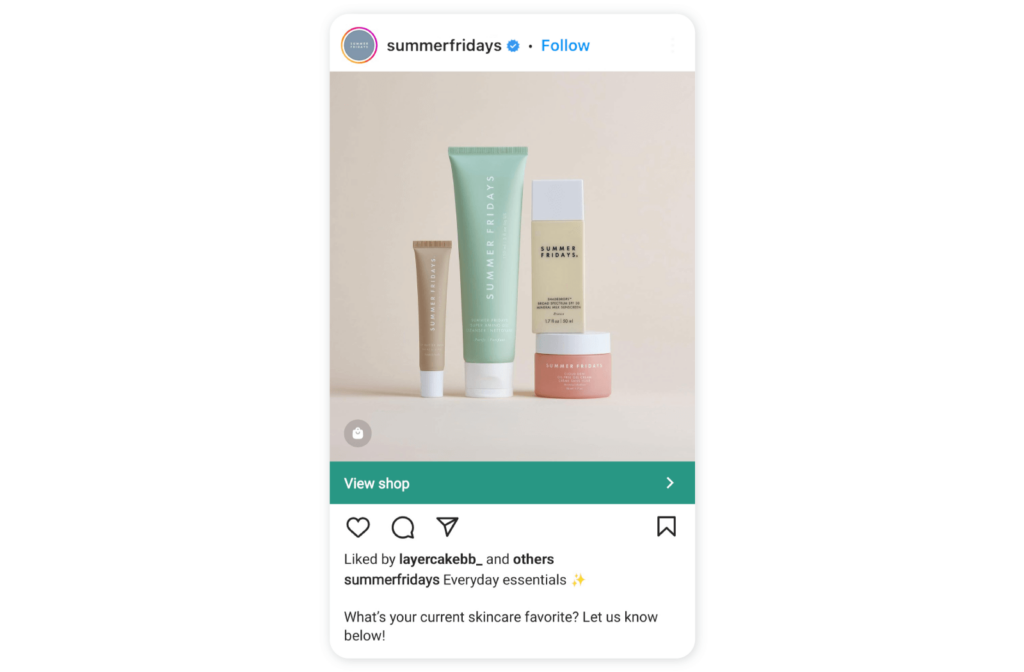 Important reminder: When writing captions, you'll also need to familiarize yourself with the social media character limits that may apply.
5. Leverage the power of your hashtags
Much like the TikTok algorithm, Instagram's algorithm relies heavily on Instagram hashtags. Therefore, hashtags are one of the most powerful tools at your disposal when it comes to beating the Instagram algorithm.
You should integrate relevant hashtags in the caption and/or in the first comment of your post as a means of improving discoverability. The hashtags you use will vary depending on your industry and the nature of your business. For instance, while a small business may use hashtags like #smallbusiness, #smallbiz, or #shoplocal, it wouldn't be appropriate for a major corporation like Apple or Nike to do the same.
The amount of hashtags you include is also an important consideration. According to a Later study conducted in 2021 – which analyzed over 18 million Instagram posts – Instagram Feed posts with 20 hashtags had the highest reach rate. Posts with 30 hashtags were a close second. The study also found that posts with 30 hashtags had the highest average engagement rate, signaling that more hashtags help in increasing both reach and engagement.
6. Tap into Reels
Did you know that Instagram Reels occupy twice as much space on the Instagram Explore page as image-based content? As a result, by posting Reels regularly, you'll improve the discoverability of your content and, in turn, the growth prospects for your account.
The best practice is to post a minimum of five Reels per week as this will allow you to leverage their power to the fullest extent. An excellent strategy to ensure you hit these numbers is to create several Reels at once and schedule them to go live throughout the week.
You'll also want to regularly review your Instagram Reels analytics to see what types of Reels are performing best and garnering the highest levels of engagement.
7. Go live more often
Going live on Instagram is a great tactic for beating the Instagram algorithm as it's one of the fastest ways to boost engagement.
When you go live, Instagram will send a push notification to all your followers who have push notifications enabled. Additionally, when you are live on Instagram, you'll appear at the front of the Stories queue. This makes it easier for users to not only find your stream but to join in.
8. Invite Story Interactions
There are various ways to foster interaction on Instagram Stories, such as polls, quizzes, question stickers, emoji sliders, and links.
These prompt users to engage with the Story in some way or another, which is received favorably by the Instagram algorithm. The more engagement your Story generates, the more it will be boosted.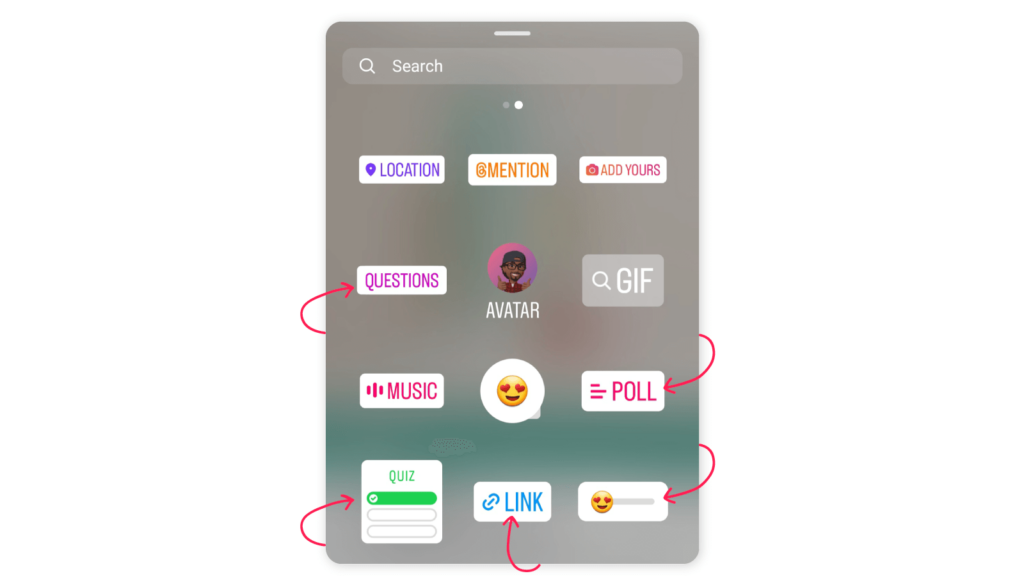 9. Encourage engagement
As discussed in the previous section, engagement is crucial when it comes to boosting your content in the Instagram algorithm. As a result, you shouldn't stop at encouraging engagement in your Instagram Stories – be sure to do it across your other content as well, including Feed posts and Reels.
A great way to encourage interaction is to lead by example. In other words, don't hesitate to comment on your content. For example, you can leave the first comment on your own Feed posts – be it a comment of hashtags or adding a humorous remark to complement the content of the post.
Additionally, interacting with your followers' comments is another fantastic method of stimulating engagement. This can come in the form of liking comments, replying to queries, and/or addressing reviews (positive and negative).
10. Track (and understand) your analytics
To understand what is performing well with your audience, it's vital to track your Instagram analytics. Much like analyzing your followers' most active days and times, you can assess more analytics data via Instagram directly or through a third-party social media management tool like Sociality.io.
To view your analytics on the Instagram app, simply follow these steps:
Visit your profile.
Tap Insights.
View your metrics in the Overview section or pick a specific post you've shared to see a detailed breakdown of its performance.
To view your analytics on Sociality.io, head to the Analytics section. As outlined in the "Post at the right time" section, select your Instagram account and set your date range. Click Apply to generate the data for that period. You'll then get a snapshot of various metrics, such as the number of posts published, post engagements, engagement rate per post, Stories, and Story reach.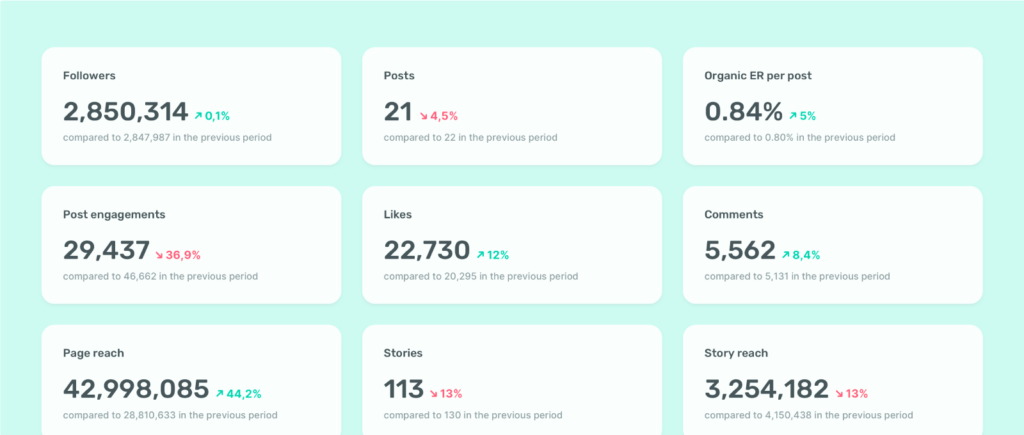 How to reset the Instagram algorithm?
There are various situations in which you may wish or need to reset your algorithm; for example, the content appearing on your feed may not align with your interests or industry.
Fortunately, there are some simple steps you can take to reset your Instagram algorithm.
The first is hiding content you don't like or don't care about. Sometimes, your Instagram Feed may show you posts that you don't want to see; in some situations, you may even be unsure as to why it's appearing on your Feed. While there are several potential causes for this – for instance, someone you follow may have been invited as a collaborator on a post published by an account you don't follow – one of the easiest ways to get rid of such content is to hide it.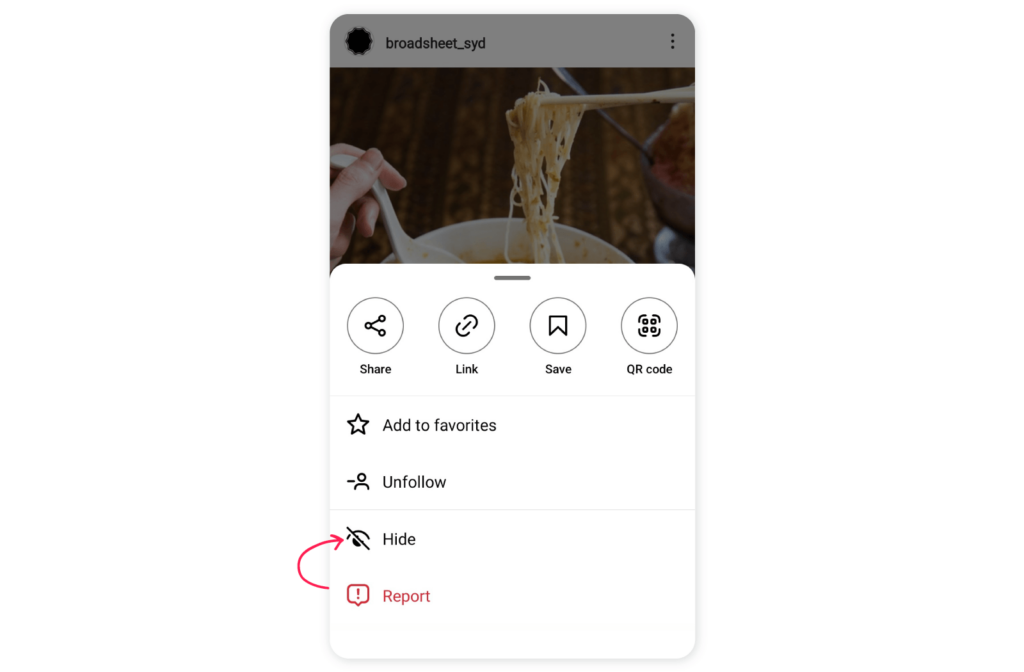 To do this, simply click the three dots in the top-right corner above the post. From the menu, select Hide.
The post will then disappear and you'll be prompted to go further by muting or unfollowing the account altogether. These are also great ways of lessening your exposure to such content and fixing your Instagram algorithm.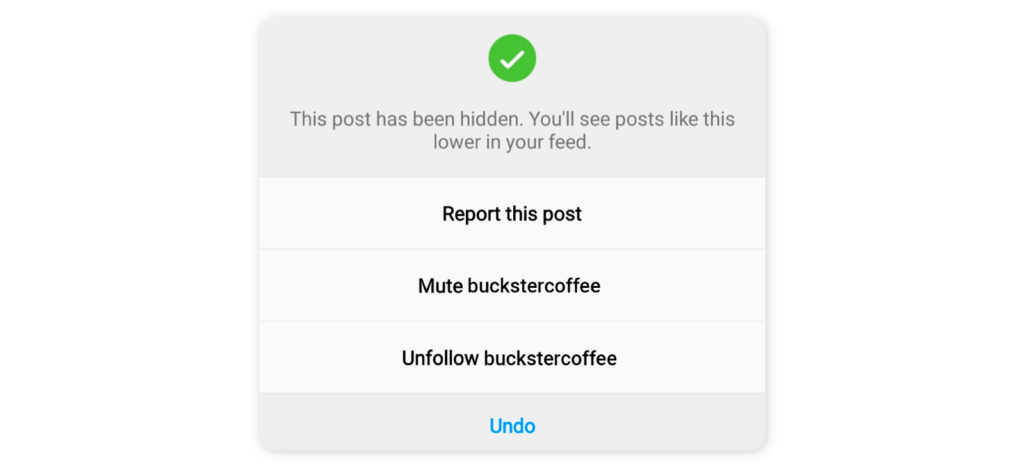 Finally, it's worth clearing your search history on Instagram to reset your algorithm. You can clear your search history by opening the Instagram app and clicking the magnifying glass icon at the bottom of your screen. Next, tap the search bar at the top of the screen. You'll then see your most recent searches. Select See all in the top-right corner, followed by Clear all.

In the pop-up window that appears, confirm that you'd like to clear your entire search history by pressing Clear all again.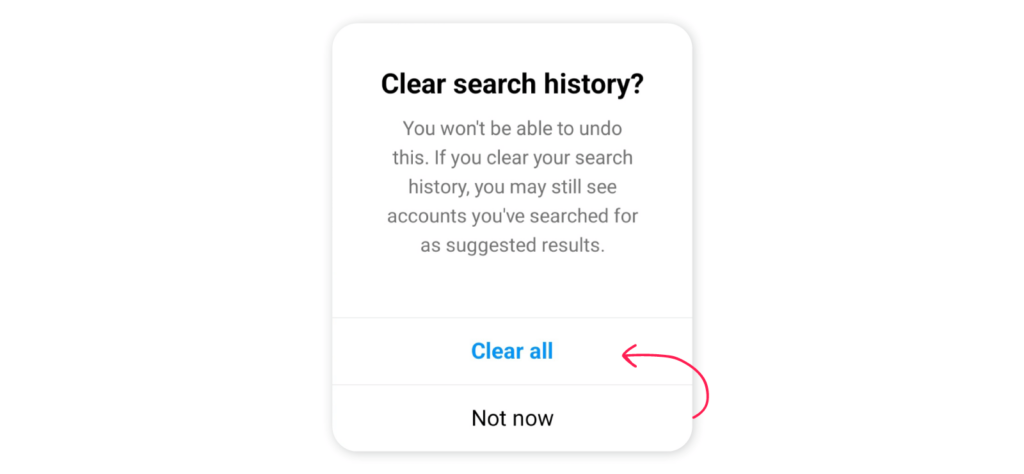 Conclusion
Mastering the Instagram algorithm in all its forms may seem like a daunting task at first. However, with the right knowledge, tools, and tips, understanding the algorithm – and how to beat it – is made much easier. Fortunately, Sociality.io has all of the above.
Not only will you find informative guides such as these via the Sociality.io blog, but the platform itself has everything you need to make social media management a breeze. With easy-to-use tools for scheduling, analytics reporting, and everything in between, you'll have all that you need to come out on top in the Instagram algorithm.