Instagram Notes 101: New era of sharing on Instagram is explained (50+ Instagram Notes ideas)
It's no secret that Instagram is a visual playground, with images and videos reigning above all else on the platform. But what if there was a way for social media marketers and users to put text at the forefront? Enter Instagram Notes. Introduced in 2022, this feature is a new chapter for Instagram, one where words carry just as much importance as visuals.
In this guide, we dive deeper into this feature and explain everything you need to know about notes on Instagram. What they are, who they're for, how to use them effectively – we'll cover all of this and more. With these insights, you'll have no trouble leveraging the feature for your own social media marketing purposes.
Social Media News in a Nutshell
Get the latest social media news, insights, and marketing tips in your inbox once a week.
What are Instagram Notes?
Instagram Notes are short pieces of text that you can share with your followers. Think of them as digital post-it notes that you pin to your Instagram profile.
Much like Instagram Stories, notes on Instagram disappear after 24 hours. Similarly, your followers can reply to your notes and their messages will end up in your DMs (just as Story replies would).
Instagram Notes can be used in a variety of ways, from sharing industry news to asking questions to sharing random thoughts. That said, some tactics are more effective than others when it comes to using notes on Instagram. Don't worry, we'll cover these strategies later on in this guide.
Who are Instagram Notes for?
Instagram Notes are for all Instagram users, businesses and individuals alike. In essence, they're perfect for anyone looking for a more text-based form of communication and/or expression on Instagram.
Instagram Notes are particularly well-suited to businesses seeking a non-pushy form of communication on the app. They don't prompt notifications, which can help avoid fatigue among your followers. However, notes on Instagram are conveniently positioned above users' DM inboxes, so it's still extremely likely that your followers will see them anyway. Due to their high-traffic placement, Instagram Notes are particularly effective for promoting upcoming events, announcing new product launches, or posing queries to your customers.
Why can't I see notes on Instagram?
You may encounter a scenario in which Instagram Notes are not showing on your account. In this situation, you likely find yourself wondering, "Why don't I have Instagram Notes? Is the feature not working for me?"
Fortunately, there's no need to worry. If you're not seeing notes on Instagram, there's generally a simple fix.
Here are a few things to try:
Update the Instagram app – It's possible that you're using an outdated version of the Instagram app and, as a result, not seeing Instagram Notes. To see if this is the case, head to the App Store or Google Play Store and search for Instagram. If the Update option appears, click it and the app will start updating. If this option does not appear, this generally means you're using the most up-to-date version of the app.
Delete and redownload the app – In certain cases, an app update won't do the trick in helping Instagram Notes appear. However, deleting and redownloading the app may help to do a hard reset of sorts. Follow the steps for deleting an app on Apple or Android, depending on your device. Then, redownload the app, log back into your account, and check the top of your Instagram DMs to see if Instagram Notes now appear.
Switch to a professional account – Sometimes, simply switching from a personal to a professional account can correct errors like these. To do this, click on your profile picture and then the three lines. Press Settings, then Account, and scroll down until you find Switch professional account. Once you've followed the prompts to switch to a professional account, check to see if the Instagram Notes feature appears. If it does, switch back to a personal account and check again to see if the Notes feature is there now.
How to create an Instagram Note?
To create a note on Instagram, follow these steps:
In the top-right corner of your feed, click the or icon.
At the top of your DM inbox, click on your profile picture.
Click Share a thought…
Type in your note (which can be a maximum of 60 characters).
Choose whether you'd like to share your note with all your followers or just your Close Friends.
In the top-right corner of your note, press Share.
50+ best Instagram Notes ideas
On the hunt for the best Instagram Notes? We've got you covered.
Let's take a look at some of the top IG Notes ideas so you can take full advantage of this novel feature.
Funny IG Notes ideas
Are we doing this right?
Is this thing on?
Got snacks? Asking for a friend.
POV: You have no idea what Instagram Notes are but you're doing your best.
Wine, because it's cheaper than therapy.
We did it, Joe.
Do you believe in life after love?
In my defense, I was left unsupervised.
Emoji IG Notes ideas
📖 'em & 😭
Iykyk 👀
👁️👄👁️
👋🏽👋🏽👋🏽
Friday with a side of 🍸
🍷 not?
🌮 + 🍸= 😃
Gag me with a 🥄
🍵 or ☕?
Motivational IG Notes ideas
Keep going.
Never stop.
Progress, not perfection.
Eye on the prize.
Go big or go home.
Dream big.
Work hard, play hard.
One-word IG Notes ideas
Loading…
YOLO.
BRB.
ASL?
Whatever.
Welcome.
Flawless.
Boom.
Question IG Notes ideas
Who's up?
What's everyone doing this weekend?
What are you listening to atm?
What's the last thing that made you laugh?
What's your biggest source of motivation?
What's your go-to vacation spot?
Quote IG Notes ideas
"It's me. Hi. I'm the problem, it's me." – Anti Hero, Taylor Swift
"Can I get an alcohol?" – Nick Miller, New Girl
"Is butter a carb?" – Regina George, Mean Girls
"Ew, David." – Alexis Rose, Schitt's Creek
"Can I interest you in a sarcastic comment?" – Chandler Bing, Friends
"It's a bad idea, right?" – Bad Idea Right?, Olivia Rodrigo
"Go confidently in the direction of your dreams." – Henry David Thoreau
"The only impossible journey is the one you never begin." – Tony Robbins
Sassy IG Notes ideas
Come here often?
Back again, I see.
Here and better than ever.
You wish.
Stay out of my DMs.
Eat, pray, slay.
Vibing and thriving.
Instagram notes update
One of Instagram Notes' newest updates is very reminiscent of MSN Messenger. Yes, the instant messaging platform from the early 2000s. Just as you were able to show the song you were currently listening to in your Messenger status, you can now do the same thing on Instagram Notes.
The new feature allows you to attach a 30-second clip of a song to your Notes update. You can also add a short caption. Your friends and followers can then tap on the song to listen to it.
You can learn more about this feature here.
FAQs
What are notes on Instagram?
Instagram Notes are short pieces of text that you can share with your followers that will only be visible for 24 hours.
Where do I find Instagram Notes?
Instagram Notes appear above your Instagram DMs inbox.
How many characters are allowed in Instagram Notes?
Notes on Instagram can be a maximum of 60 characters. Short and sweet!
Will people get notified when I share a note on Instagram?
No. Instagram Notes are one of the least pushy forms of expression and communication on the app because they don't send push notifications to other users.
How to delete an Instagram Note?
Although notes disappear automatically after 24 hours, you may want to delete one within that timeframe. Fortunately, you can do so by simply tapping on the note and clicking Delete.
Why can't I see Instagram Notes?
There are a few reasons you may not be seeing Instagram Notes. Head to the "Why can't I see notes on Instagram?" section for guidance on how to resolve this.
How to mute and unmute notes on Instagram?
To mute and/or unmute notes from users you follow, this is what you'll need to do:
Go to that user's profile and click on Following.

From the drop-down menu, click Mute.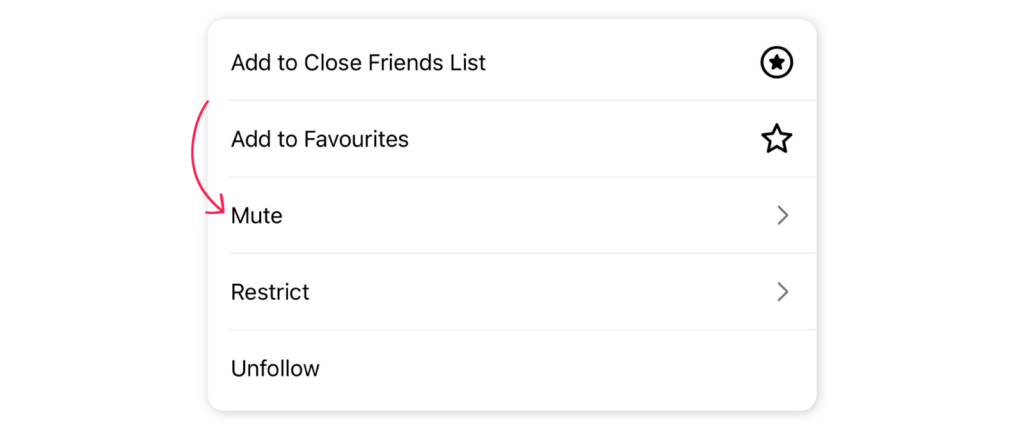 Here, you'll see Notes. If the toggle is blue, this means that Notes are muted and won't show up in your Instagram DMs. If the toggle is grey, this means that Notes are not muted and will show up in your Instagram DMs.

Switch the toggle to the desired setting.
Conclusion
In the ever-visual world of Instagram, notes offer a refreshing and unique outlet through which we can share our thoughts, feelings, and of course, our business endeavors. By experimenting with this feature – and possibly using some of the previously mentioned ideas – you can not only understand but embrace this new era of Instagram sharing to the fullest.