10 Must-have social media manager skills in 2023
Google Trends shows the hike in interest in the term "social media manager" over the years. It seems that people have never been as interested in the term as they are today.

The main causes behind this triggered demand for social media managers are an increase in social media usage and the role of social media in the growth of businesses.
Given that developing a strong social media presence necessitates precision at numerous phases, the role of a social media manager is as varied as it is important.
A social media manager is a jack of all trades with several roles and responsibilities. Because of the variety of tasks, the abilities or skills required to become an effective social media manager are diverse.
To become a social media manager, you must possess a set of skills that are vital in and of themselves but are intricately linked. So, in this article, we will go over the top 10 social media management abilities that you must have to have a successful career.
Social Media News in a Nutshell
Get the latest social media news, insights, and marketing tips in your inbox once a week.
1. Copywriting
Copywriting is an essential skill for social media marketing and, most likely, all aspects of marketing.
You must elicit an action from your readers. After all, the goal of your presence on social media is to compel your target audience to take action.
To be the finest social media manager, you must be an exceptional copywriter and a sparkling digital conversationalist who not only embodies but also enhances your brand's voice on social media platforms.
From attention-grabbing ad copy to clever social banter, you should be able to write short content that provokes emotion in your audience.
To grab attention and clicks, you must incorporate a compelling story into your social media post, and this is impossible without excellent copywriting. Here's how Emirates does it: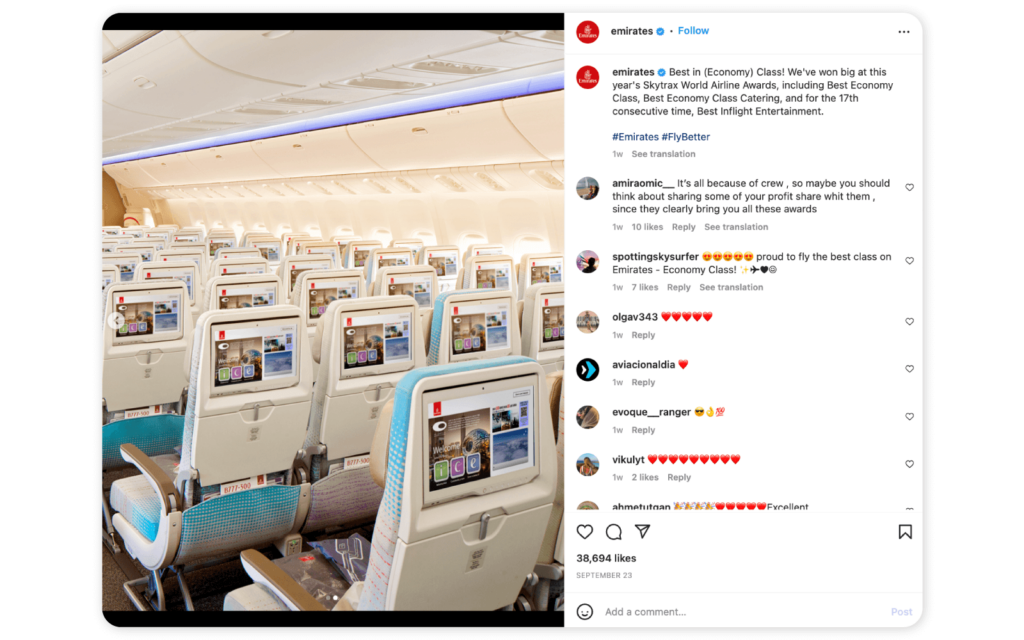 How to develop copywriting skills?
A deep understanding of your target audience is the foundation of creating a copy that converts.
So, before you start writing, conduct extensive audience research to adjust your tone and style accordingly. Now with the use of technology, AI content writing tools can help you discover the emotions that cause your customers to react.
Make your writing flexible in addition to being relevant. You may need to use several platforms with different audiences and tailor your work accordingly. For example, you might adopt a more informal writing style on Instagram, but it might not work on LinkedIn.
2. Designing
Next, on the skill list to ace social media is designing because you need good creativity along with a good copy to capture your audience's interest immediately.
Having design skills allows you to channel your ideas and communicate your views through dazzling graphics and captivating visuals.
In fact, 49% of marketers consider visual marketing to be extremely important to their strategy. Why? Because people consume things better visually than text.
How to develop good design skills?
Immersing yourself in a subject is one of the best ways to improve.
Start by observing and being inspired by what others are doing in your field. Then to learn the latest design trends and hacks coming from the experts, you can subscribe to YouTube channels, courses, and even design blogs like Canva's Design School, The Design Blog, etc.
To get hands-on design experience, you can use social media graphic design tools like Canva. Furthermore, SocialPilot comes with an inbuilt image editor you can use to fix the aspect ratio of your images and add colors, frames, stickers, logos, watermarks, and annotations to make them super engaging.
3. Communication
Since social media is fundamentally a communication platform, a social media manager must have strong communication skills that can adapt to any platform, medium, character count, or audience.
You must constantly move between connecting with your audience, clients, and teams.
As the social voice of your company for customers, you must be able to abandon what you're doing at the drop of a hat to jump on a trending issue or resolve an unhappy customer complaint. And you're not just communicating in words; you're also utilizing emojis, video, GIFs, images, stickers, and whatever else you can think of to convey your message clearly and engagingly
Internally, you must also be able to effectively interact with your supervisor, peers, and cross-team collaborators. It is critical that you can communicate with any internal stakeholder about your social media strategy, content distribution plan, and the impact of your efforts. One of the most crucial talents any social media professional can learn is the ability to describe how their work on social media helps the business.
How to develop good communication skills?
Communication skills imply the ability to articulate your ideas in a way that they are properly appreciated. Four pillars support effective communication:
Articulate speaking: share your ideas in a way that others can understand them.
Active listening: absorbing what's being shared to formulate relevant and valuable responses.
Observing: analyzing your surroundings to modify your communication style.
Empathizing: to avoid appearing as a soulless robot.
By focusing on these four factors, you will be able to enhance your communication skills.
4. Social media management
Social media is 24/7, so learning tools that can make your role easier can help you create healthier boundaries outside of work. It helps you deliver and amplify content, both from the brand and its community.
As a social media manager, you need to know what content works and what doesn't on social networks. It also means understanding which different media formats, such as text (articles), video, images, and podcasts, resonate with your particular niche.
You will need to know how to make content move and maybe even go viral across Twitter, Facebook, Instagram, Youtube, and other social networks.
How to improve your social media management skill?
There are various tools in today's date that help you manage your social media accounts better.
Using a social media tool like Sociality.io, for example, allows you to plan and schedule your content in advance with plenty of amazing features.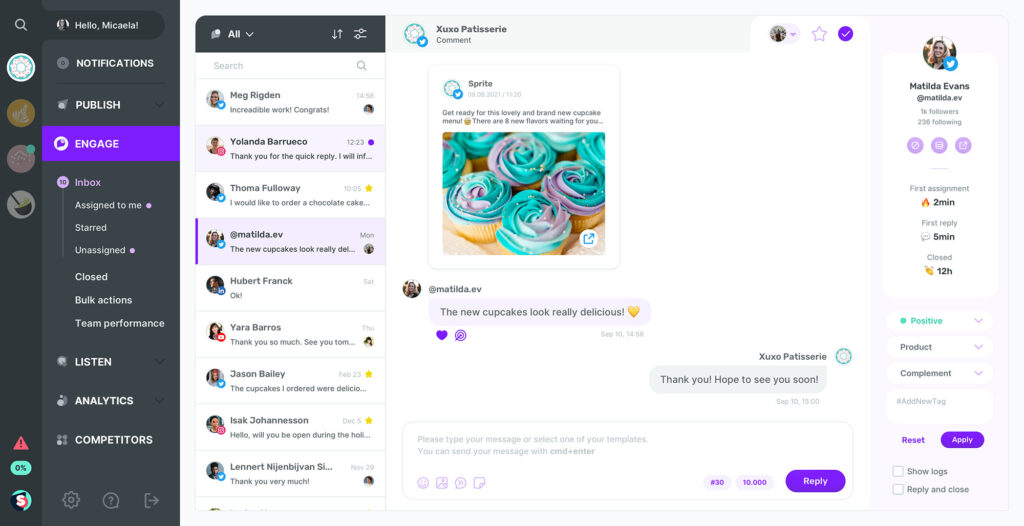 You can build scalable and collaborative workflows to schedule content, deliver customer support via a social media platform's inbox, measure posts' performance, and monitor brand health and competitors.
5. Project management and planning
Social media managers must possess good project management skills because of the numerous things they must do to manage their campaigns, such as creating publishing schedules, tracking contacts, running reports, coordinating with graphic designers, managing ad budgets, and so on.
You will need good planning and forethinking to understand the big picture. This requires an understanding of how the search, copy, and social media platforms work together. You need to outline your goals, define your target audience, and know what platforms will work best for you.
To make things easier you need the right tools to do "social at scale" and automate your tasks for better performance.
How to improve your project management & planning skills?
For better planning and management of your social media campaigns and teams, you need to rely on project management platforms.
You can opt for a free project management software like SmartTask that helps managers break down complex projects into simpler parts and keep teams sprinting towards a shared goal.
6. Digital marketing
Social media is the source of so much important business knowledge because it lies at the nexus of marketing, customer experience, and sales.
Despite the multidisciplinary nature of social media, 47% of social marketers say they face the most difficulty in building social strategies that meet overall business goals. Your ability to link your social strategy to wider marketing and commercial goals will propel your career forward.
To develop a social strategy that has a financial impact, you must first comprehend other traditional and digital marketing tactics such as email, events, lead generation, public relations, and so on.
How to develop digital marketing skills?
Like any other skill, digital marketing has to be trained—it doesn't come naturally to anyone.
To learn the ins and outs of it, you need to enroll in digital marketing courses along with exposure to practical applications.
You should also stay updated on new approaches and strategies employed in the realm of digital marketing. A good way to do this is to follow in the footsteps of prominent and experienced digital marketers who have already built a name for themselves in the field of digital marketing.
7. Networking and relationship building
Being social is one of the core tenets of social media. And any social media manager's approach should involve developing and establishing relationships.
In fact, 64% of consumers prefer to be connected with brands on social media. Therefore, social media managers must always be proactive and inventive in their approach to making new connections.
That being said, everyone's level of comfort and aptitude with connection and involvement varies. Get comfortable experimenting, honing your brand voice, and understanding the landscape of how creative or risk-taking you may be.
How to develop networking and relationship-building skills?
Start by understanding your target audience and what they want from a brand. With this understanding, you will be able to network better on Linkedin, Facebook, or Instagram and connect better with more people on social media.
Moreover, once you know what they are looking for, you will be able to engage them better and build a stronger relationship with them.
8. Data analysis
Reporting on social performance is a fantastic starting point. Social media data analysis helps you identify trends, develop recommendations, and communicate a plan of action.
As a social media manager, you have a cart full of data to evaluate in order to improve your social media strategy. Optimization is essential for directing your efforts, time, and resources to the most effective channels.
Aside from that, you must learn how to evaluate data and draw relevant conclusions in order to demonstrate your social media ROI to stakeholders who are already suspicious of social media.
How to develop your analytical skills?
Strong social media analysis is no longer an impossible undertaking in this day and age, thanks to the availability of unique and incredibly capable social media analytics tools.
Pay close attention to social media statistics, compare your performance to your social media goals, and adjust your plan as needed. For a variety of insights, you can use tools such as social media schedulers, competitor analytics tools, social media tracking tools, and social media metrics tools.
9. Community engagement
Social media is the top channel for customer support for many businesses. Maintaining the attention of existing customers while obtaining new ones is what community participation on social media entails.
An engaged community is the most effective way to stay top of mind with your customers and drive conversions.
As the social media manager, you are in charge of your social media campaign. You must cultivate digital relationships, gather prospects, and bring them together to form a community of engaged audiences who share challenges, thought processes, and skills.
How to develop community engagement skills?
To gain a deeper understanding of your audience, you need to dive deep into data. Make sure you listen carefully to your audience before delivering content.
Monitor your online brand's activity continuously and respond to any comments, positive or negative, as well as criticism or feedback. Also, make sure to capitalize on trends relevant to your community.
10. Creativity, curiosity, and adaptability
Social media has become too crowded with brands' posts and to stand out, brands need to go out of their way to come up with creative campaign ideas that would draw the social crowd towards their post.
It is important to have a good sense of creativity when it comes to developing buzz-worthy social campaigns and coming up with innovative ideas. Your creative skills give you the ability to see what others cannot and to create content that grabs your audience's attention, regardless of the inherent social noise.
Good creativity stems from curiosity and adaptability.
Only when you are curious and immersed enough in the social world will you know what is trending and what people want to consume. And this knowledge will be effective when you know how to quickly implement or adapt to it.
With this curiosity, adaptability to implement ideas with creativity will help you stay ahead of the curve.
How to develop creativity?
Creativity is not a magical power that can only be seen in a few people. But dedication and focus can help you develop creative skills and succeed as a social media manager.
So, keep up with social trends, carve out some time in your daily schedule to seek inspiration, stretch your imagination, ask questions that pique your curiosity, and keep brainstorming until you find the perfect creative way to put your idea into practice.
It is also best if you share your ideas with a bunch of people first and try to understand what people like best. This way, you will be able to understand what is working and enhance your skills over time.
Over to you…
While you don't need to be an expert in every skill mentioned above, being good at a few of them and having some idea about all areas would work great for you as a social media manager.
However, being a manager, you should focus most on mastering your social media, project management, and communication skills so that you can convey what is required and get the best out of your team.