AI meets marketing: 10 AI marketing tools to transform marketing
Digital marketers and strategists are no strangers to artificial intelligence for marketing, especially after the unprecedented success of ChatGPT (Open AI). In fact, a 2022 global survey found that 90 percent of marketing professionals in 35 countries relied on AI marketing tools to automate customer interactions. In another statistic, 32 percent of marketers were using AI with marketing automation for paid advertising and personalization of emails and offers.
As the adoption of the technology continues to speed up, let us dive deeper into trending AI marketing tools that can elevate your marketing strategy and efforts.
Social Media News in a Nutshell
Get the latest social media news, insights, and marketing tips in your inbox once a week.
AI and digital marketing trends
AI is revolutionizing digital marketing and has got integrated into display ads, image generation, social media automation, and much more. Here is a look at a few trends in AI for marketers that will dominate the coming years.
1. Chatbots
Chatbots are not new and have been out in the world of business. However, AI-powered chatbots are effective marketing tools that rely on NLP (natural language processing) instead of pre-programmed scripted messages. This technology helps them interpret and comprehend the conversation structure to respond to queries from customers successfully.
As conversational marketing will continue to grow, so will the role of chatbots. With supervised learning, the functioning of chatbots would become seamless and sound more like a human.
2. Smarter content
AI writing tools can help create content that converts and is customer-focused including both long and short-form content, saving time and resources. However, these tools often need additional human input to streamline the content creation process. In fact, AI image generators and AI video creation platforms are also gaining momentum.
3. Personalized experiences
Personalization is not just limited to the content you deliver—it goes beyond creating personalized experiences throughout the customer journey. A survey showed that 80% of customers are more likely to buy from a business that offers a tailored, personalized experience. With the intervention of AI, marketers will be able to collect and analyze data that can help them understand each customer's needs and preferences. This translates to creating relevant ads, offers, and messages from the brands they are interested in.
4. Conversational AI
Conversational AI in the future will become more effective with large language models (LLM). This will help digital marketers harness the power of adaptive conversational tools to offer better customer experiences. Some of the applications of conversational AI in marketing include chatbots providing instant responses to customer queries and issues, virtual assistants on the website that can help in lead generation and qualification, personalized product and offer recommendations, voice-enabled searches or devices, and much more.
5. Virtual reality (VR) in e-commerce
Augmented reality (AR) and virtual reality (VR) will expand from the realm of metaverse gaming to e-commerce. AI tools can help customize the shopping experiences by swapping colors, patterns, and virtual try-on through VR and AR features. Luxury brands are already exploring this space to attract customers and promote their products.
10 AI marketing tools to grow your business in 2023
Here are the top 10 AI marketing tools you can explore in 2023.
Jasper.ai is an AI-powered tool for copywriting. It offers 50+ templates and helps create high-quality content for emails, ad copies, blogs, product descriptions, websites, landing pages, review responses, and much more. Since it learns from the brand, it creates on-brand, consistent copies across platforms. Moreover, it can create content output in over 30 languages and dialects. It comes with a Chrome extension and API to allow you to integrate Jasper into your platforms.
Pricing: Starts at $39/month
Rating: 4.7/5.0 (ref: g2.com)
Best features: Content ideation and generation, custom and use-case templates, plagiarism checker, and brand tone of voice settings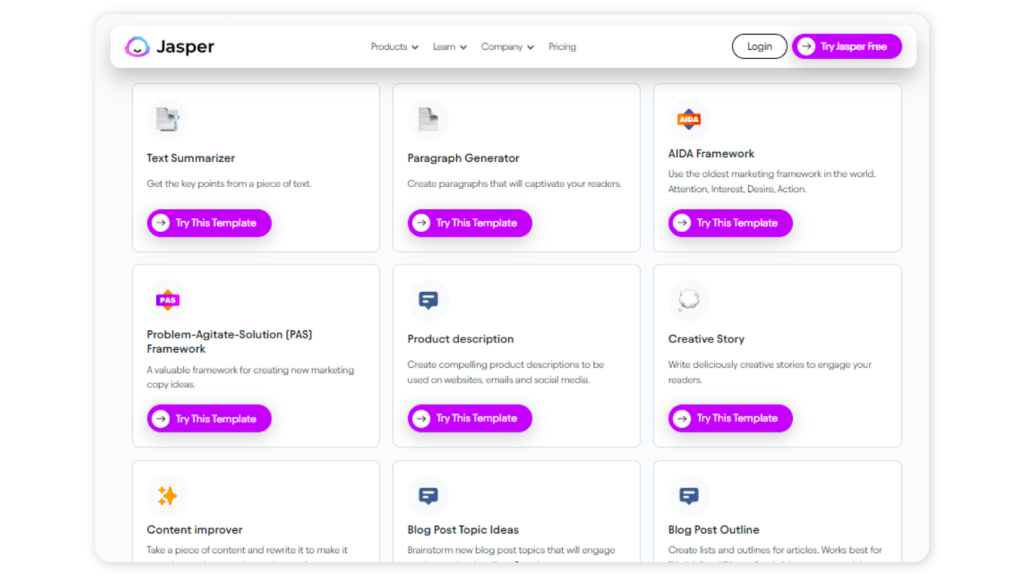 Seventh Sense is an AI platform for optimizing the performance and engagement of your email marketing campaigns. It has been designed especially for HubSpot and Marketo. It personalizes and optimizes delivery times for all contacts in your database to ensure better engagement and outcomes. It also enables you to throttle emails so you can increase deliverability, pause campaigns, make amends, and also distribute the workload to your sales and call center team.
Pricing: Starts at $64/month for HubSpot and $450/month (50K leads included)
Rating: 4.8/5.0 (ref: g2.com)
Best features: Send time optimization, email frequency optimization, and email throttling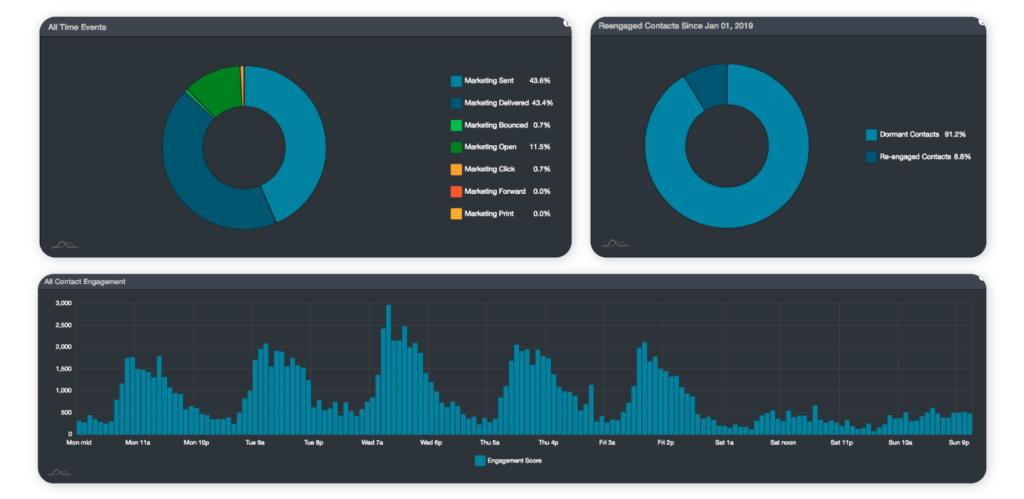 Brand24 is a social listening tool that tracks your brand's mentions across different platforms and media including news, blogs, podcasts, reviews, social media, communities or forums, etc. Additionally, it bifurcates positive, negative, and neutral mentions to support sentiment analysis. Its AI-powered language detection feature supports over 100 languages. You can analyze your marketing efforts and benchmark against the competition by tracking the reach of your mentions and hashtags.
Pricing: Starts at $69/month
Rating: 4.8/5.0 (ref: g2.com)
Best features: Advanced sentiment analysis, brand mentions representation as a word cloud (context of the discussion), hashtag metrics, and automated reporting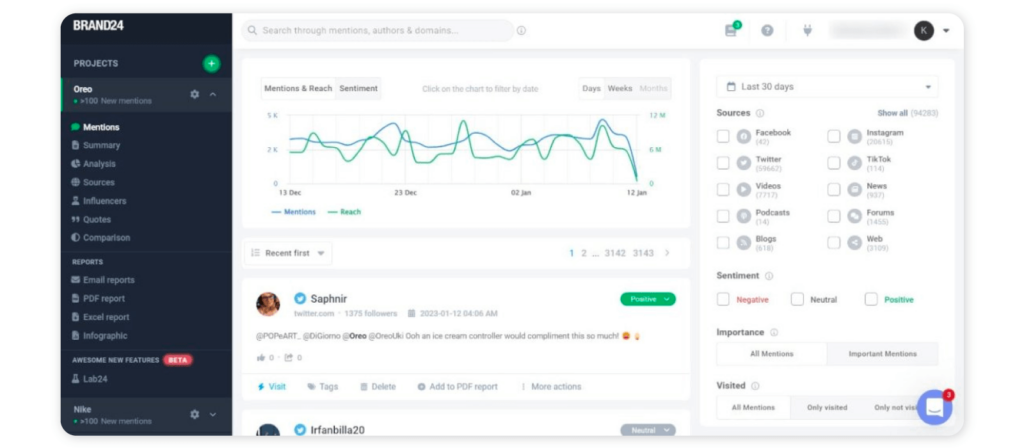 Hemingway Editor is an AI-powered tool that analyzes different types of content to make it clear, concise, and powerful. It highlights complicated sentences, adverbs, passive voice, complicated words, etc., and handles formatting needs to improve the readability score. Moreover, it enables integrations with Medium and WordPress for direct publishing.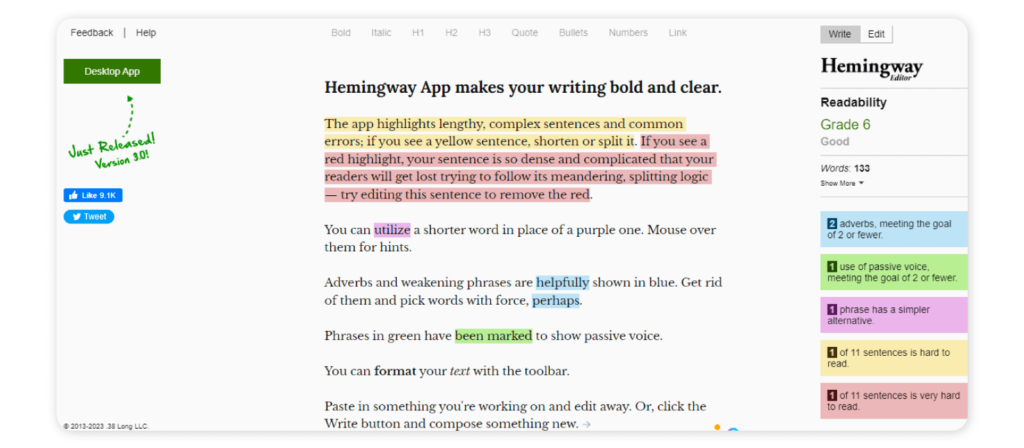 Pricing: Starts at $19.99
Rating: 4.4/5.0 (ref: g2.com)
Best features: Vocabulary recommendations, sentence rephrasing, easy integration with CMS platforms, and a browser plug-in.
Optimove is a customer data platform (CDP) or customer-led marketing platform that also supports marketing automation, marketing analytics, and customer journey analytics. It also helps marketers in orchestrating multi-channel communication with customers. Optibot, its AI-powered relationship marketing bot, automates the analysis of marketing campaigns to offer actionable recommendations, improving performance.
Pricing: On request
Rating: 4.6/5.0 (ref: g2.com)
Best features: Lead management, email marketing, campaign insights and management, A/B testing, multi-channel, and predictive customer analytics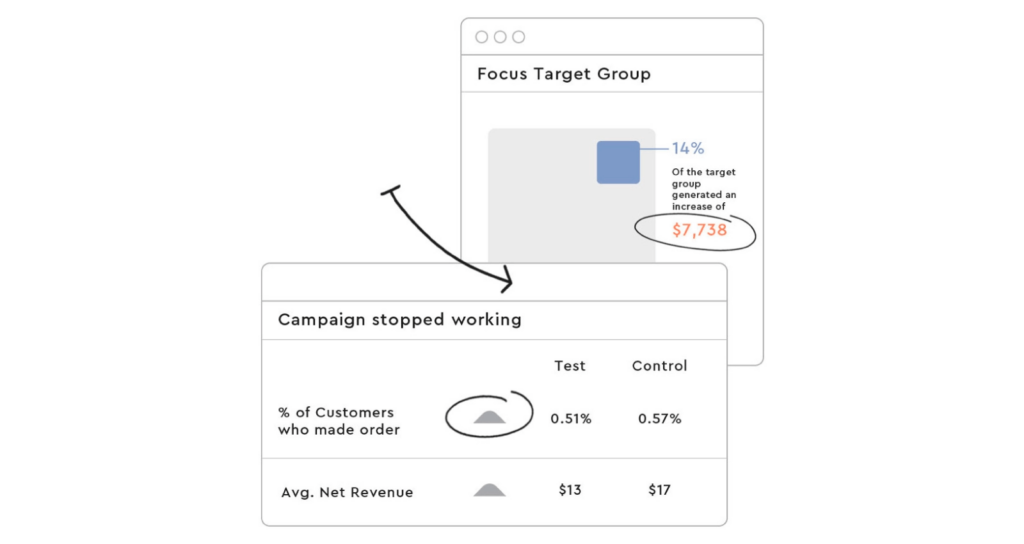 MarketMuse is an AI-based content planning and optimization platform. It analyzes your website to provide personalized yet objective insights for content improvement. As opposed to manual content audits, it automates the auditing process so you can prioritize your content creation process with page-level, site-level, and SERP insights. Market Muse also offers other functionalities including cluster creation, keyword research, content brief generation, and optimization.
Pricing: Free plan available; Standard plan starts at $149/month
Rating: 4.6/5.0 (ref: g2.com)
Best features: Keyword research and metrics on keyword volume, difficulty, and competition, competitive data on competitor data on backlinks, SERP rankings, organic search traffic, domain strength, etc., and content intelligence.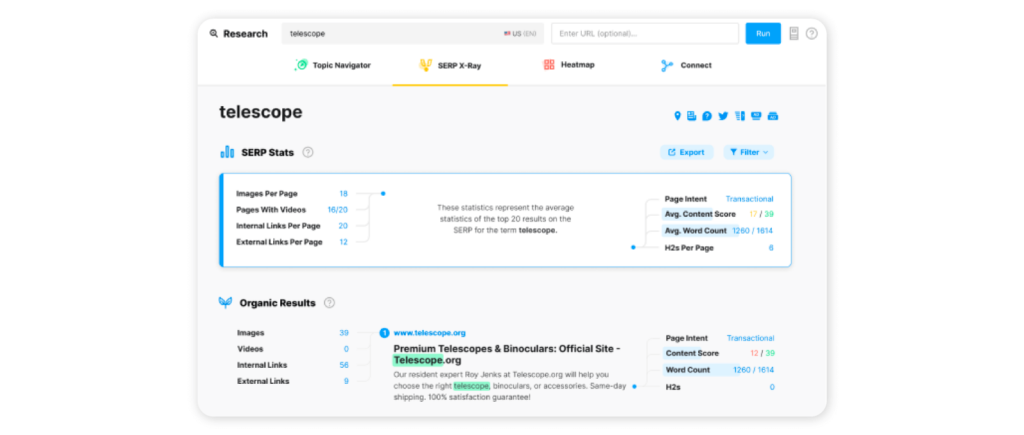 Axio.ai is a no-code browser automation and robotic process automation (RPA) tool that comes as a Chrome extension. It helps you create browser bots without any code, API, or technical expertise and automates repetitive tasks. Marketers can automate website actions and other workflows by using only a few clicks on the websites or web apps. It can develop automations for data entry, ETL (extract, load, and transform) tasks, data scraping, etc. Moreover, it automates UI interactions, reading and writing from Google Sheets, schedule bots, and much more.
Pricing: Starts at $15/month
Best features: Workflow automation, automation templates for marketing tasks, Integration with Zapier, Webhooks, and Integromat, and custom bots.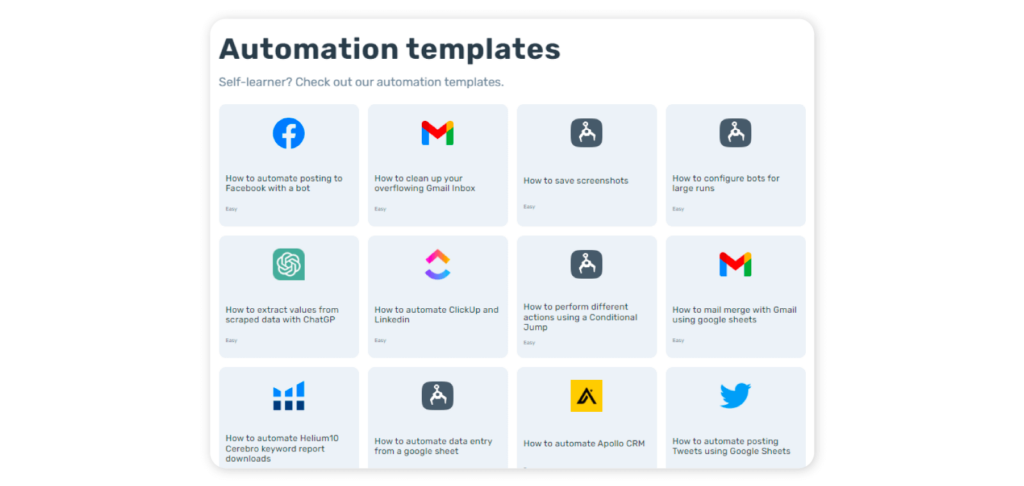 Crayon is an AI-based competitive intelligence platform that tracks your competitors in real time. With access to over 100 data types from millions of competitive intelligence sources, marketers can get instant updates on product upgrades, SEC filings, messaging pivots, leadership changes, etc. Interstingly, it combines your team intel collected from Slack, emails, etc., and competitive intelligence to provide a comprehensive and centralized view of your competitors. 
Pricing: Starts at $15/month
Rating: 4.6/5.0 (ref: g2.com)
Best features: Customizable reports, alerts, battle cards, and digests, and real-time insights and historical analysis of competitors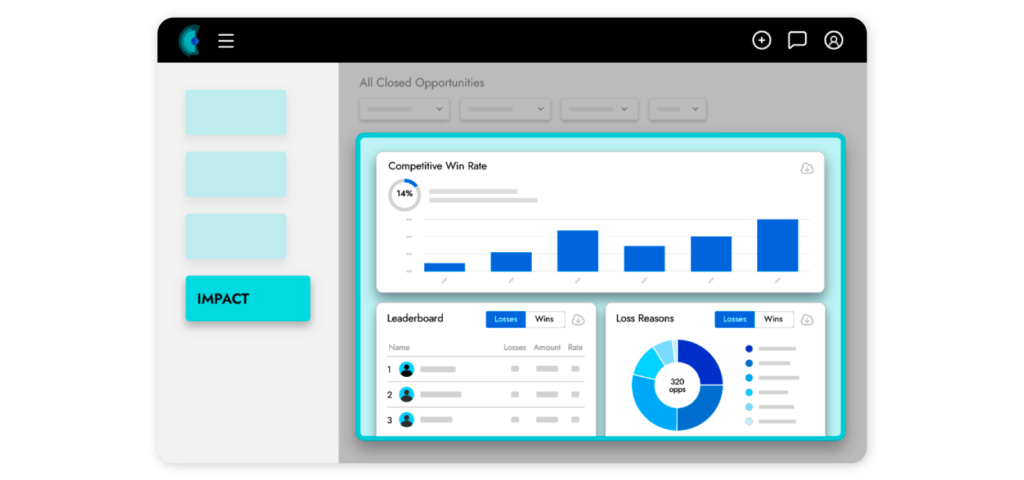 Synthesia is an AI-based video creation platform. With the option to choose from over 120 avatars and 120+ languages, Synthesia simplifies the video creation process for your team. It requires no additional equipment or video editing skills and can be easily accessed in your browser. Additionally, with the increasing popularity of video marketing, it helps you convert your PDFs, PowerPoints, and docs into engaging videos.
Pricing: Starts at $30/month
Rating: 4.8/5.0 (ref: g2.com)
Best features: Integration with different platforms, ethnically diverse AI avatars with customization, voice ones and accents, text-to-speech feature, and voice cloning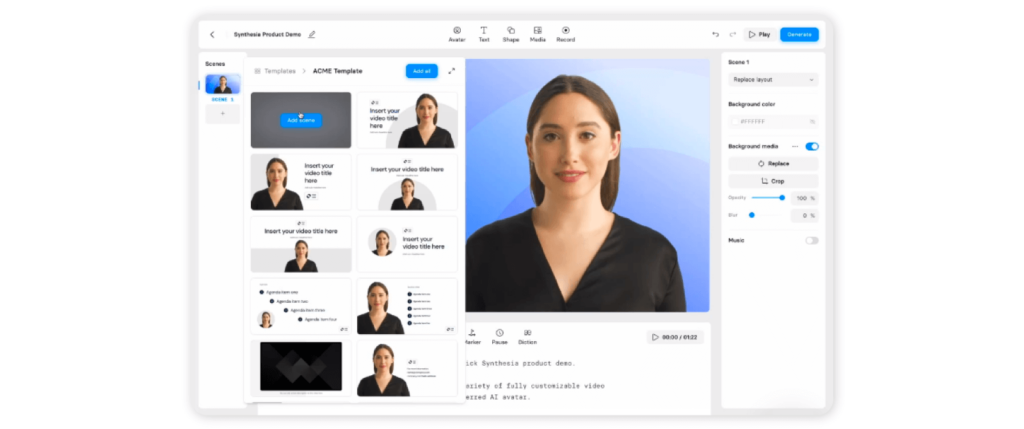 Drift's AI-powered chatbots help engage, qualify and convert website visitors. It combines conversational marketing, conversational sales, and conversational service into a single platform that also integrates email, video, and chat. Its AI suggests replies based on the company's website and marketing materials in live chat to allow your team to respond to even complex queries. The responders can either customize that reply or dismiss it to generate a new one.
Pricing: Starts at $ 2,500/month
Rating: 4.4/5.0 (ref: g2.com)
Best features: AI-powered chatbots, contextual, open-text conversations, conversational landing pages, live chat, real-time notifications, and A/B testing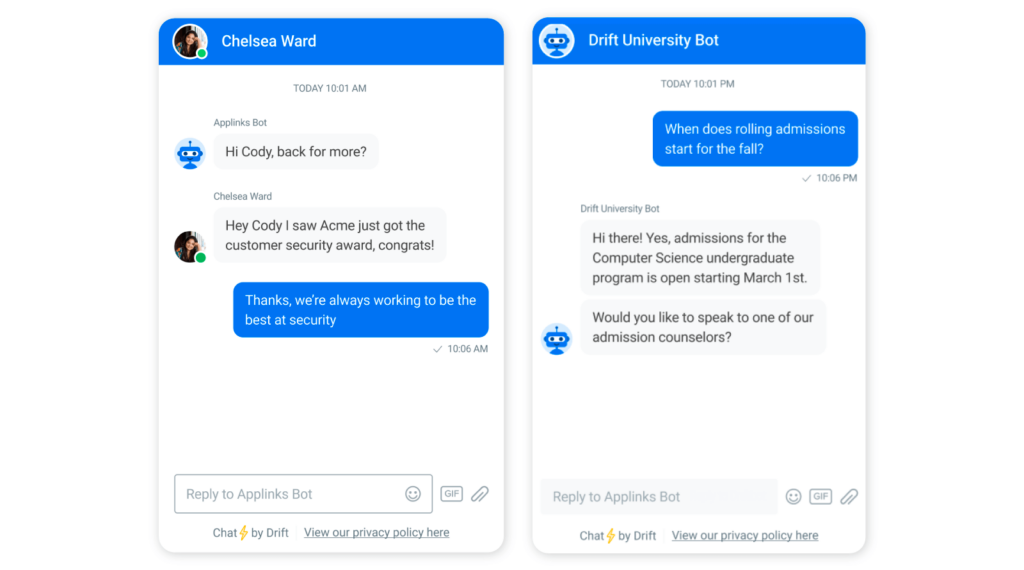 Final words
AI tools in marketing bring automation and scalability, and whether you are using or planning to use these tools, it is no doubt that they are here to stay. These tools shouldn't be seen as a replacement for humans but as a way to increase the efficiency and productivity of routine tasks. Whether you are a digital marketer, a blogger, or an entrepreneur, it is worth giving AI marketing tools a shot!