Get started: Emoji keyboard shortcuts for Mac and Windows
As a social media manager, it's not unusual to sometimes feel like your messaging is …missing something. Maybe it's a dash of color, a pop of personality, or a funny flair; no matter which of these you need, emojis might very well be the answer. 
Emojis are small digital icons predominantly used to express emotions and/or ideas. Emojis initially started as emoticons – combinations of standard keys to creating facial expressions, such as 🙂 or 🙁 – which sprang onto the scene in the early 1990s. In 1999, Japanese artist Shigetaka Kurita created the first emoji before eventually creating a collection of 176 emojis. These are now so historically iconic that they are displayed in a permanent collection at New York's Museum of Modern Art. 
Since then, emojis have experienced a meteoric rise, particularly on social media. According to Unicode, 92% of the global population uses emojis. Not only have emojis become prolific, but they offer a host of benefits in the world of social media marketing, from increased engagement to brand humanization. 
While the power of emojis can't go unnoticed, figuring out how to incorporate them into your copy can be tricky. With the help of this guide, you'll learn helpful emoji keyboard shortcuts on Mac and Windows. We'll also walk you through some tips for using emojis in social media marketing, including Sociality.io's built-in emoji picker. 
Social Media News in a Nutshell
Get the latest social media news, insights, and marketing tips in your inbox once a week.
How to use an emoji keyboard shortcuts
There are several emoji keyboard shortcuts that can help you quickly and seamlessly use emoji symbols. Depending on the operating system you use, the steps you'll need to follow to leverage emoji shortcuts will differ. Below, we outline the emoji keyboard symbols and shortcuts available on Mac and Windows.
Emoji keyboard – Mac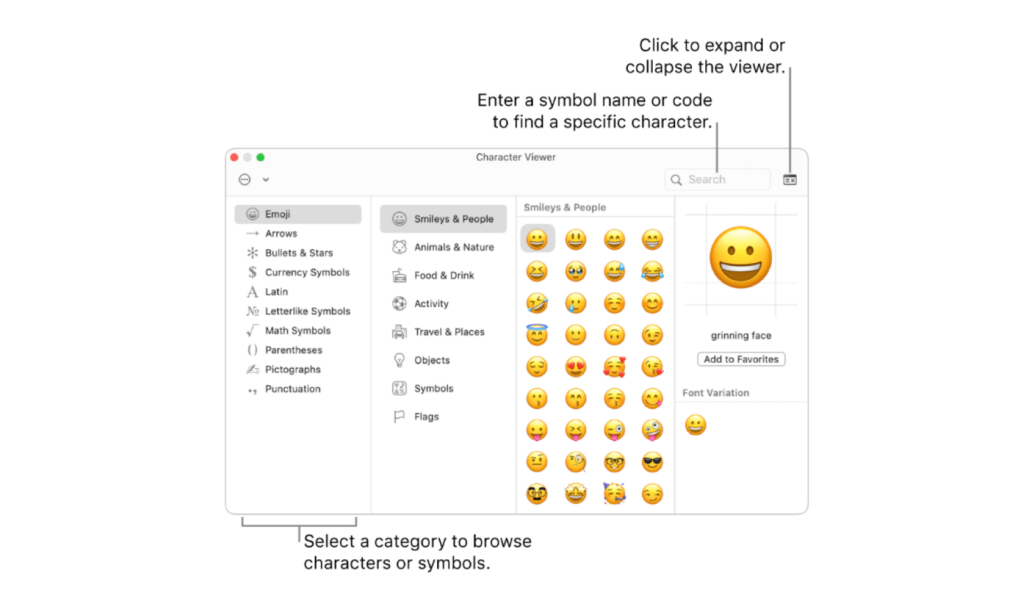 If you're wondering how to type emojis on a Mac, you have two options: using your standard keyboard or your touch bar (for Macbook users). Let's start by reviewing the steps you'll need to follow to make the most of emoji shortcuts on Mac standard keyboards (including Apple laptops, desktops, iPhones, and iPads):
Click on your text field, whether it's in a Word document, a Google Doc, or in your browser.
Press Command + Control + Space.
Your emoji pop-up window will appear with all the emoji symbols available. Here, you can scroll through the emojis, which are divided by category, or search for a specific one by typing keywords into the search bar at the top.
Once you've found the one you want, click on it, and it will automatically appear in the text box.
To make your life even easier, you can also opt to use emoji shortcuts on your Macbook Touch Bar (if your device has one). If you are typing in a field that is compatible with emojis, an emoji (most likely a smiley face) should appear on your touch bar. You can simply click it to open the emoji picker on your screen; from there, you can click on your desired emoji to add it to your text.
Emoji keyboard – Windows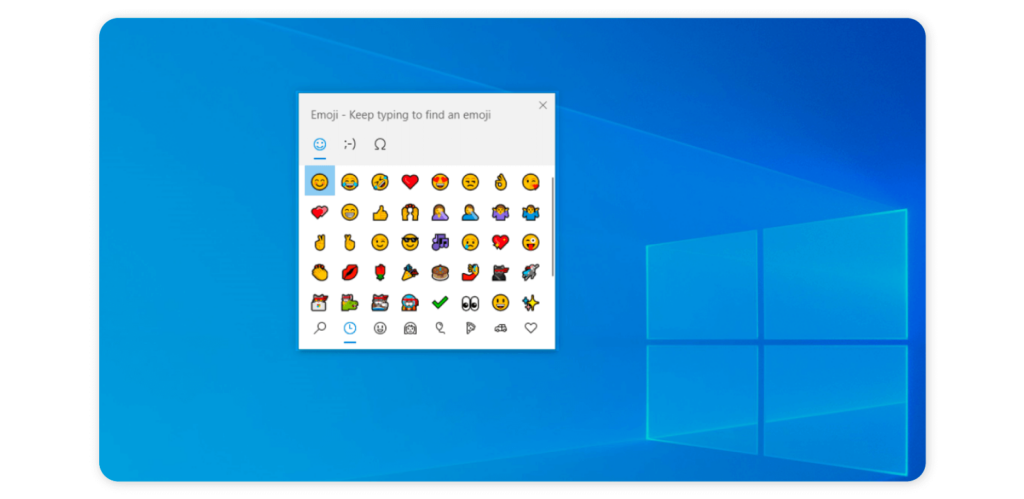 Similar to the emoji keyboard on Mac, there are two methods when it comes to learning how to use emojis on Windows: one for a standard keyboard and another for a touch keyboard. No matter your device, we outline the steps to use Windows emoji shortcuts below.
On a standard keyboard:
To open the emoji picker, press the Windows key + semicolon (;) OR the Windows key + period (.)
Your emoji pop-up window will appear with all the emoji symbols available. Here, you can scroll through the emojis, which are divided by category. Alternatively, you can type a keyword into your text field, and, as you do, the emoji keyboard on Windows will automatically filter the emojis, only showing ones that are relevant to your keyword. 
Once you've found the emoji you want to use, simply click it, and it will automatically appear in your text field.
Alternatively, you can also get emojis on Windows using your touch keyboard. If you are working on a touch keyboard, you'll notice the square icon with a heart in it; click on it to make the emoji selector appear. From here, you can either scroll through the emojis using your finger or type keywords into the search bar. Simply tap on the one you'd like to use, and it will appear in your text field.
How to use emojis in social media marketing
As we briefly mentioned, emojis serve a wide variety of functions in social media marketing and can be used in an array of marketing products. From EDMs to Instagram posts to TikTok comments, emojis have a place nearly everywhere in your social media marketing campaigns. 
Below, we list some of our top tips for using emojis in social media marketing and the benefits you'll reap when you do.
Prioritize complementation over substitution
Recommend that marketers predominantly use emojis to complement/emphasize their messaging; rather than using an emoji in place of a particular word, use it in addition to the word itself to ensure that your message doesn't get lost.
For example, even if your audience is using a platform that isn't compatible with emojis, they'll still get the full meaning. However, if they are using a platform compatible with emojis, they'll get the meaning along with the dash of color and personality your emoji provides.
Integrate emojis in the subject lines of EDMs
If you've been struggling to increase the engagement rates of your EDMs, an emoji or two might be the missing ingredient. According to litmus, including emojis in your subject line typically has a positive effect on open rates (when they are relevant to the content of the email). Using emojis in your subject line can also increase your click-through rate by roughly 28%. 
In 2020, Search Engine Journal conducted a study sampling nearly 4 million emails, some with emoji subject lines and some with non-emoji subject lines. When researchers compared the two groups, the findings were fascinating. While emails with emojis in the subject lines had lower open rates, they had higher click-through rates. The study also found that the placement of emojis in the subject line also played a role in their effectiveness; emojis placed at the end of the subject line was received more favorably than emojis placed at the beginning.
Foster engagement
Emojis can also be a clever tool for encouraging engagement on your social channels. For example, if you'd like to spike your engagement levels on your Instagram account, an effective tactic could be inviting your followers to comment on a particular emoji on your post.
For example, in this post from activewear brand First Health Apparel, the account prompts users to comment on the heart emoji that coincides with the color of activewear they think suits them the most.
As a social media marketer, it's also important for you to interact and engage with content that is relevant to your brand – and emojis are a simple, efficient way to do that. In Sociality.io's Engage module, you can leave comments (including those as basic as a single emoji) on other users' content to increase your engagement levels and your brand's visibility with ease. 
Always stay on brand
It's important to use emojis strategically; only use emojis that align with your brand identity and tone of voice.
Is your brand known for its funny, tongue-in-cheek tone? If so, then playful emojis like the smiley with the tongue sticking out may be appropriate. If your brand is known for its work with a particular demographic, such as the LGBTQIA+ community, then the rainbow or pride flag emojis might be better suited.
For example, the Gay & Lesbian Alliance Against Defamation (GLAAD) – an organization recognized for its advocacy work with the LGBTQIA+ community – features a pride flag and a transgender flag emoji in its Twitter bio. It's a simple yet eye-catching way of communicating who GLAAD serves and what it stands for – all without a single word.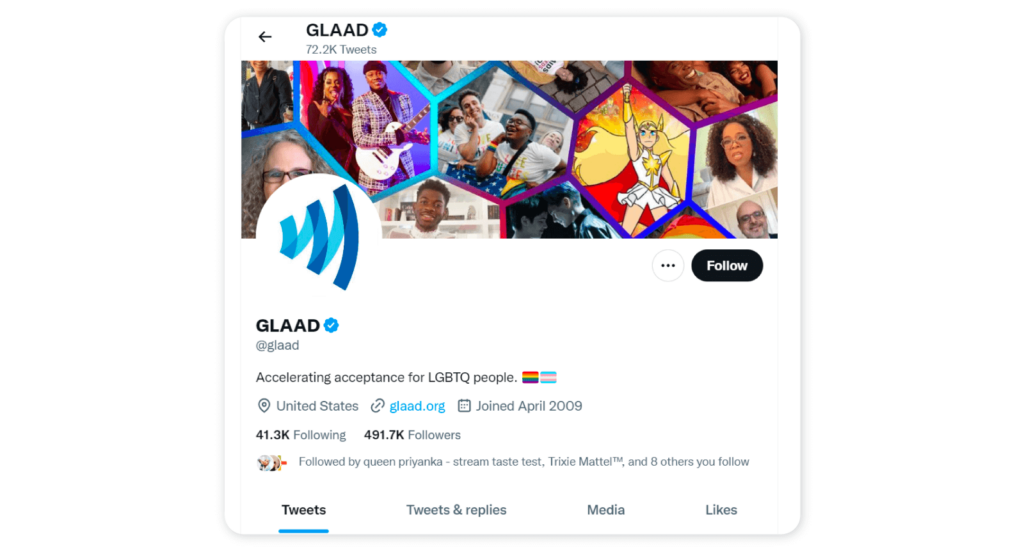 On Sociality.io: Add emojis with our emoji picker
Thanks to Sociality.io, leveraging the power of emojis in social media marketing has never been easier. Specifically, in the Publish module, you'll find the emoji picker. To access it, all you need to do is click the smiley face icon at the bottom right corner within the Message section.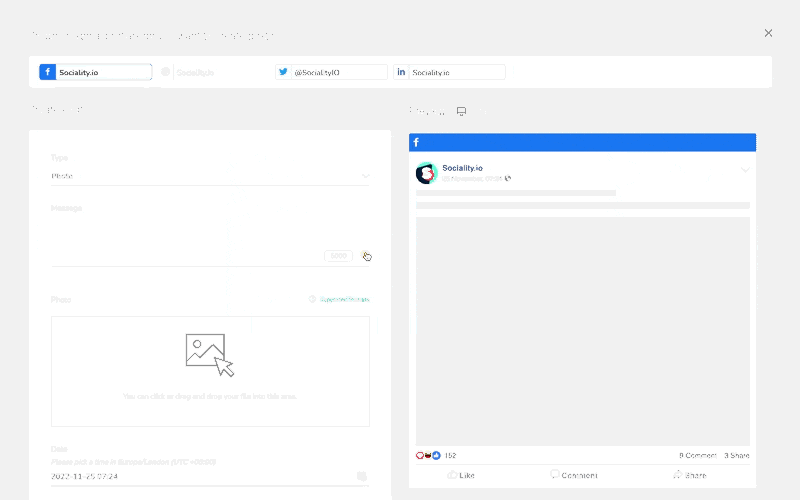 This is one of the many ways you can make the most of the Publish module, along with scheduling content to be published across your accounts and tracking the content that has already been posted. The Publish module also allows you to edit, delete, duplicate, and approve content to ensure all posts align with your brand voice.
When it comes to the emoji picker specifically, you can use it for content across various social media platforms, including TikTok, Instagram, Facebook, and many more. Not only does the emoji picker save you time (which is often in short supply for social media managers), but it streamlines content creation and bolsters creativity. 
Conclusion
With these handy emoji keyboard shortcuts and emoji marketing tips, integrating emojis into your social media marketing strategy has never been simpler. While emojis are an undeniably powerful social media marketing tool, it's essential to always consider and prioritize your brand identity when using them. Rather than following trends led by other companies, think strategically about the value emojis will add to your content and base your selection on those considerations. 
Before you know it, you might just see some of your KPIs go soaring through the roof. 📈