What is an Instagram takeover? Benefits for businesses
An Instagram takeover is a great tool to liven your business's Instagram account. It started back in 2012 with well-known brands collaborating with Instagram influencers. However, nowadays Instagram takeovers feel like an undivided part of any social media marketing strategy.
This article will walk you through the steps of hosting an Instagram takeover and talk about what this Instagram takeover is and what benefits it has for businesses.
Social Media News in a Nutshell
Get the latest social media news, insights, and marketing tips in your inbox once a week.
What is an Instagram takeover?
Instagram Takeover is an in-depth collaboration between a brand and an influencer. Usually, for one day a brand hands its Instagram account over to a guest host.
It's always better to set a specific goal before running a takeover. For example, it could be strengthening brand awareness, growing or engaging the audience, and more.
Depending on the goal, takeovers can be organized on a macro or micro-influencers level. Collaborating with influencers viewed as experts within their niche, a brand gets a chance to provide a unique experience and give some entertainment to the followers.
If your brand is hosting an event, inviting a guest host is a creative way to share what happens inside the event to the public. The guest host spends a day posting photos and sharing impressions. This way, the audience can get "insider's" live updates from the event.
Spider-Man: Homecoming star Tom Holland took over Instagram's official account @instagram for the Oscars night in 2018. During the 90th Academy Awards, this kind of takeover allowed fans to experience one of Hollywood's biggest nights from Tom's perspective.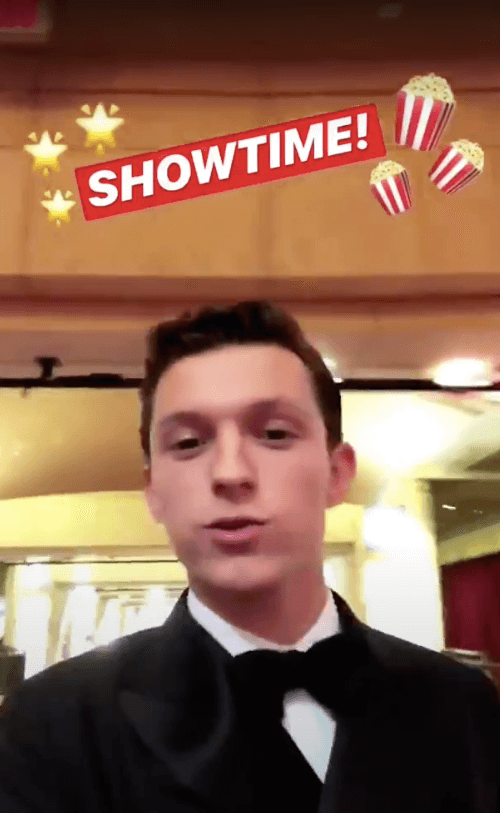 The benefits of Instagram takeovers for brands
1. Grow Instagram audience
Both your brand and the invited influencer already have your loyal audiences, so mutual promotion through takeover has advantages in attracting new followers for both sides. Audiences are never completely identical, so takeover is an excellent opportunity to reach those who are unfamiliar with your brand. Your potential customers can learn about the brand from someone they trust.
2. Fresh look
It's hard always to be trendy and find creative solutions for managing your brand's Instagram account. When you're continually stewing in your brand juice, your eyes can get "blurry." You stop seeing creative solutions that can show the business from a new perspective. The guest can be your fresh eyes and create content that will surprise your followers.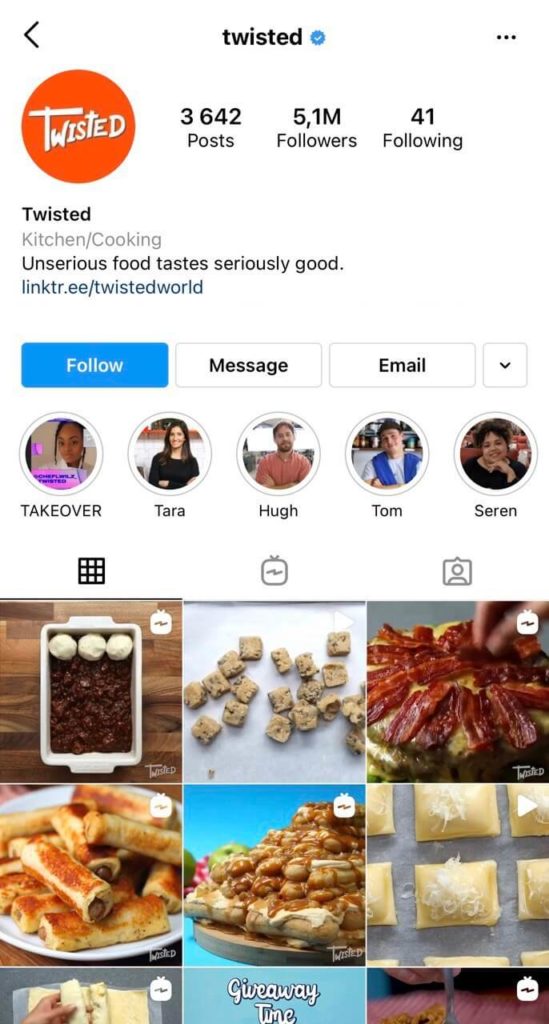 Twisted (@twisted) shares their recipes via eye-catching food videos. Food pages can periodically transfer account management to talented chefs. This is an excellent way to diversify the content and engage more followers.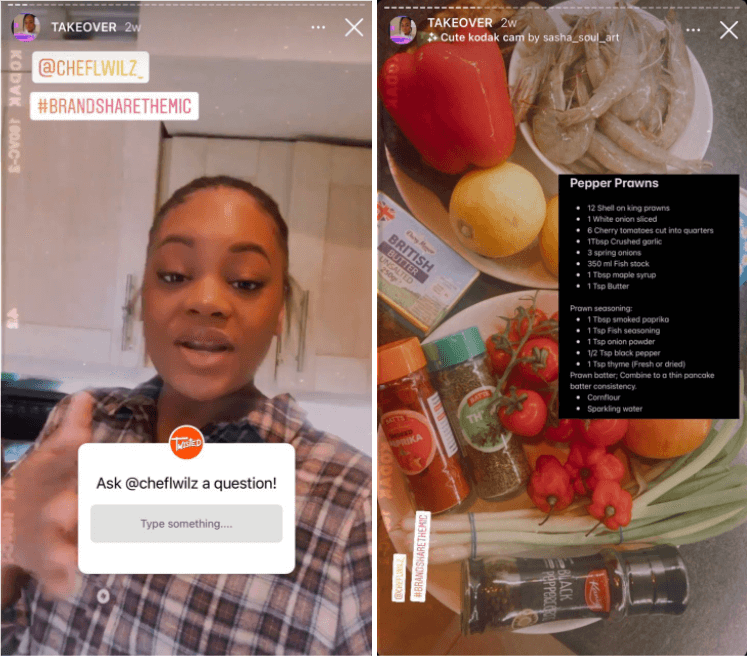 3. Increase brand credibility
Takeover makes the brand more human and increases audience loyalty. In fact, by their appearance, the guest declares that he is committed to this brand and tells why others should also appreciate it. Besides, inviting guest hosts shows the brand's activity and a reasonably free position: the brand has nothing to hide, nothing to be afraid of, it can easily entrust its platform to a guest host.
Takeover can be an excellent way to attract Instagram's audience to your website and other social media channels, especially if your guest host talks about new products or special offers. With guest host's followers, you get a broader and new audience for advertising. A same mechanic is a useful tool for event organizers.
5 steps to host an Instagram takeover
If you decided to host an Instagram takeover, you need to spend some time on prep work. Here are 5 simple steps you should follow to organize a successful takeover.
Step 1: Set goals
Set measurable goals in the beginning. Decide what goals you want to accomplish with the takeover. It can be attracting a new audience, creating unique content, increasing audience loyalty, engaging followers, driving traffic to the website, etc.
Make sure to choose the metrics by which you will evaluate and analyze the activity afterward: the number of followers, views, comments, likes, reposts, mentions, etc. You will need the data before, during, and after the takeover.
For instance, if your goal is to grow your following, look at the metrics like followers gained, likes, and comments below the guest host posts.
The goals should be known to everyone involved in the takeover, including the guest host.
Step 2: Find the right guest host.
The success of a takeover depends on who you invite as a guest. It's better if your target audiences overlap and complement each other.
It's important to share the same values. Analyze not only the content the potential guest host shares but also the reactions of the followers.
Pay attention to local influencers, including micro-influencers. Let's say you are a local cafe and your goal is to increase the traffic to your place, then a local food blogger with 5,000 followers can give you more than a pop star with millions of followers. And such collaboration won't drain your budget.
If you are a big worldwide brand, you can choose to work with local bloggers in different countries, including those who have a relatively small but relevant audience.
Here are some tips on finding social media influencers for your brand: How to find social media influencers for your brand?
Takeovers can be carried out not only with influencers. You can temporarily take your Instagram business account over to colleagues. They can share behind-the-scenes photos and videos, showing their work and responding to comments from followers, including professional issues. You may get less reach in this case, but it will be an excellent contribution to the development of brand loyalty from both employees and customers.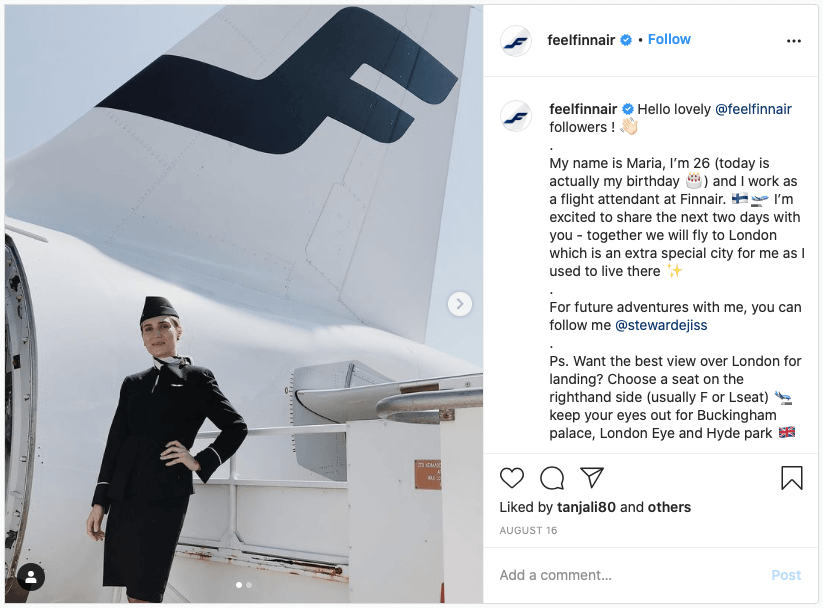 For example, Finland's largest airline Finnair @feelfinnair regularly transfers the management of the Instagram accounts to its flight attendants and employees from offices worldwide. They answer users' questions in the comments, tell about themselves in stories, and give professional advice.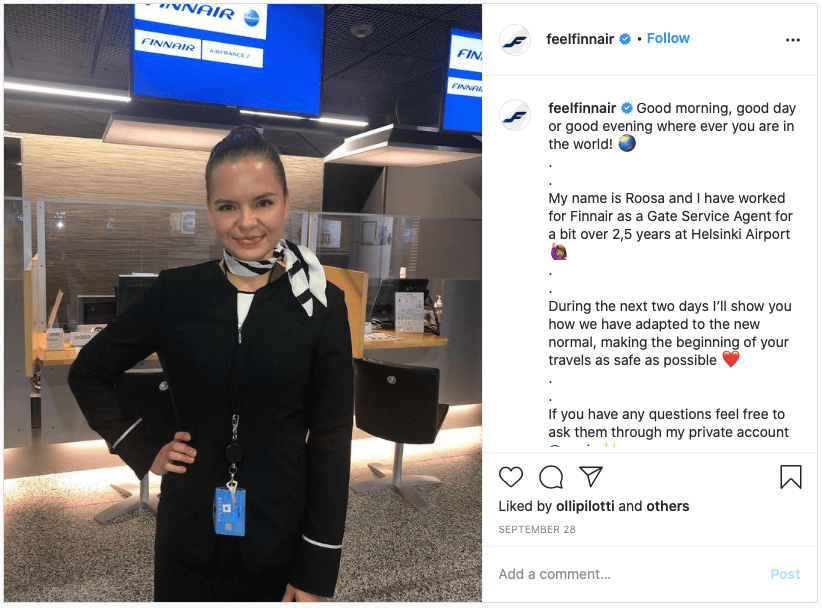 Step 3: Prepare a brief.
Even though a takeover assumes a certain informality, you cannot do it without a brief. If in doubt or if you have a multi-level approval system, write down the procedure for approving guest posts in brief. The brief should contain:
Stated goals of the takeover
A defined period of active participation of the guest host
Brand's critical requirements and mandatory hashtags
Approved format and wishes for content
Note that you will also have to pass the password. Regardless of the guest hosts' level of confidence, you can record in writing for what and during what period they can use access. After the takeover, the password must be changed.
Limit yourself to the essential requirements and not micromanage every step of the guest host. Allow the guest hosts to speak in their voice. Remember, the takeover's goal is to shake up your account and show your brand from a new angle.
Step 4. Promote your upcoming Instagram takeover
A few days before the takeover, publish posts with announcements in the feed and stories; you can also run Instagram ads to attract more viewers. Promote takeover on your pages across all social media platforms.
The announcement should indicate the start and end dates of the takeover and information about the guest host. Agree with the guest hosts to also post a takeover announcement on their accounts, as did Dwayne Johnson, aka Rock.
@therock shares the announcement post in his feed to invite his audience to Forbes (@forbes) takeover.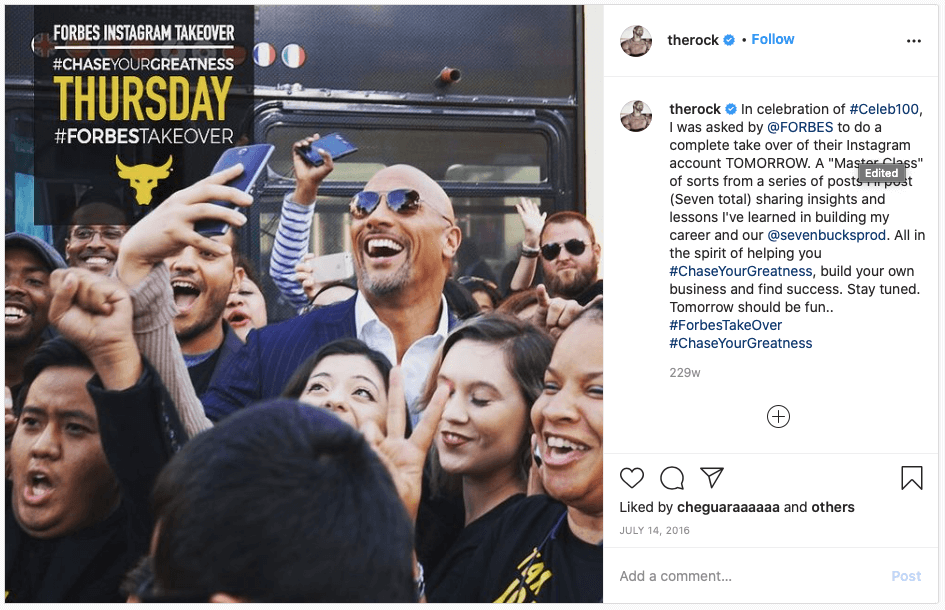 Step 5: Save and analyze
After the takeover is finished, make sure to add the takeover's posts and stories in highlights. This way, you can drive your audience to watch it again whenever you want.
And the central part: did you achieve your takeover goals? Analyze the results to see how your takeover performed. You can use our Social Media Reporting feature to have a full look at how the takeover ran.
To sum up
An Instagram takeover is a creative format of collaboration between brands and guest hosts. This is an excellent way to revitalize your brand's account, increase your engagement reach, and target the audience's loyalty. Inviting experts will have a good effect on the trust of your followers and their activity. If you invite your own employees as guest hosts, then the takeover can become a tool for developing the company's HR brand.
Now it's time to use our tips and design your takeover to spice up your Instagram account.
Related article: How to manage multiple Instagram accounts in one app?