How to use Twitter advanced search for social media marketers
Twitter is a powerful search engine that can provide your brands with important insights — if you know how to use it. With the Advanced Search tools available on Twitter, you can comb through the thousands of tweets sent to the platform every day to find the most relevant ones to your business and customers.
Social media marketers and small business owners can benefit from Twitter's Advanced Search by finding new customers, exploring content ideas, narrowing tweets down to geographic locations, and much more. This guide shows you how to make the most of Advanced Search options on Twitter and provides 13 ways to hone your marketing strategy with these options.
Social Media News in a Nutshell
Get the latest social media news, insights, and marketing tips in your inbox once a week.
The Basics: How to do Advanced Search on Twitter
You can only access Twitter's Advanced Search function on a web browser; the mobile app doesn't support it. Advanced Search isn't readily apparent on Twitter but there are two ways you can find it:
Go directly to twitter.com/search-advanced
Type your query into the Twitter search bar on the home page and hit enter (don't select any suggested options that populate as you type). Then select "Advanced Search" on the right side under "Search filters."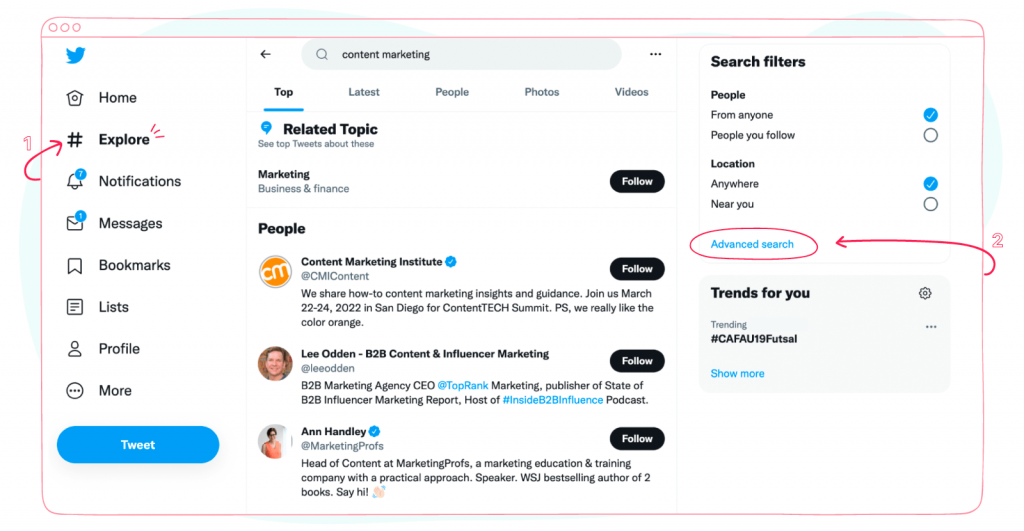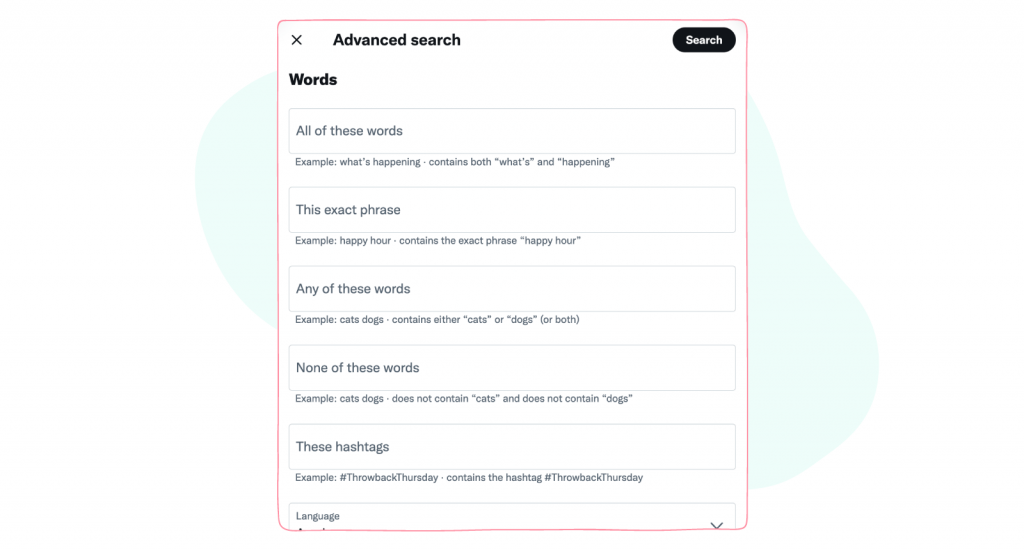 The Twitter Advanced Search menu has several search options, grouped under these categories:
Words
Accounts
Filters
Engagement
Dates
Let's break down each one.
Words
All of these words: See all tweets that contain the words you enter, in no particular order. Separate phrases with quotation marks.
This exact phrase: Enter just one phrase for best results.
Any of these words: Search for tweets that contain one or all of the words you search.
None of these words: Exclude words from your search.
These hashtags: Look for specific hashtags, like #contentmarketing.
Language: Find tweets written in one of the languages supported by Twitter, or in any language.
Accounts
From these accounts: Use this field to search the tweets of a specific account.
To these accounts: Search for replies to a specific account.
Mentioning these accounts: Search for tweets that mention a specific account.
Filters
Replies: You can choose to filter for replies only, original tweets only, or both replies and tweets.
Links: You can filter for tweets with links only, or exclude tweets with links.
Engagement
Minimum replies: Set a number to search for tweets with at least that many replies.
Minimum likes: Set a number to search for tweets with at least that many likes.
Minimum retweets: Set a number to search for tweets with at least that many retweets.
Dates
Look for tweets within a set time period by selecting month, day, and year.
Using Twitter search operators
The Advanced Search options on Twitter allow you to narrow your search considerably, but you can also use query operators. You can see common operators in the below image, or visit the Twitter developer site to see the full list.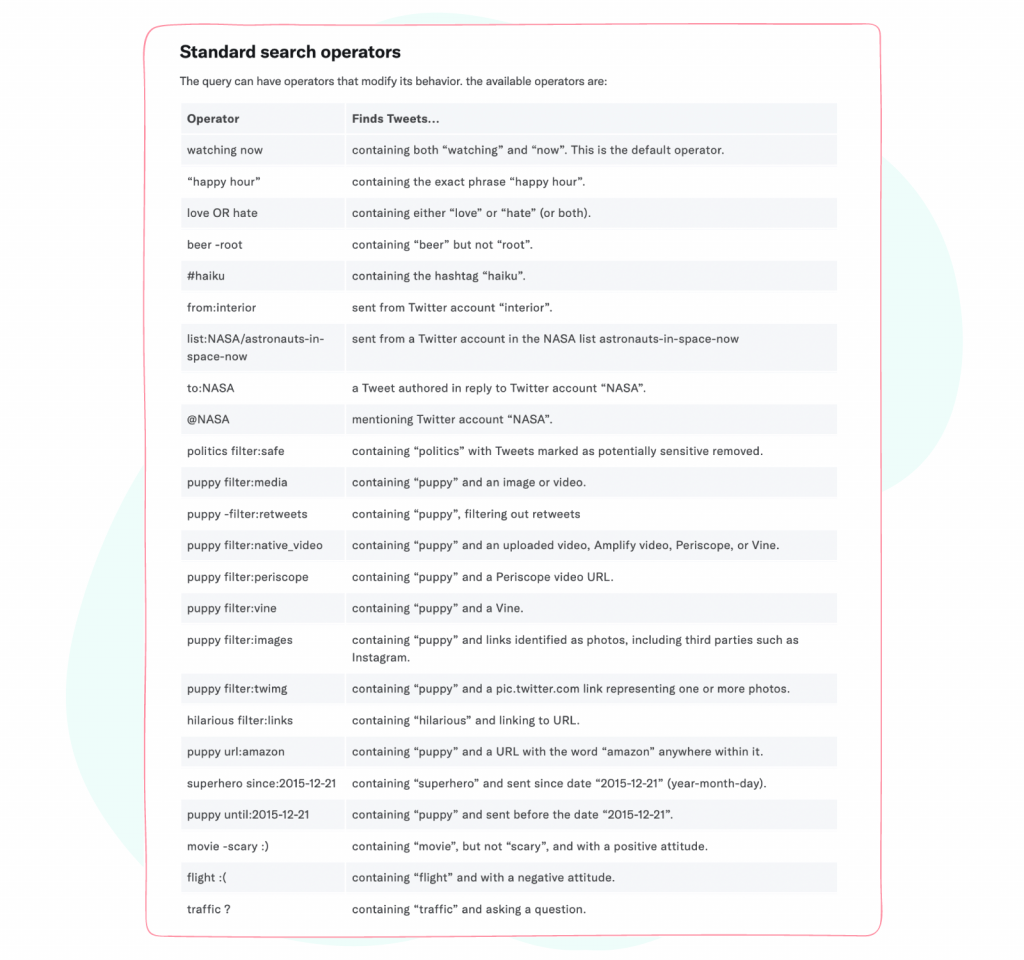 13 ways to use Twitter advanced search for marketing strategy
Now that you know what your Advanced Search options are on Twitter, it's time to start leveraging them for your social media marketing strategy. Here are 13 tactics you can carry out using Twitter's Advanced Search.
1. Check out competitor sentiment
Sentiment analysis lets you see what people think of your brand, as well as your competitors. You can track mentions of your brand's account as well as tweets where your brand name appears (without a @mention). Use the search fields "any of these words," "mentioning these accounts," and "to these accounts" set within the same time period as your Twitter marketing campaign to get an accurate sense of sentiment. You can use the same approach for competitive benchmarking on Twitter as well.
2. Generate leads by discovering sentiments toward your brand
When you use advanced Twitter search to gauge sentiment, you can use those insights to generate leads. If you find negative posts that mention your brand, take the opportunity to reply and see if you can address the problem. There may not be much you can do, but if you can provide a solution or at least show that you respond to negative feedback on social media, it could convince someone to give your brand another try.
3. Identify your most popular tweets
Find which tweets have had the most engagement using the advanced search engagement fields. Set the minimum number of retweets, likes, and replies to whatever your benchmarks are to find the tweets that stand out. You can analyze why these tweets got so much engagement and try to replicate that success.
4. Find the most popular tweets about a particular topic
Keep tabs on topics related to your brand by searching for a phrase and adding minimum likes, replies, and retweets to your search. You'll only find tweets that people have engaged with the most.
5. Look for photos and videos related to a topic
You can find tweets related to your search term that contain photos or videos by using operators in the search field. If you are searching for "content marketing" you would type these operators into the search bar to find images and videos:
Content marketing filter:native_video
Content marketing filter:images
Bonus 🥁 Mentioning about content marketing, it is worth checking the best tools for content marketing ✨
6. Find engagement opportunities
Your search for mentions of your brand or certain topics shouldn't be passive. Look for posts you can engage with or conversations you can continue. If someone asks a question about your industry, answer it. If someone posts about being unhappy with a competitor, reply that you offer similar services. Finding opportunities to engage should be one of your top goals with using advanced Twitter search.
7. Look for media opportunities
Search by hashtag or keywords to connect with journalists or members of the media who are looking for opinions or comments from experts in your industry. The hashtag #journorequest is a good one to search for, as is plugging in the name of your niche or industry plus "expert" in search, i.e. "content marketing expert."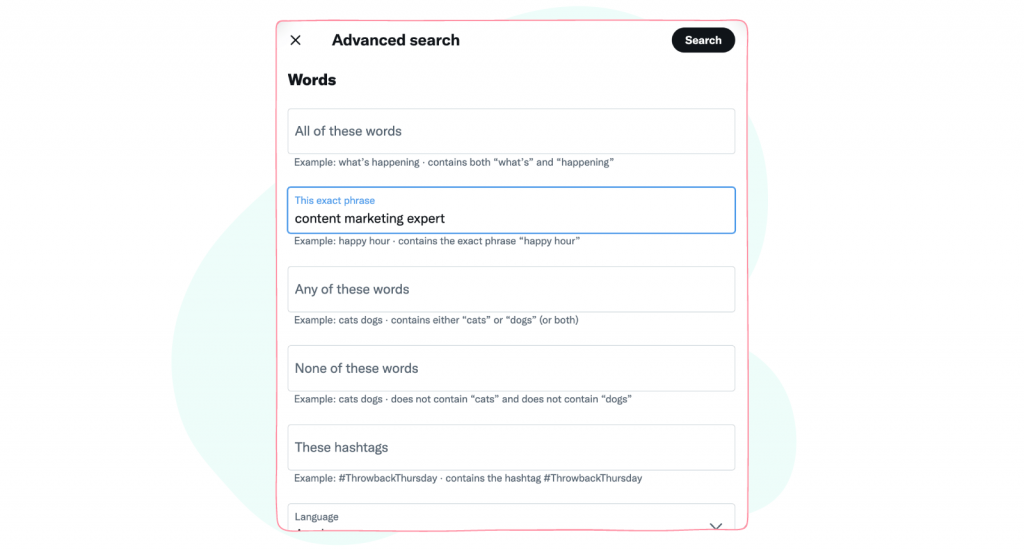 8. Search by account to connect with peers and influencers
Use Twitter's search tools to find influential people in your industry. Search for your keyword and then select "People" to see accounts related to it. You can also use the engagement filters to see tweets with high numbers of replies, likes, and retweets and see which accounts posted them.
9. Find tweets from a specific user to understand customer needs
If you already know of some influencers or experts in your niche, you can see what they're saying about a particular topic with the "from these accounts" search field. For example, you could see what the Content Marketing Institute (@CMIContent) is saying about YouTube strategy with "YouTube strategy from:CMIContent."
10. Create a saved search you can use repeatedly
There might be a search you perform with the same filters often. You can save it and use it again by clicking on the three dots next to the search bar. Then, click "Save Search."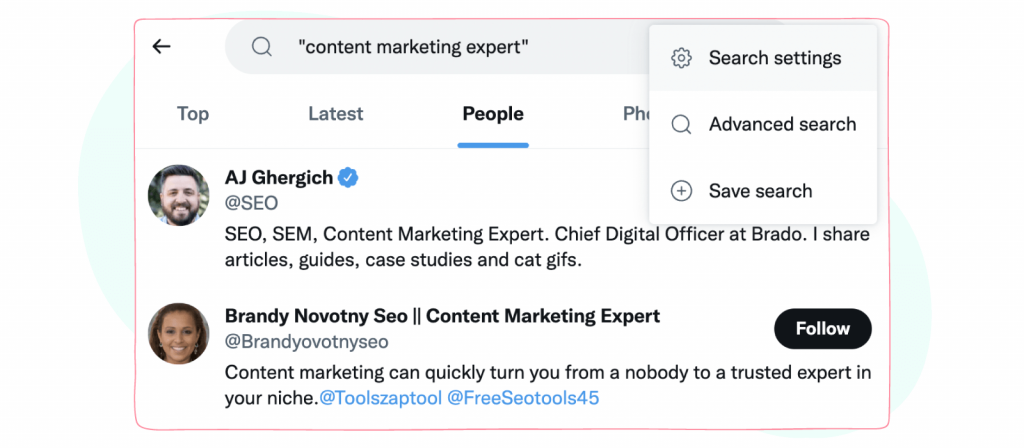 11. Explore content ideas
As you're checking for conversations around your industry or brand, you can also take the time to gather ideas for more content. Are there frequent questions your target customers ask that you can write a blog post about? Maybe you could do a video interview with an influencer in your niche who tweets often. Look for relevant discussions on Twitter by searching for hashtags and popular tweets and incorporate those timely discussions into your content.
🧁 Related article: Social media trending content ideas – The ultimate list
12. Filter tweets by location for local brands
If you are a local brand or want to find content about a specific location, you can use Twitter search operators. When looking for tweets about a location, use the "near:" operator. A location can be a city, state, country, postal code, or GPS coordinates (which you get from Google Maps). To find tweets about content marketing agencies in Milwaukee, you'd type "content marketing agency near:Milwaukee." If you want to create a distance greater or less than 15 miles from your location, you can add the "within:" operator. So your search query might look like "content marketing agency near:Milwaukee within:10mi."
13.Improve your customer service
Most people expect large brands to have a customer service presence on social media. If they tweet at your brand's account with a problem about your product or service, they want a solution, and fast. Twitter's advanced search tools can help you better track your social customer relationship management (or social CRM) by searching for mentions of your account or mentions of your brand name on Twitter.
Using Twitter advanced search to your benefit
When you know how to use Twitter's search tools properly, you can find content that helps you move forward on your marketing goals. With these tips and tricks for using Advanced Search on Twitter, you can increase engagement, help boost sales, and improve customer service. Use Advanced Search to take your Twitter account to the next level.