LinkedIn is a magnet for professionals and decision-makers, who create their profiles, participate in industry-related groups and communicate with others on interesting topics. If LinkedIn was a human, I would describe him/her as a serious, professional and competent person.
If you are promoting a company whose clients are top managers, HR specialists, marketers, foreign specialists, then LinkedIn is your sacred social network. Not only it is a hub that connects your target audience – LinkedIn traffic brings more value compared with other social media.
So, LinkedIn a great place to build your audience and attract potential customers. You probably have already tried to grow your LinkedIn business account. And it didn't work…
When it comes to social media following – companies often require instant gratification and constant followers growth. Business owners want to see their LinkedIn pages to grow exponentially for very wrong reasons. Don't fall into the same trap. LinkedIn is a very unique social network, where everything from user behavior to the algorithm is different and serves a different purpose.
Pay attention to LinkedIn's mission and vision statements
The mission of LinkedIn is simple: connect the world's professionals to make them more productive and successful.
Create economic opportunity for every member of the global workforce
Understanding LinkedIn environment is essential in building your successful presence in it. By analyzing the driver behind why people use LinkedIn, why people follow businesses and what content increases engagement rates – you will understand why your page is not growing or growing very slowly.
Notice that the growing speed on each social media is different. Growing LinkedIn profile is the most challenging task for social media marketers. 90% of businesses experience very slow growth, the rest don't grow at all. LinkedIn business profile moves in correlation to your company growth. If your business is growing slowly, so will the company page and vice versa.
But as was mentioned earlier, LinkedIn growth is all about quality over quantity. Here are some stats, that the LinkedIn growth battle is worth fighting for: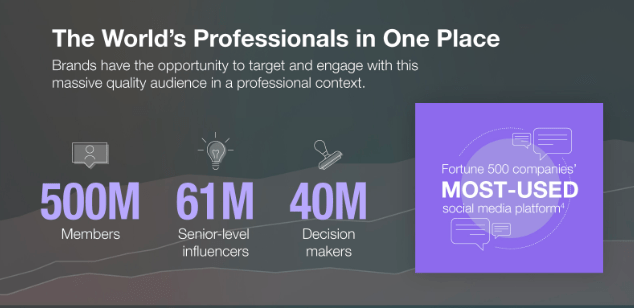 61 million LinkedIn users are senior level influencers and 40 million are in decision-making positions.
LinkedIn is the most-used social media platform amongst Fortune 500 companies
91% of marketing executives list LinkedIn as the top place to find quality content
These are the steps to growth your followers on LinkedIn Company Pages:
1. Why people use LinkedIn?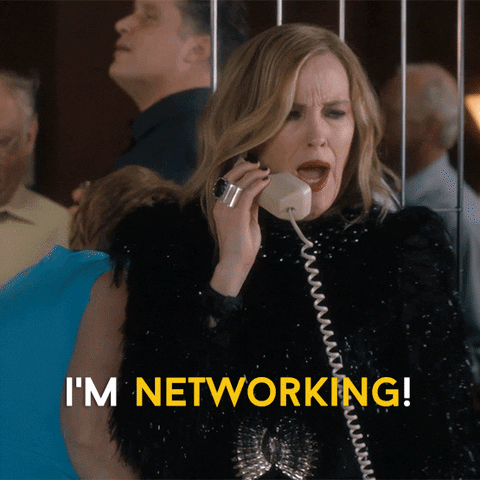 95% of business world players have LinkedIn profiles. People come to LinkedIn to build a social network, discover industry insights, or find a job. Also, social media is also very popular in head hunters and HR agencies.
LinkedIn helps to build a virtual network of contacts. Business card or phone number can get lost or emails buried under hundreds of others. So LinkedIn is a perfect place to keep that valuable connection with people.
The social media has become a hub for people to share their industry insights and expertise in the groups. It is a wonderful opportunity to connect with like-minded people, whom you can easily ask for help or share your personal experience.
Now that you have a good understanding of LinkedIn's ecosystem, communities and reasons why people use it, we will implement this information to guide your social media marketing strategy and help you to grow LinkedIn company page.
2. Your LinkedIn company page deserves better treatment
Treat LinkedIn business page like you would treat your website. It is the face of your company that can both increase brand credibility or kills it.
Filling in basic information about your company address, URLs, description, main picture, header picture is not enough. It is the first step that you have to take, but it is content on the page that takes you to the next level and gives the impression of an alive company.
LinkedIn deserves a separate content strategy keeping in mind the environment and audiences' content preferences.
What should your new content strategy include? Every year LinkedIn nominates company pages who did an exceptionally impressive job. By looking at the top 3 business profiles, we will explore together what can help you to grow your page and what content can bring you there.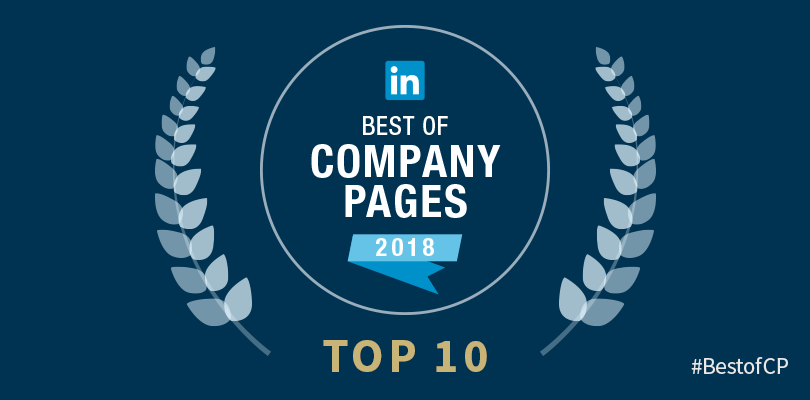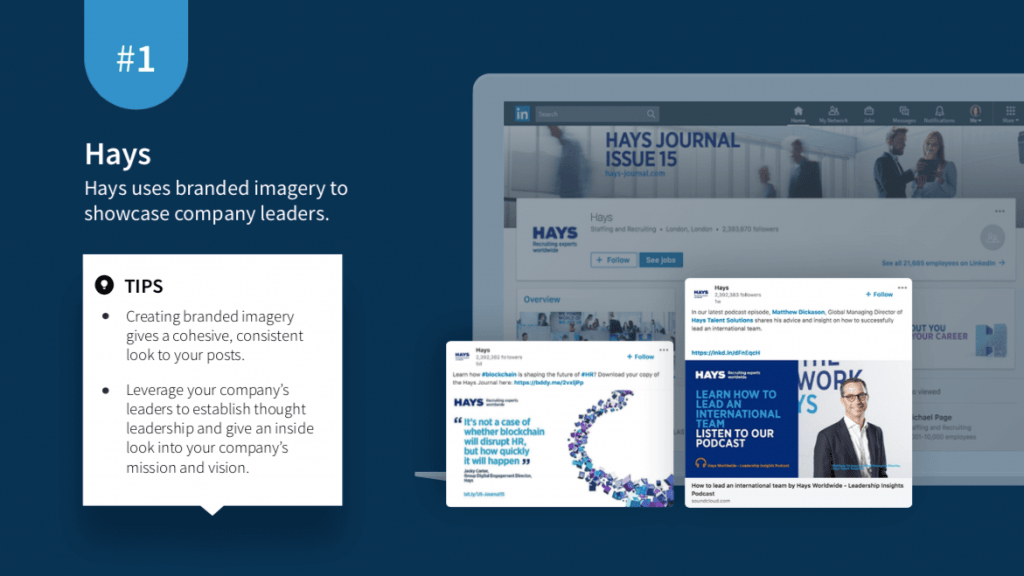 Hays LinkedIn page showcases its leadership through branded images and the company's leader's opinions. Hays often shares content they create to help individuals to learn more about HR practices, prepare you for job interviews and general career lessons.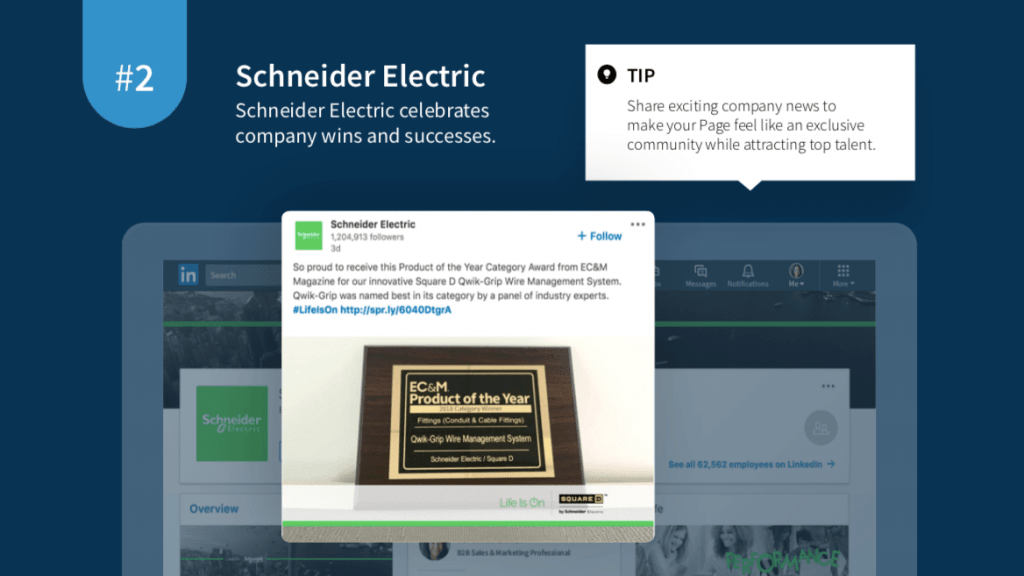 Schneider Electric also uses branded images. All company feed is consistent in its signature green color scheme everywhere. Content often highlights the company's achievements and successes and its employees.
Pro tip: "Sharing exciting company news makes your page feel like an exclusive community while attracting top talent."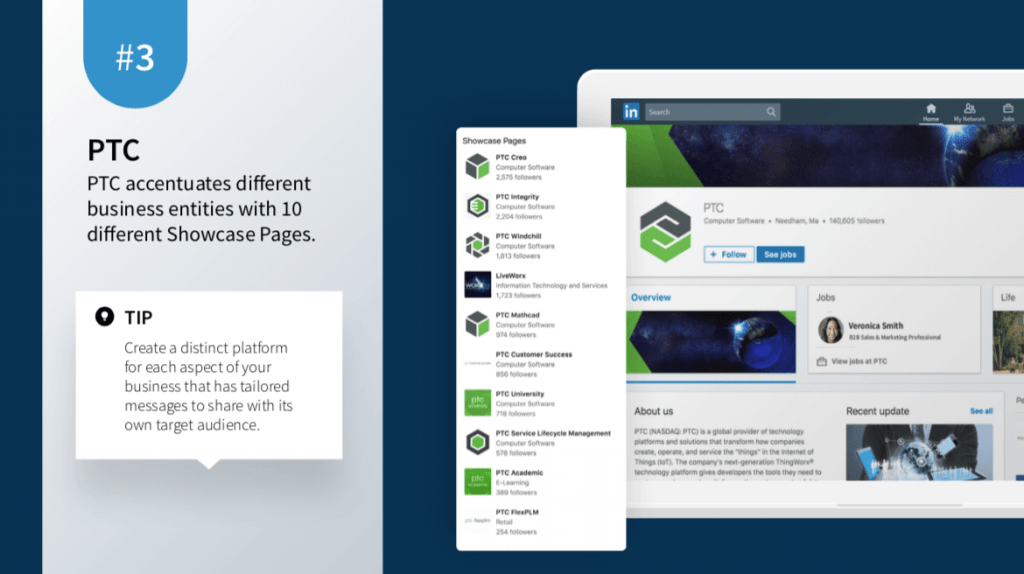 PTC is a computer software company with many different business lines. Each has its own unique space on LinkedIn through Showcase pages.
Pro tip: "By creating distinct platforms for different aspects of your business, you can tailor messages specifically to target audiences for each."
3. Consistent posting shows that the company is alive
After analyzing the top 10 LinkedIn business page accounts we all can come to a simple conclusion. Businesses use LinkedIn to post updates and announce new functional features. Moreover, they use LinkedIn to distribute their blogs and newsletters. If they want important updates to receive maximum coverage, they pin posts at the beginning of newsfeed.
The LinkedIn profile helps them to bring traffic to their website or blog and promote updates and news among subscribers.
To make thing fast and efficient introduce Sociality.io Publish feature, that enables you to schedule all LinkedIn posts in advance. Publish features makes sure that your target audience will see your message at the right time. Reaching your audience at their user peak time drives higher engagement rates.
Notice that Hays, for example, has 2,8M subscribers and only 106 likes and 1 comment. Do you think that LinkedIn is effective?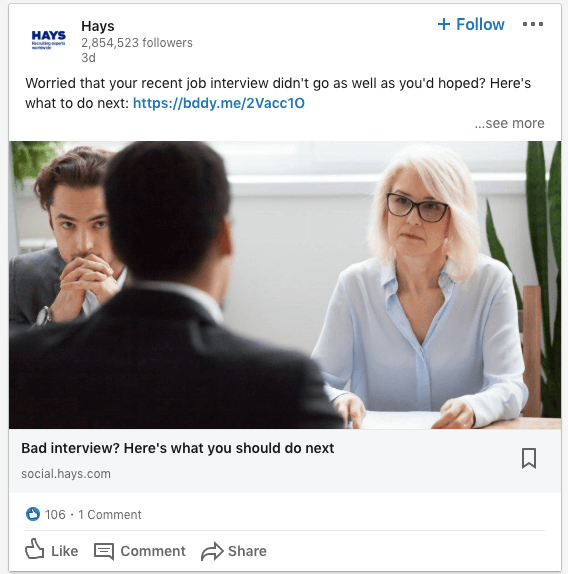 4. Sociality.io and LinkedIn built-in analytics
To truly assess the effectiveness of your LinkedIn engagements rates I strongly discourage you to just compare likes to subscribers numbers. Instead, take a deeper look at analytics and pay attention to average conversion rates from a visitor to a potential customer.
LinkedIn efficiency will not be measured in how many likes and shares your posts have collected, but as the traffic that you drive.
But if you don't know what content is driving engagement, or who you are engaging with, how can you understand how to drive results for your business?
LinkedIn offers inbuilt analytics that shows deeper insights into your page performance. You can evaluate which posts receive the most interactions, clicks and even followers acquired.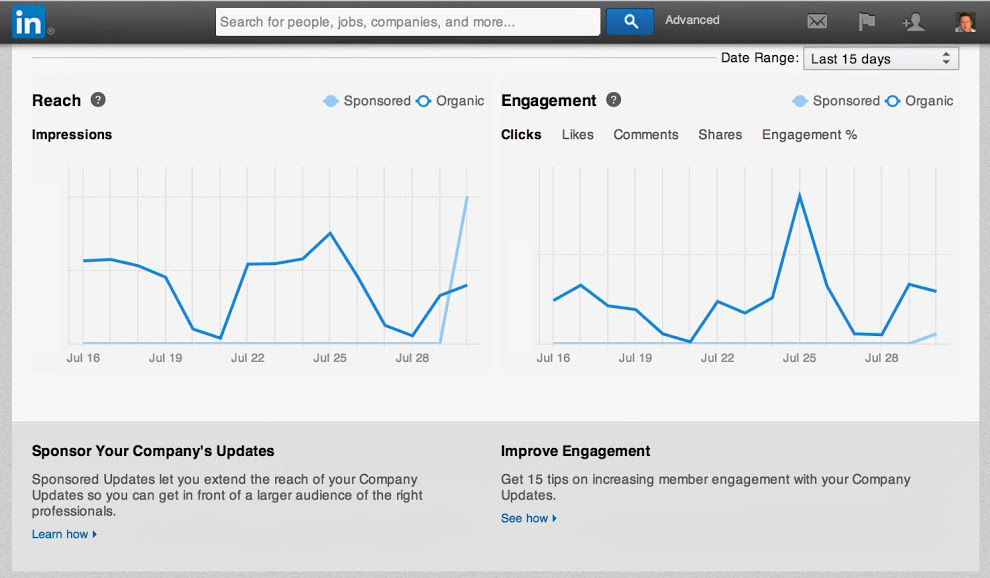 Also, LinkedIn analytics present more detailed demographic data about your followers.
Sociality.io Report feature prepared detailed, deep data (that is not available in built-in LinkedIn analytics) in seconds. All reports are exportable and show you everything you need to know about your page's performance.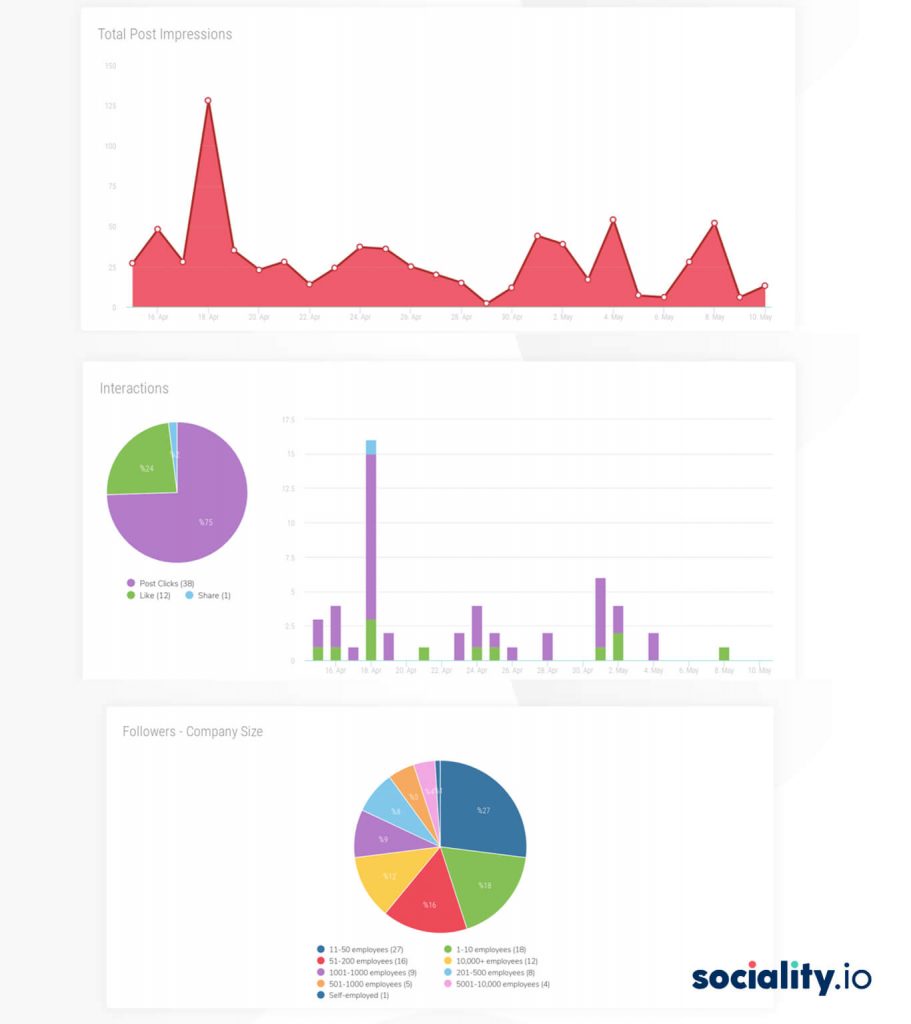 All social media reports are ready to present
No more wasting hours for weekly and monthly reports, no more crises that arise from mistakes on reports.
For example, you can create thought leadership content created specifically for senior management or filter by industry type or company size. You can see where the majority of your followers live and schedule posts according to their active hours.
Deep data helps you to make intelligent decisions, understand who your followers are and guide your content strategy accordingly.
5. Guide to LinkedIn content that converts
The LinkedIn algorithm is different. You can notice sometimes the first post you see can be 3 weeks old, but the algorithm decided that it is relevant to your interests. Overall, the LinkedIn algorithm is one of the hardest to understand, but it is not rocket science.
What content LinkedIn algorithm approves?
Share value to the community
Inspire people to achieve more by showing your own company success
Offer industry or career actionable tips they could implement
Industry-specific jokes or memes can also be fun
Evoke an emotion. Use real people in your visuals
Share industry statistics
Share short videos
6. Broadcast articles and opinions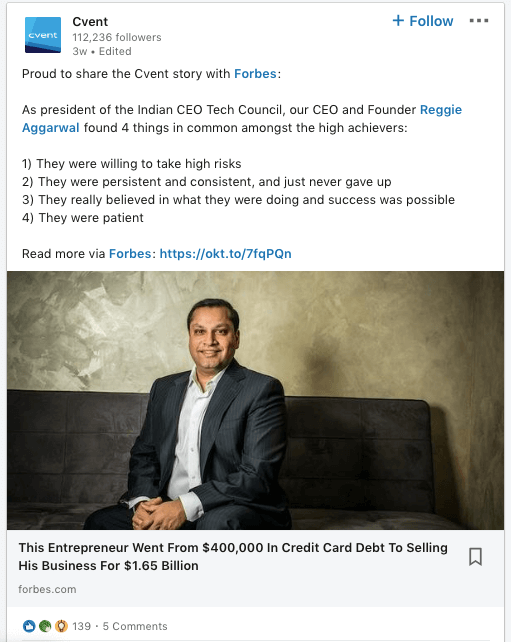 LinkedIn Audience welcomes links to your articles that primarily solve problems and answer questions. Even if your company doesn't do content marketing, then sharing useful links to articles and experts on other resources would also help to bring more people to your profile.
7. Human face
Although LinkedIn is a professional social network, you should not limit your content strategy to dry experts and corporate articles and posts. Sharing your company achievement, news, and your own employees will bring a personal touch and leave a warm impression.
For example, ask questions and post content that provokes discussion, publishing partner's content, congratulates subscribers on holidays, etc.
8. Social proof inside your LinkedIn page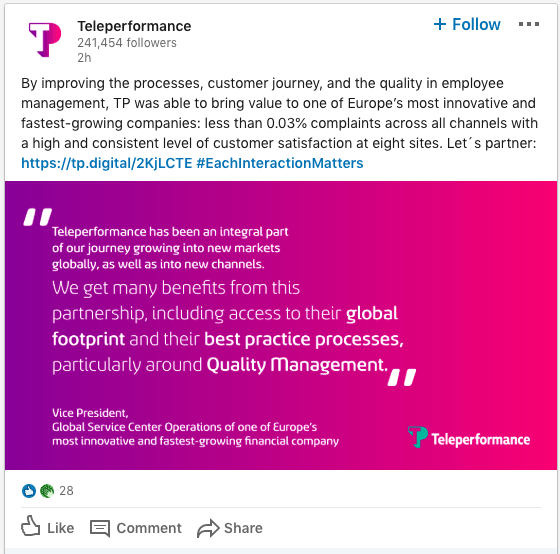 Social proof is one of the most effective ways to increase traffic and sales. Customer testimonials can help you to switch potential customers to long-term loyalists.
On average, a Linkedin user spends only 17 minutes a month on this social network. Therefore, when a Linkedin user hits your page, you have only a few seconds to say what you are doing and why your company page is worth their attention.
State clearly why your company deserves people's attention, what makes you stand out from other competing companies?
9. And lastly – LinkedIn Groups
42% of LinkedIn users participate in group discussions and consider groups to be the easiest way to share content and opinions with colleagues. It drives high-quality traffic and brings more users to your profile. Join industry-relate groups.
Pro tip: Instead of spamming groups and annoying both group participants and moderators, be a true expert. Share your expertise and prove that the content you share deserves their attention. The higher is your credibility and authority, the more successful will your business page be.
Conclusion,
Growing LinkedIn company page is a long and time-consuming process that won't happen overnight. The best strategy is to create separate content for the LinkedIn audience, monitor key metrics with Sociality.io reports and consistently post relevant, valuable and industry-related content.
Keep in mind why professionals and decision-makers use the platforms and how to attract their attention. After all, traffic that comes from LinkedIn is more valuable than from other social media. It is the battle worth fighting for.