Sharpen your strategy with social media report templates
Planning, organizing, scheduling, and reporting… are all part of a digital marketer's day-to-day job. Often, creating a social media report may feel like doing a whole team's work, taking a lot of your time and effort. However, it is one of the most critical aspects of monitoring and improving your social media performance. It works as a testament to whether your social media marketing strategies are working or not.
We understand how tedious it is to do everything by yourself especially when it comes to social media reporting. That's why Sociality.io has compiled different social media templates that you can access with just one click.
Social Media News in a Nutshell
Get the latest social media news, insights, and marketing tips in your inbox once a week.
What you need to know about a social media report
A social media report is a reporting document that helps you extract and monitor data from various social media activities and platforms. Depending on what data you want to collect, analyze, and present, it can be simple or complex. For instance, it can be either a simple Excel sheet or a data-rich presentation. Additionally, depending on the audience or goals, you may need to work on multiple social media reports.
Here, it would be a good idea to decide the frequency of social media reporting—weekly, monthly, quarterly, or campaign duration (at the start and at the end).
What is included in a social media report
There is no right or wrong answer to this because social media marketing reports depend on a number of factors. For instance,
Who are your audience—clients, your team, a different department, etc.?
What data does your audience need to analyze and understand?
How detailed should the report be?
How do you want to present or visualize data?
You can also customize your reports by adding or mixing different social media metrics.
Let's have a look at the basic structure of a report and then dive into the details.
A brief introduction to your social media strategy
SMART goals or objectives
Results for different social media platforms
Analysis of what's working and what's not (include the why part too!)
New opportunities/ areas to work on
Conclusion or summary
1. A brief introduction to your social media strategy
A brief overview of your social media strategy will set the tone for the rest of the report. Your audience will know what to expect. Here you can discuss what is the purpose of your strategy and activities, how they align with the business strategy, what is the intent behind using social media, etc. You can also use this space to highlight if there have been any changes in your social media strategy since the last time.
2. SMART goals
In this section, it is advisable to present your specific, measurable, achievable, relevant, and time-bound (SMART) goals. This will help you define your objectives as well as metrics in a straightforward way. The number of goals that you want to present can vary depending on your social strategy, and the size of your team. The bottom line is don't go too overboard if you are doing a report for the first time.
Once you are well equipped and have established a reporting pattern that works, you can add more objectives over a period.
3. Success metrics
With goals, you have to define your success metrics. For instance, if your goal was to double the website traffic from Instagram, then you need to show the number of visitors that have come to your website from Instagram. If your goal is enhancing customer service, then you can look at metrics such as customer satisfaction score (CSAT), net promoter score (NPS), resolution time, etc.
Although the metrics may vary, here are some common metrics that can be tracked for campaigns/activities.
Growth in your audience/ followers
Number of leads generated
Share of voice
Content performance including engagement metrics
Number of conversions
Total spend on paid ads
Social sentiment
Total revenue generated
You can make your reports as detailed as you need and add more metrics depending on your goal and audience.
4. Results for different social media platforms
In this section, you can dive deeper into the performance across social media platforms. Here, you can break down information for more insights. For instance, on Instagram and Facebook, you can look at the performance of Stories, posts, and Reels.
Here are some metrics that you can include for social media platforms.
Posting frequency
The number of posts, Stories, Reels, etc.
Gain/loss of followers
Video metrics
Engagement rate
Click-through-rate (CTR)
When covering social media reporting for these platforms, you can compare your performance with a similar campaign or metrics over the last week, month, quarter, etc. This can help you identify trends or seasonal highs and lows.
You can also compare and benchmark your performance to your industry or competitors.
5. Analysis of what's working and what's not (include the why part too!)
Just presenting data is not enough, you need to analyze it too. In this section, you can highlight what has worked and what hasn't worked during the given period. For instance, if it was an influencer campaign or a social conversation that turned the curve for you.
Also, keep room for what didn't work. This in-depth analysis can help you modify your strategy and set realistic goals.
6. New opportunities/areas to work on
In this section, you can present new opportunities for your team to uncover. You can pitch in new ideas or initiatives based on your analysis, social listening, or engagements. For instance, steps you can take to improve responsiveness on social media platforms.
7. Conclusion or summary
Now is the time for big takeaways. In this section, summarize your key achievements, learnings, and areas of improvement. Discuss in brief how this will help you tweak your social media strategy for the future.
Create social media report in 5 steps
You can create your own social media report using these simple steps.
Step 1: Assess your audience
Knowing your audience can help you determine the level of detail and key highlights of your social media report. For instance, the marketing team may be focused on the performance data of campaigns whereas leadership may need more concise and focused reports on conversions and financials.
Step 2: Outline your social media KPIs
It is important that you keep your social media report focused. Outline the key social media KPIs and the associated metrics that are critical to your business and the audience you are presenting to. Don't just focus on traditional statistics unless they see significant growth.
Step 3: Collect relevant data
Collect data from all platforms and channels. If you are using a social media management solution like Sociality.io, then you can easily access data for all platforms and given time periods using a single dashboard, making your life much easier!
Step 4: Analyze the data
Crunch the numbers to get meaningful insights from your data. For instance, Sociality.io can help you extract actionable information from social media reports to support decision-making.
Step 5: Present and visualize the data
Presenting numbers to your audience may not help until you help them visualize the significance of those numbers. Make your report visual and easy to understand.
Social media reporting tools you should know about
Social media platforms offer their own native analytics tools. Here are some to help you get started.
Sociality.io Analytics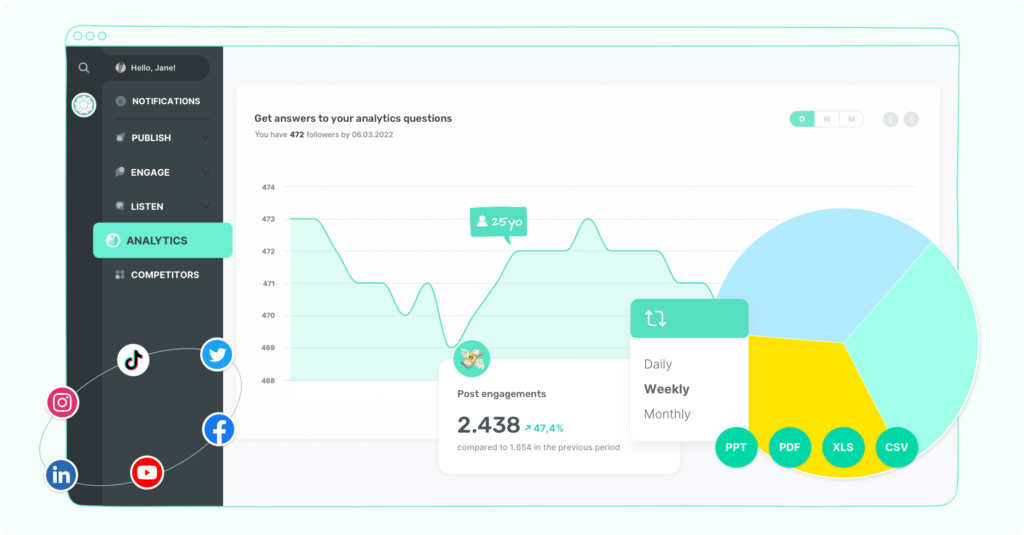 Sociality.io is a one-stop social media management solution that automates publishing, scheduling, reporting, social listening, and much more. Its analytics and competitor analysis modules can give you the much-needed insights to keep you a step ahead in your social media strategy.
Saving a lot of time, effort, and resources in social media reporting, Sociality.io can help you focus on more strategic areas to bring more value to your business.
To explore what all you can gain by accessing Sociality.io Analytics, click here.
Free social media report templates
We have compiled a list of a few useful social media report templates for you. You can just download them and get going!
Our Competitor Research Template will make your job easier. On one list, you will find the information needed for researching the competitors.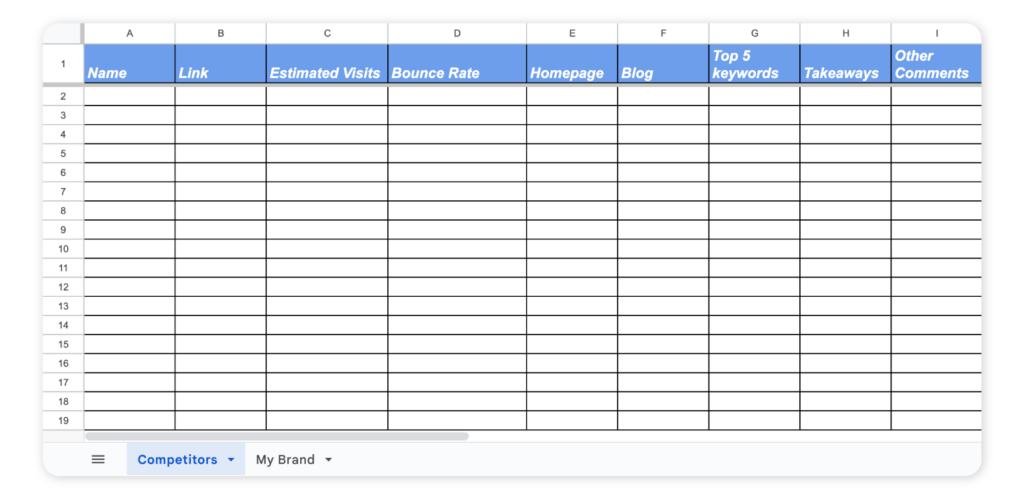 After analyzing all of your competitors, go to the second list and fill in the information about your brand, write the suggestions you came up with during competitor research.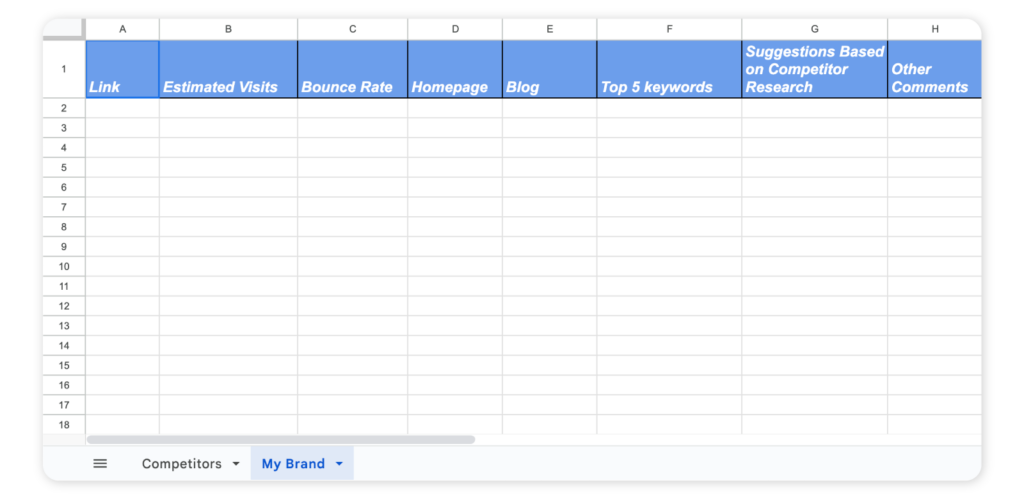 You can always view the template but for using it, click "File" and select "Make a copy" from the drop-down menu.
This template will help you see what type of content you are going to have during the month and what resources you are going to need.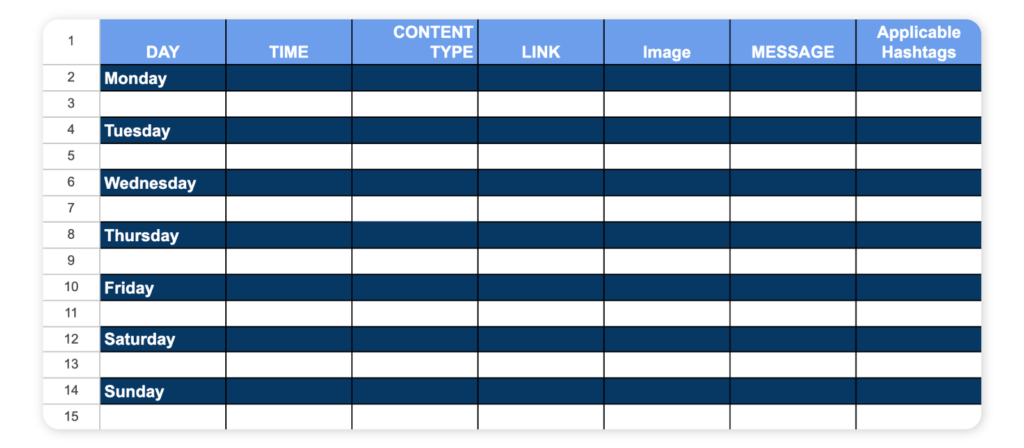 Add all the relevant information for each section. Once everything is ready, go to your Sociality dashboard and schedule your posts.
You can always view the template but for using it, click "File" and select "Make a copy" from the drop-down menu.
🥁 Bonus: Top 21 social media scheduler tools in 2023
Final words
Social media reporting is an important factor in guiding your social media strategy. It helps you evaluate if your efforts are in the right direction. Undoubtedly, reporting can be a tedious task but with the right tools, your life can get much easier. Explore how Sociality.io can expedite your reporting and competitor analysis to give actionable insights for your team.