LinkedIn Analytics: A guide to metrics, insights, and more
For most B2B marketers, LinkedIn is to their social media strategy what a battery is to a Tesla car – crucial!
It's why 40% of marketers choose LinkedIn as the number one channel for driving high-quality leads. And 77% of content marketers say LinkedIn produces the best organic results.
These stats are revealing for a reason. In this period of economic downturn, it's important to keep your customer acquisition costs down and focus on achieving profitability. LinkedIn is a platform B2B brands leverage to achieve both.
So, how do you win on LinkedIn?
Like every other social media platform, success on LinkedIn means you have to make LinkedIn analytics an integral part of your strategy. It should quantify how you measure your progress and prove to your boss that you're getting a return on social media investment.
In this article, you'll:
Learn how to use LinkedIn analytics.
Learn what metrics to track.
Learn how Sociality.io makes tracking and reporting your LinkedIn performance easy.
Social Media News in a Nutshell
Get the latest social media news, insights, and marketing tips in your inbox once a week.
What tools does LinkedIn provide for analytics?
You can start tracking your brand's performance on LinkedIn via its native analytics tool called LinkedIn Page Analytics.
If your company uses only LinkedIn to build a social media audience, then LinkedIn Page Analytics has all the features you need to efficiently track relevant LinkedIn metrics.
However, if your brand maintains a presence on multiple social media platforms, a social media management tool like Sociality.io is the better option for LinkedIn analytics. With Sociality.io, you can monitor your brand's growth across multiple social media channels in one place.
This allows you to make holistic decisions concerning your social media strategy.
We'll dive deeper into how Sociality.io can help you manage your presence online. But for now, let's look at LinkedIn Page Analytics and how to use it.
LinkedIn Page Analytics
This tool helps you discover patterns in your page's performance across metrics and time periods. Available to all admins, LinkedIn Page Analytics provides insights into your followers, visitors, competitors, leads, and employees. These insights will help you:
Identify trends relevant to your company.
Become familiar with your followers and visitors
Evaluate the performances of your individual posts
Learn more about specific activities such as career page clicks, page views, unique visitors, and so on.
Find out what topics your audience currently find interesting.
How to use LinkedIn Page Analytics
To find LinkedIn Page Analytics, head over to your company's page and click on the Analytics tab.
This will bring up a dropdown menu with six options – visitors, updates, followers, competitors, leads, and employee advocacy.
Let's see what each section is all about.
Visitor Analytics
Visitor Analytics shows you the demographics and sources of your visitors. If you want more information on who's visiting your page and how to convert them, this is where you'll find it.
Update Analytics
Updates refer to your LinkedIn posts.
This analytics section shows you the effectiveness of all your posts. This way, you can evaluate the quality and topics of posts shared with your page followers and visitors.
This section shows you how well your LinkedIn content strategy is performing and provides you with insight into how what works and what doesn't.
🚀 Bonus: What is the best time to post on LinkedIn?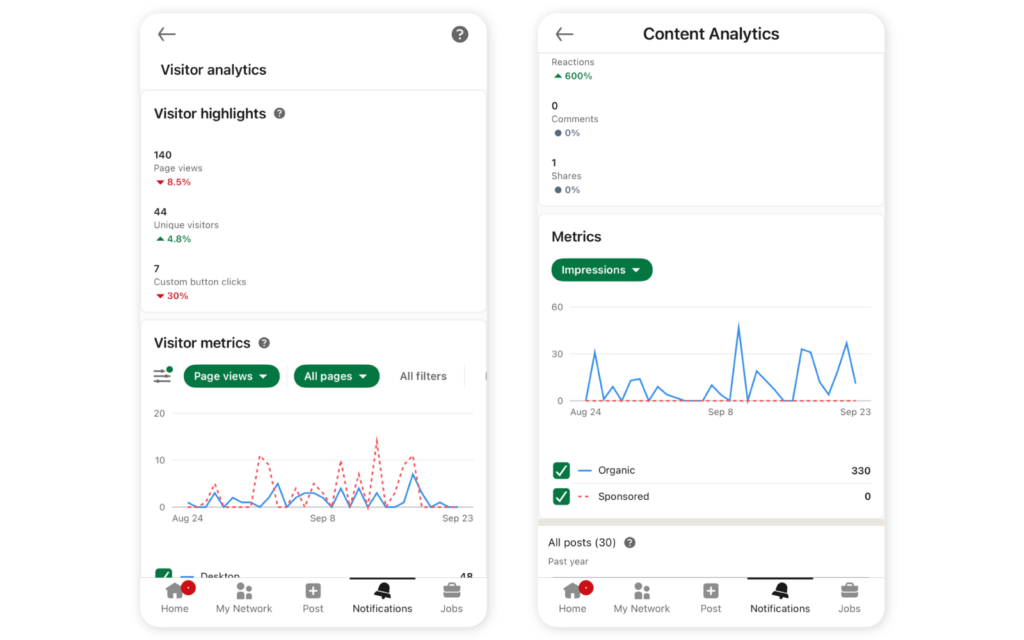 Follower Analytics
Follower Analytics provides you with the demographics and sources of your followers. It helps you understand who's following your page and the best way to engage with them.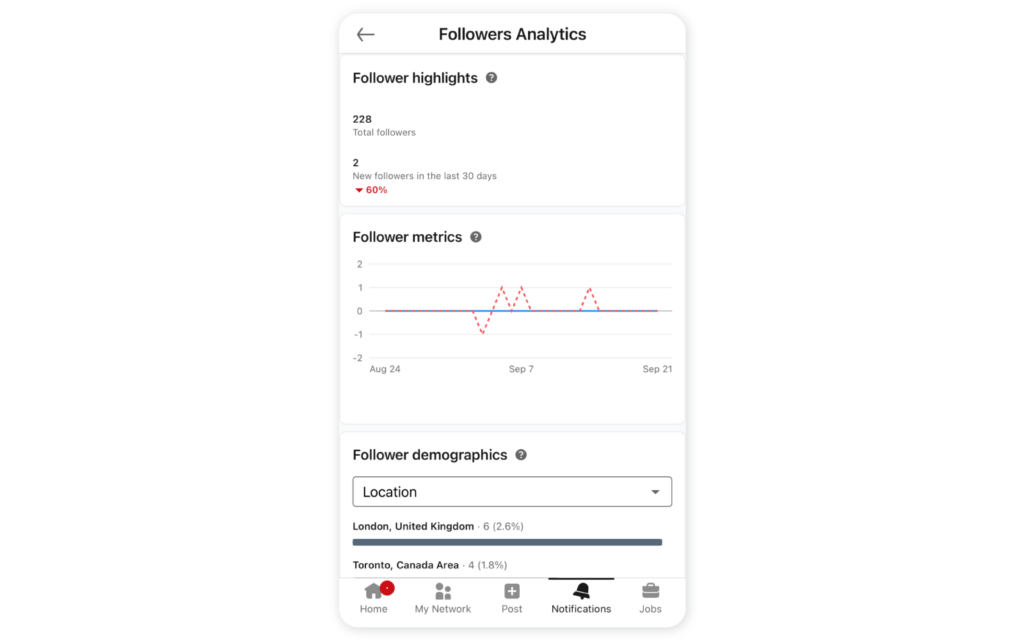 An increased follower growth tells you that more people have taken an interest in your page. The metrics in this section will help you tailor your engagement strategy with current followers and prospective ones.
Competitors Analytics
Benchmarking your page's performance against that of your competitors is one way to figure out what your audience wants.
With Competitors Analytics, you can compare your follower growth and content engagement with that of your competitors.
All you need to do is add the competitors you want to keep an eye on. After that, you'll be able to see how our page compares to theirs in terms of followers and post engagements.
✨ Bonus: How to track competitors' followers growth rate on social media
Leads Analytics
If you're collecting leads via your page, this is a section you'll use frequently.
The Leads Analytics section shows the status of your lead gen forms as well as the number of leads your LinkedIn pages collect.
Employee Advocacy Analytics
Employee Advocacy Analytics tracks employee and member engagement from content recommended to employees.
As your company's page admin, you can recommend content to be shared by employees. With this feature, you can evaluate the recommended content quality and engagement.
What LinkedIn metrics should you be tracking?
LinkedIn Page Analytics provides you with a lot of performance metrics. But does that mean you should track all of them?
No, it doesn't. That's a lot of data.
If you're new to LinkedIn analytics, here are the essential metrics you should keep your eyes on.
Update Analytics Metrics
Impressions: LinkedIn counts an impression each time a post is visible for at least 300 milliseconds, with at least half of the update in view on the screen. Also, keep an eye out for unique impressions, which measure the number of times your posts were shown to unique LinkedIn users.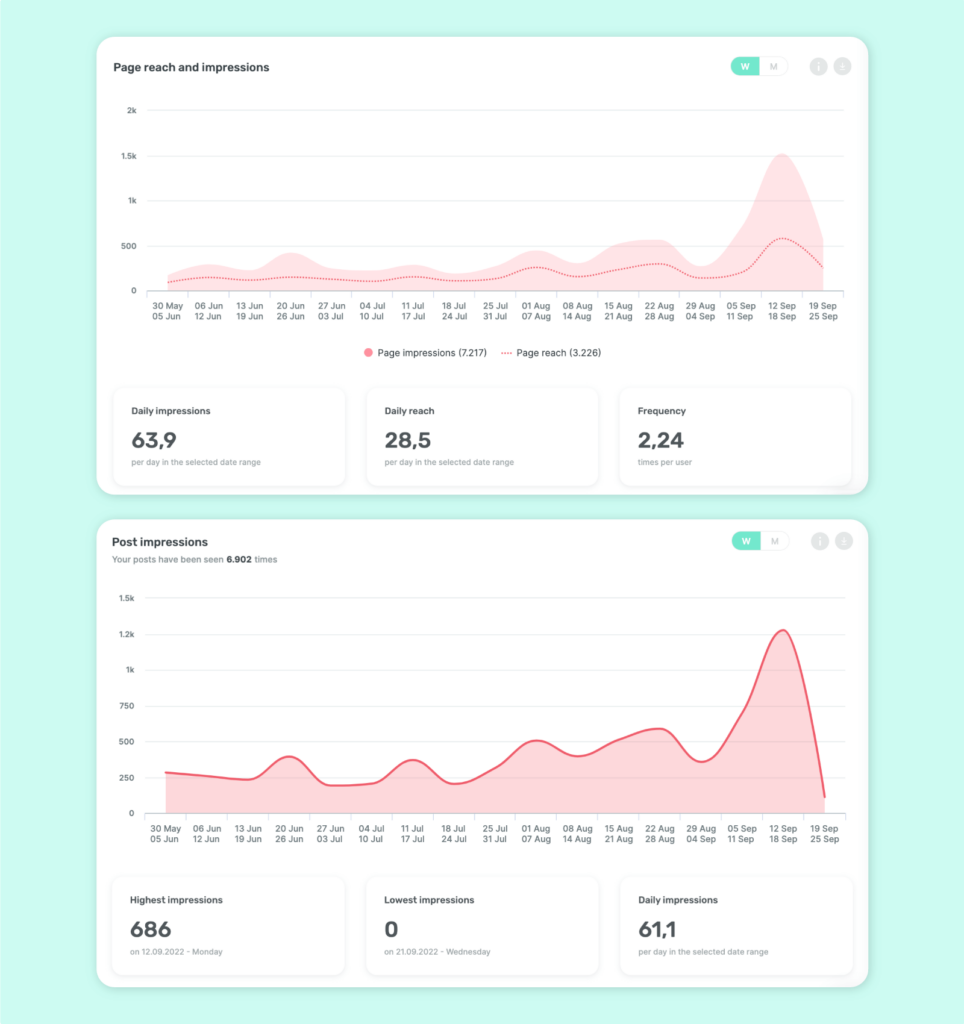 Clicks: shows the number of times your content, company name, or logo was clicked on by a signed-in LinkedIn user.
Reactions, Comments, and Shares: this shows the number of reactions, comments, and times your content was shared by LinkedIn members.
🥁 Related article: Which is more important: Reach vs. Impressions
Follower Analytics Metrics
Follower Metrics: shows how your followers have changed over a specific period of time. It tells you if your growth rate is on the rise or declining.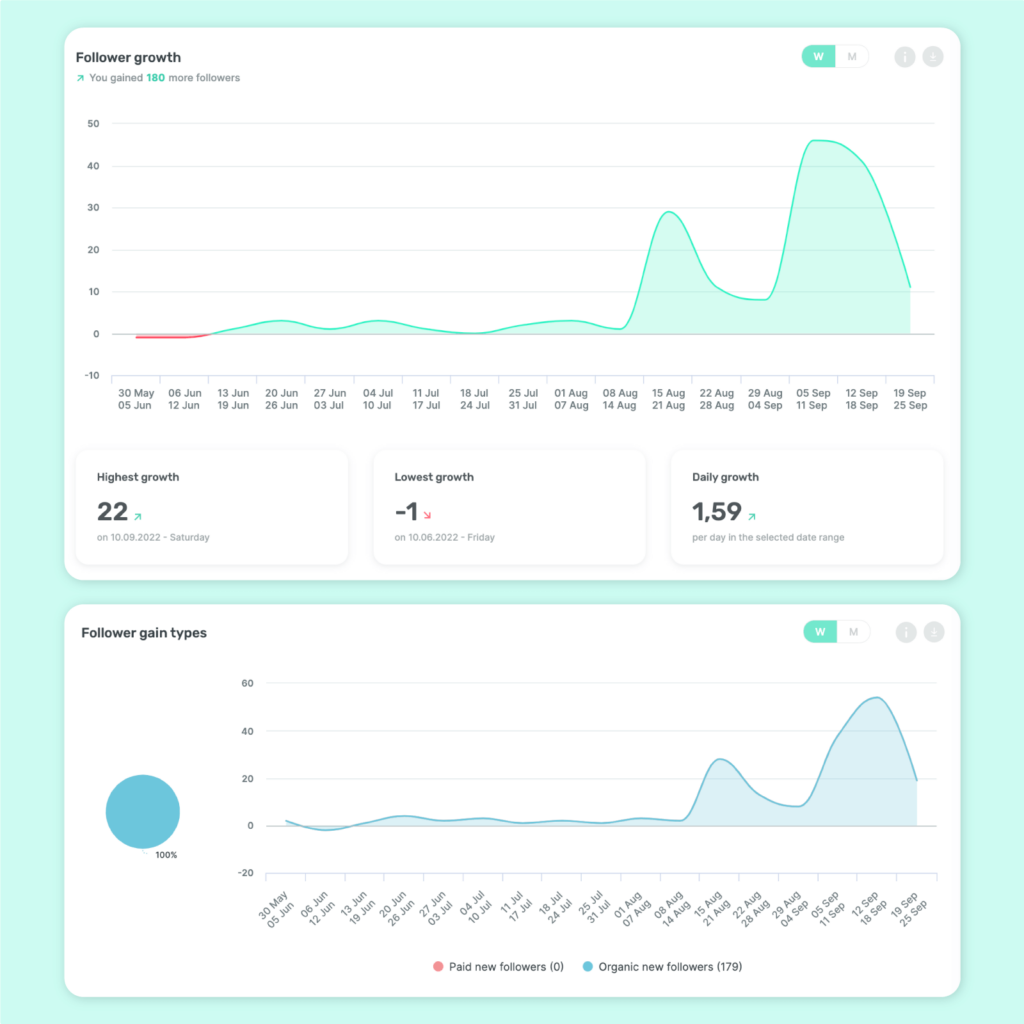 All followers: This shows your current page followers along with their current place of employment and when they followed your page.
Companies to track: Shows you how your follower growth compares to that of your competitors
Visitor Analytics Metrics
Visitor Demographics: gives a breakdown of who has visited your page. It can be filtered by job function, location, seniority, and company size.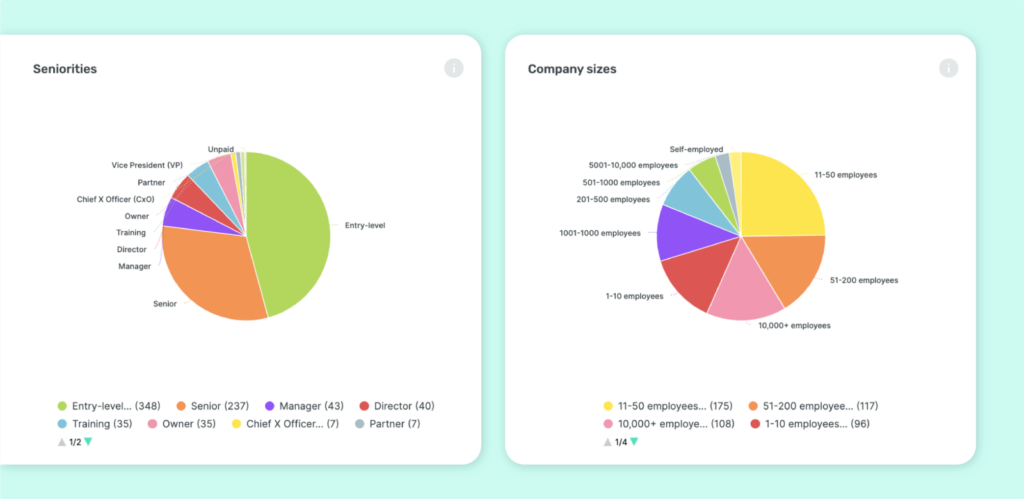 Page Views: the total number of times your page was visited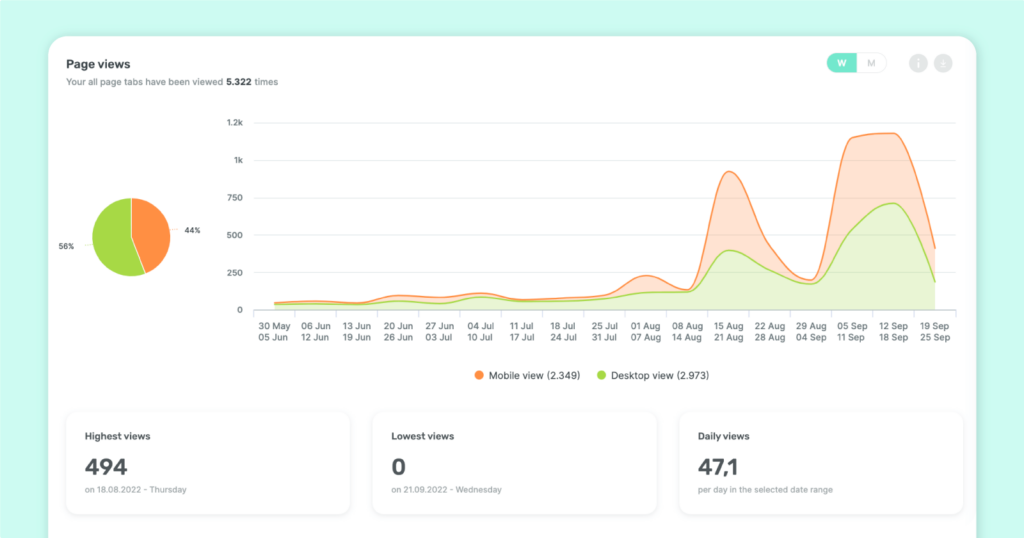 Unique Visitors: the total number of times non-duplicate LinkedIn users visited your page.
Employee Advocacy Metrics
This isn't widely used. But if you want to use it as part of your LinkedIn strategy, watch out for:
Change in the number of recommendations.
Posts from recommendations.
Reactions to recommended posts.
Comments on recommended posts.
Reshares of recommended posts.
Sociality.io: LinkedIn analytics tool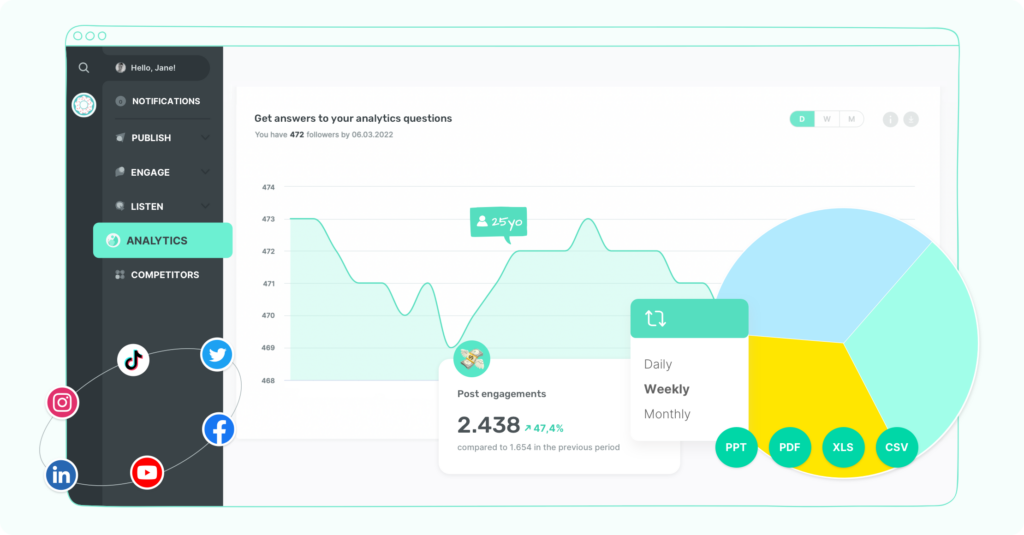 If your company manages its social presence on multiple platforms, consider Sociality.io to help you manage your publishing, analytics, social listening, and competitor analysis processes.
If you connect your social media accounts, including LinkedIn, to Sociality.io, you'll be able to schedule your posts at optimal times and monitor your growth across each channel in a centralized platform.
With Sociality.io, you can:
Build collaborative workflows to schedule your content.
Deliver swift customer support via our social inbox.
Track and analyze your performance with our analytics tool.
Monitor your brand's social health and your competitors' activities.
Over 2000 marketers use Sociality.io to grow their brand's social media presence.
You can do the same, too by signing up for a free trial here. No credit card required.