Alert! New Instagram chat features you've probably missed
Instagram continuously improves Instagram chat features. For the majority of social media marketers such improvements go by unnoticed as the usually direct messages and content engagement is managed through social media management tools.
To all the curious Instagram users who slept under a rock for the past year, we've compiled a list of Instagram chat features you can implement to personalize your communication channels with social communities, audiences and clients.
Social Media News in a Nutshell
Get the latest social media news, insights, and marketing tips in your inbox once a week.
9 new Instagram chat features
Over the past year, Instagram has changed the way people use DMs, borrowing features from Snapchat, TikTok, and Messenger. Here are the new features making waves on Instagram in 2022.
1. Chat theme and accent colors of Instagram DMs
In the past, you could only switch between light and dark modes, depending on your device's settings. But now, you can choose stock images and eye-catching gradients as your Instagram chat theme.
Note that every change you make to the DM themes affects only your private messaging thread with one user, meaning that you can customize every DM interface to your liking.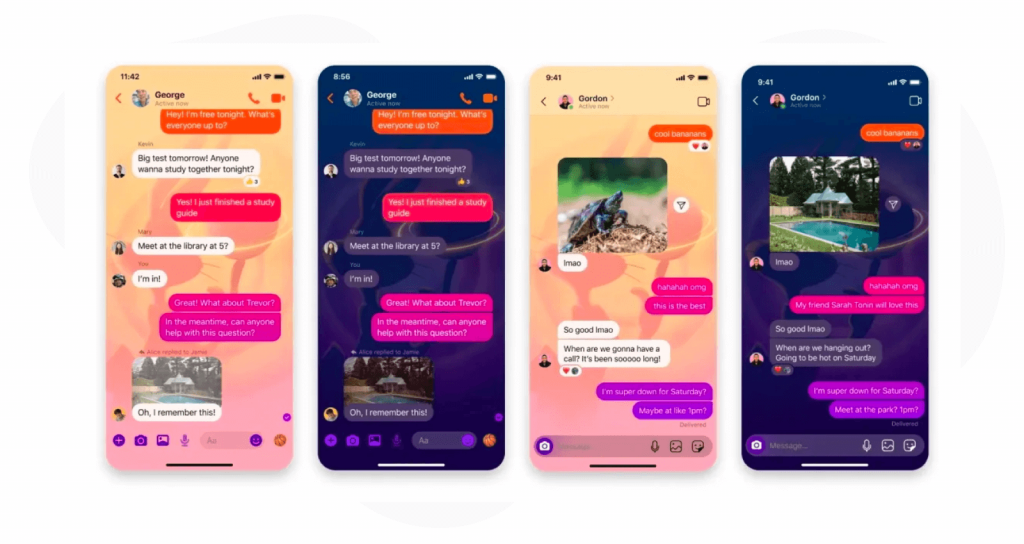 How to change Instagram chat color
Open the Instagram app.
Go to your DM section.
Open any chat by clicking on the person's name.
Tap on the "Theme" option and choose the one you prefer.
Tap on your preference and watch the background and color scheme change.
If you cannot access the theme option, update your app to the latest version and try these steps again. Note that the desktop app might not support theme changes on some browsers. If the feature still doesn't work, clear the cache (on Android) and sign in again.
👀 Related article: How to check and view Instagram messages on PC?
2. Messages with special effects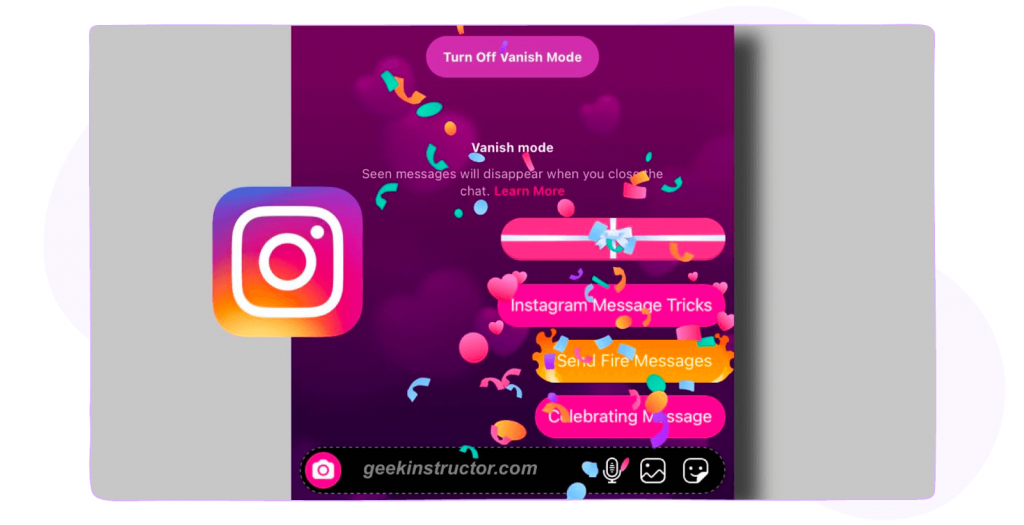 Say goodbye to boring DMs. Use special effects to add some personality to your messages. With the latest version of Instagram installed, follow these steps:
Open any DM.
Type your message in the text box.
Tap the "Search" icon on the left side of the message box.
Choose from the four available presets to beautify your text.
Send the message to view the results.
3. Video chat
Instagram video chat — different from Instagram Live — is a feature that allows users to call their friends directly from their Instagram DM.
How to video chat on Instagram
Go to your Instagram profile.
Tap the "Airplane" icon on the top right of the screen.
Enter the person's name in the search bar.
Tap on the camera icon in the top right of the screen.
Start your video chat.
4. Co-watching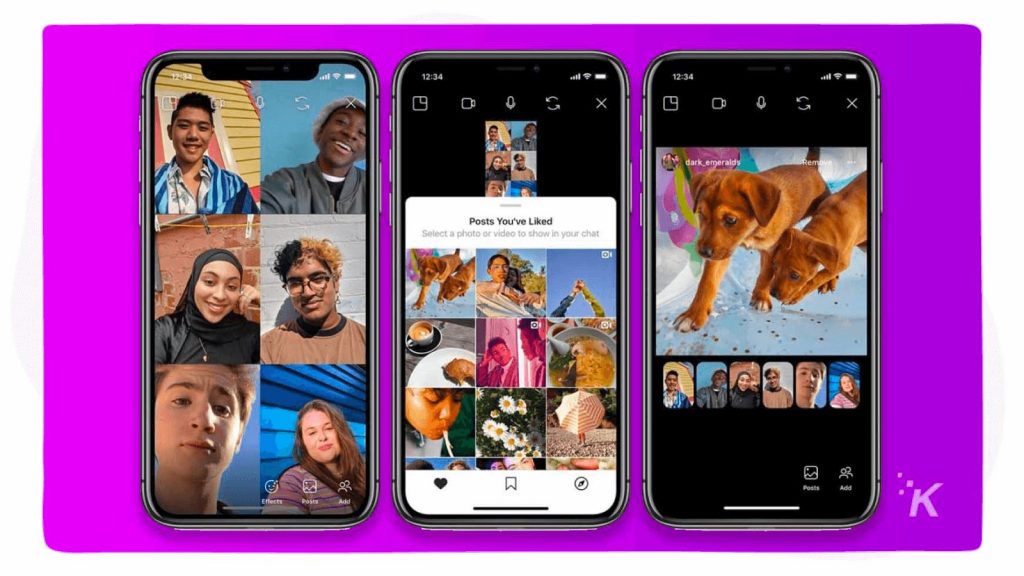 When COVID was at peak menace mode, people kept in touch by watching shows together via Zoom. Then apps like Teleparty made the co-viewing experience better by offering synchronized playbacks.
Later, Instagram rolled out a chat-friendly version for its direct messaging section. Now, users can share memes, videos, stories, and Reels and react to them together.
So, no need to laugh at your favorite doggie memes alone. Use the co-watching tool to view them with friends.
Worth checking 🥁 The post covid future of community marketing
5. Group chat
Whatsapp and Facebook are famous for group chats, while Instagram remains the go-to platform for DMs. But since Facebook Messenger merged with Instagram, the group chat feature has become more appealing to the app's users.
Follow these steps to set up an Instagram group chat:
Tap the "Message" icon in the top right of the feed.
Tap the conversation that you'd like to add people to.
Tap the group name.
Tap "Add people" next to Members.
Select the people to add, and then tap "Next" (iPhone) or "Done" (Android).
Tap "Add" (iPhone) or "OK" (Android).
Note: You can only add up to 32 people to any group chat.
6. Instagram vanish mode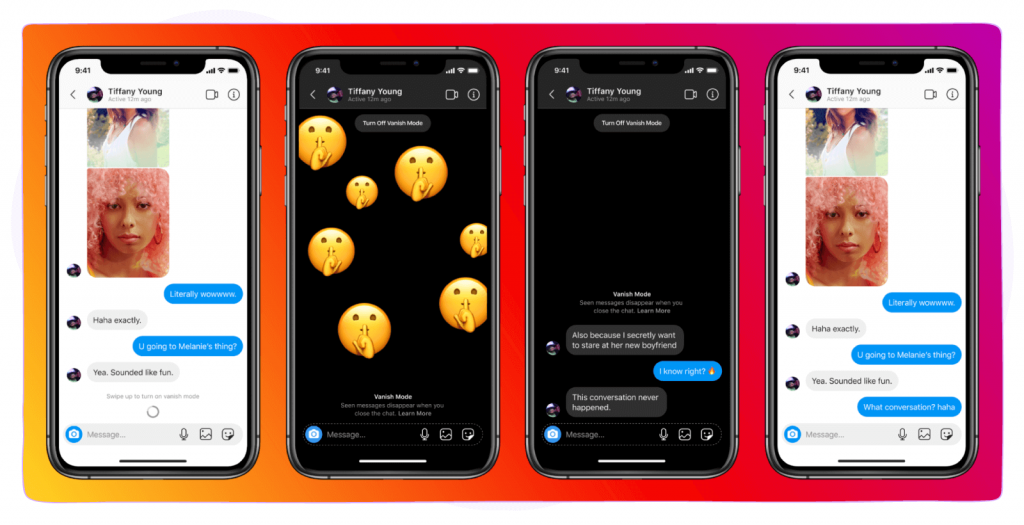 We've all fantasized about being in a spy movie at some point, but with Instagram's Vanish mode, you can channel your inner James Bond by ending messages that self-destruct after a specific time frame.
The good thing about Vanish mode is that it works only for one-on-one messages. If the chat contains more than one person, you cannot activate it.
How to activate and use Vanish mode on Instagram
Open the Instagram app.
Go to the DM section.
Select a DM thread with the person you want to message.
Swipe up to enable Vanish mode.
The layout turns dark.
Compose your message.
Select 'View once', 'Allow replay' or 'Keep in chat'.
Send the message.
When someone takes a screenshot, you will see a notification that reads: "UserX took a screenshot."
7. Unsend messages
When you change your mind about a message you sent earlier, you can undo the damage using the "Unsend" feature. By unsending a message, you delete it completely from both your end and the recipient's end.
Follow these steps to unsend messages easily:
Go to the DM.
Long press the particular message you want to delete.
Click on the "Unsend" option.
The message disappears from existence.
Unfortunately, if the recipient already has a screenshot of the message, they can still use it as evidence against you.
8. Silent messages
Sometimes, you might want to send a message to your contact during work hours or when they are asleep. With silent messages, you can deliver this message without setting off their push notifications.
Here are the steps to activate and send silent messages:
Go to the recipient's DM.
In the chat thread, enter "@silent" in the text box.
You will see a pop-up that says "Send message without a notification" at the top.
Tap the pop-up.
Send your silent message.
Silent messages will also help you share important information with a user if you don't want to entertain lengthy conversations.
9. Emoji reactions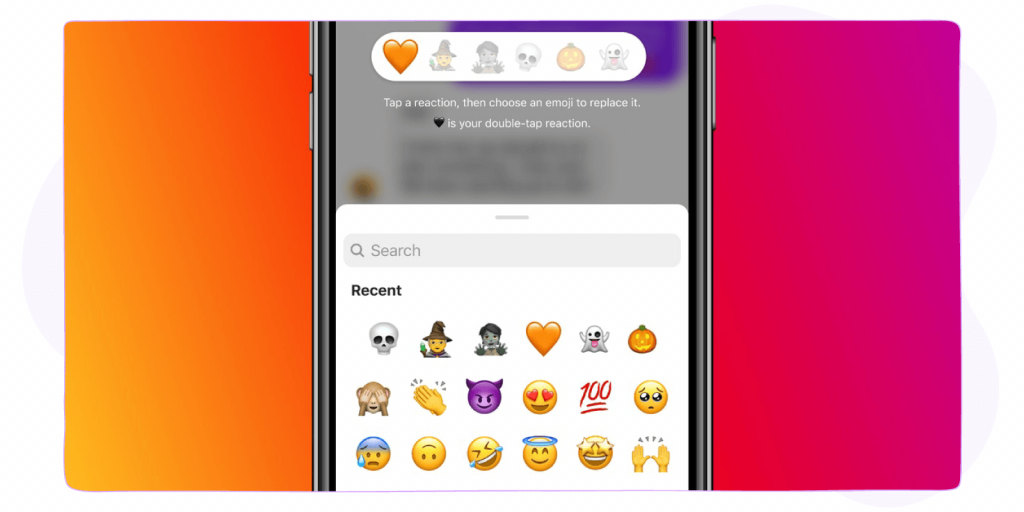 Reactions used to be trademark features on Facebook posts until the company extended it to Instagram DMs. Now, instead of sending emojis as separate texts, you can simply react to individual messages.
In the past, you could like a message by double-tapping it. But now, you can access a broader range of emojis for your reactions.
Additional new Instagram features
Apart from chat features, Instagram also rolled out some exciting features recently. Here are some noteworthy ones to boost your experience.
Time tracker
With the time tracker, you can monitor your Instagram activity to determine if you need to reduce your content consumption rate or if you are within the rational limit.
Like history
To see the posts and videos you've liked on Instagram, follow these guidelines:
Tap your profile picture in the bottom right to go to your profile.
Tap the hamburger menu in the top right, then tap "Account."
Tap "Posts you've liked".
User restriction
We all have Instagram users who share problematic or controversial content on their feed. But for some reason, we can't just block them altogether. With the restriction feature, you can limit their presence on your timeline.
Reels
Like TikTok, Instagram Reels allow users to create and share engaging short videos with their followers. Currently, you can share a 60-second reel with your followers. 
Unlike Instagram Stories, your Reels content will stay on your feed if you publish it there. You can also access other advanced features to create engaging video reels for your personal or corporate profile.
To start making reels, go to your Instagram camera and scroll to the Reels tab. Then, you can explore all the creative options available to Instagram users.
🧁 Related article: TikTok vs IG Reels and how they've changed social media marketing
Key takeaways
Instagram continues to roll out new chat features to improve the overall user experience on the app. Whether it is silent messages or co-watching, you can access any of these features in your DM. Try out these features and watch as they transform your conversations.