Instagram Shop 101: Best practices to master your brand
When it comes to online shopping, having a great product is not all you need to sell. Asking a potential customer to go through many web pages and fill in unnecessary information can be the simple reason why they churn.
The best thing you can do to avoid this is to make the shopping process as seamless as possible and remove any doubts about your authenticity even before those thoughts come up in the minds of your customers. But how do you do this?
Enter Instagram shop.
A feature on Instagram that allows you to meet your target audience right where they are. Why wait for potential customers to find you when you can use the Instagram shopping feature to showcase your product as they scroll through funny reels and pictures of their loved ones?
With Instagram Shop, you can create a smooth shopping experience that drives sales and increases customer engagement. But where do you start? This guide will take you through setting up your Instagram Shop and share some best practices to help you master your business.
Social Media News in a Nutshell
Get the latest social media news, insights, and marketing tips in your inbox once a week.
What is Instagram shop?
Instagram Shop is a feature on the Instagram app that allows businesses to set up an online storefront within the app. It is a convenient way for businesses to showcase their products and services to Instagram users, who can then browse, purchase, and save items without leaving the app.
This feature allows businesses to create product catalogues, tag products in their posts and stories, and add product stickers to their stories. Users can then click on the tagged products or stickers to view more information about the product and purchase it directly from the Instagram app.
Instagram Shop also has a dedicated shopping tab that allows users to browse products from businesses they follow, as well as discover new products from businesses they may be interested in based on their activity on the app.
Overall, it provides businesses with a powerful tool to increase their online sales and reach a wider audience through the highly popular Instagram app.
Instagram Shopping features
Some of the features of Instagram shop you should get familiar with include:
Product listings: Instagram Shop allows businesses to showcase their products with images, descriptions, and prices.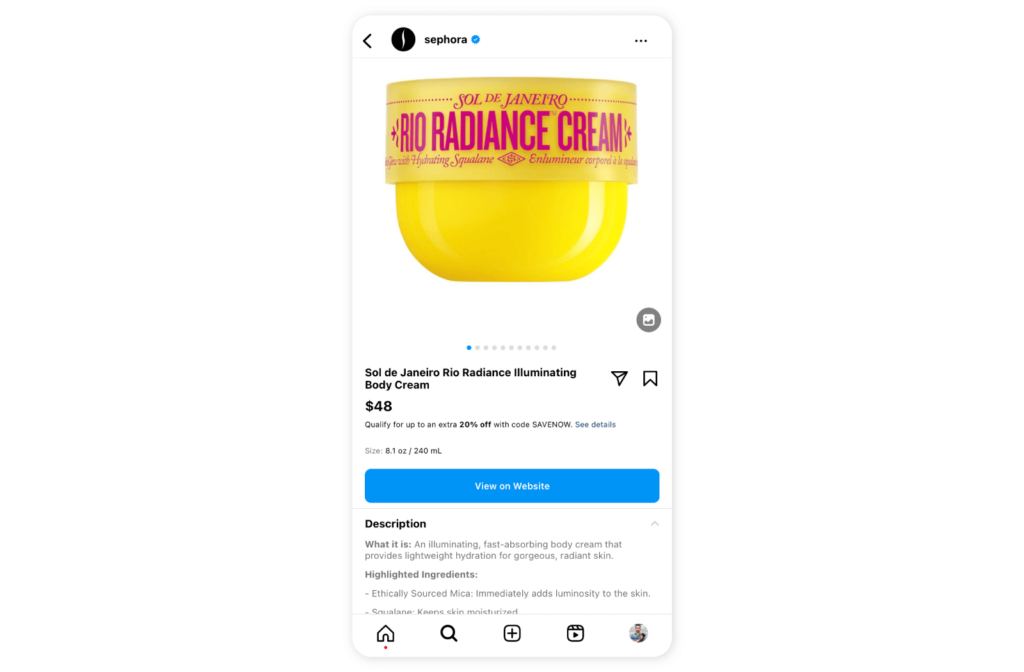 Shopping tags: Businesses can tag their products in their posts, stories, and reels, making it easier for users to discover and purchase products.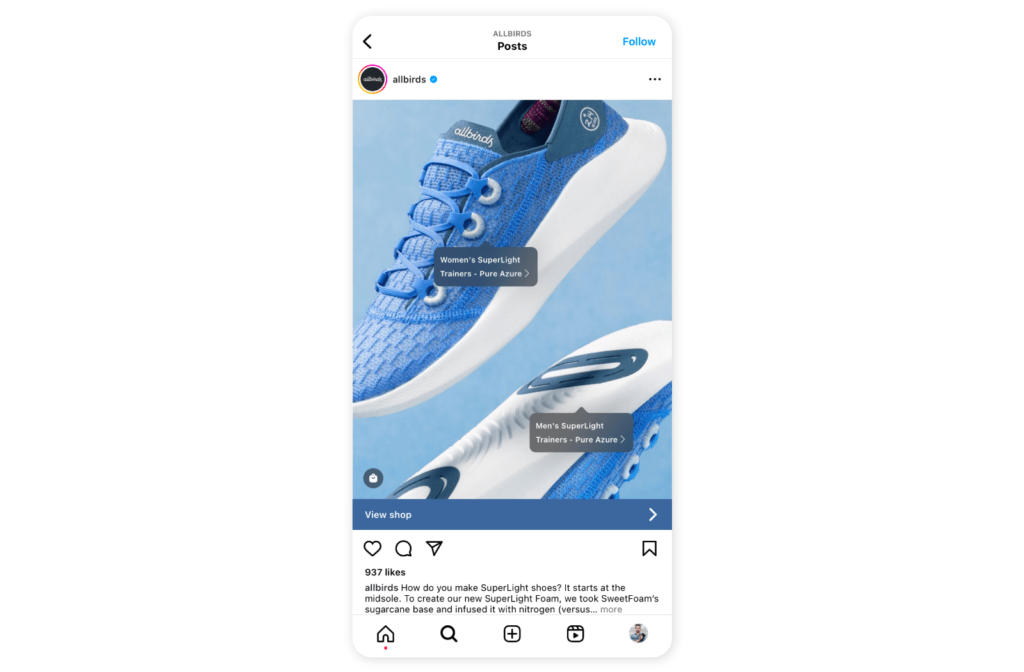 Collections: Businesses can organize their products into collections, making it easier for users to browse related products.
Checkout: Instagram Shop allows users to complete their purchase within the app without needing to leave and go to a different website. This feature is only available to users in selected regions. If the checkout feature is unavailable in your location, your customers will be directed to the checkout page on your e-commerce website.
Shop tab: Instagram Shop has a dedicated Shop tab where users can browse all the products available on Instagram.
Personalized recommendations: Instagram uses its algorithms to provide personalized recommendations to users based on their browsing and purchase history.
Insights: Businesses can access insights about their Shop performance, including metrics like views, clicks, and sales.
With these features, businesses can create a more convenient and seamless shopping experience for their customers, ultimately boosting sales and engagement.
5 key benefits of setting up an Instagram shop
Increased Sales: Instagram shops allow businesses to directly sell their products to their followers without requiring them to leave the app. With more than a billion monthly active users, Instagram provides businesses with a large and engaged audience that they can easily convert into customers. By setting up an Instagram shop, businesses can increase their visibility and reach, leading to more sales.
Improved Customer Experience: Instagram shops offer a seamless and personalized shopping experience for customers. By displaying products in a visually appealing way, customers can easily browse and purchase items without the need to leave the app. Additionally, businesses can use features such as product tags and shoppable posts to make it easy for customers to purchase items with just a few clicks.
Increased Brand Awareness: Setting up an Instagram shop can help businesses improve their brand awareness and reach a wider audience. By utilizing Instagram's features, such as hashtags and influencer partnerships, businesses can increase their visibility and attract new followers interested in their products. Additionally, Instagram's algorithm prioritizes accounts that use its shopping features, so businesses that set up an Instagram shop may see increased organic reach and engagement.
Valuable Insights: Instagram shops provide businesses with valuable insights into their audience's behaviour and preferences. By analyzing data such as the number of clicks, views, and engagement rates, businesses can better understand what products are popular among their followers and adjust their marketing strategies accordingly. Instagram also offers analytics tools that allow businesses to track their sales and revenue, making it easy to measure the success of their Instagram shop.
Cost-Effective: Compared to traditional e-commerce platforms, setting up an Instagram shop is relatively cost-effective. While some e-commerce platforms require businesses to pay a monthly fee, Instagram shops are free to set up and use. Additionally, businesses don't have to worry about hosting, security, or other technical aspects of e-commerce since Instagram handles all that. This makes it a great option for small businesses or those just starting in the e-commerce space.
Instagram Shop is a powerful tool for businesses looking to increase sales and reach a wider audience. With Instagram's huge user base and powerful engagement features, businesses can connect with customers in powerful new ways.
How to set up an Instagram shop
To set up an Instagram shop, businesses need to follow these steps:
Step 1: Ensure your business meets Instagram's eligibility requirements for shopping
To be eligible to open an Instagram shop, you must meet the following requirements:
You must be selling physical, eligible products. Not online courses or webinars
Your business owns an e-commerce website
You have a business account. If you run a personal account, you can switch to a business account.
How to switch to a business account
Go to your profile and tap the three horizontal lines in the top right corner
Tap Settings, then Account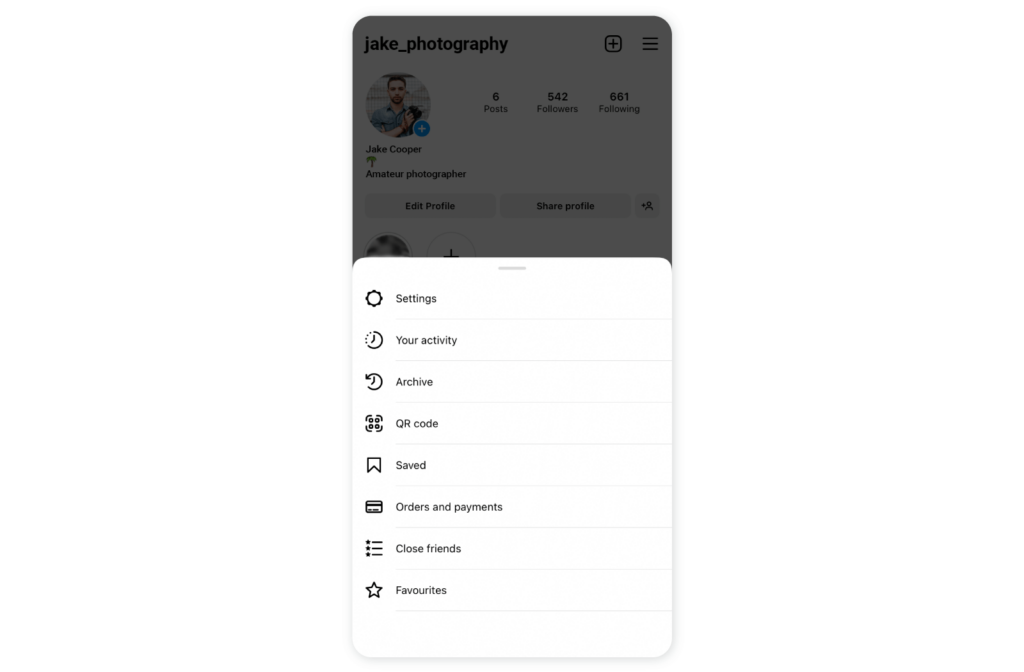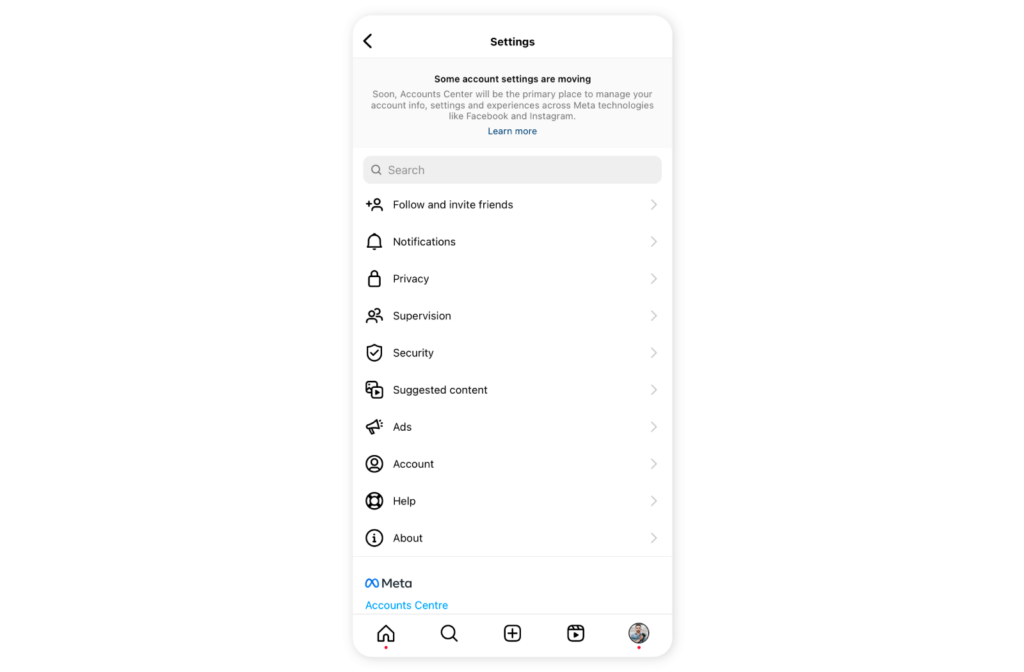 Scroll to the bottom and tap "Switch to professional account".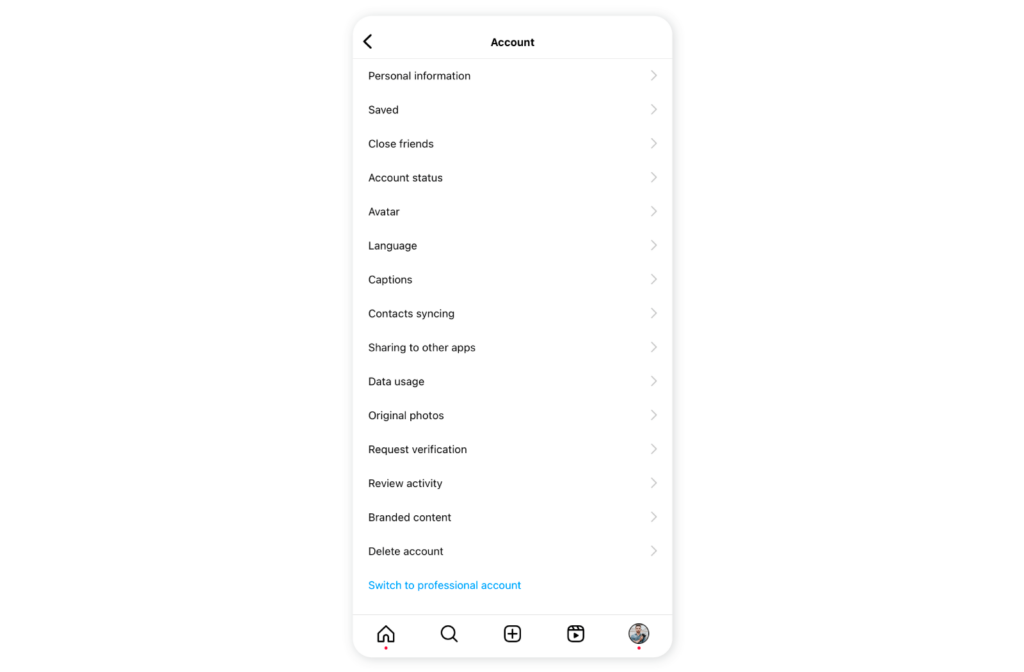 Select the category that best describes your account from the list
Next, Instagram would ask you if you are looking to create a business account or a creator account. Select business, and fill in the necessary details Instagram asks for.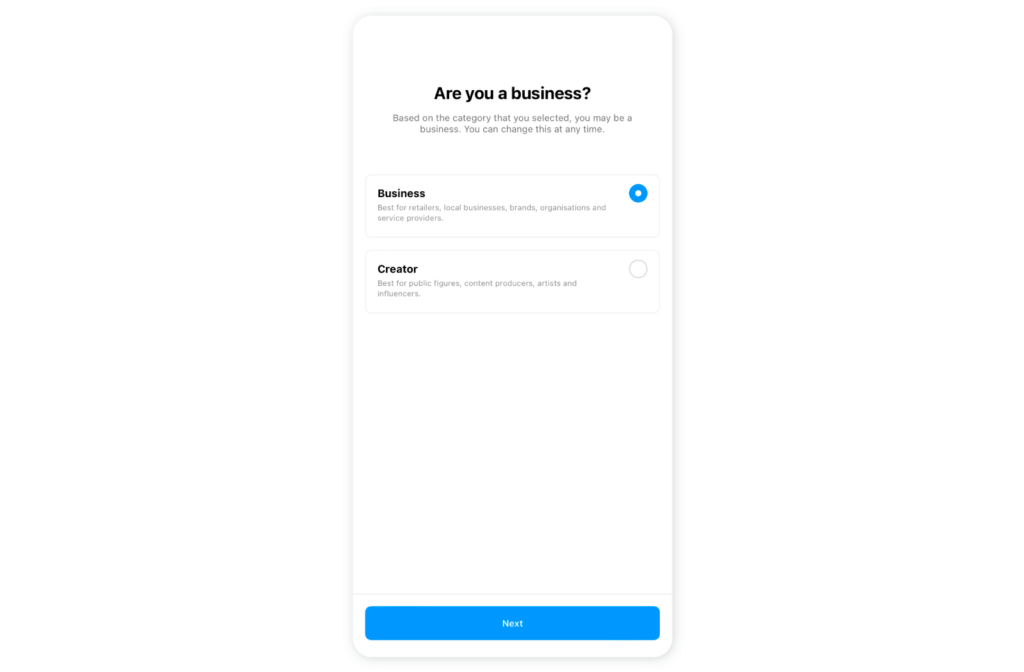 Step 2: Connect your Facebook page
Link your Instagram account to your Facebook page. To do this, go to your Instagram profile, tap "Edit Profile," select "links," and connect to your Facebook page.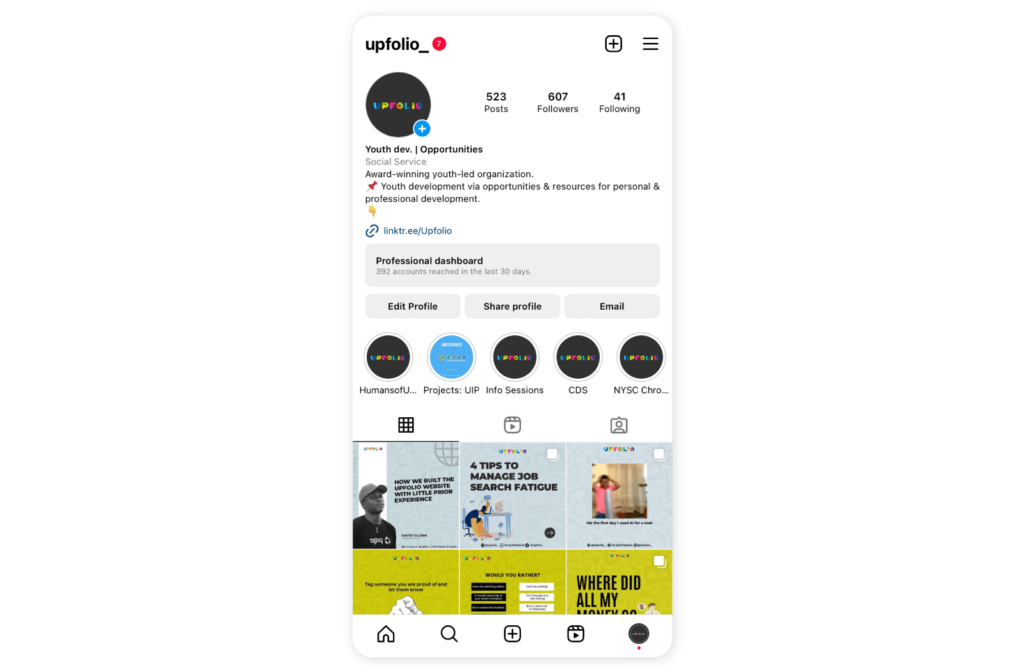 Note: You are no longer required to have a Facebook page to set up an Instagram shop, but having one just makes the whole process seamless. So we advise you to create one and link it to your Instagram.
Step 3: Set up Facebook Commerce Manager:
Log in to your Facebook account if you haven't already done so.
If you haven't set up your business yet, you'll need to create a Business Manager account by following the prompts.
Once you're in your Business Manager account, go to the left-hand menu and click "Commerce Manager" under "Asset Library."
Step 4: Create a catalog
You'll need to create a catalog of your products before you can set up a shop. Click "Create Catalog" on the commerce manager and follow the prompts to add your products.
To add products to your shop;
go to your Instagram profile
Select "Business," and then
Tap "Shopping."
Follow the prompts to connect your product catalog and select the products you want to feature.
You can also create a catalog on partner platforms like Shopify, BigCommerce, WooCommerce, Magento.
Remember, setting up an Instagram shop involves more than just these steps, and there may be additional requirements depending on your location and the products you sell. It's important to carefully review Instagram's policies and guidelines before setting up your shop to ensure you comply with their rules.
How to use a partner platform to upload a product catalog
To use a partner platform to upload your product catalog to Facebook Commerce Manager, follow these steps:
Choose a partner platform. Facebook has a list of partner platforms compatible with its Commerce Manager. Choose a partner platform that best suits your needs.
Sign up for the partner platform and create an account. Follow the prompts to provide the necessary information to set up your account.
Use the partner platform to create your product catalog. Follow the prompts to add your products, descriptions, prices, and images.
Once your product catalog is created, connect your Commerce Manager account to the partner platform. Follow the prompts to allow the partner platform to access your Commerce Manager account.
Use the partner platform to map your product data to the Commerce Manager fields. This will ensure that your product information is accurately displayed on Facebook.
After you've mapped your product data, upload your product catalog to the Commerce Manager. Follow the prompts to upload your catalog.
Step 5: Submit your account for review
After you've set up your product catalog, submit your Instagram account for review. Instagram will review your account to ensure that it meets its policies and guidelines
Go to your business's Instagram profile and tap the menu icon rewrite this)
Follow the steps to submit your account for review.
Visit "Shopping" in your "Settings" anytime to check your status.
Once you've submitted your account for review, it can take several days for Instagram to review and approve it. If your account is approved, you'll receive a notification.
Step 6: Activate the shop feature
Once your account is approved;
go to your Instagram profile and
Select "Instagram Shopping." Follow the prompts to activate the shop feature on your Instagram account.
By following these steps, businesses can set up a successful Instagram shop and start reaching new customers in no time.
How to Sell on Instagram Shop
1. Create Instagram shopping posts
Create a post as you normally would by selecting the + icon in the bottom center of the screen.
Add a photo or video for your post and any filters or edits as desired.
Tap on the Tag Products option at the bottom of the screen.
Tap on the product in the photo that you want to tag and select it from your product catalog. If the product is not in your catalog, you'll need to add it through Facebook Commerce Manager first.
Repeat the previous step for any additional products you want to tag.
Add a caption and any hashtags, locations, or other tags as desired.
Select the Share button to publish your post.
Your Instagram Shopping post will appear in your followers' feeds with a small shopping bag icon in the top right corner. Users can tap the icon to view your tagged products and purchase them directly from Instagram.
2. Create Instagram shopping stories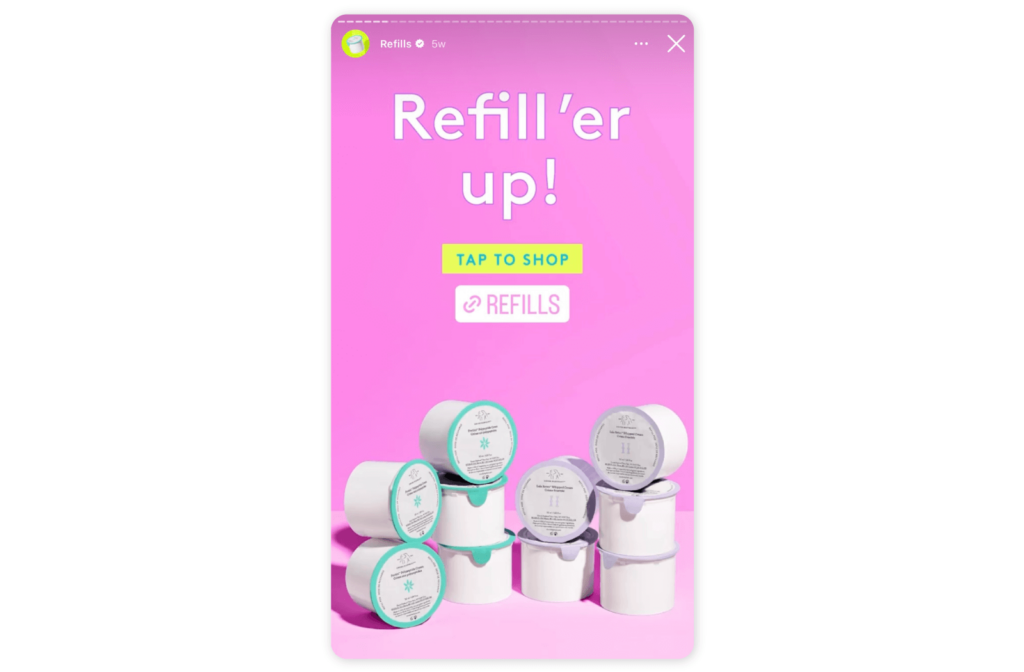 Select the camera icon in the top left corner of your Instagram home screen, or swipe right from your home screen to access the camera.
Take a photo or video for your story, or select one from your camera roll.
Tap on the Sticker icon in the top right corner of the screen.
Select the Product sticker option.
Select the product from your catalog that you want to feature in your story. You can customize the color and text of the product sticker as desired.
Share your story with your followers by selecting the Your Story button at the bottom of the screen.
Your Instagram Shopping story will now appear in your followers' stories. Users can tap on the product sticker to view the product details and purchase the product directly from Instagram.
🎉 Related Article: Instagram Story hacks to make your Instagram Stories POP
3. Create Instagram shopping guides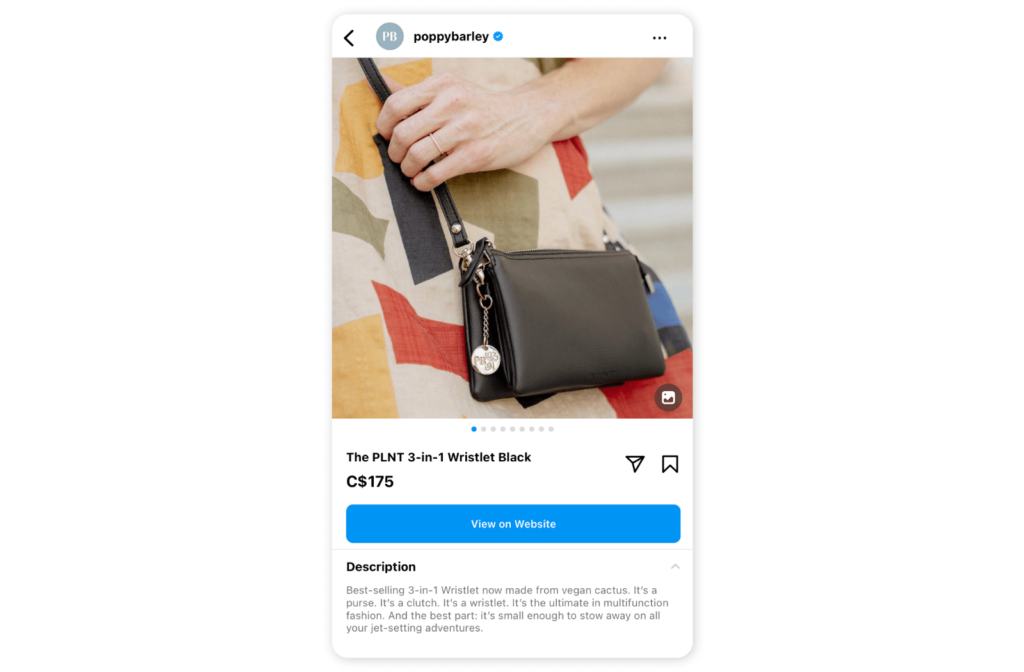 Instagram Shopping Guides are a feature that allows businesses to create collections of products, posts, or places to help their followers discover new products and services. Here are the steps to create an Instagram Shopping Guide:
Open the Instagram app and go to your profile page.
Tap the + button in the top right corner of your screen to create a new post.
Select the "Guide" option from the available post options.
Choose the type of guide you want to create – Products, Places or Posts.
Select the products you want to feature from your product catalogue or choose the posts or places you want to include in the guide.
Customize the layout and add a title, description, and cover image for your guide.
Preview your guide to ensure it looks how you want it to.
Once satisfied with your guide, tap the "Share" button in the top right corner to publish it to your profile.
Your Instagram Shopping Guide will now be available on your profile page, where your followers can access it and browse the products or content you've included. Users can tap on the products in your guide to view the product details and purchase the products directly from Instagram.
4. Create Instagram shopping ads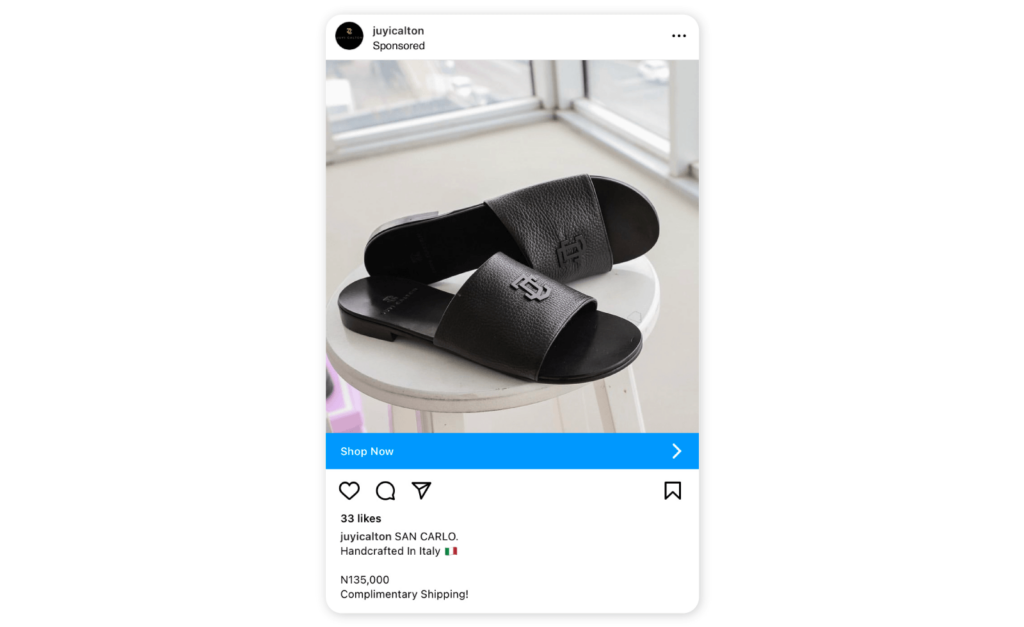 Go to your Facebook Ads Manager account and create a new ad campaign.
Choose the objective for your ad campaigns, such as driving traffic or conversions.
Select Instagram as the platform for your ad campaign.
Choose the ad format you want to use, such as image or video.
Set your targeting options, including location, demographics, interests, and behaviours.
Choose your budget and bidding options.
Select the product catalogue you want to use for your ad.
Choose the product you want to feature in your ad.
Customize your ad by adding text, images, and other creative elements.
Preview your ad and make any necessary adjustments.
Publish your ad by selecting the "Confirm" button.
Your Instagram Shopping Ad will now be available on Instagram and will appear to your targeted audience. Users can tap on the product in your ad to view the product details and purchase the product directly from Instagram. Or you can simply boost a shoppable post you have created before.
🎉 Related Article: How to optimize and budget Instagram ads cost? A guide for marketers
5 Best Practices to master your business on Instagram Shop
1. Create short DIY product videos
DIY short videos that encourage viewers to participate and/or replicate are an effective way of increasing conversions on your Instagram Shop. This approach to Instagram video marketing is so effective because it helps create a community for the brand, while boosting sales on the Instagram shop, while increasing brand awareness, and brand loyalty. It's also a great way of identifying and awarding brand advocates that emerge from the target audience.
To take advantage of this trend, use short, creative videos to teach your Instagram audience how to use your products. Encourage them to create their own videos replicating the process with your products and/or adding their own special twists, and to tag you in their videos. Highlight these user-generated videos in your posts to keep engagement rates high. Ensure that the video is authentic, realistic, relatable, and relevant to your audience.


Lisa Richards, CEO and Creator of the Candida Diet
2. Create Videos Targeting Niche Keywords to Drive Traffic to Your Instagram Shop
Create Instagram videos that target medium-high volume, low-competition keywords relevant to your niche. Such videos will help increase your reach on Instagram, which will drive traffic to your Instagram shop. Also, high-quality videos that rank well for niche-specific keywords will help your shop increase its visibility on search pages and gain significant organic traffic that delivers more conversions for the shop. Refrain from focusing on vanity metrics when creating your Instagram videos and make sure to use effective tools like Google Keyword Planner and Semrush to conduct thorough keyword research.


James Wilkinson, CEO of Balance One Supplements
3. Use customer testimonials
Potential customers would always have doubts when buying from you(especially first-time customers). Still, you can be one step ahead of those doubts by proudly displaying testimonials from your previous customers. This can serve as social proof to your audience that they can trust you.
Another way(perhaps even better) is through user-generated content. They are like visual testimonials. Your audience can see your product in action, being used or worn by others like themselves, and this can go a long way in convincing them to buy from you.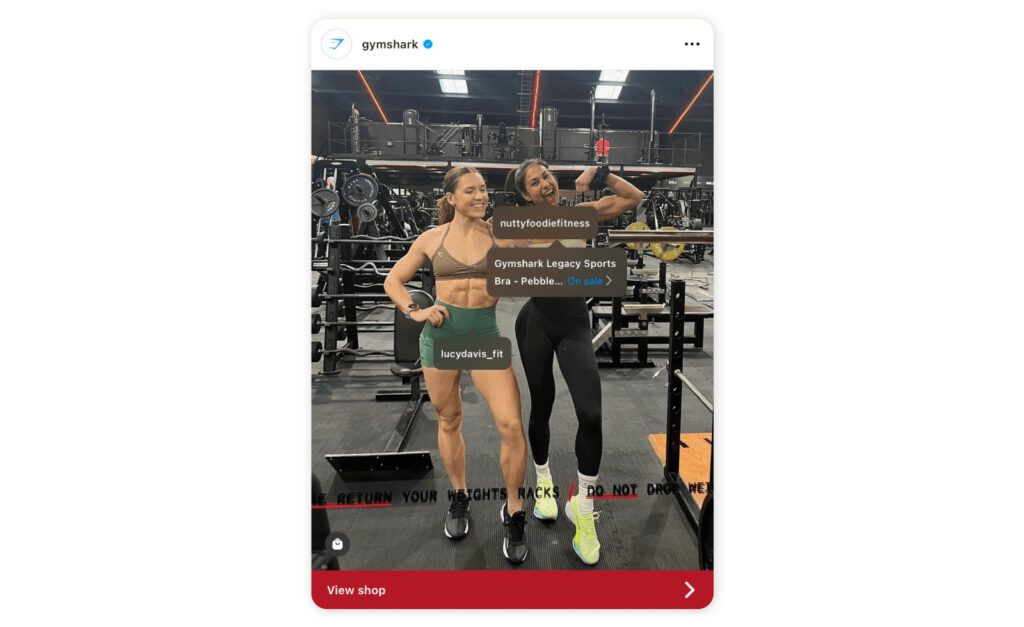 4. Leverage influencer marketing
Except you are a big, global brand that has the financial power to work with celebrities, you don't exactly need to make a fuss about collaborating with celebrities to influence people to buy your product. Instead, you can turn to nano influencers and micro-influencers who will help you not to blow half of your marketing budget on influencer marketing.
These kinds of influencers have more of a relationship with their audience, and it's easier for their audience to take them at their word. You just need to make sure that you both share a similar target audience or niche and that they genuinely think your product can improve the lives of their audience.
🎉 Related Article: Get noticed on Instagram: The ultimate guide for creating killer Instagram Collab post
5. Use storytelling to capture your audience's attention
At its very core, marketing is storytelling. The best advertising campaigns take us on an emotional journey — appealing to our wants, needs, and desires — while at the same time telling us about a product or service.


Melinda Partin
It's not enough to reel out the hundred and one benefits of your product to your customers. Can you do it in a way that appeals to them emotionally? That shows your product can improve their lives and help them solve a need without exactly sounding like the salesman you spot miles away and avoid.
Frequently Asked Questions(FAQs)
Is Instagram shop free?
Instagram shop is free. You just need to meet the requirements set by Instagram to be able to use this feature.
How many followers do you need to set up an Instagram shop?
You don't need a specific number of followers to sell on Instagram shop. Just ensure you've turned on Instagram Shop for your account.
How do you receive payment on Instagram shop?
Visit your Instagram professional dashboard and tap Get paid in chat. Then, provide your personal or business information and bank account details.
How long does it take to set up an Instagram shop?
It can take between a few hours to a few weeks. It just depends on if you meet all the Instagram requirements and provide every necessary information Instagram asks for.
How many items can you tag on a shopping post on Instagram?
You can tag up to 5 items per image or 20 items per carousel.