How to add a link to an Instagram Story in 2023
In the realm of social media marketing, Instagram is one of the most important tools at your disposal. Want to show your products to your customers? A visual-rich platform like Instagram is perfect for doing exactly that. Hoping to boost your social media engagement levels? Instagram could be the ticket, particularly since Instagram delivers 58 times more engagement per follower than Facebook and 150 times more than Twitter.
Instagram also boasts several features that are especially helpful for social media marketers, with one of the most valuable being Instagram Story. Stories are so powerful from a marketing standpoint because they're easy to use and offer a unique opportunity to engage directly with followers. Most importantly, they allow you to drive traffic directly to your website with the help of links.
In this guide, we take a look at the most important processes, features, and FAQs of Instagram Story links that you need to know.
Social Media News in a Nutshell
Get the latest social media news, insights, and marketing tips in your inbox once a week.
How to add a link to your Instagram Story
Let's start with the basics: How to add a link to your Instagram Story. Simply follow the steps below to take advantage of this tool:
Once you've prepped your Instagram Story and you're happy with how it's looking, click the Sticker icon in the top-right corner of your screen.
From the options that appear, click on Link.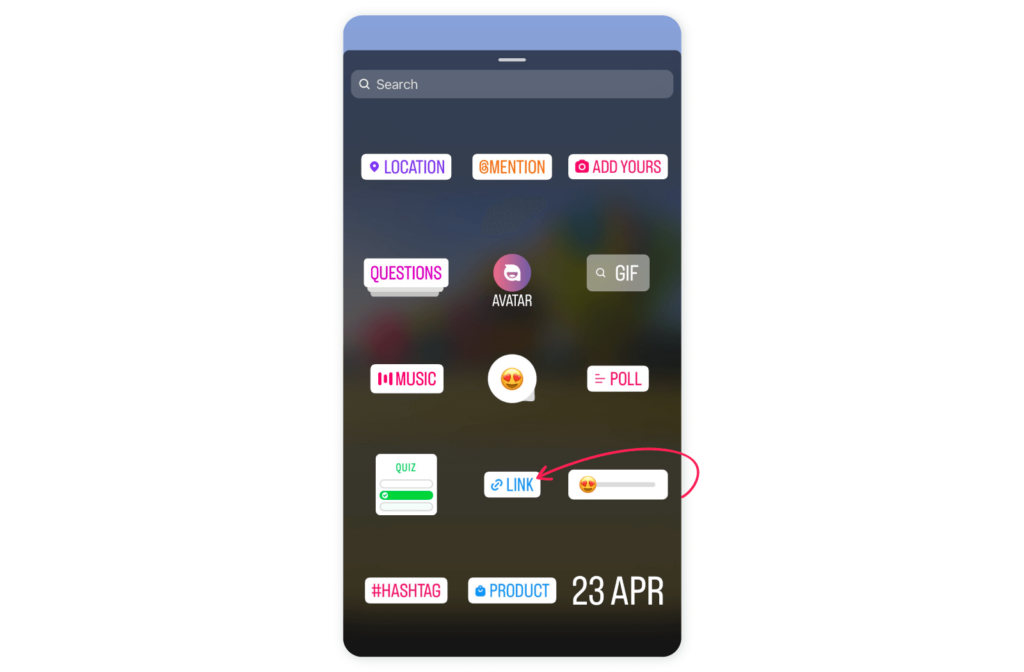 Paste the URL you would like to direct users to.

If you'd like to change the sticker text, click the Customize sticker text section. Type in the text you'd like to appear on your link button.

Click Done.
On your Story, you should now see your link button with your customized text.
Back in time: Instagram swipe-up feature
Although this is the process for adding links to Instagram Stories now, this wasn't always the case. Previously, links were only available through the swipe-up feature, which was removed in 2021. This feature used to only be available to Instagram Business accounts with 10,000 followers or more.
The app replaced the function with the link sticker feature instead, enhancing accessibility for more users – namely those with personal accounts and business accounts with fewer than 10,000 followers.
What is the Instagram link sticker?
The Instagram link sticker is a feature that allows users to add external URLs to their Stories. An Instagram link sticker is one of the easiest ways to drive traffic from your Instagram profile to an external platform such as your website, making it an invaluable marketing tool.
You can also track the metrics of links you include in your Instagram Story via Instagram Analytics (or Insights). These social media metrics include the number of accounts reached, the number of accounts engaged, link clicks, and more. Alternatively, you can use the Sociality.io Analytics function to not only review your Instagram Story analytics but to easily generate insightful reports.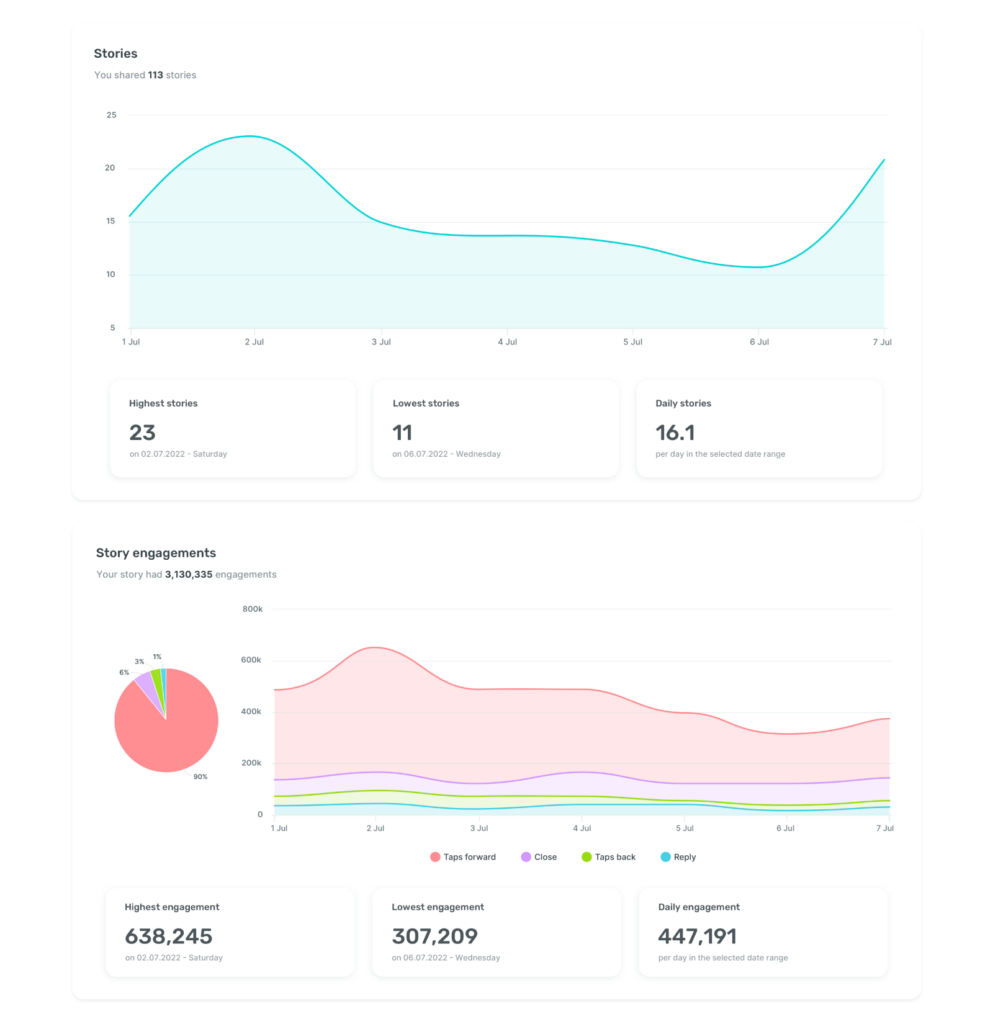 How to get the most out of the Instagram Story link sticker
Feel like your Instagram Story needs a little something extra? Lucky for you, there are several hacks you can use to make your Stories pop. Let's focus on some of the link-specific strategies you can use to make your Story more engaging and eye-catching.
1. Customize the sticker text
Customizing the text of your link sticker is an excellent way to invite more clicks. For instance, rather than the text simply previewing the URL, you can include a call-to-action (CTA) such as Learn More, Register Here, or Purchase Now.
Not only will this grab the user's attention, but it will increase your likelihood of getting more clicks and, in turn, more web traffic.
2. Explore the color themes
When you add a link sticker to your Instagram Story, you can click it to change the colors of the backdrop and text, as seen below. By changing the color of the sticker, you can ensure that it aligns with the aesthetic of your Story and grabs the attention of the user.

3. Resize the sticker
In addition to the text and color, you can also customize the size of your Instagram Story link sticker. To do this, simply pinch the sticker and drag your fingers across the screen to make it bigger or smaller. Doing this can help ensure that the sticker fits into your Instagram Story more seamlessly and doesn't overwhelm the frame.
5 ways to use Instagram link sticker
1. Learn about your followers
If you're conducting consumer research – perhaps in the form of a survey – then why not promote it through an Instagram Story link?
Even more simply, you can even ask questions directly on your Instagram Story by using the Instagram question sticker. This is slightly different from the Instagram link sticker but still extremely effective.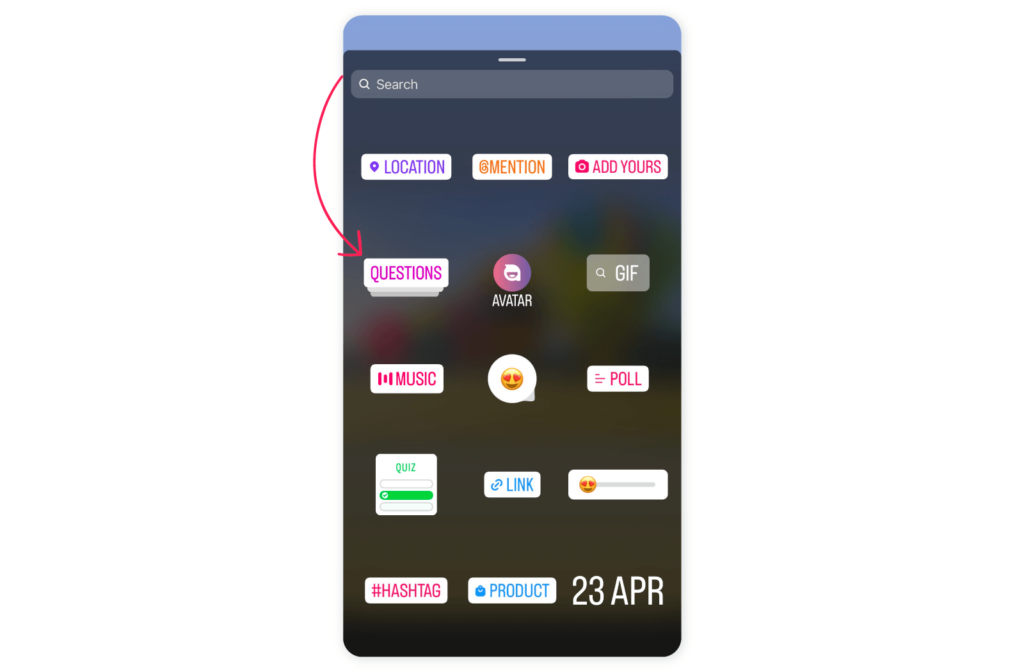 2. Announce a new product launch
If you've recently added a new item to your product line, give it the love it deserves by doing a promotional push on your Instagram Story. This can act as an excellent complement to any posts and/or reels you'll be integrating into your feed.
3. Drive sales
Instagram Stories aren't just effective at promoting new products, but your existing ones as well. Whether you're highlighting a new or original product, adding a link sticker to the item's landing page is a great way to increase sales of that product. Doing so greatly facilitates the user experience and encourages conversion.
4. Build your mailing list
If you have a newsletter, an Instagram Story link can be a great way of promoting it and encouraging users to sign up for it. A great idea is showcasing some of the content you typically include in your newsletter (e.g. news stories, motivational quotes, product tutorials) and using the link sticker to direct users to the registration page.
5. Highlight an upcoming event
Instagram Stories are particularly effective at promoting time-sensitive initiatives, such as upcoming events. This is largely due to the fact that they are shown based on recency. Plus, promoting events on your Instagram Story is a great alternative to posting permanent posts and reels, which become irrelevant on your feed once the event has passed.
Alternative ways to drive traffic from Instagram via links
If you don't think a link sticker is suitable for your marketing purposes, don't worry – there are various alternatives for sharing links via Instagram. Below, we take a look at these methods and how you can leverage them yourself.
Link in bio
You've likely seen this marketing tactic many times, often at the end of a caption. A "link in bio" refers to the clickable URL in an Instagram account's biography section. The link of choice varies between businesses, but typically it will direct users to the brand's website or a third-party multi-link hosting site, such as Linktree, LikeShop, and Linkin.bio.
Each of these platforms has its own perks, layouts, and functions for different businesses. As seen in the screenshots below, Linktree and LikeShop are more suitable for product-based businesses that want to showcase their products, discount codes, referral programs, and more. On the other hand, Linkin.bio is great for content-based businesses and news outlets that want to link each one of their posts to the corresponding articles.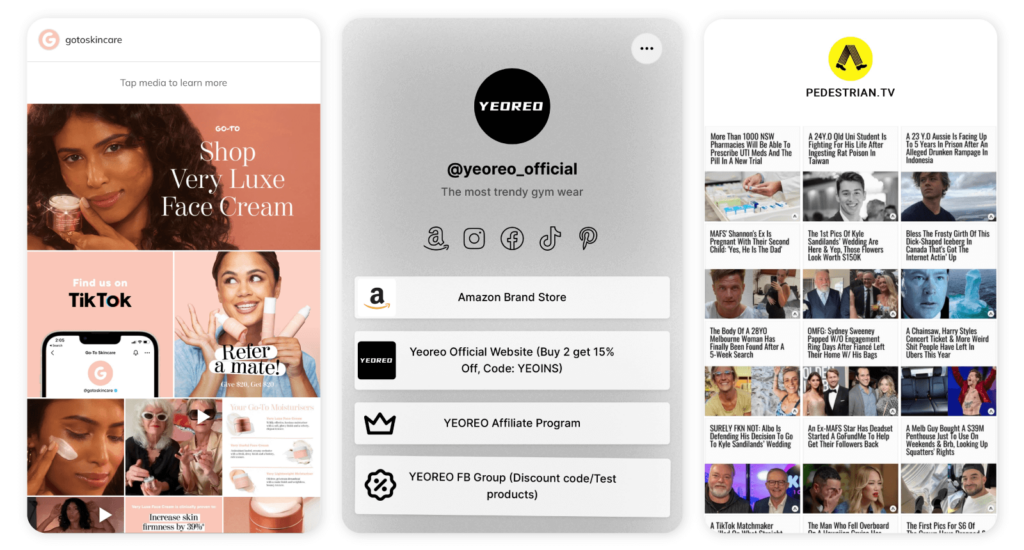 Instagram Direct Message
Instagram messages, namely direct messages (DMs), can be another outlet for sharing external links.
For instance, if a customer direct messages you with a question about a product or service you offer, you can answer them and send them a link to a landing page on your site about that offering. That way, they can learn more about it and you can increase traffic to your site – a win-win.
Instagram messages can be checked and viewed via mobile or desktop. With the help of Sociality.io's Engage module, you can streamline the process of replying to messages even more by setting up automated replies and assigning conversations to specific team members.
Add links to Instagram captions
Although they won't be clickable, you can still add links to Instagram captions. In this scenario, a user will need to copy and paste the URL into their browser rather than simply clicking on it. 
Because this approach requires more effort from the user, it's crucial to follow certain best practices, such as shortening the link through a site like Bitly. This way, you'll avoid having a caption that is too long (and doesn't fit within the required character count) and/or overwhelming for the user. 
Shoppable posts and story links
Product stickers are a fantastic asset if you run a product-based business and want to boost sales. Product stickers are very similar to link stickers; however, rather than incorporating a URL, you're incorporating a specific product. To do this, you'll need to ensure your business meets the eligibility criteria for using product stickers, some of which include:
An awesome complement to product stickers is the shopping tag, which you can learn more about here.
To add a product sticker to your Instagram Story, follow these simple steps:
Create an Instagram Story as you normally would.
When you're ready to add your sticker, click the Sticker icon in the top-right corner.
From the list that appears, click Product link.
Search for the shop of your choice (most likely your shop) and select it when it appears.
Choose the product(s) you're featuring in your Story from the list.
Click Done.
Much like link stickers, you can personalize product stickers by changing the color and resizing them.
Action buttons on Instagram profile
Instagram action buttons allow users to make bookings, make reservations, and place orders with the simple click of a button. Instagram is currently doing a slow roll-out of action buttons, meaning they may not be available to you just yet; you can learn more about which industries are eligible to use an action button here.
If you are eligible for action buttons, here's how you can add one:
Go to your Instagram profile.
Click Edit Profile.
Select Contact Options.
Click Add an action button.
Choose the action button you'd like and enter the URL you'd like to direct users to.
Click Save or the checkmark icon (depending on the type of device you are using).
Post links on Reel descriptions
There are also a few key ways you can post links through Instagram Reels. While you can't add a clickable link on a Reel directly, you still have a few options available to you.
Firstly, you can add a GIF or emoji sticker to your reel to direct users to a link in your bio. Alternatively, you can include the link in your reel's caption just as you would for a standard Instagram post. 
FAQs
How do you share a story on Instagram?
To share an Instagram Story, all you'll need to do is as follows:
Once you've opened the Instagram app, tap the + icon.
Scroll until you find Story.
From here, you can either record a video or take a photo in real time. Otherwise, you can upload an existing video or image to add to your Story.
Edit your Story to your liking by adding stickers, filters, and more.
Once you're happy with how it's looking, click Your Story.
You can also repost an Instagram Story originally published on another account by following these steps.
Can you add a link to an Instagram Story?
Yes. As outlined above, you can absolutely add links to an Instagram Story, namely through the inclusion of link stickers.
How do you share a YouTube video on an Instagram Story?
There are a few tactics you can use to share a YouTube video to your Instagram Story.

If you want to share the link to your YouTube video, add a link sticker with your video's URL to your story. You can do this by following the steps listed in the "How to add a link to your Instagram Story" section.
You can also add a clip of your YouTube video to your Instagram Story as a teaser for your followers. To do this, you'll need to save the entire video or the clip you want to show in your camera roll. Next, follow the same steps you typically would to share an Instagram Story and upload the video from your camera roll. You'll then be able to edit the duration of your clip and add extra features such as stickers (including a link sticker) if you so choose.
When uploading your clip, you'll need to be mindful of the standard Instagram Story size to ensure its quality is maintained.