Best resources for Instagram story templates to drive engagement rates
With more than five hundred million active stories daily, Instagram stories are one of the hottest trends on the app right now. This is hardly surprising, given that stories from brands boast an 86% completion rate. As Instagram Stories continue their meteoric rise as the number one engagement technique, an increasing number of businesses are turning to Instagram Story templates. 
Instagram Story templates empower brands to elevate their Instagram aesthetic and maintain a cohesive feed. As a result, businesses can connect and engage with their audience more regularly.
Still not convinced of the engagement power of Instagram Stories? A whopping 58% of consumers say they gained interest in a brand after seeing it in a Story. From product demos to customer reviews to how-to explainers, branded Instagram Stories do it all. And they don't look like they're going anywhere in 2022.
This guide covers everything you'll ever need to know about Instagram Stories and how to use Story templates to drive your Instagram engagement rate.
Social Media News in a Nutshell
Get the latest social media news, insights, and marketing tips in your inbox once a week.
What are Instagram Story templates?
Let's kick off with some housekeeping. For the uninitiated, Instagram Story templates are customizable, professionally designed image layouts that can be used as a jumping-off point for a brand. The templates contain a selection of text, shapes, captions, and graphics, which can be edited by your business to fit your brand style. For instance, you can use an editing app to change the colors, background images, and text. There is a plethora of editing tools and design platforms where you can edit your story templates, such as Adobe Spark, Canva, or Photoshop.
🥁 Bonus: How to change the background color of Instagram Stories?
Once you have played around with your Instagram Story template, you simply upload it to your stories and add any extra filters, stickers, or GIFs directly into the app.
In short, Instagram Story templates provide a consistent, cohesive, and aesthetically pleasing layout for your stories that can be adapted to fit the content. Built by designers, they offer a quick way for brands to share aesthetic content in a snap.
Why use Instagram Stories templates?
You may be wondering, "why do I even need an Instagram Story template?" It's a fair question. After all, Instagram Stories only last 24 hours, and the whole idea is that they are more raw and unpolished than feed content. The thing is, Instagram Stories are evolving quickly.
Gone are the days of posting a story and it disappearing the next day. The introduction of Stories Highlights changed all that. Now, the best bits from your Stories can be saved and added to your bio, meaning they need the right aesthetic.
That's not all.
As the rise of Instagram Story templates continues, users' expectations are higher than ever. Instagram is an aesthetic platform, and your audience wants to see high-quality images from your brand. The more visually appealing your content is, the more likely they are to keep coming back for more.
Still on the fence? Here are a few more reasons why you need to start using Instagram Stories templates.
They save time
You know what they say; time is money. And that's certainly the case with Instagram Story templates. Creating engaging content for social media is incredibly time-consuming; most businesses just simply don't have the time or resources to create and post as much content as they'd like. Story templates slash the time needed to create new content, freeing up valuable time and resources on your social media team.
This is a pretty big deal considering that Instagram story frequency is going up. Data from RivalIQ found that the average brand new posts around eleven stories per month, with the most active brands posting roughly seventeen.
They keep things consistent
Consistency is key when it comes to building and maintaining a following on social media. It's particularly important as a brand because you want your content to be instantly recognizable to your audience when they're scrolling their feeds. Templates help brands stay cohesive in terms of color palettes, fonts, logos, and style.
IG story templates also ensure that your content uses the correct ​​Instagram story dimensions. This is crucial because it prevents bits of your content from being cut off, providing the optimal user experience for your audience. Instagram Story templates are already sized to the proper dimensions (1080 X 1920px (9:16 ratio), so you don't have to worry.
✨ Bonus: Up-to-date social media image sizes in 2022 + Free Cheat Sheet
They make a good first impression
You could have the best content in the world, but if the presentation is sloppy or inconsistent, you will probably lose followers. On the other hand, a well-curated page with cohesive content gives users the impression that your brand is professional and very good at what you do. Templates help your brand to nail that first impression and show that you are professional, authentic, and the real deal.
They tell your audience who you are
A distinctive and consistent aesthetic doesn't just help your followers recognize your content. It also tells them who you are. Your Instagram audience may have never seen your website, so all they are going off is your Instagram account. As such, it needs to translate who you are, what you do, and what they can expect. Story templates help you stay true to your brand identity and values.
They boost engagement
As we've already seen, branded stories have higher engagement rates and significantly improve your chances of reaching new audiences. Templates help you create more frequent stories at a higher quality. Instagram users love aesthetically pleasing branded stories, and templates enable you to give them more of what they love.
Six fun Instagram Story ideas
We hate to break it to you, but if your business isn't using Instagram Stories, you may be missing a trick. The numbers don't lie; Instagram users love Stories. To give you some inspiration, we've rounded up six fun ways to use Instagram stories to drive engagement rates.
Offer a sneak peek ahead of a new product launch
Find out more about your audience by asking questions and adding a text box for them to reply
Give your followers a behind-the-scenes snippet of how your product is made or a day in the life of your employees
Share user-generated content like customers' product reviews, photos, or videos
Host an influencer takeover
Tease your followers before revealing some big news
Tips to get more views on your Instagram stories
Before we dive into the best resources for Instagram story templates in 2022, here are a few tips to increase the number of views you're getting. After all, you'll want as many people as possible to view your newly crafted Instagram content.
1. Use an Instagram story template
We've already covered the benefits, so we'll keep this brief. Instagram Stories templates will make your content a lot more engaging. Unless you're a design wizard, templates are the best way to ensure your content is aesthetic and in line with your brand style and voice.
2. Add your own stamp with filters and effects
Choose a few filters that work with your content and branding and use them on all your stories. This will make your stories more appealing and create a cohesive feel. You could also play around with other built-in Instagram effects that suit your content style. Just remember to stick to a couple of consistent filters and effects to avoid overdoing it.
Some brands actually build their own AR filters to boost brand awareness and showcase their brand identity. Clothing brand @stellamccartney created a green-inspired 'Plant Power' filter to reflect the brand's passion for sustainability.
3. Have fun with interactive polls, quizzes, and GIFs
The internet may still be divided over the pronunciation of GIFs, but we can all agree that they add a lot of fun to your content. Interactive content resonates with users, which is probably why Instagram is constantly updating its sticker and GIF collection.
As well as adding animated GIFs and stickers to your stories, you can also include polls, quizzes, ask a question, and timers to your Instagram stories. This gives businesses the perfect opportunity to get to know their audiences and engage with them directly. Take @lego. To celebrate Friendship Day, it created its own quiz to find out what type of friend you are.
Adding quizzes or polls isn't just a fun way to connect with your followers and do some market research. When users take a poll, many will share the poll with their answers on their own stories. As such, your business can reach new audiences.
4. Hook your audience with storytelling
We've all been there, mindlessly scrolling through Instagram when we should be working or sleeping. If you want your brand's content to stand out in a sea of samey stories, you need to tell a story. Brands that use a storytelling format (the company story, a day in the life of an employee, how a product is made, etc) are much more likely to hook their followers.
@natgeo is a perfect example. It's not just all stunning nature pics, National Geographic uses Instagram Stories to tell stories about everything from social justice issues to an explorer walking his way around the earth.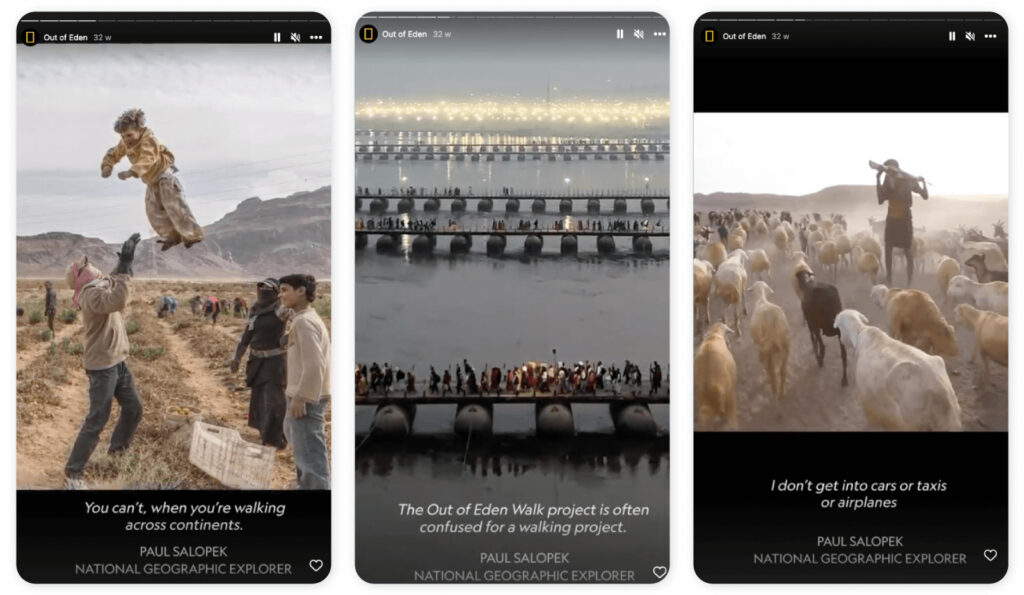 5. Make your content more accessible with captions
Captioning your Instagram Stories will make them way more accessible. Captions not only ensure that people with impaired hearing can enjoy your content, but they also make it more accessible to those watching your story on mute.
Since captioning your videos can be time-consuming, we recommend using an app to automatically caption your content as you speak.
6. Use the right tools
We already know that consistency is key when it comes to posting on Instagram. Ideally, your business will want to post as much as possible to keep followers engaged. However, we also know that creating a compelling Instagram story takes time and planning. That's where social media management tools come in.
One of the best productivity hacks your social media team can use to pre-plan and schedule your branded Instagram Stories in advance using a social media management tool. This will save you time, reduce stress levels, and ensure that your content all fits together. Think of it as a birds-eye view of your content, you can see where your content is too samey or needs to be filled out.
But that's not all.
Social media management tools also give you automated, deep insight into social media analytics. This makes it easy to monitor your Instagram analytics and understand what content is resonating with your audience. Plus, you can manage all of your social media analytics in the same place, creating detailed reports without manual labor. Check out our guide on how to view insights on Instagram for more information.
The 6 best resources for Instagram story templates
Let's round this off by looking at 6 of the best places to find Instagram Story templates in 2022.
We'll begin with one of the most well-known graphic design platforms in the world. Canva is a powerful graphic design tool that can be used to create social media graphics, presentations, and videos with no experience necessary. It has a wide array of beautifully designed, themed Instagram Story templates that can be edited to suit your brand.
From user review templates to launch countdown timers, Canva has everything you need to create an aesthetic Instagram. Simple to use and gorgeously designed, it is a great resource for finding templates for your branded Instagram Stories. Plus, it has a free version, so you can try it out before committing.
We love this minimalist user review IG story template from Canva. It's sleek, simple, and impactful.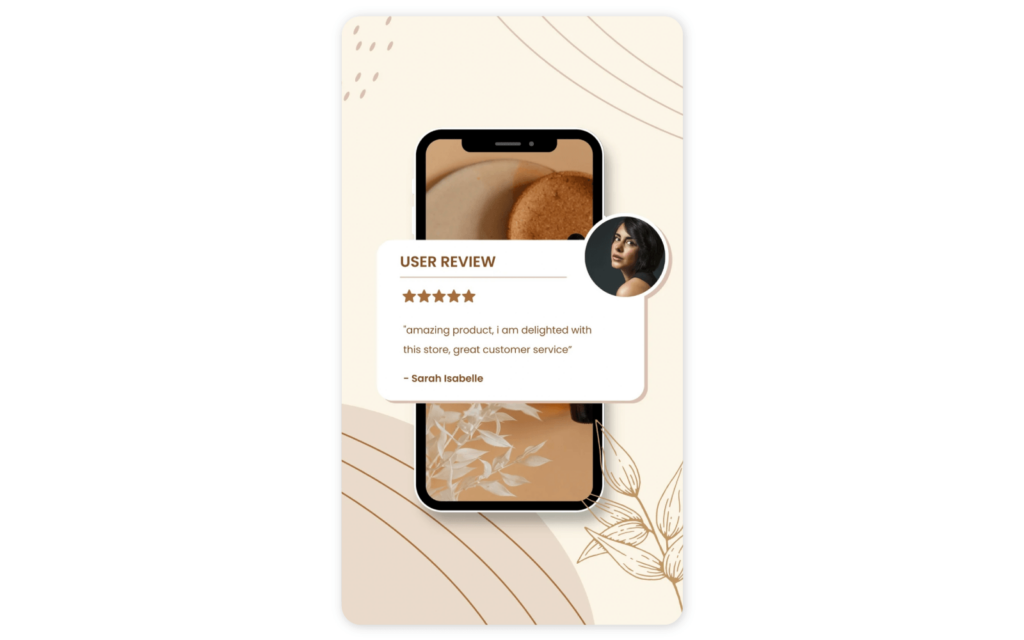 Number two on our list is a web-based design tool Snappa. Snappa is a one-stop shop for high-quality templates for blogs, ads, and social media. Snappa boasts an excellent selection of Instagram Story templates and loads of handy editing features to help your brand make each template it's own. For instance, you can swap out images, fonts, and colors and even save your own version of a template. That way, you can reuse your favorite layouts over and over again.
Similar to Canva, there is a basic free version you can use to test it out before investing in a Pro account.
You can also download reminder images for free. We're big fans of this super simple and oh-so-cute Snappa design.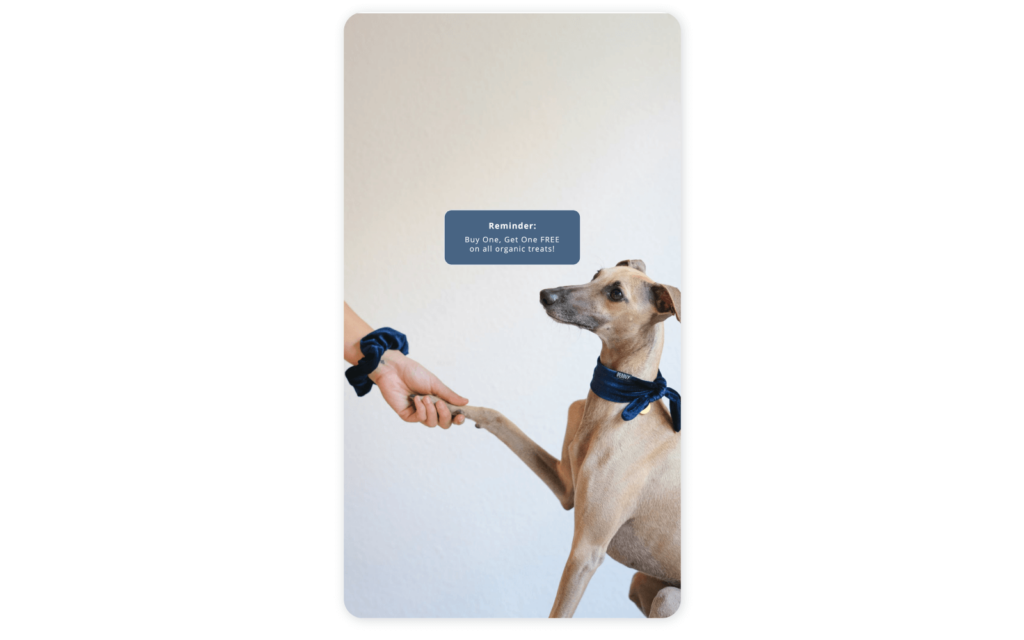 Easil is a user-friendly web-based design tool with an impressive library of IG story templates to choose from. You simply select the template you like and edit the colors and images to match your brand. Easil offers plenty of editing options to tailor your images, such as editing layers, duplicating slides, and swapping out fonts. It takes a little longer to get to grips with than Canva, but it's still an easy tool for inexperienced designers to master.
Finally, the wide array of multi-image templates makes it easier to create longer stories that will grab your followers' attention (without using the same single-image template every time). Easil has a free thirty-day trial, so you can test drive the tool before buying.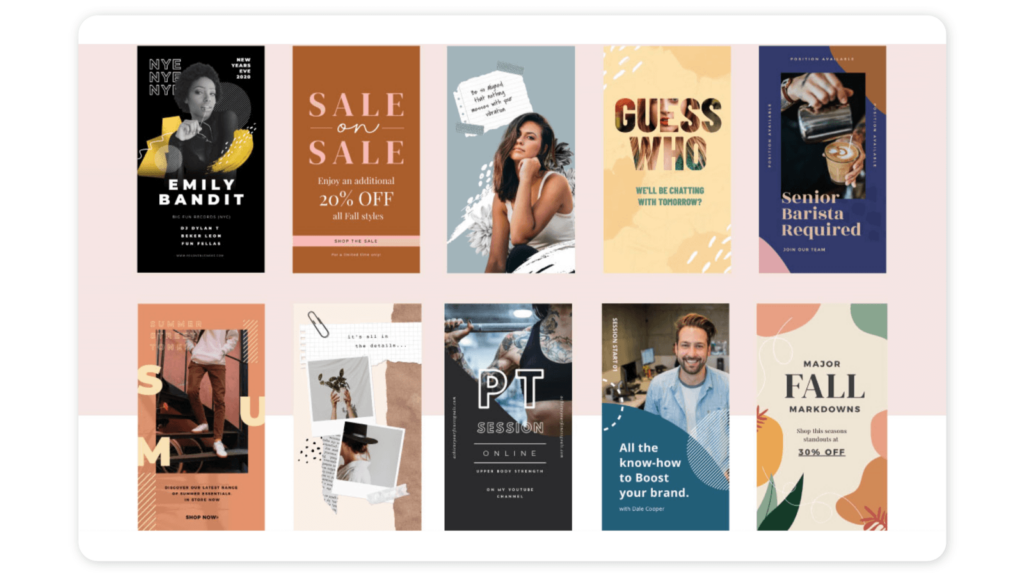 If you fancy supporting small businesses, Etsy is a great place to look for an Instagram story background template. The shopping platform offers a plethora of professionally designed IG templates to suit your business. You simply buy and download the template of your choice and edit it using an editing app such as Canva. Most packs come with hundreds of templates to cover every type of content imaginable.
This aesthetic Instagram story background template comes in a pack of 50 different pastel-green backgrounds. Each background is different but maintains the mint green and gold color theme for a gorgeously luxurious and cohesive feel.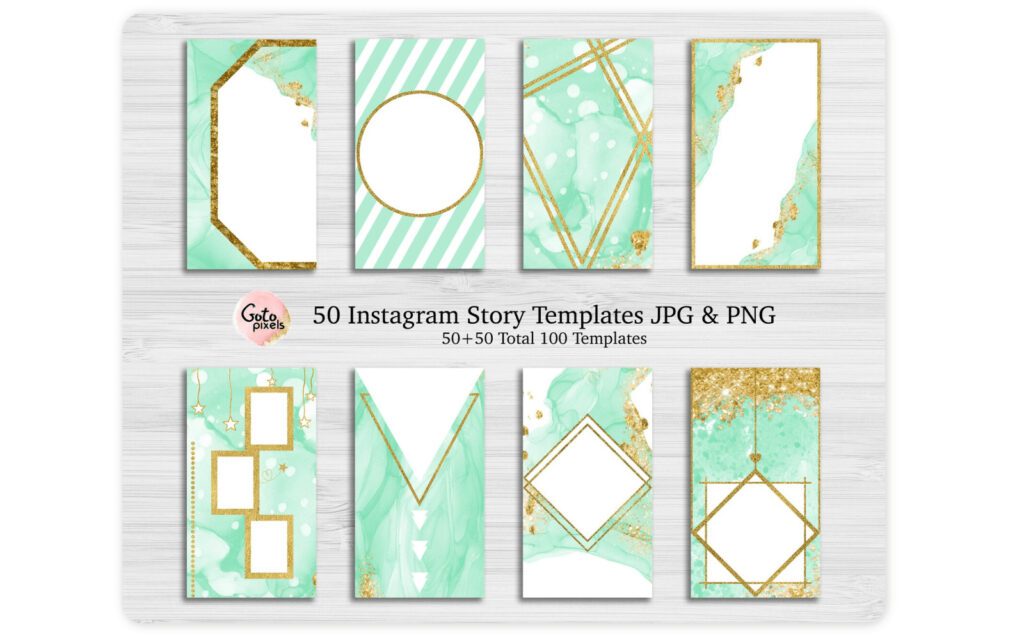 Creative Market is a platform where you can buy digital design content from independent designers. You can choose from a range of ads, fonts, website themes, and social media templates. Once you find the perfect pack of Instagram Story templates, you simply pay and upload them into an editing platform to customize.
Creative Market boasts over nineteen thousand templates to cover any content scenario and cater to any budget. You can choose from single images or bundles. What's more, since the templates are handcrafted by independent designers, you can be sure they are unique.
We adore this pack of white aesthetic pictures that is perfect for brands craving a minimal look.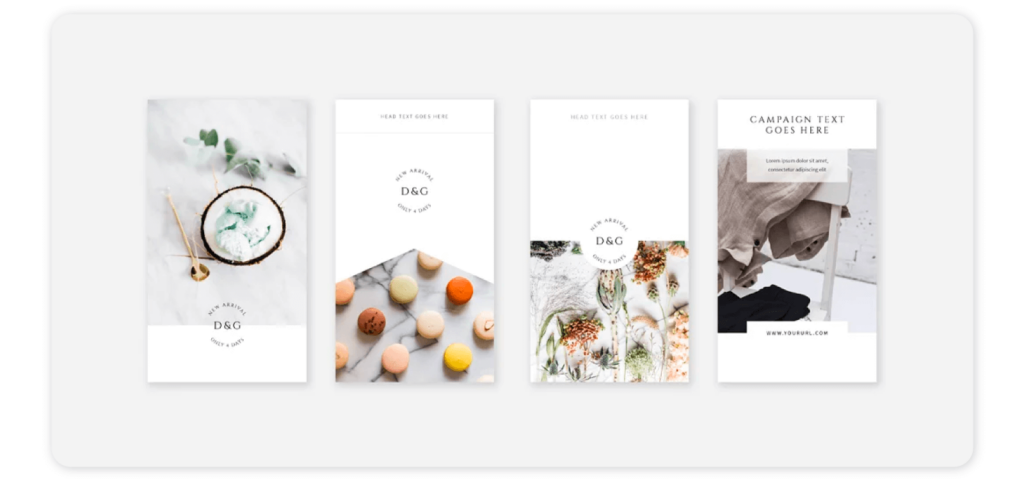 6. Instagram
This may seem like an obvious one, but Instagram is another fantastic resource for finding story templates. Try typing #instagramstory templates or #storytemplate into your search bar to find a plethora of ready-to-use IG templates.
Bear in mind that you will need to find the image source in order to edit them. This can usually be found by looking in the comments section or below the image itself. With so many talented creators on the app, it's a wonderful source of inspiration.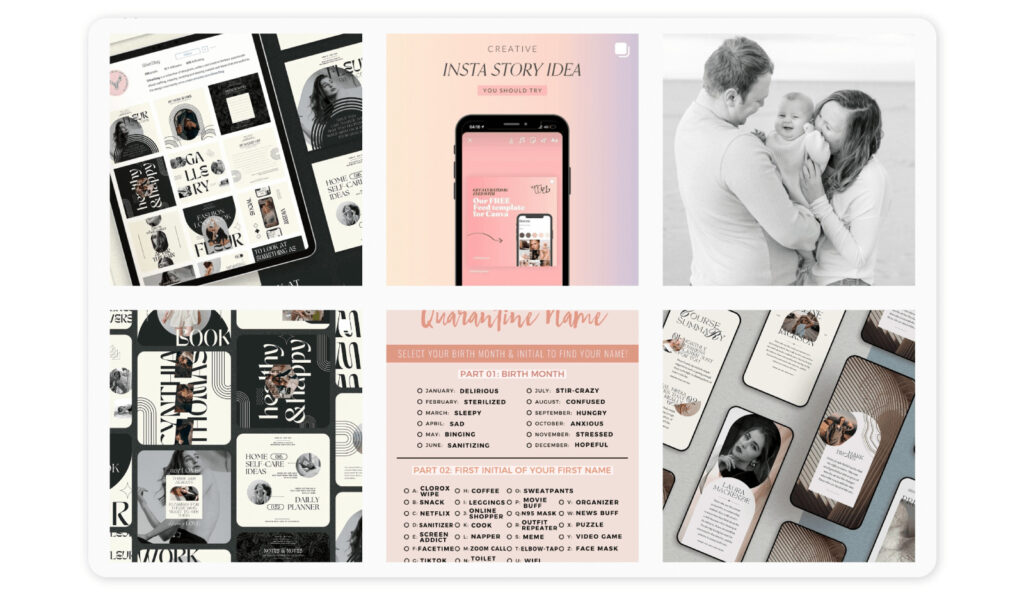 Final thoughts
Instagram Stories are increasing in popularity, with many brands noticing high engagement rates. As such, they are a powerful tool to grow your following and connect with your audience through unique content. Instagram Story templates help you create authentic content quickly without sacrificing on quality and branding. With a good variety of templates, your business can regularly share diverse and dynamic content that is totally on brand.