Unlocking the potential: A guide to successfully outsource social media for your business
Social media has fast become one of the most powerful marketing tools for businesses looking to connect with their target audiences, boost brand awareness, and drive growth. However, managing your social media presence takes time, expertise, and resources that not all businesses can afford to allocate. As a result, many companies choose to outsource social media.
By passing the baton on to a team of external professionals, your business can optimize your social media game and free up time and resources for core business activities.
This guide equips you with everything you need to know about outsourcing marketing, including:
Social Media News in a Nutshell
Get the latest social media news, insights, and marketing tips in your inbox once a week.
What does outsourcing social media mean?
Outsourcing social media is when businesses hire external agencies or experts to manage their social media marketing efforts on their behalf. As such, an external third party will handle all social-media-related activities for the business, such as content creation, content moderation, planning, scheduling, engaging with audiences, and measuring performance. 
In addition, the outsourcing partner is responsible for staying up to date with the latest social media trends and best practices across different platforms. 
Marketing outsourcing can reap significant rewards for businesses, and we'll dive into those in the next section. 
🌸 Bonus Source: Social media trends (All-in-one dashboard to keep up with multiple mediums with ease.)
Benefits of outsourcing social media
Cost-savings, access to outside expertise, fresh ideas…there are plenty of reasons why businesses choose to outsource social media marketing. We explore seven of the main advantages below.
1. Save time and money
Managing your socials in-house is time-consuming and resource-intensive, especially for small teams. By outsourcing social media marketing, you can significantly reduce the workload of internal teams. As such, this allows them to focus on core business activities.
Moreover, outsourcing means you don't need to hire, train, and manage additional staff, oversee day-to-day operations, and invest in social media tools and software. 
2. Tap into external expertise 
One major upside to outsourcing social media is that it allows you to tap into a diverse range of outside knowledge and social media manager skills. Many outsourcing agencies and freelancers have a wealth of specialized expertise and a deep understanding of social media platforms, content creation practices, engagement techniques, and analytics. 
In the process, they can help you identify opportunities and weak areas in your social media strategy, achieve goals (better lead generation, brand awareness, etc.), and grow your presence on specific platforms.
3. Scale your social media efforts
Another huge plus for outsourcing social media is the flexibility and scalability it offers. Let's say your business experiences a sudden surge in growth. Rather than hiring and training a slew of new staff, your outsourcing partner will be in charge of adapting to your evolving needs.
That means they can increase posting frequency, expand to new platforms, and handle larger campaigns without affecting your day-to-day operations or putting more strain on your team.
4. Fresh ideas
Bringing in fresh eyes can lead to new perspectives and creative ideas. It can be easy to get stuck in your social media strategy, but enlisting the help of outside professionals can force you to look at your plan through a new lens. Plus, your outsourcing partner can suggest unique insights into your audience and innovative approaches.
Whether exploring new content formats, getting creative with campaigns, or borrowing tactics from companies outside your niche, a fresh set of eyes can make all the difference.
5. Enhanced consistency
We all know that consistency is key. But maintaining high quality across your social media platforms is no easy task. By outsourcing your efforts, you can maintain a consistent brand voice, tone, messaging, and posting schedule.
As a result, this will help you build trust, gain a loyal following, and boost brand recognition.
6. Maximize social media response time
A major concern for many businesses is simply not having the resources to handle customer questions and concerns promptly. Unfortunately, this can negatively impact customer relationships and brand reputation in the long run.
The good news is that outsourcing can speed up response times and nurture the relationships between your brand and your audience. 
The even better news is that doing this will boost customer retention rates and position your business as a love brand.
In most cases, agencies can automate part of this process, scheduling follow-ups with customers for a seamless customer experience.
Leverage premium tools
Unless your business has an unlimited budget, your marketing teams probably only have a handful of tools in their tech stack. That makes it difficult to test and implement the latest social media tools on the market.
That said, when you outsource social media, you have the chance to leverage some state-of-the-art digital marketing tools. Think analytics, social media CRM platforms, advertising, and monitoring tools just outside your company's budget.
Since agencies work solely on social media and marketing, their budgets can often stretch to the latest and greatest social media management tools like Sociality.io. Therefore, your business gets to take advantage of these tools to optimize your social game.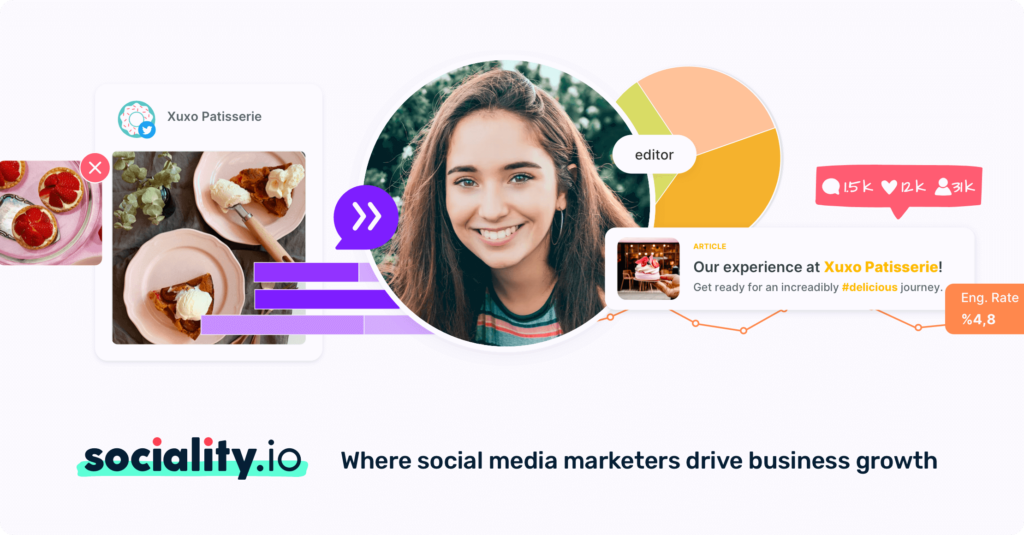 Challenges of social media outsourcing
While the benefits are clear, that doesn't mean outsourcing social media is right for every organization. Or that it doesn't come with its own set of obstacles.
We explore the most common challenges of social media outsourcing, so you can decide whether it's the right route for your business.
1. Sourcing the right people
Don't get us wrong; plenty of agencies and freelancers are just waiting to work with your business. However, filtering through those candidates to find the best match for your company is a job in itself.
For this reason, many businesses opt to work with established agencies that have already built a solid reputation. Now that's not to say that working with startups and individual freelancers isn't a good idea, but you may need to go through a larger trial-and-error process to hunt out the right partner.
2. Conveying your brand voice and values
This is a huge factor to consider. Can your outsourcing partner embody your brand's voice, tone, and values? As we already know, consistency is paramount, and working with an agency that doesn't nail these core features can result in a disjointed experience for your audience.
At the end of the day, it doesn't matter how creative and established an agency is. If they aren't nailing your brand voice, it's not the right fit.
That doesn't mean you should write them off right away. But it does mean you will need to collaborate closely with the partner to ensure your voice is properly represented.
Any outsourcing partner worth their salt will welcome this direction and appreciate your input.
3. Handing over control
Most of us have been in this situation before:
You are overworked, so you request additional support.
Leadership listens and allocates a new team member to help with the workload.
You spend so much time showing said new resource what to do and supervising (or micromanaging) them that it slows you down and creates more work.
Ahh, yes, delegation can be a real double-edged sword.
This is exactly what you don't want to happen when working with an outsourcing partner. Therefore, trust is essential. Other essentials include clear communication, transparent expectations, and a proactive (but not micromanage-y) approach.
So, how do you achieve these essentials?
The first step is to be completely upfront about how you plan to manage the relationship. This includes an action plan for communicating needs, feedback, and expectations.
In addition, set up a communication channel (Slack, email, weekly video calls) to establish clear expectations on this right away.
Of course, providing your partner with relevant resources like style guides, use cases, and specs for your social strategy will help them to take the reins seamlessly.
In short, you'll want to give concise and comprehensive instructions at the start of the partnership so you can become less hands-on and avoid spending too much time overseeing the partner.
4. Protecting data privacy
Sharing sensitive data is part and parcel of outsourcing social media management. Therefore, choosing a trustworthy partner is absolutely critical.
Your outsourcing partner will gain access to customer data, brand assets, login credentials, and other sensitive information during your collaboration. And any slipups on their part will have huge implications for your business and reputation.
One of the best ways to protect your data is to implement robust security protocols before your partnership begins. For example, draft non-disclosure agreements, consult your security team, and do your due diligence to keep your data safe.
How to outsource social media: A step-by-step guide
By this stage, you probably already have a good idea of whether social media outsourcing is the best option for your business. So, the next step is figuring out the best way to go about it.
To help you, we've created a step-by-step guide on how to outsource social media for your business.
Step 1: Set social media goals
Before choosing a partner to work with, define clear objectives. What do you want to achieve on social media? Do you want to raise brand awareness? Or are your main goals around driving website traffic or generating leads?
Understanding what you're aiming for will help you choose a partner that aligns with your goals.
Step 2: Do a needs assessment and allocate a budget
Now that you have a clear idea of your objectives, it's time to evaluate where you currently stand. That means evaluating your existing strategy and performance to pinpoint areas where you need assistance.
Once you've done this, you can determine the project scope and assign a realistic budget (pro tip: don't just go for the lowest bidder).
Step 3: Make a shortlist of potential outsourcing partners
As we mentioned earlier, finding the best agency or freelancer for your brand can be an extensive task. So, at this stage, you want to research your options and create a shortlist of potential good fits.
During your research, focus on expertise, experience, track record, and partners that align with your goals, voice, and industry. Are they familiar with your target platforms? Have they worked with similar brands?
Step 4: Request portfolios
The next step is to reach out to potential partners to request portfolios of their work and case studies. Be sure to assess these carefully, looking out for their successes and gauging the quality of their work. Can they adapt to your brand's tone of voice?
Then, use this research to narrow your shortlist down to an even shorter list of potential outsourcing partners.
Step 5: Ask for proof of track record
Once you have whittled down your shortlist based on the creativity and quality of their work, it's time to check their professionalism. You can do this by reviewing client testimonials and asking for references.
Doing due diligence will give you insight into the partner's working style and overall approach.
Step 6: Carry out interviews
The best way to assess whether you're compatible with your shortlisted outsourcing partners is to schedule an interview. That way, you can chat directly about your goals, expectations, needs, and any other relevant factors.
At the same time, you can gauge the potential partner's communication skills, how well they understand your business, and whether they would fit well with your project. How responsive are they? Will they be professional to work with?
Step 7: Define roles and responsibilities
We mentioned it earlier, and we'll say it again. One of the pillars of a successful social media outsourcing partnership is having clearly defined roles. So, get to work and establish who will do what.
Focus on priority tasks like content planning, creation, community management, analytics, and reporting.
Once you know who's doing what, outline it in a contract or written agreement. Of course, it's well worth collaborating with your partner on this as they may have suggestions on how to organize certain workflows.
Step 8: Set up communication channels
Communication is always a challenge. Throw different timezones, working hours, and communication platforms into the mix, and it can fast become a thorn in your side.
That's precisely why establishing effective communication channels from the get-go matters. Determine which platforms you'll use to collaborate, talk strategy, share feedback, and report. Then, decide how often you'll check in and the format you'll use.
Determining all this from the beginning ensures your partnership runs smoothly and avoids potential misunderstandings.
Step 9: Develop a strategy
Let the collaboration commence! Your first task will be to develop a detailed social media strategy with your outsourcing partner.
Together, you will come up with:
Goals and objectives
Key social media metrics to track success
A clearly defined target audience
Content themes and creation ideas
Posting frequency
Target platforms
A content roadmap
As part of this strategy, your outsourcing partner will carry out their own research. This often includes a full audit of your socials and a competitor benchmarking analysis.
Tools such as Sociality.io make it quick and easy to carry out a full competitor analysis and gain deep insights into your company's performance (and identify untapped opportunities). That way, you can take inspiration from industry leaders and avoid slip-ups by learning from other brands' mistakes.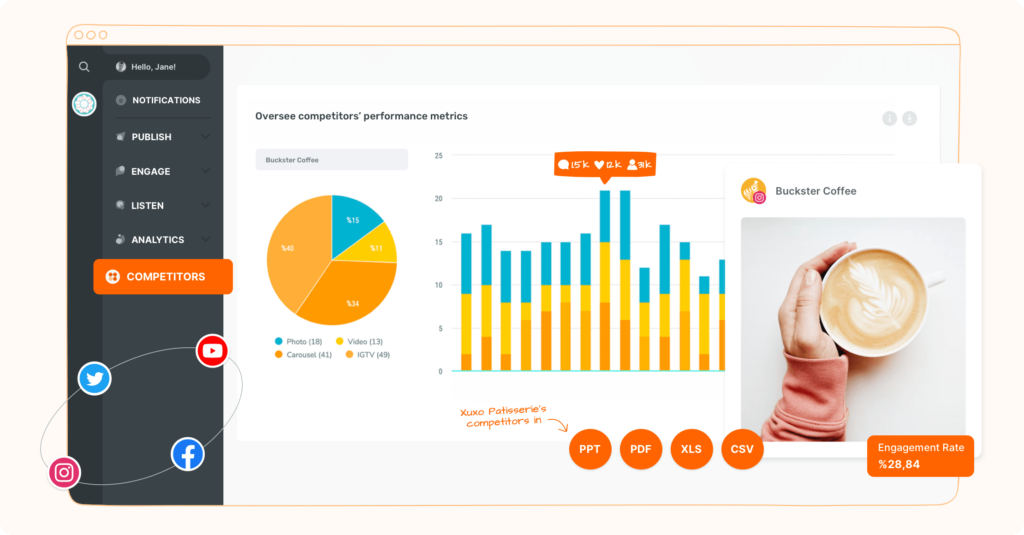 Step 10: Begin the creation process
You're now ready to begin the content creation process. At this stage, your outsourcing partner should already have a style guide that contains essential information about your brand tone and voice. They should also have access to relevant visual elements.
Additionally, you'll need to implement an official approval process before you get too deep into the creation process. This process will outline the steps your company will take to review and approve the content before it's posted.
Setting up a clear framework for this makes sure you allocate enough time to properly approve the content before it goes live.
Initially, it's wise to conduct a review and approval after each piece of content is created. Doing so makes it easier to course correct before the partner has created too much content. Naturally, this process may become shorter and less intensive as the partnership progresses.
Step 11: Determine how to handle community management
Before any content goes live on your socials, it's vital to establish guidelines and frameworks on how community management will be handled. Who will respond to comments, messages, and reviews? What are your required response timeframes? Who is in charge of monitoring engagement rates? What procedures are in place to deal with crises?
All of these questions should have definitive answers before your partners begin posting on your behalf. As such, drafting official documentation and guidelines is an absolute must.
The more detailed your guidelines, the better. That way, you can ensure your partner maintains your brand voice and exceptional customer support. Providing templates can guarantee your partner nails your brand tone right away.
Step 12: Measure performance
Remember in step nine when we discussed strategy development? Well, let's circle back to those social media metrics you defined.
Measuring the impact of your social media performance under your new partner is a crucial step in gauging the impact of the partnership. Plus, you'll likely need this information to calculate the ROI of the collaboration and identify improvement areas.
Now's the time to decide how to monitor the social media metrics you want to track to analyze performance. Firstly, discuss how your outsourcing partner will track social media analytics and how often they will provide you with performance reports.
In addition, take the time to discuss any additional performance evaluations you want to put in place or potential workflows to automate the process.
Sociality.io's Analyze module makes it easy to pull and visualize social media analytics across all your platforms. This makes it easier for you and your partner to gather and share vital performance data in real time.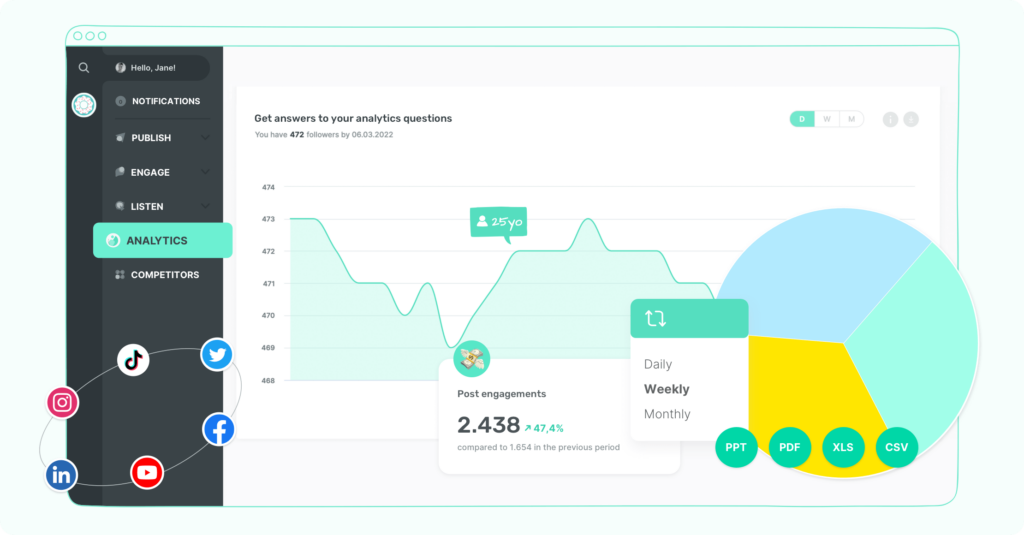 Step 13: Schedule data reviews
On top of the regular analytics and reports you'll receive from your outsourcing partner, you'll also want to set up more in-depth reviews.
These reviews give you a chance to dive deep into the data with your partner to discuss the effectiveness of the initiatives, analyze the results together, pinpoint weak areas, and tweak your strategy moving forward.
Step 14: Create a feedback loop
Open communication and transparency are the secrets to the long-term success of any relationship.
So, prioritize maintaining open lines of communication, even if it's just a quick message to say you're happy with your partner's work. Providing ongoing feedback, internal insights, and concerns sets the tone for a long and happy collaboration that's mutually beneficial.
A final word on social media outsourcing
Removing the burden of managing your social media in-house can free up time and resources for your teams to focus on other pressing business needs. In the process, your brand can benefit from an outsourcing partner's external expertise and fresh perspectives.
All of this leads to happier teams, an optimized social media strategy, and an enhanced customer experience. And with so many customers citing social media as their communication channel of choice, getting your social presence right is more crucial than ever.
Whether you choose to outsource social media or run it in-house, you will need a robust social media management tool to streamline and automate the process. A fully-featured tool like Sociality.io equips your teams with insightful data on engagement rates, audience behaviors, and brand health. Plus, putting repetitive tasks on autopilot allows you to focus on meaningful work, like connecting with your audience.
With modules for social listening, competitor benchmarking, and analytics, Sociality.io gives your business the full picture of how your socials are performing. But don't just take our word for it; grab a free trial today.