How to post on Instagram from computer in 2023? 3 Methods for both PC and Mac
There are different reasons why you might want to post on Instagram from your computer.
For starters, as a social media manager, your company's or clients' assets are most likely on your PC. You don't want to keep switching between your phone and computer anytime you need to create or schedule a quick post.
Or maybe you just like to do your work on a large screen with large buttons (I know I do).
Either way, if you're wondering whether it's possible to publish Instagram posts using your computer, the answer is yes. And this article will show you three different ways to do so.
The three methods are:
Posting to Instagram using Sociality.io
Posting to Instagram using Instagram.com
Posting to Instagram using Meta Creator Studio
Let's dive deeper.
Social Media News in a Nutshell
Get the latest social media news, insights, and marketing tips in your inbox once a week.
Method 1: How to post on Instagram using Sociality.io
Sociality.io is a complete social media management platform that helps social media teams manage their brands' presence on social media channels. You can manage all your social media activities in one place.
Sociality.io supports Instagram, and here's how to post to Instagram using Sociality.io.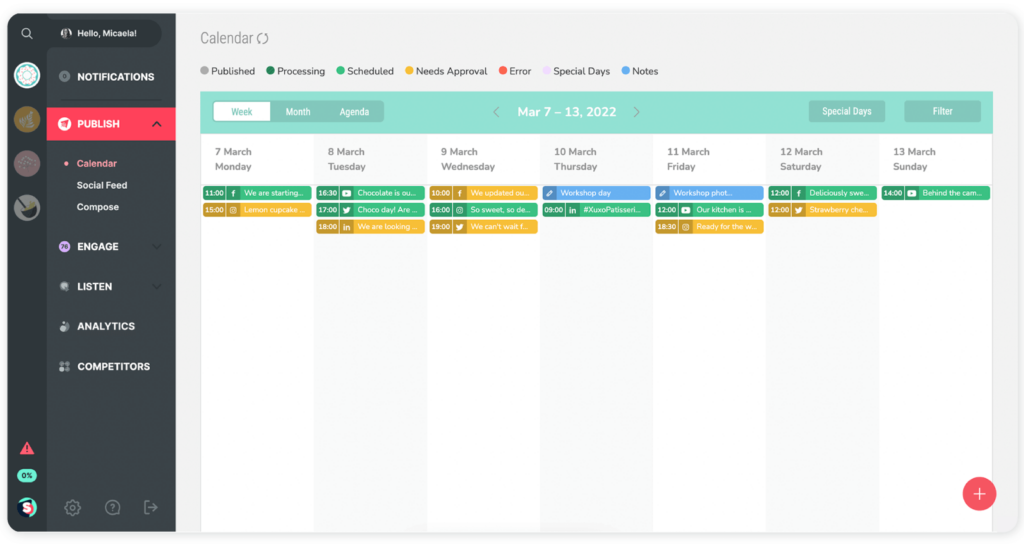 Log in to your Sociality.io dashboard and click "Publish" on the left side of your screen.
Next, select "Compose" from the drop-down menu that appears. A screen will show up asking you which of your connected social media profiles you want to create a post for. Select your desired Instagram profile.
You'll be taken to Sociality.io's post editor, where you will create your post before it goes live. Select the type of Instagram post you want to publish. You can choose any one of the photos, carousels, reels, videos, and stories.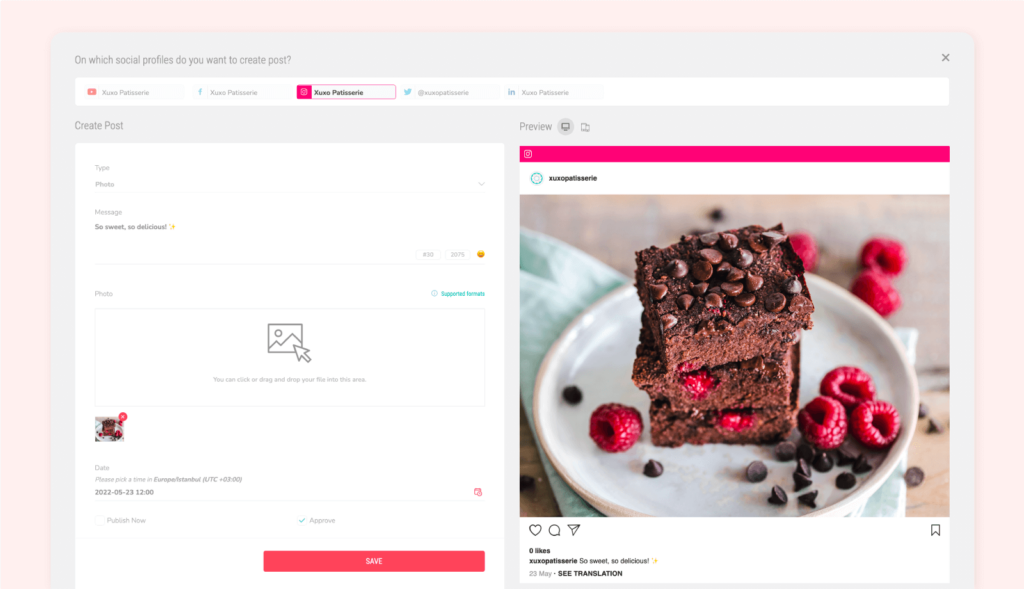 Next, create a caption for your post or copy and paste it if you've already done that. You can type up to 2100 characters and use up to 30 hashtags here.

Choose the media file you want to upload to Instagram. You can drag and drop your file into the editor. Or click to dig through your PC's file explorer and select the files you want. If you choose a video, you also have the option to choose the video's thumbnail.

There's a preview monitor on the right side of Sociality.io's monitor. There you can see what your post will look like live on desktop and mobile screens.
Finally, you can choose to publish the post immediately or pick a future time and date you want the post to go out.
Method 2: How to post on Instagram through instagram.com
You can also publish your posts directly from your desktop by visiting Instagram.com on any web browser of your choice.
The following steps will show you how to do it right away.
Go to Instagram's website and log in to your brand's profile.
Instagram's new layout puts all the features on the left side of your screen instead of the top of your screen. Click "Create" from this menu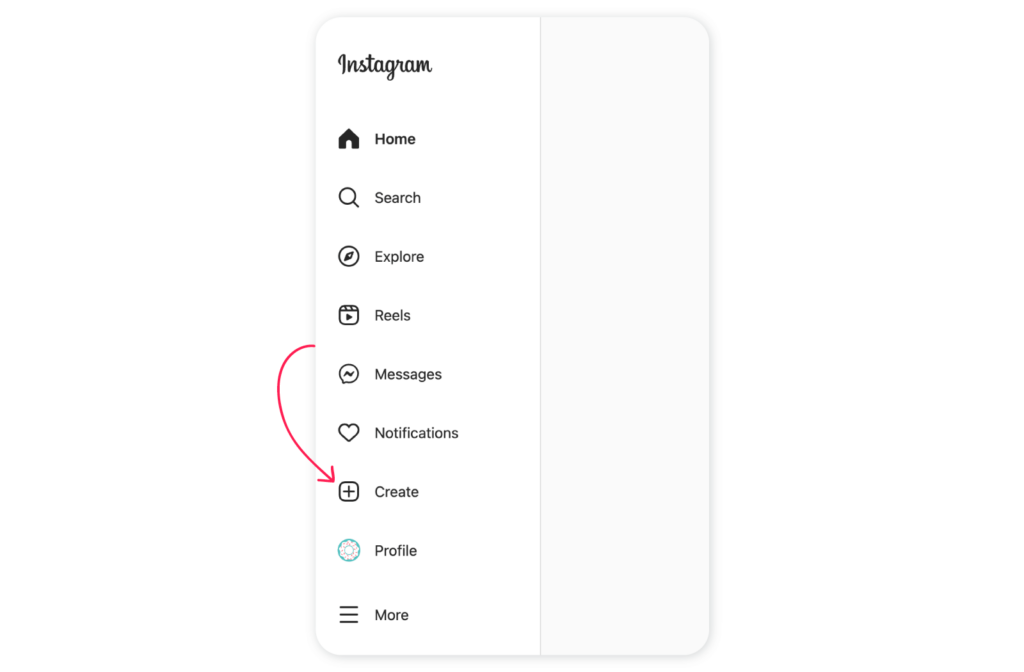 After you click "Create", a pop-up will appear telling you to either drag and drop your photos and videos onto Instagram or select them from your computer files.
Once you've chosen a media file to work with, you'll be taken to Instagram's editor. Here, you can crop your file, change its aspect ratio, zoom in or out, and add more files if you want to publish a carousel post.
You can also add some selected filters and customize the adjustment with Instagram's editor.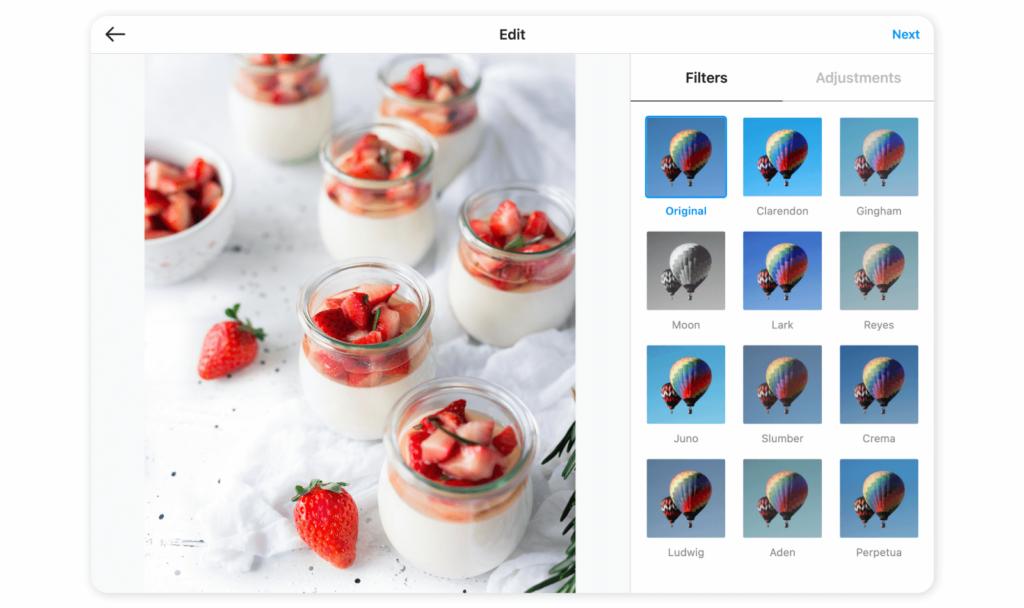 Once you finish editing your image or video, click "Next" to move on to the final stage of this process. Here, you can add a caption to your post and tag other people and brands.
You can also choose to make your location visible and decide whether to turn off commenting for the post or not. When you're satisfied, click "Share" to publish your post.
Unlike Sociality.io, which allows you to schedule your Instagram posts ahead of time, this method only works for posts you want to share immediately.
So if you manage multiple social media platforms and you want the ability to schedule posts for each of them, Sociality.io is a better option.
Method 3: Posting on Instagram using Meta Creator Studio
Meta Creator Studio is a tool for brands and content creators who use Facebook and Instagram. It allows you to publish posts and analyze your brand's performance across both platforms.
You can also use it to publish and schedule your Instagram posts from your computer.
Here's how to do so.
Log in to your brand's Meta Business Suite account and click on "Create Post".

On the next page, you will be asked to select which Facebook or Instagram account you want to publish your post on. Select the Instagram account you want.

Next, Upload the photos or videos you want to share. You can choose to upload them from your computer or Meta Business Suite's in-built file manager.

Add a caption to your image or video. You can add up to 2200 characters, mention up to 30 people, and use 30 hashtags.

Finally, you can choose whether to post your content now, schedule it for later or save it as a draft.
Best time to post on Instagram
One question that gets asked often by social media managers is
"When is the best time to post on social media?"
You devote a lot of time to curating and creating your Instagram posts. So you want every content that goes out to generate engagement and, possibly, leads for your brand.
How do you make this happen?
One thing you should know is that Instagram's algorithm prioritizes recency. This means newer posts tend to show up higher on your audiences' feeds than old ones. If you want your posts to do well, publish them when your audience is most likely to be scrolling through their feed.
Obviously, you can't do this unless you know what this is.
That's where a tool like Sociality.io comes in handy. Sociality.io shows you what time your audience is most likely to be online based on historical data, and you can use this information to guide your future publishing schedule.
To access this information, click on "Analytics" on your Sociality.io dashboard. Then choose the Instagram account you want a report on and select your time range.
Click "Apply," and you will have access to the breakdown of your Instagram account's performance in that specified range. Scroll down to find your audience preferred times to be online.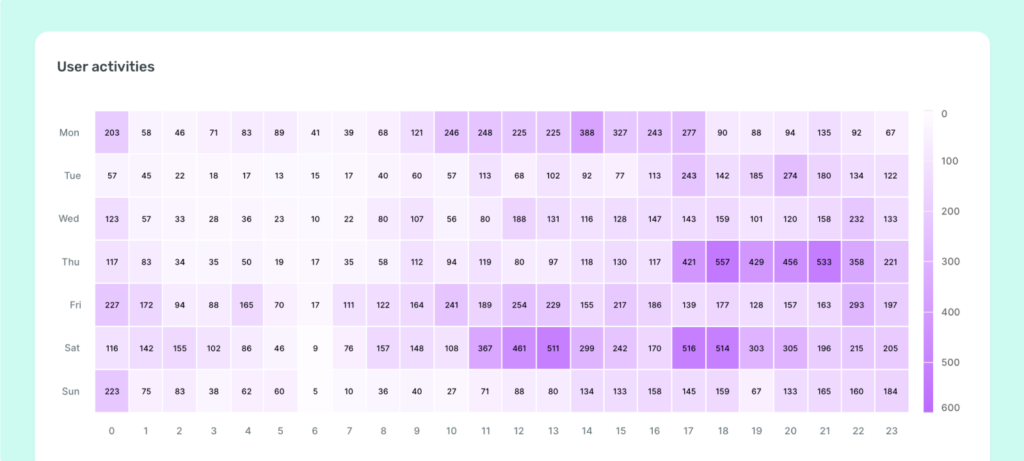 But if you don't have historical data to fall back on, there are other things you can do to help you guide your publishing schedule.
Know what time zone the audience you want to reach with each post lives in. This is imperative, as you can't decide the best time to post if you don't know what part of the world the people you target are in.

Visualize your audience's daily schedule. It's best if you can get them to tell you themselves. But if that's not possible, you can think rationally about how people go about their day.

Most people scroll through social media after they get up from bed and before they go to work. This means it's probably safe to post between 7-8 am.

Another ideal time to post is during lunch break, which can be between 11:30 am and 1 pm. People are generally on their phones during this period.

Another time you can experiment with this is right before bedtime. If they're not tired, people tend to scroll through social media before they fall asleep.
Hubspot conducted research and found out the best times to post on Instagram if your users are in the US Pacific time. The times are:
Monday: 7-9 pm
Tuesday: 8-9 pm
Wednesday: 8-9 pm
Thursday: 9 pm
Friday: 9 pm
Saturday: 6-11 pm
Sunday: 7 pm
If your audience does not live in the US Pacific time zone, you can just adjust your posting times based on the time difference.
Frequently Asked Questions
Is there an official Instagram desktop app?
Yes, Instagram has an official desktop app.
But it is only available to Windows users. For Mac users, Instagram on the desktop is only accessible via a web browser.
To download the Instagram desktop app on Windows, go to the Microsoft Store App and search for Instagram.
Click "Get" to begin your download. Once the download completes, install the app and log in.
How many photos can you post on Instagram?
Instagram allows you to share up to 10 photos and videos in a single post. It is called a carousel post.
How to post videos on Instagram
Sometimes you have professionally-shot videos on your computer and not on your phone.
You can publish these videos the same way you publish your images. Log in to your Instagram account and click on "Create". Select the video you want to publish, make your edits and captions, and then hit "Share".
This also works for carousel posts.
The recommended file format for videos is MP4. Instagram also specifies that the maximum file size for videos that are 10 minutes or less is 650MB. For videos that are up to 60 minutes, the maximum file size is 3.6GB.
How long of a video can you post on Instagram?
You can post a video that's up to 60 minutes long. But its file size should not exceed 3.6GB.
How to post with someone on Instagram?
Two users can also share the same post on their Instagram feed. This is called an Instagram Collab. And unlike an Instagram repost, the two profiles get credited with the content.
Here's how to create an Instagram Collab:
Create your post, as usual, using the steps outlined in this article.

Go to the tagging section and click on "Invite a collaborator"

You can only choose one collaborator per post. Once you post the content, your chosen collaborator gets an invitation to the DMs. But until they accept the invitation, your post will remain hidden from your audience.
Conclusion
Switching between your phone and computer anytime you want to publish an Instagram post can be frustrating. But with the steps outlined in this article, you'll be able to manage your brand's or client's Instagram profiles more effectively.
Do you manage multiple social media platforms? If you do, you need a platform like Sociality.io to help you put your social media activities on autopilot.
You will be joining a community of over 2000 marketers that are already doing the same. Get started with a 14-day free trial here. No credit card is required.